Almost June now, and almost half way through another year. But cheer up, for we have all of the summer yet to come, and it will go so much slower of we fill every moment of it with enjoyment and pleasure, and stay out in the open air as long as we possibly can.
So what do we have for you this week.....
Image
Today we celebrate #WhoopingCraneDay. I have not been able to find out why we do this, or how, but these are magnificent birds, so why not! 
They are indeed named for their sound, a whooping excited noise, and it is one of only two native cranes to be found in North America. They are relatively long lived, at 20-25 years.  
The first card of them may well have been issued by Allen & Ginter as part of "Game Birds" (N40 ~1889) Bk/50, and there, as usual, the name of the set gives us a good clue to why they need our support, because, like all animals and birds, if it moves people think it would be good to hunt, and to eat. 
There are not too many cards of Whooping cranes, but recently they have appeared on two trading cards, which could be a positive sign.
Marvel Genio (2003) card 166 tells us that the Whooping Crane is the tallest bird in North America and can reach a height of five feet. 
Whilst the 2009-10 Upper Deck "Champ's Natural History Collection" card 482 tells us that it was "Nearly gone when a count in 1941 found only 16 in existence, [but] the Whooping Crane has rallied thanks to captive breeding programmes." It also tells us that their wingspan is just as mighty as their height, some seven feet. 
 
Image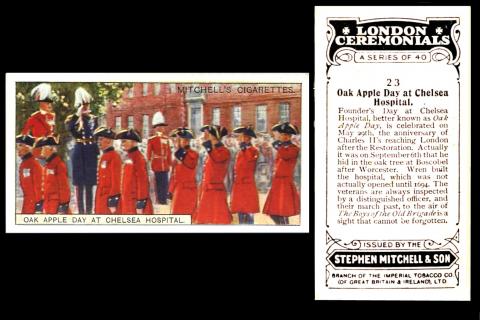 Today is Oak Apple day, which commemorates the restoration of the Stuart monarchy in 1660.
Now the first thing you will discover is that the oak apple is not a fruit; according to Wills Do You Know first series 31/50 "Oak-apples, or oak-galls are really tumorous, or abnormal growths of the tissues of the oak, and are caused by gall wasps." 
At one time this was a public holiday in England Wales and Ireland, where it was variously known as Restoration Day, Oak Apple Day, Royal Oak Day, or Oak and Nettle Day. The holiday was proclaimed in 1660 in England and Wales and 1662 in Ireland, and it stayed a holiday right until 1859. In addition in some areas where the King was especially revered the locals enforced wearing a short branch of oak in commemoration and you were fair game for being thrashed with sticks or nettles if you ventured out without one. 
Actually the day is still observed under another guise, Founders Day at the Royal Hospital in Chelsea, which was founded by Charles II in 1681, though Stephen Mitchell`s "London Ceremonials" 23/40 tells us that "the hospital …was not actually opened until 1694.  The card also tells us the day is "better known as Oak Apple Day", and it is "celebrated on May 29th, the anniversary of Charles II`s reaching London after the Restoration." However it also admits that "Actually it was on September 6th that he hid in the oak tree at Boscobel after Worcester".
This was after the Battle of Worcester in September 1651, when he managed to escape the Roundhead army by climbing into in an oak tree, and you will find the event on Smith`s "Battlefields of Great Britain" 24/50 where it tells us that the battle was "on September 3, between Scots Royalists under Charles II and Parliamentarians under Cromwell". It even mentions the tree. 

Lea Chairman Miniatures first series 29 tells us that after his father`s (Charles 1st) death Charles II lived in exile until the period of his restoration. He entered London in triumph May 29 1660
Image
Gloria Shea was born in New York City, attended a convent school, and then decided to become an actress, receiving training from Florenz Ziegfield.
At first she appeared on the stage, where she was billed as Olive Shea, but then she moved into movies, using the same name to start with, perhaps so her fans could find her more easily. 
United Services "Bathing Belles" (1939) 35 is somewhat sparse with its description, only telling us that she was "A Radio Picture Star", whilst some of the cards in the same set have proper biographies. This is a great shame, because her life was fascinating.
For a start her career was actually cut short because she was involved in a car crash. And she was married to the same man, her childhood sweetheart, for almost sixty years; he was the Retired Vice Admiral Robert J. Stroh, once the highest naval officer in Jacksonville, Florida. They were so devoted to each other that when he died it was found that he had not wished to part with her, and kept her ashes for eight years so they could be buried together, which they were, at sea.
She also had a brother, William Shea, a lawyer, who dreamed of bringing National League baseball to New York, and who was rewarded by having the stadium named after him – the world famous Shea Stadium, which hit the headlines for many reasons, including the fact that the Beatles performed there.  
Image
Today is World Parrot Day, which was started by the World Parrot Trust in 2004 in the hope that these beautiful birds would not suffer being caged for our pleasure, or destroyed because they get hungry and eat the crops that the farmers plant, or be moved on because we feel the trees they live in are worth more to us as a crop than to them as a nesting and roosting site, but instead that they might be recognised for the free ranging spirits they are and allowed to simply be.
Many sets of birds exist but few are just parrots. One that, dare we say it, fits the bill, is C.W.S. "Parrot Series" (1910). This is the Co-Operative Wholesale Society, but on the cards it states that it is the Tobacco Factory rather than the grocery and food departments. These cards are very attractive, and it is no wonder that they were reproduced officially in the late 1990s. 
Another set to look out for is the postcard sized cards issued by Caperns Bird Food. These are not just parrots but when they do appear they are stunning images. The whole set contains every bird imaginable and tells you the best food to feed them on, Caperns of course. Then there is another card, much sought after, which shows images of the Caperns packaging. 
Image
Oh, a new month, and lets hope it is a good one.
However, there is one thing of which we can all be certain, and that is that at some point during it you will have to make a decision between two things. And June 1 is Flip a Coin Day. 
I tried to find out when coins first had two sides and it looks like it was pretty much from the moment they were not ingots or other unusual shapes. Apparently this was a safeguard to prevent people forging the coins, as it was harder to forge both sides than just stamp out one, or try to palm it over blank side down knowing that both sides were blank. 
Something I did not know is that when Charles II was restored to the throne he changed the currency in one major way, by making his head face the other way to Cromwell`s, his predecessor. Perhaps this was also to prevent old coins being used. Anyway, this change of side has reportedly stuck ever since. I will have to look that up online some time. 
Now returning to flipping a coin, the first person to do this was none other than Julius Caesar. However what is rather interesting is that he did this for a certain reason and that was because his head was on the coin, so seeing himself probably represented divine agreement. 
The best thing about flipping a coin is that though it sounds a silly way to decide anything, it does indeed give you an answer, for you will find that when you lean particularly towards one choice and you get told the other you will almost certainly tell yourself to flip again, or that you were doing the best of three.
And in that way the coin truly has helped you make your mind up! 
 
Image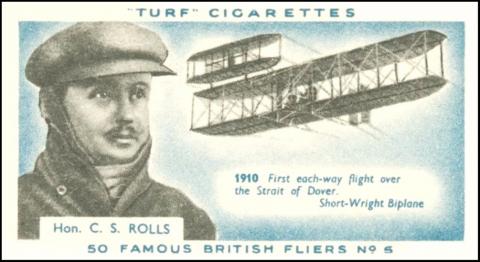 Today in 1910 is often said to be the first trip across the English Channel by aeroplane. However there had already been a crossing, or two, by Louis Bleriot in 1909 and by Count Jacques de Lesseps in 1910.
Our journey was more important than that, for it the first successful flight and return, for the aeroplane, a Wright Flyer owned by the pilot, set off from Dover, flew to France, and then flew back to Dover, all in under a hundred minutes. 
The pilot had started off with ballooning, and he held the record (as well as a rather attractive gold medal) for the longest ever single balloon flight. He knew the Wright Brothers and in 1908 had flown with Wilbur, so becoming only the second Englishman ever to fly in an aeroplane, albeit for less than five minutes
His name was the Honorable Charles S Rolls, and if you are wondering, yes, he did team up with a man called Henry Royce, but they started out building aeroplanes and aircraft engines, as early as 1907, the cars came later. 
Sadly only forty days after his record breaking flight Charles Rolls was dead, killed at a flying display when the tail of his aircraft broke away.
He therefore became the first Briton killed in an aircraft accident, and the first person in the United Kingdom to meet his death in a powered aeroplane. 
 
Image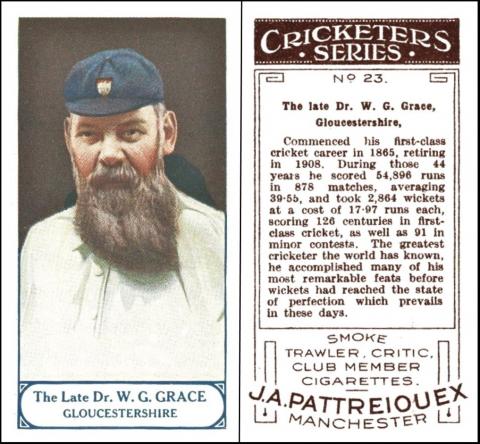 Today in 1899 was the last day of Test Cricket for the great William Gilbert Grace.
He was only fifty years old, actually almost fifty-one, and I have to say that seems amazing if you look at him, he looks quite elderly.
He did continue to play cricket until 1908, and died in 1915.
He remains one of the most recognisable and best known of all cricketers, but he was also one of the most important, as he altered and upgraded the game, and the practise of batting, in so many ways. He played at a high level for forty four seasons, and captained many teams including England, Gloucestershire, and the Marylebone Cricket Club.
However what is not so well known is that his brothers also played cricket and in 1880 all were on the England team together. He also played football, and many other sports.
And he was also a doctor, and could rightly place the letters MRCS LRCP behind his name (Member of the Royal College of Surgeons – and - Licentiate of the Royal College of Physicians). I wonder what he found the most odd; the patients who wondered at his medical prowess for they knew him as a cricketer, or those who did not recognise him at all - because as part of his medical duties he was both the local Public Vaccinator, and the acting medical officer at a workhouse. 
 
This week's Cards of the Day...
are celebrating the biscuit, for National Biscuit Day! Its every year on May 29th and the hashtags are #BiscuitDay #NationalBiscuitDay - so why not upload your own favourite card, adding in #Cartophily of course and tagging in @Card_World
There is lots of scope, not just the ones we found, for there are loads of biscuit and cookie manufacturers who issued cards on all kinds of subjects ... and then there are tins, packages, ephemera, calendars etc. 
Saturday, 21st May 2022
H536-380 : H44-41 : Ha.571.2 [tobacco : UK] Hignett "A.F.C. Nicknames" (1933)
The clue here is the nickname of the team, "The Biscuiteers", and that refers to the main manufacturer of the Reading area, Huntley and Palmer biscuits. 
Just like Cadbury, Rowntree, and Fry, all of chocolate fame, Huntley and Palmer was started by a Quaker, Joseph Huntley, who opened a bakery with his son in London Street, Reading in 1822, and started selling confectionery and biscuits. Almost two decades later, in 1841, a cousin, George Palmer, joined the business, and the name became Huntley and Palmer. Their first factory opened in 1846. 
Whilst we are primarily interested in the cards and ephemera, Huntley and Palmer have another collectable associated with their name, and this was based on the decision to sell their biscuits in ever more decorative tins. These do have a link to cartophily though, because the Christmas tins often contained the calendars we collect! You can read about these fascinating and beautiful tins at The Huntley & Palmers Collection Website Or look them up on any internet auction site, and prepare to be amazed. There is even an X rated tin, from the 1980s. 
Moving swiftly on, our card tells us that Reading Football Club started as an amateur team in 1871, and joined the Southern League as soon as it started in 1894. Pretty shortly after this, definitely within the early 1890s, the club were known primarily as The Biscuiteers, but also as The Biscuitmen, or Biscuit Boys, and a similar cartoon baker was used as their symbol, though it does not ever appear to have been on their crest. 
This set was also issued by Ogdens (O100-464 : O/2-122 : Ha.571.2 : RB15/15 ~ also in 1933) and it was re-issued by Imperial Publishing Ltd in 1997. 
Sadly Reading are no longer the Biscuiteers, for in 1976 they changed their nickname, and are now known as "The Royals"
Sunday, 22nd May 2022
P644-666 : P72-216 : RB.17/86 [tobacco : UK] John Player "Famous Beauties" large size (September 1937) 12/25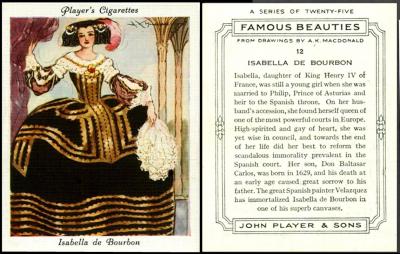 Of course the clue here led you to the Bourbon biscuit, first sold in 1910 by Peek Freans of Bermondsey, London.
The name does actually reportedly refer to the Bourbons, French Royalty, and our card shows Isabella de Bourbon, the daughter of King Henry IV of France, who was married young to Phillip, who would become the King of Spain. At the top it says these were "From drawings by A K. MacDonald"; at the bottom it seems to suggest to me that this is a copy of a work by Velazquez. However on investigation the Velazquez painting shows a much older lady. 
By the way standard bourbon biscuits are usually vegan, but different flavours, or cheaper versions, might not be. Checking the ingredients will tell you this. 
Our original John Player reference book tells us that the set had "Fronts in colour. Backs in Grey, with descriptive text." It also adds that there were two versions, A being the Home Issue and B being this one, issued in the Channel Islands. And the way to tell the two is that the Channel Islands version does not have the Imperial Tobacco Company clause.
However when the original World Tobacco Issues Index was written it changed this and instead of using A and B it listed the Channel Islands sets separately under section 3C and gave them different codes.  And in the modern version it does the same, but they are listed under 4C. 
 
Monday, 23rd May 2022
A400-150 : A36-15 : USA/15 [tobacco : OS : USA] Allen & Ginter "Great Generals" (1888) Bk/50.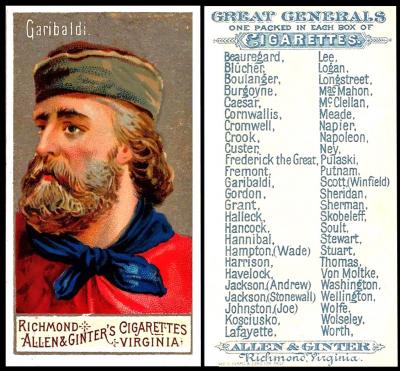 Just like yesterday, this is a person who had a biscuit named after them for this is Garibaldi, which, strangely enough, like yesterday, was also introduced by Peek Freans, in 1861.
Giuseppe Garibaldi was an Italian general who was extraordinarily popular for his successfully fought military campaigns, and who also toured the world, even visiting Britain in 1854. 
In my edition of Jefferson Burdick's Catalogue, printed by Nostalgia Press in 1967, these were valued at fifty cents a card, which put them on an equal footing with other Allen & Ginter's first series of American Editors (though just like some of the James Taddy sets there may have been a printed promise but never did that second series come), Fruits, Natives in Costume, and World's Sovereigns. 
This set did not just show American Generals, as you can see from the reverse, on which are listed all the cards in the set. Some are probably not known to many of you, and others are a far way in the past, like Caesar, Oliver Cromwell, and Napoleon. The most striking thing about the set is the colour, but sadly for some reason this, and many of the early American cards, are subject to flaking, where the paper on the front starts to fall off the card in small patches. I am not sure whether anyone out there would like to explain why this actually was. 
 
Tuesday, 24th May 2022
W675-189 : W62-151B : W/245B [tobacco : UK] W. D. & H. O. Wills "Irish Industries" (1937) 5/50
This set was issued in Ireland only, which puzzles me, I am sure it would have been of interest in this part of the British Isles too.
There are two back designs, the first was an error, for it starts by staying "This surface is adhesive" though the surface is not. Our back was the second version, where this had been removed and replaced. 
The biscuits are not named but they are definitely Jacob's cream crackers, and the same slogan is still used, as is the orange packaging. William Beale Jacob`s bakery, W. & R. Jacob, was founded in 1851 in Bridge Street, Waterford, Ireland, which explains why this biscuit is on this card. 
Though cream crackers were not produced until 1885; they would soon win prizes at many of the great exhibitions. It later moved to Dublin, where, during the Easter Rising, their building was occupied by rebels. And it branched out to start a factory in Liverpool in 1914; this led to the formation of a separate company W. & R. Jacob (L'pool) Ltd, though strangely when the two branches separated the Dublin Company took the W. & R. Jacob name, dropping the (L`Pool) - while the Liverpool branch became Jacob's Bakery Ltd. 
And Jacob`s Cream Crackers remain one of the most requested items in Christmas parcels for former Britons who have emigrated. 
Wednesday, 25th May 2022
[trade : UK] MacFarlane Lang & Co "advert card" embossed (1920s) 1/1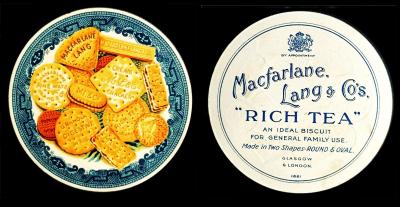 This is a really spectacular circular embossed advert showing a plate of biscuits.
Sadly I have not found it in the Trade Index, but there are plenty of other fascinating items which are probably also of interest to ephemera and advertising collectors as early biscuit advertising seems to have been produced not as the standard sized trade cards we knew in our youth, but on larger cards or even postcards. 
Macfarlane, Lang and Co started out in 1817 in Glasgow as simply Lang`s bakery. However James Lang had a nephew, called John Macfarlane, and the two teamed up, becoming Macfarlane Lang in 1841.
Oddly they never had a biscuit factory until 1886, but by 1903 they were running the Victoria Biscuit Works in Glasgow, and the Imperial Biscuit Works in Fulham, London.
The next year saw them becoming a Limited Company.
 
Thursday, 26th May 2022
P246-560 : P18-52 [tobacco : UK] J. A. Pattreiouex Ltd "The English & Welsh Counties" (1928) 48/52
Ah one of my favourite sets again!
However there is good reason, for this card shows the town of Reading and the circled image is a conveyor belt at a biscuit factory.
It would be most interesting if this was proved conclusively to be Huntley and Palmers by someone magically finding this photograph, plus wording as to its location, in a contemporary magazine or newspaper, but I tend to think it is. My reason for this is because if you look below the circle there are two brightly coloured biscuit tins, and the biscuit tin, as we learned earlier in the week, is not only mainly associated with Huntley and Palmers, but they are in Reading.
Some time I will try to identify these very tins. However it will have to go on the bottom of a very long list of things to do. So if anyone out there is a tin specialist and would like to send us the names and model numbers of these tins, we would be most grateful. 
Friday, 27th May 2022
WRI-200 : WRJT-1 : WRE-1 [trade : UK] Wrights Biscuits Ltd "Mischief goes to Mars" (1955) 12/24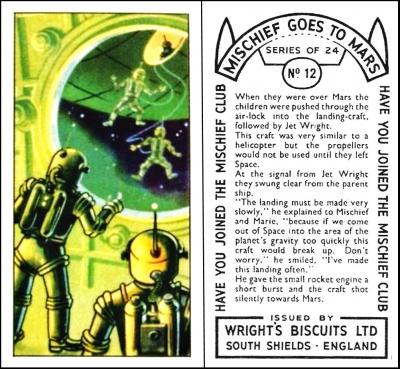 Wrights were based in South Shields. This set first appeared in our original British Trade Index part two, where it said it could be found with two back printings, either A. "Issued by Wright's Biscuits Ltd.." or B. "Join the Mischief Club".
By the time British Trade Index part three was issued in 1986 another version had been discovered, this was coded as C. It had neither of these wordings, and simply left a large space at the bottom of the reverse.
Part three also cleared up a spot of confusion, as some of the sets in part two of the British Trade Index had been listed in the wrong alphabetical order, and this gives us the unusual code of WRJT-1
 
and that`s all for another week. Have a great time if you are going to any fairs as a buyer over the weekend, and don`t forget to tell us if you are stalling out anywhere with your cards or other stock. 
Speaking of fairs, we are starting to work on our branch pages so look out for a questionnaire that you can hopefully fill in or if not download and return with all the information we seek. And if you run a branch or club we would love to hear from you!