Now we are getting to the point of repetition, or rather of my trying to avoid it, hence the sudden idea of the index and gallery. Which we will be doing a bit more on over the weekend
Another thought is that maybe it is time to change to something else, one idea is Counties of the United Kingdom, using the first three cards as a guessing game, and the rest of the week either highlighting any branches or clubs in that area, or looking for unusual references and pictures. There are 110 Counties, so tons of scope, but some may be rather hard to find seven cards for even if we do go off on a considerable tangent.
Any other ideas for changing into the next phase will be gratefully received. Over to you…..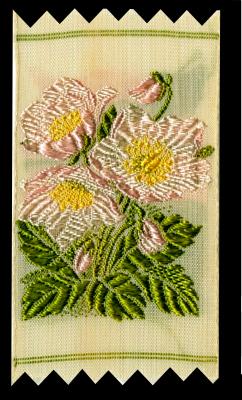 Now you will either be filled with excitement or dread but today has started to be referred to as LEON Day, especially in America, because today we are half way to Christmas. So we thought we would join in and look forward, though I am not sure I will be playing any Christmas music, like some American radio stations have started to do already. 
And if you are still puzzled by LEON, read it backwards….
There are definite pluses to this, you get to find all your lights and see if they work, and you have half a year to sort out suitable presents and cards. 
We have gone for a Kensitas silk here, a Christmas Rose, which is not a rose at all but a hellebore. However its meaning is particularly apt, for it means "Relieve my Anxiety". Apologies for giving you that! 
Unfortunately it is too late to plant a Christmas Rose in your garden, but do look out for them in the shops as plants nearer the festive season. 
And don't forget you now have half a year to sort out all those unusual Christmas "cards" for us to show in our Cards of the Day. Or why not get started at #nationalleonday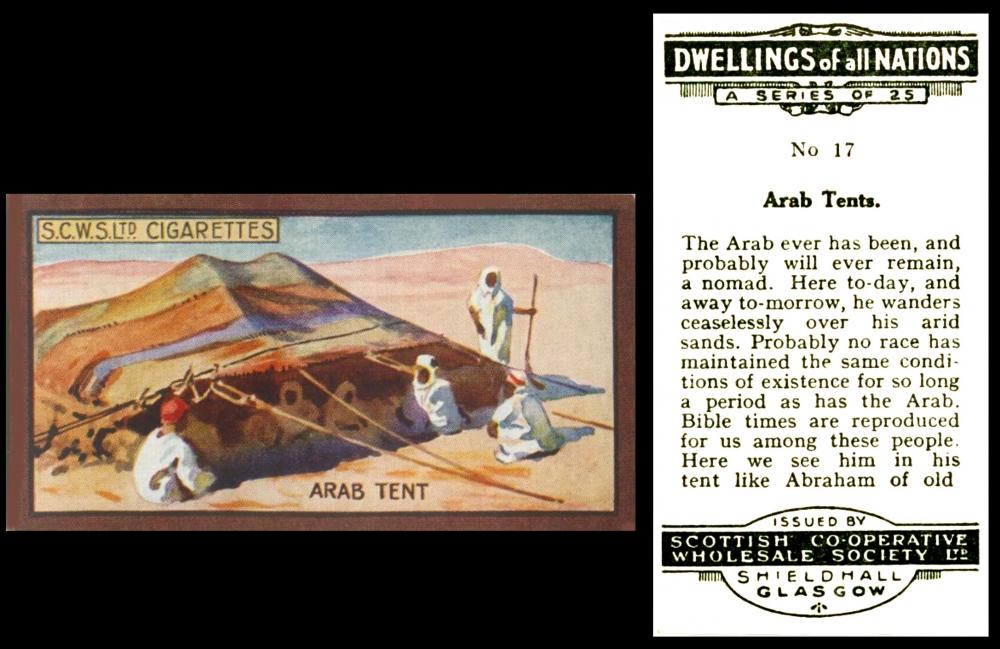 Today is going to be the #GreatAmericanBackyardCampout, and the start of #NationalCampingWeek. And we are not talking about glamping, of course, which to me would be no fun at all. 
I know that most of us are not in America, but there is something wonderful about being in a tent amongst the elements, even in the rain, so why not have a go? Your children and grandchildren would be excited by joining in with the adventure too. As long as it has windows of course, but that is just one of my own personal hang ups, though I found out there is a tent that you fit over the back of your vehicle and lets you sleep in the car so you can look out of the windscreen and get out of the door. 
There are three main sets, or should that be sites, to find cigarette cards of tents.
The first of these is on scouting cards, and the most common are the so called Bell Tents, which are named for their shape, and have one pole up the centre of the inner room, which leaves a hole at the top for ventilation (and rain if you don't do it right, but I never said I was any good at camping, I only said I enjoyed doing it). They are not all bell tents, on Gallaher "Boy Scout Series" 25/100 there is a tent made on the spur of the moment from pieces of canvas and a selection of scout's poles lashed together with ropes. 
Another happy hunting ground is on cards of the Army in the First World War. Most of these are the same design, which is not so surprising as the scouts were run on very similar lines and often used surplus equipment. 
Lastly, but not leastly, some people live in a tent for always. Ah, what fun that would be. Three of these can be seen in the Scottish Co-operative Wholesale Society set "Dwellings of all Nations" (1924) - a North American Indian Tipi, which is card 9/25 – a Turkestan with a kibitka which is a kind of yurt-y bell tent and can be seen on 19/25 –  and our card, an Arab tent, number 17/25. Why I picked that? Well it is colourful, and rather romantic, and gives clear vision. If someone said come camping that would be the one I would have most pleasure looking at the stars through. And what else could anyone ask?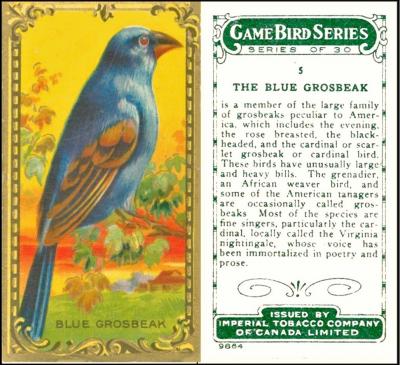 Today is an odd one, but relevant to us, for it is Micro, Small and Medium-sized Enterprises Day - or MSME Day.
You can read more at wincalendar where there is a load of resources and links to follow. 
In case you are wondering what an MSME is, well it is a business that employs less than 250 people. So hands up if you have less than 250 staff, and sell cards, ephemera, or card storage, either as your full stock or a part of it.
And lets have a special promotion – if you send us your social media name, we can put it up on here and give you a free plug, as well as give our readers a chance to pop over and have a look.
In exchange, you can tweet or insta that you are taking part in the event and add @Card_World in the message somethere. You don`t have to be a Cartophilic Society Member either, so long as you have some cards or related items to show off.
And remember the hashtags for this event are #MSMEDay #SmallBusinessBigImpact
Today in 1491 saw the birth of a baby who would become Henry VIII, but by accident, as he was the second son of Henry VII and Elizabeth of York, and only became first in line in 1502 on the death of his brother Prince Arthur, killed by an illness still unattributed, but thought to either be plague, flu, or consumption. He was only fifteen and a half. His wife also had the illness, but somehow pulled through.
Because he was not expected to be King at all, there is little information about the early years of Henry VIII. A bit more notice was taken of him after his brother's death, and more once he became Prince of Wales in 1504, then became King in 1509, aged just eighteen.
He is always shown as a large man and unwieldy of frame, but in his youth he was strong and slim; he only grew larger as he aged, and this created many of the health problems that would send him to his death in 1547.
He is also famous for his six wives, not all of whom were his choice. Indeed, his first was found him by his father, in 1503, in order to make an allegiance with Spain, and its goods; but she was six years older and already widowed, and Henry was only twelve years old, even below the age of consent for the time. They did not marry until 1509, and possibly only then because it was his father's dying wish.  Most of his marriages were unsuccessful and the only one he felt true love for, Jane Seymour, died in childbirth. 
You will find thirty cards of Henry VIII at the New York Public Library to start you off, but not what is thought to be the earliest.That was issued in 1880 by P.H. Mayo and Brother, with Cut Plug tobacco "for chewing and smoking": however some discount it because it is in a series called "Shakespeare Characters"
rather than a true and proper set of Kings and Queens, whilst some like it simply because another of the cards in the set shows his first wife, Catherine of Arragon (yes, that is how they spell it). These cards are plain backed, and are often found trimmed. 
You might be surprised but #HenryVIII is quite popular - or for those seeking something less serious check out @HenryVIIIDuck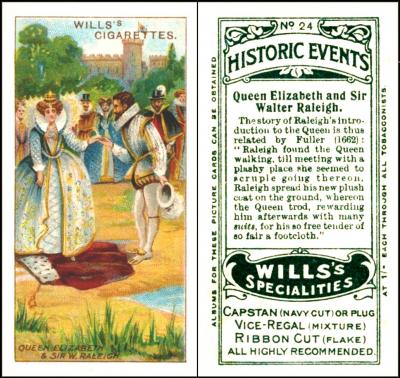 Today in 1620 the King of England banned commercial tobacco growing in England, a strange move which gave the power to the Virginia Company, who would pay a duty tax on imports of a shilling per pound weight.  
Virginia Tobacco is the most popular type of tobacco and the name is from the region in which it was first grown about four hundred years ago, give or take a day. The Native Indians grew tobacco, but the seeds which made the Virginia tobacco were actually imported, you might be amused that they are related to the nicotiana seeds that you might grow in your garden. The soil in Virginia was new to growing, and had not been cultivated nor improved, this meant that the seeds struggled to find a way through and anything to feed off and they were, dare I say, a bit weedy. However it was not all bad because the leaves were more pliant and easier to work with and the taste was much calmer for people who found the so called Spanish tobacco too rich. 
Virginia was first explored by Sir Walter Raleigh, after being given the right to do so by Her Majesty Queen Elizabeth I. He is supposed to have also brought the first tobacco home from Virginia, in 1586, but this has now been discounted as British sailors were known to indulge in the habit some decades prior. However Raleigh definitely brought some tobacco back and claimed it as a new discovery, good for the health, and it was soon all the rage. 
#virginiaTobacco will bring up a range of modern packaging, which could be a good place to insert some vintage tins to excite and inspire those reading ... 
Since 2010, today has been Social Media Day, so we thought we would join in. It seems that not many of our readers have climbed aboard that ship yet, maybe this card is how they feel, so lets have a chat about why not. I have to admit I am not totally comfortable with it, but my enjoyment is growing steadily, because, like most things, if you stand at the edge and look in, things are never quite so much fun as they are when you are taking part.
Time is my enemy, for I dont have that much internet access. However this weekend I plan to restructure my days, so let us see what that will result in,
There are three main sources of social media.
The first is facebook, started in 2004 and the first, but I did not take to this so much, possibly because I would rather have a few close friends and not tell anyone about them than I would boast of having millions that I did not know anything about. But then that is just me!  And if you really enjoy it, and find it useful in your collecting let us know. 
the second is Twitter, which I do use, but not much. The official Society site is @Card_World. The intention here is to post comments of less than 140 characters on about what you are currently doing, and hope someone sees them, and comments as well. There is some wonderful content on here, lots of auctions and wistful things like @aamilne whom I actually declared my interest and am following, something I am not very brave about doing - and I am definitely not brave enough to follow anyone I really like. However there are lots of card collectors and dealers on here so do go and have a look round. 
the third is instagram, to which I am a new convert, I like that because you can edit the text. It seems to be edging Twitter out, and I was astounded to get twelve likes on a photo I put up. The pictures are the main draw here, and again there are some super cards and ephemera. One tip is that often a person has the same name on twitter and instagram, which is prefixed with an @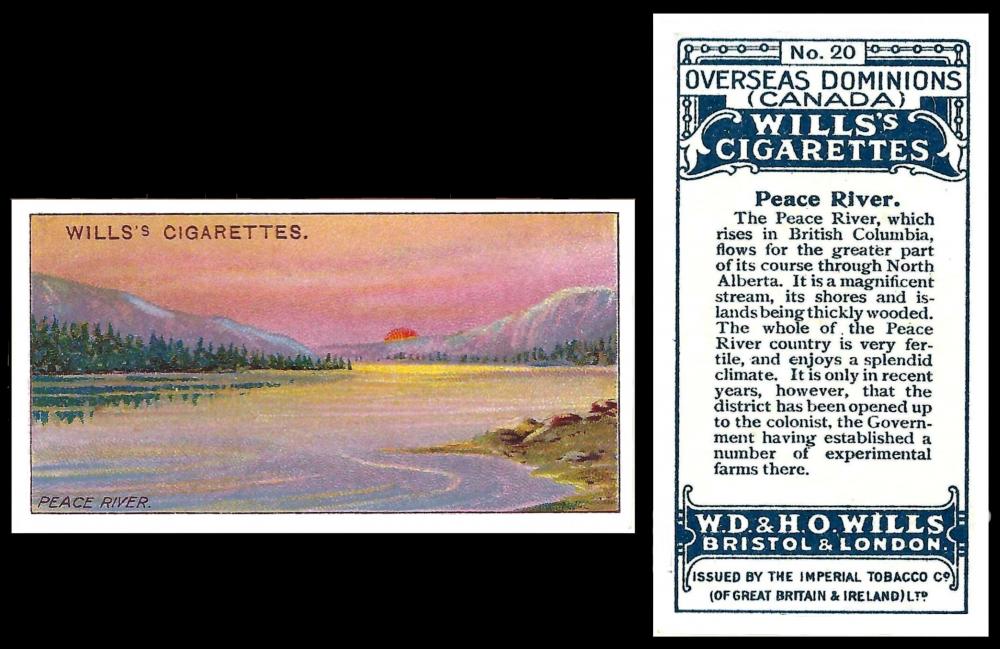 Today was once Dominion Day and now it is Canada Day. In fact if you are reading this is Canada you are probably not at work, because it is a national holiday.
It was today in 1867 that Nova Scotia and New Brunswick joined up with Canada  and became a Dominion, which was then called Canada. 
In 1914, W. D. & H.O. Wills issued a set of fifty cards called "Overseas Dominions (Canada).  This set aimed to show the wonders of a life in Canada, and to encourage settlement, so it features images of many of the major places including Ottawa, Quebec, Montreal, Winnipeg, Halifax and Toronto, as well as the larger industries and employers, lumber, fishing, and farming. These were tough jobs but they needed tough people who could support themselves and be useful to their new land. There were also cards to show that it was not just a wild untamed land, cards 38 to 41 showing the Parliament Buildings in Quebec, the Government Buildings in Winnipeg (39) and Halifax (40) and the Parliament Buildings in Victoria. 
 #CanadaDay #OhCanada #DominionDay
This week's Cards of the Day...
... have been recording seafarers week, so plenty of scope there! We have also found a couple of sea related scarcities, on which note, if we are going to have a gallery added to this site, we welcome, or more correctly encourage, your scans of your really rare cards, front and back. We will do the job of finding a way to fit them in to our system and talk about them as either the Card of the Day or in the Weekend Newsletter. And you do not need to publish your name, for we are perfectly happy to say "A collector" and leave it at that - though anyone who does want to be linked with their wonders is welcome to ask that their name be added so that their card goes on remaining part of their collection until the end of time. 
Saturday, 18th June 2022
O100-428 : O/2-102 : RB.15/86 : H.68 [tobacco : UK] Ogdens "Football Club Colours" (May 1906) 42/50+1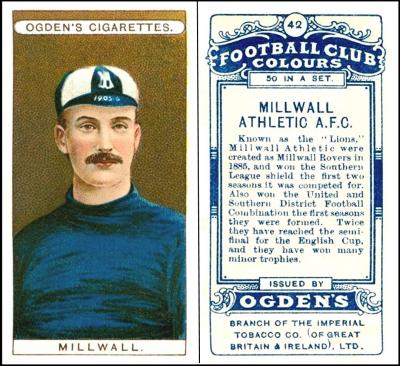 Also issued by Churchman (C504-270 : C82-20 : RB.10/61 ~ January 1909) and Franklyn Davey (F756-440 : F52-13 ~ also issued in January 1909). Both the Churchman and the Ogdens set follow the same numbering, but the Franklyn Davey cards are untitled, unnumbered, and also the most valuable, but it is probably simply that far fewer Franklyn Davey cigarettes were sold than Ogdens and Churchman ones. 
All the cards were printed by Mardon, Son and Hall. 
The Churchman version was definitely the easiest to acquire, and it was the first to be illustrated in Cigarette Card News, Volume 1, issue 6. I will get that scanned and added some time. 
Only the Ogdens set had a fifty-first card, this being the Captain of the South African Team, who toured England in the autumn of 1906; this was almost certainly topical and by the time the other two sets were issued in 1909 was all forgotten. In the London Cigarette Card Catalogue of 1950 this Ogdens set is split into the main set, being retailed at between 1/9d and 5/- a card for odds or £12 a set, and the card fifty-one which was available at 10/-. In comparison the Churchman set was retailed at between 4/- and 12/- a card for odds or £30 a set, and the Franklyn Davey at between 4/6d and 15/- a card for odds or £37 a set.
Millwall, of course, was in London's Docklands, and docks are the most important part of the seafarers journey, from which they sail out, and to which they hopefully return home. Here their cargo is unloaded and they can explore the feeling of the solid earth on their feet. At one time the Docklands was bustling and thriving, and full of comradeship, a word so fitting of its Naval origins; today this has all gone, it has been changed in use and character, and is housing for the most part, though the scars will always be there for the knowing to trace along its skin. 
According to the Cartophilic Information Exchange the footballer shown is General William Stevenson. He was born on New Years Day in 1875, in Padiham, Lancashire and died on New Years Eve 1961. You can read more about him on the Play Up Liverpool website
He also appears on Cohen Weenen "Football Captains 1907-1908" (H.94 ~1908) 58 
Gallaher "Association Football Club Colours" (1910) 36/100 – playing for Millwall
Ardath "Famous Footballers" (October 1934) 16/50 – playing for Motherwell
Sunday, 19th June 2022
P644-910 : P72-25.1 - RB17/4A [tobacco : UK] John Player "Advertisement Card 1929" – untitled (1929) Un/1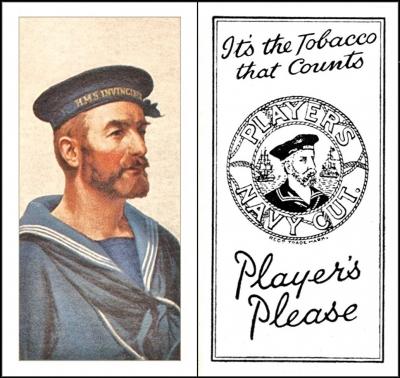 Here we have a single card that was inserted into packets as an advertisement. Our card was actually illustrated in the original John Player reference book RB.17, issued in 1950, so we will add that when we get to a scanner!
 It is a set of one, but it is also available in a larger size, which would have been in the larger packets, so I guess type collectors can decide for themselves if they call it a set of one or a set of two. I don't have the larger size, if anyone does it might be fun to add it and allow your fellow collectors to visually compare the two.
In the London Cigarette Card Catalogue of 1950 both were available, and they retailed at 1/6d for the standard size and 5/- for the large.
If you look closely at the hat band it reads H.M.S. Invincible, which is a change from the original Player's Sailor, for his hat band said H.M.S. Hero, though in fact if you look really closely the life belted head on the reverse of this card still says H.M.S. Hero. Wikipedia/Hero tells of eight ships called H.M.S. Hero but none of them were sailing at the time of this card's issue. However there was no H.M.S. Invincible in 1929 either, so if anyone knows what is going on, please pass us the info.
Even curiouser there is a set of John Player playing cards issued around the same time which also has the same dual band situation, the sailor on the back of each card having H.M.S. Invincible on his hat band, and the head on the ace having H.M.S. Hero.
 
Monday, 20th June 2022
W675-649 : W62-450 : W/255A [tobacco : UK] W.D. & H.O. Wills "Lighthouses" (1925-1930?) 35/50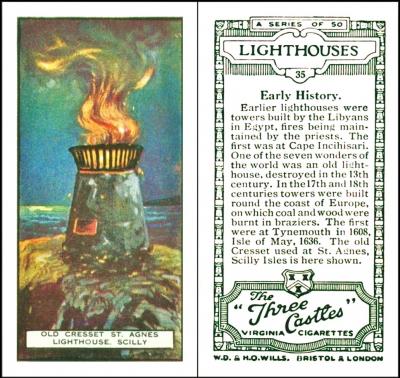 The lighthouse is truly the seafarers friend, not only a light to illuminate their path, but a beacon shining in the darkness, and a refuge if the calmness of the sea allows for rowing boats after all else is lost.
This entire set is devoted to these majestic structures but Old Cresset St. Agnes is rather a favourite, for it shows that even when we had no electricity we still found a way to make darkness into light. Mind you for some reason, although it deals with the earliest history of these structures it is card 35, over halfway through. The lighthouse mentioned as being the first (yes I have given up trying to get those letters in the right order!) was actually at Sigeum near Troy, and the "..old lighthouse.." which was one of the seven wonders of the world was of course The Pharos of Alexandria.
The Wills archives tell us is that this set was issued in July 1926 with Three Castles brand in New Zealand. It was also issued anonymously as a general overseas issue by British American Tobacco in the same month and year. In our original Wills Reference Book the two sets were included together, hence the A suffix, there being a B for the anonymous, but for the World Tobacco Issues Indexes they were split away as two separate sets, the anonymous was moved to the Z section. In 1956 this was coded as ZB6-43 and for the most up to date version it has become ZB07-460. 
 
Tuesday, 21st June 2022
S70-12 : S474-540 [tobacco : UK] John Sinclair Ltd "British Sea Dogs" (1928) 22/50
John Sinclair was based in Newcastle-on-Tyne, with premises in Bath Lane, and a factory called Barney`s Tobacco Works. No, I don't know who Barney was – do you? I have found out that Barneys Tobacco was made for John Sinclair but Murrays took it over. It is no longer made though.
Anyway John Sinclair was founded in 1856, and claimed to be the first company to issue cigarettes in the North of England, under the brand name of "American Cocktail"; but surely cocktails only came along in the 1920s and 30s. The issuer Robert Sinclair, also of Newcastle-on-Tyne was actually a breakaway, their partnership being dissolved in 1885. this was one of the last sets they issued before they were acquired by Carreras in the 1930s. The set is a popular one and was reproduced in 1997.
It is quite unusual to have a card of a diver like this, but if you look hard you may find a few more. This one is especially interesting because it is stated to be "A Diver Time of the Great War", and it is really hard to find any mention of divers during the conflict apart from just five, who you can discover at History.com  - is this card really one of those men?
There is a set of fifty cards which was issued by Victoria Gallery, these are called "Deep Sea Diving" and it is really hard to find out anything about them, I cant even find a picture of a back, but they look very interesting. 
 
Wednesday, 22nd June 2022
W675-103 : "W62-70 : W/52 [tobacco : UK] W.D. & H.O. Wills "Britains Part in the War" (1917) 7/24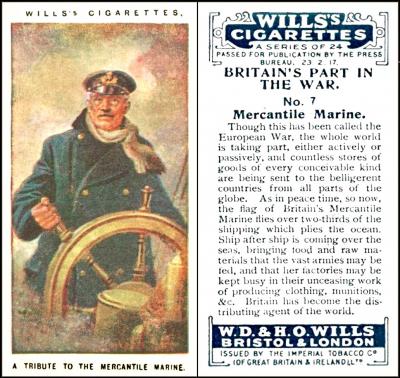 If you look in the header box on his card you will see that these were "Passed for Publication by the Press Bureau 23.2.17", a kind of censorship test to ensure that no information on the cards could be useful to the other side.
The set was not issued for export, and perhaps that is why, though it does include cards of other Allied Nations, the ANZACs for one, and it would have been good for them to be allowed to see their work, and sacrifice, was appreciated if only by being included in this set.
This card is about the Mercantile Marine, and the text seems to be an attempt to prove that whatever the U-Boats did, we could take it, for "…ship after ship is coming over the sea, bringing food and raw materials that the vast armies may be fed, and that her factories may be kept busy in their unceasing work of producing clothing, munitions, &c".
In truth the Merchant Navy faced a deadly foe, and many sailors were lost, so much so that they had a special medal at the end of the First World War, called the Mercantile Marine War Medal, first awarded in 1919 for "one or more voyages" or "at least six months service". It is estimated that during the actual War, (not including the aftermath, when mines were still bobbing about across the seaways) 3,000 vessels were lost, and over 18,000 men, all of whom were simply sailors, not military ones, and not even part of the Royal Navy. In fact many men were not known, because civilians employed on seafaring vessels did not even get on the register until War broke out, and the records that were so hastily made then were all lost. 
By the way, in case you were wondering about this strange term "Mercantile Marine", yes, it is the Merchant Navy, but it was not called so until 1928, and only then by a strange default, when the Prince of Wales, the future Edward VIII, was granted the title of Master of the Merchant Navy and Fishing Fleet. 
 
Thursday, 23rd June 2022
L073-420 : L8-55 : RB.9/56 [tobacco : UK] Lambert & Butler "Interesting Customs & Traditions of The Navy, Army & Airforce" (January 1939) 11/50
This card shows something known to, and remembered fondly by all sailors, the boatswain`s pipe, the call of which gives orders, welcomes sailors aboard, and makes it known when higher ranks are arriving.
They are quite collectable now, and were often silver; however, just like cards, there are modern reproductions. 
This cap tally is for HMS Rodney, sister ship of HMS Nelson, who entered service with the Royal Navy in 1925 or 1928, saw service in the Second World War in Norway, the Mediterranean, including the Normandy landings and the Atlantic.
Her general claim to fame was that she was present at the sinking of the Bismarck in 1941. But she was also featured on a series of 48 photographic cigarette cards called "The Navy" which was issued in 1937 by Pattrieouex, and on Gallaher`s coloured set "The Navy" Some of these cards are actually the same, look at just one "Spit and Polish", which is a close up on card 20 of the Gallaher coloured set and just the left hand man off card 43 of the Pattrieouex photographic set. 
Despite these, she was scrapped in 1948. The reason given was that she had been overused and not maintained, and she was now in too poor a condition to refit and save. The suggestion of a dry dock and museum was apparently not suggested. 
Friday, 24th June 2022
G075-160.7 : G12-20.7 : Ha.492.3 : X1-Ha.492.3 [tobacco : UK] Gallaher "The Great War : Victoria Cross Heroes 7th Series of 25" card no.166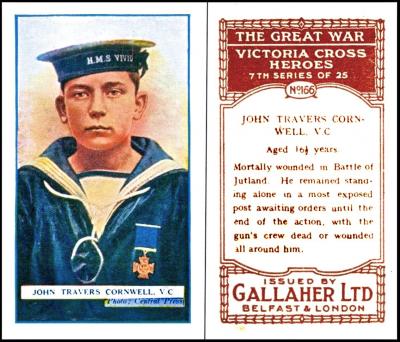 This young man is Boy, 1st Class, John Travers Cornwell, aged 16½, but looking much younger. He was a boy scout, and joined the Navy at the age of 15, without telling his family, his references coming from his headmaster and from a man for whom he was working as a delivery boy. 
The card says he was "mortally wounded in Battle of Jutland", this was on the 31st of  May 1916, when his ship was attacked by several German Cruisers. At the time he was working on the deck with one of the guns, doing the job of making sure the gun sights were true and the range was accurate. He did this by turning tiny wheels when ordered to by the men in command, just one of the jobs that the "boys" with small fingers were so much better at. His gun received several direct hits and was just a gun, no armour surrounding it, so all the men were immediately downed. John Travers Cornwell was also wounded but propped himself up for fifteen minutes in the hope that a new crew arrived.
He died the next day, before his mother could reach the hospital. 
And this is just one of the stories from these cards. 
Considering the Victoria Cross was only awarded as a great honour, it is chastening to think that eight series of twenty five cards were able to be issued in 1915-1916 alone. two hundred souls whose bravery was such that it needed to be recorded with the V.C., and, like John Travers Cornwell, most of them were not alive to receive it. 
Curiously, the first series of this set was also issued by B. and J.B. Machado, in Kingston, Jamaica (M075-140 : M14-2), which was a company allied to British American Tobacco. They only issued those first twenty five cards, in 1916, and it is not known why they did, or why they stopped.
There is a really well researched piece about Machado online at flickr as part of the National Library of Jamaica. 
now we will close with the thought that this is not the end for we are going to crack on with that index and gallery and maybe by the end of the weekend there will be some major progress. 
once that is there I can start adding in other information as I work (slowly) through the magazine library
Sleep well whilst I am working, and see you all next week