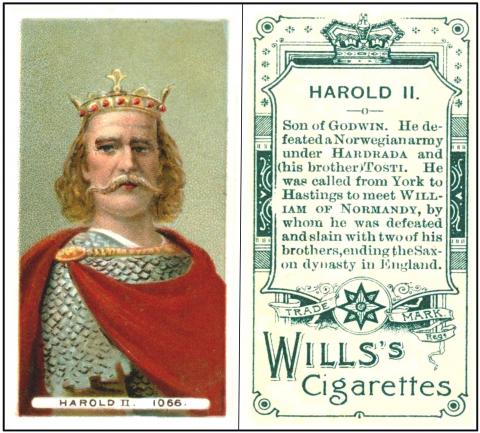 W675-081 [tobacco : UK] W.D. & H.O. Wills "Kings and Queens" untitled - Wills Cigarettes at base (1902) Un/51
This set was recorded in the first Wills reference book as W/9 and already there were many distinct versions known. The first set, W675-082A was believed to have been issued in 1897/1898, these are "short" cards with backs in either (a) grey or (b) brown. These were followed in 1902 by W675-082B, "long" cards (2mm higher) which include the addition of the date of death of Queen Victoria, and either are (a) a set of 51 cards with "Wills's Cigarettes" at the bottom, or (b) a set of 50 cards with "Wills's" at the top and and "Cigarettes" at the bottom.
This is the first card we feature which mentions the fact that his father was Godwin, which is the root of where we get Harold II`s alternate name of Harold Godwinson (Godwin's Son). Godwin also had a daughter, Edith who was the wife to King Edward the Confessor. Now Godwin was the Earl of Wessex, and very powerful, as well as ruthless. You can read about him and some of his doings at https://www.hampshire-history.com/earl-godwin-of-wessex/. Some say that it was as a result of these things that Harold may even have been killed, with the Battle of Hastings providing a cover...