Well here we are, almost December, and it is cold enough to snow. It is certainly frosty in the early mornings. Now we have a storm coming over this weekend so do be careful and stay in if you can. There is plenty of reading here! 
So what can you join in with this week...
The 27th of November, every year, is Lancashire Day. So greetings to all collectors who live or work within its boundaries. Now you may not know this but there was once a Lancashire Branch of the Cameric Society, which became a Cartophilic Branch too. And here is its story, an odd one, because it was told piecemeal. In Cartophilic Notes and News (Vol. 3, No.29 - September/October 1969) it simply states that the Lancashire Branch of the Cameric Cigarette Card Club was formed by combining the Liverpool and Manchester Branches, and that their first meeting was at Aigburgh, Liverpool, on 15 June 1946.
The Manchester Branch started in June 1939 with a meeting of collectors arranged by Mr. A. J. Woolley in a Manchester Inn to see if any local collectors would like to form a northerly club allied to the Cameric. About six or seven collectors turned up including Cyril Marsden and Mr. Gilbert, both of Bolton, and Mr. Sutcliff of Bury. However the first mention of a Manchester Branch of the Cameric actually appears in Cigarette Card News( Vol. 6, No.67 - April 1939) in the "Around the Clubs" section, which states "In addition to the towns mentioned last month, Branch Secretaries have been appointed for Ayr and Manchester...." Now the Secretary of the Manchester Branch was given as A J Woolley, which means he had already applied to host a Manchester Branch, and been named as its Secretary, at least two months before convening the meeting in the inn. Anyway, the small group started to hold monthly meetings, but had only managed four or five before they were disrupted by the War; Mr. Woolley went first, called up, and sent to the Royal Navy, so it was decided that the Branch would close until after the war had ended.
On the 11th of December, 1943, a Mr. Frisby called a meeting at his home to try and form a Liverpool Branch of the Cameric Club. Unfortunately nobody turned up but he did not give up, and the following year he tried again, also advertising in a local newspaper. This resulted in quite a few letters, and the recruitment of several members. That Branch met monthly until early 1946.
When Mr. Woolley came home from the war, in early 1946, he found that there was a new Branch of the Cameric Club in existence in the same area. It was therefore agreed to combine forces under the more inclusive title of the Lancashire Branch. So on Saturday 15th June, 1946, at the home of Mr Frisby in Aigburgh, Liverpool, Lancashire Branch was born. Not long after this, at the third meeting, Mr. Frisby had bad news, his business was taking him to London, so he had to resign; Mr. Woolley then became the honorary secretary and treasurer.
By 1947 they had ten members and took a major step forward by hiring a room for meetings. George Gilbert was President from 1949 to 1950, but during the winter of 1950 his eyesight started to fail him, though he regularly attended their meetings right up to within a week of his sudden death. In 1949 Mr. Woolley had to resign, and Frank Easson was made Branch Chairman in 1952, moving up to Vice President the following year. In October 1951 Mr. Digby`s health made it impossible for him to carry on, and Cyril Marsden was elected in his place. In 1953 Mr Woolley announced he was moving to South Africa.
At the Cameric AGM in October it was reported that Lancashire Branch had suggested some kind of amalgamation between the Cameric Club and the Cartophilic Society, and that the two should collaborate on a monthly journal. This was not thought a good idea. Strangely, in just over ten years, in 1964 the Cameric Cigarette Card Club did amalgamate with the Cartophilic Society. They stayed as Lancashire branch for some years; their last meeting was on 13 September 1969 at the home of Frank Easson and his wife. However that was not the last of the Branch, for in November/December 1969s Cartophilic Notes and News, rather buried away in "Secretaria" is a small piece called Change of Name which reads "The Lancashire Branch has suggested that as its boundaries now extend much further afield a more appropriate title would be "The North West Branch". The Council has agreed to this request."
There is a LOT more to this story, but it will one day appear in its entirety in the Branch section.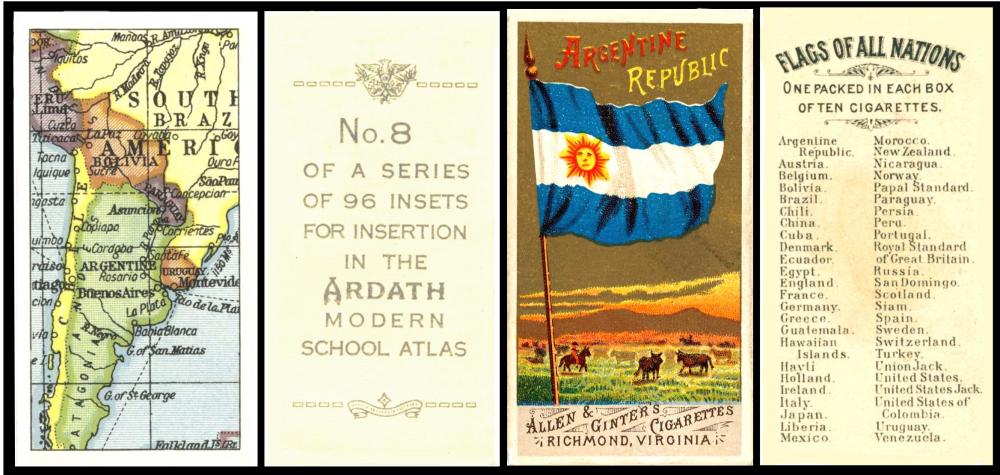 Today we have to give a mention to a town with today`s date as its name!
28 de Noviembre, or Veintiocho de Noviembre is an Argentinian town, close to the border with Chile, it is not very large, with just over five thousand inhabitants, and its main occupation is coal mining. However, it is what we might call a "new town", and was founded on November 28, 1959, after being made from several smaller settlements, or maybe even camps.
Argentina itself was a dependency of Spain from 1535, only gaining its independence in 1816 and calling itself the Argentine Republic. Its coat of arms was adopted in 1813, and it includes the rising sun emblem to show that it is a new nation awakening.
Argentine tobacco manufacturers did issue cards, some of the top makers are Leon Duran of Buenos Aires,  Ariza, and Jose Sueyro. Most of these cards seem to be scantily clad ladies, a particular favourite being cards where the lady slowly retires to bed.
Argentina is still the second largest producer of tobacco within South America, only Brazil grows more.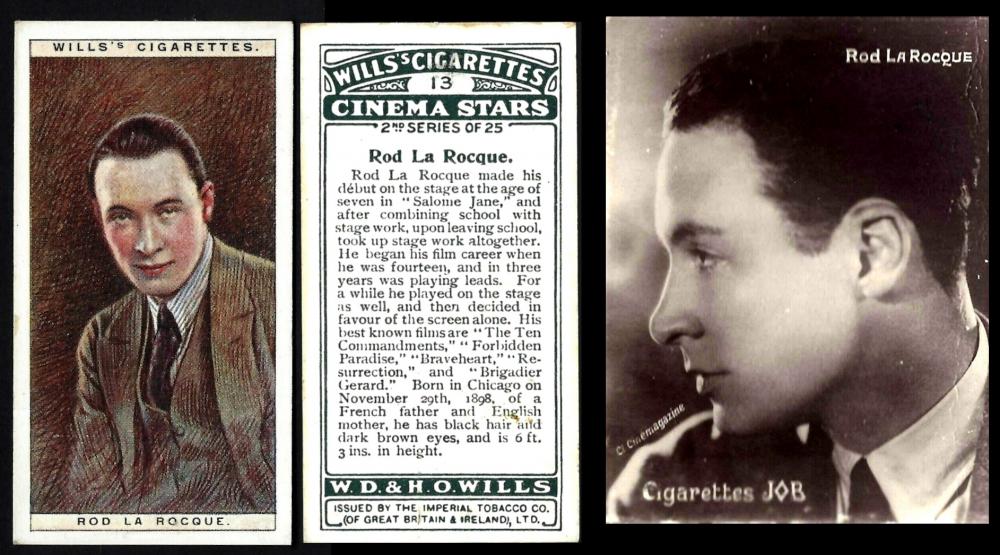 On this day, Roderick Ross La Rocque was born in Chicago; there seems to be some dispute as to whether it was 1898 or 1908. He was a stage actor as a teenager and aged 16 he appeared in his first motion picture, "The Snowman". He then moved to Essanay Studios, which was primarily known for making Westerns, though Charles Chaplin was one of their stars in the early years and appears on their postcards, in fact the Red Letter postcards show the Essanay logo. When Essaney closed Rod La Rocque moved to New York, appearing on the stage and in the films.
His big break came in 1923, this was the biblical epic "The Ten Commandments", directed by Cecil B De Mille. Mr. DeMille really liked him, and was best man at his wedding, to Vilma Banky, a Hungarian film star who he had met at a party in the director`s home. Some say the meeting was even engineered by Mr. DeMille; there was certainly a lot of money thrown at the wedding and most of the top stars of Hollywood attended.
This is the time when the two best known cigarette cards were issued - the New Zealand set of Lambert & Butler "Popular Film Stars" (1925) 15/50  and Wills "Cinema Stars" second series (1928) 13/25. which gives the 1898 birthdate.
The married couple moved easily into talking pictures and they frequently acted together, though she was also showcased with many of the hottest leading actors of the time, making films with Rudolph Valentino and Ronald Colman. None of them turned her head, and she remained faithful to her husband, though they had no children.
Some sources say that she died in 1933 whilst they were living, and filming in Germany, but she actually outlived her husband. They returned to America as warclouds moved across Europe, and kept acting, but nothing spectacular, his last film was Meet John Doe (1941). He died in 1969, aged 70. She died in 1991. 
Today is St. Andrews Day. Greetings to all our readers, and friends, who live in Scotland or who have Scottish ancestry. Now there are several St. Andrews we could have picked, especially including the golf connotation, but we have decided to fly The Saltire, which is the proper name for the Scottish flag.
The cross and St Andrew are actually connected, rather gruesomely, as he was crucified on a cross of this shape. Before that, it had been him who converted Scotland to Christianity. You will also be able to pick it out in the Union Jack, which is derived from the Union Flag of 1606, which was designed to mark the occasion when King James VI of Scotland also became King James of England, on the death of Queen Elizabeth I.
When you think of motor manufacturing, you probably imagine a line of robots, each doing one job continuously, and completing a vehicle as it moves along, part after part. However this is not a new idea; it all began on this day in 1913, when the first moving "Assembly Line" first rumbled into action. The factory was based at Highland Park in Michigan, and it belonged to Henry Ford. The car produced on it was the Model T, and this car was already in production; however the production line was a way to make it cheaper so that more Americans could afford them, especially farmers and rural workers. In fact the height of the ground clearance was specifically designed to make it more usable in mud and rutted roads. 
On the second of December 1933 a cinema musical film called "Dancing Lady" was released. It starred Clark Gable and Joan Crawford, and was based on a book. However, it had another claim to fame for it featured Fred Astaire, playing himself, in his first motion picture. Actually it had several claims, as it was the first film where Franchot Tone used that stage name, the first film where Nelson Eddy was on the credits (he also plays himself, as does bandleader Art Jarrett), and one of the earliest feature films for the original Three Stooges.
Fred Astaire, and his sister, Adele, were already famous, that`s why he was appearing as himself. They had danced together in vaudeville from children, appearing on Broadway from 1917. In 1924 they had been the stars of George and Ira Gershwin`s "Lady Be, Good!", the first ever full length musical. Their second hit was "Funny Face", which led to the break up of the act, because during the London tour Adele met Lord Cavendish, one of the sons of the 9th Duke of Devonshire, and they decided to get married and move to his estate in Ireland.
With this in mind the 1931 musical "The Band Wagon" featured more solos from Fred, hoping to launch his solo career.  However his first musical alone, Cole Porter`s "Night and Day" was not a great success and he decided to move to Hollywood, thinking that he was not so connected with his sister in the minds of moviegoers as he had been on the stage. He had a successful movie career, and made many musical films with his new partner Virginia McMath, otherwise known as "Ginger" Rogers, though in later years he proved he could be a serious actor as well.  He died in 1987.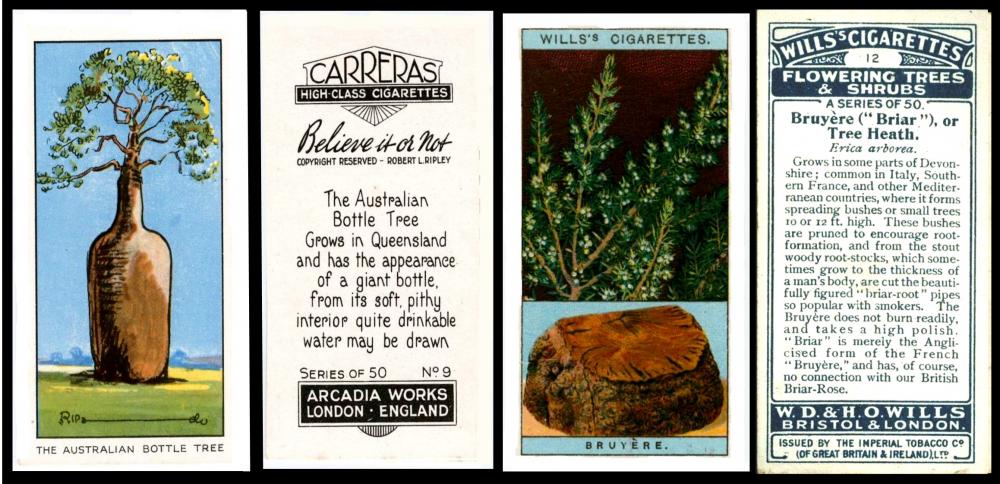 Friday 3 December and Saturday 4 December is Tree Dressing Weekend, which was actually started in 1990 by Common Ground.
Now the actual idea of this is to make you look at your local environment, and the trees that surround you. If there is one that you like the look of more than the rest, why not start looking after it, watering it in dry weather (its best if this is the tree outside your house), making sure that there is no damage to its branches, and most of all learning about it – what species is it, when should it flower, or lose its leaves. Then this weekend you celebrate that tree by decorating it with ribbons, or whatever you fancy.
Whilst the tree you decorate is supposed to be a living outdoor tree, some people think this is the perfect weekend to put up your artifical tree, or to put the first Christmas decoration on the Christmas tree that grows is part of their garden. The one thing it is not very good for is to buy your real tree, because this needs to be done much closer to Christmas or you will be knee deep in needles. However you can go and walk round a Christmas tree farm or yard and see what sort of tree you would like. I saw my first Christmas tree seller yesterday, always a sign of impending festivities.
There are plenty of cards showing trees, I am certain you have several in your collection, even as backdrops to the main subject. Why not have a "leaf" through your album and see what you can find.
This week's Cards of the Day...
Well this week, as you may have guessed, we have been featuring Thanksgiving for our "cards of the day!" It was a last minute decision, but bolstered by my discovering it is the 400th Anniversary of the first ever one. I`m surprised at how many cards you can find for Thanksgiving, and this week have found some unusual "fare" for you., which I hope you have enjoyed.
Saturday, 20th November 2021
W675-239A / W286A [tobacco : UK] W.D. & H.O. Wills "Our King And Queen" (February 1937) 17/50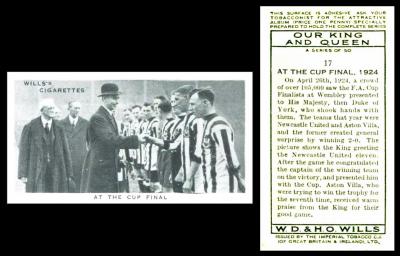 This unusual football card shows the Duke of York (later to become George VI) shaking hands with the Newcastle United squad at Wembley, at the F.A. Cup Final, in 1924. If anyone can suppy the name of the footballer with the King`s hand, please let us know. This year tends to be known as the Wembley Exhibition Cup Final, but it was actually the second to be played at the Wembley Stadium that formed the centrepiece of the exhibition, the first year having been played whilst the exhibition was still being built around it, providing of useful ladders and tools with which non-ticket-holding fans attempted (and succeeded) to gain access. Actually the 1925 F.A. Cup Final can also be regarded as an Exhibition Final, because the exhibition was on for 1924 and 1925.
This set replaced "Household Hints" first series, which had been circulating for five months, since September 1936. I`m not sure why they made it black and white, but perhaps to resemble the newsreel footage of the time. It was a relatively short run though, being replaced by "Wild Flowers" second series in May 1936. It was first recorded in the fourth Wills Reference Book, as W/286, where it tells us that a variety card exists at number 3. It was issued on the UK Mainland, and in the Channel Islands – the difference between the two sets being the fact that the album and Imperial Tobacco clauses do not appear in the Channel Islands version.
In the London Cigarette Card Company Catalogue for 1950 this issue is being sold for 1d a card, and 4/- a set, however it was even more plentiful than that, and carried the little symbol to say it was on special offer in the Abridged Catalogue. I dont have that, but if anyone would like to tell us what it was reduced to we will add it in here!
By the way, if you nip along to https://cartophilic-info-exch.blogspot.com/2015/11/wd-ho-wills-life-of-hm-king-edward-viii.html you can also see King George VI`s brother, Edward VIII, shaking hands at the 1929 Cup Final, also at Wembley, on card 32/50 of W.D. & H.O. Wills` unissued set "The Life of H.M. King Edward VIII". This match was between Bolton Wanderers and Portsmouth. 
Sunday, 21st November 2021
H536-140 [tobacco : UK] Hignett Bros & Co. "Greetings of the World" (1905/1922) 9/25
The reason for the two dates is that this set was reprinted, but in exactly the same format, in 1922, so it is almost impossible to know which date a certain card was taken from the packet.
Now I am going to be honest here and say when I added this I was thinking of doing World Hello Day for the theme of the week, but when I looked later on in the evening that was on Sunday, not Wednesday. But did you know that by some stroke of luck Mexico also celebrates Thanksgiving Day, and at about the same time.
Their Thanksgiving is more religious than it tends to be in the United States, but also celebrating the Harvest and its successful conclusion. and both countries decorate their homes and stores with pumpkins, fruits, and autumn leaves.
It is thought that the Mexican Thanksgiving came first, which may seem rather curious, until you consider that harvest festivals date from ancient times; the first of all, known as Lugnasadh, was celebrated in Celtic lands well before the tenth century AD. 
Monday, 22nd November 2021
P644-070 [tobacco : UK] John Player "Countries - Arms and Flags" (1905) 4/50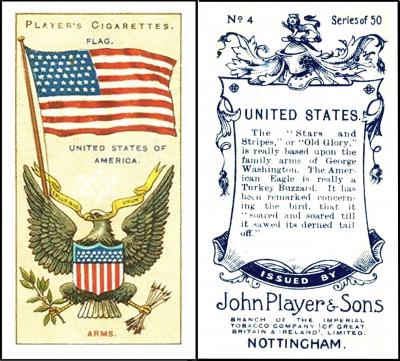 This is the flag of the country we most associate with Thanksgiving, the United States of America. However, I wonder how many of you knew that their American "eagle" emblem may actually not be one? For according to the back of this card it is a Turkey Buzzard! I have been unable to find out more about this, yet.
Now this set, though it is quite plentiful, is actually quite strange. The first thing is that it is not actually titled as "Countries – Arms and Flags" on any cards in the set. It was only issued within the UK, but was issued twice, firstly in October 1905, being printed on thick card, then reprinted on thinner card before being re-released in either June or July 1912. And we also know that they were slightly altered, with new artwork, because there are differences in the text between the two printings on cards 1,3,19,38,40,45 and 48, and also in the fronts on cards 11,12 and 16. These seem to have been discovered by Colonel Bagnall, or at least they were first reported in Cigarette Card News, (Volume 12, page 69 and 86). I dont have those, but if anyone does and would like to furnish us with a scan please do. Also if anyone can describe (or scan) the varieties on the cards, back or front.
There must have been some difference in the supply as well, because, in the 1950 London Cigarette Card Company catalogue, whilst all odds are the same price, 9d to 1/6d. each, the thick card sets are £4 a set and the thin card set 70/-.
Tuesday, 23rd November 2021
M884-130 [tobacco : UK] B. Morris "General Interest" - Agriculture in the Orient (1910) Un/30 - Cultivating the Yam in Africa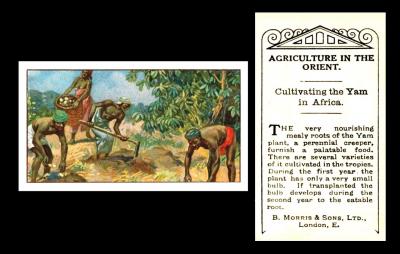 These are amongst my favourite cards, not for their look, but because they were so many of my "firsts"the first unframed proper "cigarette" cards I ever owned, the first part set I ever owned, the first cards I ever made a wants list of, the first cards I ever fossicked about at stalls and in odds boxes for, and the first cards I ever physically completed a whole set of.
There seems two schools of thought, the first is that all were intended to be issued as separate small sets of six cards, and the second is that they were merely sub sets in a larger series called "General Interest". However, the wording "General Interest" does not appear anywhere on the cards, and nor does any mention that they are intended to build into a bigger set. The 1950 London Cigarette Card Company catalogue has them under the main heading but prices them in sub sets, from which we can tell they varied as to supply and value – the least expensive being "Schools in Foreign Countries" which was 4/- a card and 12/6d. a set; whilst the most expensive was "The Ice Breaker", at 6/6d/. a card and 20/- a set, though this may have been due to it being a nautical subject. The other three sub sets, "Agriculture in the Orient", Architectural Monuments", and "Strange Vessels" were listed at 5/- a card and 15/- a set.
Now you will also find the yam in John Player "Useful Plants and Fruit" a set of unnumbered cards, I always think that set was actually designed to be called "Pictures of Useful Plants and Fruit". What do you think? I base that on the fact that the "of" actually appears in the title box. The reverse tells us that the yam (Dioscorea sativa) "is an excellent substitute for the potato … but is of a closer texture and sweeter.". This is why the yam is more usually called the sweet potato, a popular Thanksgiving side dish. The card also tells you where it comes from, and how it grows, but totally fails to mention that only some species are edible, whilst others are poisonous; it is reportedly okay to eat the ones where the leaves come in pairs, but not the ones where they are down the stem one after the other (I hope I got that right). It also omits the fact that the raw tubers of all species are poisonous, and narcotic, only cooking makes them safe. And the mention of narcotic is interesting, as today "Sativa" is a word that is immediately associated with Cannabis.
Wednesday, 24th November 2021
A400-120 : USA/12 [tobacco : USA] Allen & Ginter "Fruits" (1910) Bk/50 - Cranberry
This is a cranberry, which provides accompaniment to most Thanksgiving feasts. Many people believe that whilst the settlers brought the meat, the Native Americans brought the cranberry, which to them was only partially used for food, being also important in medicine and dyeing of clothes. However the cosy idea of the settlers and the Native Americans sitting down and sharing their meal is almost certainly not what happened. But for those who follow that thought, the cranberry soon became a useful addition to the settlers meals, providing a burst of colour to what was pretty brown fare.
I have to say I really like this set, even though I think it may have been better called "Fruits with Children". It is charming and humorous. It was also a set which could be found in the collection of Jefferson Burdick, and I am sure it amused him greatly. In fact you can see his very own cards in the Metropolitan Museum's collections (if I have done it right, the first fifty items shown will be every card of this set - if I have done it wrong please let me know and I will try again). As to the one I like best, it just has to be the crab apple; then the lemon, and the canine on the cantaloupe; but every card is a miniature masterpiece.
These cards are actually backlisted, which means all the card titles are shown on the back of each card. Sometimes you can find them with the cards ticked or crossed through, which does actually mean they fulfilled their intended purpose. I always find these markings very exciting, for they link me to a collector who I will never know, but who, just like me, diligently searched for cards to complete their set, marking them off one at a time, in different pens, or pencils. What I most like is the way that these little scratchings, almost carelessly done, are a window into the life of someone who may as well have lived in another galaxy, but somehow has come through the swirling mist as a visitor from the past, to connect with me.
Thursday, 25th November 2021
D900-230 : USA/80a [tobacco : USA] Duke "Holidays" (1889) Un/50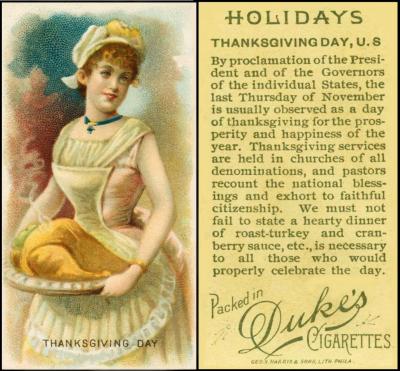 This set is another familiar with Jefferson Burdick, and it shows a range of holidays, many of which have fallen from favour and are no longer celebrated, or even known of. However the set deserved to be more widely known of as this is another series of miniature masterpieces. And it also contains holidays which would be of great interest to thematic and ethnographical collectors. You can see a good selection in the Metropolitan Museum's collections.
Many collectors know of Duke, without owning any cards. However, what is little known is that the "W" in W. Duke, Sons & Co was actually Washington. He founded the company in 1881, so less than ten years before issuing these cards. His son, James Buchanan Duke, who preferred to be called "Buck", was president of the American Tobacco Company and you can read more about him at this Duke University Libraries page, where there is also a link to a biography of his father. Duke University was a quaker establishment, intially called Trinity College but renamed in 1924 under the terms of an endowment by James Buchanan Duke to honor his deceased father.
Friday, 26th November 2021
LO73-300 [tobacco : UK] Lambert & Butler "Aeroplane Markings" (March 1937) 43/50
For those of you who think there must be turkey, we have honoured it in a different way! This card is from a super set called Aeroplane Markings, presumably a harbinger of the impending Second World War. Most of you have probably never heard of the Turkish Air Force but it was founded in June 1911,  nine months before our own Royal Flying Corps, though the modern form is dated to 1923, the time that the Republic of Turkey was created. During the Second World War they used both American and British craft, including Spitfires.
Today, they are the third largest air force in NATO, and the largest supplier of its equipment is America, who provide F-16 jets in the operational and training mode, and T-38 two seater training jets. Turkey is also developing its own trainer/light fighter, the TAI Hurkus, which is planned to be eventually sold overseas. 
Well my readers, that closes another week, and I hope you all enjoyed it. Until next week enjoy your collecting and let's hope you can cross a few cards off your wants lists very soon. Remember our last newsletter is still online and we are currently working on an index! Watch this space...