Gladys Constance Cooper was  born today in 1888, in Lewisham, South London. She was the daughter of a journalist, and was such a beautiful child that his contacts said she should become a photographic model. This led to her deciding, very young, to be an actress, and she would not be swayed. At the age of sixteen she was acting on tour with Seymour Hicks, and getting married shortly after in 1908, to Captain Herbert John Buckmaster. They had two children together, but were divorced in 1921. In 1911 she was in Oscar Wilde's "The Importance of Being Ernest", and soon became a fan favourite with postcards of her flying off the racks. 
In 1913 she moved into motion pictures, and soon became one of the most popular subject for magazine covers. However she was not just an actress, because in 1917 he joined up with Frank Curzon to manage the Playhouse Theatre, running it all by herself from the late 1920s, when she married again, Sir Neville Pearson, with whom she had another child, but again the marriage ended in divorce, in 1936.
The following year she married Philip Merivale, and they stayed together until he died in 1946. By this time she had acted in her first 
Hollywood film  Alfred Hitchcock's Rebecca (1940). She was never afraid to tackle anything, and can often be seen in early sci-fi television including the Twilight Zone. All her children went into show business, but they also appeared with her, on postcards. She died in 1971 of pneumonia.
at 04:35 tonight will be a new moon, the first one of Winter, and this is the month when winter truly begins up here in the Northern Hemisphere. I bet you never knew the moon had names? Well this one is the Cold Moon, for obvious reasons, but it is also known as the Long Night Moon, more about that later, and the Celts called it the Wolf Moon, which is romantically connected with the silhouette of a wolf, head raised and howling, though some may dream of werewolves. If tonight is clear, put your coat and shoes on and go out and look upwards, for if it is full, and tilted in the right position, you can often see how early man thought that it had a face or some other image. And this started the myth of the man in the moon.
We need the moon in our lives, because, rather than the sun, it is the moon that dominates our lives, affecting how long the days and seasons are, making the tides rise and fall. Strangely enough these things are not set in stone, for the moon moves, sometimes quite dramatically, and all the time it is getting further away from us, losing its power to affect our lives. One day it will be too far away to have any pull on us at all, and we do not yet really know what will happen then, but some wonder if this is what happened on those old dead planets with no signs of life or water.
The ancient Egyptians were just one of the civilizations who worshipped the Moon, giving her a God called Aah, the giver of birth and life, who wore a head-dress wihich contained a large round circular shape. The simple truth is that we cannot avoid being aware of the moon, its brightness when all else is dark, and the fact that every night it is there, though sometimes it is a different, even more awe inspiring, crescent shape. The ancients must have seen this too, and it must have been even more of a miracle in their lives. Is it any wonder that it featured in so many myths from so many cultures?
Today in 2013 was the release date of "Saving Mr. Banks" which you might have seen in the TV schedules but not realised it was the story of the real Mary Poppins, or rather the story of how the film was made by Walt Disney, as well as being a biography of the writer, and her sad childhood.
Walt Disney is played by Tom Hanks, who coincidentally is a distant relative of the man himself, and P.L. Travers is brought to life by Emma Thompson, for something else you may not realise is that the book was written by a woman. The book, or books, for it was part of a series of eight, were written in stages, the first two in from 1934 and 1935, with the follow up in 1943, then one a decade until 1982, with a final one in 1988.
The film was released in 1964 it starred Julie Andrews in the title role, with Dick Van Dyke getting second billing though he actually also played Mr. Dawes senior (now you will have to watch it again). Mr Dawes, at the time he employed Mary Poppins, was played by David Tomlinson, with Glynis Johns as his wife.
If you ask most people what they remember about the film, they would probably say the penguins, hence our card; Disney loved them, and they appeared in many other films. However P.L. Travers hated them, complaining they were too .childish for her book, and fought hard to get them removed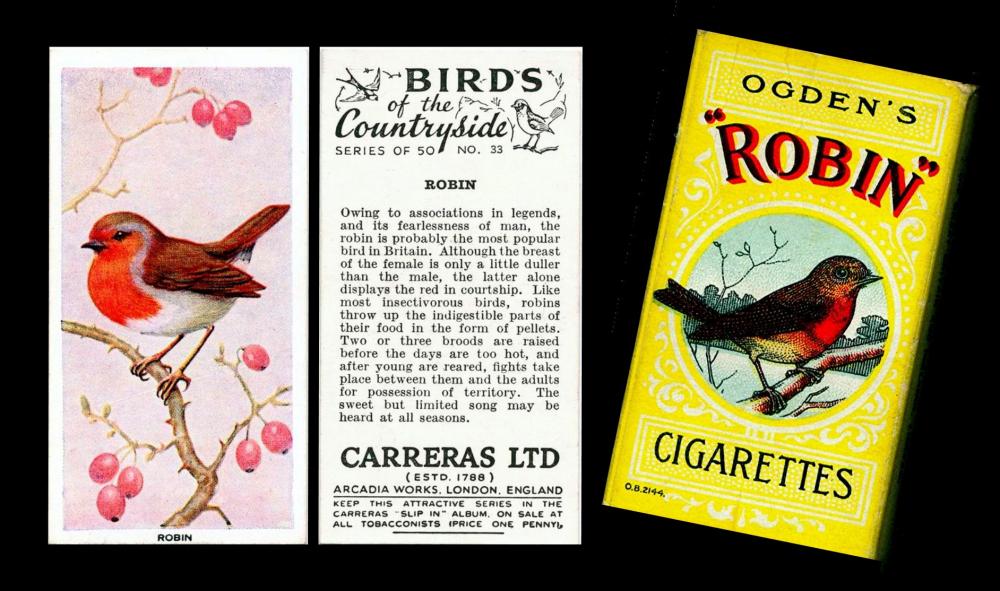 Today is National Robin Day, so why not see how many you can spot from your window. Almost every set of bird cards has one of the robin, for they are one of our brightest in colour, and seen by the gardener as the most affectionate birds, though the truth is they are merely there to grab the worms and insects that the gardener reveals whilst they are digging, and they are rather violent to other robins. They have an association with Christmas that you may not realise, for when the original postmen were dressed (and they were all men then, or boys) their red attire gained them the nickname of "robins". Some say this is why the robin is so popular on cards. Let us not forget, too, that Ogden manufactured Robin Cigarettes. In tens, twenties, and fives, at one time five cost 2d. - and Robin Redbreast Flake tobacco. The packaging changed with the times, so do have a look online and see what you can discover. I dont know if either of the Robins held cards, maybe someone out there does, or would like to pen us a short article for uploading on that day? We do welcome your contributions, short or long, so dont be shy and tell us what you collect. These can happily be published anonymously, if you prefer, they are just as interesting to our readers, who by now must be getting a bit bored of hearing about things I like!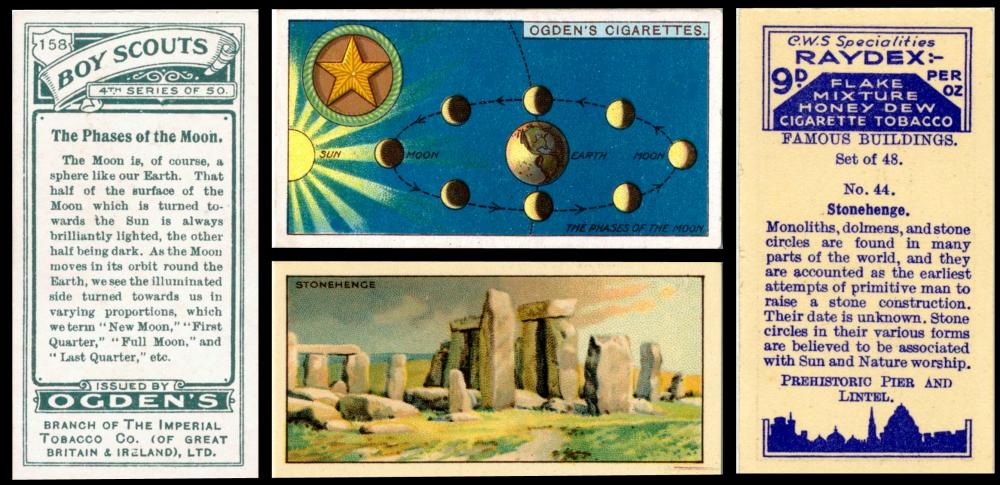 Well this week the night of the 21st of December will be the Winter Solstice, in other words, the shortest night of winter - hooray! So that night it will stay darker for longer but dont worry as there is a good thing too, for it marks the change and the start of the journey towards that glorious time when we can write and enjoy the light before anyone else is awake, and stay in the garden until 10 pm. The solstices are also affected by the moon, and our first cad is Ogden`s Boy Scouts, which shows the passage of the moon, and explains why solstices occur. The second card is Stonehenge, where the moon lines up through the structure during the solstice, which has led to it becoming a place of pilgrimage for many throughout the centuries.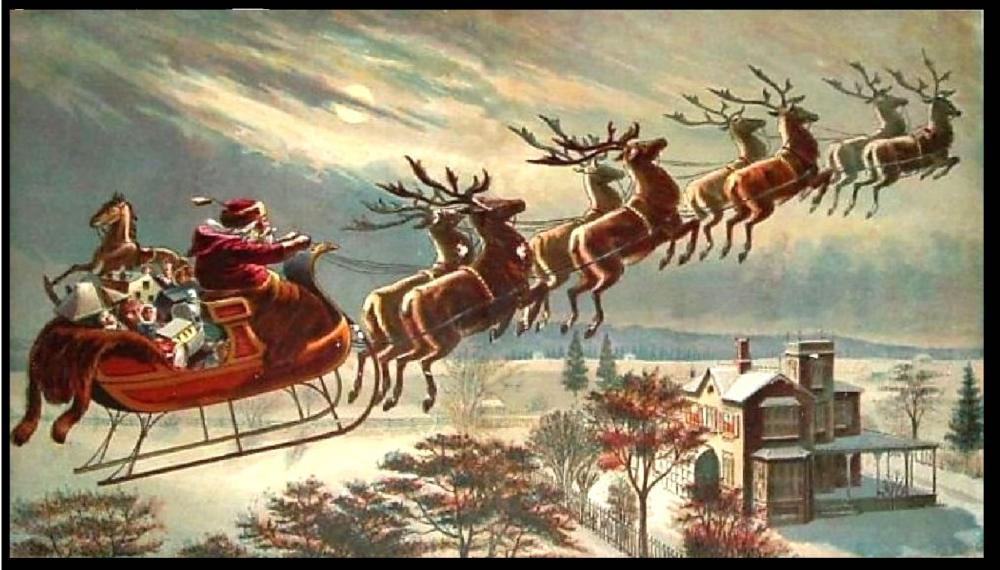 On this day in 1823, a poem, "A Visit from St Nicholas" was published in a New York Paper. It remains popular today, and I am sure you know it, for it starts "Twas the night before Christmas, when all through the house. Not a creature was stirring, not even a mouse". It was anonymous, but soon it was the talk of the town.
The writer had written it a short time earlier when he was in his mid forties, but he stayed quiet., in fact, more than that, he had not even sent it in, a friend had, and the friend did not tell either. This silence was actually kept unbroken for another twenty one years, and then the writer published a small book of poems in which this work was included and claimed as his own. And the mystery was finally solved, It seems strange to think that children who had the poem read to them in their cribs on its publication were now in their twenties with children of their own by then.
Anyway the writer was Clement Clarke Moore, he had been born in 1779, and was actually a professor of Oriental and Greek Literature, plus of Divinity, at a Church Seminary in New York City. He wrote political works and was a keen contributor to local papers, and lived another twenty years, before dying quietly at his country home in Rhode Island.
His work, however, definitely lived on, and is still a popular choice for Christmas readings. And you can read it HERE 
Strangely Christmas Eve is not a public holiday in the United Kingdom. However in Christianity it is regarded as the lead up to the birth of Jesus, reportedly at Midnight. The day is supposed to be contemplation and celebration, and some believe they should not eat until the stars rise in the sky.
Many people now open a present on Christmas Eve, and it is often something that they can eat or drink at midnight, (for the allure of the midnight feast still has a pull to some of us) or in the morning, when all is quiet, and before the rest of the family are awake. Father Christmas is supposed to board his chosen mode of transport and start on his journey round the world on that day as well. The present giving aspect of Christmas Eve seems to have come down from the presents that the Three Wise Men brought to the baby in the manger, the gold, frankinsence, and myrhh, and there has been a bit of a shift here because at one time, centuries ago, the gift giving took place much earlier in the month.
This week's Cards of the Day...
included some very interesting ones, especially the last two which were actual Cartophilic Christmas cards. As to why we had them, well that was our theme, Christmas cards, because the last date before Christmas for mailing a second class letter or card was Saturday the 18th of December. But don`t worry if you didn`t make it, because you still have a few days to send them by first class.
Saturday, 11th December 2021
P644-208.1 [tobacco : UK] John Player "Footballers 1928" (October 1928) 24/50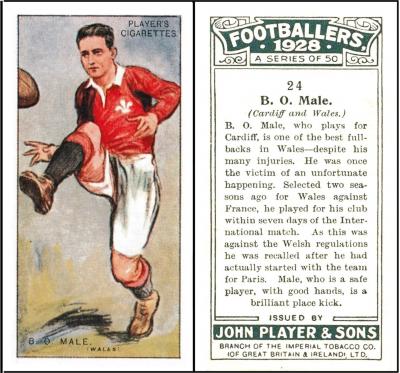 Here we have B.O. Male, who played for Cardiff and Wales. The link to our theme, of course, was his surname, slightly altered to stand for MAIL. In our original John Player Cartophilic Reference Book No.17, issued in 1950, this set was listed as "P/100 – 50 Footballers, 1928. Small cards. Fronts in colour. Backs in grey, with descriptive text. Home issue, October 1928. Colour variety : No.24 – Shorts in (a) white (b) blue." And you can see both of these colours on the Football Cartophilic Info Exchange
P/101 by the way was "Footballers 1928-9". Inscribed "2nd Series 51-75". That was issued in February 1929.
Now the text on the card says something curious, that "He was once the victim of an unfortunate happening. Selected two seasons ago for Wales against France, he played for his club within seven days of the International match. As this was against the Welsh regulations he was recalled after he had actually started with the team to Paris." I dont understand this...
Sunday, 12th December 2021
C504-540 [tobacco: UK] W.A. & A.C. Churchman "In Town Tonight" (May 1938) 6/50
Now this is W. Reginald Bray, and he was known as The Human LETTER, which is your second link. The text explains that he was at that time the largest collectors of postal curios in the British Isles, and the first man to post himself as a human letter. It all started as a hobby in 1898 when he read in the Post Office Guide that the limits of articles which can be posted ran from a bee to an elephant, and decided to see what strange oddities he could manage to successfully send, including himself, his dog, and, well, you are directed to a fantastic website all about him, which includes one of these cards autographed by the man himself in 1938. and a whole page with all these cards autographed.
Because W.R. Bray was not just the post king, he was the autograph king too.
This set is listed in our original Churchman Cartophilic Reference Book No.10, issued in 1948, as item 80, issued in May 1938 - "50 "In Town Tonight"(titled series). Size 2 11/16" x 1 7/14" or 67 x 36 m/m. Numbered 1-50. Fronts printed by letterpress, 4-colour half-tone process. Backs in dark green, with descriptions. Printed by Mardon, Son and Hall."
In Town Tonight was a really famous show, a bit like "What`s My Line", full of interesting people with fascinating lives or hobbies. It lasted for half an hour and ran from 1933 to 1960, pretty much continuously. Someone has also mentioned that Dorothy or Charles Bagnall was on it, but I can only vaguely recall reading that Dorothy Bagnall was on Whats My Line.
Monday, 13th December 2021
P521-484.1[tobacco : UK] Godfrey Phillips "Stage and Cinema Beauties" (1933/4) 6/35 - Enid Stamp Taylor
This set is listed in our original Godfrey Phillips Cartophilic Reference Book No.13, issued in 1949, below item 131, but the first line is the header, because this is a curious set, or more correctly group of sets, as item 132 is a "Series of 35. Backs in grey-black, with ornamental framelines. Issued 1933" - and item 134 is a "Series of 35. Backs in grey-black – identical format to 132. Issued 1934". Item 135 is a "Series of 50. Backs in black, no frame lines. Home and export issue 1935."
Enid Georgiana Taylor was born in 1904 and her pathway to fame was winning a beauty contest which led to her being asked to appear on stage. STAMP, our link, was added in because it was her grandmother`s maiden name. This is a popular cartophilic pose for it appears on other cards – Gallaher "Stars of Screen and Stage" (1935) 13/48 – and Hill "Cinema Celebrities" (1936) 6/35, which is allied to our set. She was reportedly engaged to a Count, but married a man called Sidney Colton, who is quite elusive, they had a daughter but were then divorced. She acted in films as well as on the stage. She died in 1946 after a fall at her home, aged just 41.
Tuesday, 14th December 2021
O100-452 [tobacco : UK] Ogden Ltd "Royal Mail" (1909) 41/50
This set is listed in our original Ogden`s Ltd Cartophilic Reference Book No.15 issued in 1949, under the item number of O/147 as "50 ROYAL MAIL. Fronts lithographed in colour. Backs in blue with descriptive text. Home issue, 1909. Similar series issued by Clarke. The series of the same title issued by Wills in Australia contains entirely different subjects."
Wm Clarke & Son were founded in Cork in 1830, and then moved to Liverpool. In 1901 they joined up with the Imperial Tobacco Co. Ltd, and sold their former shops that were based in Ireland to Salmon and Gluckstein and A.I. Jones & Co, where Isidore Gluckstein was a director. However in 1923, when Customs barriers were imposed in Eire, Clarkes moved back to Ireland again. Sadly I have not been able to find out whether they were able to regain their former holdings.
The subject of this card, the "Christmas Traffic Supplementary Van" is fascinating, for it tells us that at Christmas "About four times the normal weight of mails has to be transported". So what did they do? Well they called for cart drivers to help out for a few days, and "hundreds of private vehicles" were given a large ROYAL MAIL placard to display on the side of their vehicle, as shown here, whilst they carried this extra mail. And after they had done their duty, they returned to carrying their usual cargo.
Wednesday, 15th December 2021
L073-440 [tobacco : UK] Lambert & Butler "Interesting Sidelights on the Work of the G.P.O." (1939) 33/50.
This is a great set, a series of 50 which were made possible "by courtesy of the Postmaster General", and this card shows the loading of Christmas mail for Alexandria into "Mercury".
Mercury, of course, was an apt name, for he was the winged messenger, and he also appeared on early air mail labels, as seen at Stampboards website. 
Our Mercury was, as it says in the text, the "top half of the well known Mayo composite aircraft", a "9-ton seaplane which can carry a heavy load, but is incapable of independent take off when fully loaded". To get off the ground she rides on the back of a larger aeroplane, in this case called the Maia, which looks for all the world like the Empire Flying Boat depicted in that super sectional series by Ardath. 
Thursday, 16th December 2021
C504-930 [tobacco : UK] Churchman "Christmas Greeting Card" (November 1938) 1/1
This card is listed in our original Churchman Cartophilic Reference Book No.10, issued in 1948, as item 32, issued in November 1938 - "1 Christmas Greetings Card. Size 2 7/10" x 2 1/10" or 68 x 53 mm. Printed in black on white card. One side inscribed "Christmas Greetings" with Churchman`s full title, and the reverse shows Father Christmas and the inscription "Tell the Children I`ll be down in 15 minutes. Explain that I`m just enjoying a CHURCHMAN`S No.1". Printed by Mardon, Son and Hall.
Those of a more politically correct nature may find this truly shocking, for not only is Father Christmas smoking, but he wants the children to know, and he is also hoping that when they get old enough to smoke they will remember the brand that he uses. Talk about product placement. Yet strangely, cigarettes were given special Christmas packet sleeves, and Father Christmas featured heavily in the advertising. Look at this website if you dont believe me
Another strange thing is that I presumed the picture was the front, but according to the reference book the picture was supposed to be the back. This is not usual for cigarette cards, so those records must have come from Churchman themselves. 
I thank Mr. Sparks for writing and telling me that it is actually listed in our World Tobacco Issues Index as well, so the above title has been corrected with that code.
Friday, 17th December 2021
Unusual greetings card 1944 from London Cigarette Card Co
Bringing our celebration of Christmas cards to a close we have this amazing four sided Christmas card which was issued by "The Editor, Cigarette Card News". Now this is not the only version of this card, for it also exists with the same front but printed with "From The Directors of London Cigarette Card Co. Ltd." I once believed that these were printed specially but over the years I noted down a couple more, including Splintex Ltd, which was set up in the late 1920s to make safety glass for cars,, aeroplanes and other modes of transport; and L.Silberston & Sons, who were founded in 1899 and made military clothing, mostly in cloth and wool. Note that I cite the military and transport ones, but neither of those have anything to do with the LCCC. So was this a commercial issue, and the LCCC just bought in on it? Anyone knowing more please let me know.
And who out there thinks we should send a Cartophilic Society card next year, even if it is an online one?
Well I hope you all got your cards out in time and your shopping indoors. And now all that is left to do is sit back and let us share with you a Cartophilic Christmas. Let the world outside pass by and think of the fact that when we started, it was just before the dawn of another war, yet we survived, and we endured. And almost a hundred years later, we remain.
Next week our newsletter will be out as Christmas Eve passes into Christmas Day., as the bells of our local Church strike midnight, and as children of all ages wake up to find what wonders they have to open, even if they bought them, and wrapped them, themselves.
See you all there....