Slightly slow (again) this week but we got there in the end. Some unusual cards here this week, and lots of scope for your input.
Time does indeed March on, and here we are in it.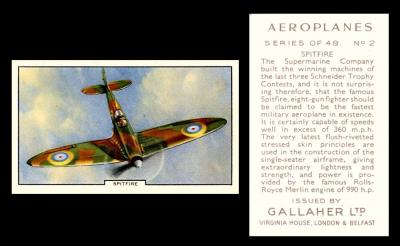 Today in 1936, an aeroplane lifted off on a test flight from Eastleigh Aerodrome in Southampton. It was a very short stint, under ten minutes, late in the afternoon, and the aeroplane was the Vickers-Supermarine Type 300, "Supermarine" coming from the works where it was built.
This aeroplane had specifically been built for the Air Ministry, who had sent out a request for a new single engine interceptor for the RAF. The flight went very well, and the aeroplane started its journey into full production, with hardly any changes, apart from ones which would make it easier to build under more extreme conditions.
Sadly its designer, R. J. Mitchell, never saw his first Mark I, for he had died a year before this "Spitfire" was first flown into a serving RAF base to start its active service, on 4 August 1938. However he was familiar with the name, which had been applied to the earlier prototypes and just kind of stuck. 
John Player "Aircraft of the Royal Air Force" (P644-306 – August 1938) 28/50 says it "has been claimed to be the fastest military aeroplane in the World." though plays it down a bit by adding "Performance figures are not available." It does give dimensions though, "a wing span of 37 feet and a length of 30 feet."
W.D. & H.O. Wills "Speed" (W675-222 : W/330A – October 1938) 9/50 tells us once more that "although no exact performance figures can be quoted . .  . it is definitely the fastest fighting aeroplane in the World."  And at the end it tacks on a bit of a boast, "the World landplane speed record is at present held by the German Messerschmitt fighter (Card No.10) but a special version of the "Spitfire" may break this record before long."
Strangely, after all this hiding of facts, Gallaher "Aeroplanes" (G075-525 - 1939) 2/48, tells us that the "famous Spitfire, eight-gun fighter should be claimed to be the fastest military aeroplane in existence . . . capable of speeds well in excess of 360 m.p.h".
Was this designed to fall into enemy hands and make them shudder? Or was it just a careless slip? 
Today, believe it or not, is National Dentist's Day. Now you might think it is hard to find cards of dentists, but here we have one, by the name of Mr. Sydney A. Kemp F.Z.S. who was featured on Churchman "In Town Tonight" (C505-540 – May 1938). He is not just any dentist though, because if you look at his patient you will see he is a badger; for Mr. Kemp is a Zoo Dentist, on what seems to have been a freelance basis, for it says "He has been called in to render services at the London Zoo and various other private zoos and menageries" and adds that some of his many patients have included bears, kangaroos, chimpanzees, alligators and poisonous snakes. I cannot find any more biographical data about him online though.
There is also another dentist cigarette card – Carreras "Women on War Work" (C151-040 - 1916) 10/50 which states that " . . . as the Dentists can't get men to do the necessary mechanical work, they have had to employ women . . . and they will probably be required to continue even after the war."

A look through early American trade cards will soon bring forth all kinds of medical and dentistry cards, many of the pictures looking rather alarming to our modern eyes. False teeth are also featured on some of these cards, though they had a fall in popularity after a rumour spread that many of the teeth used in the dentures had been removed from American Civil War soldiers who had no further use for them. This is also said to have taken place on the battlefield at Waterloo.  The history of dentistry website is a "fun" place to spend some time, and has practically everything you could ever want to know about the subject. It even has a page devoted to dentures – and they were first inserted in a human mouth way earlier than I imagined.
 
Today is National Cereal Day, and lets start with a word to the young. Before your time, trade cards and plastic novelties/toys were included in with cereal boxes. Sadly these fell foul of the fact that they were fun, but also had a tendency to be a choking hazard.
It was Kellogg's who was first off the bat to ban toys in their packets, way back in 2009, and dare I say breakfasts have never been the same, for all we have now are offers printed on the packets, if anything.
However, there are lots of collectable cards still available online, as well as at fairs and auctions. One site we did discover, sadly no longer going, though I have e-mailed its editor, was/is called boxtop. You can read all the back issues HERE. And I will keep you in the loop as to any reply
There used to be another magazine called "The Crunch" which also dealt with cereal issues. This is sadly no longer in operation, but we hope to be able to bring you a contribution from its editor as well. 
The earliest cereal cards I have tracked down were issued by the American Cereal Co. for the 1893 World's Fair, or more correctly The World's Columbian Exposition, because it celebrated the quatercentenary, or four hundredth anniversary of Christopher Columbus reaching America. You can see and read more about these cards at Tradecards.com
Today in 1856 Bramwell Booth was born. You may not know him, but he was the second general of The Salvation Army, and the son of its founder William Booth.  
I have not found Bramwell Booth on cards, but his father General William Booth is on Carreras "Famous Men" (December 1927)18/25, one of their "export only" sets, where it tells us that he was born in 1829, but though long a minister and devoted to improving the lives of the souls he saw, he did not actually found the actual Salvation Army until shortly before Christmas 1877, when Bramwell was already 21.
The organisation is still going strong today, across the globe, and right now they have people out there in Ukraine. You can support them at https://www.salvationarmy.org.uk/ where there is a click button for donations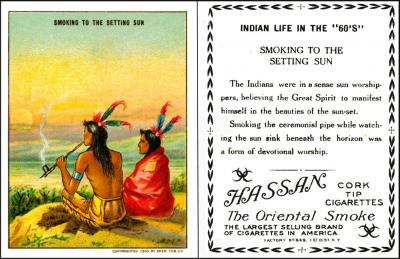 it might seem strange for us to give a mention to No Smoking Day, but the truth is most card collectors do not smoke, we just admire the artistry of our cards, and their educational value, and though we know of their connection, we feel they should not be condemned just because they shared a packet.
As to the theory that they promote cigarette smoking, it is more difficult, because we have woken up to the fact that past misdoings should never be forgotten nor forgiven, and our cards do indeed advertise their wares brazenly, with their entire purpose being that you brought more and more of those named brands in order to be able to complete your set.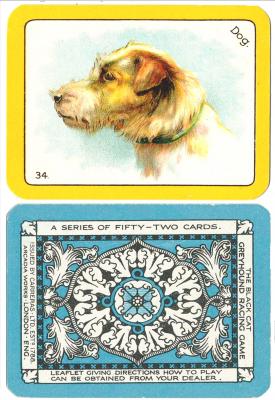 until the 13th, Crufts is back at the NEC in Birmingham, and it will be the first show after a covid enforced break.
Man`s Best Friend has featured on so many cards throughout the years that it is hard to pick a favourite, though as in everything, most of us would pick a card that represented our current canine companion, or one we fondly remember, and still miss, from our youth.
We also all have favourite types of dog, which makes me wonder how they pick the winner at Crufts, for any judge cannot help but immediately find themselves drawn towards the sort of dog they like the best. 
I do not know the earliest card of a dog, but should imagine it must be either Guinea Gold O75S.DA294, which shows "four bulldogs" or the ten 1902 Tabs cards of Major Richardson`s War Dogs, series D (O/95D), one of which you can see at the Mary Evans Picture Library The first selection of champion dogs, some named, are listed at O/96C, one of those is Cannon Hill Beauty, born in 1896, who was also on a postcard you can see at pinterest. Another is titled as "B.P.`s Maltese Terrier", an unusual card for a scouting collection as yes, B.P. was Baden Powell, who liked the breed very much. And here is another of the dogs, Belper Snow  
our illustration might not win Crufts, but he looks a good companion, someone you could snuggle up to on a cold night and tell all your worries to. And I think that is more important than any prize or award. 
Today in 1885 saw the birth of Malcolm Campbell, in Chislehurst, Kent. He grew up interested in machinery and engines, especially motorbikes, he won several races and in fact he was a despatch rider during the First World War before he joined the Royal Flying Corps.
Before the war he had also raced cars, at Brooklands, in a car which he called Blue Bird, which he himself painted blue.
After the War had ended he was attracted by breaking speed records. In those days this was a common pastime, and car magazines carried lists of records that had not been broken, or that were probably quite easy to beat. Malcolm Campbell set many such records, starting in 1924, and in 1935 he drove the first land vehicle to be recorded at a speed of over 300 miles an hour; this was at Bonneville in America.
Two years later he shifted to the water, setting a speed of almost 142 miles an hour along Coniston Water in the Lake District. He died of a stroke in 1948.  
His son Donald Malcolm was also a land and water speed record breaker during the 1950s and 60s, but Coniston Water was not so lucky for him and he was killed there in 1967 whilst trying to raise the water speed record still further.
Cards of Malcolm Campbell include Pattrieiouex "Celebrities in Sport" 29/50, Gallaher "Champions" 32/48, and Ogdens "Champions of 1936" 35/50
This week's Cards of the Day...
... were to draw your attention to World Hearing Day. This event takes place every year on the same day, March the 3rd but I have not been able to find out why that particular day was chosen – the only thing I have found is that an Act of Legislature established The West Virginia Schools for the Deaf and the Blind on March 3, 1870, but this was not the first school in America for the visually nor aurally impaired, and not even the first in Virginia. But I will keep looking.
Hearing loss is often preventable, especially that caused by loud noise from industrial machinery, and music; there is a reason why they say be careful with the volume of those headphones and earphones, though why the makers produce ones with such deafening capability is unclear. And I am not an old fogey, I like my music as loud as anyone, and louder than most, just not inside the tube and right against my eardrum. In fact many famous musicians have found they lose some or most of their hearing in later years.
However one of the many good things about this modern age is that it is very easy to get hearing tests done, and often for free, so if you have such a venue near you, do go along, and get tested. Most of all do not think that being able to hear today is a sign that everything is in good working order underneath the surface, for these tests will pick up any deficiency, and, more importantly, before it has gone too far to be easily fixed. 
Our cards this week were :
Saturday, 26th February 2022
A745-350 : A72-24 [tobacco : UK] Ardath "Famous Footballers" (October 1934) 47/50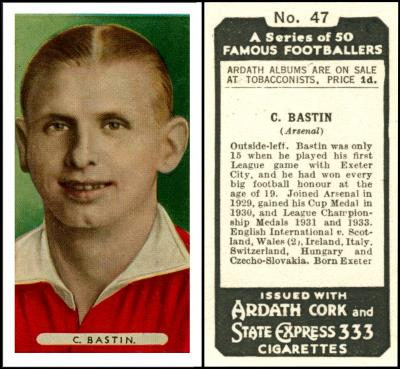 This card shows C. S. Bastin of Arsenal, or to be pedantic Clifford Sydney Bastin. He had a quite amazing career - R. & J. Hill "Popular Footballers" Season 1934-5, Series A (H554-760.1 - 1935) 4/30 tells us that Clifford Bastin was "Nick-named the "boy wonder" and "at 19 had won every honour the game could offer. His native town, Exeter, actually presented him with his portrait in oils in honour of his prowess". Whilst in Godfrey Phillips International Caps (P521-454 – 1936) 14/50 called him "The versatile miracle of modern football", adding that he "Began earning his living as an electrician, and at the age of 15 was introduced to the Exeter League team as an amateur. Transferred to Arsenal in the summer of 1929" - though Gallaher Sporting Personalities (G075-680 - 1936) 39/48 contradicts the start of that a bit by saying he "..played in a schoolboy international versus Wales at the age of fourteen". 
He remains Arsenal's third-highest goal-scorer of all time, and also played for England. But why he was here for our card of the day was a reason that was not mentioned on any of these cards, but makes his career even more stunning, for he was growing increasingly deaf, so deaf that he was excused War Service on those grounds and became an ARP Warden instead. You can read all about this at Exeter Memories
Our set was printed in four colours and varnished to the fronts. This is a similar process to their "Famous Film Stars" (A745-350 - August 1934), but with two extra colours. As it says on the bottom of the reverse, it was issued with Ardath Cork and State Express 333 Cigarettes. A pocket book-style album was issued to house the set, this cost 1d. There are two errors in the set, both where the back text does not match the front picture; these are card 32 which has Brook`s picture to the front and McGrory`s wording to the reverse, and card 39 which has Stanley Matthews picture to the front and J. W. Smith`s wording to the reverse. That's a challenge laid down for all the fans of Stanley Matthews then! This set seems to have been replaced very quickly, for by the following month, a new set, "Champion Dogs" (A745-280 - November 1934) was being inserted in packets instead; that was also a four colour, varnished set. 
If you go online to the New York Public Library  you will see some other cards showing C.S. Bastin – and curiously there is a lot of similarity between the images.
Sunday, 27th February 2022
B705-556 [tobacco : OS : Mauritius] British American Tobacco "Figures Historiques" first series "Domino Filter" branded (1961) 11/25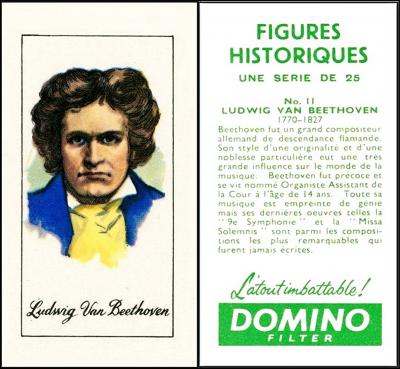 In case you are wondering why we only have one code, this set is too late for my original World Tobacco Issues Index, which was issued in 1956. 
Here we have a very famous deaf musician, Ludwig van Beethoven. He was not born deaf, but in his twenties he started to hear strange noises in his head. Some theorists think this was probably a form of tinnitus. However his hearing steadily became worse, until in his late forties he was completely deaf. However he still continued to write music and conduct orchestras even after that. 
This is one of the more unusual cards for Beethoven, the usual one that appears for him being the W.D. & H.O. Wills "Musical Celebrities" first series (W675-.1 : W/83.A – April 1911 or November 1912) 5/50. Another scarce card is Godfrey Phillips "Busts of Famous People" (P521-130c – 1906/7). This set comes in three versions, hence the "c" suffix, one has a pale green back and black text to the front, one has a brown back and black text to the front, and ours has an olive green back and white text to the front with the addition of a patent number 20736. I am curious as to what this patent is for, but am not sure how to access the patent office records. Another curious thing is that this set has no title, "Busts of Famous People" was only what early cartophilists used to describe it. In addition the chosen title makes no reference to the fact that these cards are actually cutouts; if you look along the edge of the bust, you will see it is perforated to allow the head and socle to stand alone without the blue solid background. Several sets through the ages have been made in this form, though it is an extra process. What has never been explained is just why this cut-out was done. Any theories out there? 
Monday, 28th February 2022
M884-450 : M142-33 [tobacco : UK] B. Morris "How to Sketch" (1929) 29/50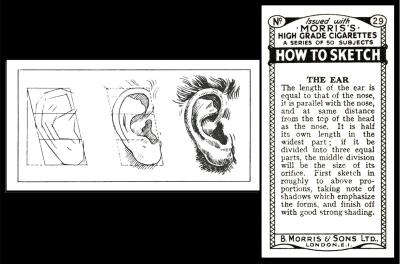 in case you were still baffled by our clues, our last one was an ear, which is the organ affected by deafness. 
It seems a strange thing to me that anyone would want to draw an ear at all, (unless that is where your particular fetish lies…), let alone spend any time labouring over the correct shading etc.
However an awful lot of work has gone into this text, researching the ear and all of its measurements, and the card is able to inform us that our ears are as long as our noses, and run parallel to them. In addition that the ear is half its own length at the widest point. And furthermore, if it is divided into three equal parts, the middle division will be the size of its orifice (or lug-hole).
Now I am sure you are all itching to go and fetch a ruler and check all of this out for yourself, and if so, do report if the card is right...!  And after that feel free to go out and make your friends check their ears as well...
 
Tuesday, 1st March 2022
W675-112B : W62-79B : W61A [tobacco : UK] W.D. & H.O. Wills "First Aid" (April 1913) 30/50
Did you notice that the front of this card is titled "How to extract a foreign body from the ear" but the reverse just says "Foreign Body in Ear"?
Getting objects inside of the ear is one of the big causes of deafness, but not because of it going in; the worst damage happens when trying to get it out by poking something else in. as you can see on that card, the ear is one of the most complex organs in the body, with a very delicate ear drum and all manner of coils and springs behind it. 
Apparently, according to a recent survey, the most usual things to be "lost" inside an ear are pebbles, beans/peas (like on the card), cotton swabs or parts thereof, or coins (I seriously cannot believe this !) And the largest problem of all are insects, which either fall or creep in whilst we are sleeping, or fly in whilst we are working in the garden. 
There are two versions of this card, ours has plain sides, whilst another has wording down the sides which is known as "the album clause". Our one was issued almost two years earlier than the other, which did not appear until January 1915. Despite this being the order of its issue, our World Tobacco Issues Indexes, both the original and the updated version, gives the cards with the album clause the suffix of "A", and ours "B". However when this set first appeared in part three of our early Wills reference booklets, the cards without the album clause not only came first, but were given the suffix of "A", with the "With Album Clause" being "B". So at some point it must have changed.
 
Wednesday, 2nd March 2022
G075-155 : G12-19.2 [tobacco : UK] Gallaher Ltd "The Great War Series - Second Series" (1916) card 123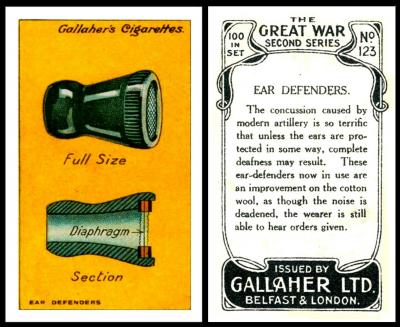 This card shows ear defenders, these being a small device which fitted inside the soldiers` ears. The text tells us that "The concussion caused by modern artillery is so terrific that unless the ears are protected in some way, complete deafness may result. These ear-defenders now in use are an improvement on the cotton-wool, as though the noise is deadened, the wearer is still able to hear orders given." This was because the appliance was hollowed out with a pierced section at the bottom. 
The number of soldiers who were deafened by the guns is still not known, but contemporary reports tell that the firing from the Battle of The Somme could clearly be heard on Hampstead Heath in London. 
This series followed on from "The Great War Series", which was also a set of a hundred cards, and the numbers continued into this, which started at 101 and ended at 200.
There is a rather interesting error included in this set, and that is card 147, "Dress worn by Troops at Tsing-Tau", this card has a rifle, but the rifle was being held against the wrong shoulder. A corrected card was hastily issued. However the error card is not that rare, and it should be quite possible to find one without too much trouble. 
Thursday, 3rd March 2022
BRM-51 [trade : UK : tea] Brooke Bond "Inventors & Inventions" (1975) 41/50
The Hearing Aid c1920.
This text tells us that this device was a development of the long known fact that sound can be heard better by cupping a hand to an ear. That led to using animal horns to magnify the sound, and the practise (luckily for the animals) eventually evolved into the ear trumpet, a device rather like a gramophone horn.
The card tells us that there was "no electronic device of any use . . . until the Marconi Company produced the valve operated Otophone in 1923". This was bulky and weighty, at 16lb.  That may have been the first electronic device, but hearing aids had been around for almost a hundred years, and a spot of research finds that the "otaphone, sometimes spelled otophone" was already a word in use to describe a hearing aid, the first ever to be patented in March 1836 to an ear specialist Alphonso William Webster. You can see this, and read more, at a fascinating site called Nineteenth-Century Disability
The link at the bottom takes you to another site at the Washington University School of Medicine which shows other concealed hearing devices. It is well worth the trip, and more time can be spent using the links on the left hand side-tab
Friday, 4th March 2022
O100-412 [tobacco : UK] Ogden "Boy Scouts" fifth series of 25 cards (September 1914), card number 213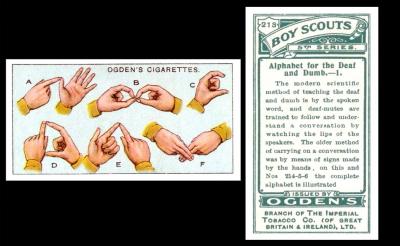 This is the first card in a series which spreads over cards 214, 215 and 216 and gives what it calls the basic alphabet for the Deaf and Dumb. we know this now as sign language, which is as it says, a way of converting the alphabet and some common phrases into a sign or symbol that is universally known. In this country it is called British Sign Language, or BSL for short.  This is actually recognised as an official language. Something you may not know is that just like any language it has regional variations, and the signs can also be different in other countries.
You may think it is very far sighted of the scouts to include sign language in their lives, but it also had a more secretive use, more along the lines of codes and ciphers, that could be used to pass messages and comments under the noses of non-scouts.
And even more amazingly, I know of no other reference to sign language in the whole of cartophily. If you do, please let us know. 
well that`s all for this week, and we hope you enjoyed your saunter through what we had to offer. Remember if there is an anniversary coming up in your collecting theme, why not send us a small section. and a scan or two. We would love to hear from you.
Take care out there, until next week, and happy collecting from us all.