Well lets start with a request, for as you all should know our annual card convention is drawing very near, just weeks to go. We are working on a section devoted entirely to this, which will showcase the dealers who are coming along to give you all manner of wonderful cartophily to look at but we want you all to join in too. So tell us what you cant wait to see, what you are most hoping to buy, etc. You dont need to spend ages emailing us either for we have a twitter hashtag just waiting for you to use for little short thoughts and that`s #CartophilicConvention2022  
and dont forget to tag in @Card_World 
We really look forward to hearing from you!
Ever wanted to become a Vulcan, just for one day? Well today is your day, because it is Live Long and Prosper Day.
If you are not a Trekkie, bear with us as we explain. In the 1960s, a space television series appeared called Star Trek, there were two "pilot" episodes, the first of which was reportedly rejected by the network, and then the first regular episode, which was aired in September 8th 1966.
The series picked up a bit of a fan following and a second series was commissioned. This started to show in September 1967, and at about the same time a Chicago gum manufacturer called Leaf produced black and white cards showing all the characters and some of the scenes. This was the first ever set of Star Trek Trading Cards, but unfortunately there was a problem. You can read all about this, and what happened next, at the PSA 
It took two years before another set arrived, in 1969, this was by A & B.C. Gum, and it was in full colour. Trading card collectors of today may laugh at what I am about to tell you, but in those days you got one card in a packet and you were supposed to be buying it for the gum, the cards were just incidental. There were no extra, more valuable cards randomly inserted. You can read about this set at Memory Alpha  and about many others.
Topps started issuing Star Trek cards in 1976, and these were the first colour cards issued in America. 
However in 1979 the Star Trek phenomenon really blasted off, and the reason for this was "Star Trek: The Motion Picture" which brought the characters from the small screen on to the big screen at a cinema near you. It also brought an explosion in the number of cards issued by food and other non card manufacturers.
The popularity of the film made a bit of a mockery of the fact that the original television series only ran for three seasons before being cancelled.
The Star Trek Universe now consists of several modern television series, some animated series, and thirteen and a bit films. The bit is pre-production, for the new film is set to hit the big screen just before Christmas next year. 
Now the name of this day refers to the fact that when two Vulcans meet, rather than shaking hands, one will say "Live long and prosper", then both will make a gesture with their hand in which the four fingers of the hand are parted in the middle and the other will say  "Peace and long life." Most people think that the salute is called "Live Long and Prosper", but it is correctly called the Vulcan Salute, or even the Vulcan Hand Salute, which seems to be the preferred term used by its chief user Leonard Nimoy, who played Spock for almost fifty years, starting with the pilot episodes and finishing with the 2013 film.
In fact, though he was associated with it all that time, he was not the first to give it, that honour went to an actress of some renown called Celia Lovsky (who had been in silent and early talkie films before leaving Germany at the start of the Second World War) during the episode in which Spock gets married, and she also was the first to say "Live Long and Prosper".
Another oft quoted abusage is that he was not Doctor Spock, he was Mr. Spock, or just Spock. And the real reason for today is that it was the birthday of Spock`s soul, and internal animator Leonard Nimoy, in 1931. Sadly he is no longer on this Earth, he was beamed up to another world in 2015. But at least we have his alter ego to appreciate. For that is the magic of the movies, and of all film, even snapshots; it is a chance for people who touch our lives in even a tiny way to remain here long after they have moved elsewhere without us. 
Speaking of moving elsewhere, its also Earth Hour from 8:30 p.m. to 9:30 p.m. So please turn your lights and electrical devices off and sit in the darkness; and realise that at the moment we only know one planet which supports life in all its wondrous beauty, so if we lose it we have nowhere to go. Also think of all those people in the world who are in hiding, living under fear and threat of persecution, who can`t just turn their lights back on at the end of the hour and go back to normal like we can. Let this be a lesson to appreciate what we have, for even if we think we have nothing for there are lots out there who would trade with us in a heartbeat to step towards the light we just take for granted.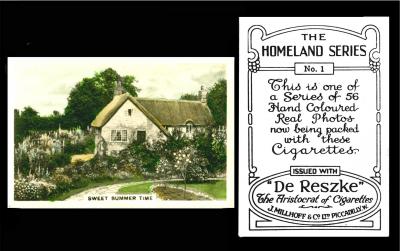 Today we step towards the light in more ways than one for British Summer Time begins.
Thankfully for my numerically challenged self my phone will do this for me automatically, I won't have to work out anything about falling backwards or forwards. 
You can read about the story of Daylight Saving Time at the Historic UK website
Our card, Millhoff "Homeland Series" 1 Sweet Summer Time is just one of the photographic cards of the countryside that you may discover if you look more closely through odds boxes, none of them are very expensive, for sadly they are not very sought after any more, to modern collectors they are just snapshots of a past they did not experience, cattle, and hay fields, and children frolicking in the river. Some of them do have descriptive texts, or suitable verses like Cavanders "Camera Studies", but most, like ours, just say something bland like "this is a series of 56 cards".
However there is still hopefully a certain excitement that fills the heart of anyone who recognises their own patch of the British Isles on them.
And if anyone recognises our subject, do write in!  
 
Here we have Derek Jules Gaspard Ulric Niven van den Bogaerde, better known, thankfully, as Dirk Bogarde. He was born today in 1921. 
I think he was born too early, for he came across as too sensitive for most film goers of the 1950s, when the tough guy was the box office draw, so he was buried in either comedies or what were disparagingly called arty movies, scathingly referred to as being "beautifully shot" which they were, but more than that, they had feelings. Even this card speaks of his "Expressive eyes".
The Second World War may have played a part in this for he was the Queen's Royal Regiment and Air Photographic Intelligence Unit, where he was called upon to liberate a concentration camp. He never forgot this. He was also the only actor in the film "A Bridge Too Far" to have been present at the actual events depicted in the movie. 
It is the quiet man who has the most to say, if we but listen.
Today in 1848 Niagara Falls stopped flowing for thirty hours. The reason was ice, but not what you may think, that it had just become so cold that the ice at the edges had joined together in the middle and the falls just stopped working, if working is the world.
What had actually happened can be found out at the Niagara Falls Tourism website.
This is a very rare phenomenon, in fact, as they say, it was the only time in recorded history that it has stopped flowing all of its own accord.
They also tell us it was once stopped, by the U.S. Army, which you can also read about on the same page though it does rather beg the question as to why they were suddenly so interested in a bit of debris, unless of course the debris was of alien origin and had just crash landed. 
You can find images of Niagara partially frozen on cards, one of the best is in Churchman "Worlds Wonders Old & New" (unissued) 35/50, which says it shows them "partially frozen", but they look jolly solid to me. Pattrieouex "Winter Scenes" also shows them as 4/48.  And there is also a card issued by Singer Sewing Machines which shows "Ice Cone under Prospect Point – American Side" The fact this gives a side makes me think perhaps there is a Canadian sided view as well.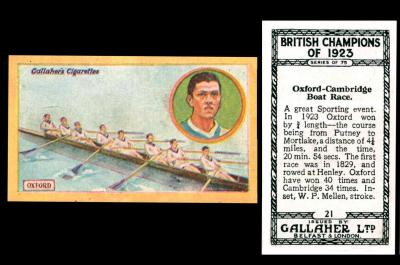 Such a simple thing to our eyes, but in 1895 a British inventor stood on the bank of the Thames and filmed the Boat Race as it glided smoothly by.
However his name was Birt Acres, he was a professional photographer and this was the first time he had successfully filmed anything with the new moving picture camera that his business partner Robert W. Paul had thought up, and that the duo had manufactured. It was also the first British film ever made. 
More films were made in that year, but the partnership, Robert W. Paul Productions, was not successful for many reasons, not least because Mr. Paul believed he had invented the equipment that Mr. Acres was making the most of. Within five years, despite him having held the first public film show, and a Royal Command Performance, the business was at an end, and Mr. Acres had lost his enthusiasm and his partner. He died in 1918. 
Oddly enough, Mr Acres was not British, he had been born in Virginia, USA and had been orphaned by the American Civil War.
After that he went to France, where he discovered a delight in photography, and back to America, turning up as a photographer in the South of England many years later.
It is also said that he also invented the motion part of motion pictures, by creating a way that a slide projector could produce a flickering effect when several slightly different slides were passed rapidly through the gate, but it was hard on the operator and could not be sustained for any great length of time. 
 
Well today was supposed to be Major League Baseball Opening Day, but now it has been again shifted into April, however it gives us a chance to chat about baseball cards which don't feature as much on these pages as they ought to.
This is because its something I know little about, apart from what a big thing they are in America. And this is Card-World, after all. So if there is any baseball specialists out there, especially out there in America, who would like to write some pieces for us, on an unpaid basis, apart from the delight of seeing your words in print, please get in touch. 
What I do know, and wait to be corrected on, is that baseball seems to have been one of the first sports to have been photographed and that early players appeared on carte de visite style cards from the mid 1860s. Not long after the players started to appear on trade cards, though their names did not always appear. The first baseball related trade cards appeared in the late 1880s, at first monochrome (black and white or brown and white, though sometimes the black of photographs has toned to brown) and then in colour. The colour cards were always artist impressions of the player simply because colour photography was in its infancy. 
The first tobacco cards showing baseball were issued by The American Tobacco Company, or A.T.C. starting in 1909. This included the famous card of non-smoker Honus Wagner, who was reportedly not just non-smoker, but a vehement opposer of the noxious weed, who refused to let his image appear with tobacco advertising on the backs.
However, according to wikipedia, this is not entirely true, and he did appear on tobacco products, as well as smoke. 
Well here we are, a new month all over again, and do be aware that today is April Fools Day.
Though we think a fool is a foolish person, this is not strictly true, because a fool was actually a job in the middle ages, and it was paid, reportedly quite well, for the job was to entertain the notables and royalty. Our card even says that "Jesters, or professional fools were kept at court and in the houses of the wealthy … [and they] appear to have been held in the highest esteem during the middle ages, when they occupied quite an influential place in society."
That importance can actually be judged from any pack of tarot cards, where his card is numbered zero, something that means he does not need to stay set in place. In fact many believe that the major cards in the tarot all show his journey through life. In addition if he appears at the start his is the adventure of his life in this world and if he appears at the end he is about to take the grandest adventure of all and head off into the next one.
And he also appears on playing cards, as the joker, or jester. This is usually thought of as the "wild card", one which can replace any other, though this is not strictly true. However if any card is lost the joker can stand in. And depending on the game it can be the most or least valuable in the pack.
Lastly, to show of its great importance, this is also the only card per pack of which there are two pretty much near identical. 
This week's Cards of the Day...
celebrate Mother`s Day, which is on Sunday.
Some places are sending out notices that allow you to opt out from Mother`s Day, but I am not so sure about this as it is like they are trying to wipe your memories, when in times of sadness it is often thinking of those happier times that keep you going.
Female card collectors have always been in the minority, but if there are any out there celebrating Mother`s Day do drop us a line and say hi ! 
Saturday, 19th March 2022
SAA-040 : SAB-1 [trade : UK] S & B Products "Torry Gillick's Internationals" (date?) 31/64?
Here we have Willie Redpath, of Motherwell and Scotland, whose stats can be found on the Motherwell F.C. website.
William Yates Redpath, to give his full name, does not seem to appear on many cards, but we have found him on the Carreras Turf package issue "Famous Footballers" (1951) 2/50, and actually this throws up another card because they were also issued on larger packages as two cards up, so he is there next door to card number 40 which is Eddie Baily of Tottenham Hotspur. And he also appears as card 25 of the seventeenth series of "1950 Footballers" issued by J.F Sporting Collectibles; note that these are larger sized cards.  
According to our vintage British Trade Index part two, catalogued under SAB-1, these S & B Products cards were issued in the late 1940s, and there were thought to be 66 cards, which had backs in (a) blue (b) black or (c) green.
Part three of the vintage British Trade Index, issued in 1986, adds that there are two styles of backs known for some numbers, and that number 69 is the highest number known.
Our most recent British Trade Index agrees that the cards were numbered 1-69, but adds that not all of the cards were issued, the missing numbers being 6,13,29,48 and 53, which makes our total of 64 cards. However it might be worth your while to check any stocks you have of these cards in the hope you can find one of the missing. If so let us know. It also admits that there is even more variety with this set, as whilst the backs can be found in the three previously mentioned colours, the (c) green has the name of the issuing firm. The cards also vary in size, either 25 or 31 m/m long. And if that were not enough you can find the number above or below the title of the series.
The one thing I have not been able to find out is what products S & B retailed or made. Anyone knowing that do tell us please! 
Sunday, 20th March 2022
I205-630 : I/6-23 : USA/C13 [tobacco : OS : Canada] Imperial Tobacco Company of Canada Ltd. "Flower Culture in Pots" (1925) 49/50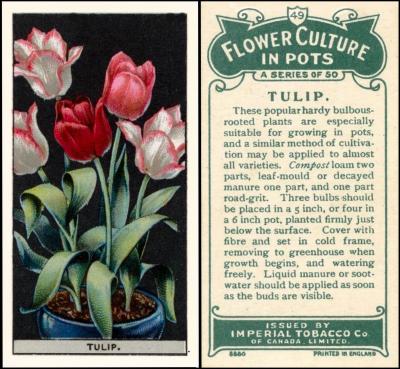 The reason for the tulip is that it is supposed to be the most popular flower for Mother's Day. I am not so sure of that, because though this fact is cited on several websites, asking around my friends failed to find anyone who straight out said tulip as their favourite.
We suspect the earliest card of a tulip to be Goodwin "Flowers" (N164) issued with "Old Judge Cigarettes" in about 1890, though it is closely followed by Duke "Floral Beauties & Language of Flowers" issued in 1892. This card says that the flower is "A Declaration of Love", whilst the modern meaning varies as to the colour of the tulip, so if you are interested to check before you buy them, have a look at Petal Republic  - and if you are still uncertain about the tulip, have a look at Interflora for other blooms and blossoms.
Imperial Tobacco Company of Canada was also known simply as I.T.C. of Canada, and it was formed in 1902 to handle British American Tobacco's Canadian products. It is said that most anonymous cards originating in that country can be presumed to have been by this company, so if you get one in a mixed lot check this issuer first.
This set was also issued by W.D. & H.O. Wills, in February 1925, with the same title, and again the tulip is number 49/50. The reference codes on that set are W675-174 : W62-136 : W/217. Sadly we do not have a month of issue for the Canadian version so we have no way of truly knowing which came first.
The differences between the two are the missing "Wills Cigarettes" name and the box containing it on the top of the front, and a number on the bottom of the reverse, in this case 8680, referred to as a serial number, though it was actually a printers' number, and also had another use as it helped early researchers put the sets in order of date of issue.
 
Monday, 21st March 2022
P521-860 : P50-182 [tobacco : UK] Godfrey Phillips 'B.D.V.' brand "Old Masters" silks set 6 (1918) Un/50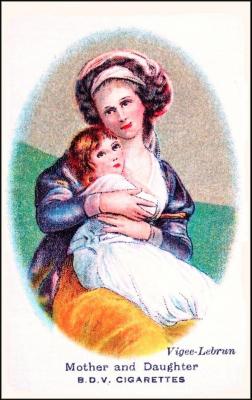 This charming image is entitled "Mother and Daughter by Vigee-Lebrun". The thing you will notice straight away but maybe not how important it was, is that both the figures are looking directly at the viewer.
The artist`s name was Elisabeth Louise Vigée, and she was born in 1755, with the Le Brun part of her surname coming from her husband, John-Baptiste Le Brun, an art dealer, seven years her senior, who she married at the age of 21.
The daughter is Jeanne-Lucie-Louise Le Brun, usually known as "Brunette".
Though it started well, and looks pleasant here, they were not a happy family, the husband was a gambler and the daughter had a row with her mother which led to them being parted for many years.
You can read much more about the life and work of this painter at the Art Story website.
Silks were not included in our original Godfrey Phillips Reference Book (RB.13) written in November 1948 and published in 1949, the reason given inside the book was that "a separate work on these issues is contemplated for a future publication." That never materialised, though other collectors produced checklists and books on silks, including Dorothy E Sawyer (1982 and 1985), and our current silk specialist Alan Stevens, whose detailed works can be purchased from our bookshop.  
Do note there was a card set of "Old Masters" shown as set 106, this was thirty six medium cards, size 60x53 m/m, fronts printed by offset process in colour with backs in brown, having descriptive texts. These were issued in 1939, but that set does not contain this painting. 
Seven sets of the silk "Old Masters" were issued in total and ours is set six, an unbacked silk measuring 67 x 42 m/m, which is smaller than the rest. This is one of the only two sets to have the painter's name in a slanting italic typeface - the other being set five
Tuesday, 22nd March 2022
W675-172.3 : W62-134.3 : W/209 [tobacco : UK] W.D. & H.O. Wills "A Famous Picture" series 3 "Mother and Son" (February 1931) 32/48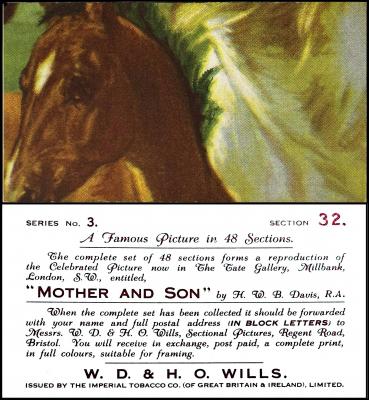 This picture becomes much clearer when you have more than one of the set for this was one of the "sectional series" that were issued in the 1920s and 30s by several companies.
Actually Wills issued six of them, starting with "Between Two Fires" in March 1930 and moving through "The Boyhood Of Raleigh" (August 1930), "The Toast" (June 1931 - which was the first of the group to also be issued in Ireland, as Series No.1 with a Dublin address, as well as to be issued in Guernsey), "The Laughing Cavalier" (October 1931 - the second of the group to also be issued in Ireland, as Series No.2 with a Dublin address, and again issued in Guernsey), plus "And When Did You Last See Your Father" (February 1932 – which was not issued in Ireland, but was issued in Guernsey). This last set unusually had 49 cards, one more than the rest, which is the reason why our World Indexes title these sets as "A Famous Picture in … Sections". 
The fronts were printed in letterpress in colour but the backs vary in hues, in order of issue the sets are grey, brown, mauve, green, blue, mauve. In our original Wills reference book parts I to IV (revised) and part V (RB.19, issued in 1951), it adds that the set of "The Toast" was issued by British American Tobacco. It was inscribed with redemption addresses in Mombasa, Nairobi and Dar es Salaam. This was coded W/210. A bit of investigation finds out that this falls under British American Tobacco (East Africa), and that the Guernsey sets were also issued under the aegis of British American Tobacco, "The Toast" having either black or dark green backs, but the rest presumably being the same as the home issue. 
This was a popular picture in the 1920s and 1930s and it appears in its entirety in several other series This includes Millhoff "Art Treasures" 10/50 where it also tells us that it was "by W.B. Davies R.A. born 1833, died 1914" and that the original was in the Tate Gallery London". It is still there, as you can see on their website but it is not on display. The painting also appears in Godfrey Phillips "Old Masters", and in the Scottish Co-Operative Wholesale Company "Famous Pictures" as 14/25 and this is the coloured card we show below. This adds that Mr. Davies had another initial, a starting H, and that he was born at Finchley. His full name was Henry William Banks Davis. He died in 1914, but not, I don't think, of the war, as he was almost 80.
Something that some of you may not realise is that when the collector had completed their set they were to turn over a back, and read how to redeem this set for a large sized print of the picture they had made. These were sent in tubes, and I am not sure if the cards were returned. I do know that they used to turn up regularly, in thick brown wooden frames, the glass obscured by years of nicotine exposure, in local and provincial auctions. There is a reframed one on eBay at the moment, its in a much more attractive lighter frame, but the description in the mount cites that it was issued with "Gold Flake", can anyone confirm this? 
Wednesday, 23rd March 2022
P521-430 : P50-102A : Ph/57A [tobacco : UK] Godfrey Phillips "Coronation of Their Majesties" (1937) 37/50
Many people might be surprised that Queen Mary was called The Queen Mother, thinking that the mother of our present Queen was the first to carry the title of "Queen Mother".
It was a rare title because Queen Victoria was dead when her sons acceded the throne, and there have been far fewer Queens than Kings, unlike in other countries – just look at Adkin & Sons "A Royal Favourite" for HM the Queen Mother of Holland.
In our case Queen Mary was the mother of George VI and Edward VIII, and this set was one of the many issued for the Coronation of King George VI. It is number 57A in our original Godfrey Phillips reference book. I am not sure how to record that number as "P/" is always Player, so as usual when faced with something I don't understand I make my own word or system up, so now we have Ph for Phillips. (This also explains why all my instruction manuals are still sealed inside their bags long after the machinery they refer to has worn out.)
The reference book tells us that the fronts were printed by letterpress in colour, the backs were adhesive, and that they were issued at home and exported abroad.
There was also a special album, for the standard sized cards – because this set was issued in other formats as well, 57B being a series of 36 cards classified as medium, measuring 61 x 53 m/m and having a squarer appearance, which turn up quite frequently. However 57C is quite a scarcity; these were souvenir postcards, sized at 127 x 89 m/m, and they have no descriptive text at all, they are also titled "To record the Coronation". And if you are lucky you might find the variant printing of those, which are the same size as these postcards but do not have the postcard format on the back, and these were issued overseas only. 
The 1950 London Cigarette Card Catalogue has the standard and middle sized sets of this issue at 1d a card for odds, whilst the standard is offered at 3/- a set and the medium 2/- (and says that special offers appear in their Abridged Catalogue!) The postcard format cards were priced higher, at 6d a card and 12/6 a set. 
By the time of our most recent World Tobacco Issues Index something really startling had been found out which few people know, and that was that this set was not for George VI`s Coronation at all. What led to this fact was the discovery of a standard sized proof set on which the heads and some of the subjects were different, and this sheet was almost certainly prepared to mark the Coronation of King Edward VIII. If anyone out there found this item, or owns it, I would love to know more, as this would make a most intriguing article for our magazine or website.
Thursday, 24th March 2022
A745-330 : A72-22 [tobacco : UK] Ardath Tobacco Co. Ltd "Empire Personalities" (April 1937) 2/50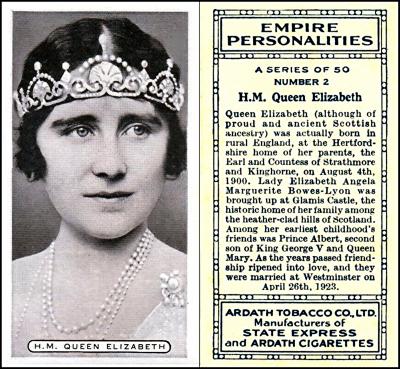 This is the Queen Mother that we immediately think of when we hear the name, though in time she too will become as distant to future readers as Queen Mary is to us.
It is doubtful now that our Queen will ever take her turn at becoming the Queen Mother, which in many ways is very sad, because it holds the promise of remaining as a beloved elderly lady in the public eye, and lets you step away from all the pomp and circumstance that must become so tiring as you age.
This set was printed in just two colours from half tone blocks and varnished, it is titled to the front and has adhesive backs applied over the printing, which was in bronze blue. We even know the brands this set was issued with, namely "State Express" and "Ardath Cigarettes", and that the cards were also issued in Jersey, and all this data comes from the records of Ardath themselves, which was supplied to us in 1943 during the production of our reference book number 6, dealing entirely with Ardath issues, a book which was signed off on by Eric Gurd in November 1943, and readied for printing shortly thereafter. 
The 1950 London Cigarette Card Catalogue has the standard and middle sized sets of this issue at 1d a card for odds, and sets at 6/- a set. It was not one of the sets issued at a lower price in their Abridged Catalogue. 
 
Friday, 25th March 2022
C151-200 : C18-33 [tobacco : UK] Carreras Ltd "Believe it or Not" (October 1934) 16/50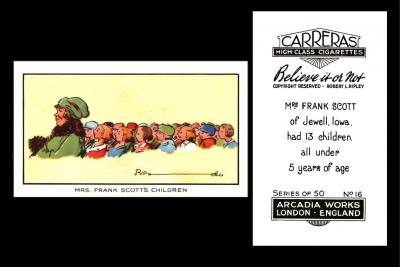 And that`s it again for another week, thanks for waiting for it to appear... See you all in April