welcome to another week of fun and delight !
Well I hope you are all getting ready for our Cartophilic Convention, checking your wants lists are all up to date to avoid any unwonted duplication, and ordering those heavy and bulky items in advance from your favourite dealers - things like leaves and albums and reference books - so that postage is not needed to be added on top. 
And dont forget to stay in touch on twitter - using the hashtag #CartophilicConvention2022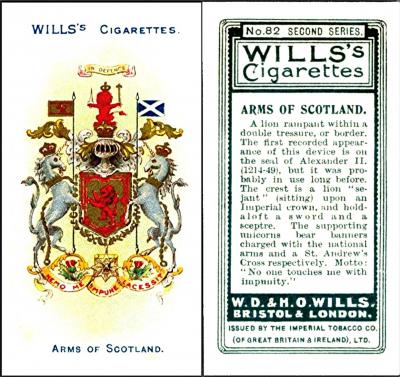 Today it is Unicorn Day.
These are reportedly the most popular mythical creature ever, and also the symbol of Scotland.
I actually didn't know the latter until I stumbled on Lyons Tea "What Do You Know" 16/48 where it tells us that "The unicorn was adopted as a badge by the Scottish kings, and when England and Scotland were united under James I, it was added to the arms of the United Kingdom."
Before it tells us that, it says that the unicorn was described by the Greek writer Ctesias as "… resembling a horse, very swift, and with one straight horn a cubit and a half long … supposed to live in India and is mentioned a number of times in the Bible, being generally regarded as a sign of purity." 
The best place to catch yourself a cartophilic unicorn (though the legend is that only maidens can actually catch one) is in heraldry, and our card is W675-102.2A [tobacco : UK] W.D. & H.O. Wills "Borough Arms" second series (or second edition) number 82 and it is actually the Arms of Scotland, but unicorns were supporters on many other arms and crests worldwide. See how many you can find! 
Another good source is myth and legend, like in Brooke Bond`s mystical "Creatures Of Legend With Kevin Tipps" 20/24. Then there is children's literature, starting with Fry "Nursery Rhymes" 39 shows the Lion and Unicorn – which is a rhyme I never heard of, it starts "The Lion and the Unicorn were fighting for the Crown…" Perhaps it rings a bell with you though. 
Finally cigarette packet collectors should already be yelling out that "Unicorn" was a brand used by Rothmans.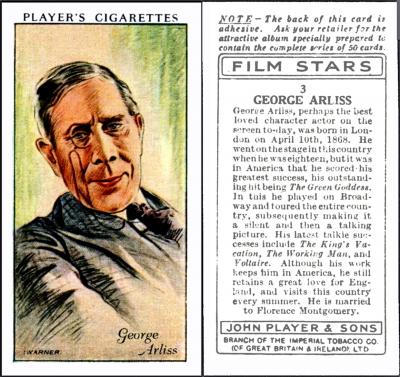 George Arliss is shown here on John Player "Film Stars" first series 3/50. This tells us he is "perhaps the best loved character actor on the screen to-day" and that he "was born in London on April 10th, 1868"
He is also described similarly on Carreras "Famous Film Stars" 93/100 as "One of the most popular stars in films". It also has a similarly good biography and adds that he was actually "Born Bloomsbury, London ... son of a publisher, in whose office Arliss made his career. Made stage debut in London . . . Has grey hair and brown eyes. 5 ft. 9 ins. tall." 
Ardath "Film, Stage and Radio Stars" (A745-340) 1/50 has a charming story, saying that Mr. Arliss "..is a law unto himself in the film studio. Each day promptly at 4.30, Jenner, his valet, who has been with him for more than a quarter of a century, tells him it is time to go home - and home he goes." And now I want to know more about the kind and gentle Jenner, who looked after his friend so faithfully, and seems to have been forgotten; at least I never heard of him before. 
Some of the most famous George Arliss roles are immortalised on cards. His Disraeli (1921) is on a curious set of postcards issued in some way by "Cinema Art", whoever they were; often these had cinema adverts on the back, and were given away at screenings. His Duke of Wellington, in "The Iron Duke", can be seen on  Godfrey Phillips "Characters Come To Life" (P521-426 - 1939) 1/36 and Hignett / Ogden "Actors – Natural and Character Studies" (H536-380 / O100-466 - 1938) 1/50. And finally, there is a bit of a curiosity on Ardath "From Screen and Stage" (1936) 35/50 where he is shown in the dual role of twin brothers Richard Fraser / Lord Duncaster in "His Lordship". However this was the British title - it is more usually known by the American one, the rather more exciting "Man of Affairs", which may have led to a bit of disappointment for some cinemagoers!
Time for some good healthy fun now, and we are off to the coast, for in 1936 on this day the first Butlins Holiday Camp opened at Ingoldmells, near Skegness - and its still going strong.
Billy Butlin did all kinds of jobs in his youth, including working at a summer camp in Canada, and operating the dodgems at the British Empire Exhibition at Wembley, which almost certainly gave him the idea to combine a holiday, with an adventure, with an all day funfair.
Butlins memorabilia is a vast subject, but I am not sure that any cigarette or trade cards exist, unless you want to go slightly over the borderline and include give-away postcards or playing cards. 
Why he picked Skegness could well have been because of the write up on the back of Hills "Holiday Resorts" (H554-535) 26/50 which says it is "… a very popular watering place and sea bathing resort . . . there are extensive sands with safe bathing and there are also beautiful pleasure grounds and a pier". By the way you can find this set in small or large size with backs in grey or brown. Or it could have just been the sheer fun and exuberance of the jolly fisherman, shown here in S548-730 [tobacco : UK] F & J Smith "Holiday Resorts" 20/25, which was also a railway poster. Mind you anyone going to Skegness would be wiser to look at the poster, for it does warn you that "Skegness is so bracing" and that coast can be rather chilly.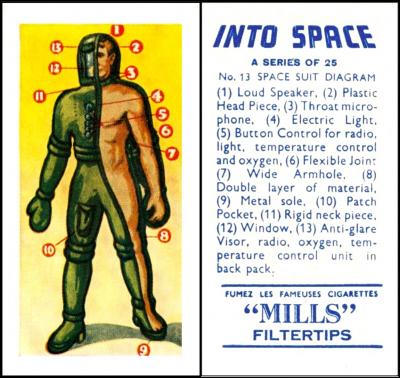 A double delight for fans of space travel for today is both the International Day of Human Space Flight, and the date that the Space Shuttle Columbia was first launched.
You won`t find many cigarette cards with anything but theories about space travel, for it was pure dream that a person or even a a machine could go out into space, let alone come back. The first stirrings of this thought only really came through the development of the V1 and V2 rockets by Germany during the Second World War, after most of the familiar brands of cigarette cards were no longer being issued.
Thankfully we do have this set, "Into Space" by Amalgamated Tobacco, which  was issued in Mauritius in 1958. I like this because I can imagine the small boy, or girl, learning this list under the bedclothes by the light of a torch. If they were discovered, they would probably say that this was with the hope that one day they will be able to look at the front and reel the list off in its entirety. However, as a dreamer, even to this day, I am pretty sure that what they really wanted to do was to one day find themselves in a situation where they were the only person who could name all the parts of the suit, and find themselves selected to wear it, to fly off into space. 
Most cards at this time were trade cards, and they really took to the idea of space travel, however you could say they knew their audiences, for it was with young minds that this idea of roaming into outer space really took flight. But was it the excitement of those unexplored areas, or was it more the rise in the genre of science fiction, and the arrival of television to show it in an animated form...?
Today, this is still the case, even though the fictionalised form of space has outlasted our actual exploration of it. We learned only recently that trading cards are being given away with meals at the "Space 220" restaurant in Walt Disney World`s EPCOT centre, so if you have relatives travelling to there this year, ask if they can bring you some back. 
Now here is a game I know nothing about, but seem to have been encountering a lot lately. I regret being flippant, by the way, as "a game" does not describe this supreme feat of mental concentration and skill, every bit equal to planning the movements of an army.
If you are a chess player, then you will know that why we are here is that today in 1963 Garry Kasparov, World Chess Champion and Grand Master, was born in Azerbaijan. 
There is not much chess on cards, but there are a few, including our card, which shows Sir George A. Thomas, Bart., who successfully played 32 opponents at the same time. It was issued by Alexander Boguslavsky "Sports Records" and this is the titled Second Series which we spoke about during our coverage of the Boat Race. So now you can see that this set is titled, whereas the first was not. This set was issued in (1925), and it is card 34 which always halts me in my tracks because it sounds wrong to say card 34 of 25. Any ideas?
There is also a card of a predecessor of Mr. Kasparov, and that was Dr. Max Euwe, Chess Champion of the World, who appears on Ogden "Champions of 1936" 14/50. He was Dutch, and he had become champion in 1935 by beating Dr. Alekhine. 
Another link is that Hignett Bros & Co had a brand of cigarettes called "Chess", and they issued cards - of Beauties, which you can see at the New York Public Library online  
Today in 1950 saw the first edition of the British comic "The Eagle". Now here we have card 3 of this series, Professor Jocelyn Peabody. The reason for her selection is not just because it is great to see a female scientist in a children`s paper (she is a research biologist) but look at where she was born, Southport, which is also the birthplace of The Eagle! 
This card was issued by F.C. Calvert & Co. of Manchester, who you can read about at Grace`s Guide online. Reading this tells me that Professor Peabody might have been modelled on the original Mrs Calvert! 
Sadly the card demonstrates a rather odd limitation that is often found in sci-fi, and that is being too narrow minded with your dating. So here we have Professor Peabody being born in 1971, and "seconded to The Research & Exploration branch of the Interplanet Space Fleet in 1993". But 1993 has passed and we are nowhere near this far ahead in space fleets. Also, a child of say seven, getting this card in 1954 would have still been under fifty when 1993 came along, and still waiting for the progress promised in their childhood.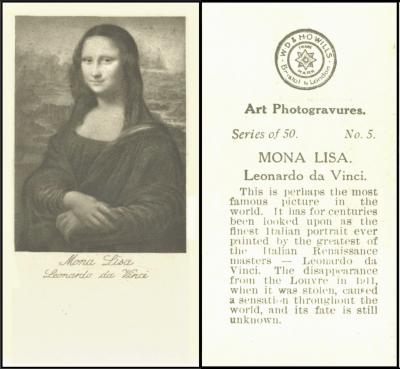 Today is World Art Day, or World Art Awareness Day, and has been so since 2012. 
It is also the birthday of Leonardo da Vinci, whose Mona Lisa is reproduced here on W.D. & H.O. Wills "Art Photogravures". The unusual bit in this card is the last line, which tells us it was stolen and "its fate is still unknown". It was actually taken from the Louvre, Paris, in August 1911, and it was not recovered until December 1913.
You may feel that art has no place in this world where money is king, but art is more important than money. No matter your status, you can enjoy beauty, and you can see an enormous amount of it totally free of charge online, best of all it is subjective, we all find pleasure in different things and all of that is reproduced somewhere in the world of art. 
Cigarette and trade cards, in many ways, are art. They are framed by their edges, or white margins in most cases, and there is beauty in almost every one. So why not upload your most loved work of cartophilic art on this day on Twitter, and remember to #cartophily and tag in @Card_World. See you there! 
This week's Cards of the Day...
This week our cards have celebrated Sir Winston Leonard Spencer Churchill, in honour of a rather odd event, namely National Winston Churchill Day, which takes place every year on April 9. However that`s not his birthday (Nov 30), nor the date of his death (January 24), nor his knighthood (April 24) – its actually when President Kennedy made Churchill an Honorary Citizen of the United States of America, one of only eight so far, and Churchill is one of the only two to be inducted whilst they were still alive. If you want to see all eight, or have a guess first then look, they are listed at mental floss 
So how did we get to Winston Churchill......? 
Saturday, 2nd April 2022
O100-464 : O/2-122 [tobacco : UK] Ogden "AFC Nicknames" (1933) 3/50
Clue Number One was this card showing a caricature for Barnsley F.C. It might look like a bear at first, but if you read the text it tells you that they were known as "The Tykes" – and returning to the front, you can see a tiny tail sticking out of the back of the character's coat. 
Tyke is a northern dialect word, centuries old, for a dog of low breeding, or sometimes a person, if the teller is unkind. Tyke is also the son of Spike, the bulldog in the Tom and Jerry cartoons. And Churchill was nicknamed the British Bulldog", so much so that if you look online you will find photos and postcards of Churchill with bulldogs, or creepily, with his head on a bulldog`s body  
I have to say that there is rather a Churchillian likeness in our card as well – or is that me seeing things again?
And yes, this set was also issued by Hignett Bros & Co of Liverpool. Its reference code is H536-380.
Sunday, 3rd April 2022
M884-470 : M142-34 [tobacco : UK] B. Morris & Sons Ltd, London "Victory Signs" (1928) 45/50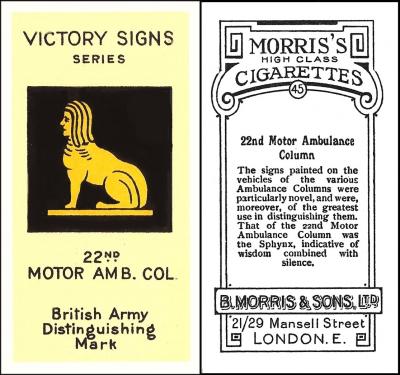 The first odd thing about this set is the date of 1928, which was considerably after the First World War but not late enough for the Second. I think what may have happened was that they were designed earlier, but when cards did not return they were left on the shelf, perhaps the brainwave was to celebrate ten years after the end of the War. However I doubt we will ever know for certain as no wording to this effect was added.
The signs and symbols, include some very obscure units, like ours, which is the 22nd  Motor Ambulance Column, whose symbol ".…was the Sphynx, indicative of wisdom combined with silence".
That sounds a good connection with Churchill, whose speeches sometimes said more in their silences than in their words. However we also have a connection with ambulances, as our first President Charles Glidden Osborne, was attached to the American Ambulance Brigade. 
Of course, our Card of the Day Connection refers to Churchill's famous Victory Sign (or V-Sign). 
In 1950 these were the lowest priced B. Morris odds in the London Cigarette Card Catalogue, cards being on sale for 1/2d each. The sets were more comparable in value, at 2/6d. though they were one of the sets stated to be on special offer in the Abridged Catalogue. The reason for this was probably that it was a set of 50 cards, so the value of the odds sorted themselves out to the value of dearer ones in the shorter sets which Morris traditionally produced during the 1920s and 1930s, only four sets of fifty cards being issued as opposed to eleven sets of twenty-five cards, plus a thirty-five card set (M884-410 : M142-31 "At the London Zoo Aquarium" – 1924), a twenty-four card set (M884-370 : M142-28 "Shadowgraphs" - 1925), a thirteen card set (M884-380 : M142-29 "Treasure Island" – 1924)  and a twelve card set (M884-540 : M142-39 "Horoscopes" – 1936) 
Monday, 4th April 2022
G275-500 : G30-1[tobacco : UK] Louis Gerard Ltd., London "Modern Armaments" (1938) 45/50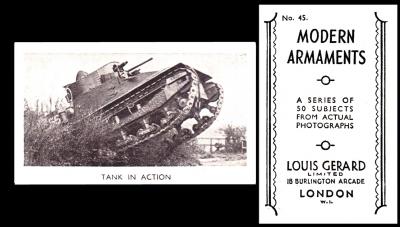 This card comes from a set designed to show that we were getting ready for war once more. There are no descriptions on the backs, which is a shame. 
The tank we show links to the fact that Churchill promoted the development of the initial tanks during the First World War, and the newly created Churchill Tank named in his honour was first used in 1942. I still don't know what tank is shown here, but I will do my best to name it asap...
Louis Gerard was part of Rothmans Ltd, and had just the one outlet, 18 Burlington Arcade, which was almost certainly a shop, though they did have a factory in Underwood Street, North London. The shop would not have been large; you can tell that because today it is being operated as a handbag shop, and they also took the next door unit. 
This set consists of fifty cards and it can be found numbered or un-numbered. Oddly in 1950 the numbered version was more expensive/scarcer but today the un-numbered version commands a slightly higher price. 
Louis Gerard only issued three sets of cards, ours and a pair of film related sets both released in 1939. These are: 
 "Screen Favourites" (G275-700 : G30-2) a set of twenty-four un-numbered cards printed in brown with a yellowish tinge to the front, though the reference book also says the cards were varnished, so perhaps the yellow was accident rather than design. The cards can be found with either Louis Gerard & Company" or "Louis Gerard Limited" to the address. Check your set to see you have not got "a marriage". The set was also issued by the parent company Rothmans, but it was re-titled to "Prominent Screen Favourites".
and 
"Screen Favourites and Dancers – from actual photographs", (G275-800 : G30-3) a set of forty-eight un-numbered cards with fronts in brown and the same back style as our set but different wording. Recently it was discovered that the cards were issued varnished and unvarnished and the backs are so slightly different that you will probably never see it – so I will try to remember to extract the picture from our current World Tobacco Issues Index. You will also find these same cards without any issuer (though it was actually a Teofani set) with the fronts in green, and with the wording "One of this attractive series of 48 Modern Movie Stars and Cinema Celebrities…." And they were also issued by The Premier Tobacco Mfrs., as "Eminent Stage & Screen Personalities – reproduced from actual photographs.
Tuesday, 5th April 2022
P246-515 : P18-47 [tobacco : UK] J. A. Pattreiouex "Builders of the British Empire" (1929) 47/50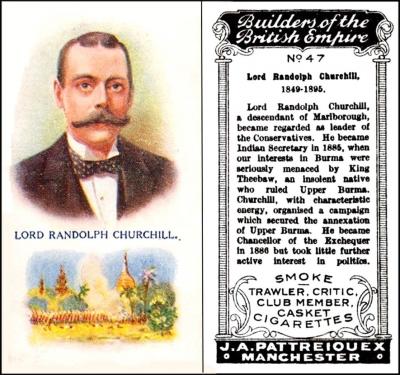 The first thing that I pick up on is the rather odd text calling the King of Burma "…an insolent native", presumably for daring to try and protect his country against ours. Its no wonder that Empire has become such an objectionable word over the centuries. 
This of course is Lord Randolph Churchill (1849 – 1895), who is called "a descendant of Marlborough", and whose own descendent, his son, was Winston Churchill. Lord Randolph Churchill also appears on a Guinea Gold, number 32 of 62 in the "Politicians" series, as "The Late Lord Randolph Churchill Secretary in Lord Salisbury`s First and Chancellor of the Exchequer in Lord Salisbury`s Second Ministry.
Cousis also shows him, not as "late", though it says the card was issued in 1905. Both these cards are from Chartwell Booksellers, a New York retail outlet devoted to Churchilliana. 
Another of his ancestors is on Lea "Miniatures", First Series 30/50 – this is John Churchill, first Duke of Marlborough K.G. from an original by Sir Godfrey Kneller. The intriuguing thing here is that it says he was the "Second son of Sir Winston Churchill". You can read of his exploits direct on the card at the New York Public Library. The same portrait of John Churchill, but in brown and white, also appears in Nicolas Sarony "Celebrities and Their Autographs" card 36 – and do note that he signs his name not as John Churchill, but as "Marlborough
Wednesday, 6th April 2022
C18-21 : C151-160 [tobacco : UK] Carreras "Famous Escapes" (February 1926) 1/25
This shows Churchill during the Boer War.
He was actually there as a journalist, for "The Morning Post", and he arrived in October 1899, only to be captured a fortnight later by the Boers, who derailed the train he was on by shelling it.
His escape from captivity is well described on this card, but what it does not say is that the adventure resulted in him deciding to take up the sword rather than the pen. This did not last very long though, and by the end of the year he had decided to become a politician.
This set is one of the original Carreras "Turf" cards, not to be confused with the blue and white packet issue which cane much later. However though they say Carreras, they were issued through their subsidiary Alexander Boguslavsky.
The fronts are glazed. The set was issued in three sizes, standard and large, each being sets of twenty-five cards, plus a set of ten selected cards in a size called cabinet, measuring 133 m/m x 70 m/m, and intended to be saved for posterity and treated as a work of art.
In the 1950 London Cigarette Card Company catalogue the small and large sizes are priced up at 6d. a card or 15/- a set. However the cabinet size is 1/9d. a card or 25/- a set. I am not sure what the ten selected cards were, as I have never actually seen a cabinet size card of this set, so does anyone out there know more? Do tell us! 
Thursday, 7th April 2022
C151-335 : C18-59 [tobacco : UK] Carreras "Notable MPs" (May 1929) 2/50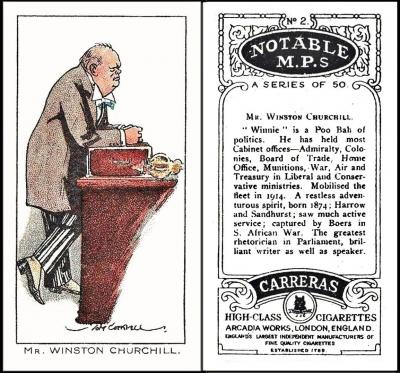 This card tells us that Winston Churchill "has held most Cabinet Offices" and it also mentions him being "captured by the Boers in the South African War". It ends by calling him "The greatest rhetorician in Parliament, brilliant writer as well as speaker."
This set was very successful and it was issued as a standard size and a medium size measuring 69 x 60 m/m. You can see the medium size of this card at the National Portrait Gallery online 
Returning once more to my well thumbed 1950 LCCC Catalogue, both sizes of this set were listed at 1d. each for odd cards with the standard at 1/6d. a set and the large at 9d. a set. Once again these sets were available at a lower price in the abridged catalogue !
The artist here was Tom Cottrell, though he is not actually named on the card, you have to decipher the signature. He was a talented artist and you can read a bit more about him at the cartoons.ac website
Friday, 8th April 2022
P521-452 : P50-112 : Ph.96 [tobacco : UK] Godfrey Phillips "In The Public Eye" (1935) 53/54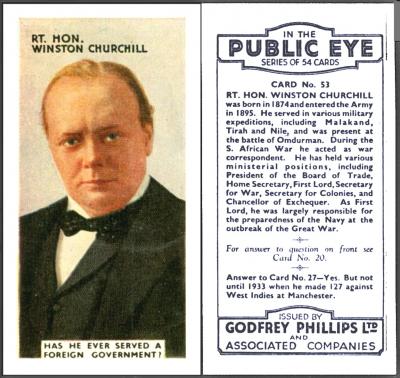 Now this is one of those sets that asks a question on each card, a bit of a gimmick to ensure you collected the whole set.
The question on this front is "Has he ever served a foreign government?" Now on the back it tells you that the answer is "Yes. But not until 1933 when he made 127 against West Indies at Manchester". Once you get over your initial confusion, you realise there is wording you missed, that says "For answer to question on front see Card No. 20". Ho hum. 
I took a while to track down a number 20, but it turns out to be Dorothy Round, the tennis player. The answer to our question, on her back, is that "In 1895 he served in the Spanish Campaign in Cubs as a British Officer attached". This is a rather strange question and a very inconclusive answer which they did not even grace with a yes or no. I am sure you could find another more fulfilling item of Churchill trivia to insert than this.
By the way the question for Dorothy Round was "Has she beaten Mrs. Moody?". You can find that out for yourself, as the set is fairly inexpensive and you ought to be able to find one to look at fairly quickly online. I will simply tell you that the bit about the West Indies at Manchester relates to card 27, which shows D. R. Jardine, the cricketer, and the question about him, on card 27, was "Has he scored a Test Century?" and that brings us back to our "Yes. But not until 1933 when he made 127 against West Indies at Manchester". 
And that is all we have time for. I do believe I am going to make the proper midnight arrival tonight. 
Enjoy this, and do get in touch via webmaster@cardworld.co.uk
See you all next week