Happy Easter to all our readers, and we hope that you have a peaceful holiday, also that the weather is kind, and the light good enough to make sure your wants lists are up to date for our ever nearing Convention in Hemel Hempstead.
Now we need to mention that there is a dedicated Convention webpage which will be getting lots of attention over the weekend, and if you have twitter please join us in tweeting #CartophilicConvention2022 with all your thoughts and pictures, what you are hoping to buy, what you are dreaming of seeing there, etc.
And make sure you tag in our twitter site which is @Card_World
Dont forget the auction will be LIVE this year, so you must get your bids in early if you are not able to attend as the closing date is sooner. The catalogue is online already 
One more thing is that the swap table will again be operating and for this to work to the best of its ability we need all the swaps we can possibly muster, so even if you only have a few bring them along and pop them on the table. Though we specify selected sets on the flyer anything in the way of modern gum and trading cards will add to the excitement. 
And now on with the newsletter !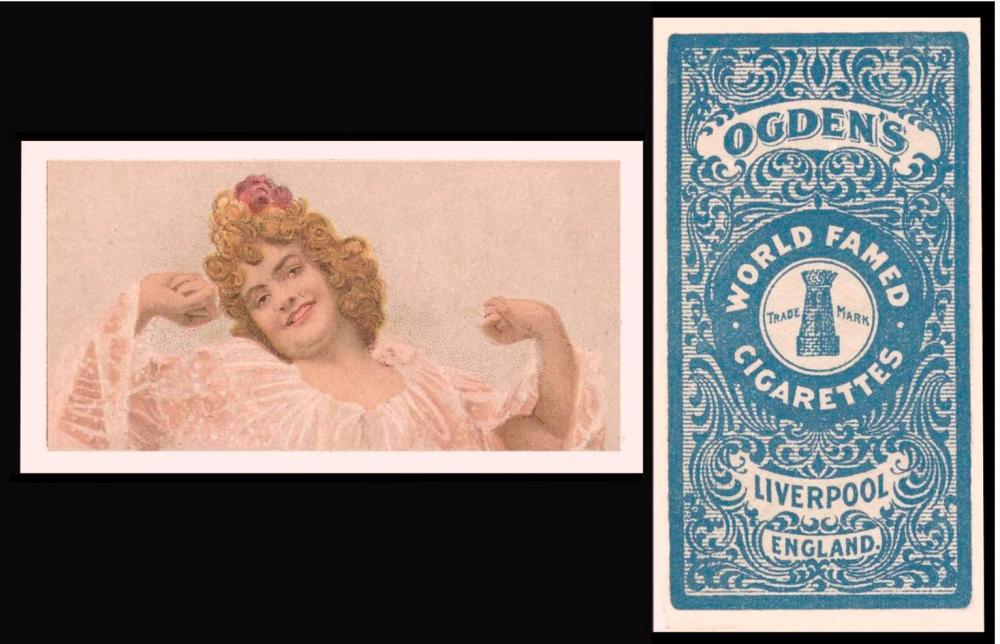 Now here is a strange one to start with as it is National Wear Your Pajamas to Work Day.
I know this was entirely possible during lockdown, in fact it was the norm for some people - but now we are going back to work it may be a bit harder, certainly if you wear a diaphanous lace creation like this lovely lady from Ogden`s "Beauties HOL".
I am not making it up, this day really does exist, and it is a set date, always on April 16th; it was started in 2004 by a sleepwear company, who reportedly wear their PJs to work all the time. The mind boggles. But if like me you are now extraordinarily curious to have a look, they are called PajamaGram - and I am quite taken with those matching dog and owner sets  
Our set was issued with two back designs, this blue castle and another with a red stamp for Guinea Gold. The HOL code is an acronym of the issuers, for this set also appeared in products produced by Harris and Lambert and Butler (with four different branded backs). There is also an anonymous version, so this set could have been called Beauties HOLA, but it was not. This may have been way too much fun for our early compilers, though I say that with much regard, not mocking. 
You can also find pyjamas in other beauties and film star sets, and it is not stretching the boundaries too much to include the many Chinese sets which show kimonos, as once Gilbert and Sullivan staged The Mikado the kimono became popular off stage as night attire, simply because it was a softer, more luxurious dressing gown. 
Today is Malbec Day, and Malbec is a wine, or more correctly a purpley-black grape from which wine is made. The variety started in France but was brought to Argentina in the 1860s and proved a good grower.
Today Malbec is grown in France, Chile and Argentina, and is very popular, being full bodied and highly flavoured. At least that is what they say, I am not a wine drinker.
Once more this is a set date, and it commemorates the first agricultural school in Mendoza, Argentina, which was founded on April 17, 1853. This started with French vines, and from those few twigs came the entire wine industry in Argentina today; amazing when you read that they are the fifth largest producer of wine in the World, and Mendoza produces more over 60% all Argentine wines.
Our card is Wills "Do You Know" 8/50, I do not know if this a Malbec grape, but I bet someone out there does! And as for the question "What causes the bloom on grapes?" the answer is a microorganism, or fungus, which makes the fruit so beautiful.
The card doesn`t really explain more than this, but after research I can tell you that eventually the whole grape is covered with this, turning it almost white, and that is nature`s way of protecting the delicate grape, as well as keeping the juice and moisture safe within, The bloom is actually self manufactured by the grapes, and it is a kind of natural acid, but that`s not all, for it also has a health benefit to humans, and helps fight disease, especially to the liver. 
Today in 1956, the glamour of the movies merged with the heritage of royalty when film star Grace Kelly married Prince Rainier III of Monaco. This date is not the grand wedding at St Nicolas Cathedral, this was a civil ceremony, with under 100 guests, in the throne room of the Palace, which had to take place before the religious ceremony. At both of these, Grace Kelly wore dresses designed by a costume designer from Metro Goldwyn Mayer Studios. 
Grace Patricia Kelly was born on November 2, 1929 in Philadelphia. The Trading Card Database tells us there are over a hundred cards of her, and practically all the earlies were issued with gum, primarily in the Netherlands. These pretty much fizzle out in the 1960s then there is a gap before she comes to the attention of the modern issuers, who issue many of the same card in different formats. 
Our card was also issued with gum, by Gum Inc. and it is one of the few that actually show her wedding. It is in a set called "Adventure", which is rather odd, squeezed in amongst the sport and the wars, in fact the cards it is sandwiched between show bullfighting and the US Marines at war on HMS Reindeer in 1814.  One slight problem is that they call her husband simply "Ranier", and they do it twice. However this set was issued in 1956, so it was almost reportage in this case. 
Sadly what should have been a fairytale wedding ended with her death, in a car accident, on September 14, 1982, when she was aged just 52. She was buried at the cathedral of her marriage and Prince Rainier, who never remarried, joined her in 2005. 
Here is a curious fact, for today in 1983 was reputedly the first announcement of a personal computer with on screen pictures, not just text, and a small hand held device to move the cursor about the screen that gained the nickname of a mouse, through its small scurrying movements, also the cord`s remarkable resemblance to a mouse`s tail. This computer was designed by Apple, and named Lisa, which was also the name of the daughter of the company`s co-founder Steve Jobs.  
I have not been able to find the advert or announcement, but there may be some of you who remember this machine, and if so, they are still about, and it is still possible to find spare parts. However it was not a great success at the time because it was retailed at almost ten thousand dollars. 
As more of our lives can only be done on computers, it is odd that they are so seldom featured on cards. We have gone for another theme entirely, because I mentioned this card ages ago and have only just found one in a box of odds. However if anyone out there knows of any computers that are shown on cards do let us know! They would be most useful. 
Today is National Banana Day. Now this one is not a set date, it is the third Wednesday of April. As to why, well who knows!
Bananas are thought to be the oldest fruit to be cultivated properly rather than be growing in the wild and just picked. This is thought to have occurred in Asia, but then the fruit attracted the attention of conquering armies and travelled back through Europe. And though bananas are associated with the Caribbean, they did not arrive there until almost the 1870s, and only then were first used as a rotation crop, providing vital trace elements to help another more valuable crop prosper. 
They are also grown in British gardens, but you will have to be very lucky to get edible bananas from those because the climate is still too cold for them.
And less jokes please, for it is very hard to actually slip on a banana skin. They are also one of the healthiest fruit, with high levels of carbohydrate, phosphorus, vitamin A and iron. 
Here we have a really fun day, for it is National Bulldogs are Beautiful Day, and they truly are in their own way. The bulldog`s qualities of tenaciousness and grit have also seen the name associated with aeroplanes like the Bristol Bulldog, and literary characters like Sapper`s Bulldog Drummond, the film of which, with John Howard and Heather Angel, is featured on A & M Wix "Film Favourites", card 7 of the third series of 100. 
Most sets of cigarette and trade cards devoted to our canine companions have a bulldog with them, for it is one of the symbols of this country. It also shows that though we are small as a nation, we are fierce when we feel we are cornered. 
This set John Player "Dogs Heads" is a different one to the one most usually cited, it comes from artwork by Peter Biegel, an artist usually associated with equine portraits. In fact if you were a child who read a lot of pony books it is almost certain that many of them were illustrated by him. Much of his skill was natural but he was also taught by Lucy Kemp-Welch, a fellow horse artist. During the Second World War he served in the forces, I have not yet tracked down a branch, but know he was wounded at Normandy and on his recovery he was involved with a book called "Parachute Silk", which makes me wonder if he was a paratrooper. A number of his paintings were exhibited at the Festival Of Britain in 1951.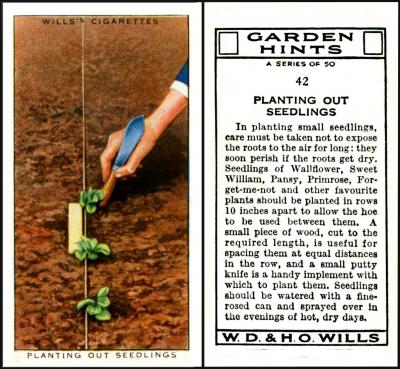 today is Earth Day which this year is asking us all to invest in our planet. 
There is a lot we can all do to protect our Earth, but it can start small if you need to.
This card of a garden shows what the earth needs in a microcosm, not to let the plants dry out, not to put anything on the soil which damages it, to treat it with care, and to keep an eye on it.
This is just a small patch of soil, but then we slowly move outside our own garden to the trees and verges of our neighbourhood, and the places that we visit regularly. That takes no effort, but imagine if we all did it, just looked after our own patch of the Earth, slowly expanding outwards until we joined together 
This week's Cards of the Day...
Saturday, 9th April 2022
CHI-350 : ZB9-17 [trade : UK : confectionery] Chix Confectionery Co. Ltd, London "Famous Footballers" (1961) 37/50
Clue Number One was our Saturday Soccer Star. The footballer shown is Bernard Patrick Larkin, always known as 'Bunny' (though probably not as the Easter Bunny), and he is shown here during his time at Norwich. He was born on January 11 1936, and he played for several teams, Birmingham City, Doncaster Rovers, and Lincoln City, Norwich City, and Watford. Not many cards exist of him but we have found him in Paramint Cards "Classic Football Stars" second set of ten cards where he is number one, in his Birmingham City strip. The text tells us he joined Birmingham City as a youth player in 1952, and was sold to Norwich in 1960 for £10,000. I don't know who issues Paramint Cards, but if you do please let us know. 
Chix Confectionery issued these cards with bubble gum, but did not add their own name as the manufacturer, they only credited "Buchan Publications", which has led to the set being referred to as "Famous Footballers (Buchan)" in many dealers catalogues.  This meant they were technically anonymous cards so they were given the reference code of ZB9-17 in our British Trade Index part two, published in 1969, though it was recorded there that they were by Chix.
If you look at the backs of some of their other sets they claim to be "The Best Bubble Gum", I do not know how that was calculated! 
Another gleaning from the back is that actually Chix was very loosely in London, for the cards say Slough, and a bit of digging puts the factory in Farnham Road.
These cards are a bit larger than normal and measure 94 x 66 m/m.
Sunday, 10th April 2022
O100-406 : O/2-91 : O/34 [tobacco : UK] Ogden's "Birds Eggs" (1904) 49/50
Clue number two was quite an easy one, as it really looks like a chocolate Easter egg!
This set is actually titled "British Birds Eggs" on the fronts of the cards, but "Birds Eggs" on the backs, and they are cleverly numbered to match up with the birds in set O100-414 : O/2-95 : O/47 ("British Birds" first series 1905/6, also issued by Imperial Tobacco Co.) The idea with this was so you could display the bird cards on the top or bottom row of your slip in album and the eggs on the row directly above or below.
The fronts of our set are lithographed in colour and the backs in green, with a descriptive text. They must have either been reprinted at some stage or the availability of the card used altered, as they can be found on (a) white board with semi-glossy backs, or (b) off white board with matt backs. Strangely these two different boards also occur in the set of "British Birds" which makes me wonder if when the birds were issued the set of eggs were reissued.
By the way, Ogdens also issued a second series of "British Birds" in 1908, these were numbered 51-100. Sadly no egg cards were produced to match them.
This set is sometimes confused with another Ogden's Ltd "Birds Eggs" (O100-476 : O/2-128 : O/35 - 1923). It may have the same title, and green descriptive backs, but the 1923 version are cut out cards, with a perforation around the egg to allow it to stand proud whilst the rest of the card is pulled slightly backwards. And once again, in 1923, there was a cut-out set of "British Birds" (O100-482 : 02/131 : O/49) with the numbers matching so the two sets could form a pair in a slot in album.
Both of these later sets were also issued by Imperial Tobacco Co of Canada.
It was reported in our original Ogden reference book (RB.15) that cards of the 1923 series existed which had "cut" in the centre of the back rather than "push". They presumed these to be an export issue. However the only other mention of this in either of the World Indexes is in the most recent which says "uncut cards are known". In the dark recesses of my mind is something about not allowing pre-perforated cards to be exported. And it does say "uncut cards are known" against the eggs, the birds, and with "Children of All Nations", so perhaps in these cases the collector had to make their own cut out fold down cards, and instructions were given on the packet? Do let us know if you can tell us more
Monday, 11th April 2022
W675-484 : W62-345 : W/144A [tobacco : UK] W.D. & H.O. Wills 'Scissors' brand "Beauties - Picture Hats" untitled (September 1914) 12/32
And this third clue was the Easter Bonnet, complete with flowers.
These cards are lithographed in colour on a white background. Our original Wills reference book part four tells us this printing was issued between 1910 and 1915 in India. Ones with a different back showing a star and circle branding plus rather bold leaves at the edges and corners were also issued elsewhere overseas by Wills at the same time. And a plain back version is also known, but these are presumed to be from printer's proofs. 
By the time of our next Wills reference book, part five, a bit more had been discovered. One of these things was that in the British American Tobacco records this set was not called "Beauties - Picture Hats" but "Quinnell Heads" and this is a vital clue, for it gives us the artist, Cecil Watson Quinnell 1868 - 1932. I am not certain that this link to the hidden treasure has ever been followed before, which gives me rather a thrill. 
Also in that part five the date had been narrowed down to September 1914.
That was a busy month for Wills, as three sets appeared in the 'Scissors' brand, "Famous Footballers"  (W675-496 : W62-355 : W/205A), "Britain's Defenders" (W675-487 C, D and E : W62-345 C, D and E : W/51 C, D and E),  and these "Beauties -  Picture Hats".
How times change, for ever in some cases, for in December 1914, these were all replaced by the sadly topical "Army Life" (W675-480 : W62-3422 : W/133A), similar to the UK issue. 
Tuesday, 12th April 2022
A46-22 [tobacco : UK] Amalgamated Tobacco Corporation `Mills` Brand "Animals of the Countryside" (1958) 22/25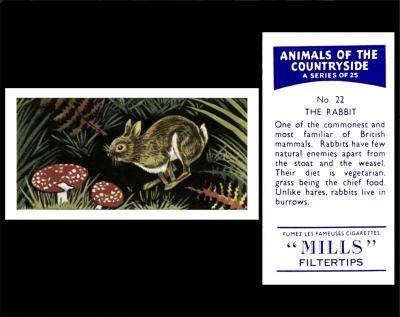 You wont find this set in our original World Tobacco Issues Index, because that was published in 1956, though the issuer, Amalgamated Tobacco Corporation, is there, from which we learn that it was "associated with Phillip Allman, 1954 [and was] trading in 1956; also that it "includes brand issues inscribed "Mills" and "Yank" Cigarettes."
These issues started with the rather unlucky South African medium sized card series "Famous British Ships" (A495-030 : A46-1)  and "History of Aviation" (A495-040 : A46-2), printed but "not used" because of government restrictions, though they were brought back to this country and issued here in 1952; and the curious postcard which was given away with two free cigarettes at the 1951 boxing match between Vic Toweel and ? Boland (A495-990 : A46-11).
Then there are two issues listed as being issued in England, and bearing the Luton location, these date from 1953-1954, and are "Kings of England" (A495-125 : A46-6) and "Propelled Weapons" (A495-135 : A46-7). 
After this pair there was what I could call a hiatus, but which was actually farewell, as these were the last cards issued in the British Isles.
The next issues, including ours, only appear in the updated version of the World Tobacco Issues Index, and this also contains a correction, as the brand "Yank" was actually "Yanx". These new cards were all issued in Mauritius, though some dealers and collectors still mark them as French. This is because though thirty-three sets were issued with the text in English, four sets were issued in the French language. 
Our set "Animals of the Countryside" is one of the English sets, and it includes this rabbit, symbol of Easter, though technically the Easter rabbit is the Easter Hare. 
It is a curious set because I am not sure that Mauritius has much of the very typical English wildlife depicted. Maybe a Mauritian reader would like to email us and tell us whether this is so? It would be great fun if one of you did…
 
Wednesday, 13th April 2022
ZB6-30 : RB21-459 [tobacco : OS] Anonymous "Favourite Flowers" (1920-1925) 23/50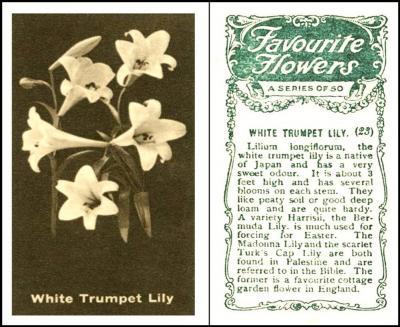 This is the White Trumpet Lily, or Lilium Longiflorium, and it actually originated in Japan, on three tiny islands known as the Lui-Chiu or Ryukyu Islands.
It only arrived in England in 1819.
The reason it is here is that its other name is the Easter Lily, because, as the text tells us, "a variety, Harrisii, the Bermuda Lily, is much used for forcing for Easter." 
These texts are very well written, so it seems a great shame that all we know about this unusual set is that it was thought to have been issued in Malta and Malaya, presumably through British American Tobacco, and that it measures the rather unusual size of 64 x 37 m/m. However, the mention of Bermuda is very intriguing because that was the main growing centre for the lily bulbs which were shipped over to America, and this would tie in nicely with these cards being produced by the British American Tobacco Company.
This card has another link to Easter, for the lily was the symbol of the 1916 Easter Rising, and badges were first produced to raise funds and to remember the dead ten years after the event.
You can read more about this at the anphoblacht website However that lily is technically the Calla Lily and not our trumpet shaped version. 
Thursday, 14th April 2022
L073-100 : L8-10 : L/36 [tobacco : UK] Lambert & Butler "Conundrums" untitled (1899) 27/50
This is an unusual set in several ways not least because there are two versions of it by Lambert and Butler, both measure 57 x 38 m/m and have the same fronts. However ours has this green back whereas the other, first listed as L/37 in our original Lambert and Butler Reference Book, is in dark blue. In the World Tobacco Issues Indexes this has been altered so it is not a different number but an (a) and (b) of the same set.
My trusty 1950 London Cigarette Card Catalogue tells me that the dark blue cards were actually thicker, but I have no other mention of this. They retailed odds of the green backs at between 8/6d and 25/- with sets available for £50. However the blue backs were only offered as odds and they were priced up at 25/- to 80/-
Now this set was also issued by two other companies after this, but you will not find either in the 1950 London Cigarette Card Catalogue. 
The next issue was by W.D. and H.O. Wills, between 1901 and 1907, and there are several versions, but these are considered to have been issued in Australia, so were outside the scope of the LCCC Catalogue which only dealt with British cards. However some believe that they did have an issue in the UK, and that the basis for a purely Australian issue is simply that they were mostly discovered in Australian collections. The reference codes on this are W675-572 : W/21.
The third issuer was Typhoo Tea, in 1915, as a set of 25 cards only. The reference codes on this are TYP-220 : SUM-33
Now you may think that this 1899 card is the original usage of this little joke, but according to wikipedia it was first told in the 1840s, some 50 years before our card.
It seems nothing really is new in this world!
 
Friday, 15th April 2022
W675-165.1 : W62-127.1 ; W/188[tobacco : UK] W.D. & H.O. Wills "Do You Know" first series (September 1922) 14/50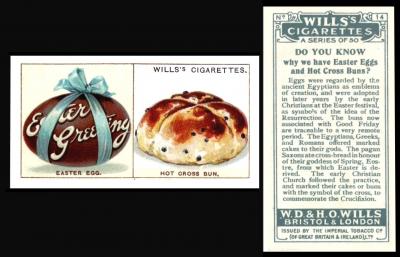 The oddest thing about this set, or sets, is that despite them being so plentiful in odds boxes, it took until part four of our Wills reference book, (RB.16, 1950) for them to make an appearance.
This shows the two main symbols of Easter, the egg, universal symbol of rebirth, and the hot cross bun with its religious cross but also as a pagan symbol of Spring. 
Today there are many weird and wonderful combinations of Easter Egg and Hot Cross Bun, and every year the makers vie to make the most extravagant and newest, Some may feel this is a gimmick, but I am not so sure. Isn`t the important thing to encourage new people to follow the old traditions so they stay alive ?