another week where chaos rules, but the newsletter is here just about in time. Bit short of hashtags and links, but we will see how many we can add before we fall asleep....
Image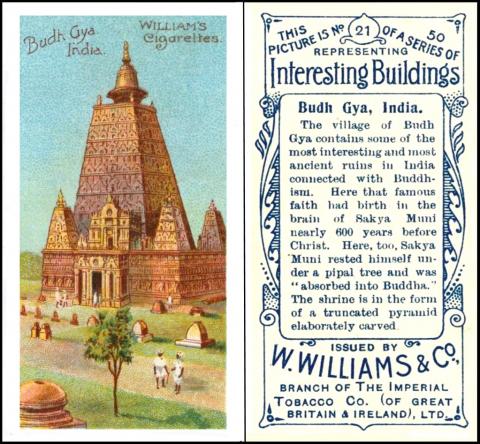 Today is World Meditation Day. However, meditation should be a part of every day, just five minutes to feel still and quiet, to listen to the wind rustling the trees, the birds singing, the clock ticking its gentle beat, to appreciate what we have whilst others are suffering (for there is always someone worse off), and to think about how we can find a useful purpose with the rest of our lives. 
At this point in time we are lucky, for the internet may indeed be seen as a tool of disaster and cruelty, but it is also a wonderful friend for health and wellness advice, and for finding like minded folk with who you can combine your ideals and beliefs. It is truly the case that you can find footage of anything and anyone on there. 
Many of these films are short, and they can be viewed whenever you have time, you do not have to watch live, when there is the certainty that you will have to stop what you are enjoying and do something for someone else. And there are lots of free meditation classes, both pre-recorded on YouTube and live over zoom. Have a look – for you will find something that resonates with you. And if you don't like it, stop that film and find another. You wont offend anyone, and you wont be out of pocket, and nobody on screen can see how awkward you feel at first. 
Meditation is hard to find on cards, but there is definitely a serenity to many of the early artist drawn views, especially the Eastern Temples.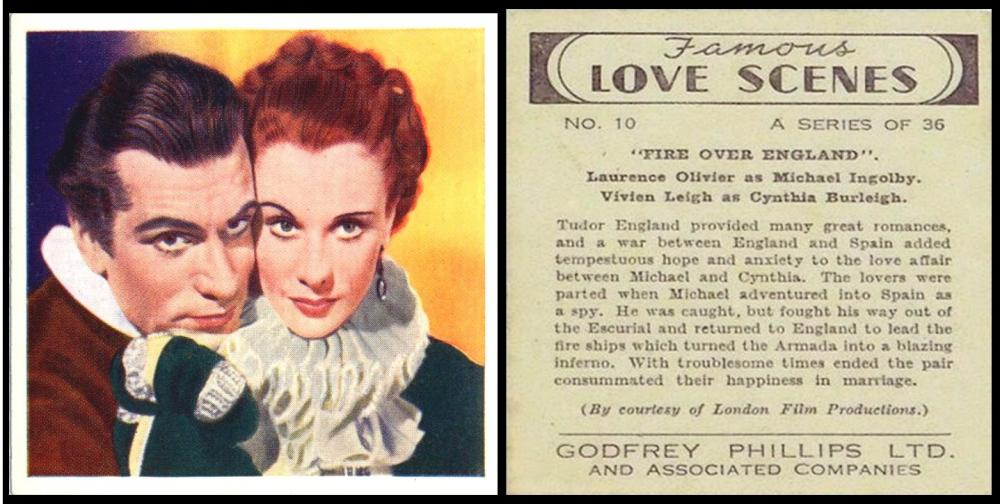 Today, in 1907, Laurence Kerr Olivier was born in Dorking, Surrey, in a house that is currently up for sale 
John Player "Film Stars" third series (1938) 40/50 tells us that "his earliest ambition was to become an actor" and that he was "just under fifteen when he appeared in the annual Shakespearean Festival at Stratford – on – Avon". However they say that "when the time came to choose a career his father suggested the stage". 
Brooke Bond "Famous People", as usual, also provides us with different and intriguing information, that this first appearance was "as Katherina in a schoolboy production of "The Taming of the Shrew", and that he served with The Fleet Air Arm during the Second World War.
He seemed so at ease with the Shakespearean that it seems strange to read on Gallaher "My Favourite Part" (1939) 22/48 that "Good English humour is in my mind unbeatable – and that is why I enjoyed making "The Divorce of Lady X" which was a fine comedy. It was also my first Technicolour production".
The Mars Confections "Famous Film Stars" 38/50 includes the information that he was "married to Jill Esmond and has one small son". This set was also issued in 1939, but this was all about to change.
The John Player card tells us one of his two latest films had been "Fire Over England" [1937] and this was where he was cast with actress Vivien Leigh. However this was not their first meeting, that had taken place the year before, at a theatre. She was also married at the time, but she reportedly told her friends that she had met her future husband.
They were already a couple when the film was released, but did not marry until 1940. They separated in 1958, but remained connected, and in contact, until she died. 
 
Image
Today is National Lucky Penny Day.
The idea of lucky pennies is an odd one, but it almost certainly comes from the fact that it is a bit of unexpected fortune, though also it is true to say when you find a pound you bank it, but when you find a penny you squander it, and that gives good fortune to others too. 
One story of the penny comes from France, when the father of Charlemagne decided to change the coinage is that everywhere in one region used the same coins, an idea which would lead to less passing off fakes, forgeries, and unknown coinage at an inflated rate. The penny was made of silver, and eleven of them made a shilling.
This is all well and good, but there is no proof that coins were ever made of those denominations; what seems to have happened is that the smaller amounts were added to the slate and reckoned up at the end of the year into pounds, carrying the oddments forward.
The system and the name seems to have crossed to this country by the Anglo Saxon King Offa. These would have been known as denarius, which eventually formed the "d" of our pre-decimal "l.s.d.", and was actually the name of a Roman coin.
The actual word "penny" seems to have come at the end of the fourteenth century, in an important text which calls it many names, including pennig, which adds to the strong support for the name actually coming from Germany, a mispronounciation of their own small value coin, the pfennig.
Image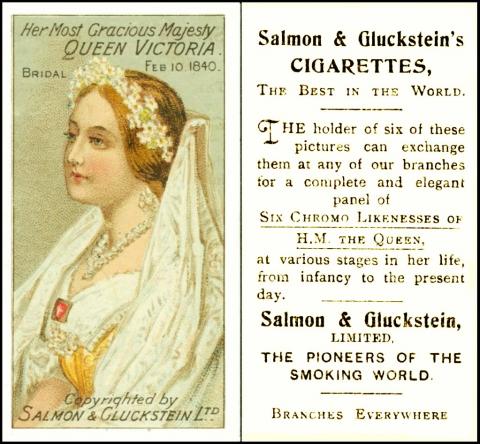 Today, two hundred and one years ago, in 1819, was the birthday of Queen Victoria, increasingly relevant as we near the present Queen`s Platinum Jubilee in just a few days time.
Queen Victoria was a popular figurehead on cigarette cards, and much of this is due to the fact that when cards first started to be, she was the monarch. 
Actually her first name was not Victoria, but Alexandrina. And another little known fact was that she was not born to be Queen, but her father's three sons all died and she was next in line.
She took the throne on 20 June 1837, and ruled until her death in 1901, almost sixty-four years, and longer than any other ruler of this land, until the Platinum Jubilee. 
Queen Victoria is often seen as dour, and even the word Victorian is a simile for boring and unexciting, yet her marriage, to her first cousin, was a true love match, and she never truly recovered from his early death just twenty one years after their wedding.
She died in 1901, and her son Edward VII took over, until his death in 1910.
 
Image
Today in 1967 John Lennon, of The Beatles, first took delivery of his newly enhanced, psychedelically painted, Rolls Royce Phantom V.
The car had been bought black, as standard, in fact John Lennon had made a request for the only non black part, the radiator, to be painted black as well, but this had been denied. Some people think that this is the true meaning of the Rolling Stones hit, "Paint it Black".
John Lennon could not drive at the time.
He spent a lot of money on many changes, converting the ultimate status symbol to suit his needs, and perhaps to prove that he could. 
He took the car to Spain, where he was filming "How I Won The War", and there was an accident, so the car needed new paint. Perhaps he was thinking of the radiator, but he decided to change the entire paintwork. He took it to a coachbuilder and came up with an imaginative, typically 1960s inspired vision of psychedelia, with flowers and the star sign Libra adorning the roof. For Britain this was a bit over the top, but it was indeed a statement.
Everything points to John Lennon loving the car as well as what it stood for, how you could change a symbol of royalty and privilege to a musician`s personal paradise, and when he moved to America in the 1970s the car was shipped there too, where it was regularly loaned to friends and other musicians.
It was money, as often happened, that broke up the relationship; a tax bill, which saw the car being donated to a museum in 1977. They somehow managed to sell it in 1985, but the buyer then gave it to another museum in Canada, where it still resides today. It is a very popular exhibit, but though it needs running to keep the mechanics functioning, there is a huge problem, as the paint is growing ever more friable, and movement makes it flake away.
One day, maybe, the car will be black again, as intended, and the establishment will feel itself vindicated. But the rest of us will have lost something precious, the spark of independent thought that makes some people more than others, in totally unexpected ways. 
Imagine the scene, swirling mists, vampires, and a gloomy ruined castle. No not Paradise, but in a book, Dracula, first published today in 1897. The author was the Irishman Bram Stoker, and the publisher Archibald Constable & Company, who was known for publishing the works of Walter Scott.
The novel is very odd, and very experimental, for it is not really a story, more a collection of clippings, and there is the impression that the pieces which were left out would have told a different truth. It is actually that there were hundreds of pages of notes made before the novel started to be written, but the book is not weighted with this, in fact the story is curiously scant of details, and it is more a starting point for the readers own beliefs, explorations, and discoveries. 
Despite this it has been made into many theatre plays, starting almost immediately, in 1897 - and cinema films, of which the first was "Drakula Halala", made in Hungary and released in 1921.
And one of the most curious facts was that the name of Dracula was first encountered by Bram Stoker whilst he was visiting Whitby library.  
Image
Today, in 1935, the Cameric Cigarette Card Club was founded.
This was started in London by two former school friends, Derek CAMpbell Burnett and Arthur ERIC Cherry (who is shown here). This club succeeded because it thought big, and  successfully attracted the many isolated collectors who had been scattered across the country, turning them into a unique fellowship.
One of the ways it did this was to circulate newsletters, and then to  produce a regular printed magazine called "Notes & News", a whole run of which are available in our library.
They prophesy of how the hobby would develop once the war was over, but sadly Mr. Cherry was not to see this. He died young, a Prisoner of War in Singapore.
Three years later, Franz Vernon Blows would become the President of the Cameric Club and write this splendid article to tell the story of a friend sadly missed: 
The Cameric Club held regular meetings at London's Bonnington Hotel, within easy reach of the British Museum and Bloomsbury. The Society's main officials were Franz Blows, Fred Piper and W.W. Wright, whose son would later edit the Cartophilic Society magazine.  
Guess what, we are running late tonight, which comes as such a surprise, don`t you think? So we will use this as our weekly project, and post a complete article to mark the day in style. And any of your Cameric memories, or scans of souvenirs are welcomed, of course. 
This week's Cards of the Day...
This week we have been thinking about Action for Brain Injury Week, which this year has been from 16th to 22nd May, specifically for their annual "Hats for Headway" which took place on the 21st of May, which saw many people wear a funny hat about their daily duty and shout about it, at the same time donating £2 to the charity. The hashtag is #HatsForHeadway – and that is on Facebook, Twitter or Instagram 
The saddest fact about brain disorders of any kind is that they are hidden in so many cases, yet prevent so many functions from taking place. Sufferers are also cited as the most likely to receive abuse for themselves and their carers parking in disabled spaces. This year`s theme, "See the hidden me" aptly describes all those things. 
 
Saturday, 14th May 2022
AB-360 : ABF-47.1 [trade : UK] A & BC Gum "Footballers" (Facts 1-64) 3/174
there were two possible clues here. The first is that our man is the only man to score a hat-trick in a World Cup final, in 1966, England versus West Germany at Wembley. The second is that we are only just discovering that football can cause brain injuries through heading the ball, and on field conflicts; and just in the 1966 World Cup team the incidence of brain injury is four times the national average, as you can read in this excellent Australian bulletin.
These cards measure 81 x 56 m/m. Ours is from series one of a huge three part set, known as the "Football Series 1969-70". The parts were numbers 1-64 and a checklist, numbers 65-117 and a checklist, and 117-170 and a checklist. Though the checklists were not numbered they are counted in the total. In case you think I have erred with my numbering, card 117 of the second part shows David Woodfield whilst card 117 of the third part shows Tommy Lawrence. They measure 80 x 55, and you can find the backs including the words either "Football Facts" or "Football Quiz". This is the English issue, in green and black.
There was also a Scottish issue, in blue and black. That only had two parts, numbers 1-41 with checklist, and numbers 42-75 with checklist. However some of these second checklists have been found showing cards #76 P. Gardner and #77 E Stevenson. These players were not thought to have been issued. However, if you know otherwise, do tell us.
Our card is Geoff Hurst of West Ham United, cited as playing in the inside left position The first thing I noticed was that for some reason the Geoff on this card seems to have lost one of its "F"s. The same error is repeated on the reverse as well. It tells us that he "started as a wing half for Chelmsford Boys team before joining West Ham in 1960. And then we get one of the reasons why we chose this card, that "he is the first man ever to score a hat-trick in a World Cup Final in 1966"
 
Sunday, 15th May 2022
O100-410 : O/2-92 : RB15/40 : H.311 [tobacco : UK] Ogden's "Boxing" (1914) 19/25
Before we start, yes, it is entirely possible that you have this card in your album, but it is slightly different - for this set was also issued by Churchman (C504-415 : C82-33 ~ December 1922), W.T. Davies of Chester (D255-620 : D11-22 ~ 1924), Franklyn, Davey & Co (F756-510 : F52-21 ~ 1924) and W. Williams of Chester (W650-830 : W60-11 ~ 1923).
The two Chester sets are scarcest, as they are smaller manufacturers and based in the North West, far from most of the leading dealers of the time.
This set of boxing tips can lead to a spot of confusion, for Ogden's also issued a set entitled "Boxers" in 1915 (O100-408 : 0/2-93 : RB15/39), However this later set show portraits of the pugilists themselves.
Boxing is a more obvious cause for head injury, both in the repeated blows to the head and neck, and in the falling awkwardly on the mat.
In this card note that the man in red shorts has proper boxing boots, similar to those worn today, he is also the one doing the guarding, so was he a professional or coach brought in to the studio to model? Sadly we will never know the answer to this, unless someone recognises his attire. 
Boxing is not my sort of sport, even watching someone hit a punch bag makes me feel sad for the bag, but it deserves its place this week. And I will make up for it with some zen in the daily diary! 
 
Monday, 16th May 2022
SOM-140 : SOP-3.1 [trade : UK] Somportex Ltd, London "Film Scene Series" / "Thunderbirds" untitled (1966) 11/72
Somportex do not appear in our original British Trade Index part one, issued in 1962. However part two, issued in 1969, contains several sets, and the information that the cards were issued with chewing gum, between 1960 and 1967. It also lists this set, for which the cards are untitled, giving it the title of "Film Scene Series", and the index number SOP-3, however this is split into our set : SOP-3.1 – described as "Inscribed "A.P. Films Ltd. issued by Somportex London – A Series of 72 Pictures". Size (a) 77 x 57 (b) 89 x 63. Sectional back in black. Scenes from the filming of "Thunderbird" (72)" - and - SOP-3.2 – described as "Inscribed "No…. in a series of 60 – Issued by Somportex Ltd., London". Size 78 x 58. Plain back. Scenes from [James Bond films] "Goldfinger", "From Russia with Love", "Dr. No". (60)
By the time of our updated British Trade Index this set had been altered, the James Bond had been re-named to "The Exciting World of James Bond" and re-coded SOM-040, whilst ours was SOM-140. It had also been split into two sets, SOM-140.1, a set of 73 cards, larger of size, at 83 x 58 m/m, and coloured. They could be collected with and without Somportex on the backs. And SOM-140.2, our set, black and white, and still the two sizes originally listed, however it was now known that these were scenes from the filming of Thunderbird, and that the backs were sectional, forming a picture of the mini album record which was available for 7/8d. , 
This set is of major importance as these were the first bubblegum cards in the UK to feature the Thunderbirds. Read more about that at Thunderbirds Fandom.
Some of the Somportex sets were issued without the company name, these include the plain backed set of 36 "Weirdies" (SOM-150 : ZJ9-12 ~ 1967), an odd set of 24 rub down, dry transfer sheets showing soldiers through the ages (SOM-030 : ZJ12-2 ~ still undated), film strips showing Sean Connery as James Bond in You Only Live Twice (SOM-110 : ZT7-1 ~ 1967), and a series of circular plastic buttons; these turn out to be button badges, and they were issued in wrappers which give the names of all the badges in the set, fifteen in all (SOM-080 : ZT6-1). However at the time of typing the British Trade Index part two, only one badge had been examined, this being "I Like the Batchelors". The rest, still awaiting discovery, are The Animals, The Beatles, The Bluejeans, The Dave Clark 5, The Dreamers, The Fourmost, The Honeycombs, The Kinks, Manfred Mann, The Merseybeats, Peter & Gordon, The Searchers, The Shadows, The Stones.
 Curiously, in 1968, they also issued an untitled set of medium sized cards showing scenes and characters from "The Adventures of Sexton Blake", but it only mentioned Fleetway Publications Ltd, of London, so its original code was FLC-1. However in the updated index this was listed twice, with Somportex as SOM-020 and with Fleetway as FLE-090.
Somportex were also the UK agents for Dandy Gum, and we know this simply because the Dandy 100 card sets of "Soldier Parade" (DAN-300 : ZJ9-43 ~ 1969) and "Wild Animals" (DAN-360 ~ 1968) included cards with instructions that the album was available "c/o Somportex Ltd., 30, St. John`s Lane, London, E.C.1" You had to send the coupon together with a shilling postal order, or stamps to the value of a shilling, twenty empty wrappers from whichever set you wanted the album for, and fill your name and address in on the lines on the card. 
 
Tuesday, 17th May 2022
W800-20 : W70-4 [tobacco : UK] A & M Wix, Max brand "The Age of Power and Wonder" (1935) 76/250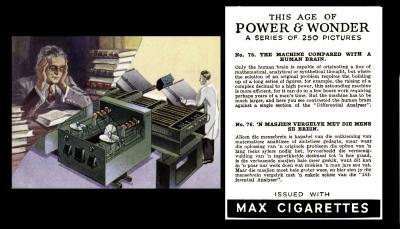 This card shows the power of the brain, for "only the human brain is capable of originating a line of mathematical, analytical or synthetical thought". It goes on to add that "this astounding machine … can do in a few hours work requiring perhaps years of a man`s time".
This machine was called the "Differential Analyser". The picture is much more thrilling, for here is this huge machine, which, if you look above the box with the three discs you can see that it extends even above this.  I will let you read more about the process by visiting wikipedia
The most fascinating thing is the mention of making these machines by utilising the children`s metal construction toy, Meccano, and you can see one of those very machines in the MOTAT museum in New Zealand, or, for speed, don't wait for a passport, just hop online
Wednesday, 18th May 2022
P521-255 : P50-36 : RB.13/78 [tobacco : UK] Godfrey Phillips "First Aid Series" (1908-1918) /25
We said that this set was sometimes confused with Godfrey Phillips "First Aid" issued in 1923, however there are three main differences.
These were the number in the set (the 1923 version being double this, with 50 cards), the method of printing, (ours being lithographed and the 1923 being letterpress) and the colour of the reverse (ours being green and the 1923 being black)
This card is unintentionally amusing as it says "First Aid – Head Bandage" on the front but the text starts by telling us that "This bandage alone is useless as a first aid dressing. It is intended only to cover and keep in place any dressing".
The equivalent in the 1923 set is card 47/50, entitled "Bandaging for the Scalp", and the text again starts in a similar but less amusing way by saying "This bandage is used to keep dressing on the scalp." That is not awfully grammatical, but it serves to illustrate the point. 
Now we featured this set for football a while ago, because of the little cartoon sketches in the background, and a lot of readers wrote to say they had not seen the card before, and had acquired one. This card features cricket, the ball has bounced over the wicket and hit some poor chap square on the head. I expect that happens a lot, but it is not so reported as in football nor boxing. 
Thursday, 19th May 2022
BRM-62 [trade : UK] Brooke Bond Tea "Wonders of Wildlife" (1976) 50/50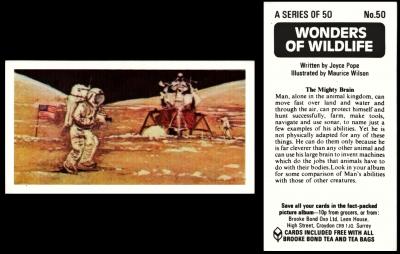 This code is from our British Trade Index part three, published in 1986.
The card is entitled "The Mighty Brain" and the text tells us that "Man, alone in the animal kingdom, can move fast over land and water, and through the air, can protect himself and hunt successfully, farm, make tools, navigate and use sonar.. yet he is not physically adapted .. he can do them only because he is far cleverer than any other animal and can use his large brain to invent machines..."
I'm not sure I agree with this, as animals can do all of these things, and it's all a bit too masculine for me. Then there are the many videos of animals using tools of their own making to solve complex problems. However animals seldom band together with their tools and wage war on other animals. In this respect man is truly above. 
Friday, 20th May 2022
G075-565.B.a : G12-78.B.a [tobacco : UK] Gallaher "Champions of Screen and Stage" (1934) 4/48
Here is Bing Crosby, looking very youthful in his sailor's hat, marking the day, dare we say it, admirably.
The reverse of this card tells us that he "first entered the theatrical profession with two others as "The Three Rhythm Boys".He was born in 1904, in Tacoma, Washington, and got his first big part when still quite young in "The Big Broadcast". We can expand this a bit as the other Rhythm Boys were Harry Barris and Al Rinker, and you can read about them on wikipedia, which includes lots of links to sights and sounds. The Big Broadcast was released in 1932
Now this set is a rather unusual one. If you look at Gallaher's "Champions of Screen and Stage" most will have a red back, and this one is blue, but there are two blue back versions, the difference being found in the firm's name, for more usually you get "Issued by Gallaher Ltd., Virginia House, London & Belfast" in block letters, and this one has "Gallaher's Cigarettes" in a rather fancier style.
All three sets were printed by E. S. & A. Robinson Ltd. of Bristol, who printed many other Gallaher sets, and all three were issued in 1934. However there does not seem to have been any reason given for the difference in the reverse colours or printings.
Reaching for my trusty London Cigarette Card Catalogue for 1950, I see that the red backed version was retailed at 1d. each for odds, and 4/- a set, but special offers were available through the Abridged Catalogue. The blue backed series were listed separately but priced the same, 6d. each for odds and 30/- for sets. 
 
on which note this newsletter must close. 
See you all next week, same time, same spot on the dial....