well, late again, but one day i will make it before midnight and then you will all get a shock. I am getting a shock at the moment because the computer I am using has a slight problem with the lead so I am often plunged into darkness and all my words have been stolen from the page when I return. The only solution is to write a line then save it. I have no solution for the electrocution yet though it might make me glow in the dark enough to see the keyboard better...
But I am no quitter, and will endure 
today is National Corn on the Cob Day, which seems rather apt for an American related week.
Corn on the cob is also known as sweetcorn, but being "on the cob" means that it is still on the central spine along which it grows, rather than separate beads that come out of a tin. You can grow it in a garden, even in this country, but I hardly ever had a lot of success with it, the weather is a bit temperamental here; the only year it grew well was the year I picked up some corn segments off the floor of a flea market in America, they grew well but were very brown (American readers are almost certainly laughing already), and they were really hard once cooked, it was like chewing gravel. The next year I asked a seller how they cooked them, to which they replied, oh we don't eat them, they are animal feed. So you live and learn…. 
Our card is by Summer County Margarine and it is a rather dull colour because it was a packet issue, printed on to the packaging rather than inserted loosely inside the product, though this would be rather sticky in the case of margarine. I wonder why when cards were suffering from comments of being choking hazards or of tainting food it was not thought of that they might be printed on the packets instead? Summer County was made by Van den Berghs and Jurgens Ltd, whose story can be discovered in Graces Guide, a most fantastic resource which I am going to add to the web link pages now
Player "Useful Plants and Fruit" contains a sweetcorn, Indian corn, and you can see that on flickr, though only the front
Another curious smoking link is that the American Second World War General Douglas MacArthur smoked a corn cob pipe, it was made by taking the corn and hollowing out the stem to make a bowl. If he appears on any cards with one please do let us know. And if you are inspired to make a corn cob pipe of your own, here are the instructions, courtesy of the instructables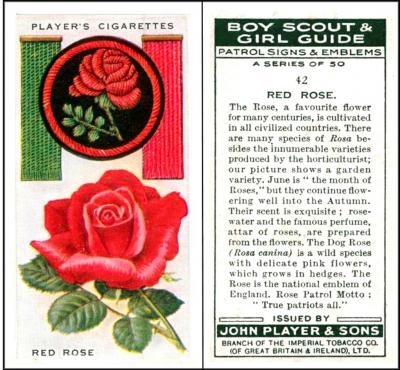 Today, and every 12 June, is National Red Rose Day. #RedRoseDay – or - #NationalRedRoseDay
I have not been able to find out why, but roses are definitely in bloom, or coming into bloom, at this time. However the rose is the emblem of love, and a red rose even more so.
As far as the actual rose, it seems that it was first grown in China, and that ancient wars and occupations brought it to the attention of the invading forces, who took the flowers and roots home to Europe. 
Our card is John Player & Sons "Boy Scout and Girl Guide Emblems" 42/50. There are other rose cards, but though this card is not from a flower or gardening set, it is certainly a wonderful representation of a red rose, and it is also exactly correct as to the title on the card.
And it also reminds us of something else, that the red rose is the official flower of England
Today is National Sewing Machine Day and this is a very unusual card of a sewing machine, its John Player & Sons "Life on Board a Man of War in 1805 and 1905".
I wonder if anyone out there can identify the sewing machines that are being used? They are pretty good drawings and you can clearly see the blue reel of cotton on the top.
Anyone who has struggled with a sewing machine can sympathise with the man on the right as viewed, who has something stuck, and will have a wry smile at the man in the middle who is having none of that and sewing with a proper needle. I also like the way that they have balanced the machines rather precariously on a half barrel and on what looks like one of those old long wooden tills. 
Today is National Forklift Safety Day.
And we found a card of a forklift.... 
This is from the Australian set of "Project Cards" ythis being in the "Transportation Series" which was issued by Shell Oil in 1963.
The forklift is a very awkward machine, which shifts its centre of balance with every different manoeuvre, none more so than when the cargo is lifted above the head of the driver so that they can see where they are going, as shown here. Now this might not sound very alarming, but look at this card again and the cargo here is RSJs, which are used to hold up the ceilings and roofs of buildings.
RSJs of course are Rolled Steel Joists. 
May we direct your attention to the website for this day`s  event - full of facts and a most interesting read
Today is National Megalodon Day, or to be correct, National Otodus Megalon Day.
This creature was a kind of a cross between a mackerel and a shark (before that combination blows your mind too much, its not true, the mackeral part comes from the striping on this creature, like a mackerel sky is where the clouds are striped along the sky. The Megalodon part means large tooth, and that is definitely true.
These guys have long gone, so it is ok to go in the bath tomorrow morning. They were last spotted (not in a bath) about twenty three million years ago. However its relatives are still alibem and they include the Great White Shark. 
Our card was issued in 2004 and it is in the "Weird N' Wild Creatures" series, this being one of the "Monsters of the Past". It is a large set with many sub groups, including actual animals and creatures from myth and legend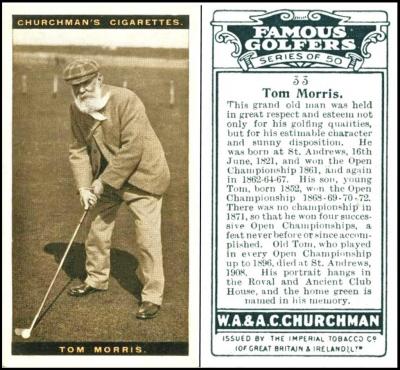 Today in 1821 saw the birth of Old Tom Morris, in St Andrews, Scotland, though of course he was not called that when he arrived; he was christened Thomas Mitchell Morris.
He was a golfer foremost, but also a course designer and the founder of many modern golfing and greenkeeping practises, and though he died in 1908 he was famous enough to still be thought worthy of appearing on this card, issued in 1927. And other cards as well. In fact he is sometimes called The Grand Old Man of Golf, as seen on Cope`s "Golfers".(1900)
If you look, you might find cards of a golfer called "Young Tom Morris", he also appears on the Cope set, this is not our man at an earlier stage of his career, but his son, who died early, in 1875, aged just 24. 
Let us close with a sad but romantic tale for today in the year 1631 the wife of the reigning Mughal Emperor died in childbirth, Her name was Mumtaz, and to honour her, as well as to think of her often, he built a grand mausoleum in her memory. The construction lasted for seventeen years. And the building was the Taj Mahal.
This beautiful building appears on many cards, and here are a few to set you off courtesy of the New York Public Library 
Ours is not there, it is a more modern trade card issued by Blue Cap Cheese in the 1950s, one of the Flixies series which are actually not cards but transparencies. However it is proof that the building is still inspirational, and that the great lady is still remembered
This week's Cards of the Day...
... are paying a little tribute to our American readers, as they will be celebrating National Flag Week, and to Flag Day which is always on June 14th because that was when the first American flag appeared, on June 14, 1777, uniting of the separate states under one flag. Now we have done a spot more research and must correct what we said, as National Flag week does not always start on June 12th, it is actually, by a resolution of congress, the week which contains Flag Day, June 14th. The American flag, the Stars and Stripes, is named for how it looks, but it did not always look like it does right now; the original 1777 United States flag was thirteen stripes and thirteen stars, each representing one of the thirteen states that had been united. Currently there are fifty states, and a star has been added for every one as it joined.  
We do not seem to have a day for our flag, which is actually of the same colours as the American flag, red, white and blue; but perhaps we should, after all it also has a story, and just like the American flag, pieces were added as different parts of our fine country were combined.
Our current flag was first used in 1801, but the three parts are much older - 
The symbol of a red cross, that now stands for England, was being used by Edward I in the thirteenth century, but only because he saw similar banners during his crusades, and it was not used as a national flag until the time of Henry VIII -
The St Andrew's white saltire, representing Scotland, first appeared in 1286, but on a seal, not a flag, and it is called St Andrew`s cross because that was the shape of the cross on which he was crucified. However, though said to be the earliest true flag in Europe it was not flown until after the Battle of Athelstanford in 832, to remember the cross in the sky which foretold that victory would come. These two flags were combined in 1606 when James VI became the King of both England and Scotland - 
The St Patrick's red saltire seems to have no record of when it was first officially used, but it was first combined into our flag in the year 1800. 
So how did we get to Flag Day from our cards?  Well .....
Saturday, 4th June 2022
O100-520 : 0/2-149 : RB.15/83 : Ha571.8 [tobacco : UK] Ogdens "Football Caricatures" (1935) 4/50
If you look at the front of this card you will see a signature, and that is MAC, who also drew a set of cards for John Player and Sons ("Footballers by Mac" September, 1927). However in that set the artist is credited as part of the title, whereas in our set they are not. This seems odder when you look at the dates, because the Player set which does credit him was earlier than this!
"Mac" of course was actually a pseudonym, the artist`s name was Captain George Douglas Machin DFC, born in January 1893 and only dying in 1985. During the First World War he was with the Hampshire Regiment, heavily involved with balloons, there is a lot about this online, but we have found something much better than facts, for there is a most amazing word-press biography of him.
Our set was also issued by Hignett in September 1935, and it seems rather odd that we have records of the months of issue for the Hignett sets, but not for the Ogdens versions; to me this would suggest that the Hignett actually came first, but I don't think that is true. The Hignett codes are: H536-460 : H44-49 : Ha571.8
The footballer is E. F. Brook of Manchester City, named on the reverse as Eric. F was for Fred. He appears in several cards, which you can see at the trading card database - he was born in November 1907 in Mexborough, South Yorkshire and died in March 1965, quite young, aged just 57. 
And the reason why he is here is that if you look really carefully there is a white flag, which I think is a corner flag? It is unusual, and rather fun, to find not just a portrait, but some other part of sporting life poking its way gently into the picture. It is only sad that it does not seem to happen more often. 
 
Sunday, 5th June 2022
C151-290 : C18-50 [tobacco : UK] Carreras "Flowers" (May 1936) 28/50
The cards tell us that these flowers were described by the Editor of "Amateur Gardening", and at the time of the set`s issue that was A.J. Macself, who had been the assistant editor, and took the chair in 1926, when the editor incumbent, T.W. Sanders, had died.
Albert James Macself had been born in 1878, and he became a valued member of the Hardy Plant Society, his great love being ferns, but he wrote many books on plants and gardening as well as edit the magazine. He edited his last magazine in 1946 and died in 1952.
Actually he was older than Amateur Gardening, but not by much, as the weekly magazine had started in May 1884, which does indeed make it the longest running amateur gardening weekly in the United Kingdom. 
The reason for this card is that irises are also known as flags, in some cases it appears as part of their official name, but it actually refers to their shape, not the similarity in noise to the flapping of a flag and the flapping of their long petals in the breeze, but to their leaves, and it is actually nothing to do with flags at all, for the word "flagge" comes all the way up from Old English, and means a rush or a reed, which applies to the shape of their leaves. This is also strangely interconnected to their habitat, because just like rushes, and reeds, the true flag iris is wild and grows in swamps, which makes them an ideal spot of colour for a pond.  
In 1950 The London Cigarette Card Company listed these cards at a penny each for odds, and four shillings for complete sets, whilst freely admitting that they were cheaper in the Abridged Catalogue.
 
Monday, 6th June 2022
A400-040a : A36-4a : USA/4 : [tobacco: UK] Allen & Ginter "Birds of America" Bk/50
After the flags, here we have the eagle, the symbol of America, and a magnificent creature it is. 
These cards were also issued as large cards with our card as a small section. Burdick gives an imperial measurement of 3 x 3 1/4 inches, and says that "All show the corresponding small card design with other pictorial matter added." This larger set is card-coded as A400-040b : A36-4b : USA/37. 
Both the sets were issued prior to 1890. Burdick tells us that they were "issued abroad with horizontal backs".but I am not quite sure what this means.  And in the 1967 edition of the Burdick Catalogue he values them at 10 cents per card
We also have two more related sets.
A36-64 are listed in our original World Tobacco Issues Index  as being "The "Special Issues" issued partially in the U.S.A. and elsewhere including some in U.K.. All small size (variable) and unnumbered, unless otherwise stated." They were branded for "Virginia Brights", but though the cards are the same, they are not titled "Birds of America". And I cant find these in our updated World Tobacco Issues index. 
And A400-615 : USA/A3 is a printed album of ten pages plus covers, but the word album does not do it justice, for it is in the shape of a gilded cage and the cards are printed on the pages. This measures 225 x 153 m/m. In the 1967 edition, (on page 81, to save you hunting), he values these at just $4 each.
 
Tuesday, 7th June 2022
W675-630 : W62-383 : RB.3/64 : RB.21/200-64C [tobacco : UK] Wills United Service Cigarettes "Flag Girls of all Nations" Un/25
This is rather an odd card because whilst the others in the set show girls holding their actual national flags, this one is just a streamer-like pennant.
Our card has the United Services reverse, with a reproduction of a packet of cigarettes featuring  Field Marshall Lord Roberts, familiarly known as "Bobs", but, with his full title, as Field Marshal Frederick Sleigh Roberts, 1st Earl Roberts VC, KG, KP, GCB, OM, GCSI, GCIE, VD, PC, FRSGS (30 September 1832 - 14 November 1914). 
These cards are listed in our original Wills reference book part three as being 60 x 37 m/m, lithographed in colour, and issued about 1910. They were issued in the Channel Islands and in other areas with British garrisons. You can see the packet in colour on flickr. Strangely enough, possibly because of its connection to garrisons, this packet is actually one of the most reproduced small items for military re-enactment groups - you can see one, courtesy of one of the leading dealers in this field at Tommy`s Pack Fillers and it also shows the back of the packet, which is similarly military in design.  
This is a good set for a type card collector, because you can find it also by Wills in many countries including Australia (branded Vice Regal Cigarettes) and India - then it was also produced for Lambert and Butler - and for John Player - or you can find it with no brand or maker, and this was issued in Canada.
And if that was not enough it was also produced as medium size cards by British American Tobacco.
 
Wednesday, 8th June 2022
M958-440 : M160-33 [tobacco - UK] B. Muratti Sons & Co. Ltd. "Flags" untitled paper back silks - Series C (or C.1) (1914) No.35
Our card is a paper backed silk, and it shows a 48 star flag, and that was first flown in 1912. It was a leap by two stars and two States, these being New Mexico and Arizona.
This flag flew for a very long time, through both World Wars and over more Presidents than any flag before, but sadly someone with no heart did not think of the romance of significance, and admitted Alaska when this flag was only forty-seven years old rather than let it be a forty-eight star flag for forty-eight years.
The forty-nine star flag flew for just one year by the way – it was replaced in 1959 on the joining of Hawaii. 
B. Muratti had addresses in London and Manchester, but they did not start there; the company was founded in Constantinople in 1821. And there was no B, Muratti either, only Basil Mouratoglou. Muratti arrived later, in time for the Manchester factory to be opened under the aegis of Demosthenes Basil Muratti, one of the sons of the founder.
You can read more about this at the Paul Anthony Blogspot
Thursday, 9th June 2022
ZJ02-390 : ZJ2-26 : H.114 [tobacco : UK] Anonymous "Flags of Nations" untitled (pre 1905) Un/30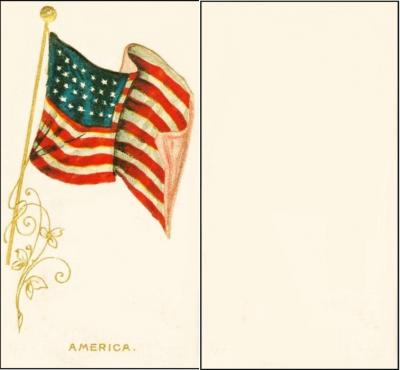 When Texas became part of the United States in 1845, a 28th star was added to the flag. The 28-star flag became official on July 4, 1846, and was in use for just one year before another star was added, for Iowa. That is why it is so wonderful that it is immortalised here. 
Now this card is anonymous, and the back is blank, however it is actually in the World Tobacco Issues Index as "Flags of Nations". That tells us the card measures 68 x 37 m/m and that the flag was printed separately on paper then stuck to a thick white card with gilt printing, however it is unnumbered, though we know there are thirty of them in the set. Our original World Tobacco Issues Index, anonymous section, says it was "Issued in U.K., probably by Cope", and it is cross referenced in the Cope section as well, where it says "For Anonymous issue probably by the firm, see Set ZJ2-26". 
The mystery is partially solved by H.114, which I intend to scan, not type out. It is even more intriguing when you read H41, so lets add that too!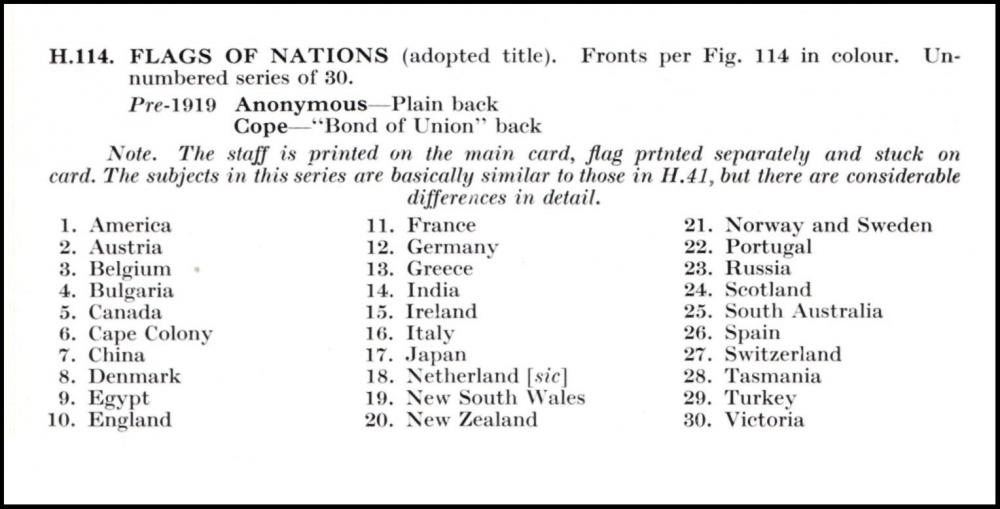 Our more recent World Tobacco Issues Index tells us that this set was issued by Cope with "Bond of Union" brand (C798-110) and in India through A. Haji Dossul & Sons, Karachi", whose name appears on the cards (C798-180). These are said to have a blue scroll back.
This book also explains more about the manufacture of them, telling us that the card was pre printed with the mast and the caption, both in gilt, and that it was the flag that was stuck into place. I have not found why this happened. Any ideas? 
Friday, 10th June 2022
C633-220 : C102-18 : H97 [tobacco : UK] Cohen, Weenan "Nations" Sweet Crop brand (1905) Un/20
well it is 11. 58 and I think I am going to sneak in before the deadline. For the first time ever. See you all next week - and go to sleep now......!