Thank you for sticking round whilst we finished this. And I hope the wait was worth it. To be honest these newsletters will never be finished, they are but starting points to add new discoveries to.
We have also started an index, but this may also be slow.
Anyway, let us start discovering new things together !
Today is #InternationalSurfingDay @Surfrider  
We do surf here in the UK though most people think of either America or Australia.
The story goes that Australia issued the first ever surfing card, but I am not so sure that with a bit more time we will not be able to change this story as that is said to be the 1993 Futera trading card series "Hot Surf" – it was followed up by new sets for the next two years.
This makes me think that it is actually the first set devoted to surfing, but not the first card; though I have not found an earlier one yet.
If you know one, do tell us!
Newquay is the most famous surf spot in this country, and most people think that the surf scene there started in the 1960s, however it actually started in 1929, and you can read more about at CornishWave. The beach of choice is Fistral Beach, if you would like to try it over the Summer Holidays.
And do please send us some photos, all you surfing cartophilists…..
Today it`s #fathersday, which has a curious story as you can read at  BBC Newsround
I hope I did not give you this card last year, if I did, I apologise. This is Carreras "Believe it or Not" 41/50, a set which I have dealt with before, but this is yet another instance of having a great story that I cannot find the truth behind.
So over to you, was the smallest man in Persia really the father of the largest man?
By the way if you google it you just get this card. 
Strangely there is a parallel of sorts to current events, in The Sun
 
Let us go back two hundred years, to 1819, when, if you were in Liverpool you might have seen a ship come sailing in.
This was the first steam-propelled vessel to cross the Atlantic, the S.S. Savannah. Our card, Duncan`s "Evolution of the Steamship" tells us that the crossing was under the command of Colonel John Stevens of New York, and the trip took 35 days. 
Richard Lloyd & Sons "Atlantic Records" 3/25 also features this important vessel, and tells us she was brand new at the time of the crossing. Most interestingly, it tells us that she was "originally intended to be a sailing ship", and in fact just a little digging into this story will uncover that her original purpose was fulfilled; for there is a reason why she is shown in this way on these cards, and that is that she was sailed most of the way.
Richard Lloyd card even admits that "the paddle wheels could be taken on board when not in use" (so they must have been pretty light weight?) and that "her engines were only running for eighty hours".
Most tellingly is the final statement, which I will let you dig up at the New York Public Library/Savannah 
Image
Today is #NationalSeashellDay and also, coincidentally, the first Day of Summer, when our minds move naturally to the coast and time spent at the beach beneath the sun. That`s if the last few days have not put you off the sunshine for ever? 
Here we have Miss Litton, as "The Conch Shell. A very curious card with a hidden meaning for Miss Litton was actually Mary Jessie Lowe, and she was born in 1847. Marie Litton was her stage name, for she was an actress, producer and theatre manager. She first went on the stage as an actress aged 21 and rose to  manage several theatres, most notably the one at the Royal Aquarium.
She died in April 1884 aged just thirty seven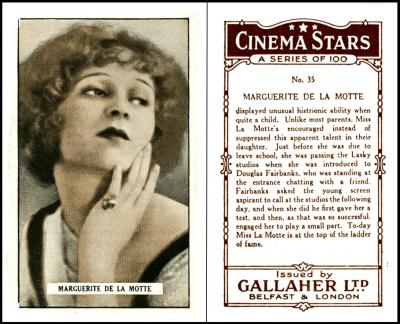 Today in 1902 Marguerite De La Motte was born in Minnesota, USA. She enjoyed dancing and music as a child, and in fact one of her early teachers was Anna Pavlova. Now it might be a surprise to some of you, but Anna Pavlova was in silent movies, and she is on a Pictures Portrait Gallery postcard crediting TransAtlantic Pictures.
It seems natural that at some point movies would have been talked about between the two of them.  
Then she had a chance meeting. This is seldom mentioned, but our card Gallaher "Cinema Stars" 35/100 tells it as it was, for it says "Just before she was due to leave school,she was passing the Lasky studios when she was introduced to Douglas Fairbanks, who was standing at the entrance chatting with a friend, Fairbanks asked the young screen aspirant to call at the studios the following day, and when she did he first give her a screen test, and then, as that was so successful, engaged her to play a small part. This was in a film called Arizona." 
However W.D. & HO. Wills "Cinema Stars" first series (1916) 10/25 tells us another version, for that says "it was while she was dancing in the prologue of a Hollywood theatre that Douglas Fairbanks noticed her..." 
In January 1920 she was involved in a car crash, she was badly injured, as was her father, who was driving, but her mother died a short while after from her injuries. Her father recovered from the crash but died in August 1920 from what is called heart disease, but may well have been connected.
Marguerite was eighteen, but too young to live on her own so J.L. Frothingham, a film producer, and also a prominent dog show judge, became her guardian, along with her brother. Douglas Fairbanks and his wife Mary Pickford also helped them out, and she frequently appeared in his films. 
In 1924 she married John Bowers, who is thought to have been the inspiration for "A Star is Born". After the arrival of sound, she did not work so much, but his career was destroyed and he committed suicide in 1936 aged just 50. She married again, later, but this lasted for just four years. She died in 1950. 
 
Today in 1314, The Battle of Bannockburn started. Some call this just a small part of the First War of Scottish Independence, but at the time it was just restoration, not independence, fighting to reclaim their lands and way of life from the English invasion of Scotland which had taken place in 1296. And even after Bannockburn they would not be free, with the skirmishes and shauries dragging on until 1398. 
Scotlands fighters were not classically trained, they were more like guerillas, fighting with instinct and knowledge of their lands, springing up and slipping away into the wilds from where they came. Like on our card, where it says they used the marsh in with their defence.
Any army would have found it hard to beat them, and they were strong physically too, their bodies and muscles used to working on crofts and in the sea.
You can tell this from the fact that the current Independence for Scotland movement never ceases, it is always there, bubbling away and seething, and like all causes in which one truly believes, waiting for a chance to rise up and push its way out of the surface towards the inevitable success.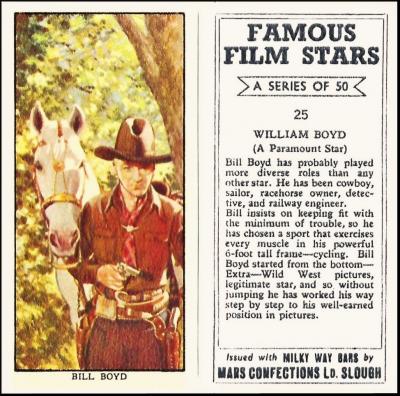 Today in 1949 saw the first episode of the first cowboy series on television. Strangely, this character, Hop-Along Cassidy, had first appeared in print in 1904, and William Boyd, the actor who played him on TV, had been born even earlier, in 1895.
When William Boyd was forty years old, he auditioned for a part in a Hop-Along Cassidy movie; he did not get that, but he asked if he could read for the title, He did, and got the part, a part which he played until 1948, in over 60 films. When they started to become less popular, he did something rash, or brave, and bought the rights to all those films. To do this he had to sell almost everything he owned, including his ranch. He sold them to a television network, NBC, possibly the studio bosses remembered the films fondly from their youth, or maybe they just liked him, for he was the kind of guy you would, and they edited them into a more suitable length for television. This made William Boyd the first major television star, and also the first person on a character lunchbox - remember those? 
The Trading Card Database / William Boyd has him on forty three cards. The one you will most likely find is W.D. & H.O. Wills "Cinema Stars" first series (1928) 2/50, which tells us that "As both his father and mother died when he was little William Boyd early earned his own living. Orange packing was his first work, after which he became grocery clerk, motor-car salesman, and oil driller. In 1917 he enlisted, but discharged with a weak heart, went to Hollywood..."
This card is not his best, but it shows his co-star, Topper, who he bought in 1937, the same year he married his fifth and final wife Grace Bradley. Topper was the name of a character in what are said to be her favourite books but if so, she must have been fun as they are rather adult in nature. Alternatively she may have liked the movies with Cary Grant, which were more PG.
I hope it was the books though....
This week's Cards of the Day...
This week we are looking after Men's health, and celebrating Wear Blue Day on June 17th.
If you wear blue on that day and send in a donation you are doing your bit to support men and their well-being, and perhaps encourage them to share a problem or two. 
#ShowUsYourBlue    #wearblueday    #menshealthweek    #menshealthmonth
Saturday, 11th June 2022
S147-400 : S32-8 [tobacco : OS : Malta] John Scerri "International Footballers" (1935) 24/25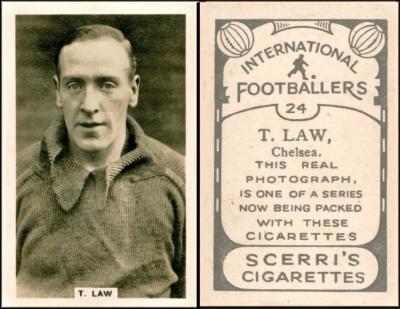 The clue here was the team, Chelsea, whose nickname is now The Blues. In our Monday round up, we asked if you, without looking, knew what they were nicknamed before this? And the answer was The Pensioners. We also asked when they changed, and that was in 1952, so at the time of this card they were actually not The Blues.  In fact if you look at Ogden and Hignett "A.F.C. Nicknames" the caricature is a pensioner. You can see that at the New York Public Library/AFC Nicknames However there is rather a strange fact on the back of this card, because it says "The Chelsea colours are royal blue, and occasionally the cry "Play up the Blues" is raised,…"
The person who changed the name was Edward Joseph Drake, perhaps he was in the crowd or on the pitch and liked that name better? He appears on several cards, though you have to hunt a bit as he is on as Ted Drake as well as E. Drake and E. J. Drake.  You can see a great selection of these at the trading card database / E. J. Drake 
Chelsea was founded on March 10, 1905 by a man called Gus Mears, who already owned an area of land called Stamford Bridge. One story goes that he really wanted to call his team Fulham, but someone else had got there first, by some years, as what would become Fulham F.C. was founded in 1879 as St Andrew's Cricket & Football Club, and yes, St. Andrew`s was a Church. However, this is not totally true as Mr. Mears offered to lease this ground to Fulham, but when they said no, he probably thought well I have a ground I may as well start my own team to play in it. And he did. 
Thirty years on from that, we have our card showing T. Law of Chelsea, on a card issued in Malta. Sometimes their cards say Scerri`s Cigarette Factory, or Scerri`s Cigarettes, or they have but brand names, "Black Spot", "Senator", or "Galata and Senator" combined. Our cards are sized at 56 x 35 m/m, and, like most of their cards, are black and white photos, though some have toned to brown. This set is the most sought after of all Scerri sets, most probably because it is football related. And you can see all the cards courtesy of Cardhawk Uk / Scerri - even the most sought after card in the set, number 17, which is S. Mathews of Stoke City. They mis-spell it on both sides! However, sadly, this was the final set of cards by Scerri's.
There are other cards of Tommy Law though, and if you look at United Services Manufacturing Co. Ltd`s "Popular Footballers" 45/50 (1936) you will see we have come full circle, as the text reads "Was transferred to Chelsea in 1925 and helped "The Pensioners" to gain promotion to the First Division in 1930…."  Thomas (or Tommy) Law seems to not have had too many photos taken, as the same or very similar photo is often used, in fact a portion of our photo is used by R & J Hill for their "Popular Footballers Season 1934-5" series A card 21. That text calls Chelsea "The Pensioners" too. Another colour shot appears multiple times, on 
Ardath "Famous Footballers" (1934) 8/50, and on Godfrey Phillips "Soccer Stars" (1936) 6/50 and Godfrey Phillips "International Caps" (1936) 6/50, though the entire text of these two cards is identical to each other as well, only the title and the bottom symbol differs! In fact Gallaher "Footballers" red back (1928) 74/100 seems to be his only original card. 
Sunday, 12th June 2022
R710.3 [trade : OS : USA] Topps Chewing Gum "Hit Stars" Movie & T.V. Stars" (1957) 20/37/88
This card showed Guy Mitchell, born Albert George Cernik in Detroit, and one of his biggest hits, if not his biggest of all, was "Singing The Blues". If your YouTube works better than mine you can see him singing it on The Ed Sullivan Show  
The song was released in 1956, in fact it was recorded by two other artists at almost the same time.
Guy Mitchell was a huge star in the 1950s, but according to our card he didn't just make it overnight, he did several fairly strenuous jobs before hitting the big time. 
These cards are not listed in our British Trade Indexes, but they are listed in the Burdick Catalogue, where we get the reference code above of R710.3. Codes R701 to R808 fall under "General Issues since 1948" and R710 is a group of Topps "Cards of Movie Stars and Entertainers" (TV, Radio, etc). Set 3 is our set and it is classified as : "Hit Stars, (37 Movie and TV Stars, 62 Recording Stars)." The confusion with our numbering is that the cards say 20/37, but Mr. Burdick tells us that "Only 88 cards, as some are classified in both categories". I have to say the card reverse is very confusing because it does indeed say "No.20 in a Series of 37 Movie and TV Stars" without any mention of the Recording Stars. Actually, and more confusingly, there is another card of him in this main set, for he is also card "No.11 in a Series of 62 Recording Stars", which you can see at the trading card database / Guy Mitchell
And Mr. Burdick valued the cards at .03 – that's three cents each. 
 
Monday, 13th June 2022
C151-445 : C18-78 [tobacco : UK] Carreras "Christie Comedy Girls" (1928) 6/25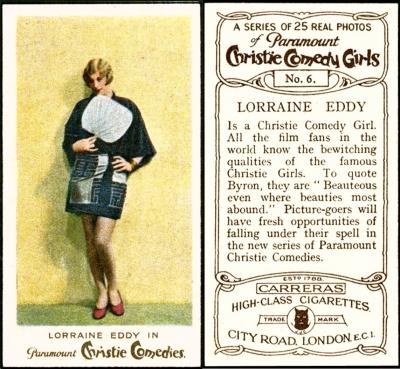 This is an unusual set as it was one of the few issued overseas on general export, (only fourteen, though this figure counts the four series of 1930s "Film Stars" as one), and of those it is one of only two coloured halftone sets, the other being "Famous Men" (C151-450 : C18-79 ~ 1927)
If you look in some books you will find a third colour export set, "Actresses and Their Pets" (C151-435 : C18-76 ~ 1926) but that was actually hand coloured over real photographs, not printed in colour. 
This is an unusual set, and not just because it is so seldom seen, though part of the reason for that is its being issued abroad; the real curiosity is that these girls have remained practically unknown. The text does not help with this, for all it says is that "Lorraine Eddy Is a Christie Comedy Girl." before it has rather a lot of waffle, and a rather out of context quote from Lord Byron.
So what do we know about Lorraine Eddy? Well for a start she is indeed quite hard to track down. This is because Lorraine Eddy was not her real name, just her stage name; and she had other names too, the most famous of which is Lorraine MacLean, through her married name, to "The Man with the MIllion Dollar Smile", actor Douglas MacLean; she was his second wife. She was born in 1904 and was also talented off screen as a costume designer and make up artist. And she died on January 22, 1972 in California
 
Tuesday, 14th June 2022
M757-600 : M122-36 : RB21-462B [tobacco : UK] Stephen Mitchell & Son "London Ceremonials" (1928) 13/40
Another form of "blues" can be seen here at the Trooping of the Colour. In 1928, of course, we had a King, George V, so this card shows the King`s Birthday Parade. 
The surprising thing about this set is that it is only of forty cards. I am sure given some thought they could have found just ten more, especially, given the issuer, events of a more Scottish nature and symbolism. If I think of any I will add them. 
The Trooping of the Colour has taken place on the official birthday of the King or Queen for British Sovereign since 1748, but the event is even earlier, and was first performed for King Charles II.
What happens is that every year, a selected Regiment carries its colours, or flag, before the Sovereign, in a kind of blessing, to bring them luck, and to display them so that everyone could know what they looked like in case of need, but also to remember those who fought under them and were forever lost. 
These days the colours have less significance, but they were originally the one thing you could rely on to look for on the battlefield to know whether you were on the right side of the line and how many, if any, of your Regiment still survived. 
 
Wednesday, 15th June 2022
I.120-325 : I/2-1 [tobacco : UK] James Illingworth Ltd "Cavalry" untitled (1924) 1/25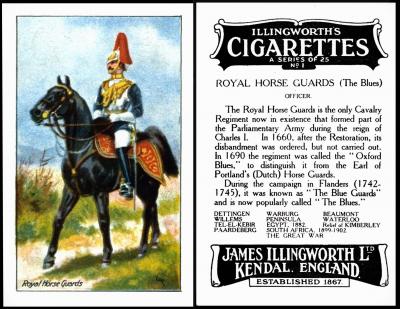 James, or J. Illingworth Ltd, was based at Ayling Mills in Kendal, and were founded in 1866.
They first started making cigarettes in 1895, and in that year they issued a set of cigarette cards called "Views of The English Lakes". This was one of the first general interest sets.
They were bought out by E. Robinson of Stockport in 1931, and then became part of Gallaher, who retained their name, though seems to have added an initial, for their cards are by J. T. Illingworth & Sons.
By the way, these cards measure the same height as standard cards but are a bit wider at 68 x 43 m/m so they are usually classed as medium sized. 
 
Thursday, 16th June 2022
S587-060.8a : S88-7.8a : RB.20/7.Ha [tobacco : OS ; Australia] Sniders & Abrahams "Australian Footballers H" (1913 - 1914) Un/60
We have been told that not just Chelsea have The Blues - as a nickname. Actually there are several other British teams called that, all based on the colour of their home strip.  Test your knowledge, then when you run out of time, and patience, just have a look at EverybodyWiki/blues.
Actually they leave one out, as Manchester City also calls itself the blues, though it is light blue.  
There are also overseas teams called the blues, France, and Italy, actually both the mens and womens Italian National Teams have this nickname.
And down in Australia the Carlton Football Club, who play Aussie Rules, (AFL), are also nicknamed the Blues, hence our card which shows V.G. Valentine, Rover for CFC, which is the initials of Carlton Football Club. Viv Valentine played entirely for Carlton from 1911 to 1918. You can see his stats table online
Our set of sixty cards was issued between 1913 and 1914, and they show Victorian League players, as in the State of Victoria, Australia. Sniders and Abrahams were based in Melbourne. And our man also appears in another series of these cards, series I, which has the footballer`s head in a shield and the club colours in quarters behind. Here is a plate of all the sets:
Image
Image
Friday, 17th June 2022
O Pee Chee "Conn Smythe Trophy card" (1968-69) card 215
The O-Pee-Chee Company, Ltd. of Ontario, Canada, made and retailed confectionery.
They were founded in 1911, and first issued cards in the 1930s.
They became part of Nestlé in 1996, however there is a strange event that happened the following year as Topps started to use their name on hockey cards, and in 2003 they sold, or maybe just sold rights, to Upper Deck.
Why I say this is strange is because there was an earlier link between Topps and O-Pee-Chee, which resulted in O-Pee-Chee being allowed to issue Topps Cards in Canada, after a short interval.
Maybe a collector of these cards can tell us more? 
Our card shows Glenn Henry Hall, a Canadian professional ice hockey goalkeeper. He retired at the age of just 39 in 1972.
The Conn Smythe Trophy, which the card is named after, was first awarded in 1964, to the most valuable player during the Stanley Cup playoffs.