thanks for popping by, and hope you are all keeping safe out there. Another hectic week for me but I am more or less on time. 
So what can we chat about this week .......... ?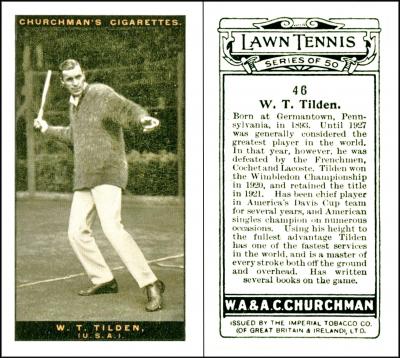 Let`s go with Wimbledon, as today in 1921 was the Men`s Final, W.T. "Bill" Tilden versus Brian Norton of South Africa. Bill Tilden won, in five sets. 
Ardath "Cricket, Tennis & Golf Celebrities" 36/50 tells us that he "Has been, for many years, an outstanding personality… famous for his "cannon ball" service." They also give a short biography, "…won tournaments in America when in early twenties, and visiting Wimbledon for first time in 1920, at the age of 26, he took the singles title from Gerald Patterson."
I have to say that the word visiting sounds like he hopped into the ring whilst he was sitting watching.
What it does not say, or even suggest there is that he had competed, but lost, the two years before. Nor that he became the first American man to win Wimbledon. It does tell us that "he retained Championship, 1921, but did not visit Wimbledon following year. Regained title in 1930, and after winning honours on Continent, turned professional in 1931." 
 
Imagine yourself, or maybe remember, standing or sitting by the tracks of the London and North Eastern Railway (the good old L.N.E.R.) somewhere between Peterborough and Grantham, today in 1938, and it was a Sunday, so no school. And if you were very lucky, you might have seen a simple brake trial turn into a sudden decision to go for a World Speed Record, and been there when the Mallard went shooting past at almost 126 miles per hour. 
There were thoughts that other nations, particularly Germany, would be able to beat this and claim the record, and they could have, for the Mallard had not been set up and stripped for the record. She was even pulling standard coaches that were from her sister "Coronation".
However for some reason nobody stepped up to the plate. To this day, in the Guinness Book of Records, appears the fact that the fastest steam locomotive was the Mallard, from this trip.
Mallard was designed by Sir Nigel Gresley in a very cool streamlined style that was refined in a Formula One style wind tunnel, and it seems to be asking to go faster even in the station.
However she was not the first of the class, nor the first streamlined train, and nor at the time even the most famous. All these honours had gone to Silver Jubilee, launched in Jubilee Year 1935 to run between  London and Newcastle. And without her, and her popularity, perhaps our Mallard would never have flown.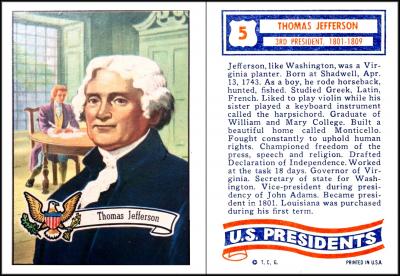 Today is Independence Day for all our American Readers, so let us have a card of Thomas Jefferson, who was the man who broke away from Britain in 1776  by writing the Declaration of Independence and placing it before Congress
He had been born in 1743 on a tobacco plantation in Virginia, one of ten children. Though he was born in America, his family had come from Great Britain, and their father had died when Jefferson was a teenager.
You may think these humble beginnings, but they did not stop him from becoming Governor of his State, the American Minister to France, Secretary of State, Vice President to John Adams, and then the third President of the United States of America.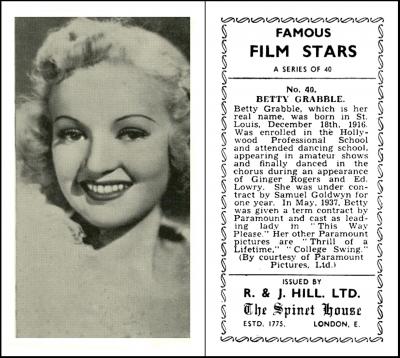 Today in 1943 Betty Grable married Harry James .
She had been an actress, model, and pin-up girl who was especially popular with servicemen, and whose legs were insured for a million dollars.
He was a musician, playing the trumpet in a unique "swing" style. 
Elizabeth Ruth Grable was born on December 18, 1916, in St. Louis, Missouri. This is included because of a curious anomaly, our card, issued by R & J Hill, which repeats this information, but only after titling the card BETTY GRABBLE and following on with "Betty Grabble, which is her real name, was born in St Louis, December 18th 1916."
So was a corrected card ever issued? 
Her film career started in 1929, but not so well, for she was fired once the studio found out she was only twelve and had supplied false information on her contract. She kept on trying, and found a home at RKO, moving from there to Paramount and then to Fox. She married Jackie Coogan in 1937 not too successfully, and they were divorced in 1939, just before she started making her first major success "Down Argentine Way". That film, a musical, which she was suggested for on the strength of her performance on Broadway, suited her much better than playing the college teens she had been typecast as, and she became the Queen of Musicals, as well as the top female film star and highest paid entertainer of the 1940s.
Harry Haag James was born on March 15, 1916  in Albany, Georgia, and his father led the band in his own travelling circus, whilst his mother was an acrobat and horseback rider. He was also drawn into the sawdust ring, doing acrobatics and contortionism, then joining the band. The music was his greatest love, his big band was enormously popular during the Second World War, though this was undoubtedly aided by Glenn Miller`s decision to disband and enter the army in 1942. 
Lets all look to the skies and thank the National Air Traffic Control today, as it is the anniversary of the day the air traffic control system was started, at least in America.  
When aviation started there were few craft in the air at the same time, and the main means of navigation was to fly quite close to the ground and keep looking out for landmarks. These were natural at first but things could get confusing if you could not see the whole of the river or mountain range, so buildings became the sights. In areas where there were no buildings it was harder, but the postal planes solved this by having a beacon system of bonfires, which would be lit by locals on prearranged dates 
It was landings and take offs, and their approaches, that saw the most problems, and  also the rise of the airport, which meant that planes were coming in and out from the same location. This is the reason why there is more than one runway. However rules were only standardised in 1926, and there was no way to contact a plane in the air until the 1930s, apart from waving a flag and hoping the pilot knew what it meant. Radio was the solution there, but it was not universally adopted, some pilots did not like the idea of modernisation, and some could not afford, or manage to work them.
The Second World War was the catalyst, for it led to major updates and the invention of radar which though intended to spot incoming foes, was soon realised could have a peacetime use to spot the location of a civil flight. 
The 1950s were somewhat chaotic, lots of flights and also lots of crashes. The first computer systems arrived in the 1980s. Today the computer rules supreme, though radar is still a part of the system. And there are several websites and apps which let you sit at home and tune in to see and hear the traffic. You can even search for a specific flight.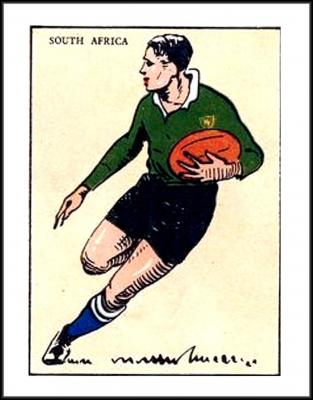 Today in 1933 saw the men of the Australian Wallabies and the South African Springboks come out for the first time in a Rugby Union Test Match.
This game was played at Newlands Stadium in Cape Town, right at the foot of Table Mountain in the Southern Suburbs, and South Africa won 17-3.
They then moved on to Durban where Australia fought back and levelled, winning 6-21. However South Africa won the two next legs, at Johannesburg and Port Elizabeth, and though Australia won the fifth and final match in Bloemfontein the Springboks took the series win.
To a cartophilist, Springbok is more likely to make them think of United Tobacco, for one of their brands was called "Springbok" but not after the Rugby team, instead this was after the native deer which appeared as the brand logo.
This card belongs to Mr. Cook, to whom I am very grateful, but it is stuck in an album. If anyone has a card out of an album so that the back can be seen, maybe they could scan it for us?
Today will be Collector Car Appreciation Day, it is always the second Friday in July and lets have a pop up event where you send in scans of your favourite collector car cards and we can add them here, anonymously if you like. Or you can tweet them using the hashtag #CollectorCar Appreciation Day and dont forget to add @Card_World in the message somewhere. 
This week's Cards of the Day...
Well this week, of course, we have been having a bit of fun at Wimbledon. As all sport should be. Some may feel that earning millions is the be all and end all, whilst others just dream of a day they can hold the bat correctly, whether this be as a result of learning, or of surgery. It is not always so easy to tell whether skilled or amateur gains the most pleasure from their endeavours, nor how far anyone could reach, with a bit more support and a bit less negativity.
Anyway hopefully your favourite is still in with a chance at the tournament, but if not, I hope that they played well, and above all that they played fairly. There is no more we can ask of our sporting stars. 
There are plenty of tennis cards out there in the Card-World, and we hope we found a few that you had not come across before. This year we have gone for a different look at the championships, and returned to the heady days of the 1930s, for many reasons, but including the fact that next year, if I am still here, I can do the 1940s and 50s, not just stumble about looking for general tennis cards that I have not used before. 
 
Saturday, 25th June 2022
C151-135b : C18-14 [tobacco - UK] Carreras Ltd "Happy Family" (1925) 48/48
We started with this card, which gave us a lot of Wimbledon associations, for it is a "game", part of a full "set", and this is Mrs "Match", the footballer`s wife, as they used to be, rather than they are now. So here she is, dutifully washing his kit, smoking as she works, and I do like those giant boots you can see poking out from beneath her skirt. I am pretty sure I would find her easier to talk to as well, for I know little of designer names, etc.
I am not sure that there is any way you could tie her striped blue and white blouse to a team, but interestingly the water in the tub is the same colour. This card was released just after the 1925 F.A. Cup, which was played at Wembley on Saturday 25th April 1925 and was contested by Sheffield United (in red and white stripes) and Cardiff City (in solid blue). Sheffield won 1 – 0. Any suggestions?
This card is from one of the Carreras card game sets which were issued in the mid 1920s, and these were a cross between a cigarette card and a playing card. In fact this set was the first of the pictorial playing card sets ever to be issued. It never had an instruction leaflet, as some of the others did, but I suppose the method of playing the game was relatively easy and pretty well known. 
And do note that this set is called Happy Family rather than the more usual Happy Families. 
 
Sunday, 26th June 2022
C151-140 : C18-15 : Ha.335-1B [tobacco : UK] Carreras "Playing Cards & Dominoes" untitled (May 1929) ace of clubs, double four
Second round was this, which is not only a "game", and one of a "set", which, in the case of the dominoes, you had to "match" but it is also the "Ace", (which is a ball that cannot be returned by the opposing player) and a "Club" (which refers to the All England Lawn Tennis and Croquet Club, which was founded in 1868, and on whose grounds the Wimbledon tournament takes place). 
This set was issued before "Happy Family" but it is not pictorial, hence the carefully chosen words. It does have pictures on the "court" cards (oh enough already!), like little tarot cards tucked up in the corner, but it is not pictorial all the way through. If you are interested you can see all of the cards in the set on a rotating slide at The World Of Playing Cards / Carreras 
This set is designed not to be looked at but to be played with and enjoyed, to be cheap and cheerful, for there to be no panic when you drop it on the floor and the dog runs off with one or more and chews them into a soggy mess of pulp.
Look closely and you will see there is a perforation splitting the domino off from, and indeed forming the bottom of the playing card, with the rest of the card pressing out around the edges. That makes them even smaller, which is rather fun as I have to say I have a great love for small things, the artistry is just as, if not more skilful, and you can get a lot of small things in a really tiny box that can just go in a kitbag and be carried around the World quite unknown and out of sight.
I am not sure of the game but apparently there is one which involves seeing how many tiny things you can find and squeeze into a matchbox. I never played it, but the idea is very thrilling. Proof that little things do please tiny minds, I guess.
Monday, 27th June 2022
C792-0260 : C130-13A : Ha.550 [tobacco : UK] Co-Operative Wholesale Society / C.W.S. "How to Do it" (1924) 24/25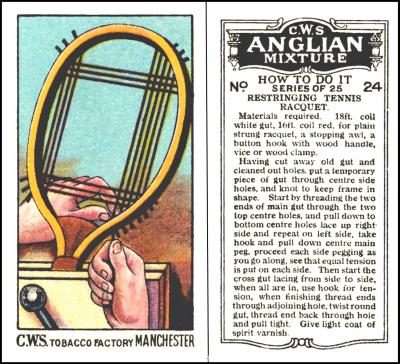 The Co-Operative Wholesale Society was based in Manchester, and their cartophilic claim to fame is that they appear in both our trade and our tobacco indexes.
This set is definitely tobacco, for it advertises "Anglian Mixture" at the top – and you can find other brands as well, "Equity Tobacco", "Jaycee Brown Flake" and "Raydex Gold Leaf Mixture de Luxe". On the CWS set of "Wayside Woodland Trees" (1924) you will find "CWS Jaycee Brown Flake, The Highest Standard" at the top and "CWS Raydex Mixture for Refined Palates" at the bottom. 
This card tells us how to restring a tennis racquet, which seems to be quite a task. Anything which starts by saying you need "18 ft coil white gut, 16 ft coil red" needs careful thinking about before even looking up a supplier, not to mention the rather awful thought of the gut in the first place, all those feet of it, coiled. 
I have to wonder whether this is a job professional players even bother to get done nowadays, or whether they just buy a new one? 
 
Tuesday, 28th June 2022
C504-570.B : C82-63.B : Ha.546 [tobacco : UK] Churchman "Lawn Tennis" large size (1928) 7/12
Here we have the famous French tennis player of the 1920s and 1930s, Jean René Lacoste.
He was born , coincidentally, on the 2nd of July 1904, the date this newsletter will also be born, and he was a French tennis player, one of a group of four who were at the top of their game in the late 1920s and early 1930s, and were rather amusingly given the nickname of "The Four Musketeers", in fact if you look down his trading card database you will see that Cloetta, the Swedish confectionery and nut company, issued a set which became known as "Sportsmen" and card 56 shows him with a fellow musketeer, Henri Cochet, who we featured at the end of the week. 
Jean Rene Lacoste is titled on our card as being "The premier man player in the world". He won seven Grand Slam singles titles, was World Number One in 1926 and 1927, and was on the winning Davis Cup team in 1927 and 1928. But it all started with the Olympics; where he took bronze, in tennis, in Paris, in 1924. 
At the time, he had several other interests in the business world, including fashion, and in fact he is now more remembered for fashion than for tennis, for in 1929 he introduced a tennis shirt, with its crocodile logo, named after his nickname of the time. 
This card was also issued by Churchman in a standard size as card 32/50. And by John Player, standard size only, for export only.  
He died not that long ago, in October, 1996, aged 92.
 
Wednesday, 29th June 2022
O100-494 : O/2-137 : RB.15/57 : O/57 : Ha.571.5 [tobacco : UK] Ogdens "Champions of 1936" (1937) 34/50 - F. J. (Fred) Perry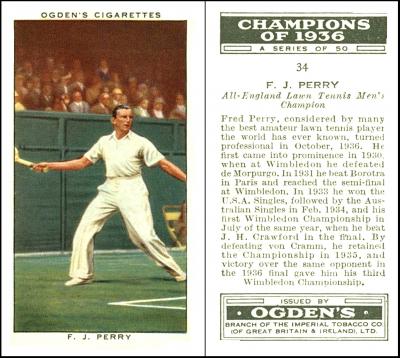 Another sartorial star, also associated with shirts, here is Frederick John Perry, or Fred Perry, who was born on May 18, 1909 in Stockport, England.
He was a triple champion, and founded his fashion empire in 1952 on a tennis shirt he designed himself. He was no crocodile, and his emblem was a laurel wreath. 
After being a very eligible bachelor for many years, with some high profile companions, including Marlene Dietrich, he became engaged in 1934 to an actress called Mary Lawson, but this did not survive his relocation to the USA. A year later he met the film star Helen Vinson, on the S S Berengaria, it was her second marriage, but again it did not last and they divorced in 1940. He married again, twice, in fairly quick succession, then after a bit of a break he found happiness with a lady who was actually the sister of Patricia Roc. They were married in 1952 and remained so until his death in 1995, in Australia. 
This set was also issued by Hignett
 
Thursday, 30th June 2022
W675-193 : W62-154 : W/252 [tobacco : UK] W.D. & H.O. Wills "Lawn Tennis 19312 large size (May 1931) 25/25
This set was only issued in the large size, and it is especially effective.
I am not sure who drew it, maybe someone out there knows. Or I might find it in one of the excellent articles written by Gordon Howsden covering Cigarette Card Artists. 
This is Helen Wills Moody, who was known by several names, starting with her birth name, from October 6, 1905, which was Helen Newington Wills. The Moody was from her first husband, a stockbroker who she wed in 1929, and divorced in 1937, and then she became Helen Wills Roark when she married an Irish polo player in 1939. She did not have any children.
She was the first female American sportswoman to be famous all across the world, and primarily for her talent, for she won Wimbledon eight times; though she was often seen in the company of film stars and royalty. Her main draw was the fact that she created a new style of women`s playing costume, to accentuate her gracefulness, shorter skirts, and pleated, and a white visor against the sun. 
Friday, 1st July 2022
A745-290A : A72-18 [tobacco : UK] Ardath "Cricket, Tennis & Golf Celebrities" (July 1935) 38/50
Here is Henri Cochet, one of the Four Musketeers, as mentioned before. The intriguing thing here is that the text starts with the fact that his age is "Now about 33".
Our World Tobacco Issues Indexes tell us this set was issued in two formats, A being ours, printed in grey, with adhesive backs, a set which was issued in the United Kingdom, and B being brown backed cards, an export issue with the text revised. And that a special album was issued.
As usual there is more information in our original reference book RB.6, issued in 1943, from where we glean the date, and month, of issue. It splits the issues into two sections.
The first of these is ours, being "Printed in 4 colours from half tone blocks, varnished, subjects titled, white margin. Backs adhesive, printed in dark grey, with descriptions … Issued with Ardath Cork Cigarettes. A special pocket book album was issued for this series".
The second version says "as above set but descriptions revised. Issued in New Zealand." It also gives the date of issue, July 1936, which goes a long way to explaining the reason for the revisions.
Maybe some time we will be able to add a few of these revisions in here? 
 
And thats all for now. See you all next week