This may be the last ever newsletter in its present form, but fear not, like a Phoenix it is about to be reborn, bigger and brighter than before, and best of all it will be way easier for you all to take part in building it. Since the last time you all gathered together at an actual physical Cartophilic Convention, and I slid into this chair, it has just been me talking about things I like, but now we want to hear what you will be celebrating over the next month, and what your own card-world is like. And to join in and share your own card images….
So let us go and have our final chatter about the events that are coming up next week. And I hope you like them too. Thank you for listening, and commenting, and just for tuning in.
On the 2nd of October, 1869, Mohandas Karamchand Gandhi – otherwise known as Mahatma Gandhi – was born in Porbandar in India. He died on January 30, 1948, at the age of 78. In 2007, this day was chosen in his honour by the United Nations to be The International Day of Non-Violence. According to our friends at the trading card database, Gandhi appears on twenty-one cards. These run from 1952 to 2015, and, as usual, varieties of the same set are counted as separate cards.
However, actually there is a much earlier card of Gandhi, dating from 1935. This covers the "Indian Conference in London" which took place in September 1931. Actually that was the second conference, which you can read about at the Open University 'Making Britain' website. This card was actually issued in Germany, its E165-550 [tobacco : OS] "Die Nachkriegszeit" 174/250 – which is a German set that covers the Post War Period (1918-1934); the title actually breaks down as Nach (after) Kriegs (war) Zeit (time), but there was an ulterior motive to the set as it traces the rise of Hitler and his political ideology, and was issued one year after he took office. The cards fit in to a hardback album of almost a hundred pages, and as well as being issued by Zigarettenfabriken Eckstein-Halpaus of Dresden, you can also find it by Waldorf Astoria of Munich and Stuttgart (reference code being W080-360).
Sunday 3rd October will be the Virgin Money London Marathon – moved because of the pandemic. W800-260 [tobacco : UK] A & M Wix "Speed Through The Ages" 77/250 shows someone rather unsuitably dressed for an October Marathon but the reverse tells the story very well, even given the limitations of having to say it in two different languages on the bi-lingual version (it was also issued with an English only back) – that this sporting event was based on a real feat of endurance, when during the Greek-Persian Wars the Athenians sent a runner back to Athens to tell of the victory. The runner`s name was Pheidippides, and he did indeed run all the way, but whether or not he delivered his message is unclear as he fell dead at the gates from exhaustion. The distance he had run was twenty-six miles, and that is where we get the duration of the modern Marathon Race. This set, a numbered series of 250, 171 cards being of standard size and 79 being of large size, was also issued for export by Peter Jackson (Overseas) – the reference code on that is J110-860. From July 1955 the London Cigarette Card Company sold the Peter Jackson version for 2d. a card or a set for 50/-, whilst the Wix version sold for 1/6 a card with no sets available.
Another modernish card, C151-680 [tobacco : UK] Carreras Turf branded "Olympics 1948" shows J.T. Holden. Then we must also remember Emil Zatopec, who appears on many cards including both Brooke Bond Olympic Greats (card 2) and Olympic Challenge (card 5).
Going back to 1910, American Tobacco's Mecca Cigarettes included two Marathon runners in series 2 of their A565-062 [tobacco : OS] "Champion Athlete and Prize Fighter Series". One was Harry Jensen (of the Pastime Athletic Club .. the amateur "Marathon King" having completed in and won more long races than any other amateur Marathoner." His fastest time, as recorded on the card, was in the Yonkers Marathon on November 27, 2 hours 46 minutes and 43 1-5 seconds". And the other was Fred Meadows who "was in the Canadian Olympic Team to England in 1908 and it was after this that he began to show his best form".
4th October 1895 was the birthday of Joseph Frank "Buster" Keaton. His parents were vaudeville comedians who travelled around America with a group of other performers. One of these was Houdini, and reportedly it is he who we should thank for "Buster" Keaton, as he saw the small child falling down stairs and said the fall looked like it was a buster. Houdini left the troupe but it continued for a few years. When it broke up Roscoe "Fatty" Arbuckle offered Buster Keaton a part in his new film "The Butcher Boy". This was in 1917, and Buster Keaton was so grateful for the introduction into Hollywood that when scandal broke around Roscoe Arbuckle he stuck by him, gave him money when he ran short, found him jobs, and even offered to testify if required.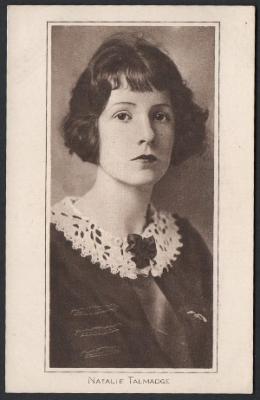 The same year Buster Keaton married Natalie Talmadge, as shown on this "Pictures Portrait Gallery" postcard. She was the youngest and least well known of the trio of Talmadge girls (Constance and Norma being the others) who were all popular actresses. Reportedly their parents were less than pleased with the marriage, thinking that he was only marrying into the great Talmadge family to ride their fame. Despite this obstacle, the marriage was happy for a while, and they had two sons, but then things changed and she divorced him, rather acrimoniously in 1932, forbidding him to see the children or them to see him, dropping the Keaton from their double barrelled surname so they were only Talmadges, and also never hesitating in saying how bad a person he had been. There seems no firm idea of why this happened, sometimes it says that he was unfaithful, but what seems most telling is that after the two children she had decided not to have any more so had moved into separate quarters in the house. His career had going well, he had plenty of money, and he had been making two films a year, including many of the acrobatics that he had used on the vaudeville stage. One of these films, "The General" was about the American Civil War, and it featured a scene which was the most expensive sequence ever shot for motion pictures.
He married twice more, neither of whom were actresses. In the 1940s, out of the blue, his children made contact, which pleased him very much, as did the fact that one became an actor, and took the name Buster Keaton Jr. Buster Keaton Senior died on February 1, 1966. He was still making films to the end, "A Funny Thing Happened on the Way to the Forum" being released after his death, and he still did many of his own "stunts" in the movie, though his health was failing fast and a double did do the most dangerous or awkward of them. There is a warm and happy webpage for you to have a look at, and for cards, check out this list of 46 cards in total. However, it does not include W675-162.3 [tobacco : UK] Wills Cinema Stars Tobacco Cards, 3rd Series, (June 1931) which we show above. Note that the film is shown titled "Forward March", but it is more usually known as "Doughboys", and had been released in 1930 – read more about that at IMDB.
World, or International Teachers Day, has been held every 5 October since 1994. This year the theme is "Teachers at the heart of education recovery", and it pays tribute to the fact that throughout our battles with Covid the schools have remained open for children of caregivers and emergency workers, as well as provided meals and amusement for those who needed them. In this they deserve much more praise than the government will ever give them, for the teachers and staff were just as vulnerable to the disease, and for a long while it was not really known whether children were able to incubate it or even pass it on.
The earliest card of a teacher we have come across can be seen at the website of New York's Metropolitan Museum. This is G600-140 [tobacco : OS] Goodwin & Co "Occupations for Women", an untitled and unnumbered series of 50 cards, but it was also issued as a series of 24 by Cope, Cameron & Cameron, and Frishmuth, and as a set of 50 by Wm. G. Hills and Co Cigarerra Mexicana. Another version exists, by American Eagle, but look closely at those and you will see the bounders just pasted their name over Goodwin cards!
Teachers in movies, especially early ones, were looked upon rather humorously, look at W675-240 [tobacco :UK] Wills "Radio Celebrities" series 2 (July 1935) 26/50 which features Will Hay as the Headmaster of St. Michaels, a series which had been running via the airwave since 1922. Cyril Maude also appears in similar dress as "The Headmaster" on a postcard issued by "Cinema Art Ltd" and in an anonymous form in the early 1920s. Both backs are shown, do you have any different back designs for this front? If so let us know.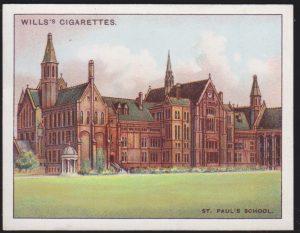 In addition you will find many schools shown on cigarette cards – C504-685 [tobacco : UK] Churchman "Well Known Ties" features lots of them, and W.D & H.O. Wills issued several sets of "Arms" cards, starting with the standard sized set W675-134 [tobacco : UK] "School Arms" in November 1906, moving on to the large sized W675-147 [tobacco : UK] "Arms of Oxford & Cambridge Colleges" (October 1922), W675-149 [tobacco : UK] "Arms of Public Schools" (first series August 1933, second series March 1934), and W675-151 [tobacco : UK] "Arms of Universities" (May 1923).
Then there was a large sized set showing W675-225 [tobacco : UK] "University Hoods and Gowns" in May 1926, and W675-208 [tobacco : UK] "Public Schools" in November 1927, again large size, but actual views of the buildings. Last but by no means least we have W675-405 [tobacco : UK – because all Wills, and all large manufacturers come to that are not split up, if they have their roots at home, their overseas issues usually appear in the UK sections of dealers catalogues as well]. This is a lovely set, it is called "Crests and Colours of Australian Universities, Colleges, and Schools", and they are medium sized cards, issued in 1922, in Australia, the first two versions being printed on satin, and the third and final version being printed on board as proper cards. The description of this set in the Wills checklist volume IV completely baffles me, but its listed under W/176 if you fancy a challenge!
On the 6th of October 1914, Thor Heyerdahl, explorer, anthropologist, film maker, author, and sailor was born in Norway. He is mostly remembered for three voyages using craft made of indigenous materials in which he attempted to prove that early civilisations could have once been connected. Our card comes from Brooke Bond "Adventurers and Explorers" 40/50 – it shows the first of these, the Kon-Tiki expedition of and the reverse tells us that him and five companions built this raft of balsawood to an ancient South American design and sailed 4,300 miles from Peru to the Pacific island of Argatau, showing that the early Americans could have spread to Polynesia in the same way.
In 1970, he crossed the Atlantic in another ancient type of vessel, a papyrus boat made of reeds to an old Egyptian pattern. This was Ra I which broke up and sank after 2,000 miles, but Ra II with an international crew managed to make its way to the West Indies. Each of these were documented, and turned into films and books, and he also made a subsequent voyage on the Tigris. Though, as the Brooke Bond album says, he "proved that it was possible" to make these voyages, sadly his work never gained the full acceptance of official bodies. However he did inspire many future explorers, and impressed many land lubbers like me who wont even shower with the plug in because I might drown if I fall over. Read more about his life.

National Poetry Day. We are going to go off on a bit of a tangent this year and talk about a different kind of poetry, for such can be funny, not just thoughtful and introspective. There are two very similar sets of cigarette cards that spring readily to mind, and these have a humorous cartoon on one side plus a Limerick style verse on the other. In fact it is one of the few sets that it is entirely up to the owner as to which side is visible first in their album. The first set is S111-580 [tobacco : UK], it is called "Saronicks" and it was issued in small and medium size by Nicholas Sarony & Co. in June 1929 – view a checklist.
The other set is D800-600 [tobacco : UK], this is simply called "Limericks" and that was issued by Major Drapkin, only in standard size, but also in June 1929. However apart from the fact that it was printed on and could be collected as different colour card (white or cream), there is a very curious thing about this set, and that is that is EXACTLY the same set as above.
The strangest thing is that by 1912 Major Drapkin was already advertising themselves as the proprietors of Sarony. Major Drapkin was bought out by Godfrey Phillips in 1931, and curiously after that date both companies were still listed as being "under agreement and operating with Godfrey Phillips". Then by 1946 both Major Drapkin & Co. and Nicholas Sarony & Co. were listed as being controlled by the United Kingdom Tobacco Company, along with Marcovitch & Co. (who exhibited at the Wembley Exhibition and gave away free postcards showing the stand) and B. Muratti, Sons & Co.
The London Cigarette Card Company catalogue from July 1955 lists the Nicholas Sarony "Saronicks", whether medium or standard size, for sale at 1/2d a card and 1/6d a set, whilst the Major Drapkin "Limericks", whichever colour of card, for sale at 2d a card and 10/- a set. From that we can tell that more of the Sarony were available from stock, but not for certain whether they were more popular with the smoking public.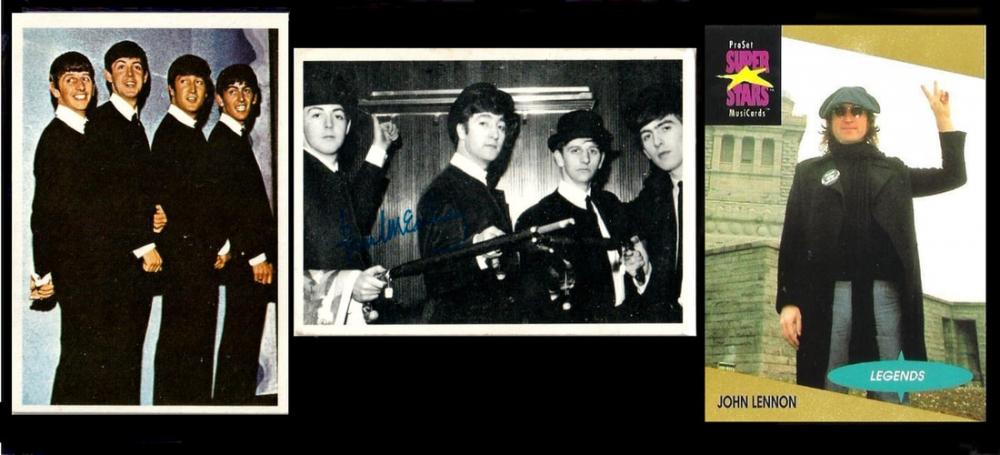 Can you imagine that it was all the way back on 8th October 1971 that John Lennon released one of the most memorable singles of all time, "Imagine"? Now for anyone who does not know, he was not just a successful solo singer and political activist, he was also a Beatle – this popular group originated in Liverpool, and were John Lennon, Paul McCartney, George Harrison and Ringo Starr, as well as, briefly, Stuart Sutcliffe  and Pete Best. This means that you can see him on the cards issued to celebrate the group and the best place to see those online is http://www.mybeatles.net/cards.html. This site lets you click and browse five complete Beatles sets, including some with facsimile autographs.
However if you have a lot of time on your hands then look at the Trading Card Database, which has 463 cards just of John Lennon! These start with a fascinating and long lasting Canadian manufacturer of candies and sweets.
This week's Cards of the Day...
This week our cards of the day have been associated with World Heart Day.
Saturday, 25th September 2021
BOY-460 [trade : UK] Boys` Magazine "Famous Footer Clubs 1926 – 7" (1926) Un/24 – HEART of Midlothian.
A most attractive set, very similar to Baines and often confused with them. Our original British Trade Index volume one, issued in 1962, has this as BPM-4 and says it is "shaped and die cut. Blue, red and yellow. Dated 1926-7. Unnumbered. (21 known)". Those twenty-one were listed as Arsenal, Birmingham, Cardiff City, Celtic, Chelsea, Clapton Orient, Bolton Wanderers, Burnley, Everton, Fulham, Leeds United, Liverpool, Manchester City, Manchester United, Partick Thistle, Portsmouth, Preston N.E., Sheffield United, Spurs, Sunderland and Swansea. (I wonder how many Tottenham Hotspur collectors have passed this card of simply "Spurs") You will notice straight away that our card is not there. And it did not appear in the second volume. However in the third, issued in 1986, it says "BPM-4 (Famous Footer Clubs). Add (22) Aston Villa (23) Heart of Midlothian (24) West Ham United." In the latest British Trade Index these numbers have been altered and the new cards slotted into the proper alphabetical order. It also tells that these cards had been issued two cards each week for twelve weeks; which is how we get to the twenty four. And you can see them at https://1920sheaven.wordpress.com/famous-footer-clubs/.
Sunday, 26th September 2021
H536-140 [tobacco : UK] Hignett Bros & Co. "Greetings of the WORLD" (originally issued January 1907 – reissued 1922-1923) 18/25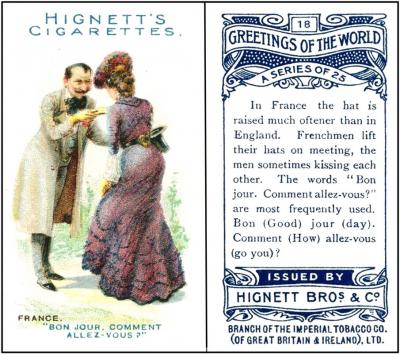 I have to say that when this set was reissued some of the costumes, like this one, must have looked very old fashioned when compared with the kind of "flapper" girls fashions that characterise the 1920s. I believe it was reissued because in 1922 cards were just starting to appear in packets and maybe Hignett had nothing ready; their previous set had been a military one, H536-130 [tobacco : UK] "Company Drill", issued in September 1915, and the public had little taste for war in 1922, when the full horrors were starting to be revealed.
This was all before Hignett were incorporated into Ogdens and started issuing identical sets save the names, of course – that did not happen until 1930. This set is described in the London Cigarette Card Company part one catalogue covering 1888 – 1919 (issued in July 1955) as "Greetings of the World (Jan. 1907 – re-issued 1922). They do not appear in the 1920 – 1940 catalogue, therefore it is pretty certain I am right, and that they were using up old stocks of the same cards. By the way they are listed for sale in that catalogue at 6d, to 9d. per odd card and 17/6d a set.
Saturday, 2nd October 2021
[trade : UK] Figurine Panini "UEFA Euro 2020" stickers – Preview version with blue back (2020) Un/568
Saturday's clue referred simply to Russia, which was the first country in Space, sent the first man into space (Yuri Gagarin) and also sent the first woman (Valentina Tereshkova). The simple truth is that it was not for Russia, we may never have blasted off into space, for what was known as The Space Race was entirely caused by President Kennedy trying to beat them and claim the honour for America - if there had been no opponent, there would have been no race, and things would probably have meandered along until the entire plan was abandoned. But having a race was infectious, and you can see that on cards, how space starts appearing at the end of cards for aviation and speed, and then for entire sets. 
Sunday, 3rd October 2021
A560-180 : USA/T400-11 [tobacco : OS] American Tobacco Co. 'Beauties - Star Girls' untitled (1900) Un/2
Sunday's clue was the set title, "Star Girl", a term which could cover all female cosmonauts and astronauts. I find these most attractive cards, with the astronomical backdrop and the gilt edged star. 
All 25 cards were all illustrated as figure 30, item number H.30, on page 15 of the 1950 London Cigarette Card Company Handbook of British Cigarette Card Issues, Volume One 1888-1919, compiled by Charles Lane Bagnall. In case you are wondering why, this set was also issued by several British cigarette and tobacco companies, though these sets are all catalogued under the title of simply "Star Girls". These were B046-800 A.Baker & Co. 1898 (odds were on sale from 25/- to 75/-), B381-600 Jas. Biggs & Sons 1900 (30/- to 90/-), H192-700 W.J. Harris or Harris & Sons 1899 (60/- to 150/-), P891-800 Pritchard & Burton 1900 (80/- to 240/-), and twice in 1899 by Salmon & Gluckstein as S041-400 (a "red" or pinkish red backed version with the company name in small lettering at 100/- to 300/-, and a "brown" or reddish-brown backed version with the company name in capital letters and of a different setting at 80/- to 240/-). All the above issuers were based in London. Then it was also issued by H766-350 Hudden & Co. Ltd of Bristol 1900 (no cards in stock), L645-800 H.C. Lloyd of Exeter 1899 (in the wonderfully named "Tipsy Loo" brand - 50/- to 140/-), and M958-170 B. Muratti & Co. Ltd of Manchester and London 1899 (40/- to 120/-). There is also an anonymous, plain backed version which is usually regarded to have been issued by a British company.
The set was then issued overseas, slightly later, in 1903 by British American Tobacco (with the "green net" back design), and this is also catalogued as "Beauties - Star Girls".
In our 2003 "British Tobacco Issues Handbook" the set is still H.30, and the block figure 30, but on page 22. Our knowledge had increased though, the set had been discovered as F756-200 issued in 1901 by Franklyn Davey, whilst the Harris cards were now thought to be vari-backed with six variations ("All Gay" Virginia Tobacco "Packets only..." and "Sold everywhere..." / "American Blend Tobacco, either vertical or horizontal format / "Super Navy Cut" "Cigarettes" or 'Mild"), and the Lloyd set is further described to be plain backed with the brand on the front, either all in capitals, or in upper and lower case. Overseas, the American Tobacco cards had been found in the "green net" back design, and three cards had been found by a new issuer, Grande Fabrica de Cigarros de Henrique Bastos & Cia of Rio de Janeiro in Brazil. These had the captions in Portuguese and are referenced as B157-700
Monday, 4th October 2021
MAR-210 : MBM-3 [trade : UK] Mars Confections Ltd "Famous Film Stars" (1939) 47/50
Monday's clue was "Mars" to celebrate Helen Patricia Sharman, CMG, OBE, HonFRSC, who was not only the first British woman in space but also the first woman on the MIR International Space Station – and she worked at the Mars Confectionery Company! And it all started because she listened to the radio!
You can read about that, and about her at https://www.rmg.co.uk/stories/topics/who-was-first-woman-space
Dick Powell had a lengthy career in all genres of motion pictures, including musicals, and he was the first actor to play Raymond Chandler`s Philip Marlowe on screen, in "Murder, My Sweet", an adaptation of 'Farewell, My Lovely. He also appeared in a film called "To the Ends of the Earth" - which suits our theme, but it was a crime story! 
Tuesday, 5th October 2021
A495-420 [tobacco : UK] Amalgamated Tobacco Corporation Ltd Mills brand "Into Space" (1959) 6/25
Jules Gabriel Verne was fascinated by exploration and his dreams were not far from the truth. In 1865, when he wrote "From The Earth to The Moon", he included many things that became realities, even a spacecraft that gets its power direct from the sun. The book was so popular that it had a sequel, called "All Around the Moon". In 1902, a short fifteen minute film, directed by Georges Melies, was made in France. This mixture of animation and live actions, was called "Le Voyage dans la Lune", and it features probably the earliest women on the moon, who somehow manage to explore it in a simple stage costume and tights, without any form of artificial breathing apparatus. Melies said the film was based on many ideas including the Jules Verne novels, and you can clearly see the "shell" shape if you watch :  https://www.youtube.com/watch?v=ZNAHcMMOHE8     Jules Verne named this shell craft the "Columbiad", and the "Columbia" was not only the command module of Apollo 11, but one of the space shuttles. However after the disaster which befell that it is unlikely the name will resurface.  
You can see several cards of Jules Verne at :  http://www.julesverne.ca/jvcigar.html  - this fascinating site also features cigar bands and matchbooks. He also appears on a woven silk which can be viewed at :  https://www.etsy.com/uk/listing/760174052/vintage-woven-cigarette-and-tobacco-silk?show_sold_out_detail=1&ref=nla_listing_details 
whilst a range of more modern Allen and Ginter variety printings can be found at :  https://www.tcdb.com/Person.cfm/pid/66523/col/1/yea/0/Jules-Verne?sTeam=&sCardNum=&sNote=&sSetName=&sBrand=
Wednesday, 6th October 2021
[Trade : UK] A & B C Gum "Space Cards" (1958) 5/88 - Sputnik descending
There is a link between Sputnik 1 and the first woman in space as they both started their flights  from Baikonur in Kazakhstan (in 1957 and 1963 respectively) .
Sputnik I appears on several cards : the earliest is 1957 Topps "Space", and it is so early that rumour has it the picture came from a leaked document. The name of the craft on the card also contains an error, it says it is Sputnik I (a roman numeral not a number). This had been corrected by the next year, when our card was issued - the first card in the set also shows it. The first British card of it is Lyons Tea "Space Exploration" (1963) Card 5. Brooke Bond "Race into Space" thought to be the first, was not issued until 1974. The confusion may have arisen because Brooke Bond Canada featured it in their 1969 set "The Space Age". 
And there we must close our pages for this week. The number of days to our Convention in Salisbury have just hit the magic seven. As dogs are not allowed in to the Leisure Centre at Salisbury, and it seems a long way to drive for us to just have to sit in the car outside, to say nothing of the current petrol situation which seems to have no sign of ending. However I will try to find a way to make my presence felt as a true webmaster ought, flying through thin air and landing in your pocket. We are also working on a way to create a live Twitter feed for the event. So watch this space, watch your social media, and watch our website.