Well this week we are trying a bit of an experiment with our cataloguing, keeping the Cards of the Day in the familiar pattern but adding the reference codes in the main text as part of the box which contains the date of issue. Not sure it will work but lets give it a go! We have been asked to explain why there are sometimes two reference codes, so the first will always come from the current reference book in print, and the second will be from its predecessor, or from another catalogue, ie Burdick in the USA.
Saturday 4 December 1927 saw Edward Kennedy Ellington opening at the Cotton Club in Harlem. The Cotton Club had been open for five years, despite, or maybe because of, the racial anti-segregation that it flouted every night. Many famous men and women started their careers there, but in fact the building also had another claim to fame, for Jack Johnson, Heavyweight boxing Champion of the World, had originally run a nightclub at the same spot.
"Duke" Ellington had been born in 1899, and his orchestra became the house band at the Cotton Club, premiering many of his greatest compositions there. He left in 1931. Lambert and Butler "Dance Band Leaders" (LO73-320 : 1936) 4/25 tells us that "In 1933 his band created a sensation in London" and you can read about that at John Cobley`s "A Coppice Gate" website This is probably one of the reasons why he was featured in Stephen Mitchell "A Gallery of 1934" (M757-520 : 1935) 18/50, a set which actually had a special album. Both of these cards mention that he worked through the night, and only slept when most people are getting up. Cab Calloway had taken over at the Cotton Club, as it tells us on Lambert & Butler "Dance Band Leaders" (LO73-320 : 1936) 2/25, strangely it locates it at "Haarlem" with two "a"s, which is actually an area of Holland, though perhaps as the Dutch colonised the original New York that was the original name and I dont yet realise; also it says that Cab Calloway, like "Duke" Ellington, went over to London, in 1934. The Cotton Club was growing less fashionable by then, and when the Harlem Riots of 1935 forced its relocation it never really recovered; even bringing "Duke" Ellington back in 1937 failed to save it. Perhaps it was a victim of its own success, or perhaps what passed for slightly dangerous in the 1920s was less so with war on the horizon. Anyway the "Duke" left for the final time in 1938, and in 1940, its glory days all gone, the Cotton Club closed, only to be the subject of a thousand memories.
You can see other cards of "Duke" Ellington by visiting our friends at the trading card database. And read his story at JazzFuel which also has links to some of his best music....
Still chasing entertainment, Sunday 5 December 1901 saw the birthday of Walter Elias Disney. Everyone knows a Disney film and they are especially plentiful at Christmas. Almost all of them are recorded in some way by trading cards from the major commercial issuers, and also by supermarkets, often in promotional sets where you have to spend a certain amount of money to receive a card. The most sought after card of Walt Disney is regarded as his "Rookie" card, or the first one that he appeared on, and this is Wills "Cinema Stars" third series (W675-162.3 : 1931) 24/50, which also shows Mickey Mouse. I am not entirely sure whether the draw is Walt or Mickey. With Christmas on the horizon, this card seems to have again picked up some speed on eBay, and be selling for record prices, sometimes with the entire set and sometimes just as a type card. What happens to the rest of these one card missing sets is unknown, I wonder if they are discarded and in years to come everyone will have Walt Disney and will want the other cards that were left behind in the grab?
In actual fact, Walt Disney also appears on another 1930s cigarette card, that being Stephen Mitchell "A Gallery of 1935" (M757-540 : 1936) 17/50, though he is without Mickey Mouse. Oddly this year there was no special album issued. And you can also find him on a vintage trade card, the 1966 Lyons Maid "Famous People" 42/48 , and this time he appears with two of his creations, Donald Duck and Pinocchio. Could either of these be "The Next Big Thing"? Only time will tell. Recently many early still photos of Walt Disney and Mickey Mouse have been turned into trade cards, like the one we feature with a whole host of Mickey Mouses – or is that Mickey Mice? They make great additions to a Disney or animation collection, but it is not known how they will fare in the future collectables wise. However they might be fun to store up, just in case....
Monday 6 December is National Pawnbrokers Day – now there is a Christmas link here as well, but not just taking things down to the op shop to be able to afford one. For actually St Nicholas is not just Father Christmas, he is the patron saint of Pawnbrokers. The story seems to be that he saved the souls of three daughters by donating money to their family, but he did this not in person but by throwing the money, golden coins, in bags, or purses, through their house window. (Some versions do add that the window was open at the time). From this we have the three golden balls that many pawn shops still use, though they seldom now use the ornate hanging signs of long ago.
Now if you are wondering the connection between the "ball" and this tale, think of the kind of bag shaped purse used in early days, for it was no more than a square of fabric, brought up at the corners and edges, and gathered at the top, the contents filling out the cloth like a round plum pudding – surely what the round shape on the sign truly represents.
On 7 December, 1944 the Convention on International Civil Aviation (or The Chicago Convention, from where it took place) was signed by fifty-two States. You can read the original text here  
Every year, since the fiftieth anniversary of this event, in 1994, this date has been International Civil Aviation Day, though the United Nations only formalised the date in 1996. Now this year, once more, holidays and travel is all "up in the air" in more ways than one. What we seem to forget are the workers, not just the travellers, that any long term disease or other crises affects, for the airlines employ vast numbers of staff, and many them are local people, not just in the front of house roles that you see as you pass through the airport, but in warehousing, construction, cleaning, and many other roles without which an airline would be grounded.
John Player served the airlines well with its "Aeroplanes (Civil)", (P644-304A : August 1935) proudly "selected by the Editor of "The Aeroplane" [Magazine]". The Irish version, P644-304B, though issued a month earlier, is only titled "Aeroplanes", and some of the text is different. In case you want to go on a treasure hunt these cards are 6,8,10,19,25,31,33. They also issued "International Air Liners", of which four versions exist – P644-336.1, the UK issue with album and Imperial Tobacco clauses, issued in November 1936 – the Channel Islands issue, issued the same month but without the clauses – P644-336.2, the Irish issue, with the clauses but with no price associated with the album, issued in July 1937 – and our odd anonymous issue with non-adhesive backs and no clauses, but a rather exciting aeroplane image, issued in May 1937.
Whilst researching this I discovered that whoever issued that also issued another version of the "Aeroplanes (Civil)" but called it "Aeroplanes of Today", so that is shown above as well.
Other issuers also celebrate the miracle of passenger flight, including Nicolas Sarony, whose twenty-five card set "A Day on the Airway" (S111-250 : 1928) was pretty much a travel brochure made of cards, with a very grand album complete with a foreword by Sir Alan Cobham K.B.E. A.F.C. In fact, in our World Tobacco Issues Index it cites "Special Travel Book issued", not album. Strangely, the picture used for this looks very similar to the one used by Lambert and Butler for their twenty-five card set "Famous British Airmen and Airwomen" (LO73-335 : 1935) - what do you think? And He is also one of the celebrities drawn by Alick P.F. Ritchie for John Player "Straight Line Caricatures" (P644-278 : December 1926) 15/50.
now today is rather a fun day, for it is "Pretend To Be A Time Traveler Day". There are lots of ways you can do this, from the simple reading of vintage cigarette card magazines, right up to hiring a costume from a local party shop. For those of a certain age a knitted multi colour scarf is all they need to believe themselves as Doctor Who; see what we mean on Golden Wonder TV All Stars (1979) 20/24.
Time travel is not a new thing, and many ancient civilisations belive that they were visited by other worlds from far in the future. One of the best contenders for the truest sense of multi directional time travel, coincidentally, is Charles Dickens, who, in "A Christmas Carol", features Christmasses past and future. This was written in 1843. You can read more about it here   - and read the book, free, online
H.G. Wells is sometimes given the credit for inventing literate time travel, but his "Time Machine" was only published in 1895. He did however invent the words "Time Machine" which really "took off", and today seems to be the universal phrase for all items which travel in any kind of different dimension, though these actual apparatus take many curious forms. Herbert George Wells appears on Wills "Famous British Authors" (W675-169 : August 1937) 37/50 and Carreras "Popular Personalities" - ovals (C151-370 : February 1935) 24/72, plus on at least one trade card, Brooke Bond "Famous People" (1969) 25/50. And you can read "The Time Machine", free, online, too  
One curious thing turned up in this research, and that can be seen here  - did they ever happen? Where are they all now? I have not been able to find a whiff of them. Or was this simply a visit from cards of the future to show us what lay in store...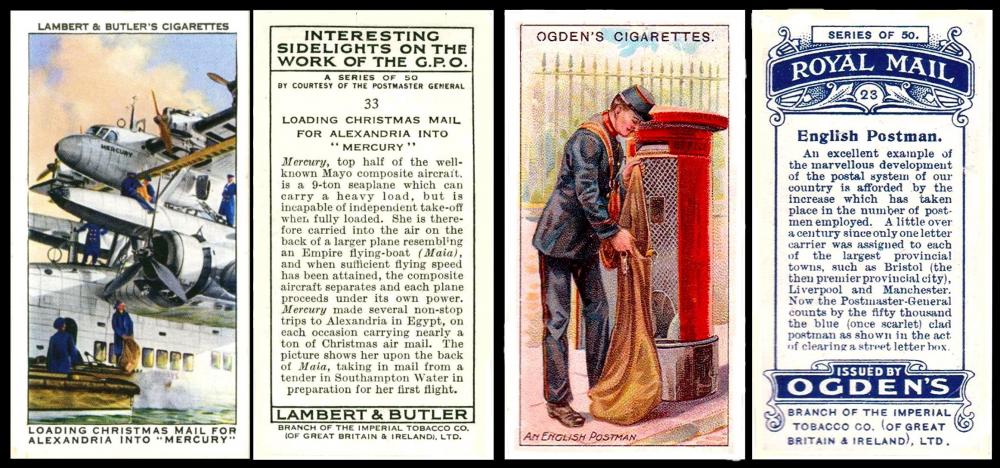 Today is Christmas Card Day. I have to say this is exceedingly early to send them out, unless you are demanding one in return, even in these tortuous times. However it is a good time to choose this day to make a list of those people to whom you wish to send a card, to check that you have their addresses, and put up those special cards that you save and set out every year, fuelled by inevitable teardrops (or is it just me that does that).
Christmas cards started in 1843, yes, the same year that Charles Dickens actually penned "A Christmas Carol" - do you think there was some kind of connection? The first Christmas card was sent by Sir Henry Cole, who is often described as simply a Civil Servant, but who actually was heavily associated with the postal service, and also a founding father of the Victoria and Albert Museum in London, which in his honour maintains the National Collection of Christmas Cards. You can see the actual card there as well, or here  
The print run was a thousand cards, which seems quite unbelievable, but reportedly once he had used all he needed, he sold the spares for 6d each.
Today few of us send anywhere near a thousand cards, for though we have contacts all over the globe, cards today are more likely to be sent online as e-cards. The pandemic gave e-cards a burst of popularity, but it also led to a surge in the uptake of Zoom and other vision oriented web services through which you can wish your friends a Happy Christmas and actually see each other, on screen, in person. It will never be totally the same until someone invents a reach through screen with a physical touch facility, but I am sure one day this, too, will be achieved.
Today it is Nobel Day, the anniversary of the death of Alfred Nobel, and the date of the awarding of the Nobel Prizes for Science Literature and Peace.
John Lennon got it right, Peace at Christmas is what we all secretly crave, not just the really important hope that one day everyone in the World will find out it is way better to all just be friends, but, on a more basic level, to have time for ourselves to celebrate a special day in our own way. It may sound selfish, but everyone has their own ideas of how they would like to spend a holiday, and very few of us manage it. For some of us our only respite is our family falling asleep, our guests leaving, and our getting through the inevitable clear up of the mess they all made in record time. This seldom happens, but somehow we still look forward to the miracle of Christmas all over again every year, and, perhaps foolishly, expect it to be different.
This week's Cards of the Day...
This week the Cards of the Day have been celebrating National Christmas Lights Day, which every year falls on December 1st.
Saturday, 27th November 2021
ANG-450 ; ANF-20 [trade : UK] Anglo Confectionery Ltd "World Cup 1970" (1970) 38/48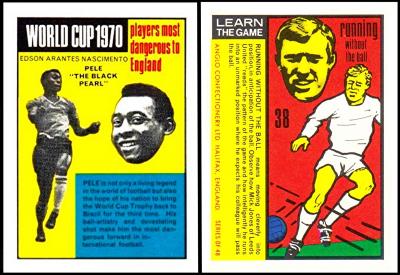 This is a strange coincidence as "Pele" is only the nickname of the famous Brazilian footballer, Edson Arantes do Nasciment.; in actual fact his first name was to supposed to be Edison, and yes, it was in honour of Thomas Edison, but his parents had second thoughts and dropped the "I". Unfortunately there was a problem with the birth certificate, some say that his parents did not tell the officials in time, others that the registrar made the mistake all on their own – but either way, his birth certificate quotes "Edison" for all time.
These double sided cards not only celebrate one of the key players from another side that we had to watch out for in the forthcoming World Cup in Mexico, but they have a pictorial reverse called "Learn the Game" which gives football tips. They were very eagerly collected, because the previous World Cup had been in 1966, our great win. Sadly we were knocked out that year, by West Germany, (3 goals to our two) and Brazil won the whole event, beating Italy 4-1 in the Final. Pele scored one of the goals, but did not appear in the 1974 World Cup, choosing instead to stand up against the military and their regime of terror. This truth was not revealed until much later, and you can read the story here
Now by an enormous stroke of luck, here is the original report on these cards, extracted from an original vintage edition of "Cartophilic Notes and News" - I just forgot to write down the date, so will add it later.

And keep an eye on our front page blog for this and other updates as we continue to build the site so you don`t miss all the work we are doing..
Sunday, 28th November 2021
C504-535 [tobacco : UK] Churchman "Interesting Experiments" (November 1929) 10/25
At one time Christmas lights, in the house, and on the tree, would be candles, perilously perched in close proximity to flammable pine needles. You may be thinking thankfully nowadays we are far more safety conscious, but, of course, at that time, and especially in the home of the Christmas tree, Europe, candle power was all there was.
So to my original vintage limited edition volume of the Cartophilic Reference Book, number 10, "The Cigarette Card Issues of W.A. & A.C. Churchman", issued in 1948, and written by Edward Wharton Tigar. I notice his initials are E.C.W.T., and my curiosity wonders what the "C" stood for. I will have to go on a hunt, unless any of you know? I know a few readers who might... According to the inside front cover, this is "the first illustrated handbook". Now that book is still available, but as a reprint, so it has a plain green cover with the written details rather than the original ornate one with the Art Nouveau centre image, but all the inside copy is exactly as it was printed in 1948. This can be found in our bookshop, and yes you can buy online right now by all manner of monetary devices; it is also available to non-members, both at home and overseas, at a slightly higher price. Our bookshop is one of the things that we are working on right now; thank you for your patience to all who asked about it.
Inside the book, it lists this set as No.79, and dates it to November 1929, these dates coming from either Churchman themselves or from the printer Mardon, Son & Hall. It is a set of 25 cards, titled, and numbered 1-25. The fronts were printed by letterpress, using the four colour halftone process; the backs in dark green, with descriptions.
Monday, 29th November 2021
W675-111 : W/60A [tobacco : UK] W.D. & H.O. Wills "Famous Inventions" (November 1915) 32/50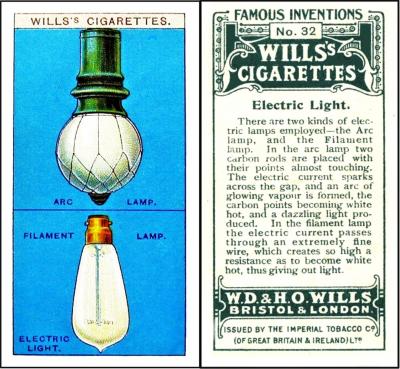 This card shows the difference between arc lights and filament lights. If you want to read more on the difference between the two, head to the Edison Tech Center website. And as to why they are here, well filament lights were used as what are generally considered to be the first ever "Christmas lights" by Thomas Edison, almost three hundred bulbs strung along the way that led to his Menlo Park laboratory in New Jersey, and around the building itself.
This was just before Christmas 1880, and some, with a hint of the Grinch, may say it was purely to advertise them at a celebration dinner, whilst others, who believe in Christmas, and all its wonders, say it was near enough in date to make his the first Festive Frontage in the whole street. It is doubtful that they were coloured, they were probably just a white bulb, so you could even probably say he was the first ever Christmas minimalist. This event was fully reported by the New York Times at that time.
Not so strangely, Edison was also responsible for the first mass produced Christmas lights to be sold to the general public in 1902, through his General Electric Company. They were not cheap, so were only shown off by richer homes. And it took several years before the lights were able to be mass produced in a quantity that would allow for anyone to be able to light up for the festive season.
Tuesday, 30th November 2021
D900-190 : USA/76 [tobacco : OS : USA] Duke "Great Americans" (1888) Bk/50 ish
Now lets start with the poser, for this is backlisted with 50 names. However, in Burdick, the card of Beecher is recorded as facing both ways, making 51 possibilities. He values them at .25 cents a card. All of the names of all of the Great Americans are shown on each card, some are familiar names, others stumped me.
It must be exceedingly rare, but according to our World Tobacco Issues Index, part 1, there is a different version of this issue; D900-190B - this is larger, and shows three subjects on a single card, 16 cards in all. That makes 48, I think, so which are missing – again, do let us know, and if you have one, do scan it for us so it may be added here. Now if I look in my Burdick catalogue, the larger version is under USA/112, and that says there are 17 cards, "3 of 76 to card". (76 being the Burdick number for the small cards)
Mr. Burdick valued these at .40 cents each, the same value as "Bridges", "Burlesque Scenes", "Habitations of Man", "Histories of Generals", "Illustrated Songs", "Lighthouses", "Talk of the Diamond" and "Types of Vessels" (die-cut). If anyone would like to provide a current value for these we can have a comparison to see which has stood best the test of time.
Wednesday, 1st December 2021
CRY-030 [trade : UK] Cryselco "Beautiful Buildings". (1938) 3/25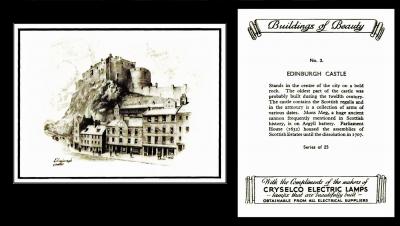 Now Cryselco stands for the CRYStal ELectric COmpany, and they made electric lamps and light bulbs, for the home, for automobiles, and also as Christmas lights, for the home, sold pre-stringed in attractive boxes.
They also issued three sets of cards, "Buildings of Beauty" (CRY-030 : CSH-2 :1938), and "Beautiful Waterways" (CRY-020 : CSH-1 : 1939), both of which were sets of twenty-five brown gravures measuring 101 x 76 mm; I am not sure why the later set is listed first, as it is not in date nor alphabetical order.
Then there was a bit of a gap before they produced "Interesting Events of Sixty Years Ago"  (CRY-040 : CSH-6 : 1955) , which was a set of twelve grey-black cards with light yellowy browny borders, extra large in size, measuring 113 x 88 mm, and first listed in part II of our original British Trade Issues Index, of 1969.
Thursday, 2nd December 2021
A special commemorative card issued by The Cameric Cigarette Card Club
this card was issued with the Cameric Notes and News magazine and shows Oxford Street, which today is associated with the annual London Christmas lights, in fact Oxford Street is always the first of the streets to have its lights lit. This year they are using LED lights, much more efficient, which were made from recycled material and will be used or recycled again after the event.
I have not been able to find out the first date that Oxford Street was illuminated, maybe you know, but it seems that the larger shops were the first to use Christmas lights to attract customers, at the end of the nineteenth century, however this was sporadic and it was not until the 1950s that Regent Street began having the large displays along the roadside and in all the shops, especially once rationing finally ended. I remember going up to see the lights as a child in the late 1960s. Telling my age now, sorry if I disappoint anyone. Apparently the 1950s and 1960s was the heyday, and they shrunk back in the 1970s and 1980s. However the arrival of the Millennium seems to have lit the spark, and they have grown successively bigger over the years.
I dont know whether this is the only picture that was issued, or whether other, different subjects, or numbers, exist. If you have a different card please tell us. I also dont know why this subject was chosen but perhaps it is described in that edition, or maybe it was a place which used to be associated with the Cameric Club in some way that is now forgotten. Again, your input, or even your guesses, will be much appreciated.
Friday, 3rd December 2021
W805-680 : W72-22 [tobacco : UK] J. Wix & Sons "The Royal Tour in New Zealand" 21/24.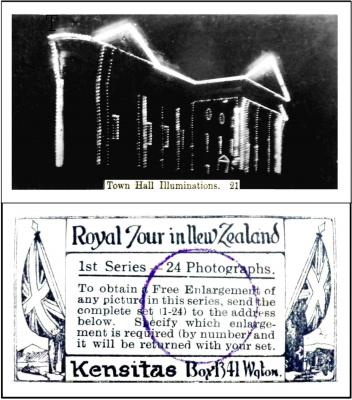 According to my CSGB Australian & New Zealand Index, the much sought after RB30 dating from 1983, this was a "Kensitas" brand issue within New Zealand. The set, of photographic cards, was issued some time between 1925 and 1930., but most agree it was 1927/28, because the Duke and Duchess shown were the future George VI and Queen Elizabeth the Queen Mother, who visited New Zealand in 1927. Actually you can see footage of the tour here 
I am not sure why this set was only issued in New Zealand, because it deserved a bigger audience. And I am sure that there are Royalty collectors reading who have never seen it.
Curiously, the cards actually say "1st Series" of 24 photographs, but there never seems to have been a second. The cards were actually just part of the Wix celebration, as on the reverse it says that if you collected a complete set, you could send it up and would receive in return any one of the cards as an enlargement. You had to say which card you wanted the enlargement of, and then it would be sent to you – with your original set of cards! The address, which is a bit hard to work out, was "Kensitas, Box 1341, Wgton", and Wgton is Wellington, New Zealand.
Now even more of a curiosity, because in this section, the Wix Australasian issues, there are just two, this set, and W805-620, an untitled set of black and white photos, known as "Animals", which states that just one card is known. It does not even reveal what that card is. So off you go and track it down, plus any others, in the only decent way to hunt, with your eyes and a camera. And let us know of what you discover.....
and that`s all for another week, which brings us closer to Christmas.
Keep safe, stay warm, and come back next week
and if you missed last week`s newsletter, its waiting for you here