welcome to another week! Not long now before hoofprints appear on your snow filled roof and all is peaceful, hopefully, for just one day. 
As of today we start our Christmas festivities, so the cards of the day will all be Christmas related, though there will still be a loose theme to ponder over.
We hope you have enjoyed this year and also that you will keep tuning in next year, especially if the predictions of gloom and return to mask wearing and working from home force us back into our burrows again to glimpse at the sun and the moon passing over through a small opening at the end of the runnel, but slowly forget what it is like to feel the wind in our hair and the sun at our backs, and to be close to other people.
Surely we are not born to be shut away. 
---
And now to brighter things, to occupy us through the coming week.
Well today it is National Gingerbread House Day, a fitting start to the Christmas fare, for many of us remember them in bakery windows. If we turn to Player`s "Cries of London" first series (P644-072A - November 1913) 19/25 it tells us that the retailer of hot gingerbread used to occupy a pitch outside the Pantheon in Oxford Street, and sell his wares at one halfpenny each, warming them by a portable oven. His "cry" was Hot Spice Gingerbread – Smoking Hot! The artist of these cards was F. Wheatley R.A. Oddly, the larger sized cards were issued first, cards 1-10, including our card as number 3, first appeared in packets in October 1912. The second series of 10 large cards were issued in April 1914. The second series of 25 standard size cards was designed to appear after that, in 1916, and though it is believed that some cards were indeed inserted into packets in November 1916, the actual date of issue is more usually considered to be October 1922. Cards have been found of this second series with black backs, but not many, and they are thought to have been the result of a proof sheet being cut up.
Gingerbread is actually made with ginger, and it seems to have been invented by the ancient Greeks and Egyptians at about the same time, but did not reach our shores until the Crusades, when travellers through the Middle East first tasted it and brought back hand written recipes, plus some of the strange knarly roots. Ginger seems to have a reputation as being able to calm all manner of sickness, including motion sickness and seasickness, improve blood pressure, and perk things up in several other ways. If you plant these roots you will get an attractive house plant but you probably wont get enough usable source of root to go into business making biscuits, better to buy your roots at the grocers and just enjoy the plant. I dont think it is ever as good buying it as powder, and there are so many small independent shops with amazing exotic vegetables about that it wont take you long to find one. If you are tempted to grow your own, there are easy instructions with pictures, courtesy of the instructables - if you do, our second image, John Player "Useful Plants and Fruit" (1904) 24/50 will show you what to expect, and inspire you.
Now I couldnt find you a house, but I did find a castle, courtesy of Wills "Household Hints" second series (W675-185ii : W/235 - July 1930) 21/50. This card has a recipe on the reverse and an added bonus for the front includes lead soldiers; you can`t tell that they are lead from the mounted soldier, but the standing sentry has a square base which is probably William Britain, who was the largest and best remembered maker of the genre. And they are still going strong, though today their market is more collectors models for the adult enthusiast than their original toy shop fare for children.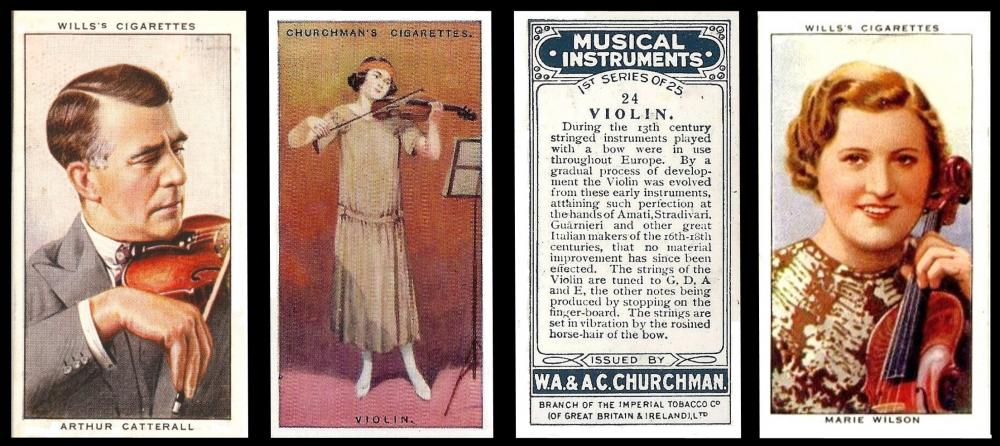 Today is National Violin Day. I have not been able to find out why the violin is celebrated on this particular day, but maybe there is someone out there who can tell me? It must be for some reason, as it is always on this day. One keen player was Sherlock Holmes, who owned a Stradivarius, that he picked up for much below its value. And he knew about them, or rather Arthur Conan Doyle did, for the books may start out featuring just a violin case in a corner of the room, but as the tales develop they include some very learned references.
The most readily acquired card of a violin is Wills "Do You Know" third series (W675-165.3 : W/190 - February 1926) 48/50, "do you know why a Violin String produces so many notes?" ; and the same card is 48/60 in the first series of United Tobacco Companies (South) Limited`s version (U560-410.1)
For violinists, lets start with Lady Halle on Ogdens "Guinea Gold" numbered 158, though I am not sure which group she comes from - then move on to W. D. & H.O. Wills "Radio Celebrities", where the first series (W675-240.1A : W/301 – August 1934), has Arthur Catterall, 16/50, founding leader of the BBC Symphony Orchestra, and the second series (W675-240.2A : W/302 – July 1935) has Marie Wilson, 11/50, who was one of the few women of that time to lead a Symphony Orchestra, at Queen's College in 1933, plus Albert Sandler, 12/50, who began the BBC's Grand Resort broadcasts.  The "A" suffix refers to the fact that these sets were also issued in Ireland.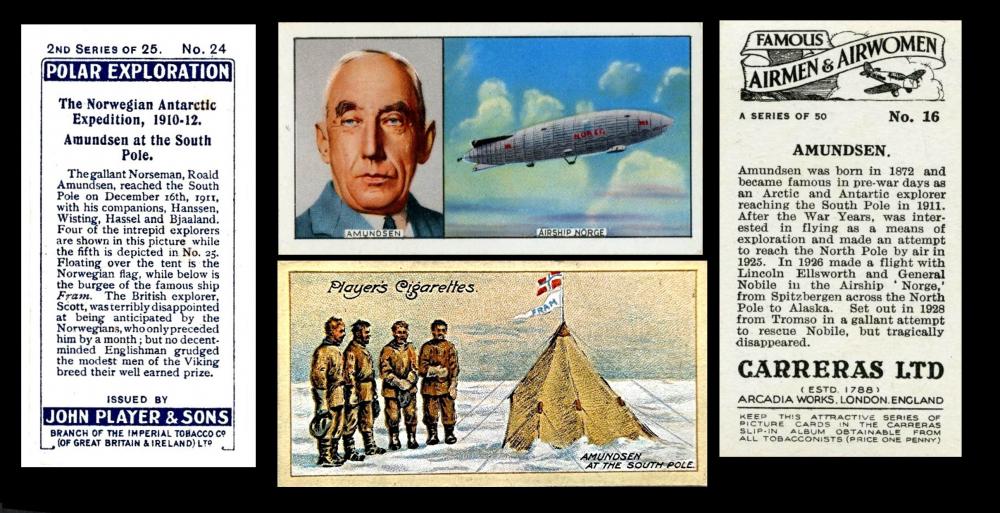 Not sure it is Christmassy, but its snowy! For today in 1911 the Norwegian explorer Roald Amundsen at last reached his target, the South Pole. The journey had been arduous, and long, he had left Norway in June 1910.
Carreras "Famous Airmen and Airwomen" (C151-240 : January 1936) 16/50 has the most useful biography, short and factual, saying he was born in 1872, mentioning his South Pole trip, and speaking of his post First World War explorations, that he tried to reach the North Pole in 1925, flew above it on the airship "Norge" the following year, [possibly making him its true discoverer], and in 1928 lost his life whilst trying to rescue General Umberto Nobile, a member of his flight who had disappeared whilst on another expedition.
The date generally given for his death is 18 June, but only two pieces of wreckage were ever found, never a trace of Amundsen nor his crew. The search went on for three months, but was eventually called off by order of the government, as no other artefacts nor evidence had turned up. Some people are still looking, including the Royal Norwegian Navy, who are still fascinated with the disappearance, possibly because he served with them. More recently, several European film makers have explored the bottom of the sea in areas where they feel the craft may have gone down. Without any success.
The earliest card of him is regarded to be in the American Tobacco Hassan branded set of twenty five cards entitled "The Worlds Greatest Explorers" (A565-174 : USA/T118 - 1910). The one you will most likely find quickest is John Player "Polar Exploration" second series (P644-096.1 – 1915/16). Cards 22 to 25 are all for this Norwegian Antarctic Expedition of 1910-12; card 22 shows a portrait of Amundsen swaddled up in furs against the bitter cold, card 23 is Lindstrom, the Cook, card 24 the tent, on top of the Pole, with the Norwegian flag and the pennant of the ship Fram, the first ship specially built in Norway for polar research, and card 25 his fellow Naval Officer Oscar Wisting, who was so fond of the Fram that he sought to preserve her for all time, and forced the creation of a special museum to show and save her. One day in 1936, almost to the day of the Silver Jubilee of his reaching the Pole, he was on board the ship, and climbed aboard his old bunk. He was discovered there some time later, completely dead, from a heart attack.
Amundsen is also featured in Ardath "Your Birthday Tells Your Fortune" (A745-590 - July 1937), and he is on Typhoo Tea "Great Voyages of Discovery", the packet issue, (1962) 20/24. Very often you find these cut to just the picture, but the intention was to cut the entire panel which includes a small box of text in red. Anyway Typhoo is a very neat link to ...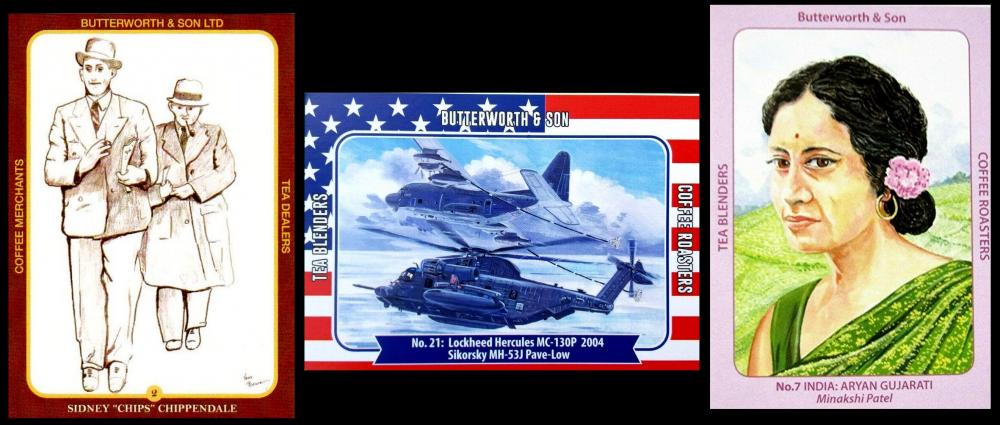 .... International Tea Day, which started in 2005, and aims to highlight working practises and abuses world wide. One of the way to ensure your tea is bringing joy to its farmers and workers is to buy Fair Trade marked products. Think of this when you are looking for a present as a Secret Santa, or for someone who you find hard to buy for. If you dont know them that well, then tea bags are easier, and few would fail to open the box and give them a go. I have to say I am rather surprised that they picked this day, for if they had waited just twenty four hours, until the 16th December, they could have tied up with the Boston Tea Party, which also occurred in an attempt to bring an unfair tea related practise to an end.
Tea of course, to most of us, means Brooke Bond, a brand which started so many of us on the road to our current collections. There were other card issuers though, F. Lambert of Norwich, Typhoo, and, bringing things right up to date, Butterworth and Sons, established in 1976 at Bury St. Edmunds, still insert a card with their tea. If you cant find their blends in your local shops, just nip online to their excellent website. And do tell them we sent you!
By the way, they also make coffee....
Today was Jane Austen's birthday, and because of that, we have Jane Austen Day. In her world, Christmas was quite different, but she still enjoyed visiting friends and going to parties. And many of the traditions we follow would also have been known by her.
She appears on several cards. Strangely, the export only, photographic Carreras 'Famous Women' (C151-465 - April 1929) 20/27, the 'Celebrities of British History' standard version (C151-220 - September 1935) 39/50, and the 'Celebrities of British History' Turf slide version (C151-635 – 1951) 50/50 all use the same image, which is sadly only cited as being from a contemporary miniature. However it appears, according to work in the National Portrait Gallery, that this was by Cassandra Austen, her sister,
As Carreras issued three portraits of her she surely must appear somewhere else? But I could not find any. A cartoon of her appears as part of a set of playing cards which were issued by the BBC to celebrate the fiftieth year of Womans Hour, borderline cartophilic as that may be. And in 1975 and 2013 her works were featured on Royal Mail stamps.
Jane Austen did not live very long, only from 1775 – 1817, and most of her works were only published under her name after her death – for during her life they were published as anonymous works, and were believed by most readers to have been written by a man.
Today is Wear A Christmas Hat Day. Not just because it is nearly the big day, but to raise money and awareness of Brain Tumour Research. So go find your best Santa, elf, snowman, or other Christmas hats, or just tie some tinsel or a bauble on a normal hat. Whatever you do today, wear your hat. with festive fundraising events at home, school, work or in your community. So why not join in, and if your dog or cat does not object, or find it all too beneath them, they can wear one too.
Here are a couple of wintry "Beauties" in hats, courtesy of American Tobacco Co. These were issued with the "Old Gold"brand in approximately 1901 yet they look as anyone dressing up today in costume. In a very short span of years The American Tobacco Company fitted in a lot of goings on. They started in the 1890s, when is not exactly recorded. Their chairman was James Duke, who liked to be called "Buck", and he bought up anything he liked, includng other companies, and pieces of equipment that would make his business the best. He also acquired the first cigarette-making machine that took the manufacture away from individual people and made the output regular and unwavering. With America conquered, it was time for England, and Europe, hence the "Tobacco Wars" that erupted from 1900 onwards. His first buyout, in 1901, was Ogdens, and he started marching towards all the rest. However, a few companies held out, forming "The Imperial Tobacco Company of Great Britain and Ireland", and fighting back. They forced a settlement with James Duke and peace was called in 1902 on the grounds that Imperial would not enter the American mainland any further (they had already bought Brown and Williamson), all exports to their respective companies would go through either company only, with exports to other countries being handled by the newly set up British American Tobacco, and that Duke would sell Ogdens back to Imperial Tobacco.
This week's Cards of the Day...
---
This weeks theme was Christmas Plants. There seems to have been rather a lot of holly, but we still found a good selection. 
---
Saturday, 4th December 2021
C504-280 [tobacco : UK] W.A. & A.C. Churchman "Footballers" untitled (1913/14) 10/50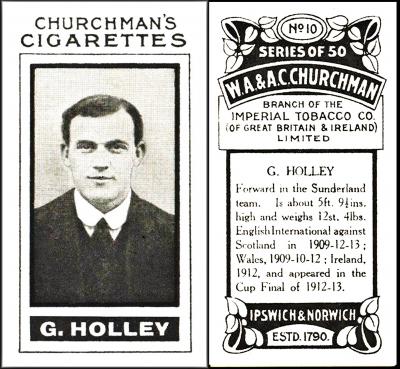 Unusually, this set has no firm issue date, even our original Churchman Reference Book of 1948 has "? 1914", it is even odder because the dates in this book were supplied to us by Churchman themselves and the printers Mardon and Hall. It is also untitled, you may believe there to be one, because it has those large banners at top and bottom, but not a one contains any notion of a title; this is almost certainly why it is known as "Footballers – photogravures", "Footballers – photogravure portraits", and "Footballers – brown".
The player, G. Holley, actually George Holley, of Sunderland gave us our first clue, (the Holley – or Holly). He was born on November 20 1885, and stayed with Sunderland for most of his life, playing in the 1913 F.A. Cup final, and he also played for England many times, finally becoming became a coach/trainer. He also appears on other cards, F. & J. Smith's "Footballers" Series 2 (S548-220.2ii - 1909) card 98 which is a curiously numbered set indeed; the confusion seems to have arisen out of the first set of fifty, which was numbered 2-52, because for some reason cards 1 and 13 were not issued. This ought to have led to the second series starting at 53, but 53 and 54 were not issued either, so the second series starts with card 55 and ends with card 104. He also appears on F. & J. Smith`s "Footballers" (S548-220.3 - 1914) 116/150 - which has "varying advertisements" to the reverse, and was also available as pale or deep blue backs, though both were priced at 3/6d a card in the 1950 London Cigarette Card Company catalogue, which means that none was scarcer than the other. Finally he is shown in his England kit on Wills "International-Footballers – season 1909/1910" an overseas issued set which was issued branded for Scissors and United Service from November 1910, and branded for Flag at a different date, (which I cant find). At one time this set was catalogued together as W/242, but now the Scissors version is catalogued as W675-506, the United Service version as W675-532, and the Flag version as W675-431.
George Holley died on 27 August 1942, I first wondered, given the date, if this was a war related incident, but he was almost sixty and apparently he had been unwell for some years. You can see his stats at the England Football Online website
His son, Tom Holley, was also a footballer, and you can see him on a card as well – Carreras "Popular Footballers"(C151-365 - 1935) 31/48. There might be others, of father and son, so do let us know if you know of one
Holly is one of the best known of all the Christmas trees, it may be prickly, but it is sculpturally beautiful, and also comes in a variegated form. It is also a provider of food for many species of birds with its easy to locate bright red berries, and its sharp pointed exteriors give our feathered friends somewhere to hide should a larger predator come along.
Sunday, 5th December 2021
P644-412 [tobacco : UK] John Player `Grandee` "British Mammals" large size (1982) 12/30
I originally said "unlisted" for the code which is incorrect, as I now have the code(s), having been informed of them by one of our readers, to whom, many thanks.
This set was issued just as Imperial Tobacco rebranded, so you can collect the cards with their original "Imperial Tobacco Ltd" address, or with the later "Imperial Tobacco plc". Technically these are borderline too, for they are not cigarette cards, nor trade cards, being issued with cigars. In addition you can find it in two different printings, for two different brands, our Grandee, and as, issued two years later in 1984. However because it, and an identical set, P644-370, which was branded for Doncella, were John Player brands, they have come to be cigarette card sets by default.
The incredibly lifelke artwork is derived from original paintings by the Scottish artist Archibald Thorburn. Artnet has a small biography, but it also shows almost three thousand of his paintings. And you can find a full checklist of the cards at trading card database. They also show nine other  
pine marten cards, but does not include ours.
Monday, 6th December 2021
GO75-365 [tobacco : UK] Gallaher "Cinema Stars" (August 1926) 81/100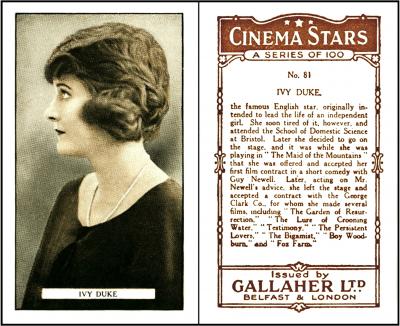 Ivy Duke was a leading British actress on stage and in the early days of the movies.She was born on 9 June 1896. In 1922 she married the actor and director Guy [Patrick] Newall, ex-Royal Garrison Artillery, eleven years her senior, with whom she had co-starred several times. Reportedly they met during the War, at some kind of concert or party. You can find an excellent biography of him at ScreenOnline. They were divorced in 1929, and he married the twenty-eight year old actress Dorothy Batley, in 1930, with whom he had a daughter They stayed married until his death on February 25, 1937. Ivy Duke died on 8 November 1937 (aged 41) and Dorothy Batley in December 8, 1983.
Ivy Duke appears on several cigarette card and many postcards, including Lilywhite "Cinema Stars" card 216, which shows her and Guy Newall, credited as being with George Clark Productions. The earliest cigarette card of her is cited to be the standard and large sized Edwards Ringer and Bigg "Cinema Stars" (E265-550 - 1923) – she is 15/50 in the standard size and 18/25 in the large. Guy Newall is there too, as card 25/50 and 16/25. She is also part of the Godfrey Phillips "Cinema Stars (Circular)" set of un-numbered cards (1924) which uses the same picture as our card; a popular picture, as it is also on Picturegoer main series Postcard number 40. Oddly this must have been a package deal, as Guy Newall is in this set too, and also has that same image as a Picturegoer main series card, number 55 - though I prefer the 40a with the dog, presumably a Samoyed? Then there is W.D. & H.O. Wills Four Aces Brand "Stage and Film Stars", found numbered and unnumbered, (W675-442 : W/172 - October 1926) 4/50. This set was also issued by Thomas Bear (B203-350 - ), Murray Sons & Co (M970-570 - 1929), and by B.A.T. as an anonymous version.
Guy Newall also appears on several postcards, but I can only find one cigarette card, showing him top hatted and in hunting attire, after what looks like to have been a long day, hopefully the fox won. This is "Cinema Stars OMBI" second series 44/50, issued anonymously by Bucktrout in the Channel Islands, as well as by African Tobacco Manufacturers, branded "Officers Mess" (A210-120) and Indo-Egyptian Cigarette Company of the Dutch East Indies (I460-160), who also issued the set anonymously.
Dorothy Batley is so far still unavailable, but I am looking! And if anyone finds her carded, do let me know.
Tuesday, 7th December 2021
W675-174 : W/217 [tobacco : UK] W.D & H.O. Wills "Flower Culture in Pots" (February 1925) 27/50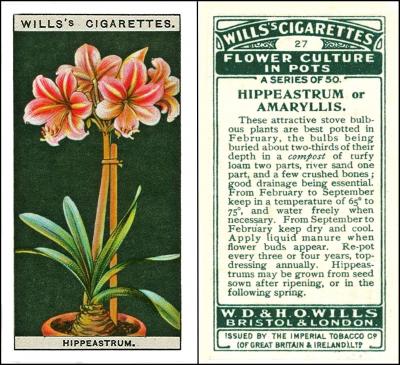 This is the Hippeastrum or Amaryllis, a most attractive plant that is sold in vast quantities for the festive season; it has a large brown bulb which has an inner excitement that does not hint at its inner beauty, for out of this sprouts large leaves and eventually one or more spikes with huge trumpet flowers. It must be supported at that point, or it turns into rather a wobbly structure, forever plunging to the ground and spilling its soil all over the floor.
I have to say I do like this set, especially the black backgrounds which are most dramatic, saying which I also freely admit that it does not always show the flowers off at their best, some of the darker ones blending too much into those backgrounds.
The Amaryllis also appears on several Wix Kensitas silks of varying size, plus cardboard protective sleeves which tell its story – apparently in the language of flowers it means "beautiful but timid", possibly based on Greek myth, where Amaryllis was a beautiful shepherdess. This source also tells us that the original bulbs came from South America and it was cultivated in England as far back as 1629.
Wednesday, 8th December 2021
O/2-139 : O/61 [tobacco : UK] Ogden Ltd "Colour in Nature" (1932) 23/50
This is another frequent Christmas buy, the scarlet poinsetta, a beautiful plant much mis-spelt, especially by me. This card shows it in the wild, in Mexico or South America, and reveals that "sepals, petals and other parts of flowers are really leaves modified or differentiated to serve a special purpose – that of attracting insects." and that "the upper leaves are brilliantly coloured for … attracting insects to the flowers which are small and insignificant."
The poinsetta appears on many Christmas cards but not so many cigarette cards. The only other we have seen is by American Tobacco, a silk, issued in 1910, and the title is "Poinsettia", not so sure it is one, though hybridisation could have meant that this was the original plant and it is just altered to our eyes. Does anyone know any other cards featuring it? It seems a shame if this plant evolved in such a beautiful way in order to attract insects, but not to grace cigarette and trade card collections... Perhaps for National Poinsettia Day, which is tomorrow, Sunday, 12th of December, we can all have a hunt.
This set was only issued in mainland UK and it is a very attractive set, however it does not seem to turn up in many collections. I believe the reason for this is that the title does not explain itself very well.
Thursday, 9th December 2021
P644-224 [tobacco : UK] John Player "Irish Place Names" second series (April 1929) 13/25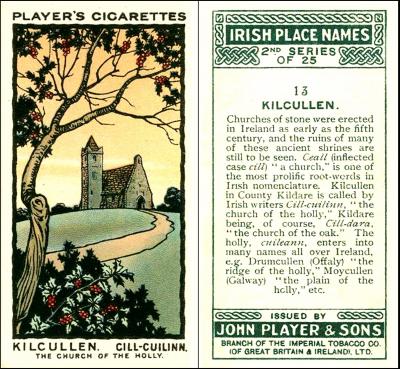 This is a very unusual card to celebrate the Holly, and the text tells us that "Cuillinn" shortened to "Cullen" in an Irish place name shows that there is holly in the area. It is also a super, almost lino cut image, which has no artist credit. Perhaps one of you knows who incised it?
There are two sets of "Irish Place Names", and they were only issued within Ireland, series one arriving in August 1927, and containing an error, or perhaps a correction - on card number 5, the caption either says "Chapel Izod" or "Chapel Izod. Seipeal Iosoilde", which I believe is the proper Irish version of that name? Maybe one of our Irish readers could tell us?
Time is running on now so I have not any left to check up as to which set was issued in the mainland whilst these were being issued in Ireland. I will add that later and link to it from the front page.
Friday, 10th December 2021
Burdick J16 [trade : OS] Arm & Hammer (baking soda and related products - USA) "Beautiful Flowers" New Series (1888) card 33
Arm and Hammer is actually not the issuer of these cards, that is just a brand name owned and operated by Church and Dwight, and it is just one of their many products.
They started small, as two men making baking soda in their house, and as one of the men was more willing to have his name associated with the product, it was sold as a product of John Dwight and Company., starting in 1846.
This went on for forty years, until the other man, Austin Church, retired. His sons were not really interested in the business, but they did want his name to be remembered so they set up in business as Church and Co. This was in direct competition to Dwight`s and using the same recipe. This led, not too long after, to a merger being suggested, and the terms of that was that John Dwight & Company were renamed, to Church and Dwight. It seems to me that this was a rather roundabout way of getting the desired result, but it worked.
The firm went along with producing just baking and washing soda for many years, and also issued many sets of beautiful large sized trade cards. Many of these showed birds, and there is an excellent site online about the tenth series And Joe Lill runs a more general site In America, as here, some collectors call them "Arm and Hammer cards" and others "Church and Dwight". If you collect them, its probably a good idea to add both to your internet checking list
The rapid rise in the company`s fortunes is relatively recent, and it all came from a simple advertisement showing that a box of baking soda, kept in the fridge and replaced on a regular basis, would control any smells that were not supposed to come from a fridge. This came at the start of the 1970s, and for some reason the baking soda seems to have become associated with all forms of cleanliness for body and home, so they now make everything from toothpaste and deodorant to cat litter. And a lot of American consumer will not buy a cleaning product which does not have baking soda listed in the ingredients.
 
well that`s it, time has chimed and I must not add more. 
see you all next week for more fun, frivolity, and festiveness....and if you missed last week`s newsletter, it still online HERE