Welcome to Christmas, and to our last newsletter of 2021.
Well a lot has been going on over this week, which has led to a slightly smaller newsletter, but as an early Christmas present, these "goings on" have included the re-opening of our bookshop, with practically every book now listed (the rest will be done over the weekend) and all of them are ready for immediate, one click purchase, via PayPal and several other electronic means.
Even better, many of our amendment files are back, and are ready for you to either read online, or download on to your own systems.
We could use a spot of assistance from you in scanning some of the missing covers, especially our North American book, and any missing ones of the green covered "reprint" versions of our original 1940s and 1950s checklists, simply because I only have those originals. Many thanks in advance.
And we remain unsure how to tackle photographing the books which have plain covers, ones like Phillips, and Wills, and all the modern tobacco and trade indexes. One thought is to photograph the spines and part of the covers, whilst another is to photograph the inside frontispiece. However your ideas are most welcome, as are reviews of any of the books, it all helps to describe them to intending buyers.
Now to what will be going on this week and it does have a rather festive flavour, but why not....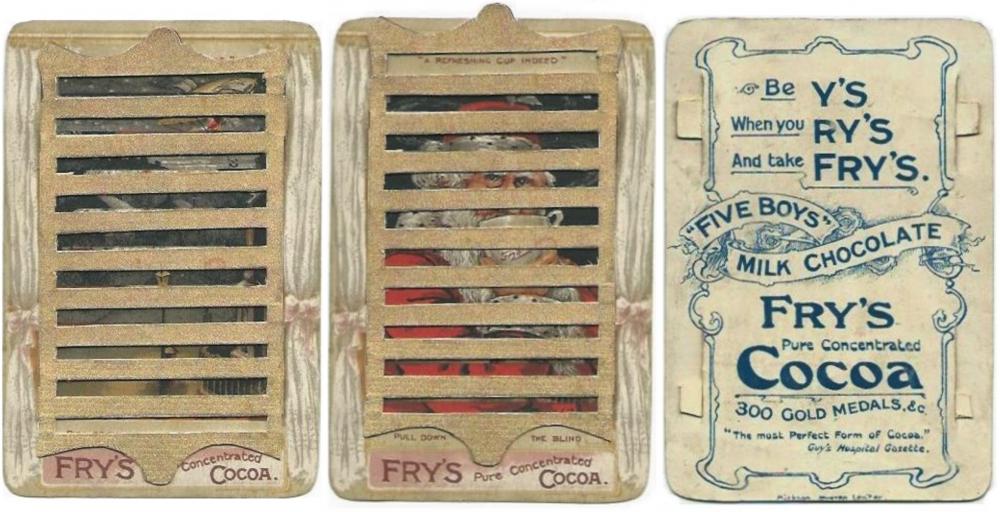 Well this will be Christmas Day. So to all our readers, may you have A VERY MERRY CHRISTMAS. We hope that you are happy, and reasonably healthy, and that your day is peaceful, and that you find time to do all the things you really love. And we also hope that you think of those who are not so fortunate in any, or indeed all of those things. Christmas Day can be an odd, and very lonely time, it is impossible to even nip down the shops in many areas, for they are closed, and most workers are at home, unless they work with people in need, in hospitals, shelters and churches, or with animals on farms and yards.
There are not so many cards that deal specifically with Christmas Day. But there is this amazing Fry`s Chocolate card which involves a most ingenious sliding mechanism that allows it to start off as just a street scene with a lamp-post, then to transform into Father Christmas looking through the window. This was sent to us last year, but it deserves to get another airing - and also last year the back was not shown. Now it is complete.
For the cigarette card collector we have W. Duke & Sons Ltd, who operated out of Durham, North Carolina, and New York, and were a founder member of the American Tobacco Company in 1890. In that same year they issued this set, "Holidays" (D900-230 : USA/80a). The cards are un-numbered but have a descriptive text to the reverse, and there are three cards for Christmas, one is "Christmas in Merrie England" but from the text turns out to be Christmas Eve, plus two Christmas Day - "Christmas, England", a card with a pair of sweethearts, that the reverse text seems to have nothing to do with, for it details how "To parents and children the 25th of December is the happiest day of all the year", and talks of toyshops, Christmas trees, and candy toys - and "Christmas, U.S." with Father Christmas giving a doll to a young child whilst her mother, or sister looks on. Strangely the text here starts similarly "To the children, the 25th of December is the happiest day of all the year", speaks of shopping, and of Christmas trees, then ends by almost repeating the phrase from the start again, "... also is Christmas the happiest of days".
The set was also issued by Goodwin & Co, also of New York, and another founder member of the American Tobacco Company, with their "Old Judge and Dogs Head" brand – a curious combination indeed. Recorded as G600-120 : USA/80b, despite being issued in 1889, a year before the Duke version, it is far scarcer, and you will be hard pressed to buy a complete set unless another collector lets one go to auction, for in most catalogues it is only sold as odds, not sets. In the Burdick catalogue of 1967 it mattered not which issuer; both were listed at 15c a card.
By the way, before you wake up on Monday and think you have to race into work, you probably don`t; because Christmas Day is a Saturday, you will be getting a day off in lieu, on Monday 27 December.
And for more facts to entertain the grandchildren, or anyone who you phone, text, or zoom in to on that day,  check out Office Holidays.  
According to Typhoo Tea "Ancient and Annual Customs" (1922)15/25 we owe the name of this day to musicians called Waits who would roam the streets singing and playing their instruments, whilst carrying a small receptacle into which money was asked to be placed. This came to be called the "Christmas Box", and the day when these people were most active became called Boxing Day. I am not so sure how true this is, but it is plausible. It seems odd that the front of the card does not show any sort of box though.
If you look up "waits" in most dictionaries, it actually seems to give the impression that these people were employed, and paid, by the city. So did the money go to the musicians or into the coffers of the people who ran the town?
Another theory is that once the richer members of society had opened their presents, and eaten their fill of dinner, they would re-box anything they did not want to use or eat and give it to their staff – some people say the items were donated to the poor, but I am not so sure that this was as prevalent as it ought to have been.
Oddly this seems to be the origin of re-gifting, a current craze, though anything that sees unwanted items find a new home rather than go to landfill must be applauded. On which note, if you know you really don`t want the present as soon as you look at it, don`t open the packing, and then it can be donated to a charity shop who will get all the more for it.
As far as more info about Ty-Phoo, read on, for we featured the Yule Log from this very set as our Card of the Day on Tuesday the 21st.
Well I thought I was going to fail when I wrote down that today was National Fruitcake Day, in America, I mean how many fruit cakes did I think that I would find on cards?
In the end I only managed one, but what a tale it told. This is all thanks to an American collector friend, who found me D.W. Goodwin`s Extra Flour "Recipe Cards", which actually has a fruit cake as card 50. The front shows the finished result and the back has a recipe, plus a cookery hint. At the bottom it says "SAVE THIS CARD FOR USEFUL PRESENTS" which seems to suggest that you can give the card as a present, but this must have confused others as well because later on they changed it to say "SAVE THIS CARD FOR UNIQUE COOKERY BOOK .. OR OTHER USEFUL PRESENTS" so that means it was a gift scheme where the recipes could be sent in for a book or other things. However as there is no idea of how this works on the card, it must have been described on the packets.
This is a confusing set in another way because sometimes the sellers give the impression that there were two sets, one having a vertical back and the other a horizontal, whereas the truth is that cards 1-60 all had vertical backs and cards 301-360 were horizontal.
Where cards 61-300 got to, I have no idea, except for the fact that in the bottom left hand corner of the front it does actually say on many of the cards "HAVE YOU GOT ALL THE 300 RECIPES". So maybe there are 300 cards? Maybe someone out there knows more and can let me know it too?
Goodwin Flour issued at least twelve sets of differing subjects, and all of the cards are recorded as having been issued in 1930, which simply cannot be correct.
 These "Recipe Cards" are the easiest to find, and, unsurprisingly, the cheapest. The others are pretty much all a case of you needing to make up a set very slowly from odds, apart from "Flags of All Nations", which seem to be more readily available as a complete set through leading dealers.
on this day in 1612, and again in January 27 1613.Galileo Galilei observes and records a "fixed blue star" without realising it is a planet. He appears on three cards in the Arents Collection at the New York Public Library, but none of those cards mention Neptune. However as Galileo did, and invented so much, perhaps there simply was not space for all those things he also discovered but did not realise.
It is left to W.D. & H.O. Wills "Romance of the Heavens" (W675-214 : W/313A - August 1928) 17/50 to tell us simply that "Neptune, the outermost known planet, was discovered in 1846" though it does not tell you by who. The truth is that there was another almost discovery in July 1830, by the English astronomer John Herschel, son of another, even more renowned astronomer, but like Galileo he thought it was just a small blue star, shaped like a disc, so eventually the honour of discovery went to the German Johann Gottfried Galle, in 1846, though pretty much everyone agrees that a French astronomer called Le Verrier did all the hard work, and even told him where to look.
Neptune was actually the Roman God of the sea – he appears on Carreras "Old Staffordshire Figures" (C151-340 - September 1926) and on Alexander Boguslavsky Ltd`s "Mythological Gods and Goddesses" 5/25 (B519-400 - 1924) where it tells us he "ruled the waves and was the God of ships and all maritime affairs." John Player "Egyptian Kings Queens & Classical Deities" (P644-074 - March 1912) 19/25 tells us the Greeks called him Poseidon, and, something I never heard before, that "He not only created the horse, but also taught men the use of the bit and bridle."
For the planet, check out Brooke Bond "Out Into Space" (1956 and 1958) 18/50, which tells us that an "aeroplane travelling at 500 m.p.h. non-stop would take 616 ½ yrs to reach Neptune" and starts the reverse text by saying "Neptune has a pale bluish hue." which almost certainly explains why it was given a name associated with water. There are staggering facts in that text too, including that it "takes 164 years and 7 months to complete its orbit around the Sun travelling at about 12,080 m.p.h." This set was actually issued twice, hence the two dates, the 1956 version is far rarer and the text at the bottom of the reverse says the set was "issued with..." - the 1958 version says "issued in ..."
Neptune was also a brand of cigarettes issued in China ostensibly by "Richmond Cavendish", a company entirely owned by Thomas Cope and John Hignett, which had been started for export purposes, to hop on the growing overseas taste for sweetened tobaccos. Their "Chinese Actors and Actresses" (R427-620), actually show the packet on the reverse, accompanied by Chinese script. In 1901 Richmond Cavendish joined Imperial Tobacco Company, but, because it was dealing overseas, it was passed straight over to British American Tobacco.
Thanks to Eric Gurd for this research, extracted from the book I find most useful, our "Directory of British Cigarette Card Issuers (Past and Present)", its RB.7, and was originally issued in 1946.
Now on the inside back cover there is something that I find most curious, for it says "The companion volume of this directory is the Cartophilic Society`s "INDEX OF BRANDS". An alphabetical list has been compiled of the brands advertised on cigarette cards, and each brand is shown together with the manufacturer`s name, thus providing immediate classification. This publication will prove a boon to every collector, and it is invaluable for identifying cards where manufacturers do not appear." But the burning question is what happened to it? This seems to be its only proof of life; the text also starts by saying that it "is" [in existence] but ends by saying "will" [which is surely yet to come]. And if that was at any stage of completion then why are there brand names in RB.7? Maybe the answer lies in a magazine, but I have not found it yet.
Today in 1913 Cecil B. De Mille turned up at a rented barn in Hollywood and started filming a movie, called "The Squaw Man" a rather derogatory term, even then, for a white man who was on more than first name terms with a Native American lady.
Once the raw footage had been sorted into a film, it was longer than any "short" had ever been. It would eventually be on screen for an hour and fifteen minutes, making it the first "feature" film ever to be produced, and the first to be made in Hollywood.
Cecil B De Mille claimed to have written the story, as well as produced the film, though posters and ephemera still exists which proves that between 1905 and 1907, an English stage actor, William Faversham, toured the United States in a play of exactly the same name and a very similar plot.
The stars of the movie were Dustin Farnum, who, according to the trading card database can be seen on nine cards, most of which you will probably never encounter, plus Edwards Ringer and Bigg`s "Cinema Stars" (E265-550 -1923) standard size 12/50 and large size 3/25. The other leading stars were Monroe Salisbury, who seems quite cardless, but is in the "Pictures Portrait Gallery" issued commercially by Pictures magazine in the late 1910s, and Red Wing.
The film was sufficiently popular to be remade in 1931 with Warner Baxter, Paul Kavanagh, and Lupe Velez, a somewhat backwards step as she was Mexican.  Cecil B. De Mille again directed, and he also produced, though he was not credited for doing so.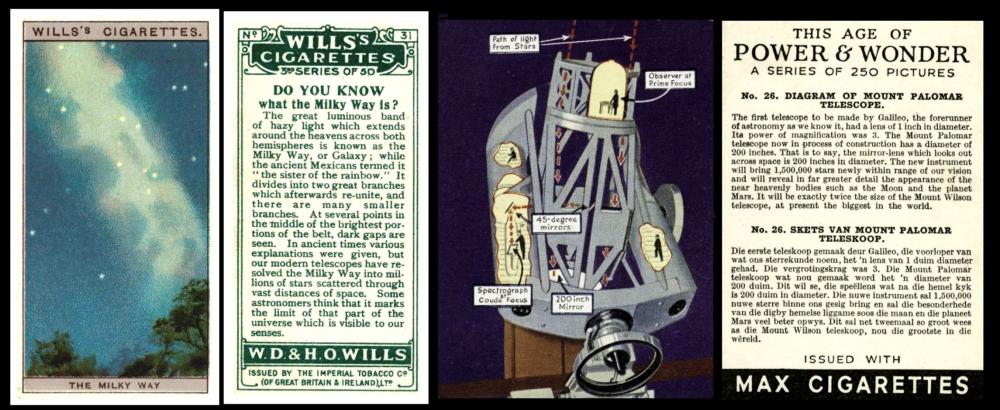 On this day in 1924 something quite amazing happened at a meeting of the American Astronomical Society, when the astronomer Edwin Hubble stood up and started to read his paper. Nobody expected earth shattering news, until he admitted that during his research into distances at the Mount Wilson Observatory, he had proof that a spiral nebula known as Andromeda was actually a galaxy, that the Milky Way was another, and that there were many others out there in the universe, which was much bigger than anyone had ever thought. Though nobody realised it at the time, without this knowledge we would never have had many other ground breaking discoveries, including the "big bang theory". Despite this, he did not win the Nobel Prize, not even get a nomination – because for some reason, astronomy was not considered as an eligible field. 
From Mount Wilson he moved to Mount Palomar, which was almost double the size, and continued to make discoveries for the rest of his life though none was as large as the universe he had so greatly expanded for us.
Wired, which is a great website, will tell you the tale far better than I.
We remember him even today, with the Hubble SpaceTelescope, which was named in his honour.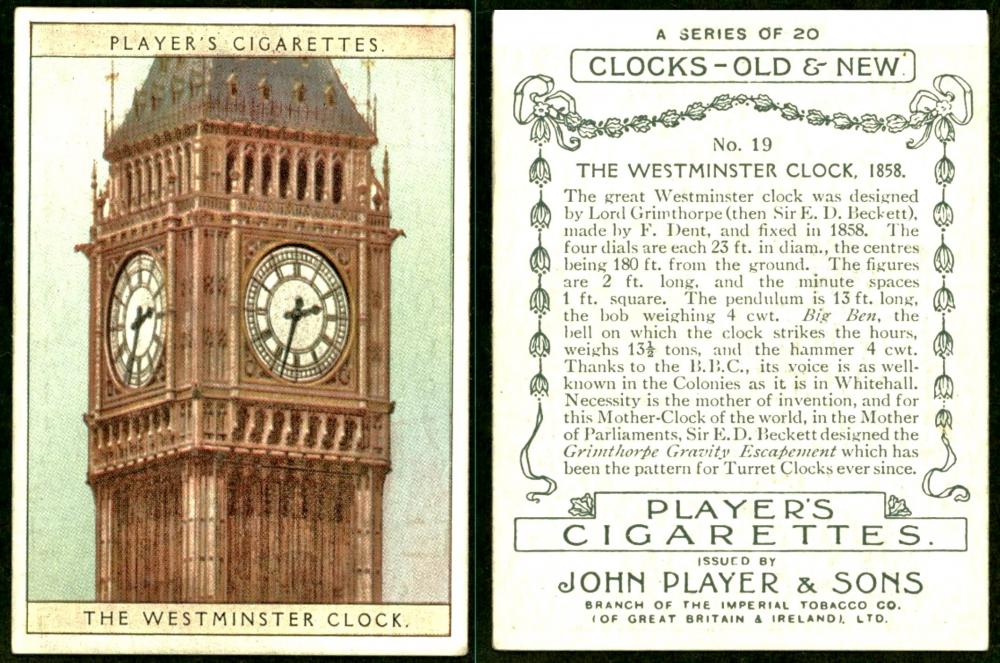 Today is New Years Eve, so it is time to again listen to the striking of one of the World`s most famous clocks. Yes, the Westminster Clock, wrongly known as Big Ben, (that is the name of the bell, not the clock, nor the tower) has provided our New Year background for many decades. Though it was installed in 1858, it was the arrival of the BBC who forever tied it to the New Year.
This is also proof of our evolving into a New Year, because I have always used this card - John Player "Clocks – Old and New" large size (1928) 19/20 -  for London Branch, who are our closest to the actual clock, however the card I used was in the gallery at our former site, and had no back. So it gives me great pleasure to say here it is, for the first time, with a back newly restored and tied to it for all time.
Some of you may be wondering what happened to our former card gallery – well it does exist, on disc, but it had rather a lot of limitations, not least the fact that few cards were complete as to both sides. The new intention is to convert these newsletters to a gallery, with an index, so that anyone wishing to see both sides of a sample card in that set will be able to follow the link and quickly browse through the newsletter to find it. This may be a long job, and it may even outlive me – but I will do my best, and there is nothing more than anyone can say than that.
This week's Cards of the Day...
Well the theme of this week`s "Cards of The Day" was Happy Christmas. And our clues reminded us that it is celebrated worldwide . . . 
Saturday, 18th December 2021
THO-285 [trade : UK] D.C. Thomson & Co. - Wizard magazine "Football Stars of 1959" (1959) 30/44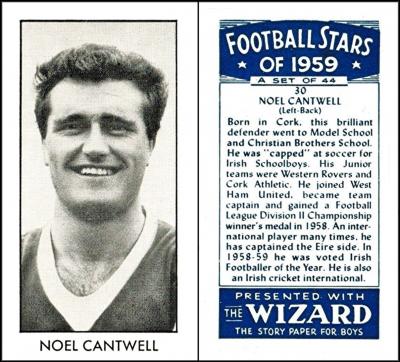 so our first clue was the subject, NOEL Cantwell, Irish footballer and cricketer. As to why, well in France, and French speaking areas like Canada, and some parts of Africa, they would wish you "Joyeux Noel" rather than Happy Christmas. Also in France, Spain, and countries who use their languages, it is Pere Noel who brings the gifts to children. 
This card is titled just Noel Cantwell, but his full name was Noel Euchuria Cornelius Cantwell. He was born in 1932, and died in 2005, and it seems less known that he was also an excellent cricketer, in fact he started by playing cricket, and his ashes were even scattered at Cork County Cricket Ground in 2018. ESPN has his statistics for both football and cricket, and, according to the Trading Card Database he appears on 17 cards, most of which are shown, (and as always they are keen to be sent scans of the missing ones) – however these are all football. So does anyone out there have a card of him in cricketing mode? Do let us know...
Sunday, 19th December 2021
W675-099 [tobacco : UK] W.D. & H.O. Wills "Arms of the British Empire" (October 1910) 20/50
Our second clue here was that these are the arms of NATAL, a place "discovered" by Vasco da Gama on Christmas Day, 1497. If you were in Indonesia at Christmas you might well say "Selamat Hari Natal", though some areas of Spain also use Natal or Nadal in their greetings. And if you went to Italy, "Buon Natale" is only a skip away. 
The galloping animals are actually wildebeest, and they had been used as the badge of the colony from 1846, becioming the coat of arms from 1905, though the Royal Warrant to use them did not arrive until 1907, and they were also retained when Natal became part of the Union of South Africa in 1910, and they remained in use until 1994 when KwaZulu and Natal Province merged to form KwaZulu-Natal, and they took a new emblem with a lion and a wildebeest rearing to each side of a shield.
This set was originally recorded as W/40A in our Wills Reference Book part III (1949) as "Fronts lithographed in colour; backs with descriptive text. Issued 1910" (later recorded as October - but it was a short run as it was replaced in Dec with the calendar for 1911). The home issue had backs in grey with the Imperial Tobacco clause down the sides. A 'similar' set, classified as 'B', was also issued overseas with black backs and no ITC clause, and there were two 'similar' sets issued in Australia, neither of which had ITC clauses, and which are marked as having been redrawn. These were classified as 'C', branded for 'Wills's Specialities' - and 'D', for 'Havelock'. One rather odd fact is that both of these final sets have a substitution for card 1, instead of Hudson Bay Company they have Hong Kong.
It was also discovered, just as the part III went to print, that the same subjects had been seen on satin. This was further explained in our Wills Reference Book part IV, (1950) where they are given the reference code W/126, and also amended in our original, and very scarce, Reference Book 21, the first ever British American Tobacco Company Booklet, dated 1952, where it is RB21/200-126A. In the Wills book, it is described as "Fronts printed on satin in colour. Backs on thin board, with instructions for removing satin. Many of the subjects are based on similar originals to those used on item 40. Australian issues, between 1910-15". In actual fact there were various satins, 40A being "medium cards, 70 x 48 m/m. Backs in black, inscribed " W.D. & H.O. Wills". Numbered on backs." - and - 40B being "large cards, size 82 x 55 m/m. Backs in blue, anonymous. Numbered on fronts." It was also noted that "The numbering differs in the two sets ; although cards seen are similar, the complete 50 have not been compared card for card and there may be differences."  Whilst the amendment reveals that there were three distinct anonymous issues; two had backs in blue, one numbered to the front and one numbered to the back, and then there was a set with the back in brown, numbered to the front only.
In 1931 a new Home issue, also called "Arms of the British Empire" was issued, this was given the reference code of W/127, being "Large cards, size 70 x 62 m/m. Fronts printed by letterpress in colour. Backs in grey, with descriptive text." The month of issue does not seem to have been recorded by Wills as it was not included in the listing of issue dates which appeared in the Wills works magazine in 1936, and it was not supplied to us in the regular updates they sent us afterwards. However the second series of large cards, W/128, did appear in the works magazine listing, so this can be dated precisely to April 1932.
Monday, 20th December 2021
C151-685 [tobacco : UK] Carreras 'Turf' brand "Radio Celebrities" (1950) 21/50.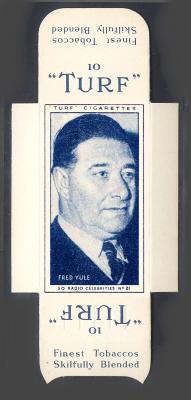 And our third clue was again the subject, Fred YULE who was not only a popular radio star, but also a very well renowned gardener, whose name lives on in a delphinium and a lupin. You can read about his radio days at wikipedia - and his calmer times in the garden courtesy of Leigh Gardening. Strangely the radio piece mentions that his was the voice that stopped the traffic on "In Town Tonight" so I quickly went to the Churchman set we featured last week, but no, he is not there.
Yule isn`t really another word for Merry Christmas, it refers more to the Winter Solstice, though it has started creeping in to jolly cards for significant others with rather corny messages like "Say Yule Be Mine". And of course there is "Cool Yule", which means different things to different people, younger folk may think of the Bette Midler Album, but probably don`t realise the same song originated with Louis Armstrong in 1953.
These unusual issues, sixteen sets in total, were printed, in various shades of blue, on the inner slides of a packet of cigarettes, as we show here. One card, as here, was printed on packets of ten cigarettes, and two on packets of twenties. More often you find that the cards have been cut to the more usual rectangular cigarette card shape, something that was almost certainly done to make them easier to store and display. There is a simple reason why these cards were issued in this way and it is all to do with the shortages, including paper and card, and indeed rationing which continued long after the Second World War; printing the cards as part of the packet did not exactly "save" paper, but it did make the stock they were allotted go further, and of course being printed in shades of one colour did the same for ink. The sets started to appear in 1947, the first being "Film Stars". The next year, 1948, there were three sets, including one to celebrate the Olympic Games being once more held in this country, forty years after the last time. From 1949 two sets were produced per year, but in 1953 they only issued one, "British Aircraft". 1954 again saw two sets, "Zoo Animals", and its replacement, "British Fish", but that went from 1954 right into 1955, though it was the only set to have descriptive text, "on the long side panel below the bottom edge of what is the side facing card" (if anyone would like to translate this into proper descriptional terms please do - left and right are beyond me...) The final set "Famous British Fliers", in 1956, had the bonus of being printed in two colours, and it is very attractive for it. Whilst some collectors might dismiss these, and consider them simply as package issues, they are a part of the cigarette card story, and also have another bonus, for several sport and media personalities of the immediate post war period are there, often making their first, last, or only, appearances.
Tuesday, 21st December 2021
TYP-080 : SUM-27 [trade : UK] Ty-phoo Tea "Ancient & Annual Customs" (1922) 1/25.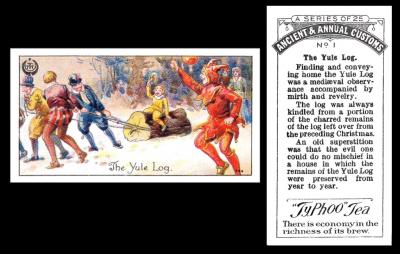 These cards are very slightly larger than what has come to be regarded as standard cigarette and trade card size, being 69 x 37 m/m as opposed to the normal 68 x 36 m/m. As to why this was originally coded as SUM-27 our original British Trade Index (part one, issued in 1962), it is because these cards were listed under "Sumner's Typhoo Tea", as several of the sets carried that name. This has now been dropped, though there is a cross reference between Summer's Productions and The Sun newspaper that says "Sumner's Ty-Phoo Tea - see Ty-Phoo Tea". (Actually there was also a link from Typhoo to Sumner's in the original works)
The more eagle eyed of our readers may also be wondering what the number is on the front of the card; in this case it is "654" and it is actually a printer's number, which several collectors believe is a kind of date code, though some sets also add a date. These standard-ish sized cards were issued, for the most part, before the arrival of the very long cards, the first of which was "Animal Friends of Man" (1927). The only exception is the "Zoo Series", which is cited as having been issued in 1932. The long cards were still being issued in 1939, that set being "Important Industries of the British Empire". A short while after, the Second World War would lay waste to most of those industries, to the British Empire, as it functioned at that time, and also to Ty-phoo Tea, whose next sets, the so called package issues, did not arrive until 1955.
Wednesday, 22nd December 2021
ZA05-200 [tobacco : UK] R. & J. Hill "Crystal Palace Souvenir Cards" (1936) 22/40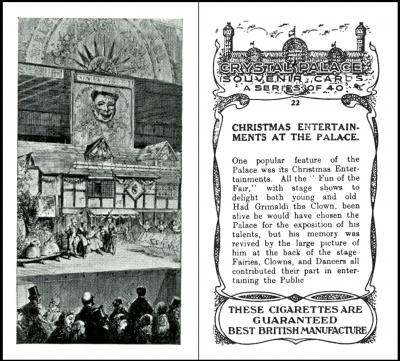 Now if you look at the cards they are actually without any maker`s name and entirely anonymous. That is why we have the curious ZA code at the start. In fact, they appear in our original World Tobacco Issues Index as anonymous as well, being coded as ZA5-2. However in our original R. & J. Hill reference book RB.2, issued in 1942, they are recorded as being by Hill, and appear as two separate listings. The first says it is a titled, numbered, series, issued in 1936, and measuring 2½ by 1 and 7/16ths, printed in black and white from half tone blocks, and that the fronts are unvarnished. The second set is "similar to the above and identical subjects, but fronts varnished to give a glossy appearance", and this version was supposedly issued in 1937.
They are definitely to commemorate the Crystal Palace fire of November 30th, 1936 (though actually the fire broke out the night before), and the final cards in both versions show the Palace smouldering after the fire. Both sets were printed by W. Oliver, and whilst there is a rumour that the undistributed cards were varnished and hurriedly re-issued after the fire, I dispute this, because the aftermath of the fire is in both sets. And it would be very much easier to varnish an entire sheet of freshly reprinted cards than to try and apply varnish to single ones cut up and waiting to be put in the packets.
However, what is clear is that there are or were many more of the varnished cards available, as in the 1950 London Cigarette Card Company catalogue, the matt, original set is listed at 3d a card and 15/- a set, as opposed to the varnished, which were a penny ha`penny a card and 7/6d a set, half the value of the matt.
Now the Crystal Palace had a far grander story than its being consumed by fire, for it was originally erected in Hyde Park for the Great Exhibition of 1851. Why it was called the "Crystal" Palace was because it was almost entirely constructed of glass, suspended between an iron framework. It was sold in 1952, and dismantled by the buyer before being transported to a site in Sydenham where it stayed until its fatal conflagration in 1936.
Why we have this card as our Card of the Day is that it deals with "Christmas Entertainments at The Palace". The text tells us that these were a popular feature and had stage shows to delight the young and old. The large head above the stage is that of Joseph Grimaldi, clown, indeed father of clowns and clowning, and the picture was put there in his memory, for he was no longer alive. The text makes it sound as if he had just died, but actually he died in 1837, aged just 58, and that was fourteen years prior to the opening of the original Crystal Palace.
Thursday, 23rd December 2021
M884-440 [tobacco : UK] B Morris "How Films Are Made" (1934) 25/25
This card reminds us of what we all dream, if we dont have to go outside the door - a truly White Christmas. However this "snow" was manufactured out of naptha and salt, which is almost the same as crushed moth balls. It was all done in a stage at a film studio, and it is a scene from  "Turkey Time". In fact the card tells us that this was the same stage that the "Rome Express Engine, illustrated on card no.9, was built, Another clue is that it says "facilities for the preparation of this series granted by Gaumont-British Picture Corporation Ltd." We will track down the location, as soon as we can! 
The issuer, B. Morris & Sons, are just as intriguing. They were founded in 1810, and were recorded as being at Half Moon Passage in Aldgate, East London by 1826. Their claims to fame were that they were the first to make "compressed" cigarettes, the first to issue gift coupons in their packets, and one of the earliest to issue cigarette cards, yet today, to the general public, and even many card collectors, their name is quite unknown. They seem to have issued batches of cards then nothing, and then started again - their first cards were inserted in packets in 1897, this is recorded as M884-060, a group known as "Beauties (Collotype)" which have various backs and we still do not know how many were issued. From 1897 until 1900 most of their cards were of actresses and beauties, the difference between the two, for our newer readers, being that actresses were named on the cards and beauties were not. Several of these sets were also issued by other firms.
In 1900 they produced their first advertisement card, and some believe that they would have stopped here had it nor been for the Boer War, which led them to issue a set of twenty V.C. Heroes entitled "Boer War 1900" (M884-070) and a plain back, unnumbered set known as "Boer War Celebrities" (M884-080 – 1901 - known by the acronym "PAM", the M being for Morris.)
After these they did halt, briefly, before issuing "London Views" (M884-090) in 1904. This either lasted in the packets a very long time, or there was another break, before, in 1910, or some say 1912, they produced one of my favourites, five sets each of six cards which are deemed to make up a set called "General Interest"(M884-130). I tend to favour 1910, but if so it took two years before another set appeared, and this was "Marvels of the Universe". Again a war kept them going, the First World War, and in 1915, from seemingly out of nowhere, they suddenly issued several sets of silks, "Battleship Crests" (M884-220 - 1915), "English and Foreign Birds" (M884-240), and "English Flowers", which was available as a set of 25 (M884-230.1), and a set of 50 (M884-230.2). The set of 25 can be found either branded for "Panel Cigarettes" or unbranded, and then there is a version with a very curious printing error which tends to support the theory that they were produced in another land, for instead of mentioning "Crewel silk", it instead says "Cruel silk".
After this flurry of silk production, they returned to cards in 1916, with their own "War Celebrities" (M884-180) and also becoming one of the many issuers of "War Pictures" (M884-190 - 1916), before producing "National and Colonial Arms" (M884-160) in 1917. And then, another break.
They picked up speed quite a bit in the 1920s and 30s, issuing nineteen sets, including ours, but again continually halting for short breaks. They did a super one called "Motor Series" (M880-350 - 1922) that covers their mechanics and parts, rather than brands of vehicle; and M884-360 is a very sought after one, for it shows the wonders of Queen Mary`s Dolls House, a much loved attraction at the 1924/1925 Wembley Exhibition, before being relocated to Windsor Castle.
Their last set was "Racing Greyhounds" (M884-670 – 1939/1940) issued with "Forecasta" brand, and this was almost certainly stopped by the Second World War. 
Friday, 24th December 2021
P644-060A [tobacco : UK] John Player & Sons "Characters from Dickens" (October 1912) 35/50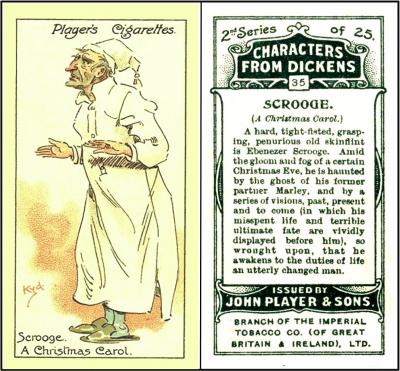 Who could we feature on Christmas Eve but Ebenezer Scrooge, currently getting a re-incarnation as, of all things, a soft toy banana. Before that, he was just a miserly, cold-hearted banker, whose heart is not even melted for Christmas, until he is shown what will happen to him in what may, or may not, be time travel, or simply a dream. This takes place on Christmas Eve, courtesy of some interference from his former partner who is now in the spirit world. Its kind of a fable, but it really only tries to tell us that we can make a difference in many people`s lives with just a few changes of our own behaviour.
In our original John Player reference book (RB.17) issued in 1950, this set was given the reference number P/47, and actually there are four versions, a first and second series of twenty-five standard sized cards, issued in March and October 1912, and a set of fifty standard sized cards issued in November 1923 (P644-162), which is pretty much the same set except that the text differs on the two card 5s, and there was a bit of a mix up because Silas Wegg, card 32, was somehow reversed, so he is facing left in the second series and right in the set of fifty, which would not be quite so noticeable if it were not for his wooden leg. Then there is P644-060B, a set of ten large cards, selected from the first and second series, not including Scrooge, which were first issued in June 1914 and then re-issued in June 1923.
The author`s monogram appears on each card, and that is "Kyd", but he was really an artist called J. Clayton Clarke. And he also illustrated the set of "Votaries of the Weed" for Gallaher. 
And there, dear readers, I must close, or Santa will hear typing and not come in. The bells of Midnight Mass are also striking, sadly my local church is not off across the wintry fields, but just a few turnings away through residential streets, though there is a small stream that runs beside it, and across the road is large area of open space which was recently converted into a wetland centre. There is something magical about hearing bells on Christmas Eve, it is definitely a call to action, even if that action is only to consider what you can do to improve the lives of others in this new coming year, when we are given a blank slate and our past seems washed away. For next time I write, it will be 2022.
Merry Christmas, and Happy New Year to you, and to all of whom you love. And if you enjoy our newsletters, we are very happy. I may sometimes have spells of panic when I realise how little time I have left to finish them, but I much enjoy the researching, and the reading and re-reading of my beloved vintage magazines. If you also enjoy, then the best thing you can do is to please tell all your collector friends to pop along and tune in, every Saturday morning. They are freely given for all to read, in the hope that one of the sparks we set afire may shoot off into the atmosphere and its particles serve to inspire and to illuminate a brand new collector. For without those, we, and our collections, will be lost....