Welcome to a whole New Year – and I hope that I will be uploading this just as the Westminster Clock on the top of the Big Ben Tower chimes the first ever hour of 2022. For wherever you are in the country, or indeed the world, that is one of the enduring icons of any New Year.
Let us hope for a few things, but be pleased to get just one, that you will all do your part in promoting our wonderful hobby, simply by telling your friends about it, or by passing on the link to our site. Recently a phrase has come into usage, and it is a very good one, "You can`t be what you can`t see". It actually refers to everyone being able to see someone who looks like them, doing a job, or having a hobby, that they would like to do but might not think they could. If one person can do it, suddenly another`s heart soars with possibilities. But it applies equally to collecting, for if you never see a card, you will never own one, and if you never own one you will never start to look for more, and more. Our mission is to show off our cards as much as we can, and as we all collect different things, what a wonderful tapestry we will be able to create. So next time you twitter, or add a facebook entry, why not write about a card and add a picture? Any card will do, and front and back would be best of all. Use #cartophily, if only to save me being the only one who ever does, and let us take it as our call sign and our rallying cry. Post frequently, have fun, and let 2022 be the year that we spread our word right across the web.
So what shall we celebrate this week? Well lets start with New Year`s Day . . .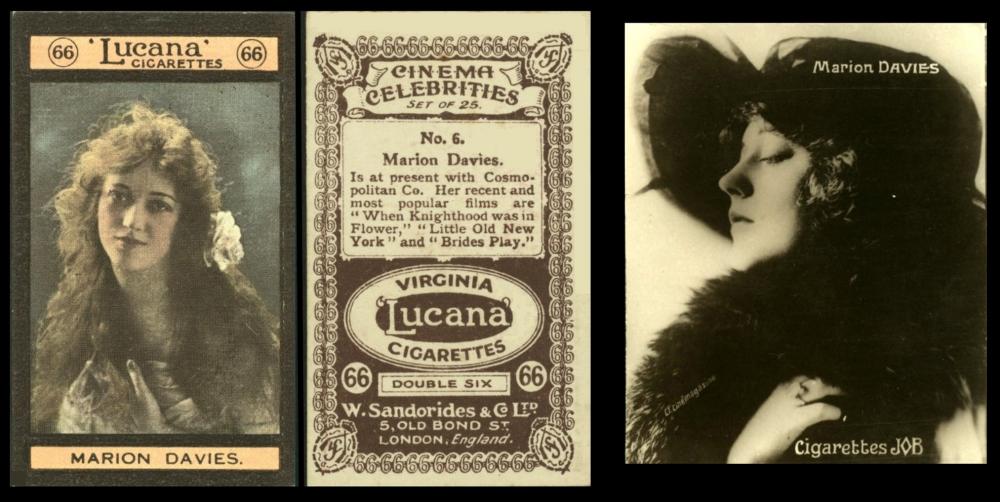 . . . and this one starts with a puzzle, because if you look on many cards it will say that today, in 1900, was the birthday of Marion Davies. However this is untrue in many ways - for she was born Marion Cecilia Douras, on the 3rd of January, 1897. Her name was changed to make it more American, and as for her birthday, when her much loved nephew Charles, (who would become a screenwriter), was born on December 31, 1906, the two of them decided to make a childhood pact that New Year`s Day would forever be their joint official birthday.
Today she is remembered, if at all, somewhat unkindly, for being the lover of the much older billionaire William Randolph Hearst, and for his making her into a film star. So lets get these out of the way first, for she would have much liked to marry him after they met in 1917, but his wife refused to grant him a divorce. She could have given up then and walked away, but instead she stayed on, and stayed with him, on the opposite coast to his wife. In fact, once his health began to decline in the 1930s, she even gave up most of her career so that she could stay with him and look after him, which she did, right until his death, in 1951.
As for being undeserved of fame, this was another untruth, for she got herself on to the stage before they ever met, indeed Hearst first saw her when he was sitting in the audience at a theatre, and she wrote her first film, "Runaway Romany" all by herself, at the age of 20, and it was made into a film in 1917, directed by her brother in law. After that she starred in other films, including Cecilia of the Pink Roses (1918) which was indeed partially funded by William Randolph Hearst. He may have used his newspapers to promote her, but that`s the kind of thing you do for the one you love if you are able.
Her first cigarette card is almost certainly Edwards, Ringer and Bigg "Cinema Stars" (E265-600 -1923), or cards, as it was issued in small and medium size - and her next W.D. & H.O. Wills " Cinema Stars" first series (W675-162.1 – January 1928) 9/25, which shows her in costume for the film "The Red Mill" (1927), advertising at the time sats it was directed by William Goodrich, but this was a fake name for Roscoe "Fatty" Arbuckle, still suffering from the effects of his recent trial, and out of favour with the press and public. Typically, Marion was helping out those in need, as she would do all her life. Another card shows her as "Tillie The Toiler" (also 1927), one of her favourite films, which was based on a comic strip; British American Tobacco Company "Cinema Stars"(B705-371.1 RB21/258 - 1924) 18/50 uses a still from that film, a scene of her typing, which was also used for the film advertising, but it raises a question because the film was released three years after the date given for the cards. You can see that card on flicker at and the poster at pinterest  
I have a bit of a soft spot for "Peg O`My Heart" but mainly because the co-star, a really cute little chap, often appears on the cards with her – see the Ardath export issue "Scenes from Big Films" issued with "State Express" brand (A745-470 - 1935) 23/100. Oddly, this is listed in our original Ardath reference book but is one of the few sets which has no date attached to it.
It is almost certainly true that Marion Davies would have been a bigger star without Hearst, for he liked to choose the parts she played, rejecting any he did not think she should do, and his favourites were ones where she wore boys` costume or uniforms, not always to the public`s taste. What he did not like was her doing romance films with handsome leading men, so he made sure he was in charge of the casting, and always picked those who were either too old, or those who were not interested in the opposite sex. The closest she got to a proper leading man was Cain and Mabel with Clark Gable, whom he did not think a threat, for some reason; however in the same film Dick Powell was ousted from the supporting role for being too attractive. However she did get to star with Dick Powell in "Hearts Divided" which appears on Ardath "From Screen and Stage" (A745-410 – December 1936) 41/50. By the way, for all you pugilistic paste-boarders out there, the boxing scene from "Cain and Mabel" is featured on a card – its in "Shots from the Films" which had several issuers, Gallaher (GO75-670 – 1937) and James Illingworth I120-850 each issuing medium sized sets of 24, Pattrieouex (P246-730 – 1938) making a small size set of 28 cards, and Peter Jackson ( J110-480 - August 1937) issuing it in both these sizes. The reason for this cross issuing was that Gallaher owned the other three, as well as Robinson, Carrick and International Tobacco Co.
After Hearst died, Marion married a man called Horace Brown, whilst the papers cruelly stressed how it was her first marriage. They were together for ten years, until she died in 1961. After her death it was leaked that the relationship with Hearst had actually produced a daughter, a fact which is much to my liking, and rather than being adopted out and sent far away, she had spent a lot of time with her mother and father, though it was felt best that everyone thought of her as their niece.
 
Today in 1832 is the start of the first Curling club in America,  in Michigan. The players, who had brought the game from their native Scotland, took to calling themselves the Orchard Lake Scotsmen, though the club had several names.
It seems to have started on a whim, with friends and neighbours seeing the expansive lake and thinking of their national game. They did not know if it would work, what the surface was like, or even if it would support them, and there may well have been some inebriation by then. It is also very doubtful that they had proper curling equipment, the "stones" were probably either large stones or some day pieces of roughly ok shaped wood, and almost certainly the sticks were branches. But even so, they set to a friendly reminder of back home, and liked it. And from this seems to have sprung matches with others, the forming of teams, and eventually the sport as we know it today. Detroit Curling`s website tells the whole story. 
It seems apt that this game should have been the 2nd of January, for that day remains a public holiday in Scotland to this day, a day off for all, where businesses too cease. Or maybe not now in the time of the internet.
Curling on cards is actually quite popular and the earliest of all is Goodwin & Co`s "Games and Sports Series" ( G600-110 : USA/165 - 1889) Bk/50, which you can see in the Metropolitan Museum in New York.  The first British card was issued in 1900, this is W.D. & H.O. Wills "Sports of All Nations" (W675-070 : W/14) 47/50., and it was actually printed in Leipzig by Meissner & Buch. This set truly is a feast for type collectors as it has six different advertisement backs and each number has two different wordings. In our original Wills reference book there was a chart giving the numbers that had so far been seen with the various advertisements, the most common being "The Three Castles" (with 22/50), the scarcest "Gold Flake" and "Best Birds Eye" (each just with 8/50). The book did say that it was possible that varieties existed and that there were additions yet to come. In the following volume. Part II and Part I revised, there had indeed been more found, and it seemed a possibility that all the cards could be collected with every one of the different backs. However this work was not updated in any more of the Wills original books.
Returning to curling, the next card we have tracked down is Stephen Mitchell "Sports"(M757-380 - 1907) Un/25, Lambert & Butler "Winter Sports" (L073-265 – 1914) 21/25, James Illingworth "Comicartoons of Sport" (I120-350 - 1927) - Churchman "Sports and Games in Many Lands" (C504-660 – August 1929 : also issued by Edwards Ringer and Bigg and anonymously by British American Tobacco) 20/50, and Pattreiouex "Winter Scenes" (P246-760 - 1937) 9/48.
If anyone knows any more, do tell us!
Today saw the birthday of the first truly internationally famous Chinese-American film star, Wong Liu-Tsong who appears on many cards under her film name of Anna May Wong.
We are privileged to have two collectors amongst us who are very knowledgeable about her life and her cards, and have sent us her full amazing story. I did start to trim their words and fix them together to fit in here, but have decided to instead create a page in our research department where all the cards can be displayed and her story can be fully explored.
This will be revealed on her birthday, as a fitting tribute. And it gives me a bit more time to do it the proper justice.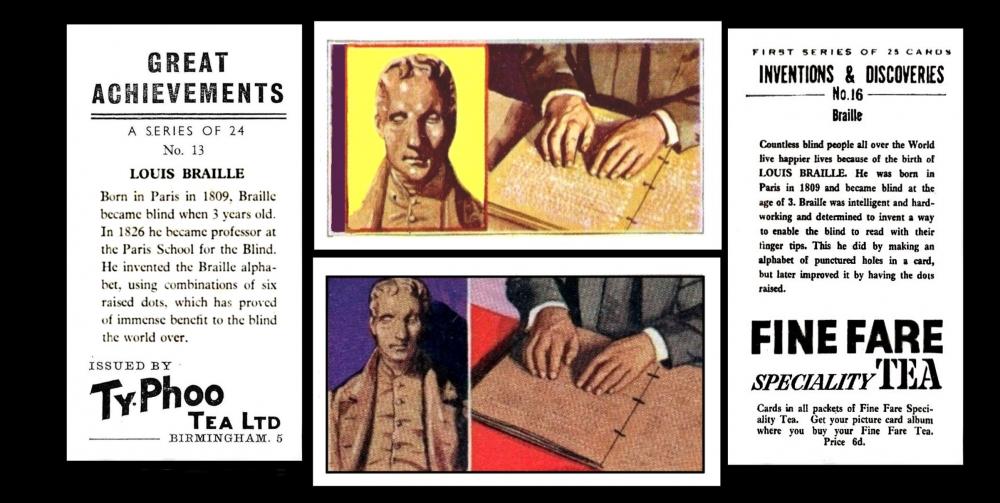 Today, in 1809, Louis Braille was born in France. He was born sighted, but blinded at the age of three, after he managed to get in his father`s workshop and try and copy the work he had watched his father do. Unfortunately, the tool he was using slipped. Despite this he was schooled to a high level and even won a scholarship to the Royal Institute for Blind Youth at the age of ten. Whilst there, a visitor came to see the children, a man called Valentin Haüy, who had actually founded the school, at the age of forty, in 1785, but fallen out with one of the later masters. When that man left, Haüy was asked back for a visit and there he met Louis Braille. During his visit, Haüy revealed that he had designed a system for teaching those who could not see to read. Braille was inspired, and started to improve on this, ending up with a mixture of what Haüy had done, and a coding system used in the military by Charles Barbier; a system of holes, punched with an awl. It was not lost on him that the tool of his blinding was now the tool which would allow him, and others to read. He presented his system for the first time in 1824 when he was only fifteen years old. Sadly this was two years after the death of Haüy, so he never lived to see it in use. However Louis Braille never forgot him, and he would eventually also become a teacher. He died in 1852, and his name lives on in the way that the sightless read, even to this day. He appears on several trade cards, including Typhoo Tea "Great Achievements" (1962) 24/24 and Fine Fare "Inventors and Inventions" 16/24, and though these look the same at first sight or if you do not compare them together, they are not, the picture is different and also the text – and a different picture is on Brooke Bond "Inventors and Inventions" 23/50.
Valentin Haüy also appears on a trade card, by Chocolat Poulain of France. It is from the un-numbered set of ten cards known as "Divulgateure de la Science – third series" (Disclosers of Science).
Braille is indeed a wonder, but I wonder how many of you knew that in 2020, an artist using the name of "Gypsy Oak" produced collectable trading cards in braille? The cards were made in wood, and very few sets were made. Most of the "Celebrities" depicted were sportsmen, but it also included the footballer Pele, "Duke" Kahanamoku the famous surfer, and Boba Fett from Star Wars.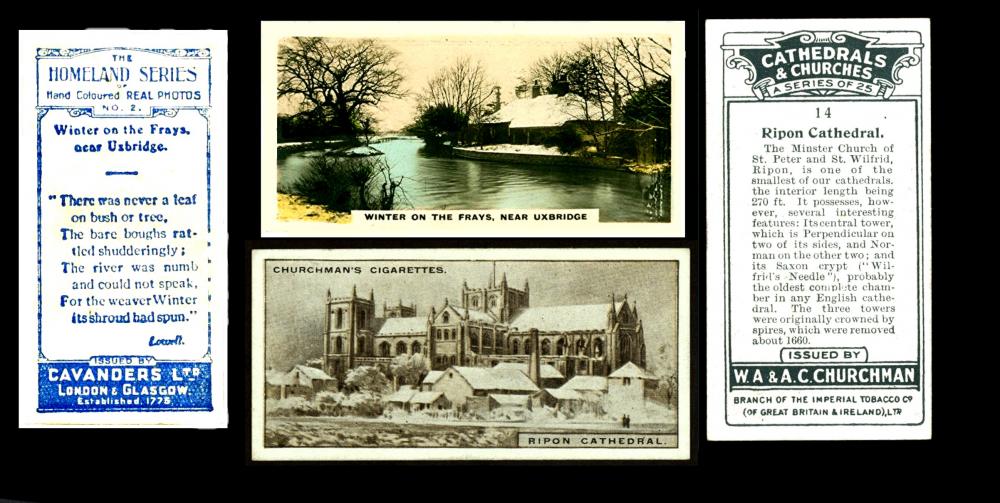 On this day in 1709 what is called "The Great Frost" started. However it was just one of the events in what has come to be known as the little Ice Age, almost certainly the opposite of today`s state of ever increasing heat.
The first signs of weather change happened in 1600, and from then on for just over two hundred years, until 1814, the world chilled. During those times even the River Thames would freeze solid enough for fairs to be held on the top layer of ice, and to stay solid and crossable by foot for up to two months.
The peak, possibly the eye of the storm, came almost half way through, in 1709. The world went to bed and woke up to ice, (if they had not frozen in their beds), colder and thicker than ever before. It remains, to this day, Europe`s coldest Winter. It was thought it would end soon, but it did not, animals froze solid, and crops failed. We will never know how many people died, for the poor of the world were, as is still sadly the case, uncounted and uncared about. Oddest of all, apart from it being presumed to have been caused by sunspots, the truth is still not really known, as you can read at Grunge.  And if nothing else, I will take the credit for introducing you to some seriously gnarly websites over my web-mastering career.... as well as probably the first mention of the word gnarly in cartophilic literature.
Well today is Epiphany, and you should have taken your Christmas decorations down by now. This day was supposed to be the date of the visit of the three wise men to the holy babe in the manger.
Last night was also "Twelfth Night", as it is twelve nights after Christmas. You may like to pass on some of the traditions, including winter swimming, which, luckily, seems to be mostly popular in Russia, and they don`t wear wetsuits either, just standard swimming costumes. (Probably not a lot of speedos though).
By the way if you still have your Christmas decorations up you will get a second chance to remove them on February 1st - but if you miss that you have to leave them up until Twelfth Night 2023, or suffer the consequences.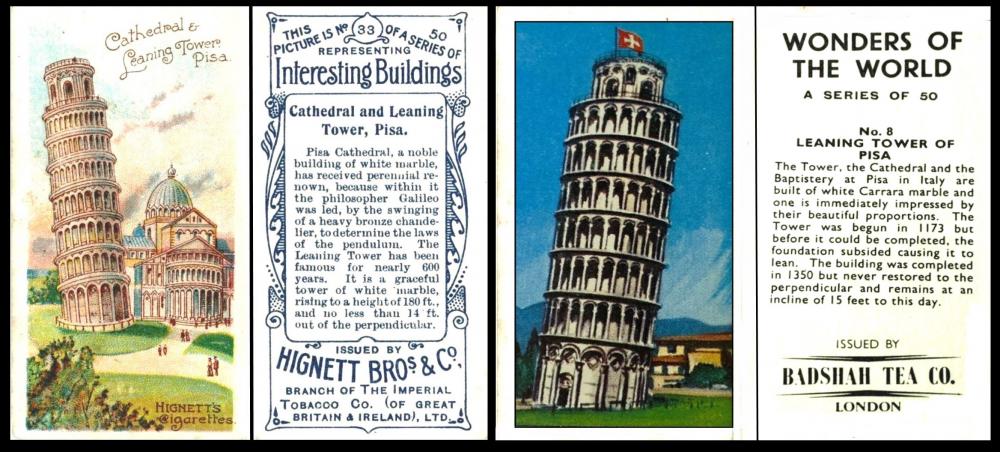 For the first time in eight hundred years, today in 1990 saw the prevention of visitors to the Leaning Tower of Pisa, and restrictions placed on how near they could go to it. The reason was safety, as tests and measurements revealed that it was dangerously close to toppling over. This may seem strange, as it has been at a rather jaunty angle for its entire life, hence its name, but since 1880 its progress from the vertical had been found to be gaining speed, not by very much, but by more than the usual. The problem, like the Wembley Tower, was that the ground on which it stood was clay and sand, and one side was softer than the other; it looks fine as building commences, but as it rises and grows ever heavier, suddenly it starts to sink into the ground in the areas with less resistance. And the footfall from a million visitors a year, climbing to the top and standing on predominantly one side, serves to further weaken it.
The newspapers had fun with this story, wondering what the effect would be on tourism if the tower was completely realigned to its intended straightness, whether it would cease to be a tourist attraction, or even stop visitors coming to that area. But that was never the plan, (though such had been attempted many centuries earlier, which only resulted in bending the tower so it is actually leaning in two different directions), only to shore up the tower. It took less than a year to do this, but suddenly in 1995 it suddenly jerked out of alignment again. This was fixed by 2001, but all signs are that it will never be completely held fast, and the experts believe in less than ten years we will be facing its fall once more
This week's Cards of the Day...
Well if you hadn`t guessed it yet, the theme of this week`s "Cards of The Day" is all about dogs! As to why, well the month of January is "Walk Your Dog Month". Now you may be saying, ah, but I don`t own a dog. Well you can always walk on your own, or you can have a look online and see if you live near an animal rescue centre, because their charges pretty much all need walking on a regular basis and they usually welcome helpers to do this. Even if you can only spare a small bit of time once a week, it is almost certainly enough to improve the life of a dog near you. And you might find a lifelong companion to share your home, steal your heart, and almost certainly steal your socks and tea towels, given half a chance.
Saturday, 25th December 2021
P246-570B [tobacco : UK] J.A. Pattreiouex "Footballers Series" - captions in brown (1927) 93/100
It all started off so well, I was going to do breeds of dogs, so our first card showed William Alexander Devlin of Huddersfield Town, a football team whose nickname is "The Terriers", referring to those friendly, fiesty, and sometimes grumpy canines, which were neatly summed up in an advert I once saw for re-homing a dog which said anyone applying "must have experience of terriers". They certainly are a breed apart.
Another great site on Willliam Alexander Devlin is Play Up Liverpool (a title which might have come from a Baines card?) but this includes several newspaper clippings. Unfortunately I have not been able to track him down on any other cards, I thought he was on a Pinnace, but that cites Newport County for whom he never seems to have played. 
By the way, the reason for the 'B' in our code is that there is another version of this set, 570A, which has the captions in blue, but it only consists of fifty cards.
Sunday, 26th December 2021
C798-420 [tobacco : UK] Cope "Boxers" (1915) 21/100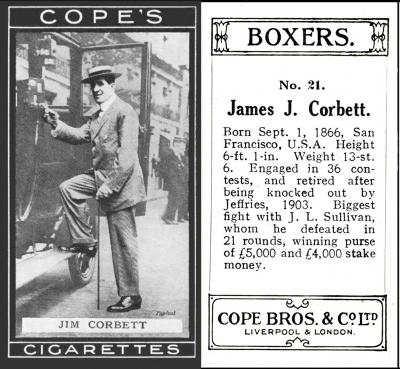 Our second card, from Sunday 26th December, was C798-420.1 [tobacco : UK] Cope "Boxers" (1915) 21/100. A three part set, 420.1 are these cards numbered 1-100, 420.2 are all Army boxers, and are numbered 101-125, and 420.3 is just a single card, presumably un-numbered (?), of the "New World's Champion", who was the heavyweight Jess Willard, renowned for beating both Jack Johnson and Jack Dempsey. And the rather neat link again referred to a breed of dog, the noble and stately boxer.
Our man is James John "Jim" Corbett, and he was actually an American professional boxer and World Heavyweight Champion, best known as the only man who ever defeated John L. Sullivan. I am not sure why he is featured getting on a bus? But I bet the guys at Fight City know, because their web page on his is just exhaustive, it even includes a link to watch footage of him sparring with Gene Tunney in 1925.
However I bet they dont know that he appears in John Player`s "Dandies" - take a look at the card at the New York Public Library 
Monday, 27th December 2021
WAL-180 : WAM-1 [trade : UK] Walker, Harrison & Garthwaite "Dogs" 77 x 53 mm (1901?) Un/15
Finally, our third card, from Monday 27th December, was WAL-180 : WAM-1 [trade : UK] Walker, Harrison & Garthwaites Ltd "Dogs" 77 x 53 mm (1901/2) Un/15. The cards are not actually titled, or numbered, and we are not sure how many there are, but fifteen have been seen, or even when they were issued, but the 1902 calendar leads us to suppose it was late in 1901. They made their first book appearance in our British Trade Index part 1, in 1962, and already it was known that the rest of the cards in this trade set had been extracted from T6-11, this being Taddy "Dogs", where this pug is 43/50.
Image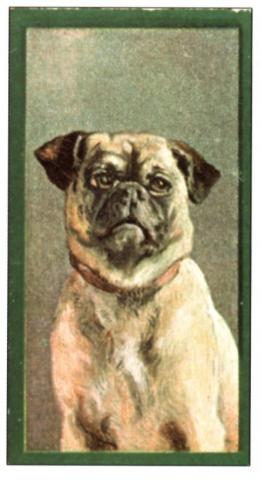 Excitingly I found a Taddy pug, front only, in one of my Cartophilic Notes and News magazines, so I can not only tell you it has a darker background and a green border, but show you. Intriguingly the Taddy cards say "A Series of 50 Copyright Designs FROM Original Paintings issued SOLELY by TADDY & Co. WITH THEIR CIGARETTES". Not quite sure how they appeared on a dog biscuit set then, and not too long after, as the Taddy`s were only issued in 1900.
What would become Walker, Harrison & Garthwaite began in 1848 as a one man operation called J. Parkinson. He took on a partner by the name of Salmon, shortly after which the Parkinson name disappeared from the paperwork and a Joseph Salmon was on his own, until he, and a relative, teamed up with a Mr. Walker to make the company into the rather humorous name of Salmon, Walker and Salmon. Somehow, though there were two Salmons, a while after that it is simply listed as Walker & Harrison, as which it became a Limited Company in 1898. Who Mr. Garthwaite was, or where he came from, I have no idea. Their "Phoenix Biscuit Works" were in Ratcliff Cross, East London, and covered 20,000 feet, though presumably this also includes yards and storage areas. They are curiously listed in the trade papers as "Biscuit Manufacturers, also Dog and Game Meals and Foods". I suppose a biscuit for a human is not that much different from that for a dog, especially if you consider that one of their biggest customers was the government, to whom they supplied "hard tack" style biscuits for the Army and H.M. Ships. Though the dog biscuit line was certainly important enough to allow them to have "Terrier, London" as their rather charming telegraphic address.
Tuesday, 28th December 2021
SPR-080 : SPT-4 [trade : UK] Spratts` "Champion Dogs" (1926) 12/36 - the Borzoi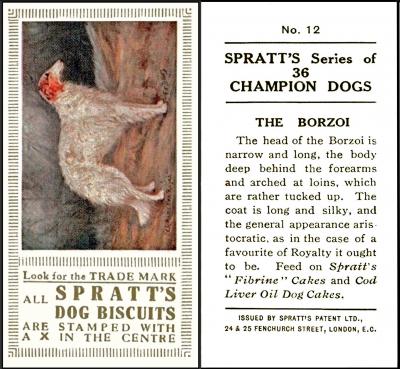 Spratt`s [Patent] Limited was a much newer company than Walker, Harrison & Garthwaites, having only been founded in the 1860s. It had offices at Fenchurch Street, East London, with a factory at Poplar, which had moved from Bermondsey. It was also much bigger, hundreds of staff and many products, not just food but medicine, and for all animals and birds, as well as cereal for humans, and, once more, biscuits for the Army and Navy as well as for canine consumption. The big difference was that Spratt had connections, and a Royal Warrant to sell dog, game and poultry food and supplies to King George V, and they were hard headed business folk who had no truck with a cute telegraphic address like Terrier, they had " Spratts, Fen, London.".
Spratt's always said it was the world's first manufacturer of dog biscuits and of "dog cake", made of cereals and meat. However Spratt could not or decided not to make them. Instead they were baked at the factory of Walker, Harrison and Garthwaite, who then claimed to have baked the first dog biscuit. This seems to have led to a bit of ill feeling between the two. 
This set of 36 cards was also issued as a set of un-numbered "Spratt`s Copyright Portrait Post Cards of Champion Dogs". For some reason the Harlequin Great Dane from the standard sized set was not in the kennel, he had been replaced by a French Toy Bulldog. Our dog is a Borzoi. 
Wednesday, 29th December 2021
M911-400 [tobacco : UK] Moustafa "Leo Chambers Dogs Heads (1924) 19/40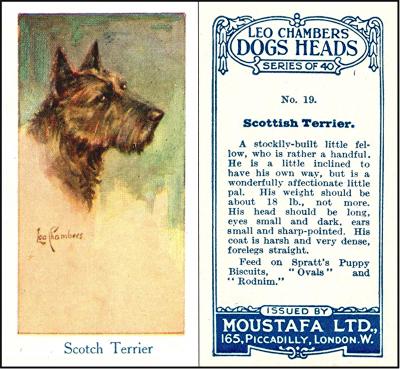 Now this is very odd, because I cant track down Leo Chambers except for in an art site where it says he was born in 1800, has no date of death, and has something to do with Algeria, a place that must contain the fountain of eternal life if he really is 221 years old! Yet he is not only a very talented artist, but well known enough at that time that his name appears in the title.
The second oddity is that the cards are not only advertising for Moustafa Ltd, but for Spratt`s dog food, a different combination at the bottom of each text. I suppose when you think about it, if someone liked dog cards, they liked dogs, and the dogs liked eating, so it was good associated advertising, but how did it work? Did Spratt`s pay a contribution towards the production of the set?
Thursday, 30th December 2021
MEL-200 : MEL-1 [trade : UK] Melox "Happy Melox Families" (1929) Un/32
The cards all have this reverse, but no actual issuer, and no title, which is why our original British Trade Index lists them under Melox and calls them "Happy Family Game" This means that when they were recorded they must have just seen the cards, and not the packet, because it is that on which it says all the important gen : "The Game of Happy Melox Families Presented by W.G. Clarke & Son (1929) Ltd., Thomas St, London, E.14." And it also has the rules of how to play printed on the reverse. You can see the whole set courtesy of the World of Playing Cards.
Melox issued another set, MEL-210 : MEL-2 in 1937, this was "The Melox Series of Famous Breeds of Dog". It also issued several advertising postcards, including the "Marvels" series, and ones of Polar Exploration, because their biscuits were supplied to one. Its emblem, of a fox terrier on a circle, thought to be a globe, but probably just a ball, also appears on other items, including metal ware and dog bowls, and they produced several booklets on dog care. Lastly, they sponsored dog and puppy shows.
Sadly I have not been able to find out when they closed. The cards seem to have stopped with the arrival of the Second World War, and Thomas Street is in the docklands (actually in Limehouse), so must have got a battering during the Blitz. and because of its levelling the area has seen much regeneration over the recent years, so I imagine the factory is almost certainly no more, if it stayed upright, it is probably now converted into housing. If anyone knows, do tell.
Friday, 31st December 2021
MOL-040 : MOL-11 [trade : UK] The Molassine Co. Ltd "Vims" "Dogs" (1963)18/50
This Gordon or Black and Tan Setter "leads" us to the end of our week. Seems to be rather a Scottish theme, doesn`t there, and this card tells us that this is a strange dog amongst the setter clan for "This Scottish variety is heavier . . . and shows more of the Hound and less of the Spaniel".
There are actually two sets of cards entitled "Dogs; one shows the dogs full length, and can be found with the series title in a box or just as text – whilst the other are only dogs heads and shoulders, but again there is a variant, the advertisement, which either says "Dogs Love Vims" or "Vims-Pet Dog Cards". A corner slot album was issued in which to keep the cards, I presume that is for the two sets, hence the single title. If anyone has one do share some info.
Molassine was based in Greenwich. Their main business was dog biscuits. Their first cards were advertising postcards, and they started to appear in 1905. The earliest set of what we consider trade cards was "Dogs of all Countries" issued in 1925, it says "Series 1", but there is no series 2. After that there was a gap until our set, followed by the dogs heads in 1964. In 1966/67 there was a set of "Puppies", with two distinct printings. Their last set was "Dogs at Work" in 1970.
well all that remains is to say a very 
H A P P Y     N E W     Y E A R  
T O    A L L    O U R    P A L S
. . . . . . . .and to remind you to pop back again next week!