Well this time next week you may be too excited to sleep, in your tent, just outside the boundaries of Hemel Hempstead, for our show will be on the road - and we will be with you in the morning. 
If you are reading this as a non member do note that it is a two day event, and whilst non-members are welcomed on both days they must pay to go in on the Saturday, whilst Sunday there are no entry fees at all. 
So why not come along and have a look round? You might think it is just cards, but we can assure you there will be other ephemera there as well and storage systems that you may not have seen before. In addition there are cards that touch on all manner of other collectables, and which will be intriguing additions to them.
If you are new to collecting do tell the dealers, they will look after you and show you things that you may miss....
Today is St George`s Day.
The one thing I did not know until now was that St George is not only the patron saint of England, he is also the patron saint of the Scouts, personally chosen by Baden Powell. You can read more about this at the Gowan website  
It turns out he is also the patron saint of the Cavalry, obviously because he is so frequently featured on a horse, and the patron saint of explorers.
Another thing you may not know is that his flag was a red cross on a white ground, as we still use for England today, and his soldiers would carry this, either on their armour as shown on our card, or wear it, made into a kind of apron, over the top of their armour, as a badge of identification.  The name for this apron was a "jacque" which provided our word jacket; and also the name of the flag, though it was anglicised to Jack, as in Union Jack. 
Now if you look back in the story of warfare, this flag is not a new idea. In fact in this same set you can see a Jutish Soldier from 449 AD with a cross of sorts on his shield. This was primarily reinforcing to make the shield tougher to destroy, but it was in turn copied from the kind of shields used in the days when the Romans invaded our shores.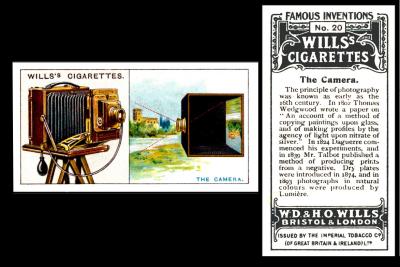 Today it is National Pinhole Photography Day 
Now you may never have heard of this day, though it is celebrated every year on the last Sunday in April.
You may also never have heard of pinhole photography, but it has a story that spans the globe and it is so simple that it is recommended as a method of getting children interested in the art. You can also make it at home out of things laying about or already in your dustbin ! So what are you waiting for...? 
Our card tells us that "The principle of photography was known as early as the 16th century" - but Aristotle knew of it in the fourth century B.C. and commented on it in his works. However it took a Scottish scientist called Sir David Brewster, in the 1850s, to become the first person to speak openly of pinhole photography, and to give it the name..
Today is ANZAC Day, so we send greetings and remembrances to our friends in the Antipodes.
This card was one of a small set of twenty four cards called "Britain`s Part in the War" issued in 1917 by W.D. & H.O. Wills.
However the ANZAC campaign appears on several other cards and we hope to find time to talk about those on this day in a special event.
And we would love to hear from any Australian collectors about special memories that ANZAC cards hold for them, or held for their families.
Maybe we will also be able to point you to a few very unusual cartophilic links that you have not come across before...
Now here is a very topical day, as it is "Get Organized Day", and just four days before the Cartophilic Convention too. So why not check your storage and see what you need in the way of plastic pages and album covers?
The story of storage is fascinating, and seems to have returned to the old ways, with a technological twist, of course.
The first kind of storage used for cards, apart from a schoolboy`s pocket, was an empty pack, now vacant of the cigarettes it seemed like poetic glory to store your sets of cards in them. This was the way it was done for many years until early dealers started to sell slip in and corner slot albums. These were thought much better than the packets, though the earliest were designed in a strange way that meant the fronts were all that you could see, which led to the practise, much beloved by Lady MacRae, of getting two sets and having the front of the first set visible at the top and the backs of the other set visible at the bottom. This let you look at your cards without the frequent handling, and it led to the next development, which was albums in which the front and back were visible, in other words, that the cardboard between the page had been removed. This meant you needed to buy more albums, so it was not entirely for the collectors benefit.
The first plastic albums were thought of as a major step forward, but the makers had not realised that the plastic used could remove the ink from older cards. More fettling gave us a safer material. The main bonus of this system, and its ring binder format, was that pages were available which measured the same size but could store differently sized cards, so they could go in the same album, great for thematic collectors.
Today albums seem to not be so popular, and modern cards seem to be either framed, encased, forever, in plastic, or they are stored once more in small boxes, a set in each.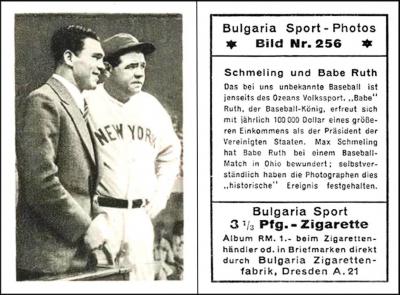 Today is Babe Ruth Day.
I dont know why he caught the public imagination in such a way that he still remains so sought after, but he did.
Maybe it was the simple fact that he was very human.
That comes out very strongly whichever biography you choose to read, and though it is but a collection of snippets, a flavour of this can be found at the International Movie Database website.
You may be wondering why a movie database would be interested, but the answer was that George Herman "Babe" Ruth appeared in several films, as himself. His first was in a newsreel, in 1915, but just five years later he was starring in "Headin Home - the True Story of Baseball great Babe Ruth". Another film was "Speedy", released in 1928, with Harold Lloyd, and Lou Gehrig.
In 1948, his story was updated, from the biography published in that year and a film starring William Bendix as Babe Ruth. The film was released in September 1948, less than a month after Babe Ruth had died. 
Though there were lots of cards of him, nearly thirteen thousand, according to the Trading Card Database, most were issued in America, so few came across to us. You can see some of these at the Old Sports Cards website.
Our card is German, so more readily available, it was issued in 1932 and is number 256 out of 272 "Bulgaria Sport Photos". Max Schmeling, who also appears, was German, and was the Heavyweight Boxing Champion of the World between 1930 and 1932.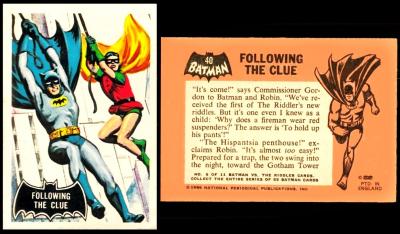 Today, and every year on April 28th, it is Superhero Day.
We can thank Marvel Comics for the day, as it originally stood, and it was a really great idea to celebrate their characters, leading to lots of comments via e-mail and later by social media about who was the best and why.
This also soon gained a subtext, honouring all heroes, everywhere, and rather wonderfully during the pandemic this was expanded to frontline health workers.
Today is a day to celebrate the fact, above all else, that someone can change a world. And we are not directly told which hero to spend this day thinking about, so we can pick whomsoever we find inspiring, whether they are real or fictional. Most of us had a hero, some of us never give them up, and, strangely, I doubt that anyone of us could say for certain why it was them, above all others, that caught our attention. 
Some people out there don`t believe in heroes, they feel that anyone you look up to is fated to fail, to break your spirit, and to break your heart, and they take pleasure in finding out their failings and telling them to you. I`m glad to say that finding out that your hero is not perfect makes them all the more interesting. And it would be a sad old world if we had nobody to look up to, or to think about when times get tough, or to dream about when there seems no hope. For sometimes that shadowy figure, waiting, miles away is the only thing that keeps us going at all. 
Today is Golf Friday. In other words, it is our regular pre-Convention golfing event, and we are still open for players. If you would like to hear more, or book in contact us at webmaster@card-world.co.uk 
Players meet at 12 noon, and have a coffee and bacon roll at about 12.15. Then they tee off at 1 pm for a leisurely round of golf, over eighteen holes, at a local links to wherever we are hosting the convention. This year that is The Whipsnade Park Golf Club.
There is a trophy, as shown here, The Julie Hale Memorial Golf Trophy, which is sponsored by Tim Davidson Auctions. And once the final ball has been played there is a two course meal along with the prizes and the presentations. 
We proudly announce that last year`s winner, Colin Fawcett of the EACCC, will be defending his trophy. 
If this sounds like the perfect day out for you, don`t miss out . . . .! 
This week's Cards of the Day...
have been celebrating William Shakespeare, whose birthday is regarded to be Sunday the 23rd of April 1564, but there is no proof of this at all. However it is known that he was baptised three days later, on Wednesday the 26th April 1564 because he appears in the baptismal register at Holy Trinity Church, Stratford-upon-Avon. At that time children were usually baptised within three days of their arrival on Earth, with the proviso that no Sunday could go past with an unbaptised child.
Curiously Shakespeare died on the 23rd of April as well, in 1616, aged just fifty-two years old. Or is this the real clue to the mystery of his birthdate, some tired recorder, late at night, by flickering candlefire, mistaking his death date for his birth, and changing his story forever
This year there were to be grand celebrations in his birthplace on Friday 22 April, including the presence of stage and screen stars Dame Judi Dench and Sir Kenneth Branagh, who will be in town to unveil his newly restored David Garrick statue at the Town Hall. Highlights can be found online
Saturday, 16th April 2022
G075-385 : G12-50 [tobacco : UK ]Gallaher Ltd "Famous Footballers" green back (1925) 28/100
So how did we get to Shakespeare?
Well Clue Number One was our Saturday Soccer Star which showed William Stage of Bury, giving us both "William", Shakespeare's Christian name, and "Stage", representing the theatre, and his famous words "All the World's a Stage", the starting words of a celebrated and oft-quoted monologue from the Shakespeare play "As You Like It", written in 1599.
William Stage was a prominent player at Bury, and our card says it was "under [his] captaincy Bury won their way back to membership with the First Division of the League." Once more it was almost certainly the case that the First World War affected his career for the worse, losing him the youthful years that he could have shone so brightly. He actually has a page devoted to him at a website for Southampton Football Club where it tells us he made just four appearances for them, and scored a single goal. That period of his life is not mentioned on the Gallaher card but the picture shown on that website is very similar. 
The fronts of our cards were printed by letterpress and there was more than one printing, the two easiest to acquire have either a grey or brown backdrop around the head of the subject. The other two are harder to spot, one is on a blue grey tinted board and has a creamier back, the other is on a normal board but still has the creamier back. In our original Gallaher reference book, RB.4, issued in 1944 the sets are not numbered, hence no short code exists. It does tell us that cards 14 ([David] Rollo [of Blackburn]) and 46 ([William] Gillespie [Sheffield United]) can be found "... with both a large and a small head". Having never, luckily, seen a footballer with two heads, let alone ones of different sizes, I can only presume it ought to have read "as either a large or a small head". And thankfully the Cartophilic Exchange website  has a picture of David Rollo that shows I am right. 
These cards were printed by Tillotsons Ltd of Bolton, one of the major printers of cigarette cards, and they also printed the follow up set of fifty colour cards the following year, not just colourful, but accurate, as the footballers wear their club colours.
Sunday, 17th April 2022
W675-774 [tobacco : UK] W.D. & H.O. Wills "Gems of Italian Architecture" (1960) Un/50
The answer to clue number two, showing here, was in the corner, where it says Verona. And that refers to what is usually regarded as the first of all Shakespeare's plays "The Two Gentlemen of Verona". No firm proof of a date of its writing exists, but it was penned some time between 1589 and 1593. 
This is a very curious card indeed for it was intended to be a full colour set of cards in the same style as and following on from the other Gems of Architecture, these being Belgian (August 1915), Russian (February 1917), and French (November 1917). The intention behind these, of course, was propaganda, for instance card 8 of "Gems of Belgian Architecture", tells us "Dixmude, or Dixmulden, was a small town in West Flanders, the scene of some of the heaviest fighting between the Belgian and German troops. It has in consequence been entirely destroyed." 
The oddity is that not a word about this set appeared in any of our original Wills reference booklets, nor the first World Tobacco Issues Index.
Its inaugural appearance waited right until The Cartophilic World vol.13, no.150, p.2195
Image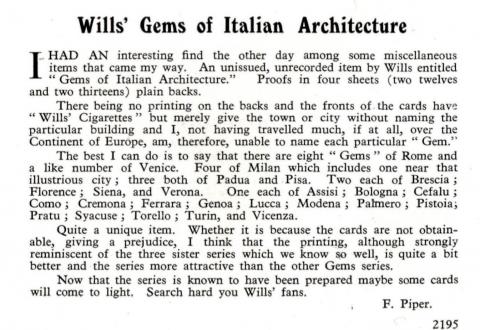 F. Piper, of course, was eminent cartophilist Fred Piper. At this point it was still a plain back proof sheet, not split into cards, and whether they were coloured or not is not told. They must have been coloured though because my vintage Murray catalogue (2009) offers coloured cards at £150 each but no sets, as opposed to our set which appears at £35 complete, but not as odds.
Our card actually comes from a black and white photographic copy of that proof sheet, made into sets, and given a descriptive back which is identical on each card and not concerning the subject on the front.
I have gone through the Cartophilic World from 1959 to 1964 and these black and white cards do not appear, despite the back saying they were produced in 1960. There is also a question as to who produced them, many say Wills, but the box at the foot seems to disprove this because why would Wills need to print "REPRODUCED BY KIND PERMISSION OF W.D. & H.O. WILLS" on cards that they owned the permission to?  These words can only mean that Wills owned the rights and allowed someone else to produce the cards. All very strange.
Our most recent World Tobacco Issues Index includes the cards, from where the code comes, but no other details. However I am sure that there is someone out there who can tell all....
Monday, 18th April 2022
P521-436 : P50-104 ; P/67 [tobacco : UK] Godfrey Phillips "Famous Love Scenes" medium size (1939) 25/36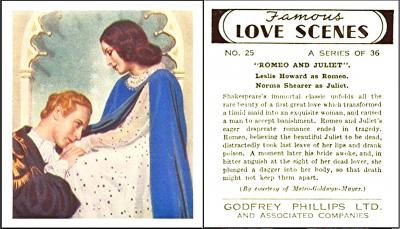 Our third clue here was the film title, "Romeo and Juliet", one of Shakespeare`s most popular plays, written in 1595-6.
However Shakespeare did not come up with the story all on his own, as the basic premise had been first written down in the 1470s as Romeo and Giuletta, but had actually come from older tales passed on in person.
This story was then further embroidered by Luigi da Porta, using details of his own thwarted love affair, and in that version are many of the details in the Shakespeare version, the feuding Capellettis and Montecchis, the secret love, the faithful Nurse, Romeo committing murder but going unpunished, the deadly potion, the failure of the written message, and their deaths, though in the original it is a slower acting poison which allows them a short poignant time of togetherness. Shakespeare simply fleshed all this out, added a larger cast of characters, made it less Italian, and made Romeo die first, though it is believed he had even got that angle from a translation in French.
Our card shows Leslie Howard as Romeo and Norma Shearer as Juliet, somewhat odd casting as Juliet was written as a thirteen year old. Romeo`s age is not stated, but he is thought to have been about twenty. This was subtly altered in more modern times so the pair were allowed to be thought of as both being about sixteen. However at the time of Shakespeare`s writing, thirteen was the age of consent. 
This set was only ever issued in the medium size (61 x 53 m/m).It is a very attractive one too. 
 
Tuesday, 19th April 2022
W430-840.II : W42-56.II [tobacco: UK] Westminster Tobacco Co. Ltd "A Second Series of British Royal and Ancient Buildings" (1926) 39/48
This set is listed as Westminster Tobacco but if you look again it is actually one of the sets which says
 "Issued by the Successors in the United Kingdom to the Westminster Tobacco Co. Ltd".
Curiously there is no address given for this company, only London. That may be because the cigarettes were made in Liverpool by Ogdens and issued, in England, by British American Tobacco.
This is "The room where Shakespeare was born" said to be "A first-floor room in a house in Henley St. Stratford-on-Avon" where "The walls are covered with … inscriptions of pilgrims of all ranks, including Byron, Scott, Dickens, Irving, Washington and the Duke of Wellington." 
Shakespeare's birth room also appears on John Player     "Shakespearean Series" (1914) 1/25, which has a descriptive text saying that "According to well-verified family tradition, the great dramatist was born in this quaint chamber on April 23rd, 1564." And it also explains the writing on the wall mentioned on our card as "Formerly visitors were allowed to write their names upon the walls, ceilings and window panes, and many notable autographs are here inscribed"
The first series of these cards were issued in 1925 RB21-200-159.1 in two formats, unnumbered with no descriptive text, and numbered with a descriptive text.
They were already pretty scarce by 1950, when the London Cigarette Card Company catalogue listed them as odds only, the unnumbered version being retailed at 1/6d. each and the numbered version at a shilling each. 
And if you want to know why our original and our modern World Tobacco Issues Indexes use Roman Numerals on this one set when all the other Westminster sets are either numbers or capital letters, so would I.... for there is no explanation given!
 
Wednesday, 20th April 2022
T045-040 : T6-4 : T/5 [tobacco : UK] James Taddy & Co. "Autographs" (1910) 17/25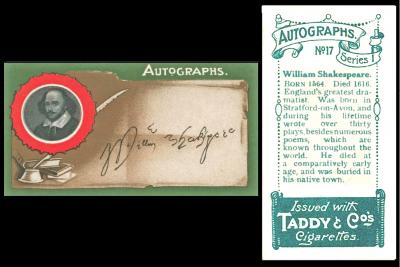 Do note that these cards say first series, but there was no second ever issued. Whether there might have been if Taddy had not closed the doors has been the subject of much speculation, but it seems unlikely as there were ten years in between the issue of this set and the closure of the company.
Other Taddy sets also say "First Series", these being "Sports and Pastimes" (T/32 - 1912), and "Terriorial Regiments" (T/33 - 1908).
The same set was also issued in 1913 by Tucketts, who were based in Hamilton, Ontario, Canada (T64-1 : T815-050 : USA/C113).
 
Thursday, 21st April 2022
BRM-56 [trade : UK] Brooke Bond Tea "Queen Elizabeth I - Queen Elizabeth II" (1983) 4/50
And this was a rather topical choice as it was also celebrating the birthday of Queen Elizabeth II. 
This code comes from our vintage British Trade Index part three, issued in 1986. 
This set was also issued as double cards, two standard sized cards on each but the numbering is rather odd and this card is paired with card 8 of Charles II whereas you would expect it to have been paired with card number three. 
The card shows the Globe Theatre, which is a rather canny link to a very rare manufacturer, the Globe Cigarette Company. I thought they must have been so rare that they do not appear as a manufacturer in our directory of British Cigarette Card Issuers, published in 1946, so they were obviously not known of then, or maybe they were known and not their details, but the truth is that though they were English in language, they were believed to have been issued in India. Their one issue was in 1898, what is probably a set of black and white "Actresses – French" (G375-050 : G38-1), and it is the first item in the 1950 London Cigarette Card Company handbook part one, where it says they were also issued by Adkin (A165-050 : A12-1 - 1898), Ogden (as O100-240 : O/2-39 – "Leading Artistes of the Day"), and Wills (W675-542 : W62-393 : W/16 – as "Actresses – Tabs Type")  . Only two Globe cards are known in 1950, as shown in this clipping from that book.
Image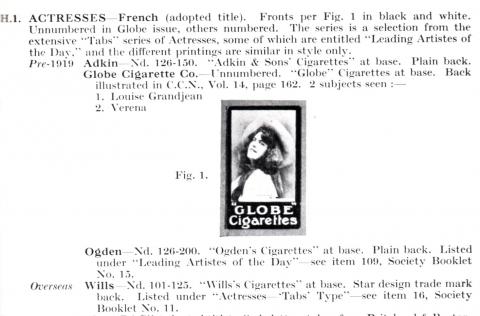 They are also in the LCCC catalogue, which I will continue to bore you with until any earlier ones fall into my library, where they were listed for sale as odds, for between 70/- and 200/- 
Another card was discovered by 1956 because our original World Tobacco Issues Index says "(3 known)".
And in our most recent version it has become a set of twenty five.
Friday, 22nd April 2022
P246-665 : P18-63 [tobacco : UK] Pattrieouex "Britain from the Air" (1939) 15/48
There is no issuer's name on these cards, just the `Senior Service` brand. The title is also just Stratford-on-Avon but the text tells us that this is "the modern theatre [which] replaces the original Shakespeare memorial theatre which was destroyed by fire in 1926. The new theatre … was opened in 1932 on April 23rd, Shakespeare's birthday." 
And we have come full circle. I am not a great lover of classic literature, but I have much enjoyed this week even though there have been problems that have led to a rather late start and even later finish. The idea is always to start on Saturday, the moment the new newsletter goes up, but the reality is that it is often not until Thursday that I have caught up with things left over from the previous week.  
But I can but do my best, and its entertaining. Hopefully for you too.
well we did make it, with almost as many delays and returns to the starting grid as the Qualifying at Imola this afternoon. Its now 01.40 am. But hey, next week, we could get here on time.... 
I will add the missing picture tomorrow, unless....