June already, half way through the year and still no offers of pantomime. Well I hope those of you who attended any events for the Jubilee took lots of pictures, and that you will write the details on the back of each one so that they might be discovered in years to come and not be so troublesome as the lovely but anonymous and unidentified photos we so often find today.
If you have time and are not too tired, we have a Jubilee Celebration going on online with some clippings from our 1952 and 1953 magazines. It is hoped that this will be continually updated, like our other blog posts. You will find it at https://csgb.co.uk/research/blog/j-jubilee
So what else can we interest you in? 
Today we remember the theatre and cinema actress, star, director, writer and producer Marem-Ides Leventon.
We do not know her by this name, and her birthday is not entirely certain, some give it as the 3rd, others as the 4th, and some as the 5th, and then there is the year, which can be any from 1876 to 1879. 
Thankfully she took a stage name, Alla Nazimova, or sometimes just Nazimova if the film was overly theatrical. In fact she had started in the theatre, in her birthplace Russia, where she met her first love, an actor/producer; they moved to America together and opened a theatre but it did not work out and he returned to Russia alone. 
Some of her early life appears on Gallaher "Cinema Stars" 87/100. The picture used seems to be the stock image, for it is also on Bucktrout "Cinema Stars" first series 21/50, and unsurprisingly on the postcards issued by the Pictures Portrait Gallery; I say unsurprisingly because "The Pictures Newspaper" magazine is credited on the cards as supplying the images for the Bucktrout set, at least the first set, and also of Will Rogers, the first card of the second series.
The Bucktrout biography is rather unusual, managing to spell Yalta as "Yolta", imagining that she had "played over 200 parts of wide variety", and going on with rather a waffle about how "Her success has been won by unlimited patience, unlimited endurance, and unlimited ambition". A political speech if ever I heard one, we all know how fond they are of finding a word and shaking it to death with overuse. 
In 1906 Nazimova first appeared on Broadway, and became quite a star. However she did not make a motion picture until 1916, and this was quite coincidental as she had been in a play which was then filmed, in which she retained her role. This was called "War Brides". Sadly this is yet another of the lost films of the golden age. Reportedly her salary was a thousand dollars a day, which you may be saying just cannot be true; but in 1917 her new contract with Metro (who would later join with Goldwyn and Mayer) was for £13,000 a week, so maybe it was!
This contract did not last too long for she started her own company, Nazimova Productions. Here she was not just an actress, she could do anything she liked and she did it well, producing, directing, editing, art direction, set and costume design, even lighting, though in many of these cases she had to take false names giving the illusion of masculinity, not because the general public might disapprove, but more in case it suggested to women that they too could have a life of their own. 
One of her favourite writers was Oscar Wilde, and she much enjoyed being able to bring one of his works, "Salome" to the screen in 1923. It is actually mentioned on the Gallaher card. This was said to be a failure, but it is now seen as a masterpiece by many. The director was her husband of the time, Charles Bryant, though the marriage was later discovered to have been in name only. There was a rather intriguing romantic connection between Nazimova and Oscar Wilde`s niece, but very little is written about that and it did not last very long, for Nazimova`s long term lover seems to have been a jealous lady.
I will say that it looks like the whole film is available on YouTube…. and I will report back after watching.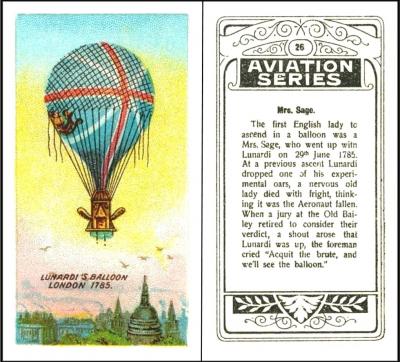 Today is Hot Air Balloon Day. When you think about the date it is a good choice, for it is starting to be warm and sunny, and that makes it a lot easier to take a balloon trip. Though the skin of the balloon is very hot after even a short flight, it is a stretched cloth, and any kind of cooling like cold wind or rain will affect performance and control. Likewise wind can easily blow them off course.
The first ever balloon was launched in France in September 1783 by the scientist, Pilatre De Rozier, and it had three unsuspecting animal passengers, a duck, a sheep, and a chicken. I didn't want to think of their almost certain fate, but I bravely looked, and found on the bbml website that they all survived, hooray, so my inner (and sometimes outer) empath can rest easily tonight, though I will almost certainly feel sad about the poor limping duck.
And for their unwitting bravery, these animals became the first ever aviators.  
It was only two months later that Joseph and Etienne Montgolfier became the first men to fly a balloon. Again this was in France, and you can read about that on Amalgamated Tobacco "Into Space" 3/25. It does mention the earlier ascent, but not that animals actually did it.
Sadly in 1785, Mr. De Rozier was killed whilst attempting to cross the English Channel in a balloon which tried to use the dual propulsion of hot air and hydrogen.  
Wills "Aviation" 3/50 tells us that "The first balloon flight in England was made by an Italian, a Signor Lunardi, Sept.15th 1784", and that he "…was the first to have any conception of a dirigible balloon; that is to say a balloon capable of being propelled in the air instead of drifting with the wind." I am really not sure about those paddles though. They also appear on our card, a bit scarcer, this is mainly included for a bit of extra Jubilee celebration, note the balloon design!
Balloons were found useful for wars, because they were pretty much silent, but the idea of hot air ballooning as such was almost forgotten until the 1950s, and it was not until 1960 that what is usually considered as the first modern hot air flight took place in America. 
Today balloons are seen as a great romantic escape, and also wonderful for tourism. There are even balloon festivals across the world where owners and enthusiasts get together. 
And maybe a duck, a sheep, and a chicken look up as they pass and tell their grandchildren that they started it all...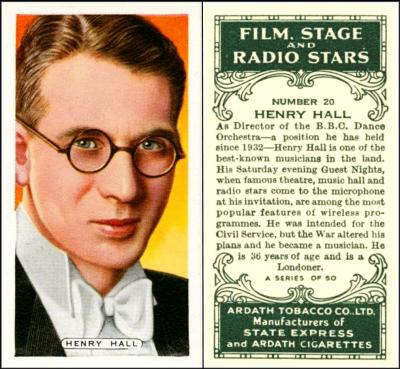 Today it is National Eyewear Day. I like this, because the word "eyewear" makes it sound fashionable to wear glasses.
Strangely glasses do not often appear on cards, though how to prevent them steaming (information which would have been useful during the enforced mask wearings of lockdown) appears on Gallaher "How to do it" 68/100   
You can find lots of people wearing glasses though. These range from monocles to spectacles and it would be rather a fun collection subject, though they might take some looking out for!  
One of the first we came across was Henry Hall, and you can find him on Wills "Radio Celebrities" (1934) 50/50, Godfrey Phillips "In the Public Eye" (1935) 21/54, Ardath "Film, Stage and Radio Stars" (1936) 20/50, and Lambert & Butler "Dance Band Leaders" (1936) 9/25.
I have not been able to find out why he wore the glasses, but it must have been medical for some reason. He was in the Royal Artillery during the First World War, but I cannot find any injury.
You can read an excellent biography, with loads of links to listen to and watch, at the ConservativeWoman website - I know it is most unlike me to give you anything Conservative, but this is an excellent site
 
Today in 1329 Robert the Bruce died aged almost fifty-five, whilst still serving as the King of Scotland.
After all this time, and many investigations, the most surprising thing is that we do not know why he died. He was not killed in battle, he simply died. Leprosy has been cited the most, but this would have impaired his functions long before it killed him, and modern investigations have completely discounted this disease in every test. 
He was also known as Robert the First, and he was born in July 1274. Robert the Bruce was a nickname that he wore proudly, and earned well, for he was an amazing warrior, fighting to recover independence for Scotland, and well deserving of his hero status in Scotland to this day.
One of his greatest battles was Bannockburn, which F & J Smith`s "Battlefields of Great Britain" 49/50 tells us was "Fought June 24th, 1314". Stephen Mitchell`s "Famous Scots", which not only has a very good biography, which tells us that the English Army he defeated ar Bannockburn was "three times the size of his own", but it also supports the theory that something strange killed him, for it speaks of a charter he granted to the burgesses of Edinburgh just a few days before his death.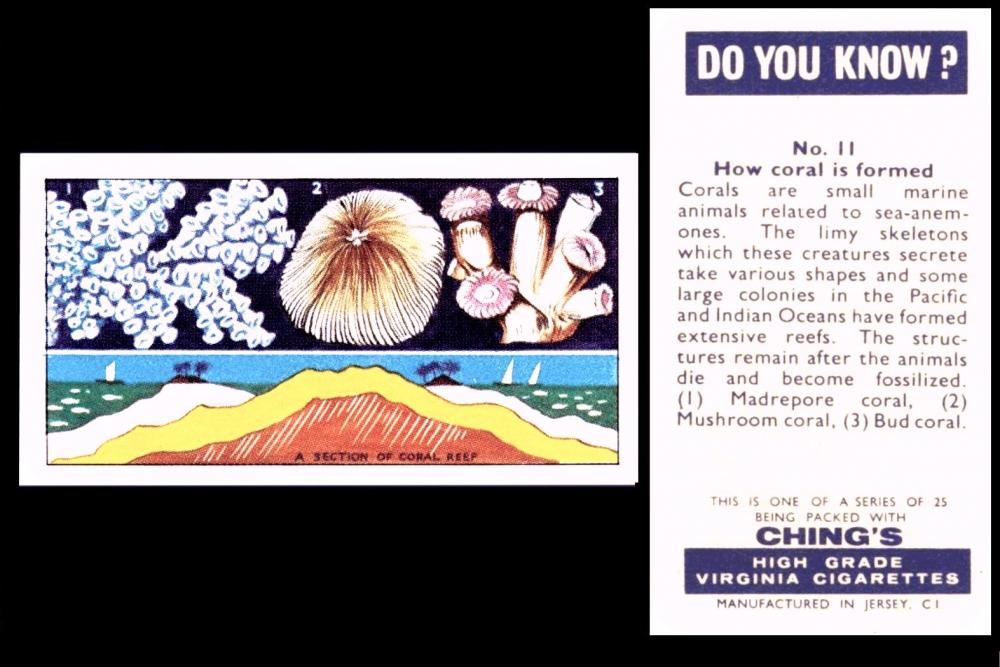 We, or maybe just me, speak a lot of saving the planet and the Earth, but we also need to save the ocean and its inhabitants, and today is World Oceans Day.
Whilst the number of us who live close enough to a sea, let alone an ocean, is very small, we all need to think of how we affect it indirectly, and the number one way is waste, especially plastic and paper.
The day was created by UNESCO in 2008, and it was first celebrated the following year. This year the hashtag is #RevitalizeTheOcean 
In the early days of the cigarette card, the ocean was only seen as something to travel on for pleasure, or as the home of food we could eat. It is hard to find anything from that age that celebrates the great beauty of the ocean and its many and varied inhabitants. Yet somehow in 1910 was born the man who really changed our view of the ocean forever, Jacques Cousteau. Where his far sighted nature came from and how it developed, who knows, but it is proof that some of us can find beauty in even the darkest places and vow to make more of it. 
Trade cards seem much more enlightened in their views of the environment, and many of the Brooke Bond sets have nature and its protection as their main theme. They were also contributed to by many great reformers, for instance Peter Scott ("Wildlife in Danger" ~ 1963) and David Attenborough ("A Journey Downstream" ~ 1990), even the National Trust was involved with "Discovering Our Coasts" (1989) and the World Wildlife Fund with "Going Wild" (1994).
Nature subjects may not be regarded as being as interesting as other sets, but it is heartening to hear that a person known for animal and earth welfare started on their path through the early collection of nature cards. 
wow it has been difficult finding something suitable for this newsletter on this day… look it up if you don't believe me.
However thankfully just in the last seconds we stumbled on the fact that Paul Gauguin arrived in Tahiti today in 1891, or not, as it is not entirely certain it was this very day.
He had been swept away by the idea of the island because of a book, a novel, depicting it as a land of wonder where nothing had changed for many years.
Unfortunately this was not entirely true, and though he tried to make it into a paradise, many of his pictures are very sad. The main problem seems to be that he was so set on living the novel that he had moved into a remote village rather than the capital. He loved the village and the colours set him on fire, but life was hard and his relationships did not end well.
He was also ill, and in 1893 he decided to return to France with a large body of brightly coloured work with which he hoped to make his name. He did exhibit them in Paris, but they were not very successful.
Then he had a sign, as those who are full of dreams so often do; he inherited some money and as the spark remained for Tahiti, off he went again. For some reason, he left shortly after, relocating to a smaller island. He painted and wrote, but was ill, and died in 1903.
Sadly that is how a lot of dreams end, but once you get possessed by something or someone it is very hard to give up. And isnt it the truth is that it is better to follow a dream you may never get, than to give it up and have nothing to live for, when you just might have managed to get there if you had tried harder, or run faster, or followed the signs that bit more slavishly....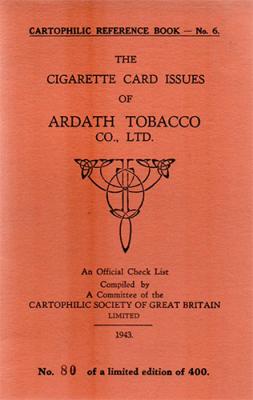 Ah Friday, I might just make it after all.
Well what can we close with?
Several things, but let us turn as always to art, and to World Art Nouveau Day. This once more is annually on the same date, the 10th of June.
This year, rather aptly, it is typography that is being showcased.
So as time runs short, as always, this is your chance to scan and send, or just email us the set title of any Art Nouveau designs from your own collection. And we will add them in here!
Now in case you are asking what Art Nouveau actually is, well it is smooth and flowing and it was used between 1884 and 1910. Plenty of scope there for cards! I hope!
And in fact a rather neat illustration of the style can be found on our original reference books…
This week's Cards of the Day...
were all about celebrating the Platinum Jubilee, the first ever, and perhaps the only. It will definitely be the only one in most of our lifetimes. If you celebrated the day in a card related manner do tell us, also if you have any treasured Royalty cards and ephemera do send us a scan of front and back to webmaster@card-world.co.uk 
Saturday, 28th May 2022
BAR-305 : BAR-71 : D272-1 [trade : UK] Barratt Confectionery "Famous Footballers – New Series of 50" (1952-1953) 17/50
The years of this card were the important things as it was on February 6, 1952, that Queen Elizabeth II technically became Queen on the death of her father, George VI, and on June 2, 1953, that she was crowned at Westminster Abbey in London.
These cards are medium size, 62 x 45 m/m, and are black and white. They were also the last set to be issued without prefixes, as the next set, issued in 1953, was titled "Series A.1". The picture may be the same in these two sets, but you can instantly tell them apart because the "Series A.1" has signatures printed as the front caption. 
This "New Series" and "Series A1" through to "Series A3" were also issued by Liam Devlin in Dublin, who produced Barratt products for distribution in Eire, and thanks to the black title box on the reverse of the card we know that the set was issued with "Gold Flake" sweet cigarettes. However the cards were not printed by Liam Devlin, and we know this because the bottom of the card says "PRINTED IN ENGLAND BY HILLS & LACY LTD".
There is a fascinating group of photos online at the Irish Photo Archive, and one even shows the cards being inserted. This must have been "Our Dogs" (DEV-160 : DEV-10 ~ 1963) the set of 48 cards, rather than the "Gun Dogs" quoted on the website
 
Sunday, 29th May 2022
G075-580 : G12-81.1 [tobacco : UK] Gallaher "Dogs" (September 1936) 42/48
This is the first series, the second followed in November 1938. Both these, and all the other Gallaher non- photographic coloured sets of 48 cards, were printed by E. S. & A. Robinson Ltd of Bristol, including the unissued and untitled "Screen Lovers" or "Screen Partners" (G075-880) of which only twenty plain backed cards are known. I do not know, but presume that they were also producing the unissued and untitled "Modern British Transport" (G075-850). Anyone with more info on these two sets, or a scan of a front, please write in....
There is another group of "Dogs" issued by Gallaher, these sets of just 24 cards were issued in 1934, and can be collected in several different styles; you can find the cards with captions in either script or block letters, and either in a small or large size text, but in addition the script version was reprinted using a different colour of card, white or cream. The script letters are more valuable, but not by much; in 1950 the London Cigarette Card Catalogue offered script odds at 3d. each or block letters at 1d. each, with the sets being respectively 10/- or 1/9d. 
Corgis have had a long connection with the Queen, the breed is traditionally Welsh, but Godfrey Phillips "Our Puppies" (P521-468 : P50-120 ~1936) 24/30 explains that "There are two varieties of Welsh Corgi – the Pembroke with short tails, and the Cardigan with longer tails."  Whilst Hornimans Tea "Dogs" (HOR-310 : HOF-11 ~1961) 41/48 states that their card is of a "Welsh Corgi (Pembroke)"
The unusual link between the last card and this card is that Liam Devlin & Sons Limited issued a set of 48 cards of Corgis, but not the dogs, these were "Corgi Toys" (DEV-040 : DEV-1.8 ~ 1971). These were again issued with their sweet cigarettes and so I do wonder whether these ought not to be cartophilic, after all they were issued with cigarettes just not with the nicotine kind!  The set showed die cast toys, thrillingly not just cars, there was a horse box, a Land Rover, and tractors (this says more about me than I really should admit), as well as film, music and tv tie-ins like the MonkeeMobile, Chitty Chitty Bang Bang, even a couple of James Bond vehicles. It's a fun set, and getting scarcer, because of the crossover interest from toy car collectors. 
Monday, 30th May 2022
H554-720A : H46-84.1 [tobacco : UK] R. & J. Hill "Decorations and Medals" (1940) 38/48
This card says it shows Queen Victoria's Jubilee Medal, and that "Two medals were struck, one to commemorate the 50th year of Queen Victoria's reign and the other for the Diamond Jubilee of 1897." These medals were pretty much the same, except for two parts of the text, which reads IN COMMEMORATION OF THE 50TH (or 60TH) YEAR OF THE REIGN OF QUEEN VICTORIA · 21 JUNE 1887 (or 20 JUNE 1897). The back is not shown, so we must take our own guess as to which this was.
The bust of Queen Victoria had been designed by the sculptor and medallist Sir Joseph Edgar Boehm, a baronet of Austrian birth, whose "Jubilee Head" appeared on coins and medals and whose statue of the Duke of Wellington graced Hyde Park Corner; the wreath was by Clemens Emptmayer, who Boehm had recommended. 
The Royal Family had medals of gold, the officers had silver and the selected other ranks bronze. The card also tells us that "Those who received the 1887 decoration were awarded a bar dated 1897". This may have been to save the recipient wearing two medals, or to save the expense of making two. The bar is just as it says, a thin strip of metal, with a crown on the top, which was to be fixed across the ribbon from edge to edge. Sadly the medals were not named to a specific recipient. 
This set was issued with two back printings. One says "Issued by R. & J. Hill…" at the base and the other "Issued with Gold Flake Cigarettes…". The Gold Flake version is by far the rarer. 
The really interesting thing about this set was that it was the last set issued by Hill before the Second World War, in fact it was in circulation when the order came to withdraw all cards from packets and it might well have been re-issued after the end of the War, but for the fact that, as our original Hill Reference Book RB.2 tells us "all stock was destroyed by fire". In fact the inside front cover of this volume also admits that "Their historic premises and all records were bombed out of existence in May 1941. Our reference book luckily contains some of these, as it was being researched at the time, and its publication, in April 1942, allowed that at least some of its story survived, importantly, as the firm of R. and J. Hill had been established in the Hackney district of London on Shoreditch High Street since the eighteenth century, with the founding date quoted as 1775.
The area still turns up the odd unexploded device and in February 2017 Shoreditch High Street was evacuated over 'a possible WW2 bomb'. 
Tuesday, 31st May 2022
W805-030.B : W72-2.B [tobacco : UK] J. Wix & Sons Ltd. "Coronation" (1937) 4/50
This version should actually be listed as anonymous, because it is only branded with "Kensitas", and the Wix name does not appear, but because this set was also issued with the Wix name it has been linked.
These are very well made cards, and the frame is most attractive, even more so in the alternative J. Wix printing, which comes in a linen finish or a varnished version.
This, of course, was one of the sets issued to mark the Coronation of King George VI, whose daughters were Princesses Elizabeth, our current Queen, and her sister Margaret. The first two cards show King George VI and his Queen, who would become the Queen Mother. George`s mother, Princess Mary, was card 3. She was still alive when her son died, so she knew her granddaughter was to become Queen, but she died in March 1953, just three months before the actual Coronation could take place
J. Wix & Sons were founded in 1898 as Wix & Lockerman and had premises at 30 Commercial Street in East London and 24/26 Shepherdess Walk in North London. The business was sold in 1927. Two years later the sons bought International Tobacco Co and Peter Jackson Ltd but sold both to Gallaher in 1934. These names then disappeared in the UK but were still used overseas. It seems that there is some link to A & M Wix, which I admit I do not understand.
In 1946 the company was controlled by the American Tobacco Company and based at Old Street in East London, E.C.1.  
 
Wednesday, 1st June 2022
[trade : OS : USA] Topps Look 'N See (1952) 104/135
Yes it may be an unusual number but there really is 135 cards in a complete set.
Strangely this set only contains three cards showing British Royalty. These are: 
102 Anne of Cleves (No.6 of 7 Famous Women 2nd Series) – this being the wife of Henry VIII, not sure why she of the six should have been included. Any ideas?

103 (No.2 of 19 World Figures 2nd Series) Duke of Windsor - Edward VIII, possibly included because of Wallis Simpson who was American? 

104 Queen Elizabeth II (No.5 of 7 Famous Women 2nd Series) – because she was the current Queen. 
It is a fascinating set, though the numbering and chronology leaves a lot to be desired, and the red backs are almost impossible to scan. There was a point to these backs though as in each pack there was "A Decoder" and this tool was used to reveal the trivia answer on the card. It was actually just a red strip of cellophane, but it worked, in a fashion, and it certainly worked better because of its scientific/espionage related name, especially if you think of what America was like in the 1950s…
The only slight downer is that the cards do not call it "A Decoder" they just say "the red paper".
By the way the most sought after card in the set is Babe Ruth, the only baseball player and actually the only sportsman.
There is a bit of a rumour that Rembrandt (number 82) is a key card, and that either he was printed separately as a very short run, or that his cards were somehow held back. I am not sure of these theories, for surely doing this to a more prominent American would have had a bigger impact.
Imagine that had been done to Babe Ruth! 
 
Thursday, 2nd June 2022
M757-520 ; M122-33 [tobacco : UK] Stephen Mitchell "A Gallery of 1934" (1935) 2/50
This set is a really odd colour, as it was supposed to have been printed in "flesh tones" however this was not very successful, and this can be immediately spotted in the fact that "A Gallery of 1935" was not printed in those "flesh tones".
The main problem with it, at least to my eyes, is that it makes the border off white, extremely in some cases, and the same seems to happen when you scan the card.  
A complete checklist of this set appears at Immortal Ephemera - and a link to the 1935 version appears within that text.
Our set has gained notoriety for being one of the few cigarette cards to show Adolf Hitler, however he appeared on many cards issued in Germany, including an entire set devoted to his daily life and works. Perhaps they mean one of the few sets issued in this country?
Whilst the most popular card from the 1935 set is Walt Disney, sans Mickey Mouse this time. 
 
Friday, 3rd June 2022
A435-150 : A41-1 [tobacco : UK] Philip Allman & Co. Ltd "Coronation Series – Elizabeth to Elizabeth" 33/50.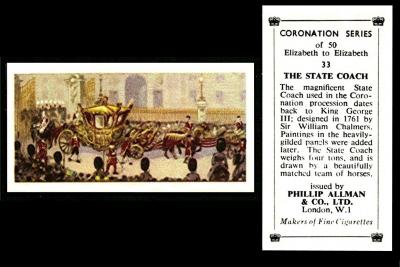 "The Cartophilic World" Vol.10 No.106 July-August 1953 contains this lengthy piece on the latest issue by Allman
If you are intrigued by this, you can see the entire set at the New York Public Library, where it is part of the Arents Collection. Remember that clicking on any front will take you to a new page with a larger version of the card, and  you can also click on the back to enlarge that too. Looking at the gallery, the card that leaps out at me is the glove, but if it does nothing for you, just see what I mean here. 
Well, we almost made it by midnight! Just got to add the last few pictures and find tomorrow`s card of the day, and the subject, and add a few more bits to the Jubilee, and ..... zzzzzzz
See you all next week -  around midnight