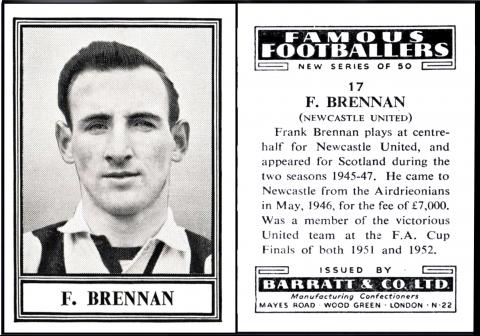 BAR-305 : BAR-71 : D272-1 [trade : UK] Barratt Confectionery "Famous Footballers – New Series of 50" (1952-1953) 17/50
The years of this card were the important things as it was on February 6, 1952, that Queen Elizabeth II technically became Queen on the death of her father, George VI, and on June 2, 1953, that she was crowned at Westminster Abbey in London.
These cards are medium size, 62 x 45 m/m, and are black and white. They were also the last set to be issued without prefixes, as the next set, issued in 1953, was titled "Series A.1". The picture may be the same in these two sets, but you can instantly tell them apart because the "Series A.1" has signatures printed as the front caption. 
This "New Series" and "Series A1" through to "Series A3" were also issued by Liam Devlin in Dublin, who produced Barratt products for distribution in Eire, and thanks to the black title box on the reverse of the card we know that the set was issued with "Gold Flake" sweet cigarettes. However the cards were not printed by Liam Devlin, and we know this because the bottom of the card says "PRINTED IN ENGLAND BY HILLS & LACY LTD".
There is a fascinating group of photos online at the Irish Photo Archive, and one even shows the cards being inserted. This must have been "Our Dogs" (DEV-160 : DEV-10 ~ 1963) the set of 48 cards, rather than the "Gun Dogs" quoted on the website