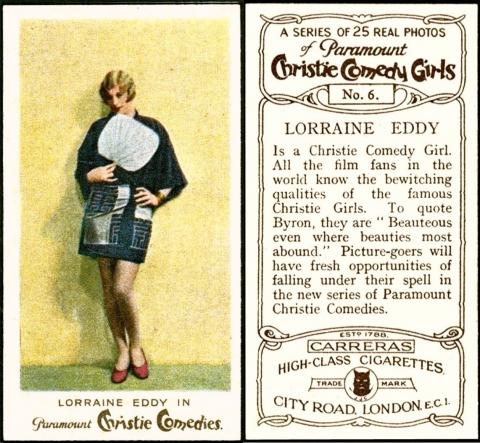 C151-445 : C18-78 [tobacco : UK] Carreras "Christie Comedy Girls" (1928) 6/25
This is an unusual set as it was one of the few issued overseas on general export, (only fourteen of those, though this figure counts the four series of 1930s "Film Stars" as one), and of those it is one of only two coloured halftone sets, the other being "Famous Men" (C151-450 : C18-79 ~ 1927)
If you look in some books you will find a third colour export set, "Actresses and Their Pets" (C151-435 : C18-76 ~ 1926) but that was actually hand coloured over real photographs, not printed in colour. 
This is an unusual set, and not just because it is so seldom seen, though part of the reason for that is its being issued abroad. No, the real curiosity is that few people today even know of Al Christie, and many of his girls have remained practically unknown. The text is not great, for all it says is that "Lorraine Eddy Is a Christie Comedy Girl" before it has rather a lot of waffle, and a rather out of context quote from Lord Byron. Even worse this same quote appears on other cards, several other cards, namely numbers 2,4,5,6 14, 16,19 and 24. 
So what do we know about Lorraine Eddy? Well for a start she is indeed quite hard to track down. This is because Lorraine Eddy was not her real name, just her stage name; and she had other names too, the most famous of which is Lorraine MacLean, through her married name, to "The Man with the MIllion Dollar Smile", actor Douglas MacLean; she was his second wife. She was born in 1904 and was also talented off screen as a costume designer and make up artist. And she died on January 22, 1972 in California
The other Christie Comedy Girls in the set are listed online at Moviecard.com/Christie - you will see that though Lorraine Eddy appears only once, some of the others are on more than one card.
Al (or Alfred Ernest) Christie, was born in Canada, and his first recorded appearance in the motion picture industry came in 1909, when he was simply working for a film company. However, the following year he started the "Mutt and Jeff" comedies, released every week. He was still with the same company when he relocated to California in 1911, though the branch there had another name, Nestor, and they are famous for being the first permanent motion picture studio to open up in an area known as Hollywoodland. The Christie Film Company followed shortly after, this was Al and his brother Charles, who specialised in gentle comedies, often with a beautiful girl, a Christie Comedy Girl, as part of the plot.