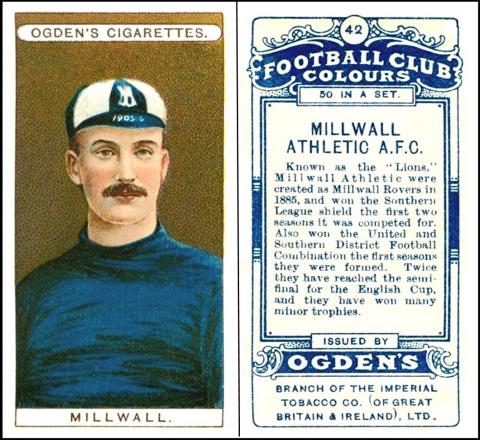 O100-428 : O/2-102 : RB.15/86 : H.68 [tobacco : UK] Ogdens "Football Club Colours" (May 1906) 42/50+1
Also issued by Churchman (C504-270 : C82-20 : RB.10/61 ~ January 1909) and Franklyn Davey (F756-440 : F52-13 ~ also issued in January 1909). Both the Churchman and the Ogdens set follow the same numbering, but the Franklyn Davey cards are untitled, unnumbered, and also the most valuable, but it is probably simply that far fewer Franklyn Davey cigarettes were sold than Ogdens and Churchman ones. 
All the cards were printed by Mardon, Son and Hall. 
The Churchman version was definitely the easiest to acquire, and it was the first to be illustrated in Cigarette Card News, Volume 1, issue 6. I will get that scanned and added some time. 
Only the Ogdens set had a fifty-first card, this being the Captain of the South African Team, who toured England in the autumn of 1906; this was almost certainly topical and by the time the other two sets were issued in 1909 was all forgotten. In the London Cigarette Card Catalogue of 1950 this Ogdens set is split into the main set, being retailed at between 1/9d and 5/- a card for odds or £12 a set, and the card fifty-one which was available at 10/-. In comparison the Churchman set was retailed at between 4/- and 12/- a card for odds or £30 a set, and the Franklyn Davey at between 4/6d and 15/- a card for odds or £37 a set.
Millwall, of course, was in London's Docklands, and docks are the most important part of the seafarers journey, from which they sail out, and to which they hopefully return home. Here their cargo is unloaded and they can explore the feeling of the solid earth on their feet. At one time the Docklands was bustling and thriving, and full of comradeship, a word so fitting of its Naval origins; today this has all gone, it has been changed in use and character, and is housing for the most part, though the scars will always be there for the knowing to trace along its skin. 
According to the Cartophilic Information Exchange the footballer shown is General William Stevenson. He was born on New Years Day in 1875, in Padiham, Lancashire and died on New Years Eve 1961. You can read more about him on the Play Up Liverpool website
He also appears on Cohen Weenen "Football Captains 1907-1908" (H.94 ~1908) 58 
Gallaher "Association Football Club Colours" (1910) 36/100 – playing for Millwall
Ardath "Famous Footballers" (October 1934) 16/50 – playing for Motherwell