well here we are, getting into autumn now, there are already carved pumpkins out on doorsteps in our neck of the woods, so watch out for a spooky Hallowe`en special coming to these parts very soon. 
Now you may have noticed that our card of the day is slightly different these days, and a few of you have asked about the new timings. What used to happen is that I added the solution at 8pm and the new "front only" card at midnight. But what happens now is the timings remain the same but the code does not show until the card shifts across at midnight. One suggestion to resolve this is to have a question mark card inserted at 8pm, which would force the current card to appear with the code in the second box. (I hope you are all following this?) However, thinking about it, we could always insert the new "front only" card at 8pm rather than at midnight. This would mean that at 8pm you saw the back and code of the current card, and got the front of the next card. So lets have your thoughts and we will oblige with what the majority thinks best. 
So what is coming along this week?  
This week's Cards of the Day...
Saturday, 16th October 2021
O100-516 [tobacco : UK] Ogden "Famous Rugby Players" (1926-1927) 14/50
now our cards of the day this week will be celebrating three things, the 150th anniversary of the formation of the Rugby Football Union (RFU), the 150th anniversary of the first international match between England and Scotland in 1871, and the latest set of Royal Mail postage stamps being issued tomorrow (Tuesday 19 October). These feature eight major events in rugby history - the 1970, 1984 and 1994 Five Nations Championships, the 1998 Women's Home Nations Championship, the 2003 Rugby World Cup Final, the 2009 Women's Six Nations Championship, the 2014 Women's Rugby World Cup Final, and the 2015 Six Nations Championship, and include portraits of many notable names. And you can read more at https://blog.norphil.co.uk/2021/10/150th-anniversary-of-rugby-union-set-of.html
Saturday 16 October
O100-516 [tobacco : UK] Ogden "Famous Rugby Players" (1926) 14/50. These black and white cards cover English, Irish, Scottish and Welsh Rugby Union and Rugby League footballers, cards 1 to 23 being Rugby Union, and 24 to 50 being Rugby League. Our man is Thomas R Hewitt and you can read more about him at http://en.espn.co.uk/timeline/rugby/player/3093.html  - which includes a link to his younger brother Francis Seymour Hewitt, who was also a rugby player.   Card 15 of this set shows another alumni of Queens College in Belfast, G.V. Stephenson. And you can see the College itself on Gallaher "Irish View Scenery" 173/600 - if you dont have a set to hand, just click along to : https://www.archiseek.com/2012/buildings-from-the-irish-views-series-by-gallaher/nggallery/page/2 (where it is third from the end). By the way, before we go any further, http://www.rugbyrelics.com is a great rugby themed shop site with some amazing items. 
Sunday, 17th October 2021
H536-280 [tobacco : UK] Hignett "International Caps and Badges (May 1924) 8/25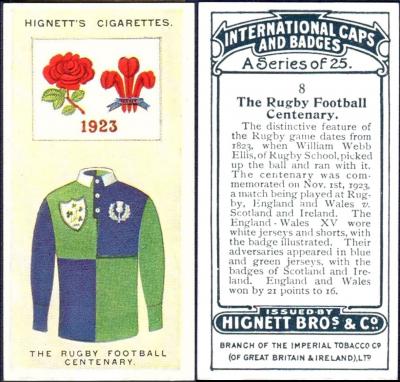 Sunday 17 October
H536-280  [tobacco : UK]  Hignett Bros & Co "International Caps and Badges" (May 1924) 8/25.  This card features the Rugby Centenary, but this set is not all Rugby or indeed football - sports collectors may not realise that it includes The Lawn Tennis Association, which I will almost certainly forget by the time it is Wimbledon 2022, and even more excitingly the badge (on a hat band) and flag for the Great Britain team who were going to the Olympic Games of 1924, to be held in Paris. The Rugby Centenary featured on that card records the date of 1823, when William Webb Ellis, of Rugby School, picked up the ball and ran with it. Now an image of the buildings of Rugby School appears on Hills "Views of Interest" fourth series card 173 - on "Sunripe" brand "Public Schools and Colleges" (1923) 35/50 - and on Wills "Public Schools" (1927) 20/25  - all of which mention the introduction of Rugby - whilst its emblem or crest appears on Cavanders "School Badges" (1928) Un/25, "its great game is rugger" -  Wills "Arms of Public Schools" large size 25/25 and Wills "School Arms" (1906) 16/50
Monday, 18th October 2021
W675-070 [tobacco : UK] W.D. & H.O. Wills "Sports of All Nations" (1900) 16/50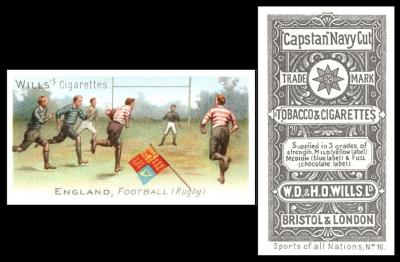 W675-070 [tobacco : UK] W.D. & H.O. Wills "Sports of All Nations" (1900) 16/50. First of all look at the size of that post it is huge, so did the illustrator not play rugby, take his cue from the text, and think the goal was the same size as a football one? According to some research, the width of a football goal is 24 foot long, whilst that for professional Rugby is 18.71'-19.03' | 5.7-5.8 m (Overall), whilst the inside width of the crossbar varies depending on whether it is a League match at 18.04' | 5.5 m - or a Union one at 18.37' | 5.6 m (Union). This is a most attractive set, though it does include several "sports" that are thankfully not to popular taste today. However it does include a very sought after card for cricket fans, card 14 which shows "Cricket - Batting (England)" - the batter shown is none other than W.G. Grace. See that at https://img.carters.com.au/548da6e5cd5a6d63d78dc791ec00add9.jpg 
The set is also vari-backed, and you can see samples of all the backs, including the more recent reprint version, courtesy of our friends at The Football Cartophilic Exchange, just click on https://cartophilic-info-exch.blogspot.com/2014/01/wd-ho-wills-sports-of-all-nations.html
Tuesday, 19th October 2021
M757-360 [tobacco : UK] Stephen Mitchell & Son "Sports" (1907) Un/25
Tuesday 19 October
M757-360 [tobacco : UK] Stephen Mitchell & Son "Sports" (1907) Un/25 
Stephen Mitchell was actually founded in 1723, in a small cottage in Linlithgow, moving to Glasgow in 1825. They were not just a maker of tobacco, they also sold snuff, tea, sugar, black pepper, cheese and soap. Their factory was taken over for "war work" during the Second World War.
These cards are most attractive, but are unnumbered, the cards were first listed in the London Cigarette Card Company Handbook of 1950, under H.275, a number code they retain in our own World Tobacco Issues Index to this day. However in the 1950 book there is the additional information that the back was illustrated in Cartophilic World, page 679. This page turns out to be in Volume 6, No.69, issued for November 1948, and the article was written by Eric Gurd. In the 1950 L.C.C.C. Catalogue the cards are listed for sale at 8/6 to 25/- per card, or sets were available at £30. 
Wednesday, 20th October 2021
BLU-240 [trade : UK] Blue Cap Ltd. "Flixies" "Sport Series" (1959-61)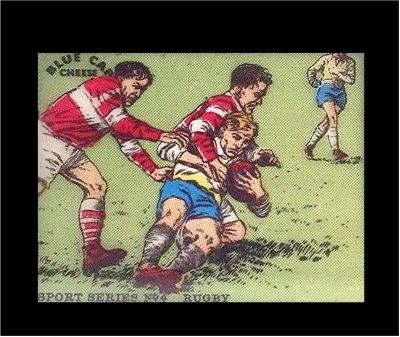 Wednesday 20 October
BLU-240 [trade : UK] Blue Cap Ltd. "Flixies" "Sport Series" (1959-61). Odd items, being more like single cel projector slides, or film transparencies, than cards, and which measure 37 x 34 mm. There is no set title on these, but the special albums carry the wording "Flixies Album" and from that we named the sets. Each of the three albums took four sets, being held in by corner slots. In our British Trade Index Part II, issued in 1969, they are listed with the reference code BLZ-1.1.1, the extra two 1s being for the fact they were the first set in the first album. The other sets in that album were Dog Series, Aviation Series, and British Bird Series.
Blue Cap was a brand of cheese, and had earlier (1953-1959) issued five sets of what are classed as package issues, being trimmed out from the boxes. Series A, B and C were each twelve cards in the "Farm Series" and they were designed so that the bottom of the circular box was cut off in its entirety to form the "card". However Series D ("Sports Series") and E ("Animal Series") had two small cards printed on which were designed to be cut out separately. These sets were again twelve cards in length but the "Animal Series" seems to have ended prematurely and in the British Trade Index Part II, it was said that numbers 9 - 12 were not thought to have been issued. However these had been found by 1986, when British Trade Index Part III was issued.
Thursday, 21st October 2021
W675-114 [tobacco : UK] W. D. & H.O. Wills "Football Series" (1902) 52/66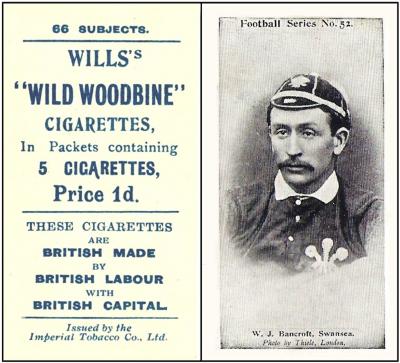 Thursday 21 October
W675-114 [tobacco : UK] W. D. & H.O. Wills "Football Series" (1902) 52/66 - now this is "football" but it includes rugby as well and here is W.J. "Billy" Bancroft, of Swansea. Billy must mean that the "W" was William. You can see a larger photo of him, and some biographical details, at https://www.peoplescollection.wales/items/33698 
The card says that the photo is by "Thiele London", who was actually a very famous photographer Karl Anton Reinhold Thiele, usually known as just Reinhold Thiele, or, as in our case, just Thiele. He was born in 1856 in Hamelin, in Germany and relocated to England in 1878. This is not his only claim to cartophilic fame, check out https://www.npg.org.uk/collections/search/person/mp09665/karl-anton-reinhold-thiele
He died in 1921.
This set was originally coded as W/22 and it appears in the first ever Wills Checklist style reference book. There are two different backs, this "Woodbines" and a "Cinderella".  It was once thought that this set was identical to another set issued by Clarkes, but later research proved that there were differences.
Friday, 22nd October 2021
Golden Wonder Crisps "All Stars" 3/24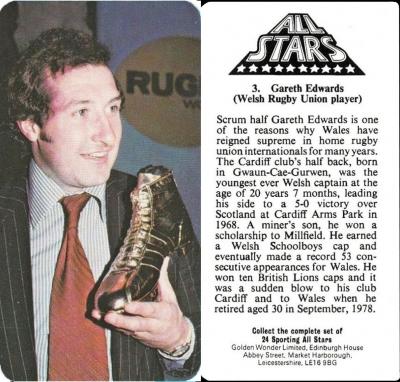 this is an interesting set but it has two titles - the top section says "All Stars" whilst the bottom says "Sporting All Stars". More gen will follow tomorrow as I cannot access the file! 
well thats it for another week, curtailed by a very clingy dog who finds my typing a very gross inconvenience whilst he is on my lap trying to fall asleep... 
until next week, have fun, and happy collecting from us all
oh and if you missed last weeks newsletter its at 
https://csgb.co.uk/publications/newsletter/2021-10-15