Welcome to another week! And another week closer to Christmas. You can`t have failed to see the shops are getting all glittery, but you may think it is not a time for anyone but children. This is wrong in one way, because it is a time of hope, with a time of renewal waiting around the corner in a brand new year. So think back to your own childhood and to the cards you used to collect, and to any that you had for Christmas - and tell us all about them. Because it is almost certain that out there, reading your words, will be a kindred spirit who also remembered those same cards, or, even better, one that had quite forgotten them until they read your words! 
Lets look forward to a Christmas and New Year full of Cartophilic Treasures, and to being given a sight of something special every day from our advent calendar.  Our celebrations will begin as December arises. Don`t miss a single opening.....
To take you there, lets see what non-Christmas wonders we can celebrate next week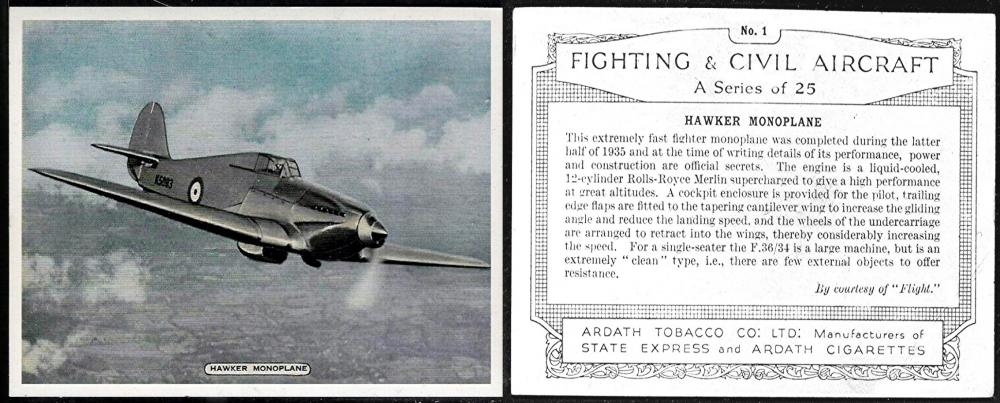 lets start with a flight of fantasy that would turn into a flight of complete necessity within a very few years. For today, 6 November 1935, was the test flight of the Hawker Hurricane at Brooklands. There is a very accessible webpage about its development stages at https://www.baesystems.com/en/heritage/hurricane - and did you know that they are currently looking for volunteers at Brooklands Museum? Check that out at https://www.brooklandsmuseum.com/about/support-us/volunteer.
Now because this was one of the best known fighters of the Second World War, there are plenty of cigarette and trade cards to collect.
Some say that W675-222 [tobacco : UK] W.D. & H.O. Wills "Speed" (1938) 8/50 is the first card ever issued, and it does indeed start the text by saying it "is the latest single-seat fighter in the R.A.F.", which managed "an average speed of 408 m.p.h. - assisted by an 80 m.p.h. tail wind"  "from Edinburgh to Northolt" though it is evasive for obvious reasons by saying that "full performance figures ... cannot be quoted".
Whilst P644-306 [tobacco : UK] John Player "Aircraft of the R.A.F." 27/50 gives more details of this flight, that it was 327 miles and took just 48 minutes.
However neither of those are the first card of the Hurricane. Ours is, and it is far more exciting, as it actually shows it without naming it. This is A745-370 [tobacco : UK] Ardath "Fighting & Civil Aircraft" (1936) 1/25, and on the card it is simply titled "Hawker Monoplane". The picture was "courtesy of Flight" [magazine], and the text says "This extremely fast fighter monoplane was completed during the latter half of 1935, and at the time of writing, details of its performance, power, and construction are official secrets". Unfortunately the text blows the cover entirely by just straight out quoting "F.36/34". It seems innocuous enough, but that code was the number of its Air Ministry Specification, and unlike some classes, that specification only applied to that one aeroplane, the Hurricane.
By the way the record breaking flight was not the only connection between the Hurricane and Northolt as Hurricanes were based there during the Second World War.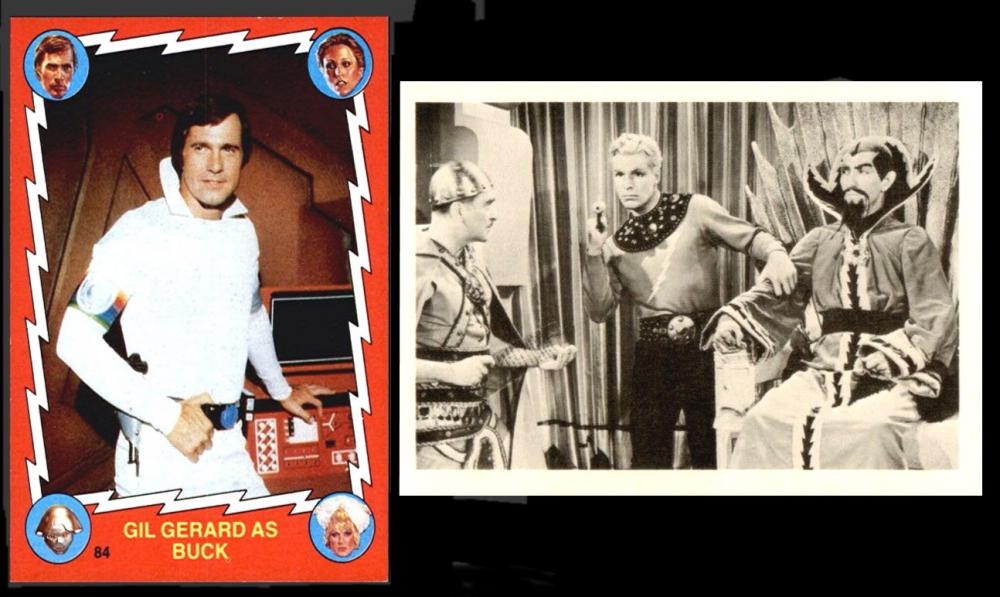 An earlier flight of fantasy happened today, in 1932, when CBS radio broadcast a new thrilling space serial to their American listeners. Called "Buck Rogers in the 25th century", the basic story was that an astronaut, caught up in an accident, was blown off course, and when he returned to Earth he found that not only had 500 years passed but that the planet had suffered nuclear war. There were also film and tv versions of this story; three serials starring Larry "Buster" Crabbe" made in 1936 (the same year he played Flash Gordon), 1938 and 1940, and a film and tv series in 1979, starring Gil Gerard, in which Buster Crabbe made a guest appearance. However, before all that it was a newspaper comic strip, in which Buck Rogers, former air ace of the First World War, fell asleep for 500 years after an accident at a mining works.  And even earlier than that, in 1929, the character appeared in the magazine "Amazing Stories". The whole thrilling saga can be relived at https://en.wikipedia.org/wiki/Buck_Rogers.
And if that is not enough, check out https://www.youtube.com/watch?v=ZTrSncxwGBE  where you can relive the thrills of your boyhood adventure all over again.
By the way "Buster" was a nickname - his real name was Clarence Linden Crabbe II, and you can find him on Reemtsma "Olympia 1932" card 105, because he won the Olympic gold medal that year for the 400-meter freestyle swimming. He also won bronze in 1928 at the Amsterdam Olympics for the 1,500 meter freestyle.
As you might imagine there are trading cards of Buck Rogers, but not many - just one full set of 88 cards and 22 stickers was issued by Topps in 1979, featuring the TV series: see those at https://www.cardboardconnection.com/1979-topps-buck-rogers-trading-cards. However the sad fact was that the series was not a great success, and did not take off in the huge way that Star Wars did, plus it also had a big rival in Battlestar Galactica, which had been released the year before and stolen a lot of its audience. Even releasing the first episode of Buck Rogers as a motion picture did not add to its charms. But actually it was a good series - and perhaps due for a revival, suitably updated, like the recent version of Battlestar Galactica?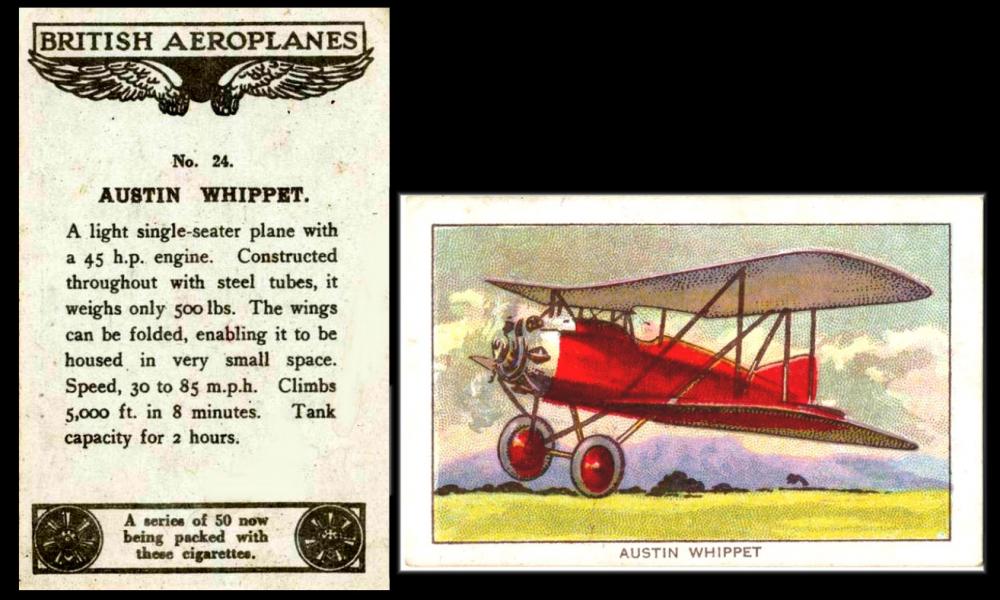 On 8 November 1866 Herbert Austin was born in Little Missenden, Buckinghamshire, where his father was a farmer. he founded The Austin Motor Company in 1905 by Herbert Austin. He died in 1941, and in 1952 Austin and Morris Motors Limited merged into BMC (British Motor Corporation) Limited. The Austin name was used right until 1987 and it is now owned by a Chinese company. A biography of the great man, who fitted in so many things, can be found at http://www.austinmemories.com/styled-4/index.html - and this is just a page of a massive site devoted to his life and work which can be explored at http://www.austinmemories.com/index.html. It is also now a memorial to the writer who laboured so long on it, and sadly passed away earlier this year.
Austin Car(d)s appear in most motoring sets, but we have picked a really unusual one showing the Austin Whippet, a single seater biplane which Herbert Austin built just after the First World War. Now the most exciting thing is that it appears on a card at all, because just five were built before production ended in 1920 and three of those were sold to overseas buyers. As far as I know, none are left in the British Isles, but there is a replica of one at Aeroventure, the South Yorkshire Aircraft Museum, which is on the former site of RAF Doncaster. They are open for visitors, or check out their website.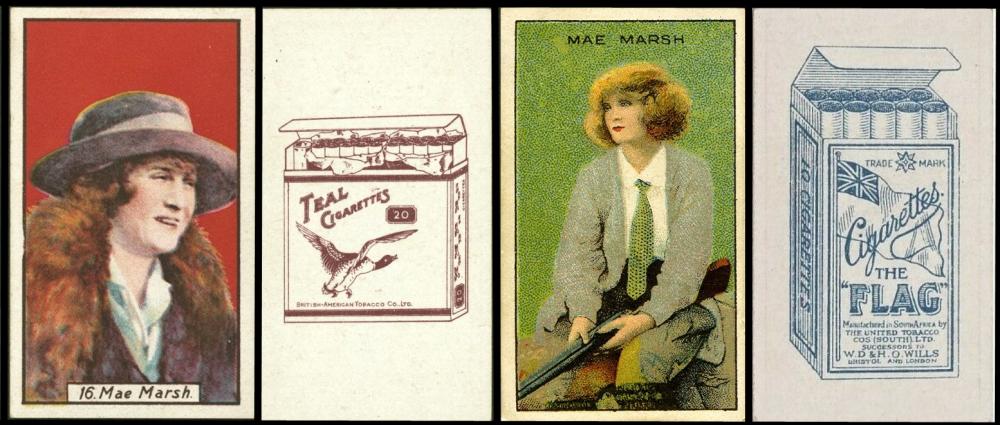 On 9 November 1894 American silent film actress Mae Marsh was born Mary Wayne Marsh in Madrid, but not the one in Spain, this was in New Mexico Territory. It is often reported that after the death of her father, the family, with five children, moved to Los Angeles, but there seems some doubt as to his date and manner of death, see https://en.wikipedia.org/wiki/Mae_Marsh. Mae was employed by Biograph studios and made her film debut in 1910 in a film called "Ramona" directed by David Wark Griffith; this starred Mary Pickford. She was also in two of the most important films of the time, playing Flora Cameron in Birth of a Nation (1915) and The Dear One in Intolerance (1916). Also in 1916 she wrote a book on screen acting, but after those two films her career never reached those heights again, and she retired to have three children. She did, however, work really consistently, right up until 1964, including in such films as "The Searchers" with John Wayne. She died in 1968.
Her sister Marguerite (born 1888) was also an actress; she acted under her married name of Marguerite Loveridge till 1916, and then changed it to Marsh. Some say this was to share in her sister`s fame, but she did have a claim to fame all her own as she actually appeared on screen in "The Master Mystery" (1918) with Harry Houdini, playing his love interest. Marguerite died in 1925. And you can read about her at https://www.imdb.com/name/nm0550619/bio
And many thanks to "Bowbara" for providing us with the above
Sesame Street Day started in 2009 - which was the fortieth anniversary of the show's original broadcast in America. Only one set of cards ever seem to have been issued for this series, though there were 100 cards in the set. This was by Idolmaker, in 1992. produced a set of 100 Sesame Street trading cards. You can read more at https://muppet.fandom.com/wiki/Sesame_Street_trading_cards  - however look closely at that link, because the Muppets did indeed first appear on Sesame Street.
One of the most collectable sets of the Muppets is "Jim Henson`s Muppet Trading Cards", these were released in 1993 by Cardz Distribution, and the set of sixty cards come from photographs taken specially.
The one which is probably easiest to find is Panini, a set of 256 stickers issued in 1979.
Whilst one of the earliest was issued in Sweden, in 1978, but those are blank backed, and the only identifying text on the card is (c) H.A.I 1978. Card 9 does show the cast and say "The Muppet Show" and it also says that on the packets. But this does mean that if you are not into the Muppet Universe, and you come across an odd card, it is quite hard to identify it.
Today will be Armistice Day, so we will be having a special commemoration on our main website. The above cards are a hint of what is to come...
If there is a War Memorial near you do go along and pay your respects. It may be cold and frosty but it is a heartening experience. In some places there are parades to the memorial, but we are not sure whether these will be able to go ahead with the news that cases of covid are creeping up. If you are not able to attend for any reason, there will be television reports from around the United Kingdom. It is now 103 years since the original Armistice. We owe it to those who went, and have now gone, to take our place in the remembrances in their stead.
The 12th of November every year is Fancy Rat and Mouse Day. As to why, in 1983, in California, the American Fancy Rat and Mouse Association was started. Their aim is to promote good rat and mouse ownership, to show they can be very good pets, and to try and ask for kindness and tolerance rather than the sad (and untrue) connection with rats, mice, and uncleanliness. Edwards Ringer and Bigg "Our Pets" (1926) have two cards of the white rat 23 and 24. Card 23 suggests that rats are better pets than mice, that they have "marked intelligence" and "will come to the call".
Mice and rats will come into a compost heap, but only if you put food in it, or plants and fruit which are of use to them for eating, and they are fun to watch as they scurry about, but dont get too close as they are timid and shy and prefer to be left alone.
We spoke recently of Mickey Mouse and the rise in value of his cartophilic representation on Wills Cinema Stars third series (1931). It seems that this is now on the wane and of thirteen completed eBay listings since the 8th of August only three sold for over £100, whilst four took a best offer (this only shows the asking price crossed out, not how much the offer was, so there is no way to tell if it was higher or lower than the hundred). The rest sold for between £94 and £27.13 - which is still high, but not the crazy prices we were seeing shortly before.
This week's Cards of the Day...
well this week our cards of the day have been celebrating the launch of the world's first regular television channel, by the British Broadcasting Corporation. This took place on November 2 1936. It was called simply "The BBC Television Service" until 1960, when it was shortened and modernised for the new decade to BBC TV. On the 20 April 1964, which saw the arrival of BBC Two, it was again altered to BBC1 - this second channel did not start well, through no fault of its own, as the first night, packed with exciting broadcasts, was badly affected by a fire at Battersea Power Station caused an electrical blackout in many parts of the London area.  It was changed again to words (BBC One and Two), rather than numbers, in 1997. 
So lets take a trip through the BBC story, as seen through cartophilist eyes ... 
Saturday, 30th October 2021
GO75-560.1 [tobacco : UK] Gallaher "Champions" 1st Series, second printing (1934) 3/48.
Now this set was actually issued twice within the same year, and there is a huge difference between the two sets as our second printing has the person's name on the front of all the cards, whilst many of the subjects have been redrawn and enlarged, the back wording is also larger and the description texts vary. There seems that no reason has been recorded as to why this was done. However from the London Cigarette Card Company catalogue of 1950, we can tell something quite important, as the first version (front without letterpress) was already scarcer, it was listed on sale at 6d a card and 30/- a set, whereas the second version (front with captions, subjects redrawn) was listed as 3d. a card and only 15/- a set. Our subject, Alex James of Arsenal, appears on quite a lot of cards, which you can see at http://www.doingthe92.com/display_player_cards.asp?step=441&ID=1&pid=46811   Well as to the reason for our card, the BBC may have started its television service in 1936, but it did not televise a football match for almost a year, and this was a specially arranged "friendly" between Arsenal and Arsenal Reserves, (hence our card) which took place at their home ground on 16 September 1937. I've not been able to find out whether Alex James played in that but if someone out there knows do please tell us. You may be interested that the first "International" match to be shown on the small screen was England vs Scotland on 9 April 1938, possibly this was a trial for the F.A. Cup of 30 April 1938 (Huddersfield Town vs Preston North End). None of these were shown live because the F.A. was opposed to that, believing that showing live games would reduce physical attendance at them. It took until 1946 for live football to be shown, and this was not a division match, just a local between Barnet and Wealdstone.
Sunday, 31st October 2021
A745-360 [tobacco : UK] Ardath "Famous Scots" (1935) 3/25
This set was only issued in Scotland. I don't know why, as it is a very attractive set and the people included would have been of interest to collectors in other areas of the British Isles. It is also intriguing that in the same month Ardath issued the larger sized version of "Film, Stage and Radio Stars"at home and abroad, and "Sports Champions" in New Zealand, whilst just one month later, two more sets appeared, "Cricket, Tennis and Golf Celebrities" and "Speed-Land, Sea and Air". Definitely a lot of issuing going on at that time, so why take more time to make a whole new set for just one region? Anyone know?
Anyway, yes, our card shows J.L.Baird, who you may think is an actor or sportsman, but it is indeed John Logie Baird, the inventor of television, and his connection with the BBC is that he used the BBC frequencies to show several of his first experimental television broadcasts. The pictures were in black and white, and quite fuzzy, just 30 lines definition.
You can also find him at:
BBM-47 [trade : UK - tea] Brooke Bond "Famous People" (BBM-47.1 = 1969 blue back - BBM-47.2 = 1973 black back) both sets are identically numbered as 36/50. These reference codes come from our British Trade Index Part III, issued in 1986.
KEE-11 [trade : UK - preserves] James Keiller & Son "Scottish Heritage" (1976) card 16. This reference code again comes from our British Trade Index Part III.
Monday, 1st November 2021
O100-486 [tobacco : UK] Ogden Broadcasting (1935) 1/50
This set was originally given the reference code of O/53. It was only issued as a "Home" issue, not overseas. It was also one of the eighteen sets which were also issued by Hignett. Sixteen of these are in full colour, but not this one, and I'm really not sure why it was in the kind of sepiatone which makes entertainment less entertaining. The only other "brown" set was "Prominent Cricketers of 1938". Now our set is an important set because at that time broadcasting was really little known about, so this set really shone a light on what was going on. The first thing it did was illustrate the studios and personalities that were coming through your radio into your room, and also show you other people and different types of broadcast that you might not have found yet, and might like to tune into in future. And the second thing, even more cleverly, was to advertise the wonders of radio to the people who smoked but did not have a radio, so could not join in with discussing the wonders of the set fully until they did acquire a radio of their own.
Our card shows the wonderfully modern, Art Deco styled, BBC Broadcasting House, right in the middle of the nightlife and entertainment capital of Central London. It's the perfect way to start a set. This was built in 1932, as the first purpose-built home for radio, and it remained solely radio for many decades, however, in August 1932, one of the Dance Band studios, deep in the basement, was briefly used for one day of experimental television broadcasts. If these had not worked, what then? But they did, and that meant the idea would progress, though the major stumbling block to television for all would remain the expense of the recieving equipment for a considerable time.
Tuesday, 2nd November 2021
O100-502 /50 [tobacco : UK] Ogden "Coronation Procession" (1937) 37/50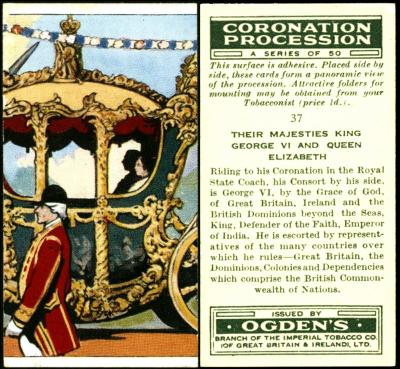 This celebrates the first televised outside broadcast by the BBC, which was this 1937 Coronation of King George VI and Queen Elizabeth. This card is past of a sectional set, making up a long continuous panorama with borders top and bottom. It is adhesive backed, and the cards advertise that there is a special folder for mounting (1937) which you can actually see at https://www.etsy.com/listing/810900554/vintage-ogdens-cigarette-cards-1937-the    I`m not quite sure why they had the borders, I thought that it slipped inside the folder, and maybe flags were printed there and came down to cover it, but I was wrong. Any ideas why they did not just continue the image to the top of the card like most of the other sectional series?
The original reference code of this set, from our checklist booklet, was O/67. And the set was another of those which was also issued by Hignett.
Panoramic views of Royal events were not new  -  one for George IV`s Coronation of 1821 can be glimpsed at https://www.fleaglass.com/wp-content/uploads/2015/03/524150.jpg - and one by Raphael Tuck, issued for the Coronation of Queen Elizabeth II is at: https://tuckdbephemera.org/items/27247/pictures/96894
Wednesday, 3rd November 2021
Topps "Alien Attax Trading Card Game - 50th Anniversary" (2012) 1/?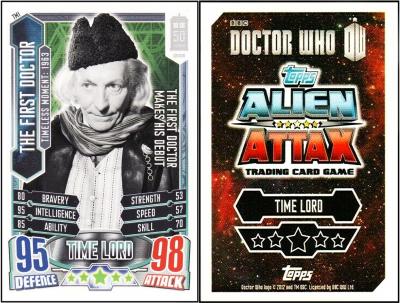 this pays tribute to the Radiophonic Workshop at Maida Vale, where they spent the hours using odd objects to make sounds. The best known sound effects created there were for Doctor Who, which first appeared on television in 1963. Even non-Whovians can gain a lot of enjoyment at https://thedoctorwhosite.co.uk/ which covers every episode from the very first one, and has loads of trivia! By the way I'm not sure how many are in this set, it doesnt appear to say on the card. Anyone out there know? 
One of the first sets of cards to feature this groundbreaking series was issued in 1964 by Cadet Sweets. "Dr Who and the Daleks Sweet Cigarettes" came in a really striking packet which few small boys would not want to buy. And that is without seeing the point of sale display which you can swoon over at https://i.pinimg.com/originals/83/28/46/832846c70408e3239cf36ed8f1cbe277.jpg
You can see the first five cards at https://imdoctorwho.blogspot.com/2011/07/cadet-sweet-cigarette-cards-doctor-who_17.html and this explains why there are not that many packets about - just look at the bottom of the back of the card and read "Cut out the words "Dr Who and The Daleks" on the packet. Send in 5 of these  ...for an album" But what is a "rel"  at the start of line 5? 
Thursday, 4th November 2021
[trade : UK] Robinsons "Sporting Records" (1983) Un/30
Starting in 1966 but on a very limited basis, BBC started showing programmes in colour. Then, on July 1st 1967, a Saturday afternoon, they trialled one programme, coverage of the 81st Wimbledon Tennis tournament, including a men`s singles heat. This was the first colour service in Europe.
We chose Billie Jean King because she had the most profitable event that year, winning the Women's Singles, Women's Doubles (with Rosie Casals) and Mixed Doubles (with Owen Davidson) 
In 1969 BBC one started to show programmes in colour, and it also began on the commercial station ITV. Slowly, colour took over from black and white until the mid 1970s when colour became network wide. 
Friday, 5th November 2021
[Trade : UK] Brooke Bond "Inventors and Inventions" (1975) 50/50
This card is called "A peep into the future! and it speaks of hand sized televisions. In a way that came true, with mobile phones. These not only show pictures, but pictures in colour, neither of which would have been thought possible at the start of the BBC. So we thought it might be fun to see what else had changed from our cards of the day...
SATURDAY : first televised football :
In 2010, football was not just on tv, but in 3D - and the match involved Arsenal. Check out https://www.bbc.co.uk/news/newsbeat-10056499
SUNDAY : John Logie Baird and his fuzzy 30 line definition 
Strangely, the term high definition was first used in August 1936; today we have Ultra High Definition, which you can read about at https://en.wikipedia.org/wiki/Ultra-high-definition_television
MONDAY : Broadcasting House, Central London
Though this is still in use, movement has been steady towards regional centres rather than only being in London. Most of this is news based for quick access to breaking stories. and also to a giant complex in Manchester, called Media City - see https://en.wikipedia.org/wiki/MediaCityUK
Whilst http://www.tvstudiohistory.co.uk/old%20bbc%20studios.htm is also a great read
TUESDAY : First televised outside broadcast
It was estimated that two billion people watched the wedding of Prince William and Kate Middleton, and it was viewed in almost every country. https://www.broadcastnow.co.uk/bbc-ob-covers-funeral-and-royal-wedding/1022534.article
WEDNESDAY : Doctor Who
The Doctor is still going strong but he has changed gender. It's still as good. And it still attracts a huge audience, see https://www.radiotimes.com/tv/sci-fi/doctor-who-overnight-ratings-series-13-newsupdate/
THURSDAY - Colour at Wimbledon
Here is an insight into the vast schedule for Wimbledon 2021 https://www.bbc.co.uk/sport/tennis/57557100
FRIDAY - what will the future, our future hold? It will soon be a hundred years since a little box of pictures became part of our lives. To me the biggest change must be as predicted by this card, portability, no longer to have to stay in and be rigorously confined in order to catch the must see television of that day. 
Well there you are, another week over. We hope you, and your pets, had a safe and enjoyable firework night, and that you enjoyed our rather brief presentation. However at least we celebrated, and that is really all that matters.
See you all next week, and happy collecting from us all
And dont forget last week`s newsletter might have disappeared from the screen but it is still available at https://csgb.co.uk/publications/newsletter/2021-10-30