November is almost here, and don`t forget the clocks do something this weekend. I`m not sure what, my phone sorts that out automatically but whether we go back or forwards I have no idea. However that means darker nights and longer. So we will try to keep you entertained until the clocks start to turn the other way and you will again be spending more time at flea markets and fairs and not having to race home before you are enveloped in darkness. 
So what will we be bringing you this week? Well several special events for one thing, watch the newsfeed boxes and if you think you might have missed anything remember you can go back through the newsfeed section at https://csgb.co.uk/news
So lets start with....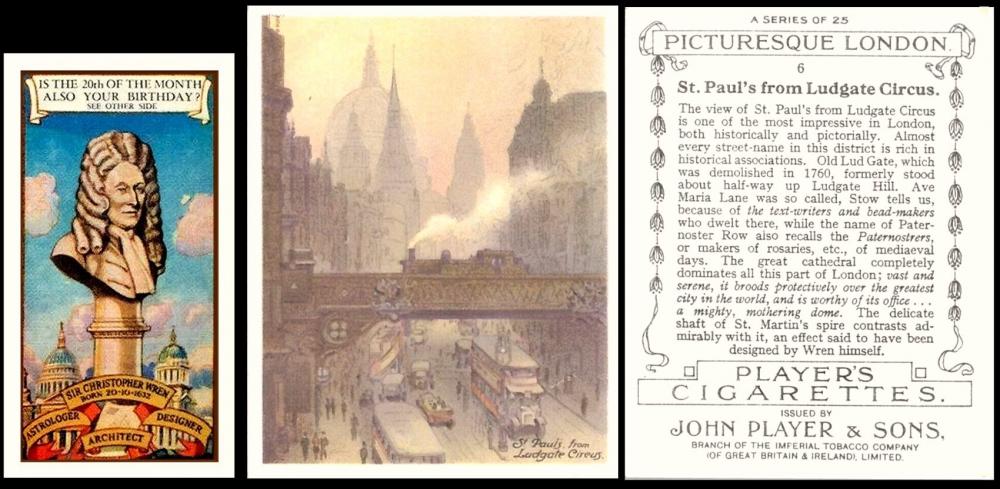 On 30th October 1632 Christopher Wren born, he was an English physicist, mathematician, and architect, who is most famous for raising over fifty churches  out of the ashes of the Great Fire of London, including a brand new St Paul's Cathedral remodelled in stone rather than its former wood. He died in 1723. You can read his biography at https://mathshistory.st-andrews.ac.uk/Biographies/Wren/  
There are several cards of him, and St. Pauls, you can see the most usual at https://digitalcollections.nypl.org/search/index?filters%5Broot-collection%5D=b50ab6f0-c52b-012f-5986-58d385a7bc34&keywords=christopher+wren#
The reverse texts of all but one of these portraits of him (the one is the Carreras blue "Turf" slide, which is a carton issue so is a plain back) tells us that the image comes from a painting by Sir Godfrey Kneller, which you can see at https://www.npg.org.uk/collections/search/portrait/mw06939/Sir-Christopher-Wren
There are more cards of Sir Christopher Wren than this though, including the non bordered version of Lea "Miniatures" 31/50 which again uses that Kneller portrait. Some cards differ, Ardath "Your Birthday Tells Your Fortune (1937) shown above card 20/50 shows him as a carved bust - and W.A. & A.C. Churchman "The Story of London" (1934) 29/50 is an artists impression of him at St. Paul's in 1684 (8/12 first series large size and 29/50 standard size). Trade cards of him include Brooke Bond Tea "QEI - QEII" 10/50 - Kane "Historical Characters" 38/50 - Lyons Maid (1966) "Famous People" 18/48 - Shell "Great Britons" (1972) Un/20 - and - Typhoo Tea "Homes of Famous Men" (1934) 25/25 which shows instead of St. Pauls, his own home, The Old Court House, Hampton Court, described in the text as "A Tudor Mansion which he rebuilt". For St Pauls itself, his lasting memorial, the earliest cards seem to be numbers 50 and 55 of the 1902 Ogden Tab "General Interest Series C" which show Thanksgiving services at the Cathedral. Another Ogden's pair is Sights Of London 17/50 and 18/50 which show exterior and interior views, and F & J Smith "A Tour Round The World" 22/50 and Cohen, Weenen, Sweet Crop "Interesting Buildings and Views", which both show most attractive artist`s impressions, plus our card John Player "Picturesque London" 6/25 . And there are plenty more if you "look about you".
Now today is Hallowe`en, so we are going to have a few spooky specials popping up to entertain and amuse you. And well done if you were the lucky winner of our gloriously Gothic Fry Eye.. Had a lot of comments about this. Also I tweeted it on mine own site and had lots of "views", if "eye" dare say that. No more puns, honest. Hallowe`en is based on an Irish festival called Sanhain, but the simple fact is that at this time of year the seasons change and suddenly the normal world is filled with bejewelled cobwebs, spiders coming in the house for warmth, the colder weather makes the house creak, and the dark casts shadows. So why not turn it into spooky stories and ghostly goings on for a bit of amusement? By the way I will just show you a few cards above as a taster, and add the links to the specials on Sunday morning.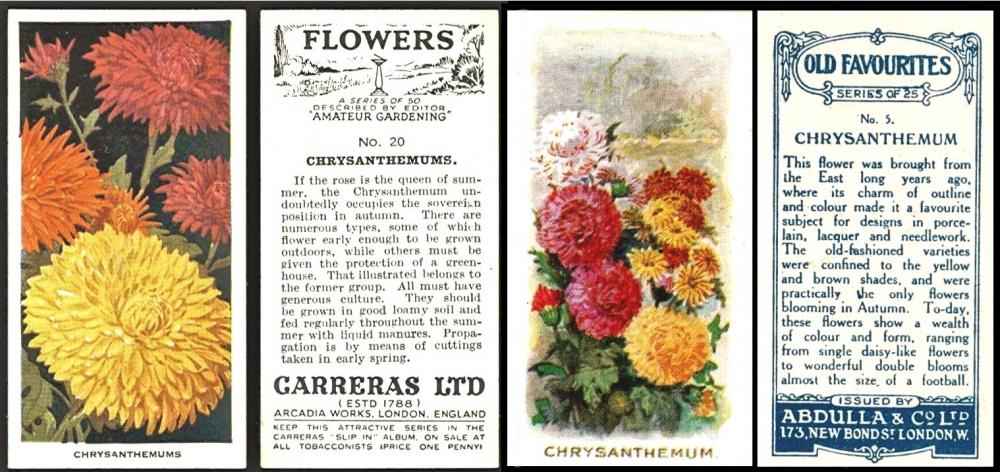 Today is the first of November. This month has not changed its name, but it has changed its place in the calendar, which Latin scholars will know, "Novem" being Latin or Roman for "nine". It shifted after the arrival of January and February once we shifted to the Gregorian calendar. The flower of November is the Chrysanthemum, the theory being that its rusted colours remind you of the Autumn leaves, but they have actually been dropping for some time. You can take a trip into the story of this flower at https://www.almanac.com/november-birth-flower - and hi to our pals at the Old Farmers Almanac, which is a great site, full of the sort of things I like. The birthstone for November is Topaz, and there is a link to that on the same page, which contains such gems of information as "The ancient Greeks believed that topaz could make a wearer invisible".  
Here are links to a pair of beautiful and rare cards of this flower and stone.
Chrysanthemum :  https://www.metmuseum.org/art/collection/search/423332
Topaz : https://digitalcollections.nypl.org/items/510d47e2-45ac-a3d9-e040-e00a18064a99
The first of November is actually All Saints Day,  variously referred to as All Hallows' Day, Hallowmas, the Feast of All Saints, or The Solemnity of All Saints and it pays tribute to all saints, past, present, and future, as well as to those who have no recognised date to celebrate them, and to people who should have become saints through their good work but were never officially recognised outside their immediate area. It is also celebrated in many countries and many faiths. The "Hallow" part of these means sacred, and speaking literally the Hallow E`en is simply the evening before the sacred day. 
By the way, "Saints" is also the nickname of Southampton Football Club, see our card above, and also the team name of the Australian St Kilda Football Club, as shown at https://oztradingcards.com/cigarette-trade-cards/aussie-rules-cigarette-cards/1910-standards-abrahams-e-series/
Following on from All Saints Day is All Souls Day. Now you know why people blew off steam on the evening before this pair by dressing up and carving scary faces into vegetables. (this was meant to be deleted, it was me rambling on, but its rather amusing so it stays). returning into serious mode, All Souls Day is when we remember friends, and collectors, who are no longer with us. So it is a good chance to get cracking on our archives and to have a think about our latest project to fill your dark winter nights, and that is the start of recording all of those forgotten and dimly remembered branches and clubs. A list of the ones I know of is now uploaded to  https://csgb.co.uk/house-of-cards/branches - if you know of any others, or can amend the dates of their operations, or have any memories of them, please email us at webmaster@card-world.co.uk and we will start tapping them into the main branch pages. We also plan to have a blog post where we can summarize the new developments so you dont have to check every branch to see our memories. And if you have any photos, adverts, or other memorabilia do please send us a scan and/or more details
On the 3rd of November 1896, J H Hunter patented the portable weighing scales. This is a great link to something we have not featured before in newsletters and that is weight cards. The British Automatic Company is the one you will come across for the most part, and they were based at 14 Appold Street, London EC2, which was Bishopsgate. In the late 1940s and 1950s the trip to the weighing machine at the local railway station was a real treat, you would have to stand very still and wait for the red hand to drop before you put the coin in. Out would come a small card with your weight shown in stones and pounds, and the date, whillst on the other side was a picture, for instance, "British Locomotives" (1948) "Speed" "History of Transport" . "Space Travel" "Sports" "Dogs" "Olympics" "Famous Trains" and the really great "Racing and Sports Cars (1957). These were usually sets of twenty four cards and sometimes they were overprinted with "WEIGH DAILY". whilst it is even possible to find cards without the weight on which might have been remainders left over from when a set changed. Some collectors prefer them like this, others like them to have been used and imagine who the person might have been from the weight that is given. In fact BAC had branches in Birmingham, Bristol, Dublin, Glasgow and Manchester, and had been in business since the 1880s making not just weighing machines, but platform ticket dispensers, embossing and name plate machines, and food and drink vending machines. They were still in business in the 1960s, maybe longer. 
The Players "Weights" advert is courtesy of a reproduction postcard issued by Card Times with a calendar back - but it proves that there are more "weights" than one.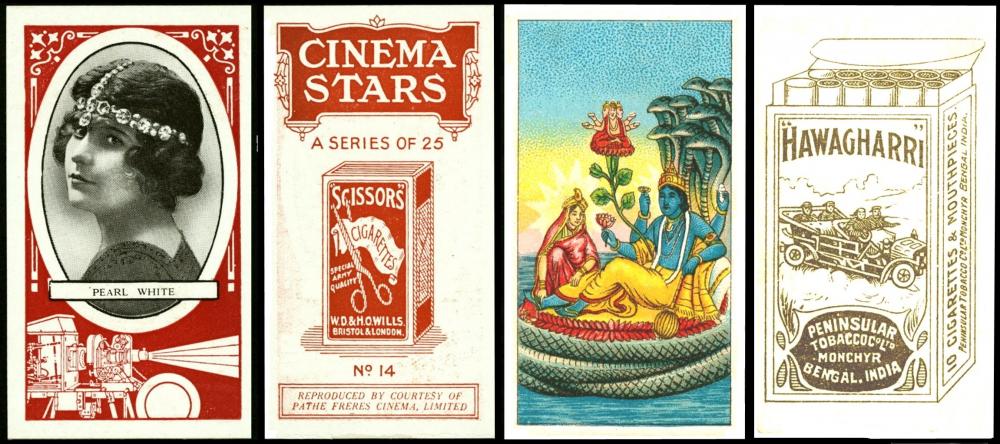 Today is Diwali so let us look at some cards from India and neighbouring countries. The ones you will be most likely to find are from Wills "Ruby Queen", issued in China, India and the East, from 1911 to 1928 and with variances in the star on the back design that suggest they were produced locally not sent out from home - or "Scissors" brand, made to "Special Army Quality", which is proof enough that they came out of garrisons' these were issued from 1904 to 1927 and included several useful actress and cinema star sets - but rarer ones to look for are Peninsular Tobacco Company who operated between 1905 and 1918, and The Imperial Tobacco Co of India, "successors, in India, to  British American Tobacco Co Ltd", formed in 1908 who issued cards with "Railway Cigarettes". Many of the Indian issuers did not have text on the reverse of the cards, preferring a cigarette packet design. You will also find in Coronation series several references to the Imperial Crown of India, which was specially made for the Delhi Durbar in 1912 to get around the fact that the crown jewels are not permitted to leave our country. The First World War saw a shift in the perception of India, as Wills "Britain`s Part in the War" card 18/24 talks of how "the Princes and peoples of India spontaneously came to the aid of the Empire..." 
Smoking in India is less common than you might imagine, it was one of the first countries to smoke, but that was primarily cannabis, and for almost twenty years they have had the policy of more or less completely banning the advertising of any tobacco products, apart from airports and other areas where westerners are more likely to go. 
It is sometimes written that on this day in 1935 Parker Brothers first started to sell a game called Monopoly. However the first version, "The Landlord`s Game", was invented in 1902, by a woman called Lizzie Magie or Maggie, who did it to show that capitalism was basically land grabbing, and very faulty, being good for the landlord but not good for the tenant, who would have to find the rent at sudden notice, as was recreated when a player landed on a square and had to pay the owner of that title deed. Her game was patented in 1904, and submitted to Parker Brothers in 1910, who turned it down. I cannot hope to equal the amazing research that has gone on into the game and its story, so simply direct you to  https://en.wikipedia.org/wiki/History_of_Monopoly  - and I am sure you will enjoy it as much as I did.
Now you may be wondering what Monopoly has to do with cartophily? True it has little to do with cigarette cards, but look hard and you might find a card of "Scenes from the Boer War" by The Turkish Monopoly Cigarette Company Limited - in the mean time check out this one sold by our friends at Loddon Auctions https://www.the-saleroom.com/en-gb/auction-catalogues/loddonauctions/catalogue-id-loddon10038/lot-5c2bcd2e-9833-4452-92d7-aae900a420e4#lotDetails
Since the 1980s the fast food restaurant chain McDonalds has issued Monopoly stickers, you get one or two stickers stuck to the packaging of each meal, you peel them apart and you might just win a prize. The original award system fell foul of nutritionists, and meals which are seen as less healthy now have less stickers than before with some having no stickers at all (Big Mac is one of those which has none), whilst stickers have been added to salads and healthy food. The prizes include cars, hot tubs, holidays, free meals, and cash. 
This week's Cards of the Day...
well there you have it for another week. The monopoly picture will be added tomorrow, no idea why I brought the wrong disc down. 
If you missed last weeks newsletter fear not its still available at https://csgb.co.uk/publications/newsletter/2021-10-23
better close - Hallowe`en is calling. Pop back tomorrow midnight for some spooky fun....