Welcome to our regular newsletter. The news may be bleak but you will always find something to occupy you, and hopefully to entertain you, in here. So make a coffee and come on in. 
It is currently 9.15 pm and I still have all the pictures missing. But it is coming together. I always say I will start earlier, but then I only find I write more and there is the same frantic pictorial panic as ever
Today in 1940, rationing began. Rationing, a system designed to ensure that everyone had the same amount to eat, was also a way to stop the panic buying, black marketeering, and hoarding that was starting to occur due to the threat of shortages (I tell you, nothing is new; its all been done before) and the public knowledge that before the war a lot of our foods had not originated here, but been shipped in from lands under occupation through waters now inhabited by German warships, and, more deadly, submarines.
The first things to come under the scheme, today eighty-one years ago, were bacon, butter, and sugar. Everyone received a "ration book" and the first thing they needed to do was register with a shop, who would apportion the food and either cross through or take a coupon out of the book as proof. These shops were small shops and they did not sell everything, you would have a baker, and a grocery store, and a butcher, etc, unlike today, so a large proportion of time was spent in long queues. What a lot of people dont know is that rationing had also occurred towards the end of the First World War, but you simply had a card not a book. Actually you can see one online, but I have had and sold several including different styles, they sell quite well, better than the 1940s ones. By the way, Germany also had ration cards, as you can see on this postcard. (Its not my site by the way - though does anyone out there sell on etsy? Whats it like?) 
Cigarette cards ceased in 1940, so you won`t find any mention of rationing there. I did track down two cards of bacon, the earliest being The Co-Operative Wholesale Society`s "Co-Op Buildings & Works" (C792-120 : 1914) Un/28, one of which shows their bacon factory in Tralee. The front looks okay until you look closely, the back just shows what little regard we had, and sadly still have, for beautiful animals who have souls and feelings just like us. Non-Vegans can see it at the New York Public Library because I dont intend to show it. The CWS is rather confusing because cards issued with its grocery products are in the trade section of catalogues but those issued with tobacco are in the cigarette card section; their tobacco factory was in Sharp Street, Rochdale Road, Manchester, and was established in 1898. In the London Cigarette Card Catalogue of 1950 there is a footnote to this set which says ""Note : cards advertise non-tobacco products but are believed to have been packed with cigarettes and tobacco". All CWS cards are scarce, and there is good reason, because the cigarettes and tobacco were not sold on the open market, they could only be sold to retail co-operative societies, hence limiting their market. Wills "Irish Industries" (W675-189 : W/245 - 1937) 4/50 also has a card of bacon curing but that is even worse, however for those still debating whether to join Veganuary it could do the trick, thats in the New York Public Library as well. This set was only issued in Ireland, which is a shame for there are some attractive cards in it as well as the horrors, even though they are printed in just black, brown and white. However there is a slight bit of proof that maybe it was intended to be issued across the British Isles, for our Wills reference books tell of a variety that is printed with "This surface is adhesive", which was incorrect, the Irish cards not being adhesive at all. However if it had been issued here it would have had that inscription. Very curious. Anyway it was hastily reprinted and issued in Ireland without any mention of adhesive backs.
Butter is another thing off the vegan menu, but at least there are some pleasing cards. John Player "Counties and their Industries", which shows the process of butter making, in Munster Ireland. This set is catalogued as P644-066A (Un/25) and P644-066B (6/25), the reason being that this set was issue un-numbered at some stage, possibly in 1910, and then re-issued in July 1914 with numbers, before being hastily withdrawn and reissued in about 1919. All the cards mentioned so far may not seem to prove the need for rationing, but the trip from Ireland was every bit as hazardous as the trip from other lands.
The Co-Operative Wholesale Society`s "Co-Op Buildings & Works" (C792-120 : 1914) Un/28 also contains a card of their butter factory, which was at Brislington near Bristol (this was actually a butter blending factory and it was opened in 1904), whilst Ogden`s "By The Roadside" (O100-488 -1932) takes us to three structures beneath which local butter was at one time brought from farms to be sold directly to the public; these are the 16th century Butter Market or Butterwalk in Dartmouth, Devonshire, built in 1635 (11/50), and two Butter Crosses, a 17th century one in Oakham. Rutland (32/50) and one which seems to be a 17th century one but built on a far older site at Witney, Oxfordshire (48/50) . This is a lovely set and quite poignant at the moment when we seem once more to be lurching towards lockdown; will we ever again get out and about to visit historical sites in other parts of the country and wander freely amongst the locals? Will farmers markets again sell us local, ethical products? Your guess is as good as mine.
The third of our rationed items, Sugar, was not just to make tea sweeter, it was a vital component in sweets, which led to sweet rationing in July 1942, though also to the practise of shops swapping sugar for ready made sweets – many a child did this, until discovered due to their family`s dwindling rations. Sweets were actually one of the last things to come off ration – which was not until in 1953! Phillips "Empire Industries"(P521-318 - 1927) 25/25 tells us just why sugar was just so scarce, namely that "The sugar-producing lands of the Empire are India, Queensland, Mauritius, British Guiana, Fiji, Natal, and the West Indian Islands". Wills "Irish Industries" (W675-189 : W/245 – 1937) 45/50 tells us that sugar had been manufactured in Ireland since 1927, but something more important too, that its production was very labour intensive, and it needed men that were needed for war; they "estimated that an acre of sugar beet on medium soil entails 237 man-hours of labour".
Today in 1899, Gracie Fields was born Grace Stansfield in Rochdale, above a chip shop; she started out in a mill, then went on the stage. Her first film was "Sally in our Alley" (1931). In 1937 she was the highest paid film star in the world. And she was still making records in her late seventies. Her almost rags to riches tale delighted people in the inter war years, and it was but a short trip into the movies. In 1928 she met a former film star turned director and producer called Monty Banks; they married in 1940, the second marriage for both. The problem was that he had been born Mario Bianchi, in Italy, and had not taken British citizenship. To avoid his imprisonment as an enemy alien, they went to Canada, and then crossed over to America, gaining citizenship there. To many people this was seen as a betrayal both by "Our Gracie", to abandon Britain in her hour of need, and for her husband not to fight. He died in 1950 and she married a local man in Capri. This seems to have been her happiest marriage and it only ended when she died.
You can find Gracie Fields on over twenty cigarette cards, starting with R & J Hill "Music Hall Celebrities Past and Present (H554-540 - July 1930) 25/30, a set issued in large size (less readily available) and in standard size. Other interesting cards include Ardath "British Born Film Stars", (A745-260) an export set which also comes in two sizes, and three versions, as the standard size can be found on a semi-glossy white card or a matt cream card; she is number 1 on all, but it is rather an austere image, though the reverse text comes from "Who`s Who on the Screen, 1933". Churchman British Film Stars (C504-425 - February 1934) 6/25 is a much more attractive picture, and it also mentions that she is "Mrs. Archie Pitt", this was her first husband, who she divorced in 1940. The same picture as on this Churchman card is used for W.D. & H.O. Wills "Famous Film Stars", the red brown version (W62-281-A : W/203) 90/100 but it is not the same text, as, most curiously, it uses exactly the same text as on the Ardath cards. And Gallaher "Champions of Screen and Stage" (G075-565 - 1934) 23/48, a colour card, which shows her auburn hair off to great effect, tells us that she "...spends a good deal of time at the Orphanage which she has endowed at Peacehaven for music-hall artistes` children". The Orphanage is also mentioned on Ardath "Film Stage and Radio Stars" (A745-390 - September 1935) 15/50, which tells us that "Her two latest [films], Sing as we Go and Look up and Laugh, were both specially written for her by J.B. Priestley" and that she "runs an orphanage at Peacehaven" - and on Carreras "Film Stars Described by Florence Desmond" (C151-280 - January 1936) 50/50, where it is actually called the Gracie Fields` Orphanage.
There is a most affectionate website for The Dame Gracie Fields Appreciation Society which is well worth a visit as it contains many snapshots and items of memorabilia, as well as a page on the orphanage, which is now a care home. And there is also another website on the orphanage that is well worth a visit too.
Today sees the start of houseplant week, which runs until the 16th. Houseplants are much in favour today for improving the appearance of your home, as well as bringing the greenery in from the outside, and even cleansing the air, whilst some are also edible, like herbs and spices, which can be houseplants too. After all, most plants are grown in a pot to start them off and only then transferred to the garden; some do get too big for indoors eventually, I have to say my sage is heading that way, but they can be trimmed, or turned into bonsai style trees.
My top set of cards on houseplants has to be W.D. & H.O. Wills "Flower Culture in Pots" (W675-175 : W/217 - February 1925), which was also issued by Imperial Tobacco Co of Canada, but I have too frequently mentioned those before.
Today we are going to have a look at another set I "dug up", (though that is usually something the dog is way better at than me) and that is most known as a trade set. Its Lamberts of Norwich "Cacti", issued in 1962, with several brands of tea. This set of 25 cards is really quite informative, giving the Latin name and a good description. What you may not realise is that the exact same set, even to the decorative title, was issued the year before by Amalgamated Tobacco, with "Mills" Filtertip cigarettes – as well as in a third version where there is no makers name or mark at the bottom of the reverse.
 
Whilst this day is generally known as "Learn Your Name in Morse Code Day" the truth is that on this day the first public showing of the electric telegraph system invented by Samuel Morse and Alfred Vail took place today in 1838. This code comprised of only two symbols, a dot, or short burst of sound, and a dash, or longer period. You will find lots of morse code in scouting sets, and many devote an entire card to each letter, showing the combination of the strokes. A morse code "tapper" can be found on Amalgamated Tobacco "Mills" Filtertip cigarettes "Communications" 7/25, which tells us that "This is a system of signalling and was devised by Samuel Morse in 1837". It does not mention Alfred Vail, but continues with the fact that you can also use flags or high power lamps. 
For a rather succinct biography of Samual Finley Breese Morse, turn to R & J Hill or Bucktrout "Inventors and their Inventions" though this text disagrees with most of the above, saying he concieved the idea in 1832 and sent his first message in 1844. And Typhoo "Great Achievements" (so probably Fine Fare as well) says he "invented his famous dot and dash message in 1835".
You can also find him, or rather just his morse code, superimposed on a wrecking ship, on  Brooke Bond "Inventors and Inventions" (1975) 29/50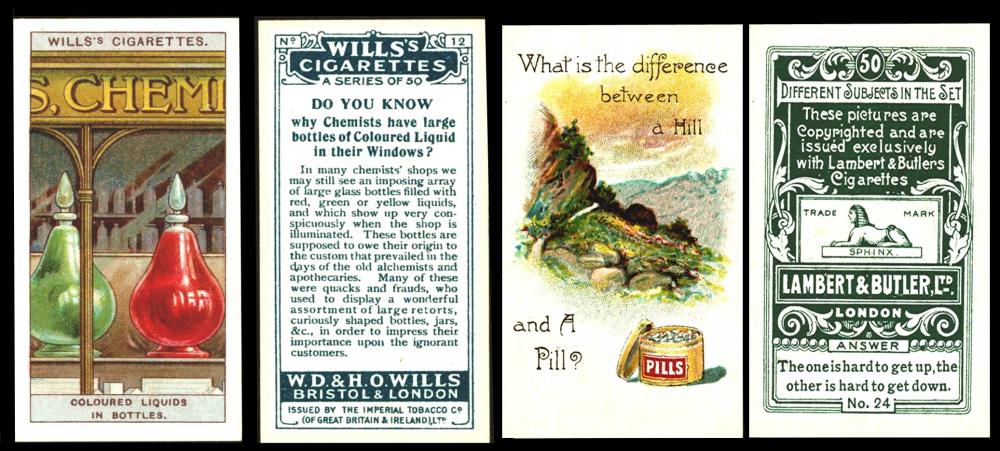 Today is National Pharmacist Day and in the last couple of years the role of the pharmacist has become much more well known. Technically they are anyone who has a license to make, blend or give out drugs to patients, to a written order from a doctor or medical official. The training takes approximately six years. American "drug" advertising cards seem not to follow this system at all, and a flick through some of them will find some very interesting claims and medicinal values. Funnily enough we found a pharmacist called Dr. Morse, who seems to have specialised in "Indian Root Pills" in the 1880s and issued many trade cards. A look at famous pharmacists of the past also turns up some intrigue, as both John Stith Pemberton and Caleb Bradham used their laboratories to invent soft drinks – Coca Cola and Pepsi respectively – and Wilbur Scoville worked out a way to measure the heat in chilli peppers.
OK I admit it, I am keen on the thought that our lives are not entirely in our control, that we are not alone in this huge galaxy that grows larger every day, and I also believe in horoscopes, tarot, and many other strange things. So give us a chance to celebrate Make Your Dream Come True Day" and I am there.
Lets start by asking what is a dream? Well in most cases it is something you would dearly like to do, but dismiss as impossible, and this means you never try. I am not saying every dream can come true, but there is nothing to stop you trying, or reading up on how you might be able to give it a go. And there is a card collecting link here, because how many of us see a set and think we would love to own that but it is financially out of our reach? Well there are two solutions – the first is to look for a type card and build the set up very gradually at Christmasses and Birthdays, and to celebrate special events – whilst the second is to buy a set or part set in a lesser condition, so that at least you have the delight of being able to look at the cards every day, slowly replacing them, if you must, with better quality examples.
Dreams have actually come true many times, with several incidences in the bible and many solutions to inventors problems coming by way of a flash of inspiration. One of my favourites is the tale of the sewing machine, which appears, with others at psychmechanics. Literature, film, and art also have many dreamworks - Mary Shelley freely admitted that Frankenstein had come to her in a dream (or was it a nightmare), and James Cameron saw "The Terminator" in a dream long before he appeared on the screen. Salvador Dali used a lot of dreaming for his work, and even produced the dream sequence in Alfred Hitchcock`s "Spellbound" (1945)
Dress Up Your Pet Day. Of course this is entirely dependent on the sort of pet you have, and whether they like being dressed up, because a pet is not a plaything, it is a life with its own thoughts and dreams. But some pets do enjoy dressing up and others enjoy the extra security and warmth that special clothing brings. Make sure whatever you buy is from a reputable pet store though, or ask your best friend the vet what he thinks.
W.D. & H.O. Wills "Animals and Birds in Fancy Costume" (W675-042 : W/14) is what most collectors immediately think of. The set is untitled, and some of the animals do not fit the brief of what it has come to be called, the hare only having slippers, the pig drinking champagne, the beetle merely carrying a spade, the turkey with just a cigar, etc. I think it likely that the first cards to be discovered were the more clothed ones, and by the time the rest came along the title was set.
This week's Cards of the Day...
Saturday, 1st January 2022
P644-138 [tobacco : UK] John Player "Association Cup Winners" (January 1930) 34/50
Our first card was Newcastle United, whose nickname, because of their black and white strip, is the Magpies. And in fact a picture of a magpie used to appear on their crest in the 1970s and 1980s. I havent found this on a card yet but I bet it is on a sticker somewhere, Other teams are also known as the Magpies, including from other countries, like Collingwood Football Club in Melbourne, Australia.
Why they are here is because Magpies, love them or not, were last year`s ninth most spotted bird. I say love them or not because there are many superstitions about them, including that it is unlucky to see just one, though the bad luck can reportedly be limited in that case by either saluting, or saying "Hello Mr Magpie, where is Mrs. Magpie?"
Now there is also another link to cards here because "Card Times" magazine (remember that?) was from the stable of Magpie Publications. And lets face it, who amongst us is not a bit of a magpie, picking up treasures to take home to our nests!
This card commemorates the 1911 Cup Final, which was Newcastle United against Bradford City. Newcastle United came in as the favourites, for they were the current cup holders, having beaten Barnsley in 1910., whilst their opposition, Bradford City, were in their first ever final. The card mentions that "a gusty wind" interfered with the match, and "no scoring took place in either half", which led to a replay, to be played at Manchester. Something else in the text might seem odd to modern eyes, for it says the match was at Sydenham, and not Wembley – there is a simple reason for this, it is because Wembley Stadium was not built until 1923.
Sunday, 2nd January 2022
H536-410 [tobacco : UK] Hignett Bros & Co. "British Birds & Their Eggs" 38/50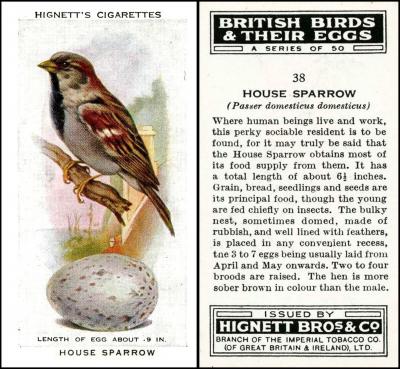 This card shows the most popular sighting, the house sparrow, which has actually been the most spotted bird for almost twenty years. The clue is in the name, for this little bird is very sociable and enjoys living near to houses, where he hopes the residents will give him food in some way, either directly on a bird table, or just by digging the garden, and the flowers and plants they grow will also furnish him and his family with insects.
Our handbook, and that of the London Cigarette Card Company, will tell you that this is one of the eighteen sets that was also issued by Ogdens, starting with "A.F.C. Nicknames" in 1933 and going on until the end of cards in 1939. All of the sets were issued in the same year as each other, except our set, which did not appear in an Ogdens livery until 1939.
However there is a nineteenth set that does not appear in our handbook, and, curiously this was issued completely widdershins to our set. That was "Air Raid Precautions", which Ogdens circulated in 1938 and Hignett not until 1939.
Monday, 3rd January 2022
A560-195: T.420 : RB118/86 [tobacco : OS] American Tobacco Company "Beauties (Playing Card Inset, Green Net Back) – green net being catalogued as version A (1900) two of spades/52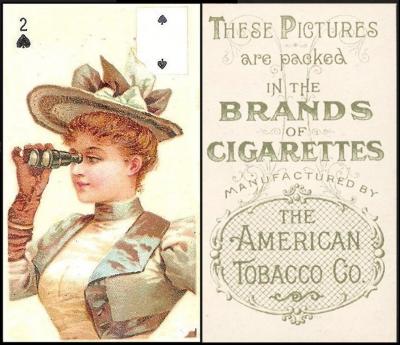 I am very fond of this card as there are all manner of occasions when binoculars can come in useful for a theme, but it never had a back until now!
The question was why is there a card of a different style in each corner? I didn`t know, but a few of you seem to think that these were the two styles of card numbering in use at the time and it meant that everyone could play with this deck.
It seems to be a card that other people like as well, because I have had a lot of response to its reappearance. I am fairly sure that there were other firm favourites in our former gallery but fear not they will all arrive here in due time, complete with the backs. The idea is to also have an index where they can be searched through - this may take a bit longer! 
The sad thing is that this lady will probably never be identified as a person, though she may have been an actual actress, moonlighting as a model, or she may just have sprung from the pen of an artist. However she is definitely a wistful beauty, a presence who comes into our lives but we never get to meet, the very early precursor of the modern day film, tv, or musician crush. I disagree with those who don`t like cards with pin holes, for they prove that at some time that card was an actual pin up, maybe above a camp bed, or in a trench. Today`s equivalent is almost certainly our delight in having our favourite as a telephone or computer wallpaper, but its nowhere near as romantic as this small pasteboard pleasure. 
Tuesday, 4th January 2022
M884-240 [tobacco : UK] B. Morris & Sons "English & Foreign Birds" paper backed silks (1915) 12/25
This is the blue tit (though the silk says "Common Blue Tit"), the second most seen bird in last year`s bird watch.
This card is not a card, it is a silk, and the wording appears on a paper backing which, it is said, is easily removed by loosening it at the corner and peeling it back, slightly wetting if it does not come away freely. After that you have a piece of silk which may be used to decorate home furnishings and clothing - or, as the backing paper suggests, "table centres, cushion covers, quilts, and other decorative articles for home ornamentation". The text also tells us that Morris had been "established over 100 years".
The silk ought to measure 78 x 56 mm, sometimes the edges can get a bit frayed and there has been some rather sneaky trimming encountered over the years. A silk specialist always checks - and always has, for the measurements of silks have been considered vital enough to include in catalogues and handbooks from the very first ones.
Wednesday, 5th January 2022
P644-144A : P/29 [tobacco : UK] John Player & Sons "Boy Scout & Girl Guide Patrol Signs & Emblems" (January 1933) 26/50
This is the blackbird, the fourth most popular bird seen last year, and actually it had risen up the ranking. This is a lovely card, combining the patrol sign badge and an accurate representation of the actual bird in a countryside setting.
The text tells us that the motto of the Blackbird Patrol is "Happy and Helpful". The happiness obviously comes from the fact that the bird is often described as a bright, cheerful singer, who, or so the text tells us, even sings in the rain. It also mentions that blackbirds have two or more broods per season, and that the young of the first brood are sometimes seen helping to feed the second. This would have been a useful thought to pass on to families with more than one child. 
The set was also issued as transfers. They do not look so attractive, because the picture and wording is back to front. The idea was much as the silk, you placed the whole of the transfer card, which was thinner than a normal one, into a bowl of lukewarm water for about a minute, and then you laid the transfer in place wherever you wanted it to go, pressing it into place. When it was fully dry, you wet the backing and it slid away. It was stated that a thin coat of varnish made the transfer permanent, but I think this is for furniture rather than arms, legs, etc. It strikes me that some of the transfer sets would have been met with less enthusiasm than this, for almost certainly every boy scout would have wanted his patrol emblem on display. 
Thursday, 6th January 2022
P521-420 [tobacco : UK] Godfrey Phillips "British Birds and Their Eggs" (1936) 5/50
Now a sad tale, for birdwatch reports that finches are having a tough time, for they are continually dropping further down the leader board. The Goldfinch just clung on to the top ten in number eight, but the Greenfinch and Chaffinch have dropped out.
Even sadder is that the text on our card says that "This is another gaily plumed Finch and is regarded as one of the most common birds throughout Great Britain" and that "Its numbers are considerably swelled in the autumn by immigrants from the continent".
However, it is not totally bleak, because the RSPB website says still that "the chaffinch is one of the most widespread and abundant birds". And they also say that chaffinches are not too keen on bird feeders, which gives us the truth behind the story, for most of us watch birds by getting our seat ready by the window, going out to lay some food, then returning indoors and seeing who comes to our tables and bowls. If the chaffinch does not do this you will only glimpse him flying past. And there is a further clue in their name, for chaff is another name for cut hay, squarely suggesting that these birds are more seen in the country where hay is frequent, but human habitation, and bird watchers, are not so plentiful. 
Friday, 7th January 2022
P521-418 [tobacco : UK] Godfrey Phillips "Bird Painting"(1938) 4/50
This is going to be a serialization, because our original card of the day was this one, which showed the goldfinch. The reason for that was simply because we did not have the card from this set that showed the chaffinch. But now we have an offer of one, so once it comes we can either swop it here, or add it in above as a direct comparison, which I tend to prefer.
So here is our brightly feathered friend the goldfinch with his red face and sudden flashes of yellow coming from his wings. They are described as very sociable, which generally means there will be more than one at the same time and that ought to allow them to ,you to spot them. They also have one of the most beautiful of all the bird songs.
They do seem to come and go, some years they fly high in the chart of the most seen birds, being spotted in more than two thirds of gardens, whilst other years they are less visible. However it is thought that the reason for this is the weather – give them a mild January and they are much likelier to be flitting about early enough to feature in the big bird watch. And I suppose the same is true for all these birds - a wet weekend will not allow for good sightings. 
And that, dear readers, must be closing time for another week. For I still have the scans, and the cards so kindly sent by readers, to transform into proper illustrations.
Thank you for coming in and reading and see you all next week.