Well in case you didnt yet notice,, we are getting our show on the road again and heading to Hemel. Our final destination will be the Hemel Hempstead Leisure Centre, Park Road, Hemel Hempstead, HP1 IJS on Saturday 30th of April and Sunday 1st of May. And we look forward to seeing you all there. One big change this year is that we are going to have a LIVE auction on the Saturday after the Annual General Meeting, including fifty lots from the collection of Derek Jenkins, our President Emeritus. Bet you can`t wait to see those....
So what else can we look forward to, this week?
Today in 1893, in Cardiff, saw the birth of David Ivor Davies. Strangely, Premier Tobacco "Stage & Screen Personalities" 13/100 and Wills "Cinema Stars" first series 19/25 give the year as 1895 - whilst Abdulla "Cinema Stars" hand coloured pictures 27/32 not only gives the wrong day and year, but spells his name wrong too – saying "A brilliant musician, composer, actor, playwright and producer, Iver Novello was born at Cardiff on January 5th, 1895." But it is a very attractive picture !
His mother taught singing, and he was encouraged to join in. His talent was recognised with a musical scholarship, and he started writing music shortly after, under his pseudonym, Ivor Novello. His breakthrough came with a simple song called "Keep The Home Fires Burning", which was a huge hit during the First World War, though he wrote over two hundred other songs. He was not just musically brilliant though, he was handsome, as you can definitely see on Rothmans "Cinema Stars" (1925) 21/25, and this, naturally, led him to the movies, though Gallaher "Cinema Stars" (1926) 6/100 says "Originally intending to devote the whole of his time and talent to the stage, it was only after great persuasion that Novello was induced to go in for film work as well."
His first film is often said to be The Call of the Blood (1921), as it says on every card I have looked at; actually it all comes down to timing for though it was filmed in 1920, the same year as "Miarka - the Child of the Bear" the second film was actually released first. Both films were French. In "Miarka" he played "Ivor", also in the cast was Gabrielle Rejane, who appears on several turn of the century cigarette cards, and it was her last appearance for she died in 1920. In 1923 he appeared in "Bonnie Prince Charlie", a film that no longer exists apart from on Wills "Cinema Stars" first series 19/25 and B.A.T. "Flag" "Cinema Stars" (1929) One of his most successful films was "The Rat"; he wrote and appeared in it as a play of 1924, then a film in 1925 co starring Mae Marsh, with a sequel the following year and a follow up in 1929. Before this screened he had met Alfred Hitchcock, and been cast in "The Lodger" (1927). In 1930 he wrote and appeared in a film called Symphony in Two Flats, which is the subject of Wills "Cinema Stars" third series 34/50. Another thing you may not know is that he wrote the dialogue for "Tarzan the Ape Man" (1932). His last film Autumn Crocus, was in 1934, and after that he decided he would give up the screen for the stage. What he did was to start writing musicals, in which he often appeared, without singing. And he also took a big risk after all his romantic roles, shocking theatregoers, when he took on the role of an aged gambler in 1936. This play, The Happy Hypocrite, is immortalised on Ogden and Hignett "Actors Natural and Character Studies" 38/50 https://officiallondontheatre.com/news/08-april-1936-novello-is-the-happy-hypocrite-98441/
He died on March 6, 1951, in London and was cremated at Golders Green Crematorium, after which his ashes were interred at St. Pauls Cathedral. In 2009 he was immortalised with a statue in Cardiff, which shows him writing.
According to the Trading Card Database, he appears on just nine cards, but this does not include the Rothmans, nor the Wills Third Series.
Today in 1605 saw the first edition of a most unusual work of fiction published in Madrid. This was called "El ingenioso hidalgo Don Quijote de la Mancha" and it was about a character called Don Quixote. Carreras "Figures of Fiction" 24/25 tells us that "Don Quixote was a Spanish Knight who went out in search of adventures … in some rusty armour and rose a horse called Rozinante, while his servant, Sancho Panza, followed on a donkey." It continues by saying that the Don "was a little mad and did all sorts of things, though always with the best intentions". I have to say that makes him sound like a fun guy!
Player "Characters from Fiction" (1933) 7/25 is a larger card, and shows Rozinante; the artwork was by H.M. Brock R.I. - Henry "Harry" Matthew Brock, who also painted artwork for Players "Gilbert and Sullivan" large and small. The text starts with a quote from the book but then tells us that Cervantes "...was wounded in the Battle of Lepanto and subsequently captured by Moorish corsairs. After five years of slavery in Algiers he was ransomed for 500 gold ducats."
Finally Millhoff "Art Treasures" 25/50 shows Don Quixote at the Inn by E. Gamba. It is not as attractive as the others, being dark sepia and white, but I do like the dog bounding down the stairs, barking furiously with excitement at the new arrivals, obviously a terrier!
The story is also immortalised by Liebig. Their first set was  in 1898, which have the Fada number of F0551 and the Sanguinetti number of S0552. This was followed by "Don *** de Miguel de Cervantes II" (1936). The asterisks are because there are language differences in the title - the German set being known as Don Quichotte , the French as Don Quickotte, and the Dutch as Don Quijote. These have the Fada number of F1329 and the Sanguinetti number of S1334. Then in 1948 another set was issued "Miguel de Cervantes". this has the Fada number of F1467 and the Sanguinetti number of S1468. 
A curious item is shown in the Look and Learn Archive https://www.lookandlearn.com/history-images/preview/XL/XL118/XL118063_Don-Quixote.jpg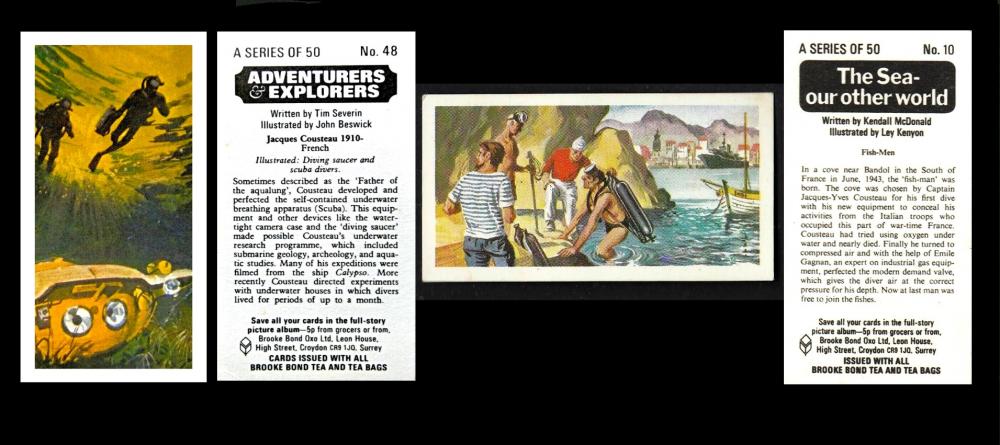 Today in 1954 an American television programme called "Omnibus" really brought Jacques Cousteau to the public attention for the first time. He was born in 1910, and was possibly the first to see and comment on the damage that man was doing to the ocean. By the time of this broadcast, he had made ten documentary short subjects, starting in 1943, all looking at the world below the visible surface of the sea, but these were not shown on major TV channels. Though he did not gain immediate fame from this, and returned to producing short subjects, he had caught the eye of television, and in the late 1960s he made three special TV films for National Geographic. One of these was called "The World of Jacques Cousteau", and this led to a series called "The Undersea World of Jaques Cousteau", which ran from 1966 until 1976, being then replaced by "The Cousteau Odyssey" for a further two years.He was making programmes and series right up to 1997, the year he died.
Actually it was an accident that led to all of this, he was in a car accident and his rehabilitation was to swim in the sea. From that simple thought, sprang so much.
According to the Trading Card Database he appears on ten cards. All but one are modern trading cards, the one being Brooke Bond "Adventurers and Explorers" (BRM-46 - 1973) 48/50 tells us he is "sometimes described as the `Father of the Aqualung` [for he] developed and perfected the Self Contained Underwater Breathing Apparatus" - and now read the initials which I have put in capitals and say OMG! This was in 1943. Note that the reference code comes from our vintage British Trade Index, because this set was issued after 1970. 
However he also appears on another Brooke Bond card, "The Sea Our Other World" as card 10/50, and this tells more about how "in a cove near Bandol ... in June 1943, the "fish-man" was born". The card is shown but the back needs a better copy - later!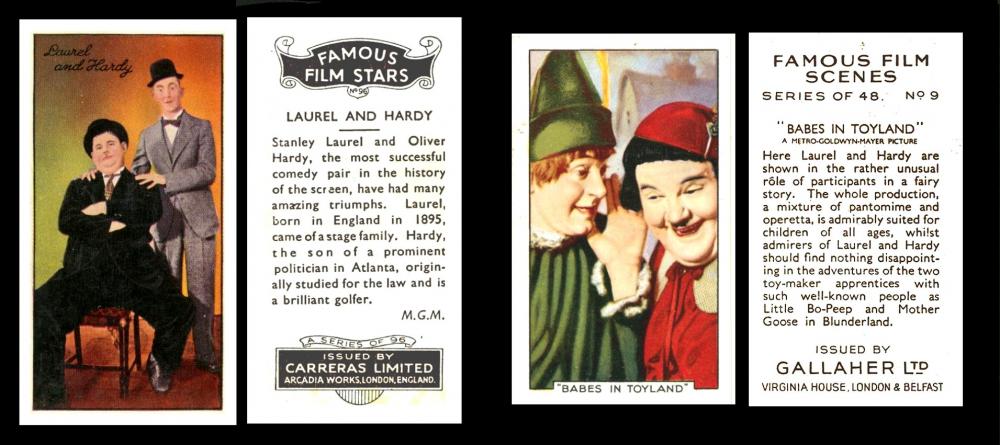 Today in 1892, Norvell Hardy was born in Harlem, Georgia, USA. According to Carreras "Film Stars" ovals 67/72 he was "the son of a prominent politician in Atlanta, originally studied for the law, and is a brilliant golfer". I am not quite sure where this comes from, because his father seems to have been a tax collector who owned a part of a retail business. I can find not trace of him being a politician. In any event, he died less than a year after Norvell was born. One thing that is known about him is that he somehow survived the frantic melee that is still regarded as the worst of all battles, that of Antietam, (also known as Sharpsburg), during the American Civil War, in which, on one day almost twenty three thousand men were killed, wounded, or simply disappeared. Some may think this incorrect and cite Gettysburg as the worst (as if this is a thing that should be glorified by ranking), but the casualties of Gettysburg, over 46,000 of them, do have to be shared between the three days that the battle lingered on.
Norvell gave himself the first name Oliver, (which was his father`s), as a teenager and had dropped the Norvell by 1910, though he occasionally used Oliver N. Hardy or O.N. Hardy, as which he appeared in his first film, in 1914, Outwitting Dad. It ran for all of ten minutes, but no longer exists due to a studio fire. From his second film, the same year, right until 1924, he was known as "Babe Hardy", a play on his large frame and six feet of height. He made a number of films, and moved to Hollywood in 1917 with his wife, but they divorced shortly after. He married again in 1921, and in the same year appeared in a film called "The Lucky Dog" as a robber. The man he was trying to rob was none other than Stan Laurel. But they never met again until 1927 when they made three short films in which they again appeared on screen together. The audience reaction was so good that the pair became a duo, and a partnership which lasted for almost thirty years. Until the start of the Second World War they were amazingly popular, making their first feature film in 1931 (Pardon Us) and receiving their first – and only - Academy Award in 1932 (Best Short Film for The Music Box). During the war they joined USO (United Service Organizations) after it was started in 1941 and entertained troops whilst the war went on around them, sometimes rather too close for comfort. The entertainers were all volunteers, after all, and they were never given military status, nor protection. After the war, things were not really the same, they made their last film in 1950, both were ill during its production and the film was rather a mess, plus the plot, of becoming wealthy through finding uranium, did not sit too well with the general public who associated Uranium with nuclear weapons. They did try to move over to television, but it was not very successful and then they were again ill, Stan Laurel with a stroke and Oliver Hardy with a heart attack. Finally Oliver Hardy died on August 7, 1957, aged sixty-five. Stan Laurel was too sick to attend the funeral, something he regretted for the rest of his life.
The trading Card Database https://www.tcdb.com/Person.cfm/pid/109722/col/1/yea/0/Oliver-Hardy?sTeam=&sCardNum=&sNote=&sSetName=&sBrand=
has him on thirty-two cards, most with Stan Laurel. Most are just portraits, but Gallaher "Famous Film Scenes" (1935) 9/48 shows them starring in "Babes in Toyland" released in 1934, and Gallaher "Film Episodes (1936) 46/48 in "Bonnie Scotland" from 1935, whilst A & M Wix "Cinema Cavalcade" (1940) features "Swiss Miss" as 151/250, and "Blockheads" on 152/250, though this one does not show Stan Laurel.
In 1968 they appeared in cartoon form for a set of cards issued by Primrose Confectionery. (PRI-240 : PRI-9) There was a special album, for which you had to send a shilling and five box tops. There were also three thicknesses of card available, one was standard thickness card, one was thinner card, and one printing was pretty much paper. Also variants are found in the printing of the album clause, one says "Be sure to send for..." whilst another says "For a Super Picture Card Album..." and one has no mention of the album at all and even adds another variety to the mixture as the words "Printed in England" is either 19m/m or 14 m/m long. You may not have noticed but this set is actually called Larry Harmon`s "Laurel and Hardy", so for all the collectors who wonder why, Larry Harmon is a very interesting character; he played Bozo the Clown, and after that he bought the rights to the likenesses of Laurel and Hardy, not their films, just the way they looked. This meant that he could not show live action but he could make cartoons, using his own voice, which is what he did, starting in 1967. There is a story that he also bought Popeye, but I have not tracked that down. Larry Harmon died in 1983.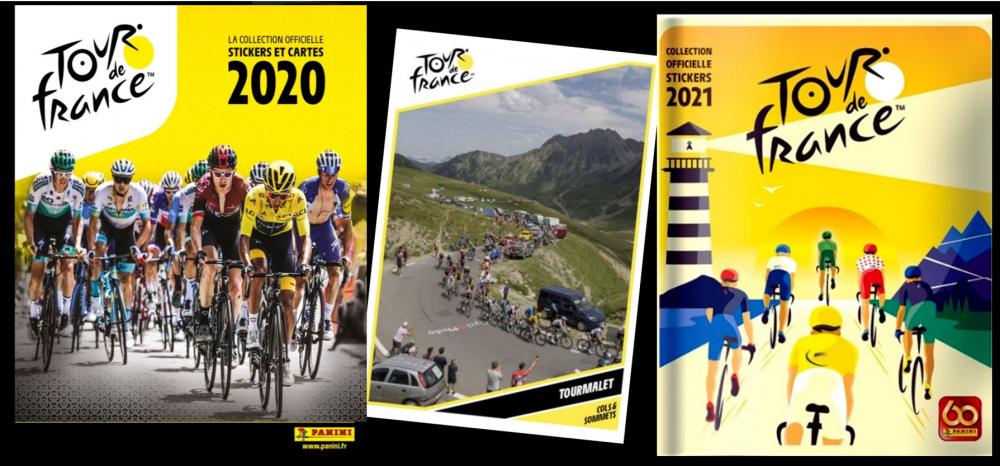 Today in 1903, a French newspaper announced that they were organizing a bicycle race. Their plan was to increase the sales of their paper, "L`Auto", which may seem odd, as that means "the car" not "the bicycle", but there is a fascinating story behind that as the paper was actually first called "L`Auto Velo" and it not only covered cars and bicycles, but it reported on all sport. After a court case, the Velo bit had to be dropped, because there was another paper by that name. The idea of increasing sales could have just been a coincidence, or it could have been a way to beat their rival in another way, in the circulation battle. Anyway what they came up with was a five day bicycle ride through France. You can read the full story at Wikipedia https://en.wikipedia.org/wiki/Tour_de_France and it is well worth it.
You may be wondering what this has to do with cards, but "stick" with me, because in 2019 Panini issued their first sticker set for the race, though they had covered cycle racing before, with several years of "Sprint" stickers, starting in 1971. https://i.pinimg.com/originals/c1/c6/2b/c1c62bfdeac55f89c6bba5f9ec240d77.jpg
The set of "Tour de France 2019" had 352 stickers and 42 cards, which fit in a sixty-four page album. There was a bit of controversy, as the advertising said this set was to commemorate the hundredth anniversary, and this caused some confusion, as well as people saying Panini had got it wrong, and was counting from 1919 thinking that the race had started then, whereas it had simply resumed then after a break for the First World War. However, the hundred years was for the introduction of the now famous Yellow Jersey, which was introduced in 1919. It seems that in that first year the set was only available in France – do tell me if I am wrong. Anyway it must have been successful, because the 2020 set, with 384 stickers, seems to have been issued worldwide. The race ended up being postponed, but not cancelled. And the 2021 set was also issed worldwide; it has 366 stickers, but seems to be a bit scarcer than the 2020 version.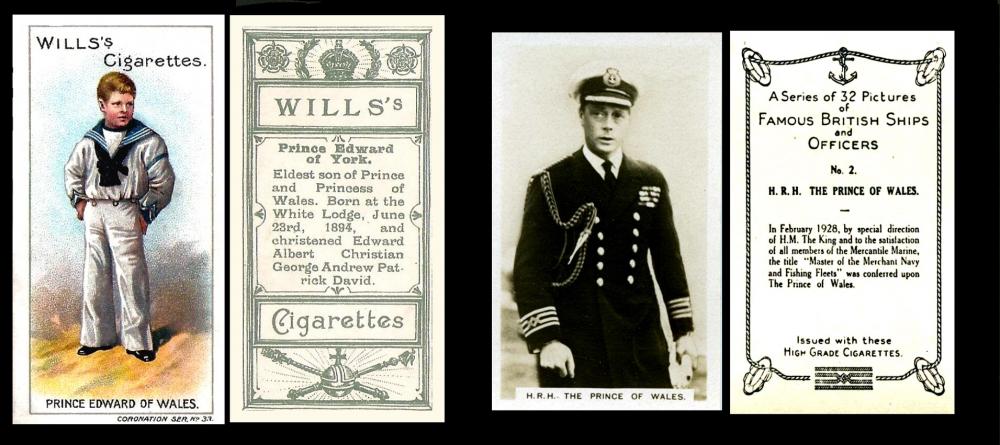 Today in 1936 Edward VIII succeeded his father King George V and became King. His short reign, just 326 days, was ended when he chose love over duty, and gave the throne to his brother Albert, who decided to be crowned as George VI, following in his father`s footsteps.
Edward VIII appears on few cards compared to his brother, but he is spotted. Some of the earliest show him as HRH Prince Edward of Wales, look for Taddy "Royalty Series" 11/ - Gallaher "Royalty Series" (1902) 32/ – Wills "Coronation Series" (1902) narrow 33/50 and Wills "Portraits of European Royalty" (1908) 8/ - and Muratti "Crowned Heads" first series 5/ . As an adult you might miss him as part of the "War Series" issued by many cigarette and trade companies, where he is 42/ and this shows him in the unifprm of the Grenadier Guards - or on R & J Lea "Famous Views" 3/48, which shows him and his brothers following the coffin of his father through the streets of Windsor – and how about Lambert & Butler "The Royal Family at Home and Abroad" 18/50, which shows him on horseback with the West Norfolk Foxhounds.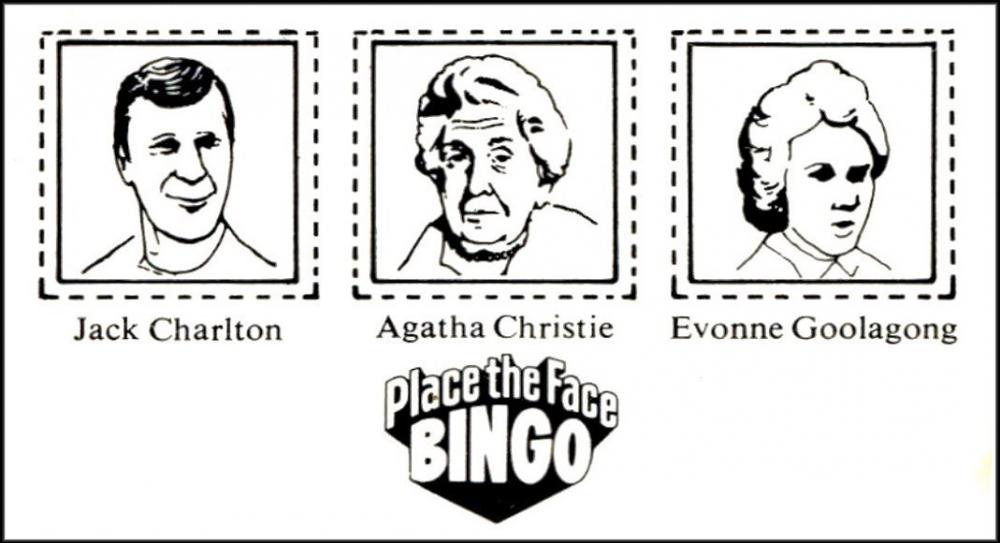 today we celebrate a writer, whose first novel was published on this day in 1921, and also the character it introduced. The book was called "The Mysterious Affair at Styles", and it involved a murder, being solved by a convalescing army officer called Arthur Hastings, who asked an old friend for help. And the old friend was a Belgian refugee called Hercule Poirot. The writer, of course, was Agatha Christie.
Actually Agatha Christie had learned about poison, and death, on war service, for she had been stationed at a temporary Red Cross Hospital in Torquay during the First World War.
She made few appearances on cards; her first was in Brooke Bond "Place the Face Bingo Cards" (BRM-108 - 1972) – not that it looks much like her. This strange set was a set of 15 cards, and was issued in three forms, the earliest appeared as a single face on the flap of the packet of tea, but was then altered, moving the face to the left and adding a logo for "PLACE THE FACE BINGO". Then it appeared as a trio of faces, as shown here. The competition closed on the 14 of August 1972.
In 1992 Agatha Christie was reincarnated for an episode of Doctor Who called "The Unicorn and the Wasp", where The Doctor, as David Tennant, met her to combat a giant wasp, and this features on several modern trading cards. In the episode, we are told that this took place the night before her disappearance, and that the Doctor put her in the Tardis whilst she was suffering an alien induced amnesia, adding yet another twist to the possibilities of her tale. I do like Doctor Who! You can see some of these cards at the Trading Card Database https://www.tcdb.com/Person.cfm/pid/104738/Agatha-Christie
This week's Cards of the Day...
This week we are celebrating "Hot Tea Day", which takes place on January 12.
We got there through the F.A. "CUP" (Saturday - C440-200 [tobacco : UK] Ching & Co "Do You Know" (1962) 21/25) a roaring "HOT" fire (Sunday - P644-200 [tobacco : UK] John Player "Fire Fighting Appliances" (December 1930) 42/50) and this really unusual Brooke Bond`s "TEA Leaf Oracle" (Monday (1999) Un/19).
Though it seems to be mainly an American celebration, there is nothing quite like tea for a refreshing drink, and many tea manufacturers have issued cards. So lets see what we discovered this week...
Saturday, 8th January 2022
C440-200 [tobacco : UK] Ching & Co "Do You Know" (1962) 21/25
This company was an associate of British American Tobacco, and was based in Jersey in the Channel Islands. Despite this, they still appear in the UK section of dealer catalogues. There are some interesting pictures at a local website https://www.theislandwiki.org/index.php/Chings_cigarettes
This is the only football card in the set. Strangely this is a set with many permutations, for there were three sets in all, each of fifty cards. The first fifty were issued by Cooper & Co Stores Ltd of Glasgow, with Coopers Tea (COO-150 : CPD-1 - full set), and by Elkes Biscuits who had three branches, Uttoxeter, Cardiff and Burscough (ELK-020 : ELK-1 - second 25). This was the only set Elkes ever issued. The second set of fifty is our set by Ching, but they only issued the first half, twenty-five cards. The other issuers were B.T. Limited, who we featured as "Card of the Day" on the 12th of January, so mosey on down the page for more about them (BAA-220 : AZZ-3 - first 25) Cromwell (or Cromwell`s) Stores, who were actually an off licence in Shepherds Bush, London (CRO-070 : CRU-2 - first 25), Liam Devlin of Dublin, who made or distributed Barratt products in Eire (DEV-050 : DEV-2 - 50), Ovaltine Biscuits (OVA-050 : OVA-8 - first 25), Steve Prior, a bookseller of London S.W.8 (PRI-580 : PTQ-2 - second 25), and Sweetule Confectionery of Manchester and London (SWE-100 : SWA-27 - second 25). If that was not confusing enough the first 25 were also issued by Tonibell Ice Cream, but as "Did You Know?" (TON-030 : TNA-1 - 1963). Then there is a third set of fifty, issued as a first and second series, each of twenty-five, by Baker Wardell & Co. of Dublin, presumably with "Capital Tea", but issued in two halves (BAK-140 : BAMF-1) and Gaycon Products, confectioners of London and East Grinstead (GAY-060 : GAY-4)
Ching started issuing cards in 1960, those being the first twenty four cards, "A Series" of the large sized photographic set "Jersey Past and Present", which is difficult to make up from odds and usually sold as complete sets, and a set called "Veteran and Vintage Cars", issued as a set of fifty with mauve backs and almost simultaneously issued as only cards 26-50 (just the second half), with blue backs. The blue back cards are quite scarce and there are not many dealers who will be able to sell you a complete set. In 1961 they issued just one set, "Ships and their Workings". In 1962, this "Do You Know", plus a set of medium sized "Flowers" and the second series of the large sized photographic set "Jersey Past and Present". This was completed by a third set the following year. Also in 1963 another partwork began, this was the large sized "Around and About in Jersey", and the second series followed in 1964. That was their final issue
Sunday, 9th January 2022
P644-200 [tobacco : UK] John Player "Fire Fighting Appliances" (December 1930) 42/50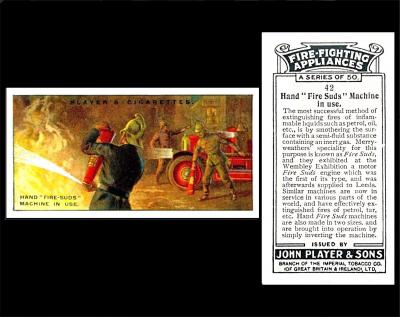 Originally listed in our reference book RB.17 as P/94 this set was described as "50 ... Small Cards [which at that time was the word used for "standard" size]. Fronts in colour. Backs in grey, with descriptive text. Home issue. December 1930". This card is actually of interest to exhibition collectors, because the text tells us that "The most successful method of extinguishing fires of inflammable liquids such as petrol, oil, etc., is by smothering the surface with a semi-fluid substance containing an inert gas. Merryweathers` speciality for this purpose is known as Fire Suds, and they exhibited at the Wembley Exhibition a motor Fire Suds engine which was the first of its type, and was afterwards supplied to Leeds."
Monday, 10th January 2022
[trade : UK] Brooke Bond "Tea Leaf Oracle" (1999) Un/19
actually today, in 1839, the first tea from Assam arrived in the United Kingdom.
This is a most curious card, one of nineteen, measuring 89m/m x 63m/m. If you look at the card, it looks a bit boring, but there is a hidden secret as the brown "tea" in the cup is actually magic, and if it is heated (by laying the card over a steaming cup of tea) the brown fades away and reveals images, which are listed on the reverse, along with their meaning, making this a kind of fortune telling, in a way. It does have faults for fortune telling though, mainly because each card has three images, and though there are different images on each card, there is no way to change them. It would have been a better idea to have one symbol hidden beneath the tea on every card, then make the "reader" pick any three cards to do the divination, for in that way every time you picked cards at random from the fan shape deck you would get a different reading and more of the truth. 
Fortune telling with tea leaves has been done for centuries, it is known as tasseomancy or tasseography, and you can also do it with coffee grounds. Some people might think it is hokum, that we make our own luck in the world without searching for signs into our future and pinning everything on them. Others believe that our paths through this lifetime are set before we even become an atom, and that only by following the clues that are revealed in chance and instinct can we ever hope to come together with the life and love that we need to find.
I will let you ponder on which camp I am in...
Tuesday, 11th January 2022
BAP-040 : BAN-2 [trade : UK] Barbers Teas "Cinema and Television Stars" (1955) 8/24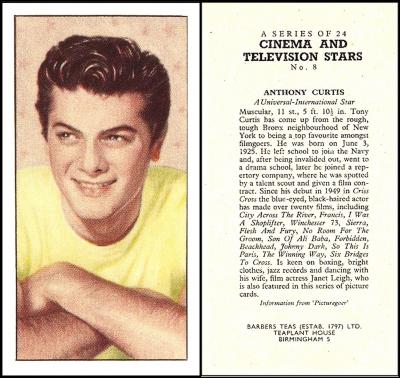 Oddly billed as "Anthony Curtis" on the top and Tony in the text, which was supplied by "Picturegoer" magazine. As well as the film stars there is a checklist, and that is rather rare, because you had to send two of those up to get the special album. This set has a big claim to fame as the final card in the set is Marilyn Monroe. Because of this, the set has been reprinted – in 1993, by Moviestar, Inc. It is easy to tell these from the originals though as the originals have black backs and the reprints are blue, with a large reprint notice. You can see all the cards in the set at https://immortalephemera.com/movie-collectibles/1955-barbers-teas-trading-cards/
The card says that Barbers Teas were established in 1797, and they were currently located at Teaplant House, Birmingham 5. This was in Pershore Street. Their figurehead was "Little Miss Barber" who had a box of tea on top of her hat. You can see her on a hoarding as well, courtesy of https://shopfrontelegy.wordpress.com/2016/10/30/barbers-teas-always-please/ They also had a slogan, "a little BARBERS makes a lot of TEA"
Wednesday, 12th January 2022
BAA-230 : A22-4 [trade : UK] B.T. Ltd "Holiday Resorts" (1963) 8/25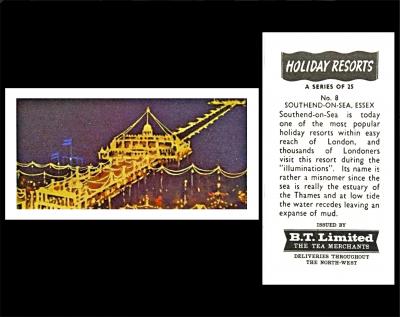 B.T. Ltd advertised themselves as "The Tea Merchants" with "Deliveries throughout the North-West". For some reason they are listed before Barratt in our reference books, right at the start, rather than taking the T as the second letter (that is probably the right place and it is me who is awry!) But the second question is why were they given an "A" code?
They issued ten sets, and all were issued by other companies. The most curious is "Wonders of the World", which plainly states "A Series of 50" but only numbers 1 to 25 were ever issued; more curious still, this error is also shown on the sets by Badshah Tea (BAD-150), Browne Bros, Ltd of Southend-on-Sea, issued with Browne`s Tea (BRO-940), and Wilcocks and Wilcocks Ltd Tea of Exeter (WIL-100). Only Barratt (BAR-885 – 1962) and its companion Liam Devlin (DEV-220 - 1969) issued the whole set of fifty.
Thursday, 13th January 2022
LO73-315 [tobacco : UK] Lambert & Butler "Common Fallacies" (Feb 1928) 15/25
 This set follows the same sort of theme as Wills "Do You Know", in that it covers interesting facts and explains them. It seems rather telling that the Wills sets are plainly spoken whereas Lambert and Butler, a more expensive brand, comes up with "Common Fallacies". But the principle is the same. In this instance they deal with the theory that if you feel hot and you drink a hot liquid you will feel cooler. I have to say that the explanation is a bit hard to understand and I am none the wiser at the end of it.
Do be aware that in 2001 this set was officially reprinted. 
Friday, 14th January 2022
[trade : UK] Brooke Bond "Farewell to Picture Cards" (1999)
We close our week of tea with the last ever Brooke Bond card, which poignantly shows a cartoon chimp and the heading "Farewell to Picture Cards". This sad end came after the general public were asked to fill in a questionnaire card which was inserted in the tea, saying that PG Tips need your help and offering 100 cuddly chimp toys to be won.
Once the closing date had gone (31 July 1999) along came this card which said that though "some of you felt a fondness for the cards, the majority of you indicated to us that there are other things you would prefer us to be doing to continue to bring you the best quality and value tea possible." So that was it.
Actually there were three different cards like this one, all have the same chimp, but the first shows him on a plain white background, ours has the road, the cactus, and the birds (vultures?), and the third is a much wider road.
thank you for popping by. See you next week.