Update: 21 March : well I was a tad premature when I said "stay tuned, and watch the pictures appear silently in place!" But most are there now, and I have sorted out the problem where there were two days of the same date. Lets hope next week`s works better.
Anyway I have been reliably informed that there is less than six weeks to our convention, which this year is in Hemel Hempstead. So the burning question is ... will YOU be there? If you hope to why not tell us through Twitter, and also tell us what you hope to find there. This may also mean you have a better chance of finding it, as dealers read Twitter too. Tag in @Card_World and use the #CartophilicConvention2022 hashtag - and lets get together!
On National Poultry Day lets start with the fact that the world poultry and its root, in Latin, "pullus" does not actually mean chicken at all, it just means a small animal. These days the word seems to suggest food to most people, the birds and their eggs, which is rather sad. 
There are plenty of chickens scratching their way across cartophily, and several variations of one of the most recognisable sets of all which goes by the name of "Fowls, Pigeons and Dogs", and was issued by Ogden, F & J Smith, and as a trade set by Fry`s Chocolate.
Another one which will come up quickly in any online search using "poultry" and "card" is the set of fifty cards called "Poultry", issued by John Player in 1931. It also included a transfer version, and on the album for these transfers it says the cards were "taken from original drawings by the well known poultry artist E.G. Wippell in collaboration with the Editor of "Poultry World". 
A similar looking set, but with the addition of a large letter to the front, is Ogden "Poultry Alphabet", here there are 25 cards, with a little appreciative verse on the reverse of each. We found a really fun website called hencam which is all about chickens, and features these cards -  each card is shown in procession so you can read all the verses, and find out which letter has no chicken, there being 25 cards and 26 letters of the alphabet. Great fun and I am looking forward to looking at them all. Best of all the site also has cameras set up through which you can be transported to Boston to watch their chickens pecking daintily at the ground. You will find that at the first tab, which is called "the cams".
Now I am going to wonder how those cards got all the way to Boston USA! Because in fact there were chicken cards issued out in the USA, and one of the most attractive is Allen & Ginter "Prize and Game Chickens", a set of fifty. 
All these have primarily featured chicken breeds, with scant details on how to keep them happy. For that you must turn to sets like Ogden "Poultry Rearing and Management" (1922 - with a second series in 1923).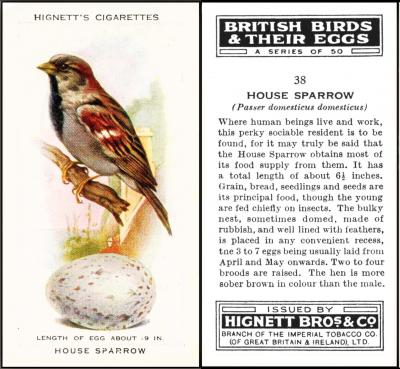 From one bird to another, for today is World Sparrow Day, which has been celebrated since 2010.
The sparrow is a tiny little bird, and not particularly spectacular in plumage, being for the most part brown. However they are one of the most frequently seen of all our feathered friends, for they live in close proximity to humans, the hedge sparrow preferring the rural areas and the house sparrow the towns. In fact Lambert & Butler`s "Birds & Eggs" 37/50 tells us that for the house sparrow, or Passer domesticus "there are few localities in which the sparrow has not attached itself to the habitations of man. The nest is built of hay and all kinds of materials, it is usually placed in holes of buildings or under the eaves of roofs." Gallaher "Birds, Nests & Eggs Series" 84/100 adds that the house sparrow is a "…bold little bird is so common as to hardly need description. It builds its nest in the thatch of houses, under rafters, in barns, ricks, holes in trees, or where it can arrange its materials of straws, feathers, moss, rags, wool and hair."
For some reason though, the sparrows are disappearing. Many theories exist, including radiation from phone masts, which ought to make us take a pause, and think of what these structures are probably doing to us. However if we hop from our soapbox and look again at the text on both those cards, where today are the fields of hay for the sparrow to make their nest from, and where the thatch of houses, barns, or eaves, for homes today are not built in such a style as to have such things. And that may be the real clue as to why they are disappearing.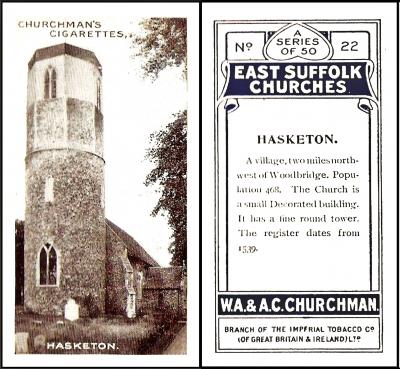 No birds here, but we will be singing Happy Birthday to our friends over in East Anglia today. A potted story of their club will appear on Monday, but to celebrate in the meantime we thought you might enjoy reading about two local issuers.
The one most of you know is W.A. and A.C. Churchman, of Portman Road Ipswich & "at Norwich". They issued many sets, and a few were devoted to East Anglia, and these were : "East Suffolk Churches" a set of fifty issued in black in 1912, then re-issued in sepia in 1917 : "West Suffolk Churches" a set of fifty issued in 1919 : and "Rivers and Broads of Norfolk and Suffolk" a set of fifty issued in 1922.     
However there was also another local cigarette manufacturer, Adcock, of Exchange Street, Norwich, whose story is most eloquently told online. Their only set of cards was "Ancient Norwich", black and white drawings of local sites, this was issued in 1928 and it was a set of twelve cards only, except that in most dealer listings and catalogues it is sold as a part set of just 11. I have drawn a blank at why the one is missing and what the one is, or more correctly it is almost time to publish and I am still fossicking through notes, so that must be added at a future date. Unless someone out there wants to tell me! 
National Sing Out Day reminds us that singing on cards runs the range from opera to rock and pop, and most of the stars of recent years have also appeared.
It is however strange that people were more likely to sing at home in the early years than they are now, for though some of us sing along in the car, when was the last time you and yours stood by the piano whilst one of you played, or sang along with a mouth organ or penny whistle? And yet in Victorian England this was a regular event. I wonder if it is not that we have become so different in ourselves that more than one person really connecting over the same piece of music is most unusual, and even listening in public without your headphones in is exceedingly rare. 
Some singers are featured on Ogdens Guinea Golds, and Wills` issued two sets of "Musical Celebrities" in 1911 and 1914, though the set was affected by the outbreak of The First World War and some cards were hastily withdrawn because they showed German and Austrian musicians (Arthur Nikish, Hugo Becker, etc). Opera singers Christine Nillson, Madame Adelina Patti, Madame Albani, and even Jenny Lind are in the first series, along with Signor Caruso, and Madame Nellie Melba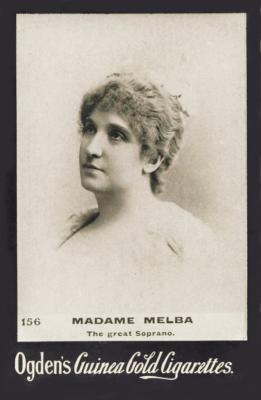 This is rather strange as the 23rd of March is National Melba Toast Day, celebrated today, was named after Madame Melba herself. Wills "Musical Celebrities" first series 41/50 tells us she was born in Melbourne Australia, showed precocious talent as a child, but it was not until she was 21 that she decided to follow a musical career."
In fact this card is not strictly correct, because Nellie Melba did not exist, at least not on a birth certificate, she was born Helen Porter Mitchell, the Melba coming from her home town, Melbourne.
How she became immortalised by a slice of toast is rather a stretch, reportedly she was ill just before the turn of the 20th century and this delicacy was made for her by top chef Auguste Escoffier, (who was a great fan, and seemingly very enamoured of her,) so that she could recover her strength. However it was hardly a grand creation, just dry toast made with very thin bread and toasted on both sides, in fact anyone with babies would have known it, as a rusk.
Whether this did the trick or not, she recovered, and lived until February 23 1931. Escoffier died almost four years after, on February 12 1935. Sadly, though she often ate at his restaurants, and sent him complimentary tickets to watch her sing, and he gave her name to another culinary creation, as well this being the "Peach Melba", I have not found that they ever connected in a more exciting way.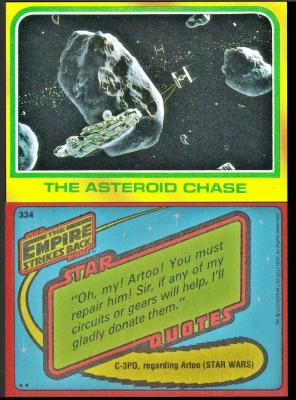 Speaking of missed opportunities, today is "Near Miss Day", and that reminds us that on this day in 1989, an asteroid a thousand foot across squeezed past the Earth by a mere whisker in astronomical terms, approximately 500,000 miles.  Some believe that an asteroid put paid to the dinosaurs, and there are still many out there that could do the same to us. 
A much smaller asteroid is thought to have hit us on March the 11th this year, it was three metres across, and created a huge fireball in the sky near Iceland, though the fireball seems to have not appeared on the NASA reports, they just said it was too small to pose a hazard. They didn't spot it either, a Hungarian astronomer did, and he reckoned it might touch down near the British Isles.
If that doesn't worry you, something else might, as the asteroid was only spotted as it broke into our atmosphere, above Norway, just two hours before impact, not much time to do everything we need to do before we evaporate. But this was a fairly small one, and they enter our atmosphere pretty frequently, at least once a year.
The best place to find asteroid cards is in the many science fiction series trading cards issued by the like of Topps. And ours is a Topps, its "Star Wars - The Empire Strikes Back", this being the second film in the original trilogy, released, like the cards, in 1980. This card is number 334, from the third series, and it is called "The Asteroid Chase". If you are not a devotee of space science fiction, imagine you are in a darkened theatre, and your eyes are following a tiny spaceship, rocketing through the asteroid belt, with near misses all the way, and your stomach and heart is lurching with every one. It is the thrill between what could logically be called the educational, or in some cases, the boring stuff. And that is the secret to a really good film; to have something exciting appearing every so often, so that anything in the plot or the dialogue that doesn't quite work just gets forgotten in the thrill of something amazing.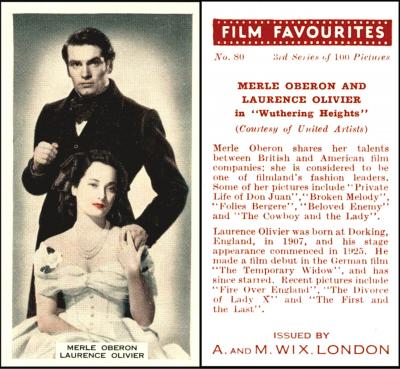 Today in 1939 saw the premiere, in Los Angeles, of one of Emily Bronte`s novels; and the one that a lot of people regard as her best. This was Wuthering Heights, written in 1847, but this was the first ever screen version and it starred Merle Oberon and Laurence Olivier.
I'm not sure that either were well cast, I always saw Cathy as much younger and more ethereal, and Heathcliff as more romantic, with long flowing hair. 
Estelle Merle O'Brien Thompson had been born in February 1911, in Bombay, India, which at that time was still well under British rule. According to a very odd biography, which may or may not be entirely true there was much more to her life than I imagined.
Wuthering Heights appears on several cards of Wix "Cinema Cavalcade" including card 193, which has the text "Laurence Olivier as Heathcliff, "a man`s shape animated by demon life" – the glint of madness smouldering in his eyes". Then there he is on the front in a suit with a cravat tie, not quite the image that matches.
In fact this picture is an identical portrait to that on A & M Wix "Film Favourites", third series 80/100 - just slightly less tinted.  The same third series also shows another portrait of Laurence Olivier and Merle Oberon, in "The Divorce of Lady X", released in 1938 – that is card 23/100
By the way the film was not made again until 1970.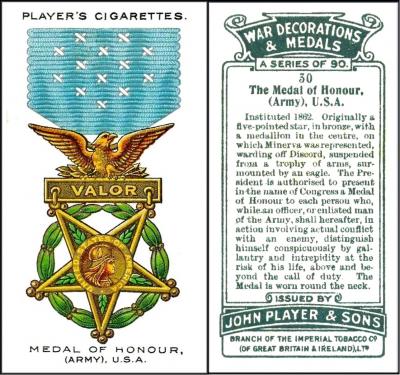 Today in America it is National Medal of Honor Day. This is a memory of March 25, 1863, when the first six Medals of Honor were presented by the Secretary for War to a group of men from an unofficial squad called Andrews Raiders, almost a year earlier.
The idea of having a medal for honour rather than a named conflict or battle was an interesting idea. And it was a medal that resonated with the nation, many of whom celebrated local winners on whatever day that particular award was won. The first actual dedicated day was not until March 25, 1991, but even then it did not result in an annual event until 2007. Today a highlight of the ceremonies is when the surviving winners meet, and remember, at the Tomb of the Unknown Soldier in Arlington. National Cemetery, Arlington.  
In 1993, Eclipse Enterprises of Forestville, California issued a set of 36 "Congressional Medal of Honor" trading cards, licensed by the Medal of Honor Society. The text, detailing the story of the recipient, was written by Kent DeLong, author of  book called "War Heroes, True Stories of Congressional Medal of Honor Recipients" which had been published the same year - and the illustrations were drawn by Tom Simonton. The cards originally retailed at $9.95 within America and $11.95 in Canada, However if you can find them today they sell for considerably more.
Our card is earlier, and it was issued by John Player in 1927. A full list of the medals can be found at Jeff Allender`s House of Checklists 
And a valuable resource is a list of all the recipents, which is maintained by the Congressional Medal of Honor Society. 
This week's Cards of the Day...
have been for Comic Relief and Red Nose Day, and we hope that you took part and/or watched some of the fun last night on television. Their website is still in operation so if you didn't get to check it out you can still go and meander round.
The Comic Relief charity was started in 1985 by Lenny Henry and Richard Curtis, after being so affected by news coverage of the famine in Ethiopia – and their first Red Nose Day was in 1988.
By the way, for people who think like me, yes, the red nose is plastic free once more this year, and this time you can take your pick from eight noses, including Cam the rainbow coloured chameleon, if you are lucky, for he is quite sought after. 
Saturday, 12th March 2022
ZB7-10 Anonymous "Football Fame Series" (1936) Un/32
Our first clue card was of T. (Thomas) Cooper of Liverpool, whose club nickname is "The Reds" – that was how we got the starter clue word.
He was born in 1904. Hill`s "Popular Footballers – Season 1934-5 Series B No.35 tells us that he was a right back, and had recently transferred from Derby County who secured his services from Port Vale in 1926. He is also described there as "one of England`s most stylish and reliable defenders". Carreras "Famous Footballers" (1936)  24/48 tells us that "Last season was transferred from Derby County at a fee said to exceed £6,000. He played in almost four hundred and fifty games and represented England fifteen times; the Carreras card says the first of the Internationals was against Ireland in 1928-9.
Like many footballers, the Second World War saw him moving to fields of war not play, and sadly he was killed in June 1940 aged just thirty-six, when his motorcycle was involved in a collision with a lorry. England Football Online has this slightly differently, saying it was "a double decker", which seems to suggest a bus, not a lorry, and they also have him as aged only thirty-five not thirty-six. The incident happened in Suffolk, whilst he was serving as a despatch rider for the Royal Military Police, and as a result of his death there was an inquiry at which a ruling was made that military despatch riders were no longer to be allowed to ride their motorcycles without a crash helmet. 
In our teaser, we asked who issued these cards, for in our British Trade Index part one, issued in 1962 they were simply listed as anonymous, hence the Z code. They were actually issued by Amalgamated Press Ltd of London in their weekly magazine called "The Pilot", and they were printed and inserted in strips of four cards. There was also a special album issued, plus something else exciting, as The Cartophilic Information Exchange tell us that with the first issue, "The Pilot" gave away the first strip of four cards, plus a hundred page book "The Pilot Guide to Better Football", edited by none other than W. R. "Dixie" Dean, whose picture appears on its cover.
There is also something else to correct, as if you look at that edition of the magazine it is dated 5 October, 1935, and this means our date is wrong, because issuing eight strips of cards would only take eight weeks, and eight weeks on from 5 October 1935 would only go to the 23rd of November 1935, not into 1936. 
In our updated British Trade Index, issued in 2006, these cards have been moved from anonymity and "The Pilot Magazine" has its own entry under PIL, where there are four sets listed, starting with PIL-020 "Britain`s Defenders", and going on through our set, PIL-050 "The King`s Air Force", and PIL-060 "Wings over the Empire" (It seems odd that this football set was issued, for all the rest are of, or include aviation subjects, which are much more fitting for the magazine title), whilst our album is revealed to be called "The Pilot Album of Football Fame", with twenty pages and spaces for thirty two cards, trimmed to fit. This explains why some of the cards found today can be a bit out of square, and how the frequent creasing also occurs. They ought to measure 69 x 38 m/m. By the way there is another page of the Cartophilic Information Exchange to visit, and this actually shows that album along with the names of those included and two complete strips of the cards.
Sunday, 13th March 2022
C151-145 : C18-16a [tobacco : UK] Carreras "The Nose Game" (July 1927) card B.7 of 50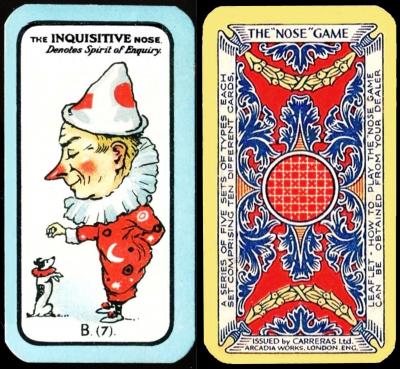 A possible triple answer here to our card clue, a nose, a red nose, and a comic or clown – all fitting in really well with Red Nose Day and Comic Relief.
This great card was actually issued in both standard and the large size, and both were listed for sale in the London Cigarette Card Company's 1950 catalogue at 1d. a card or 5/- a set. The fifty cards in the set are split into sub series by the shape and meaning of the nose, each has a prefix letter and a number from 1-10 on the front.
There was also a special instruction leaflet, which is mentioned on the reverse of each card along the side where it says "Leaflet – how to play the nose game can be obtained from your dealer". And it is a leaflet, very thin paper, usually quite browned, just a single small sheet of paper folded in half with printing on both sides – all of these things have not led to these flimsy and very ephemeral items not having a great survival rate.
Now just like the writer of cardsboard I do not have a leaflet to hand to scan; but I have found one for you to look at on the Cartophilic Information Exchange
As to why this website is interested in this set, well, card C5, under the subset of "The Aggressive Nose" shows a footballer. I am not sufficiently skilled to recognise the footballer depicted, so I cannot say whether it was a sly dig at a particularly violent tackler. But one of our readers might be equipped to do so….
Monday, 14th March 2022
[trade : UK] Merlin "Comic Relief" stickers (1995) 32/259 ?
slight confusion (as always for me) over numbering, as there were 259 numbered stickers, and also there were ones showing red noses and these were separately lettered from A to Z. If someone can add this up, I will change the 259+ to the actual figure ! 
The cards showed personalities from stage, screen, and sport, because Sport Relief used to alternate with Comic Relief until last year, when it was decided to have Red Nose Day every year and Sport Relief moving into association with a range of actual sporting events all year round.
The set also contained scenes from the people and charities that the money would be going towards, and unusual cards like this cat and her canine companion, sporting their red noses in a whole new way.
The original album for 1995 showed Richard Wilson (One Foot in the Grave), Rowan Atkinson (Mr. Bean), and Lenny Henry on the front cover, and said that "by buying this album you are contributing to Comic Relief and supporting projects in Africa and the UK". 
I have to say that at the moment I know of no other years of this event which were recorded by Merlin stickers; but I can't believe that this was the only year that such a good fund-raising idea was used, so is it just that the others are just really scarce?
Anyone out there with any info do let us know…
 
Tuesday, 15th March 2022
W800-650 : W70-6 [tobacco: OS] A. & M. Wix "Film Favourites" third series (1939) 94/100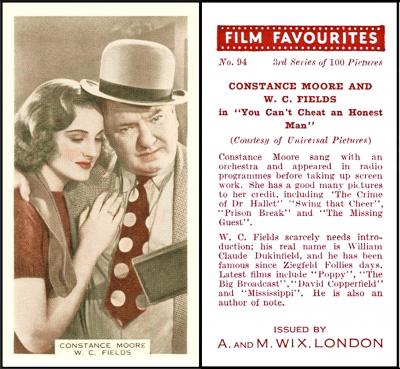 Three sets were issued in total, each having 100 cards – the first series being in 1937, the second in 1938, and the third in 1939.
The London Cigarette Card Company handbook, and our current handbook (RB.135) says the first series was issued by International Tobacco Overseas (I635-740 : I/18-6 - also in 1937) and can be found with grey or black backs, (though the Murray Catalogue of Values lists them as black and brown).
However, our original and our current World Tobacco Issues Index both tell us these three sets were issued by A & M Wix and "chiefly in Malaya".
This is also strange because the four issues prior to this, 1935-1938, were dual language (English and Afrikaans), and issued "chiefly in South Africa" through a Johannesburg address, as was the set after ours, "Maxims of Max" (W70-11 : 1950-1951). So I was not really sure why they made the expedition into Malaya, until, of course, looking at the date, the Second World War stopped what was going to be a new territory, and it never restarted. 
The connection here was two fold, for the card shows W.C. Fields (and Constance Moore) in "You can't Cheat an Honest Man." W.C. Fields was a comic, but he was also known for having a red nose, which was blamed on his drinking. However there is reason to believe that whilst he did indeed like a tipple, the red nose could have been through medical disorders, either rhinophyma, or rosacea. Curiously in the medical profession they still use the expression "W.C. Fields` Nose".
And in the mid 1970s his fame (and that of his nose) was still great enough that the American Noveltronics Corporation retailed a battery tester in his shape where his nose illuminated to show the strength of the remaining charge. 
W.C. Fields appears on quite a lot of cards. On Carreras "Famous Film Stars" 92/96 he appears with child actor Baby Le Roy, a frequent co-star of his, in a scene from "It's a Gift", the last of five films he made in 1934 alone. His next film features on Ogden's (and Hignett) "Actors Natural and Character Studies" 14/50, where he is Wilkins Micawber in David Copperfield – and the card tells us that "..the actor found himself so close in type to the part that he had hardly to make up at all". 
Wednesday, 16th March 2022
R66-3 [tobacco : UK] I. Rutter & Co. Ltd. "Comic Phrases" (1905 or 1906) - Un/54
These cards were issued with "Mitcham's Cigarettes", and they measure 62 x 34 m/m. It is another of those sets which has no title on the cards so one was provided by early cartophilists, and I am not certain the one chosen to describe it really fits the bill, for not all the phrases are humorous, but it is an unusual set which contains several cards that fit neatly into thematic collections if you only knew they were there. Ours is a football card that probably appears in few collections, but might well be added to a few wants lists now.
There are also several cards that feature smoking either overtly or covertly, and also cards which feature branding for Mitcham Cigarettes on the front, hence "Beautiful Aroma" has it on the side of the carriage, "First Favourites" on the paper of the hoop, one card is simply titled on the front "Smoke Mitcham's cigarettes", and another "Stick to Mitcham" with an additional "Notice Mitcham Cigarettes" on the sign to which the desperate man clings). Oddly, the words "Mitcham" and "Mitcham`s" are both used within the set. They also produced a brand called "Mitcham Cricket Green", which is reputedly the oldest still operational cricket ground – its first match being bowled in 1685.
If you are wondering why Rutter was so fixated by Mitcham, it wasn't the cricket, just that their address was Ravensbury Mills, in Mitcham, Surrey, though they also had an address of 66 Great Queen Street in Central London. They were founded almost a hundred years after that match, in 1767, and most of their output was snuff and shag, as it says on the card. Despite their long heritage, they were picked up by Anstie of Devizes in 1925. 
Our card comes from their only set to be available as a set in the 1950 London Cigarette Card Company Catalogue, where it was priced up at £40, the odds ranging from 5/- to 15/-. Usually a straight third raise in this context means the ends, but these cards were un-numbered, so it must have been based on condition. The rest of the cards they issued were priced as odds only, mostly at 25/- to 75/-, though "Shadowgraphs" were listed at 30/- to 90/- and both "Actresses – Rutan" (the version with the rubber stamping to the back) and "Boer War Celebrities" at 40/- to 100/-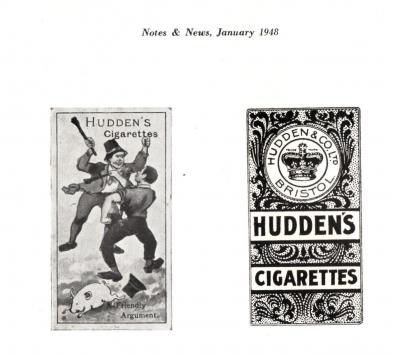 These cards were also issued within the United Kingdom by Hudden & Co. Ltd of Bristol (H766-175 : H68-5), also in 1900, and measuring 64 x 34 m/m. These cards have captions, but they are slightly different, for on all the cards which said "Mitcham" it now says "Hudden", on both sides. This is a set which was so incredibly scarce that to this day just twelve have been seen, and this amount has not been raised since a card from the set was shown in Cameric "Notes and News" New Series, Volume 2, No.7 – that card is reproduced here, though there does not seem to be a word about the set in the magazine… 
Last, but most intriguingly, this set was also issued overseas by Murai of Kyoto in Japan, still un-numbered, but without captions. It was thought that 24 cards were issued, but two more have turned up since 1956. Confusingly it was recorded as "Comics" not "Comic Phrases". And most thrillingly of all, this set must have come first because some of the versions are inscribed with a two line name to the fronts "Murai Bros & Co. / Cigarette Factory" at base, a name which had Ltd. added after it in 1899. There are two distinct versions of this first printing - M953-025 : M156-3  measures 60 x 35 m/m and it can have the back in (a) blue – or (b) brown – whilst M953-120 has a different back design, only in blue, and measures 60 x 35 m/m. Then there is M953-220 : M156-18, which is both anonymous, and plain backed. 
Thursday, 17th March 2022
[trade : UK] Marlow Civil Engineering Ltd "Famous Clowns" (1990) 1/25
Not the "Clowns" set that most cartophilists think of, but this trade set is important social history because it has some things the more valuable set does not, these being the actual name of the clown depicted, and the circus they performed with. So our clown, the beginning card in the set, is Lou Jacobs, who, the card tells us, was "born in Germany" and was with "Ringling Barnum Circus". This is not too detailed, but it is enough to allow for an online search, and there is a lot more about him at the fascinating Circopedia website, which has everything you ever wanted to know about the circus world
A lot of collectors think this Marlow refers to the place on the Thames, but it does not; the issuer of these cards is a company, based in Hinckley in Leicestershire, which specialised in block paving. And according to our research, it would have been forty years old next Wednesday, a bit of a spooky coincidence, though sadly the company is no more. 
The one thing I wonder is why they issued a set on clowns, but I guess we will never know now. Unless someone from the company is still out there, finds this, and lets us know. 
One thing to bear in mind is that this set looks like it was issued as a complete set, for there are few if any dealers selling it as singles, so if you like the set, be prepared to buy it whole. Some odds are listed online, but it may be quite a task for you to find every one.
 
Friday, 18th March 2022
T045-080 : T6-8 : T/9 [tobacco : UK] James Taddy & Co "Clowns and Circus Artistes" [untitled] (unissued) Un/20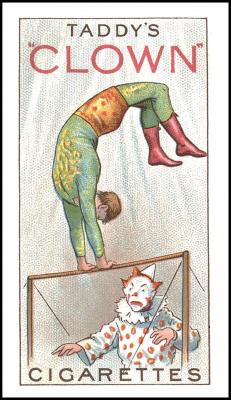 Just for Red Nose Day, here is the set you expected yesterday, and it is one of the most famous sets in all cartophily. As an added bonus if you look in our original Taddy Reference Book (RB.12) issued in 1948, or the green covered reprint, one of these very cards is the illustration for this set, at figure 6. 
In 1950, these cards were listed by the London Cigarette Card Company from 15/- to 45/- a card – this is equal to "The Klondyke Series", "Natives of The World" and the second and third series of "V.C. Heroes – Boer War" - but the Clowns were actually rarer as all those series, save the V.C. Heroes, could have been bought as full sets, immediately, from stock. To save you wondering, "Klondyke" was £25, "Natives" £60, and the third series of "V.C." £40. 
The mystique about Taddy is what holds their value, for they were founded in 1750, started issuing cards in 1897 (these being T045-010 : T6-1 - the 72 cards of "Actresses – Collotype"), and closed down in 1920 because of a strike by cigarette machine operators, during which the owner hastily threatened to close the company if the workers did not return. And those workers stood together. Meanwhile these cards were printed half way, and just left. They never appeared in the packets, and never went back under the printing process and had the planned backs added. Those cards which exist are all hand cut, plain back, and the legend is they were found, taken, cut from the sheets, and kept as souvenirs, then, much later, offered for sale. 
Now I will get the text up then add the pictures, with the rest of the codes tomorrow. Otherwise I may be here all night with nothing for early birds to look at!
Have a great week, and remember it is just six weeks until we meet in Hemel Hempstead. So start checking your wants lists are up to date, and stay tuned for details of how you can join in 
See you all next week and happy collecting