Another week older and deeper in debt, as the old song goes. Never mind, for there are pleasures within to melt the darkest heart and cheer the most tired soul. Or hopefully, anyway!
Today in 1914 Alec Guinness was born. His full name was Alec Guinness de Cuffe, and the first thing which must be mentioned is that is that in 1952 he appeared in a film called "The Card" -  but unfortunately this was not about a cigarette card. 
The earliest card of him is universally agreed to be a trade card, Parkhurst "Movie and TV Stars" (1955) 7/45. Parkhurst Products were based in Canada and issued these particular cards with bubble gum. The film on the card is "The Captain`s Paradise" released in 1953.  Strangely there is no issuers name on these card, only "PRINTED IN CANADA". To be honest, Parkhurst were not great at identification, for some of their other sets only say "BY PERMISSION OF COLORGRAPHIC LTD."  However their name had endured, and cards under it are still being produced by Upper Deck. It was also used a few years ago by Pro Set. You can read more about this at wikipedia
The following year saw his image popping out of packets of Jibco Tea. This was, of course, the second edition of the "Screen Stars" series (JIB-080.2) and he was card 13. However the film is credited as "To Paris With Love", a J. Arthur Rank Organisation release, from 1955, so there needs to be a bit of investigation into the date of issue, unless the studio were clever enough to supply shots from forthcoming films. 
In 1977, he took a chance and made the leap into a science fiction film called "Star Wars". His was not one of the leading parts, but he made it so, although it is said he was not always an enthusiastic fan of the franchise. However this definitely starts his card career in earnest because practically every trade and commercial card issuer did some form of Star Wars set. His character Ben (Obi-Wan) Kenobi, appears in almost all of the films. and almost all of the card sets, though in the prequel films he is played by Ewan McGregor.
Our image comes from that first film, and set, issued in 1977, and it is not a card, for if you trace around his outline you will see a thin black line in the middle of the red border, this is the peel line, and it allows you to remove the head and shoulders and stick that wherever you like. And that is why the stickers from the Topps "Star Wars" sets are always worth a bit more. Though to be honest they were designed to be used, rather than treasured as part of a set, and that is the main reason that they have plain backs.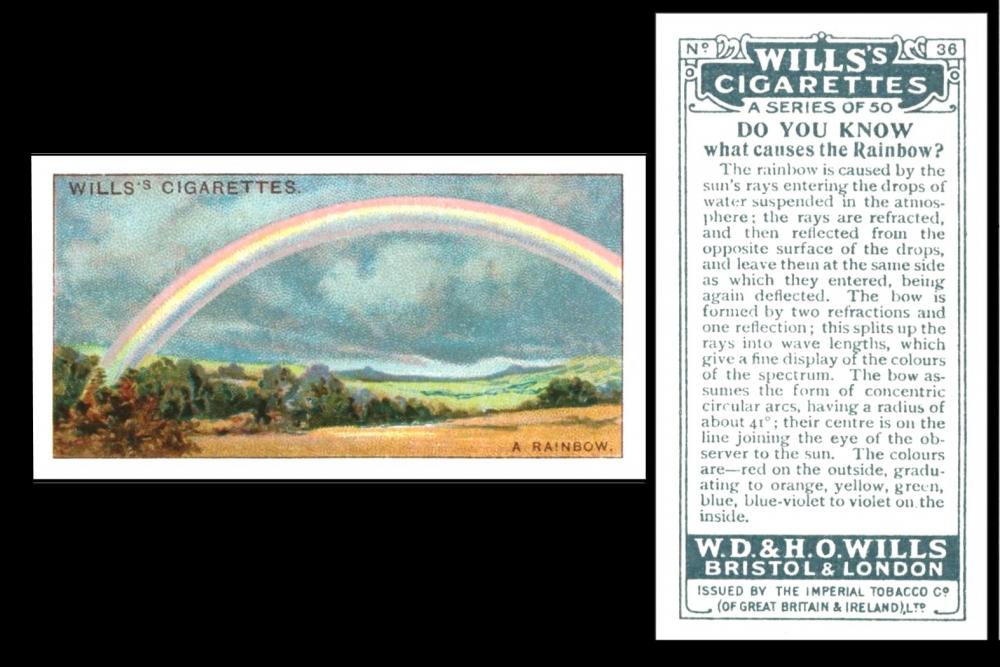 I am off again into the depths of my wondrous brain, but how can I resist "National Find a Rainbow Day"? The thought of seeing a vision in the sky, following after it, and finding some form of wonderfulness waiting at the very end is just perfect for me. Though maybe I am easily pleased, or easily excited. However there is also the additional pleasure that rainbows are symbol of universal acceptance, used to include, and represent everyone in the world, perhaps even the universe, whatever form their lives, loves, and appearances may take. And as you can tell from this card, where this rainbow is printed in only four colours, and it shows in its lack of vibrancy, it takes as many colours as you can possibly imagine to make just a rainbow, and then some more on top.  
Our card is W675-165 : W-62-127.1 [tobacco : UK] W.D. & H.O. Wills "Do You Know", first series (1922), 36/50 and it is "Do You Know what causes the Rainbow?" The text says that it is "the sun's rays entering the drops of water suspended in the atmosphere; the rays are refracted and then reflected from the opposite surface of the drops".
There is a lot more but reading just that bit and trying to work out what all those words mean makes my brain hurt (I am reading an e-book like that at the moment….or rather I am spending an awful lot of time staring at the middle of page one with my brain mouthing "help me" and my eyes glazing over). 
However I can tell from the start of the text on our card that it is going to be a rather matter of fact description, and I am certain that all the magic, beauty, and wonder of the rainbow will be entirely left out. 
Well today is International Carrot Day – and I thought this would be a fun challenge. And it was, but I have actually dug up a card with carrots on it. Looked at an awful lot of cartophilic rabbits though, I felt sure one would be crunching on a carrot, but they were all empty mouthed and I was empty handed. 
Our last dog was a carrot fiend, and it was a fun thing to "forget " and leave a carrot amongst the potatoes in the basket on the floor in the kitchen, for her to scent out, steal, and lie on the floor holding between her paws as she gnawed it all away. I have been thinking of her a lot lately as my current canine companion starts to show the same signs of trembling legs and neediness as she eventually did before she went on to better pastures and left me to wait behind, holding her lead and harness. I still have it to this day, for one day she will wear it again, and we will run together.
Changing the subject, before I set you into tears as well, International Carrot Day is real, and it has been going on since 2003, every year, on this same date, irrespective of day. It is also truly international, not just within Europe, but America and Japan as well. Our home grown carrots used to come from East Anglia, where the ground allowed best for their roots to grow straight without forking into odd and humorous shapes, and they still grow there but more recently the carrot has gone up North to Scotland.
You can grow carrots at home but they do have that long taproot which makes growing them in a pot challenging, unless you go for the small round varieties that seem to have originated in France. 
Our card (if you still remember that?) comes from P644-072 : P72-31A - John Player "Cries of London" first series (1913) 16/25. The title is "Turnips and Carrots Ho" and it applies to the cry of the vegetable seller. The first thing I pick up on from the card is that the cry was "Whyt Carots, Whyt!". And yes, apparently the first carrots were white, the orange ones came later. The card goes on to say "In more recent years the cry was "Two pence a bunch, young carrots, ho!". This would presumably mean that by then the carrots had changed into the colour we are more familiar with today.
However, white carrots are still used in baby food, because otherwise the orange comes out in the skin. This sounds rather alarming, but it must be true because it says so on a super website which is actually run by The Carrot Museum.
Go on and visit! You really must...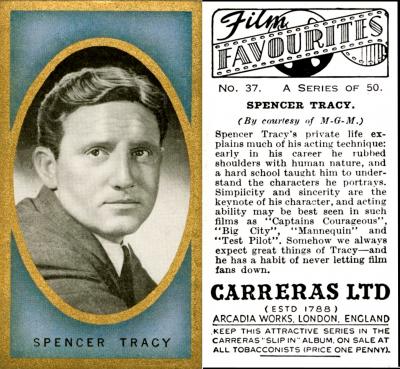 Today in 1900 Spencer Bonaventure Tracy was born. He started acting at college, gaining a scholarship, dropping his middle name, and making his way, slowly, to motion pictures.
His breakthrough came in "The Last Mile", a prison drama play, in which he appeared on Broadway. Strangely it was not , as is sometimes said, that he just moved into the same part on screen, it was that his magnetic performance led to a screen test. And even stranger the same happened to the actor who played that role on the other side of America, Clark Gable. However when the play was finally filmed neither of these were offered the role!
Spencer Tracy was a solid, honest man, usually playing men who stood by situations when others would have long given up. In 1942 he was cast in "Woman of the Year", reportedly the leading lady, Katharine Hepburn, liked the look of him and thought he would work well with her. They also formed a relationship that was conducted off camera, and hidden from the public, for he was still legally married to an actress he had met early in his stage career. Katharine Hepburn and Spencer Tracy were teamed in nine films during their twenty-five years together, the last being "Guess Who's Coming To Dinner". He died shortly after the filming. 
The trading card database has forty-two cards, starting with C151-550 : C18-91 Carreras "Personality Series" (1933) 28/72.This is the only card which actually gives the name of his wife, and the fact that they had one child, who was sadly born deaf, a fact which resulted in Spencer Tracy's constant campaigning for and supporting of deaf charities, as well as the John Tracy Clinic, founded by his wife. 
Our card is C151-270 : C18-46 Carreras Film Favourites (1938) 37/50, which is one of my favourite sets, I like the matt coloured border, which varies in colour from card to card, and the fact that the portraits inside them are in black and white. There are some super images contained here as well. If you have never come across it before, you can see all the cards in the set at the Cardhawk store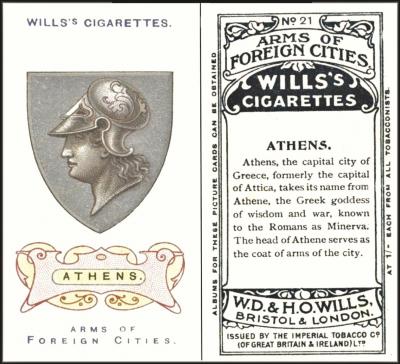 Today marks the anniversary of what are now considered to be the first modern Summer Olympic Games.
These ran from the 6th to the 15th of April 1896 and were held in Athens, Greece, hence our card, from W.D. & H.O. Wills "Arms of Foreign Cities" (1912) 21/50. The reverse of this card tells us that Athens was the Capital of Greece, (which every schoolchild could probably tell you, especially those with a cigarette card collection), that it was formerly the capital of Attica, and that it takes its name from the goddess Athena, who is pictured on the arms and on this card.
I was quite surprised to find out that at those inaugural Games there were almost two hundred and fifty competitors took part, all male, for women were not allowed to compete, and that there were almost fifty events. The highlight for many was the first running of the Marathon, and it was won, fittingly, by a Greek athlete. I am very surprised to learn that Australia took part, and won two medals, both gold, whilst America won twenty medals. Greece won most, forty-seven – however that also sent the most competitors. 
At the most recent Olympics, there were two hundred and six teams. Over a thousand medals were won.
This starting date was later chosen by the United Nations to become the International Day of Sport for Development and Peace, and this is celebrated worldwide today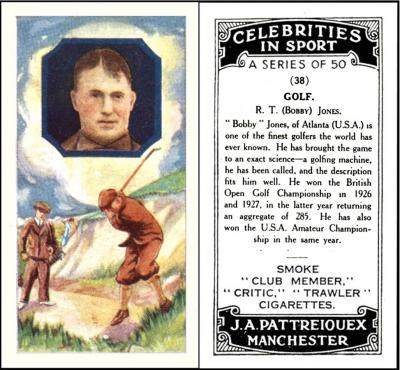 Today is the start of the U.S. Masters Golf Tournament. Unless you are reading this in America, because there is is simply known as The Masters. It always takes place in the first week of April, at the Augusta National Golf Course, and it was started by a person very familiar to golfing cartophily, Bobby Jones, along with a financial partner, an investment banker. 
The site was once a nursery, for plants, rather than children, and it was redesigned to suit the demands required for hosting major golfing tournaments. The first of these was in 1934 and it was won by Horton Smith. However this event was not the Masters, it was instead called the "Augusta National Invitation Tournament" and all the players had to be personally invited. This is still the case, even today.
Bobby Jones also appears in lots of sets, as you can see at the trading card database.
Bobby was a nickname, for he was born Robert Tyre Jones Jr.  on March 17, 1902 and died on December 18, 1971. In fact the earliest card cited in that database has him as Robert T. Jones Jr. National Amateur Golf Champion. 
Our card is P246-525 : P18-48 [tobacco : UK] Pattreiouex "Celebrities in Sport" (1930) 38/50 - and this is another of my favourite sets. This tells us that he "is one of the finest golfers the world has ever known" and how he has been called "a golfing machine".
Now whilst we have the attention of all you golfers, don't forget that we hold an annual golfing tournament just before the Convention at a course nearby This year it is on Friday the 29th of April at The Whipsnade Park Golf Club, Studham Lane, Dagnall, Berkhamstead HP4 1RH. We will be competing for the Julie Hale Memorial Golf Trophy, sponsored by Tim Davidson Auctions, and last year`s champion Colin Fawcett will be defending his trophy, but secretly hoping to take it home again. The cost including a bacon butty, the golf and a two course meal after the golf with the prizes and presentations is just £50 per head for golfers. We do have an option for people wishing just to have the meals. Contact us for full details at webmaster@card-world.co.uk
Imagine yourself back in 1093 and a member of Ye Olde Winchester and Solent Branch; you would all have been talking about Winchester Cathedral, or to give its full names, The Cathedral Church of the Holy Trinity, Saint Peter, Saint Paul and Saint Swithun. Now you know why it is called Winchester Cathedral. 
It appears that there was a Church in Winchester from the dawn of time, but the one which is regarded as the first true Church was completed in 648 AD, not too far off the present site but way smaller in size. The first change came with William the Conqueror, it was under his reign that the Eastern End of the present Cathedral was finally completed and the building consecrated, that was on this day in 1093.
The footprint has changed little, which must mean it was an amazingly striking building at that time – for today it is still one of the largest Cathedrals in Europe and the longest of all. 
This card is ZB07-070.1 : ZB6-5A : RB.21/300 [tobacco : OS] Anonymous "Beauties of Great Britain" (1930) 36/50 These are listed as section 6 item 300 in our original British American Tobacco booklet, RB.21, which was issued in 1952. It says that they are small, cards, size 66 x 37 m/m, fronts being glossy photoprints in black and white (which has toned to brown in many cases, and sometimes worse at the top or bottom of a particular card). The backs are in black, printed by letterpress, and they have descriptive texts. There were two printings... The first, 300A, our set, was titled "A Series of Real Photographs" and captioned and numbered in a block inset into the picture. In our original World Tobacco Issues Index it was not stated or maybe not known where these were issued, but in our most recent version it says they were issued in Malta. The second, 300B, was titled "A Series of Real Stereoscopic Photographs", had two slightly similar photos on each front, but neither caption nor number to the front, though they were numbered on the back; and those cards were issued in South Africa.
This week's Cards of the Day...
This week our cards took us off to the Boat Race, which is on Saturday 3rd April. Some people believe this is an outdated sport, only for the privileged, and that may be true, but rowing is a sport that anyone can do, whatever their abilities or inabilities, and gliding along in a boat amongst the water and birds can be immensely soothing. Like most things, the fact that someone younger can do something faster than you should never stop you from giving it a go if you get the chance. 
The Boat Race started in 1829, when it was run along the Thames on course of just two and a quarter miles. This was a one off race though and the next was not until 1836; after that it was also in no way regular for the next twenty years, taking right until 1857 to become an annual event. There were no races during the First World War, but there were some held during the Second World War, both on the Thames and on the Great Ouse in Ely; sadly these crews were never given official recognition and they are still not included in the official tally. It was also cancelled in 2020 due to the pandemic, but was relocated to the Great Ouse, near Ely, last year, which would have been the perfect time to add those missing names and dates in to the record books. Don't you think? 
Saturday, 26th March 2022
W675-152 : W62-116 : W/135 [tobacco : UK] W.D. & H.O. Wills "Association Footballers" (November 1939) 27/50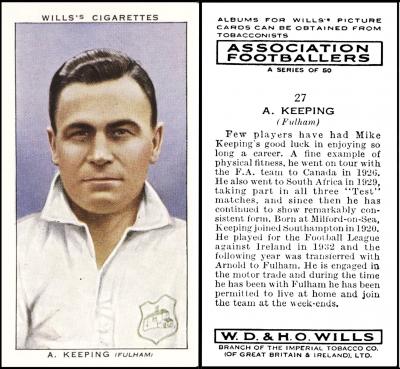 A.Keeping of Fulham Football Club also appears on Ardath "Famous Footballers" (A745-350 : A72-24 - 1934) 48/50, where he is A.E. Keeping and on Churchman "Association Footballers" (C504-410 : C82-32 - 1938) 22/50, which is a great action shot not just a portrait.  
His full biography can be found at wikipedia and this reveals his full name to be Alexander Edwin Michael Keeping.
Our clue was his club, Fulham Football Club, which is the nearest ground to the start of the Boat Race, in fact if you watch the race on television (rather than tuning in on the radio, like me) you will clearly see it passing by.
There is something on our card that younger readers might find amusing, and that was that Mr. Keeping, despite his International fame, was also still "engaged in the motor trade". In other words he was not a highly paid football star who only plays football and has more than enough to live on, like some are today, he still had to hold down a regular job in order to make ends meet, and in fact if asked he would have almost certainly said his work was with cars and his football was just a hobby. However the wikipedia page reveals that this was not just tinkering, for he reportedly "owned a couple of garages". I will try to track this down.
This "Association Footballers" set is not to be confused with the set by the same issuer, of exactly the same name, that had appeared in November 1935, but was more widely circulated in 1936. The way you can tell them apart is that the earlier set has framelines separating the text from the sides of the card, and our later set does not. Both these sets were first listed in our Wills reference book part four, as W/134 and W/135.
Our set is a bit different again because it is the Irish version, and how you can tell this is all on the reverses – firstly that they have no brand advertising at the bottom ; secondly that they are not "sticky backs" with pre gummed surfaces ; and thirdly that they do not say "This surface is adhesive …" at the top, instead they say "ALBUMS FOR WILLS PICTURE CARDS CAN BE OBTAINED FROM TOBACCONISTS." and that was a peculiarly Irish printing. They were slightly more expensive than the standard home issue in the London Cigarette Card Company 1950 catalogue as well – 2d. a card rather than 1d. and 10/- a set rather than 4/6d. 
There is also a curiosity with this set as regards our original World Tobacco Issues Index, for the Irish set is listed apart from the home issue as W62-116 under section 2B, this being for "Issues 1922-1939. Excluding cards with adhesive backs". The adhesive backed home issued comes under section 2C and has the card code of W62-192, a code which contains the earlier, frameline version as W62-192.1 and the later, non-frameline version as W62-192.2. This system continues into our latest World Tobacco Issues Index, with our Irish non adhesive issue as W675-152 and the two adhesive issues as W675-235.1 and W675-235.2. Another oddity is that this page of text suddenly tells us there was no album issued for the non-frameline set. Bit of investigation due on that, I think! 
In between these two sets, other sets were issued – in fact, across the Wills brands, and counting large and standard sized cards, there were twenty-five new sets to collect in those three years. That is almost certainly the reason why the 1920s and 30s are referred to as the golden age of card collecting!  
In our original Wills reference book RB.19, which is part five with revisions to the preceding volumes, this is the last set listed in the section showing the dates of home issues. The book was issued in 1951, so at that time cards were still not yet back in the packets. However three standard sized sets and one large sized set were prepared in the 1950s and not issued, these appear in our most recent World Tobacco issues Index. The standard sized ones were W675-786, "Life in the Hedgerow" a set of fifty cards, W675-788 "Military Aircraft" (which says "reprints only studied") another set of fifty cards, and W675-790 "Pond and Aquarium" (which says there was to be a first and second series each of twenty-five non adhesive backed cards – though one card has turned up from the first series which is on thinner card and also adhesive backed.) The large sized set was W675-792"Puppies" by Lucy Dawson, a charming set of forty cards measuring 79 x 62 m/m. One of these appeared in our auction not so long ago. I must have the image and will add it. 
Of course in the 1980s Wills issued larger sized sets with Embassy branded cigars, and continued into the 1990s with Castella branded Cigars. And this is getting longer by the minute so I will halt there…. 
 
Sunday, 27th March 2022
[trade : UK] The Cartophilic Society of G.B. Ltd "Convention Commemorative Card" (April 24, 1993) 1/1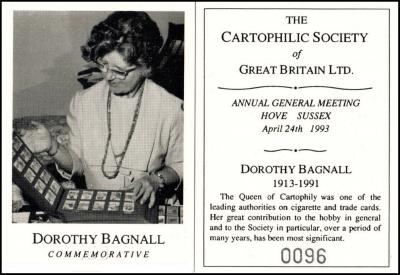 The reason for Miss Dorothy Bagnall is that the end of the Boat Race course is at Chiswick Bridge, and Chiswick was the original location of the London Cigarette Card Company, run by Colonel Charles Lane Bagnall and later his daughter Dorothy.
We are not sure how Colonel Bagnall first became involved with cigarette cards, but in 1927 he founded the British Cigarette Card Company, which operated out of his home in Wellesley Road, Chiswick. This was a company purely for dealing in cigarette cards, quite a big step for the time. Unfortunately it was almost immediately renamed The London Cigarette Card Company, because there was already a British one. 
Their first "catalogue of prices" was issued in 1929, and in 1933 they started a regular magazine/newsletter for collectors which they called "Cigarette Card News". This is still issued today, though it recently changed its name to "Card Collectors News".
And though the company is still called the London Cigarette Card Company, it relocated to Somerton in Somerset in 1977.
This card was given away to members at our 1993 Cartophilic Convention which took place in Hove, Sussex. And if anyone can supply any souvenirs or memories of this event, please do, so that we may add them to our archives.
 
Monday, 28th March 2022
T045-550 : T6-29 : T/34 [tobacco : UK] James Taddy & Co. "Thames Series" (1903) 11/25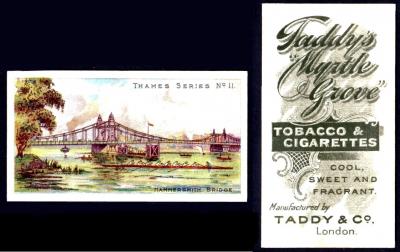 And here we have the first bridge on the course, Hammersmith. The crews have usually been rowing for between six and seven minutes by that point. And if you look at the card, is that the Boat Race passing by, there are certainly eight rowers and a cox, plus the attendant boats watching the progress and waiting to step in should there be incident. I am not sure as to the month this set was issued, so I cannot tell if this is the 1902 or 1903 race, however Cambridge won both of these events.
The cards are numbered from 1-25 on fronts, and those fronts are lithographed in colour, whilst the backs are in olive green with an advertisement for "Myrtle Grove" rather than text. #
The earliest code of T/34 relates to our original checklist of Taddy cards, reference book RB12, written by Mr.  Edward Wharton-Tigar, who was now writing our reference books, having taken over from Eric Gurd. This volume was published in 1948. Two years later in 1950 the London Cigarette Card Company listed these cards in their sales catalogue at between 12/6 and 30/- each for odds. Complete sets were also available at £35 each.
This bridge was not one of the original London bridges, it was built because of the considerable distance involved in detouring to Putney or to Kew, and building started in 1825. It took two years to build. This bridge lasted until the 1870s, when, of all things, the sight of crowds amassing to view the Boat Race passing directly below and then changing sides all at once to see it emerging on the other side, led to a decision to build a stronger bridge. This was opened in 1887.
The same bridge still exists, but it is no longer allowed that cars and trucks can cross it, only cycles and pedestrians. Whether this is a permanent move remains to be seen, though it seems unlikely that motor vehicles will be ever again be granted access. 
Tuesday, 29th March 2022
W675-147 : W62-113 : W/129 [tobacco : UK] W.D. & H.O. Wills "Arms of Oxford and Cambridge Colleges" large size (October 1922) 1/42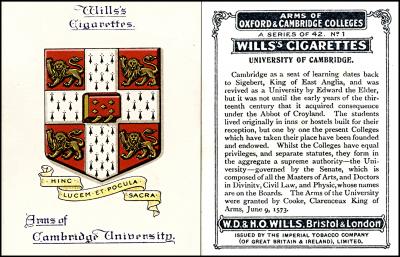 These cards measure 79 x 62 m/m and they were only issued in mainland Britain.
Wills issued several other large sized sets on a similar subject, these were "Arms of Universities" (W675-151 : W62-115 : W/132 - May 1923), "University Hoods & Gowns" (W675-225 : W62-184 : W/337 - May 1926), "Public Schools" (W675-208 : W62-167 : W/295 - November 1927), and a pair of "Arms of Public Schools" - first series (W675-149.1 : W62-114.1 : W/130 - August 1933) and second series (W675-149.2 : W62-114.2 : W/131 - March 1934)
We started with Cambridge simply because they head most of the statistics. They have won five more of the men's races and fifteen more of the women`s. They also hold the most consecutive victories, thirteen, in the 1920s and 1930s, and have won by the most lengths, an amazing thirty-five, though that was many moons ago in 1839. 
 
Wednesday, 30th March 2022
W675-102A.b : W62-69A.b : W19.2 [tobacco : UK] W.D. & H.O. Wills "Borough Arms" untitled (from June 1904) 36/50
Researching this, in our second reference book on the works of W.D. & H.O. Wills, I learn for the first time that "This series comprises City, University, Town and Borough Arms; it is perhaps best known under the title "Borough Arms" although "Civic and University Arms" might be a more accurate description."
I wonder how many of our readers knew that?
The cards were printed by Mardon, Son and Hall, starting in June 1904, and there are different sets of fifty cards in all, ours is version two, which is similar to the first issue of fifty cards, but it is now numbered, by a circle on the front, and though the subjects are the same they have been redrawn. This card also appears in the third version of the set, in which there are no circled numbers to the front, they are now moved to the backs, and a descriptive text has been added. The third version was also renumbered, and this card of Oxford University is now number 16.
Many of the same images also appear in the seventh set, or "Second Edition", which has an album offer on the cards. Sadly our card does not, it was replaced by "Kensington"
This is a bit confusing but in our most recent World Tobacco Issues Index it says that the first fifty subjects were available as 'A' a scroll back where the fronts are a. unnumbered and b. numbered and 'B' a descriptive back with a. plain numeral and b. numeral and "Second Edition".
Thursday, 31st March 2022
B519-500 : B84-4.1 [tobacco : UK] Alexander Boguslavsky, Ltd., London "Turf Cigarettes" branded "Sports Records" first series (1925) 23/25
Lets start with the obvious, for this card does not say Sports Records anywhere on it, however when cards turned up numbered from 26-50, and titled "Sports Records – Second Series", it was assumed that these were the missing cards from the first series.
They were a bit careless with titling for the front as well, which says simply "ROWING" – it is only the back text which suddenly reveals it to be the Oxford and Cambridge Boat Race (which probably means it is missing from lots of Boat Race collections, especially as the front makes me think it is New York, or is that just me?).
The text tells us it was "instituted in 1829", and that it is rowed "about a week before Easter" (I am not sure why this is?) I am also not sure why the card text says "Including 1923, Oxford have won 40 races, Cambridge 34, and 1 dead heat (1877)" when it was issued in 1925, so surely the 1924 race would have been won by then too?
Anyway the card says it shows the 1911 race, (held on April 1st) at the finishing line, when Oxford, the reigning champions, and winners of most previous races, won in the record time of 18 min. 29 sec, so maybe that is why that year got the nod for the text. 
Cambridge currently holds the record time in both the men`s and women`s races – the men`s being 16 min. 19 sec., timed at the 1998 race, and the women`s being 18 min 33 sec, this dating from 2017
I have suddenly noticed a strange thing with this card, look at the address, where it says "55 PICADDILLY" – when it ought to be Piccadilly. So now the hunt is on to find all the other sets and see if any other has the same fault. If you spot one, do let us know. 
 
Friday, 1st April 2022
W675-070E : W62-58E : W/14 [tobacco : UK] W.D. & H.O. Wills "Sports of all Nations" (1900) 17/50.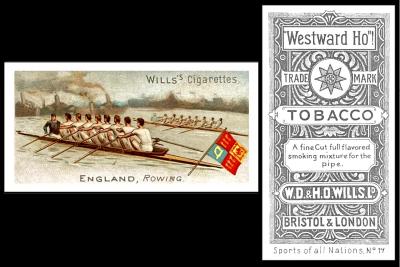 and that`s all folks for this week, rather hectic again, but we are getting there and this week`s ought to be actually uploaded at midnight ...
See you all next week, and maybe see you in the flesh, very soon, at Hemel Hempstead...