Well this is going to be the weirdest newsletter ever as the Iaptop I borrowed refuses to power up so here I am on my tiny tablet that is so old that when it first switches on before the internet kicks in it says 01 01 2010. It also won't take a flash drive so I will have to try and remember everything I had on that.
Anyway I like finding solutions to things, so let's look at the positives. And call this an interim newsletter that will be sorted out once I find another laptop.
Oh come on, it is going to be fun.
And the newsletters are not carved in stone, they should alter, a lot, as more facts get discovered. And the waffle gets removed. I will cry if my cow piece has gone though! On which note there is a major plus to the tablet... I can emoji. 😀 Or maybe even  🐮
Calling all Cartophilists who drive what can be called a collectors car - 🚜 – and have a card of it to show us. And if you don't have a card, we might be able to find you one. For today is Collector Car Appreciation Day, or should that be Collector Car Card Appreciation Day. 
The hashtags on this are #CollectorCarAppreciationDay and # CarAppreciationDay 
So what, you may be asking, is a collectors car? Well it's a car with some historic or personal value, but not necessarily one which is worth a lot of money.
And as we age as a society, and look back at the car we always wanted, or the car we have fond memories of, for whatever reason, newer cars become collectable. That is why the definition is constantly changing and if you look down the online auctions more modern cars get added by the year.
In fact if we showed a more youthful collector some of the cars in the Lambert & Butler "Motors" (1908), or even the many sets of the 1930s, they would not be that impressed. 
In America, where this day is more celebrated, there is another meaning, because to them a collectable car is one you treasure, but don't necessarily drive as your regular wheels.
This may be because they are somewhat nervous of being in an accident (and who can blame them) or it may be because they want to preserve their four wheeled friend from the wear and tear that gradually eats away however carefully you drive. 
Today in 988 it is told that the city of Duiblinn, on the banks of the river Liffey, was founded by Vikings. However this is not strictly true, because hunters had gathered around the area, and it was long known as a safe place to cross the river, in fact its original name Atha Cliath, or the ford of hurdles, refers to the fact that though the river was shallower there, flat wooden hurdles had been dropped on the river bed to make the crossing yet easier. If you are a horse racing fan, you will immediately know of the hurdle, for it is much the same, a fence style construction woven by hand out of pliant branches and twigs
The Vikings only came to Ireland in 795AD, driving their longboats up the beaches and attacking the monastery on Rathlin Island. They did not settle, they just came and went, and they confined their endeavours to the coast because it was easier for them to invade with their boats, and also quicker to slide back into the water if things went wrong. Their first real navigation into the interior was down that River Liffey, and they built a kind of harbour there some time in the ninth century, which had outbuildings and needed habitations for the people who were to operate the harbour and tend to the ships. And they could shelter there whilst planning more raids. They changed the name to Dyflinn and it slowly spread outwards. 
It took less than five years for things to start to go against the Vikings, many of their warriors were slain, and by 849 AD, Dublin was in Irish hands. However, the Vikings fought back, sending fleets of boats and by 853AD Vikings were again in control of Dublin, and they held it, despite valiant interference, until 902AD, when they were finally repelled. 
The Custom House, as shown here, or not, was built in the 18th century on the north bank of the River Liffey, on Custom House Quay between Butt Bridge and Talbot Memorial Bridge. 
Every July 11 is National Swimming Pool Day in America.  But not here in the United Kingdom, for some reason. I suppose it used to be that Americans were generally further from the sea than us and it got hotter there.
We have far less swimming pools, especially the in home variety, though if the heatwave continues some of us may consider this an essential item. 
You will find swimming pools on cards, but many are just the backdrop to bathing beauties and film stars, it would take great skill to be able to identify those. And cards of actual named pools are quite scarce.
One source is photographic view sets, like J.A. Pattreiouex Ltd`s "Britain From The Air" which contains an interesting aerial view of Bexley Swimming Pool, 43/48, "Built by the Urban District Council, and opened in 1936", with a layout which included "…. a large main pool … two children`s paddling pools, café, sunbathing terraces, showers, and liberal dressing accommodation…."
One really odd one is in Churchman "The Queen Mary" (1936) 35/50 in the standard sized set and 13/16 in the large sized set; for it is revealed thereon that as the vessel floats along some of her passengers were also floating in the tourist swimming pool. It says it was the first swimming pool but it must mean for tourist class, because card 32 shows the main swimming pool. Also there is another card, earlier, but also by Churchman, in "Life in A Liner" (1930) which shows the swimming bath on the Cunard Liner Franconia; this is card 23/50 in the small size and 10/12 in the large size. 
I was torn today between National Simplicity Day, which is in honour of Henry David Thoreau, the great enthusiast for simple, gentle living, though he also stood up against things that really mattered, like tax and slavery; or Cow Appreciation Day, who also hope for simple gentle living, a chance to smell the flowers, and chew them, carefully, of course, because flowers have feelings too.
The clincher was that I failed to find a card of Henry David Thoreau, so lets talk about cows, or more correctly cattle, for cows technically refers to the female of the species …
And I seriously am quite overwhelmed that the only picture that stuck fast in the computer crushing calamity was the cow one! Not surprised though. 
The earliest set I have found is Taddy "Famous Horses and Cattle". though Ogdens Tabs has the odd card of a particularly important bovine. Tabs D Series, card 136/200, shows Mrs Leatham`s Dexter Kerry cow "Martha", winner of first prize at Dairy Show. I have not been able to follow her trail, or her tail, so far though. There is also a prize winning cow or two as a Guinea Gold
Like the Taddy set, John Player`s "British Livestock" (1916) is not all cattle, its twenty-five cards include horses, pigs, and sheep. 
The most photogenic cow seems to be the gentle Jersey, which appears, with a milkmaid, on Ching`s "Around and About in Jersey" first series (1963) 6/24. And on our card, which is bi-lingual, for it is from South Africa, where the Jersey was held in equally high regard.
However not all parts of the cow were celebrated like this. So let's close these barn doors and share some fun, and astonishment, at this spot of curious cow censorship! 🐄
Today in 1836, after almost ten thousand patents had been sent to the American Patent Office, they thought they had better start numbering them. Actually the number is usually quoted as 9,957, which makes it even odder, why didn't they just take three more and make it a round ten thousand.
Anyway, their decision led to US patent number one, which, luckily for me, was a transport one, concerning locomotive wheels. In fact if I remember correctly it was not the wheel but a cog mechanism with a rail bar which prevented slippage down hills. 
You can see wheels on all cards of trains but there is a particularly interesting set issued by Ogden's which shows the "Construction of a Railway Train". I particularly like the fact that the letters rise in the middle of the title like they are negotiating a bump. This set starts with the basic metal and does indeed show all the stages in the construction. It is curious how it takes the card of the boiler before your mind tells you it is a train not just metal parts of something, anything. I think the wheels are first mentioned at card twenty nine. But I'll check tomorrow.
The set was reproduced for collectors in 1999, and it sells quite cheaply. It also has a brownish back which makes it really easy to tell it is a reproduction for the original was in black. 
Today is Shark Awareness Day. 🦈  And that's all that was here! So let's sit and think. I am not that fond of sharks because they eat other animals and people. But I'm maligning them because if you look into the subject not all sharks are scary and violent, some are tiny and eat algae and plankton. And there are five hundred species to pick your favourite from! 
Almost two hundred films were made about sharks. The first one in which they featured as part of the story, not just a fin swimming past, was made by cowboy star and author Zane Grey, which seems to say all sharks are to be hated and all conservationists too. That was in 1936.
Twenty years later came a film which again started sharks but also put them in the title. I can't remember what it was though I think it was Shark Hunters. 
The film that brought sharks their fame, and bad name, was Jaws. It had been a book written by Peter Benchley, and he wrote the screenplay too. The director was the young Steven Spielberg. I didn't like the book, of course, it was abandoned mid way down page one. However film and book were big hits even though the shark was mechanical. This led to Jaws 2 and Jaws 3, which was actually Jaws 3D. 
I have not been able to track down original cards for the first film but new ones were produced using images from stills. Jaws 2 was a Topps set, stickers and cards in a wax pack wrapper. Jaws 3 was another Topps set, but only in 2D, which seems odd as Cavanders were offering 3D cards by way of a viewfinder in the 1930s.
Today in 1815 there was a very important race. This was either the first horse race on the flat, or the first held in Cheltenham. I can't remember. It was held on Nottingham Hill though, and by 1818 it was on the calendar as a regular event, to which thousands of people flocked.
Now not everyone was happy and a priest preached that it was evil. I'm not sure that he meant the horse part, because people were known to go to the race to gamble, drink, and there was an influx of women who were only too happy to console the losing racegoers out of any money they had left. But that's kind of what hapoens when the circus comes to town. 
The strange thing about this was that one night the grandstand was burned down. And nobody claimed responsibility. Was it a parishioner thinking they would please their priest, or the priest himself? We will never know.
However it did not stop the races, they just moved elsewhere. And they are still racing in Cheltenham every July to this day. 
This week's Cards of the Day...
Saturday, 2nd July 2022
AMA-150 : AMC-2 [trade : magazine ; UK] Amalgamated Press "English League (Div.1) Footer Internationals" (20th of February 1926) 9/24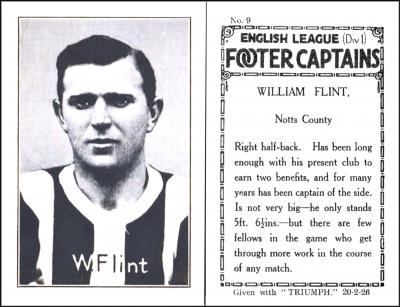 Here we have William Flint of Notts County, a "right half-back" and "for many years captain".  The text also tells us that he "Has been long enough with his present club to earn two benefits" but does not say what they are. A free sandwich and a cup of coffee at half time perhaps? (You can tell from this that I am but a very simple soul). And it says he "Is not very big – he only stands 5 ft 6½ ins", though that is taller than I. 
His full name was William Arthur Flint and he played for Notts County, though he was also a first-class cricketer, playing for Nottinghamshire; and his brother was also a cricketer. You can read more about that at the Trent Bridge website  but I am not sure if he, or his brother, appear on any cricketing cards – if you know do tell us 
Our Trade Indexes seem to vary with info. The size is given as 76 x 51 m/m in our most modern British Trade Index, whilst our original British Trade Index part one puts medium size in the listing, though it gives the same dimensions in the header.
Then there seems to be a difference of opinion as to the colour of their printing, the original part one calling it brown and the modern version black. Having looked at a few cards now I think we could probably say that the cards vary along the brown/black spectrum.
However the most interesting difference is that in the original part one of our British Trade Index it says there were twenty two in the set and they were dated from the 23rd of January 1926 to the 3rd of April 1926. And our card is dated at the bottom 20-2-26. However in the modern version of our trade index the quantity is given as 24 cards, and it says they were issued one card a week from 25-9-26 until 11-12-26. 
We have had a bit of correspondence on this already, including being shown card number one, which turns out to be Frank Hudspeth of Newcastle United, given with "Triumph" on the 23rd of January 1926. This supports the vintage trade index, not the modern. Likewise card twenty two, which has also been shown, that being Arthur Grimsdell of Tottenham Hotspur, given with "Champion" on the 3rd of April 1926. So why is there a different date in the more recent volume?
The above information also tells another story, as if you look at a whole set of cards you will see some of them say "given with "Champion" and others  "given with Triumph".
What actually happened was that a different card was given in each of these magazines, making two cards a week. This was a good marketing strategy as the collector had to buy both magazines to get a full set. 
By the way six cards of William Flint are listed at the trading card database
but there are more – including Godfrey Phillips Pinnace brand "Footballers" (1922) card 47, and Clarnico "Footballers" (also 1922). We can add any more you find.
 
Sunday, 3rd July 2022
H536-450 : H44-48 : Ha.571-7 [tobacco : UK] Hignett "Dogs" (1936) 33/50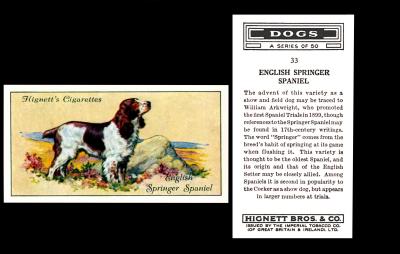 Here we have the English Springer Spaniel, which the text of this cards tells us "is thought to be the oldest Spaniel, and its origin and that of the English Setter may be closely allied." In fact the English Springer is the tallest of the land based Spaniels, but they are all very inter-related, the main classifications being the simple ones of height, size and colour. However but for chance the Springer might have been called a Norfolk Spaniel, after one of its early champions and refiners, the Duke of Norfolk.
The company simply called John Hignett was founded in 1790. They changed the name to Hignett, Webster & Co in 1848, and started producing tobacco in the 1850s. A further name change, shortening it to Hignett Bros occurred in 1858, but it seems likely that this was directly related to the departure of Mr Webster. Does anyone know more about this? We also know that a John Hignett was alive in September 1884 because he attended the funeral of Thomas Cope of Cope Bros & Co. in that month. But whether it was the same one seems doubtful, for if Hignett was founded in his name as a babe in arms in 1790 he would be 94 at the youngest at the Cope funeral. 
Hignett`s were based in Liverpool, but they also had a London factory at 74 Aldersgate Street. You can actually see an early billhead from 1894 at Alamy. If you look at the lower boxes you will see that the right hand one mentions Richmond Cavendish and Lorillard, Richmond Cavendish being formed by Hignett for the sole purpose of exporting unsweetened tobaccos out to North America.
In 1901 they were one of the founder members of the Imperial Tobacco Company; though W.D. & H.O. Wills Ltd were by far the largest of the founding group, it is odd that in the records the Hignett was given twice, once as Hignett Bros & Co. Ltd of Liverpool, and then as Hignett`s Tobacco Company Ltd. of London, which actually closed in 1903. Any more information on that would be useful 
To close Ogden bought Hignett Bros & Co in 1930, and this explains why they issued the same sets under different names. 
Monday, 4th July 2022
P644-046 : P72-18 : RB.17/32A : H.343 [Tobacco : UK] John Player "British Empire Series" (1904 - 1909) 25/50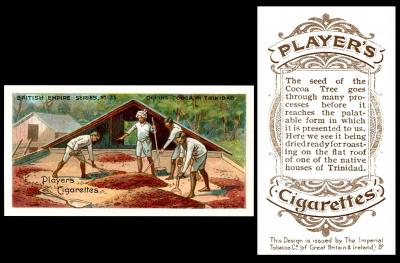 Here we are "Drying Cocoa in Trinidad" 
This A printing has grey-white matt backs and there were several versions and reprintings, "each number being found with minor differences, particularly in layout of text on back (see "The Bulletin" pages 328 – 331)". I do now have a second set of unbound Bulletins so I should be able to scan this in some time.
This set has no firm date of issue, in our earliest John Player Reference Book (RB.17) it states that "According to Messrs. Player`s records, issue took place in 1909. Contemporary catalogue indications of issue in 1904 do not agree with the above records but may be correct as regards one of the printings, possibly printing B" [white cards with semi-glossy backs]. The 1904 date was quoted in the London Cigarette Card Catalogues right up to 1950 and possibly for longer – maybe someone with a later edition can clarify this? We do know that one of the printings was definitely issued abroad in June 1905.
To further confuse things, it was also issued by W.D. & H.O. Wills in Australia, (W675-345 : W62-220 : W/54) in about 1913, variously branded for Capstan, Havelock, and Vice Regal, but it does not appear in the list of issue dates that we reproduced at the start of the Wills Combined volume, and these were taken from records that appeared in Wills own works magazine. 
And it was also issued unbranded and anonymously by British American Tobacco; see ZA03-200 : ZA3-4 : W/54D. These non Player sets do not seem to have been reprinted or altered as far as the text. Unless you know differently...?
There were also plain back cards doing the rounds in the 1950s which may have been printers proofs. Anyone with any info on these? 
Tuesday, 5th July 2022
FRY-070 : FRY-21 [trade : UK] J. S. Fry & Sons "Ancient Sundials" (1924) 46/50
I have to admit that the sundial here is not very visible, but I do know the Church, St. Mary`s in Perivale, one of the earliest in London, though little remains of its first build. The sundial is on the southern side of the tower, actually the West Tower, built, of wood in the 16th century, but the main church is of stone, and parts of it date from much earlier, the 13th century. At the time of this card the sundial carried the date of 1818, and in my girlhood too, but it has since been replaced and is now dated for 1990. Possibly the 1818 was a replacement too. 
Fry has several claims to fame - the invention of the solid chocolate bar in 1847, which was accomplished by putting the fat back into chocolate and experimenting with sugar in a range of shaped moulds – and the so called production of the first ever chocolate Easter Egg in 1873. There is a great site at Companies House with lots of documents.
Now we are sorry to burst your chocolate bubble, but this was not the first ever chocolate Easter Egg, for such were well known in Europe, especially Germany, and had been for almost seventy years. However what made Fry`s egg unusual was that it was made in England, and that it was moulded, like the chocolate bars, but better than that, it was made of very thin chocolate that coated the inside of the mould only and left the interior hollow.  This made it more fragile, but lighter, and better tasting as well
Our British Trade Index Part One tells us that Fry were established in 1728 and at the time of publication (1962) were based in Bristol and London. This information is not entirely correct because J. S. Fry is Joseph Storr Fry, the son of the original maker Joseph Fry, who only started making chocolate in 1759, but perhaps the 1728 date is chocolate for drinking. However Joseph Storr Fry was the one who industrialised the process of chocolate making, by using steam driven machines.  
The first cards listed in British Trade Index Part One were issued between 1908 and 1917 and this does not include our set, "Ancient Sundials" which was issued between 1924 and 1933 and so forms part of group two. It also tells us that the cards are slightly smaller than standard at 65 x 36 m/m
By the time of British Trade Index Part Two, in 1969, there had been a discovery, and it was now known that there were two printings of this set. The first was A, ours, having the series title, number and text on the back, but there was also now a B, plain back cards, numbered on the front, with no series title. 
British Trade Index Part Three is chiefly noted for including many of the advertising postcards and showcards issued by Fry, including their own, and those commercially issued as replicas of famous adverts by the firms of Causton, Matthews and Mansell. And more postcards appear in British Trade Index Part Four. However many of these were removed for our updated version, published in 2006.
Wednesday, 6th July 2022
CAD-070 : CAD-1 : HC-11 [trade : UK : chocolate / cocoa] Cadbury "Antarctic Series" 1910-1913 (1913) 1/12
These measure 123 x 68 m/m when first issued, but like ours were trimmed to the size of the actual card. They are numbered, but when they are cut to that size, or smaller sometimes, the numbers become a casualty, so it was decided to list the cards in our handbook at HC-11
Cadbury Bros was registered in 1899 and they have a particular connection with this set which may not be known to you all. The Guinness Book of Records/Scott tells all.  As it says, this was the first expedition of 1901-1904, not the one recorded by these cards. 
There is a strange fact though, because though Cadbury boasted of being the sole supplier of [eating] chocolate to both expeditions, according to this expedition postcard they were not, for Fry clearly states on there that they supplied both cocoa, and chocolate to the 1910-12 Polar expedition. In fact when Scott's supply hut was uncovered from the ice they found Fry's cocoa still in the tins, and some were brought back home to Bristol. 
Thursday, 7th July 2022
[trade : chocolate : Germany] Stollwerck "The Muses" (1900) 4/6
I will start with a correction, for this is not Cleopatra, it is Klio, or Clio in the English and she is part of a six card set, which fits in album number four, and is known as Group 173, "The Muses".
Stollwerck seem to have plucked their set order from thin air, as this set was bookend-ed by Group 172 "Ornamental Shrubs" and by Group 174 "From the Aquarium"; and yet there are more muses, "Artistic Muses", which would complement these very well, if they were not buried right down at Group 85. 
A muse is someone, sometimes real, but more usually imagined, who provides inspiration for an artist`s work, and these are six of the Nine Muses from Greek mythology, daughters of Zeus and Mnemosyne. namely 1. Polyhymnia, 2. Melpomene, 3. Euterpe, 4. Klio  5. Terpsichore and 6. Thalia. The ones that are missing are Calliope, Erato and Urania.
There are various backs for this set, by the way, as many of the Stollwerck cards. 
A very brief look at Mr Franz Stollwerck finds him starting a business, in Cologne, as a baker in 1839, but for some reason he added chocolate and other sweets, especially cough drops, which were so good that local chemists tried to ban them, but failed. He started all kinds of endeavours, coffee houses, selling cocoa and coffee, one of which had the added attraction of performers and musicians as you drank. His sons also started a company, though this is sometimes unfairly thought to be simply another of his own endeavours; and they were sufficiently skilled to take over his business when he died in 1876, and his sons expanded the business enormously, taking their goods to America, though this was a really good move as a lot of Americans had emigrated from Germany, and would have been more familiar with the Stollwerck name than any American ones.  Another first was a machine into which you inserted coins and out of which came a chocolate. By the turn of the nineteenth century there were thousands of these "vending" machines, handing out cigarettes, gum etc, both in the street, and more valuably, in train stations. 
Like all companies, it was badly affected by the First World War, works were damaged and many staff were injured or killed. It was also affected by the aftermath, for they lost their American subsidiary as part of reparations in 1919. Then in the 1930s, the firm had no choice but to pass into the hands of Deutsche Bank and out of the family. The Second World War was just as devastating, for let us not forget they were based in Cologne, hit so hard by Allied bombing. 
Friday, 8th July 2022
Felix Potin
There are many hundreds of these cards they are the European Guinea Gold, and anyone who was anyone was shown there, not just theatrical personages, but sports stars etc.
This is Lilly Langtry, actress and muse to the King of England though Monsieur Potin is not so delicate and comes straight out with "Mistress Langtry". Though to be fair Europe did call any unmarried lady mistress. 
Well three cheers for the tablet. Maybe this is a whole new way of doing the newsletter. It's certainly been fun and look it's out at midnight.....
Sadly the card of the day won't be ready at midnight, but that will come tomorrow, some time. 
Thanks for sticking with me. Hope you enjoyed it too.