well hi there at last !
Apologies that this week`s cards of the day were sporadic in appearance, and backless, but I think I am getting to grips with this machine now. A bit. Sadly the one I used before was not recoverable, but it was of an age to only run Windows 7 and nothing lasts forever.
This one is Windows 10, but it has two keyboards, there is a small one to one side and a load of numbers to the other in a grid pattern. I am used to a full keyboard, so I keep getting numbers when I want a letter that was formerly over at the other side. And the " \ "symbol is where I used to capitalise things so there might be a lot of " \i " instead of " I " for a while. And then there is a key that shoots me off to the bottom of the document and that wasn`t what I wanted to do! 
Anyway I am persistent so will "go with the flow and embrace the challenges". And please help me out by putting up with me whilst I do it. A few positive vibes through the ether wouldnt go amiss either....
as well as a spot of assistance, because I just had a crazy plan, that if these newsletters are to continue, lets all band together. I will put up what I have on Friday midnight as usual and work on them through the next day if I need to, and anyone who can supply the illustrations I cant, or the information I am missing can please just send them along to webmaster@card-world.co.uk
the newsletters are designed to be constantly updated and easily changeable, so lets start now. And anything that gets added later will be notified.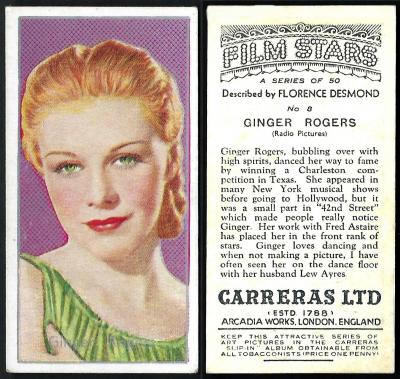 Today in 1911 Virginia Katherine McMath was born in Independence, Missouri. Independence was her mother`s watchword, and she lived it - she was on the run from her husband when she gave birth, would become one of the first female scriptwriters in Hollywood, and also became a Marine.
Virginia was a talented dancer, and she won a contest for which she got four weeks on tour. But by then her surname was Rogers, her mother having remarried. Nobody is really sure why she chose Ginger as a forename, maybe for her hair, as shown here, maybe for her spirit, though some say it was what a relative called her when they were too young to say Virginia.
She married for the first time in 1929 but it was not a great success, as is often the case when one or both are an independent being. It lasted just over two years. She married five times in all, and all ended in divorce - these included fellow star Lew Ayres, between 1934 and 1941, who is mentioned on the back of this card.  
After the tour she had moved into films, as an extra, slowly getting more time on screen. In 1933 she appeared in Gold Diggers of 1933, 42nd Street, and Flying Down to Rio, where she had to dance with a partner. His name was Frederick Austerlitz, but luckily for stardom he had softened the first name and taken the surname of Astaire. She still made straight films, and won an Academy Award in 1940 for one, Kitty Foyle, but her cinematic partnership with Fred Astaire was what most people still remember her for . After leaving the movies, her last film was in 1965, she returned to Broadway and toured frequently. She died on April 25, 1995.
Greetings to everyone out there with one or more tattoos, because today is National Tattoo Day, or National Ink Day to some. Tattoos have been found on bodies that date from the time that man began, and primitive devices for inking feature in ancient carvings and works. Both sexes partook in Egypt, but in the Far East they were thought of as something only the lower classes and the criminal underworld had, or even understood, which is strange because many of the most popular designs these days are based on Chinese characters. In other tribes they were a sign of your victories, much as we painted symbols on our Spitfires during the Second World War.
I wasn't sure tattoos existed on cards but they do if you expand the horizons. Forget your idea of tattoos in ink, as before ink people still marked their bodies with symbols, like on Taddy "Natives of the World". Another form are stickers, like Topps and O-Pee-Chee "Wacky Packages All New Series two Tattoos Stickers", a set of ten reversed images from 2005. And even Players Transfers might have seen service on someone's arm, etc., by which I mean either "Your Initials" (1932) or "Butterflies". Though the text only mentions surfaces, the skin is surely the most fascinating of all surfaces on Earth. 
The best thing about a tattoo is also the worst, and that is its permanence. Symbols are easier to live with than a name unless you know you really love someone, and will do so until the end of time. But there is a certain something about the slow reveal of a tattoo. Or maybe that`s just me, who likes them very much. 
Shhh... It's World Listening Day today, so let's all sit comfortably and start to listen to our world.
There are quite a few thoughts behind the day.
The first is in taking time to hear what others are trying to tell you, so today don't just ignore them, or speak in their thinking spaces just let them unfold to you in their own time.
Another thought is to listen to nature, how peaceful it can be at some times and how noisy at others. You may live in a city with frequent traffic noise but if you really concentrate on the nature you will tune out the cars after a while.
Then there is listening to the radio, something that we have abandoned for the glamour of moving images, however why not go down the listing schedules online or on your TV and see if anything on the radio sounds interesting, then tune in and give it a go? Or music that you might not listen to normally, this is even easier, you just spin the dial on the radio and pick the next station that hums into earshot, you may hate it immediately, but you might find a new favourite station or style of music.
You'll never know if you don't try. 
Today in 1919 was Peace Day, with commemorations and a lot of regret throughout our land. Of course there was regret and sadness in all lands, that's the way of War. But in our land, and specifically in London, we paid our tribute by way of an empty tomb set up along Whitehall, and this was known as The Cenotaph.
It was a temporary structure, right in the middle of a busy road, and made only of plasterboards, but it had some pedigree for all that, as it had been designed by the great Edwin Lutyens. It was primarily designed as a resting place for floral tributes, which would be delivered as part of a march by surviving service personnel. Yet people took it to their hearts, and a great cry was heard when it came time to dismantle it.
Of course it could not remain, for the plaster would disintegrate In rain and crumble in heat. The solution was to keep it, or more correctly make a replica, but construct this of solid stone. That would mean it would technically no longer be a Cenotaph, for that word means "empty hollow tomb", but it would be a Peace Memorial. However the people had the last word, again, and a hundred years on we still call it The Cenotaph. 
Another one I may struggle with cards for, today is National Lollipop Day. So who out there can name a set that was issued with lollipops? I will look too...
Another kind of lollipop is brandished by the kindly folk who help schoolchildren across the road. They are a dying breed these days, nobody seems to have the time, and those that do might not fill all the stringent requirements of the DBS through no fault of their own, but at one time every school had them. I thought I might find one on a trade card but no luck yet. I then had a brainwave and thought of Wills "Safety First" but that was issued in 1934 so there was no use looking - because the first British lollipop lady, or "school crossing patrol officer" was a Mrs Hunt, who worked in Bath, and she only started her work in September 1937. If this sounds late, then think of this - in London it was not until the 1950s that the lollipop lady was seen at almost every school. 
Today in 1997 great celebration was held to mark the heavy frigate U.S.S. Constitution, who had been afloat for two hundred years. And guess what, she is still afloat now! That makes her the oldest wooden ship to still be afloat. 
She was indeed launched into the water in 1797. And she fought in many wars, including the 1812 war against us. This is where she earned the name "Old Ironsides", and crucially, her respect, for it is that which saved her many times when she was threatened to be pensioned off and destroyed. However she did not see action in the American Civil War, she was only used for training purposes. This also possibly saved her.   
She was eventually retired from duty in 1881, but was given a new life as a museum in 1907. She still sailed the oceans, with a grand tour, of three years duration, in 1934.  And was last seen sailing under her own efforts in 2012, the two hundredth anniversary of her most famous battle. 
I would have thought there were loads of cards, but have so far only tracked down one, and that was not really a card, it is a package issue, where you cut the back panel section off the box and you got the "card". This was issued by Peco Candy Cigarettes in 1956 and is card one of their "Planes and Ships" series. 
Someone else has emailed in and said that she also appears on a card issued by Sailor Boy Smokes in 1933, the set is called "Beautiful Ships" and she is card 10. 
I have also been sent a link to the most amazing card which includes a piece of her body. This was issued by Topps, and you can read about it at the trading card database, which also does articles, something I never knew until I found this one.
None of this gets us a card I can show but there is one out there somewhere! If we keep hunting....
And so as our week comes to a close so does the first week of Archeologists Fortnight.
Traditionally the middle Friday of that fortnight is 'Ask an Archaeologist Day", which is not now done with people heading up to their local archaeological diggings for a quick Q and A session, but online, the ancient grasping the modern.
So let's see if we can answer some questions with cards. And if you have any questions about archaeological subjects please contact us at webmaster@card-world.co.uk - and we will try to find the answer on a card! 
This week's Cards of the Day...
Saturday, 9th July 2022
back in business!
the link here is Manchester City, which is the closest team to the birth place of Emmeline Goulden, in Moss Side. In fact their former ground, Maine Road, was built in the area in 1923 and they remained there until 2003. 
She was born on Sloan Street, into a family of political activists, eventually being one of eleven children. There is some dispute as to whether her birthday was the 14th or the 15th of July 1858, but she grew up to claim the former, because it was Bastille Day, when those not in power stormed the building of those who were. She was not fond of her Christian name either, and preferred Emily, though came to realise Emmeline was much more grandiose.  
She was fourteen when she attended her first public meeting on women's rights, and their demand to be allowed to vote.
Sunday, 10th July 2022
we are getting here, slowly
A year later, she was in Paris, going to school, a forward thinking one which taught chemistry to girls as well as more usual female pursuits like sewing. She shared a room with a girl whose father had been in prison for his political beliefs. This was probably more proof of her calling.
She turned down an offer of marriage, and believed she would never get married, but she did at the age of twenty, to a barrister who had also believed he would never get married. They met at a suffrage meeting, where he was fighting just as hard for the women`s cause as she was. It was strange and very attractive to her to find a man who cared about women and who thought they deserved their freedom. He was forty-four when they met, but the attraction was instant. However her family were not too happy, so much so that they thought they would not be allowed to marry and would have to live together. But her family were convinced, perhaps because being unmarried would have not allowed her to take any part in politics.
They were married just over a year since they first met, in December 1879. 
Monday, 11th July 2022
Churchman "The Houses of Parliament and their story"
In 1903 Emmeline had founded The Women's Social and Political Union (WSPU), a movement she would lead  right the way through until its disbandment in 1918, growing ever more daring in its acts of rebellion.
In September 1908, along with her sister Christabel (also a Suffragette) and Flora Drummond decided to organise what was known as "a rush" on Parliament, storming it like the Bastille; specifically they aimed at the House of Commons which was thought to be more sympathetic, being closer to the working man than the House of Lords which was very aptly named. The planning took some time, but an enormous crowd of women gathered in Trafalgar Square on Sunday the 11th of October, incited by the fact that two days before the leading trio had been issued with summons after the police had been sent copies of the leaflet organising the rally. In fact police, in plain clothes, were at the rally too. This led to their arrest, and to them not being able to attend their "rush"; however sixty thousand people were there to take part, and many attempts to break into the House through the policemen who were protecting it in force. However they did not manage. 
Tuesday, 12th July 2022
John Player "Famous Beauties"
This card shows Joan of Arc, who was a symbol to many of the women and featured on many banners. Some even dressed as her in parades and demonstrations, and rode along with the foot soldiers. She was certainly a topical figure, for she had been made a saint only recently in 1909.
They looked at her as someone who had stepped up in time of need and proved that she was more than a simple woman, though actually Joan was very young, hardly a woman at all. It is also doubtful that she would have supported the Suffragette cause, for she was rebelling to help her fellow men win a war, not to gain respect of her own sex. 
However there is a greater connection to Joan of Arc and the Suffragettes than some of you may know. This concerns Emily Davison Wilding, who was very enamoured with the Saint. One night in 1913 she had laid a wreath on a statue of her; the next day she travelled to the Derby and was killed when attempting to catch hold of the King's horse Anmer.
At her funeral banners were draped across her grave, which said 'Fight on and God will give Victory". These were Joan of Arc's last words, and had been requested as an epitaph by Emily Davison Wilding. However in the end her grave bears a verse from the Bible, John 15:13 in the King James Version, "Greater love hath no man than this, that a man lay down his life for his friends."
Wednesday, 13th July 2022
Brooke Bond "Famous People" (1969) 22/50
Here is Emmeline Pankhurst herself, standing proudly whilst a march goes on behind. It is a very effective card for it shows her weary vulnerability but also her strength, and the muted tones of the background are also very pleasing. 
I do not yet know where the portrait comes from, but will add that later. 
She preferred to call herself a Suffragist, rather than a Suffragette, but it was a cause she fought for throughout her life, and who only achieved that in 1928, the year she died. Her daughter Christabel Harriette was also involved in the women's suffrage movement.
Thursday, 14th July 2022
thursday
Here we have a typical rally as seen on Brooke Bond "QE1-QE11".
The women carried banners and tried to make as much noise as they could.
On the so called "Women`s Sunday" in London on the 21st of June 1908, thousands of women marched, some say up to half a million, from all over the country, and importantly there were men there too. So many attended this one event that there had to be more than one procession to Hyde Park, done in relays. 
Strangely for all their efforts, it was the First World War that gave them victory, for the country saw that they were not just second class citizens, they stepped up and replaced the men in all manner of tasks, and gained their own independence in the process, in more ways than one 
Friday, 15th July 2022
friday
Violets were a major emblem to the Suffragettes, and each one who was unlucky enough to go to prison would be met with her fellow workers as she left and given a posy of the flowers.
They were also one of the three colours that symbolised the WSPU; green, white and violet - these colours were fashioned into jewellery so that they may be worn openly in public and declare their stance only to those who knew what the colours meant.
And many of the suffragettes changed their name to Violet, or added it as a middle name. 
well we made it, thanks to our trusty tablet, which is also a vintage version, but then you knew that. Doing it wasn't so bad, and next week it will be better! 
Have a great week, and use this as a chance to also try to look at every challenge as an opportunity. There is a lot of negative or even toxic things out there, but there are also lots of good things. The problem is that people talk more about the bad than the good so everything seems bad; if we talked more about the happy, then maybe it would overcome.....
Or is that a way too simplistic view. 
See you all next week - and please keep in touch with all your card news and views to keep this site alive with happenings.