Progress is definitely being made and this week I managed a new Card of the Day every day, at more or less the right time too. And I am delighted to announce I fathomed out how to add the framelines; it's a much longer process than it used to be but I am certain to find a better way in the near future. 
Not much time to update the rest of the site, but the next target is to return to the index and gallery, if for no other reason than it will tell me which cards I have featured before so I can look for new ones. 
Anyway let's look forward and see what we can join in with over the next seven days. And do tell us if we mention a theme that you are taking part in, or that you collect.... The contact e-mail, as always, is webmaster@card-world.co.uk
Image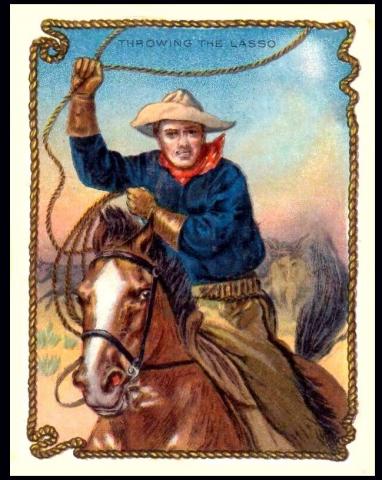 A565-074 : A54-36 : ABC/T53 : USA/53 [tobacco: OS : USA] American Tobacco Company 'Hassan' brand "Cowboy Series" (????) Un/49 
On the fourth Saturday of July every year it is the National Day of the Cowboy.
And lets start with an amazing story because there is an alternative set of these cards, issued by Weber Bakery, as a set of fifty. The missing card is "An Exciting Game" and it shows one cowboy shooting another after a game of cards. This was deemed unsuitable by the American Tobacco Company so they only issued 49 cards. 
Our card does have a back but this one is almost gone through damage, which is odd as the front is so good. Maybe someone out there could supply us with a scan? It seems to have been stuck to something, maybe to someone dreaming of heading out West and making a new life for themselves. I sure hope they made it. 
There is a curiosity about this set 
There are few real cowboys now, only the stories remain, but for many years they were one of the most popular film genres. However this seldom featured the hard work that they had to do just to barely survive, their frequent injuries, and their often premature deaths.
There is something about the idea of being alone in a wilderness with a trusty horse as your only companion, someone who will save you from almost any eventuality, and beside whose shadow and warmth you can spend a restful night. All cowboy stars had their horse team mates and the sense that they helped save your life many times was plain to see. 
Probably the easiest way to see cowboys today, apart from on our cards, is on those films, there is sure to be one on somewhere, and the older they get the more authentic they are. Sit down with a sarsparilla some time oday, and become immersed in their world. 

Ah, the Sunday drive, not so eco-friendly as it used to be before we realised what our little jaunt cost in emissions. And who, these days, can afford that petrol when we may need it for more important things? A contradiction perhaps, but I do love to drive, and I also feel that our much loved cars should not just end up under a crusher in the junkyard. Another problem where finding a simple solution will take a lot of thought.
Anyway I am sure that a drive in the country is a particular delight to many of you, so it seems apt that today is the National Day of Motoring. If we take a sideways look at this, and think of a car to represent our nation, many would think of a Ford, the stylish Capri, the family Escort, and the groundbreaking strike at Dagenham, but Ford was American at heart.
One firm favourite would be the Mini, which is so often to be seen with the Union Jack as part of its paintwork. It's not so tiny as it was in the Sixties, but it still endures and many generations embrace its small but perfectly formed features. And they look even better now this card has the right back - thanks for pointing this out to me
Still hunting for this one, but it will appear later - any ideas? 
S474-720 : S70-15.1.2 ~ John Sinclair "Champion Dogs" first series large size [tobacco : UK : 1938] 50/50
Calling all cinematic canines, or their owners, because today its National Dog Photography Day. So why not upload a photo of your dog plus a cigarette or trade card of the breed. If that sounds fun then join in by hashtagging #CartophilicCanines and add in @Card_World. This applies to Twitter and to Instagram by the way. 
Photographic cards of dogs are quite plentiful, but I really like the ones which have the dog and breeder's name, so here we have our subject, and let's see what I can unearth on them as we go through the week. 
I do already know that Mrs. Hewson appears in breed books for the West Highland Terrier, and that the 'Clint' bloodline produced many champions.
This set was issued in 1938, with a second series the following year. Both were issued as a standard sized set of 54 cards and a large sized set of 52. Not sure what the four missing cards from the large sized sets are at the moment but will try to find out. 
C144-2 : C874-300 ~ A. & J. Coudens Ltd "Holiday Resorts in East Anglia" [tobacco : UK : 1924] 19/60
Off we go towards the East now, as today is Norfolk Day. and here is a really lovely set of standard sized black and white photographic cards. There is something else important about this set too, for it is almost certainly overlooked by our railway collector readers, who only see the title in the dealer catalogues, not the usually not included undertitle of "...served by the L.N.E.R."
This station was called Gorleston-On-Sea and it is one of the many that no longer exist. It was on the Great Yarmouth to Lowestoft line and it closed down in 1970, in a series of cuts, firstly freight was denied it, then it was reduced to a single platform, then it was closed, demolished and a road built on top of it.
However it does still survive on picture postcards. 
A. & J. Coudens Ltd were not based in Norfolk, but at 44 St. Paul's Crescent in South East London. Their most popular brands were Cymax and Monax . They did not issue many sets, and in 1946 our Directory of British Issuers reports them as defunct.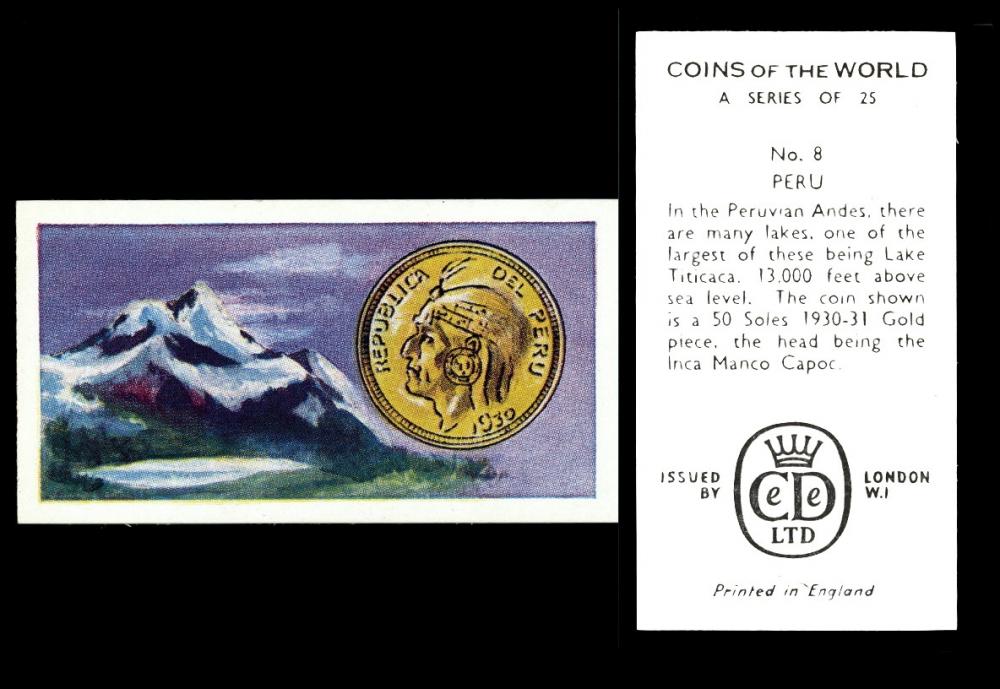 CEA-1 : CED-020 ~ Ce De Ltd "Coins of the World" [trade : UK : 1956] 8/25
Here's an extraordinary tale, especially for Peru Independence Day, which is today. To celebrate this, we are delighted to announce our latest entry in the Cartophilic Alphabet, P for Peruvian Cartophilic Society, has been uploaded. Yes, you read it right, there was a Cartophilic Society in Peru.
This is just the start of their story so if anyone out there collects Peruvian cards, or is a reader currently living in Peru, we welcome your assistance. We would also like to hear from you if you remember Senor Mejia-Franco, the President, or can tell us anything about their Museum of Cartophily. And most intriguingly where did the Society go to after burning so brightly?
I have not been able to find much out about Ce De Ltd of London and no address is given on the card, only the postal district of W1.
Our trade handbooks tell us at HX-6 and D252 that this set was also issued some years later by two other issuers, Amaran Tea (AMB-060 : AME-2 [trade : UK : 1961] ) and Amalgamated Tobacco "Mills" brand (A46-42 : A495-270 [tobacco: UK : 1961) ]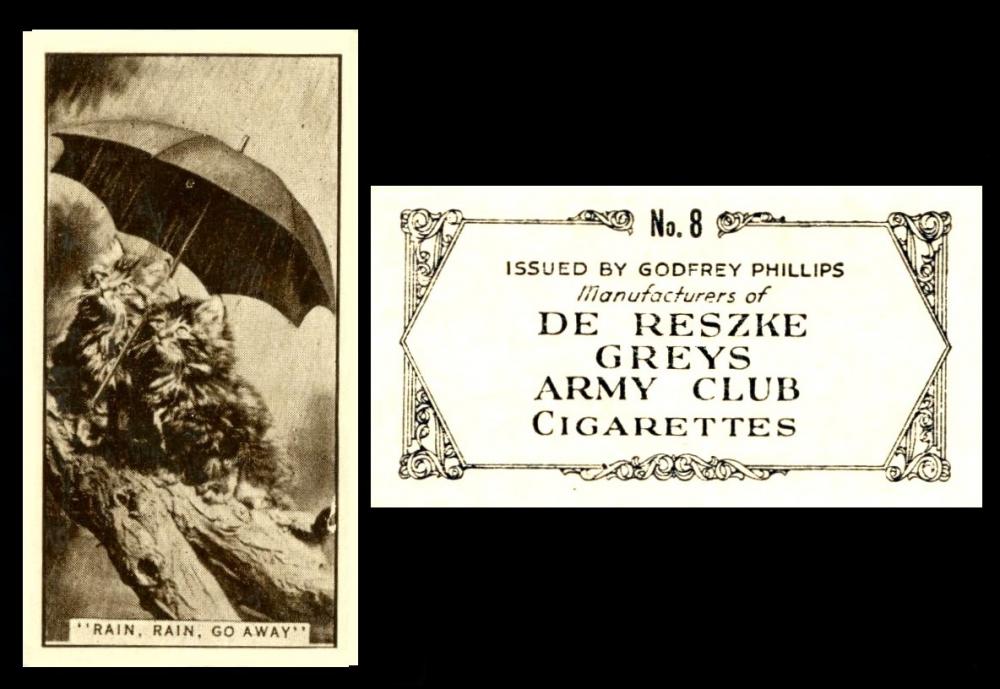 Today is rain day and we really need some, so this is our cartophilic calling sign to encourage it to fall on our dry scorched land. 
I am not sure how they enticed these cats to be under the umbrella, or to hold it, but I hope it was with kindness. 
Rain, Rain Go Away is still a popular song for small children though the words continually change to reflect new ideas. At one time the rain was to go away and come on Mother's washing day, presumably so the small child wasn't called on to help with what is a very boring task. Today all reference to Mother has been phased out. 
Records say that the rhyme is from the seventeenth century but there is a persistence to the notion that it is about the Spanish Armada, which, caught out by rain, ran for home. One compelling thought is that mother in this context means Queen Elizabeth I, mother of our land at the time of the thwarted invasion. And one very early version even includes a reference to going to Spain. 
This week's Cards of the Day...
. . . tried to keep you cool despite that dreadful blistering, and sadly burning, heat.
If you were affected by fires, my thoughts are with you.
It should not be so, but sometimes it takes a wake up call to make those in command give more thought to really stopping global warming, not just promising they might, one day; and also to encourage all of us to find small ways to slow down its all consuming progress towards planetary annihilation. 
Saturday, 16th July 2022
TOH-9 Topps "Footballers - 1981" untitled (1980-81) 42/187
Here we have Paul Mariner, former Plymouth, Arsenal, Portsmouth, Ipswich and England striker, who scored the crucial goal that took England into the 1982 World Cup, and who was in the Ipswich 1978 FA Cup and 1981 UEFA Cup winning teams, won thirty-five England caps and scored thirteen goals for his homeland, but died aged just 68. 
The single code on this card comes from our original Trade Indexes, it is too late for the modern volume which ends at 1970.
These cards do not actually say Topps on them, they say "1981 T.I.L." They are unusual because when they were issued it was as sixty-five cards each measuring 63 x 89 m/m, on which were three cards separated by perforations, and the idea was to cut them into separate narrow cards each measuring 63 x 30 m/m. There are also eight players that appear twice, not worked out who they are yet but you can by visiting the Cartophilic Information Exchange at : 
https://cartophilic-info-exch.blogspot.com/2015/04/topps-toh-9-footballers-blue-backs-1981.html
http://cartophilic-info-exch.blogspot.co.uk/2016/10/topps-toh-9-footballers-blue-backs-1981.html
https://cartophilic-info-exch.blogspot.com/2017/01/topps-toh-9-footballers-blue-back-1980.html
Sunday, 17th July 2022
A560-555 : A52-56 : USA/T407b : RB.21/137 [tobacco : OS : U.S.A.] American Tobacco Co. "Fish from American Waters" (1895) Un/25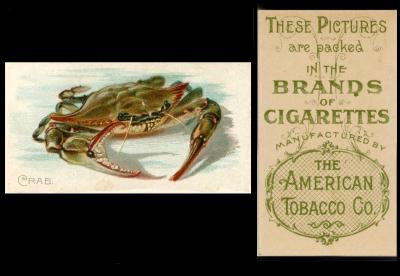 our earliest card of the week. And it was issued even earlier by Allen and Ginter, in 1889, as small and large backlisted cards, as well as a pre-printed album.
Our American Tobacco Company cards also come in two formats, a thick card, issued in 1895, which is also backlisted, and a thin card, issued in 1900, with the `Green Net` design we show here.Jefferson Burdick regarded the thick cards to be more valuable, but only worth 15 cents rather than 10 cents
a checklist can be found at https://www.tcdb.com/Gallery.cfm/sid/231994/1900-American-Tobacco-Co.-Fish-From-American-Waters-(T407)
Monday, 18th July 2022
H536-240 : H44-33 [tobacco : UK] Hignett "Common Objects of the Sea-shore" (January 1924) 7/25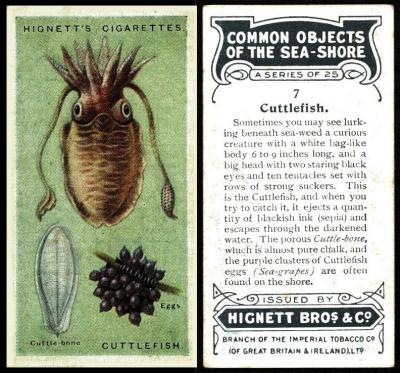 Here we have the cuttlefish, looking rather startled. Perhaps he has found out he is destined to be chewed up in a budgie cage, poor thing. 
Cuttlefish are actually invertebrates, not fish. In fact if you look at them scientifically they are molluscs, and they are related to squids and octopi. However only the cuttlefish has that sought after strange spongy centre shell which acts as a floatation device. 
Tuesday, 19th July 2022
P644-130 : P72-61: RB.17/10 [tobacco : UK] John Player "Aquarium Studies" large size (25 Sept, 1932) 25/25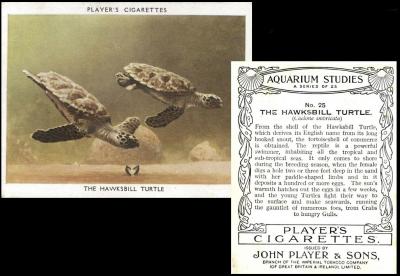 Hawksbill turtles live in both tropical and subtropical waters of the Atlantic, Pacific, and Indian Oceans. They roam far from home and commute between feeding sites and nesting grounds, because the female turtles nest on the beach where they were born, mostly this seems to be in Nicaragua and El Salvador. They are named after their pointed, bird-like beak, and they are one of the few animals to eat marine sponges
Human beings get in the way of this idyllic life; they steal their eggs, hunt them for meat, and are most enamoured with their shells, which are brightly coloured and which we call tortoiseshell.And we also kill them when they get trapped in fishing nets.
This is a really unusual set and the pictures are wonderful. Though the large size always makes for better pictures, don't you think? That's not a typo by the way, the date of issue right down to the day was actually recorded in the London Cigarette Card Company's "Cigarette Card News Magazine" in 1933. 
The hawksbill turtle also appears in a trade set, "Wonders of the Deep" which was issued by several tea companies, namely Wilcocks and Wilcocks of Exeter (WIA-8 : WIL-090) & Browne Bros Ltd of Southend (BRO-930 .: BRT-9) both in 1965, Northern Co-operative Society of Aberdeen (NOI-7 : NOR-310) in 1966, H.E. Empson & Son of Birmingham (EMP-210 : EMP-8) in 1967 and even Polar Products of Barbados in about 1970, which has no code as our Trade Indexes are U.K. only.
Wednesday, 20th July 2022
M142-31 [tobacco : UK] B Morris "At the London Zoo Aquarium" (1928) 9/35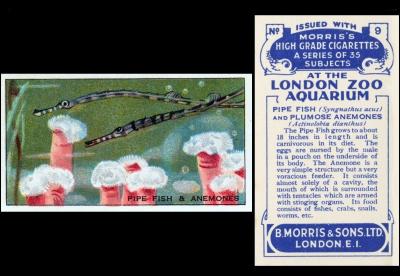 The pipefish is a long, narrow tube-shaped, colourful sea creature, with a flexible tail with which it can anchor itself to objects below the sea - just like the seahorse family, of which it is a member, in fact it is often unkindly referred to as a seahorse, straightened out. 
The London Zoo Aquarium was first built in 1853, by Philip Henry Gosse, not just an architect but a specialist in marine life with a large collection. His design was spectacular, with huge plate glass windows giving maximum exposure to the creatures within, most of which were from his own collection. He also invented the word aquarium, taking just the front and back from the Zoo's own rather unwieldy suggestion of Aquatic Vivarium.
That building was replaced in 1923, with a grand opening by King George V and Queen Mary. This is probably what gave the idea for these cards. The design made maximum use of rather limited space, and extended down and underneath the animal enclosures.
However like its contemporary, Wembley Stadium, there was a limit to how much the concrete it was built in could endure, and in 2019 it was closed to the public for the final time. New plans are to reopen an aquatic facility of some kind elsewhere in the grounds, but there is no word on whether the vacant and crumbling aquarium will be demolished. 
Thursday, 21st July 2022
ZB07-100 [tobacco : OS] Anonymous "Birds, Beasts and Fishes" cut outs (1934) 3/50
So the truth is that despite the name, they don't really fly, they are just so streamlined and such a perfect shape that when they leap up out of the water their motion, and their long wing shaped fins, carry them forward for a short distance. Of course it is probably the wings that make them appear to be flying as well, because we don't expect a fish to have wings at all. 
The reason why they fly is rather a sad one, for they leap upwards to escape predators attacking them from below - and when they are above the water they get spotted by birds looking for their dinner. Their wondrous gift therefore is not, for makes them doubly vulnerable. 
By the way "Flying Fish" is a very exciting name, but they are also known as "Flying Cod". Doesn't have quite the same appeal, does it! 
Friday, 22nd July 2022
W675-165 : W62-127.4 [tobacco :UK] W. D. & H. O . Wills "Do You Know" fourth series (July 1933) 48/50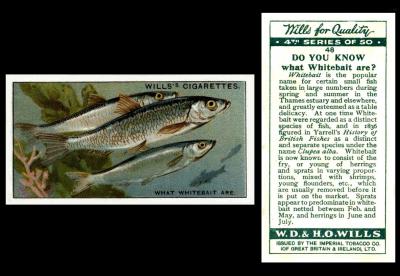 This card is included because people think marine life is only the huge mammals that roam the open seas, but it does include tidal waters like the Thames, where these tiny whitebait are found. 
I hope that this week featuring some of the smaller creatures has given you an insight into the marine world. It has also given me a chance to feature several new sets which will bring a new depth to our gallery in more ways than one! Over the weekend the plan is to see how far I can get with the index, and once that is done it only needs adding to on a weekly basis with our fourteen cards. This will then ensure that different cards are added every week, and, more exciting of all, it will also give me a list of what to look for as I glean our magazine archives for additional material to include.
Well thanks for stopping by, hope you enjoyed your read, and that it gave you something to think about.
If there is a notable event coming up connected with your collection, don't be shy, just write us a short piece and send it along to us, it does not even matter if you have no scan because we will do our best. Alternatively if you want to add some facts to things in previous newsletters that's wonderful too. Remember this site is for all of us to join in with - that's why there is 'World' in Card-World....
See you all next weekend and happy collecting!