We are getting into our groove now, going with the flow and embracing the possibilities, this newsletter went together really well and it even also has all the codes of the pictured cards. 
At the moment I am writing a mini biography of Aylmer Maurice Rundle, for a particular purpose which will be revealed asap. Many of you will not know him or know of him but he was an early editor of our magazine when it was called "The Cartophilic World". It will eventually also appear on our site, as well as where it is intended to go. 
After that I hope to crack on with the index to these newsletters, which will let me feature more new cards, not just the same old same old. 
Watch this space for all the news on those - but first we have things to do this week....
P521-342 : P50-68 : RB.113-101 : RB.13/101 [tobacco : UK]  Godfrey Phillips "Model Railways" (1927) Un/25
Hands up if you own a paperback book? Well today is their day so #PaperbackBookDay and let us see your current favourite, or what you are reading right now
True, they may not be as long lasting as a hardback, but they are cheap and best of all they bring books within the reach of everyone.
You may be wondering why we have a railway station here, but it was the railway that popularised the paperback, at least in America, where thin paper "dime store novels" brought portable reading to the masses before many of them were ready for it. These thin but important volumes began in the early 1860s, and the Transcontinental Railroad opened in 1869, allowing passengers to travel by train to California, Iowa, or Nebraska in four days. And the best way to pass four days, when the scenery starts to bore you, is with a book, but not something that is awkward to transport, or too heavy for luggage; not when you can take something small enough to fold into a pocket. 
Now here is the really odd fact, for we were ahead of the game as far as railway station bookstalls, with William Henry Smith`s first railway bookstall appearing in November 1848 at Victoria Station in Manchester - however it did not sell paperbacks for almost a century. That is because the first one in this country was published by Penguin, today in 1935, (it was Ariel by Andre Maurois, a semi-fictionalized story of the life of the poet Percy Bysshe Shelley).
As for our station, this is a really intriguing cigarette card, because it is not just any old railway model but it actually existed; the whole set shows actual tinplate O Gauge model railway artefacts that could be exchanged with coupons, some are by British maker Bassett Lowke, and others, like ours was by Gebruder Bing in Germany, one of the most popular and prolific makers, and even better it appears in their 1928 catalogue on page ten as 60/61, which is the very same number as on the card. Sadly the catalogue is in black and white, but you can still see its a pretty good representation, except for the fact that Phillips seem to have made an error with the caption, and called it a "wayside station" rather than the correct "country station".  And if you steam off to Brighton Toy Museum online you`ll find lots of links to sites about Bing! 
Image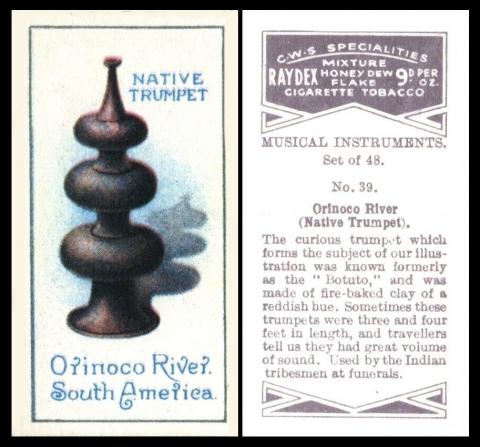 C792-550 : C130-27   [tobacco : UK]  Co-Operative Wholesale Society / C.W.S. "Musical Instruments" (1934) 39/48
Today its #UncommonInstrumentDay - or #UncommonInstrumentAwarenessDay, so lets have a look at a really uncommon set by the Co-operative Wholesale Company, which was issued with Raydex Mixture, and Honeydew Flake. 
There are loads of unusual instruments in this set, and I debated whether to go for the Sistrum (card 34), from Egypot and Abyssinia, which was shaken much like a tambourine but on an upright stick with a fun little sculpted human head at the bottom rather than around the edges of a round disc -  then there was the Chinese Cheng or mouth organ (card 36) which is like a proper church organ, lots of bamboo pipes banded together, but in miniature size. However in the end I decided on the Orinoco River Trumpet, "made of fire baked clay of a reddish hue", which is not so far removed from those ancient Incan and Mayan pots and ceremonial figures. 
It appears this illustration, and some of the text, comes from Carl Engel`s Musical Instruments, which was published in 1875. Joseph Gumilla, quoted in the text, was a Jesuit Priest who travelled the Orinoco, about a hundred and fifty years before the publication of Engel`s work, and created one of the most important works on its flora and fauna. 
Image
C504-480 : C82-46 : RB.10-49 [tobacco : UK]  W.A. & A.C. Churchman "Famous Cricket Colours" (May 1928) 22/25
For #YorkshireDay we are going to have a bit of cricket.
This card tells us that the County "has always possessed one of our most powerful sides". 
In fact the Yorkshire County Cricket Club still rates as one of the most successful worldwide, though it is not the earliest team, that honour goes to Sheffield Cricket Club, founded in the early 1750s - Yorkshire County only being founded in 1863. 
The badge on this card was actually designed by Lord Hawke, club captain, who played for Yorkshire and England from 1881 to 1911 (not continuously of course) although he was actually born in Lincolnshire. He took the idea of his club badge from one that was being used already byLancashire, a red rose, however, he used rather a bit of artistic licence and gave it eleven petals, one of which represented each member of the team, and only  they could wear the badge.
If any of our Yorkshire members is on twitter or instagram why not upload your favourite card today, using #YorkshireCartophily
Image
A400-090 : RB.118-138 : USA/9 [tobacco : OS ; USA]  Allen & Ginter "Flags of All Nations" (forgot to look!) Un/50
Here is a puzzle for you on Find a Four Leaf Clover Day -  #FindAFourLeafCloveDay
Mind you if you look long enough your eyes will blur to the point that they all look like four leaf clovers. 
The plants here are actually shamrock, not clovers, the difference being that a shamrock is a traditional three leafed clover and never has a fourth leaf, whilst a clover can sometimes throw up a genetic mutation that gives it four leaves. However in many places a shamrock is shown as a four leaf clover, just to confuse things!
And also the word shamrock actually means `little clover`, though it depends on who you are asking as to whether `little` means `young` or `small`
This card was issued in various versions, and there are ten cards which can be found with both a plain colour or a fancy background, these are Austria, Belgium, France, Holland, Italy, Japan. You can also find the Royal Standard of Great Britain with a yellow or golden sun. And then there is a card of the Papal States which was also issued as the Pontifical States; not sure which printing is rarer, but will find out. Some of the printings also only have 48 cards, the two scarce ones being Korea and Roumania - Jefferson Burdick valued Korea at 50 cents but Roumania at $5. However this is only in certain printings, not all. 
Image
C151-245 : C18-42 : Ha534 [tobacco : UK]  Carreras "Famous Film Stars" (April 1935) 27/96
Today in 1905 a small baby was born in Durango, Mexico. There seems some debate about her actual name as most modern sources quote `María de los Dolores Asúnsolo y López Negrete`. However our card adds `Lolita` in front and also changes the ending to de Martinez`, which was actually through marriage, in 1921 to Jaime Martinez Del Río a wealthy Mexican. This would also therefore explain how as Dolores Del Rio she would make her first motion picture "Joanna" (1925). However despite sucess in "Ramona" (1928) it was talking pictures that made her one of the first Mexican actresses to become an international star, most notably "Flying Down to Rio" in 1933. Sadly she had divorced her husband in 1926 though she kept his name, and she would eventually marry one of M.G.M.s  art and production directors, Cedric Gibbons. 
In 1942 she returned to Mexico, had a brief but exciting affair with Orson Welles, and left Cedric Gibbons. She never had children of her own, but she did lots of work with orphans and orphanages.
The Trading Card Database has her first British card as being from the first series of  Bridgewater miniature photographic "Film Stars" (1932) and despite the fact that she was silent star before she moved to talkies this may well be true, unless you know otherwise.  
A really interesting article about her life appears in Vanity Fair, but they are one of my favourite magazines anyway! And she has twitter sites, including @DoloresDelRio1
One of the most interesting things about this set is that six cards were reissued with other fronts, namely :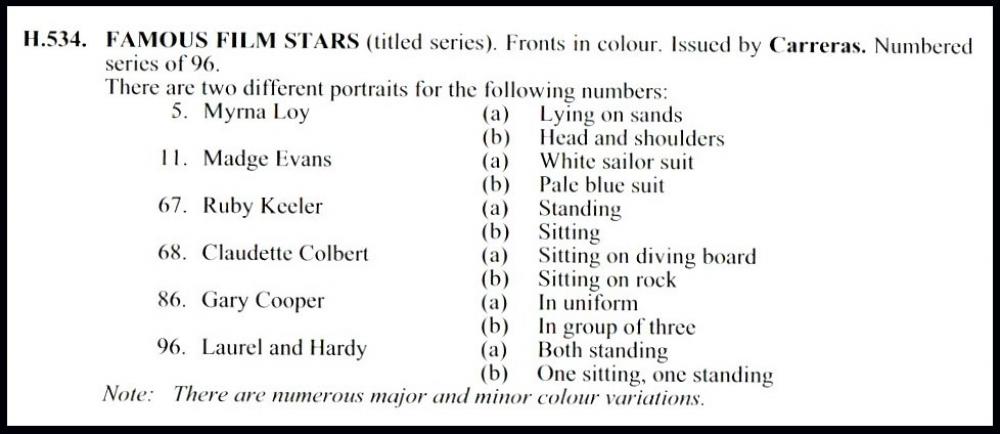 Image
W675-194 : W62-155 : W/254A [tobacco : UK]  W.D. & H.O. Wills "Life in the Treetops" (october 1925) 34/50
Today its #InternationalOwlAwarenessDay.
I like the stately look of the owl, but I do not approve of their idea of dinner, for I am rather fond of rodents, and so frequently owls on cards are shown with some unfortunate hanging limply from their beak which makes me sad. and even if the thought is not reinforced on the front it is mentioned on the back. 
However at last I found an owl with no mention of dinner, so I can think they have converted to veganism and include it with a clear conscience. 
The strange thing about this card is that they might have got their facts wrong, as this little owl is actually one of the few that hunt during the daytime - as opposed to most owls, which are nocturnal and only hunt in the darkness once night falls. 
Image
C504-445 : C82-39 : RB.10-33 [tobacco : UK]  W.A. & A.C. Churchman "Civic Insignia and Plate" (May 1926) 7/25
We are going off on a tangent here for #NationalOysterDay as here we have a silver oyster gauge which was made in 1804-5/ - however these devices can be found made of other materials, and are known to date as far back as the sixteenth century.
And they do not only exist in Colchester, they are used worldwide to tell whether the oyster is of a legal size to catch, those that are of a certain size are fine but those that are too small have to be returned to the sea again. 
Colchester is famous for oysters, and much local celebration occurs on the first Friday of September when the oyster fishery opens for business (except for by the oysters, of course). The closing of the season is marked by a huge oyster feast, on the last Friday of October, which has been held every year since the fourteenth century
This week's Cards of the Day...
were all about Lumberjack Day, always celebrated on the Friday of the last full week in July. Not sure why yet! You might think that cutting down trees goes against my grain, but it is necessary for ecology, sometimes they are damaged by natural events like the weather, and sometimes they are growing in the wrong place. 
At one time a male worker was called a Lumberjack and a female was a Lumberjill; in fact during the Second World War, the ladies of the Women's Timber Corps, just one of the branches of the Land Army, were often referred to as that, and it does seem to have continued.
Irrespective of gender their job description is to cut down trees and make the best use of the material that they can recover. Often a fallen tree is empty, destroyed by the chewing of tiny creatures or by parasitic damage, but there is still a use for sections of external woods for furniture and sculpture. 
Saturday, 23rd July 2022
RB115-97 : O100-230.2(ii) : O/97.B2.45 : RB.15/97.B2.45 : O/2-37.2(ii) [tobacco : UK] Ogdens `Tabs` brand "General Interest" Sports & Misc. plain back (1889-1904) Un/300
One of the many 'Tabs' branded cards issued by Ogden's, and do note that the 300 cards quoted as a total was just in this grouping, which contains 160 stage stars, and 140 sports and miscellaneous in two formats, one, usually referred to as (i) having a full stop in the text and the other (ii) not having one. 
In total  there were several thousand 'Tabs' brand cards, including different pictures of the same subject, and upgrades in military or political ranks. 
Our subject is H. Woods, though his club is not given. I've been informed it was not Southampton but Norwich, and that gets better results. For a start I found his biography on Wikipedia/Woods where it also gives his name, Harry, and tells us he served in the Tank Corps during the First World War. Even more excitingly, look at the image they use! (It's "Footballers 1914" by W.A.& A.C. Churchman 41/50) Woods And he is also on another, slightly earlier Churchman card, "Footballers Photogravure" (1913) 5/50. He is also to be found as Harry Woods on British American Tobacco's anonymous "Famous Footballers - Set 2" 4/50 in an Arsenal strip, which post dates his Norwich career.
Sunday, 24th July 2022
Anonymous Mutoscope? "Film Stars" arcade cards (?) Un/many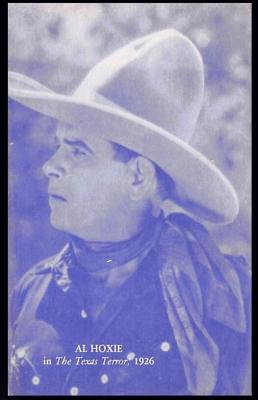 This is just one of the many cards which were available for one cent each at amusement arcades in the United States of America during the early days of the silent movies. Because it was unseemly for ladies to enter such places, you will find they mainly feature cowboy or action stars, in either head and shoulders portraits like ours, or thrilling stills from the movie. 
There were two main producers of these cards. This card was by Mutoscope, who seem to specialise in this blue colour, though later on also produced full colour pin-up cards, some of which are featured in the current edition of our members only magazine. Then there was the Exhibit Supply Co. of Chicago, who also did many cards in black and white, and went on for many years, even to pop star cards in the 1950s. 
We chose this card because most lumberjacks are based in Canada and America, the home of the motion picture. However there is also a very cryptic clue as a 1918 lumberjack film called 'Blue Blazes' Rawden, which William S. Hart directed and starred in, and in the cast you will find Al Hoxie's brother, Jack.
Monday, 25th July 2022
ZAM-130 [trade : UK] anonymous "Musical Instruments" (date?) 2/25
A very attractive set but sadly anonymous. And there is definitely space for an issuer`s name. I'm wondering if anyone out there knows of an issuer who produced cards in a similar typeface or style so that we might get closer to the truth?
The date might be reached by working out the timeline of the invention of the electric guitar (I prefer the acoustic myself) and look, it mentions "The Shadows"... they were formed in 1958, but were then called "The Drifters".  
By the way there is only one code because I can't find it in the original four volume set of trade indexes, but do let me know if you can. 
Anyway the clue here referred to the fact that an electric guitar is often called an "Axe". It seems there is no real answer as to why, but according to the guys at Guitarist Next Door apparently a saxophone was also once known as an Axe. 
Tuesday, 26th July 2022
G075-170 : G12-21 [tobacco : UK] Gallaher "How to Do It" (1916) 69/100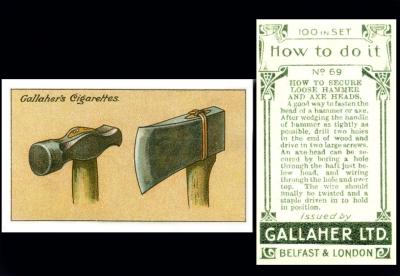 Here we have a spot of home repair. I doubt that a lumberjack would have mended his axe with wire and still been able to fell the mighty forest, but he could have still used it for trimming smaller branches.
At home, and in our gardens, it ought to be easy to make repairs and continue to use things, as it used to be in the time of this card, and it was common practise to do so, hence the series of Household Hints and Garden Hints.
The problem was the arrival of electronic gadgets, which are sometimes unable to be mended, and have no other use if they are broken. There may not seem to be a solution to this, because they are definitely easy to use, lighter, and quicker. However, there is a way around this, and that is to hire the larger equipment from one of the hire clubs which are springing up all over. There is almost certainly one near you. In London there is a scheme called The Library of Things and it now has ten locations; you simply get the urge to make pasta and hire a pasta machine, then return it afterwards. Think of the things in your home that you maybe look at once a week and think of the space they will make if you had only hired them - and investigate when something breaks.
By the way most Currys stores will accept small broken electrical items and make sure they are reused even if only as parts for training, the other parts are also disposed of ethically, and there is no charge if you can take them to the store and give them in at the counter.
And if you live outside London, have a look at fat llama which is an online network of things to hire. 
Wednesday, 27th July 2022
O100-412(A) : O2/94.1(A) : O/41 : RB.15/41 [tobacco : UK] Ogden "Boy Scouts" first series (January 1911) 21/50
Also issued with another colour back by Ogden's - and by Churchman 
But I still dont know why the two uniforms on the cards we had on display this week were of a different colour?
I can tell you that the traditional hat, rather sourly called a "lemon squeezer" was introduced by Baden Powell himself in the early 1900s and it had much affection awarded it from the Scouts, but it was not practical, it cost a lot to make which made it one of the most expensive items for the boys to afford, and also it was no use in wet weather. After a brief flirtation with berets, an official scout hat was abandoned. 
If you look closely at your military cards you may also see these "lemon squeezer" hats on there, for they were also used by the Army, especially New Zealand which was the first to use them, during the Gallipoli Campaign, and it is often said invented them. They were also used by American and Canadian forces. 
Thursday, 28th July 2022
C792-100 : C130-23 [tobacco : UK] C.W.S. "Boy Scout Badges" (1939) 7/50
Our second forester and it shows the badge which was awarded in the late 1930s.
In fact this badge still remains, though it no longer shows an axe, and it is now called the Forester Activity badge. I could say that it also has a more ecological theme, but if you read the text you will see that even then there was an emphasis on not just cutting down but how to rear young trees, prepare the soil, transplanting, and how to treat diseases and damage, as well as understanding the danger of fires in forests
To win the badge today it seems to have moved to a slightly more regional theme as you have to be able to identify at least eight trees from your location. However the key notes of preparing soil and successfully transplanting and growing a sapling still remain. Another change is that it now involves forestry management skills, and includes the awareness of early signs of ecological and weather damage. And tellingly, the only time that tools are mentioned is regarding the knowledge of safe ways to use and store them.
Friday, 29th July 2022
Lego/Sainsburys "Create The World" (2018) card 7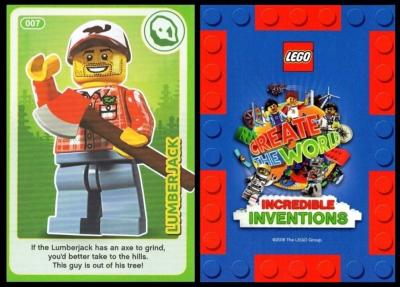 Here again we have lumberjack not as destroyer of trees but as hero, as a job which changes the world, and as a positive role model for the children who will receive this card. Though I dont like the text very much. 
These days, as the world heats up and a dropped or discarded match, cigarette, or barbecue is much more likely to start a quicker and larger fire due to the dryness of the grass it lands on, it is the lumberjack who increasingly gets called on to cut trees and clear paths in forests to make fire breaks of a suitable length and width that the fire is halted. His expert knowledge sometimes, but not always saves the lives and homes of human and animal inhabitants. Though sadly this is not always possibly, and many lumberjacks have been lost their lives in the attempt.