Greetings to all our readers. And thanks for tuning in. This week has been fun, despite the heat, for I am developing a bit of a taste for going out walking, and I even got on a bus, after thirty years.
But I also managed to get a bit further along with our card index, into June 2022, at least with the cards of the day. However I am waiting on an amazing card of Millwall F.C. to break the deadlock of a double. And also I have to stop to write the newsletter, for there is not time to do both. 
So what, you cry, do we have for you this week? Well it is a feast of film and fortitude, involving an American adaptation of a French film, a actor as an ape, a pop-star sending up his image with a spectacular spoof, a magic musical memory that saved what could have been a disastrous day, a humorous take on the Home Guard, an attempt to censor almost all, and a record breaker who as usual sadly tried to take it all too far.
Lets start with...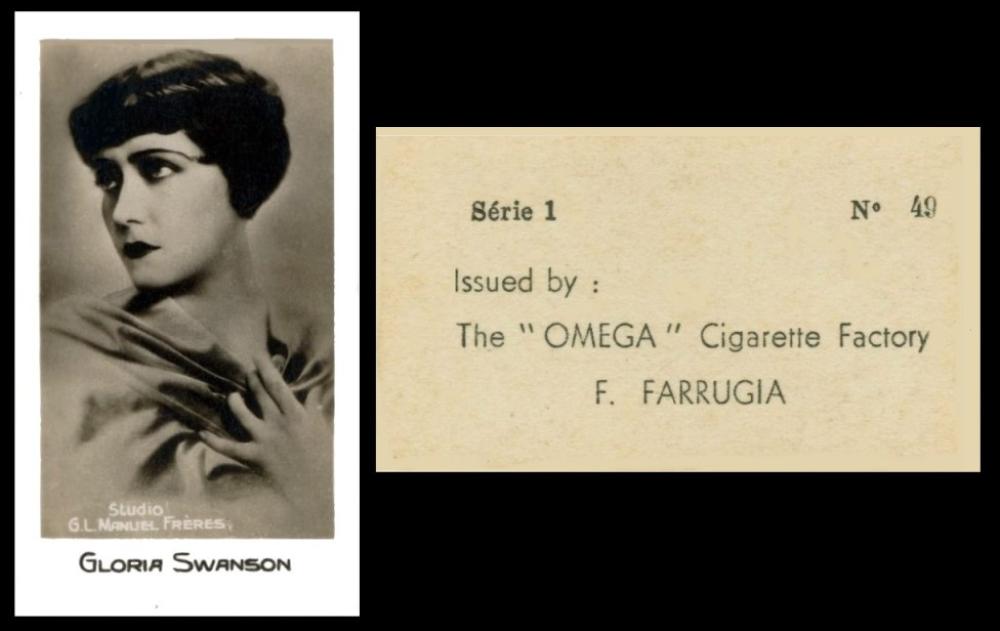 The Omega Cigarette Factory [tobacco : O/S : Malta] "Cinema Stars" untitled (1936) - O380-200 : O/13-2
Today, a hundred years ago, saw the opening of a film called "Zaza". This was based on a rather scandalous French play first presented in Paris in 1898. It was first filmed in France in 1913, then two years later was made in America, by the Famous Players Film Company, starring Pauline Frederick.
Our version, the third, was made by Paramount Pictures and starred Gloria Swanson in the title role. The American versions differed from the original, in which she becomes famous and then reunites with her married lover. That  bit probably fell foul of the American censors. 
It was then remade in 1939 with Claudette Colbert,  and twice more in Europe, the last being in 1956
According to the original World Tobacco Issues Index, Omega "Issued period 1920-40. Includes cards inscribed "F. Farrugia, Malta" without name of firm." They issued five sets over that time, all in black and white save one, a series of sepia medium sized cards which, though untitled, are known as "Scenes From Films". 
And our set is described as : "CINEMA STARS (A). Min.48 x 28. Black and white photos. Nd. (96)"
Now by the time of our updated World Tobacco Issues Index, there had been discoveries on all the sets. Ours has been massively improved, and now reads :
CINEMA STARS (A). Min. B & W Photos.
1. Size 48 x 28. Printed back, "Serie 1" at top. Nd. (96)
2. Hand-cut, size very variable, 41-45 x 30-33. Back rubber-stamped "F. Farrugia, Tobacco Merchant, Malta". 
(1). Square frame, caption below. Unnd., some known with number rubber-stamped on front (58 known)
(2). Number and caption in white inside fancy square frame (5 known, numbered 5/8 and 100)
(3). Number and caption in white on shaped picture (?78) 
Now we have actually found a bit of a treat for you, thanks to Listal/Omega where all the cards of our set are photographed. Look out for Marlene Dietrich in top hat and tails, smoking a cigarette, Myrna Loy showing how she was so often cast in Oriental guise, Jean Harlow as a brunette, and an Anna May Wong I have not encountered before. 
There are different photographers credits throughout the set. Ours is actually a studio founded in Paris in the early 1910s by two brothers, Gaston and Lucien Manuel. In fact there was a third brother, also a photographer, with whom Gaston had served his apprenticeship. 
Topps [trade : gum : O/S : U.S.A.] "Planet of the Apes" (1974) - TOH-14 : ZG10-6.8
This card celebrates a birthday, of Roddy McDowell, who was disguised by this amazing costume. His birth name was Roderick Andrew Anthony Jude McDowall, and he was born today in 1928 in England, Herne Hill to be exact. 
He started acting as a child, and then relocated to America in 1940. And though he is shown here as Galen, the friendly "Ape", he was also in the big screen versions playing Dr. Cornelius in the original 1968 film and the 1971 "Escape from the Planet of the Apes", and Caesar in the 1972 "Conquest of the Planet of the Apes". 
The small screen spin off lasted for just one season, and only fourteen episodes, and it was shown in 1974.
However there was another set of cards, with black borders, issued by A & B.C. Gum. These are dated 1967, so they refer to the films, not the tv series. And that is backed up by the fact that they show Roddy Mc Dowell as Cornelius. 
Topps also made a set which was based on the 2001 film by Tim Burton. However this shows how things have changed in the card-world, for the original set was just sixty-six cards - whilst the latest one has ninety base cards, ten sticker cards, and forty-four chase cards!
And if you want to see Roddy McDowell`s rookie card, head to the trading card database/ RMcD
This set appears in our vintage British Trade Index as :
"PLANET OF THE APES (A) 89 x 67. Back illustrated under ZG10-6.8 in RB.30. Inscribed "T.C.G. Prtd in U.S.A." Nd. (66)."
Now RB.30 is the Australian and New Zealand Index, part 1, issued in 1983. That has a much longer inscription, though it does differ from our American set in the quality and colour of the board used. Anyway the text reads : 
8. Planet of the Apes (A). 88 x 63. Nd. (66). Back per Fig. ZG10-6.8, sectional puzzle pictures at top, text below, at base "1967 Apjac Productions and 20th Century Fox Film Corp..." Text on white board. Based on Topps issue in U.S.A. on grey board, inscribed along lower R/Hand border "T.C.G. Prtd. in U.S.A."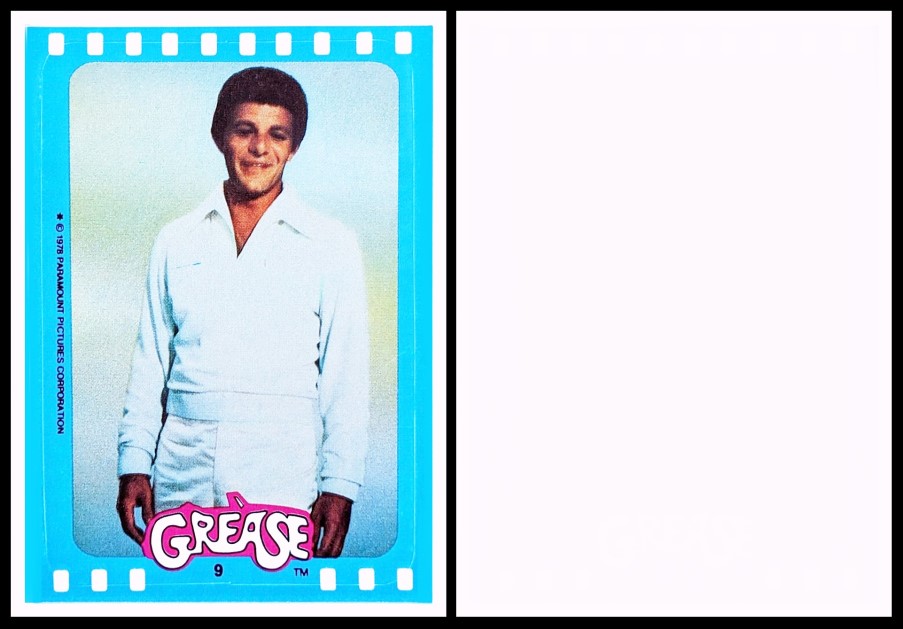 Topps [trade : gum : UK] "Grease" stickers (19...) - ZG10-6.5.2 : ZJ12-25
Now continuing our theme of people who are happy to take roles that either test them dramatically, or poke gentle fun at their romantic idol image, here we have Francis Thomas Avallone who was born today in 1940. After starting as a singer and popular pin up, having many major hits, he moved in to the movies. Many of these were fun roles, including several "Beach Party" themed films.
And then, in 1978, he appeared, as shown on our card, as "Teen Angel" in "Grease".  He comes in, just once, to sing a song called "Beauty School Dropout", as the Guardian Angel of one of the Pink Ladies. Francesca "Frenchy" Facciano.
This set also appears in RB.30, the Australian and New Zealand Index, part 1, issued in 1983, where it is described as :
5. Titled "Grease" on front. 89 x 63
1. Cards, Nd. 1/66. Back with sectional picture (44 numbers) or with text in English and French, series title at top, illustration of two heads at base. 
2. Stickers, Nd. 11/22. Plain back. See Anonymous Set ZJ12-25
If we nip along to ZJ12-25, that turns out not to be quite the same as ours, because the text reads
Set ZJ12-25. Grease. 89 x 63. Stickers, Nd. 11/22. Issued in Australia by Scanlens, 1979.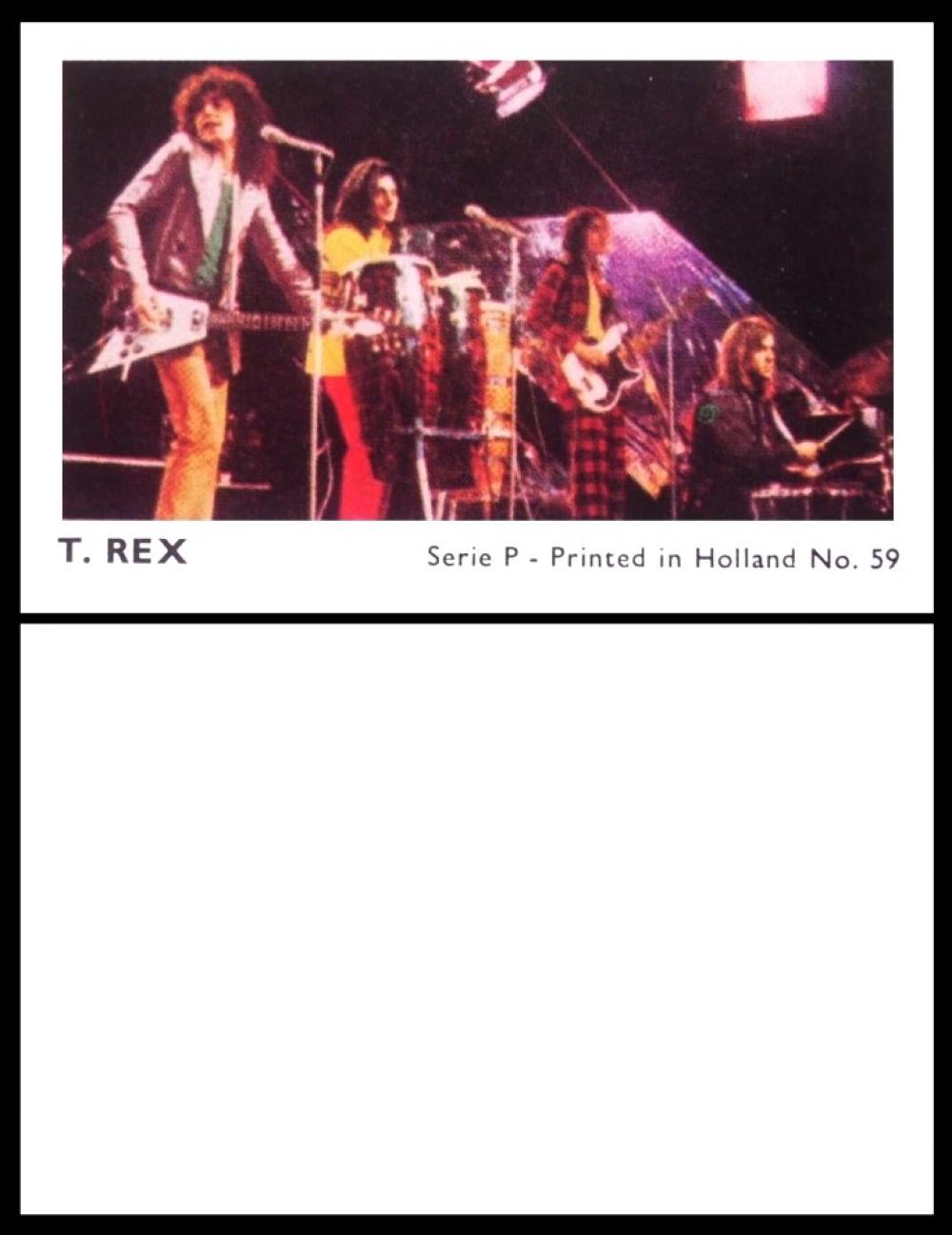 Dutch Gum [trade : gum : O/S : Holland] "Pop Stars" series P 
Bit of a pop culture night tonight, but this is a great story for if you look at your original tickets for the first ever Pop, Blues & Folk Festival, on Saturday 19 September 1970, at a farm in Glastonbury, you will see the headliners were to be "The Kinks", whose "Dedicated Follower Of Fashion" had been a major hit the year before, and who were currently causing a bit of controversy with a song called "Lola", which had been released in June 1970. However they were less than excited when they read that Glastonbury was just "a mini festival" and decided to pull out.
Their replacements were a band who had just changed their name from Tyrannosaurus Rex to T-Rex, and here they are.
They had been founded in 1967, by Marc Bolan, a charismatic and mystical singer/songwriter, who led them to a magical blend of psychedelia and folk. In fact they are now regarded as the first stirrings of what became known as Glam Rock. 
Glastonbury was their first major event as T-Rex, and on the 9th of October 1970 they released their first hit single, "Ride a White Swan", surely encouraged by their newly found fanbase.
Sadly, just seven years later Mr. Bolan was killed in a car accident, and the band broke up. 
Primrose Confectionery Ltd Topps [trade : sweets : UK] "Dad`s Army" (1973) - PRI-24
So here we have another centenary, the birth, today, in 1923, of Jimmy Perry, co-creator of this series "Dad`s Army", as well as "It Ain't Half Hot Mum", and "Hi-De-Hi", to name but a few.
"Dad`s Army", a humorous but warm tribute to the men who fought in the Home Guard on the home front, was written by Jimmy Perry and David Croft, and was first shown in July 1968. In 1977, nine series and eighty episodes later, it ended, but left behind enough inspiration to create two big screen films, a theatrical show, several factual books, and many written tributes. 
In fact Jimmy Perry was a Home Guard Volunteer, in Watford, just north of London. 
Our vintage British Trade Index has a rather slim description, which only reads : "Dad`s Army. 64 x 34. Nd. (25)" and they are too old, just, to get in the updated version.
However we can add a few interesting facts.
The first thing is that the cards do not use images from the tv series, but from the first movie, released in 1971.
Then, for some reason, they are not printed on the usual thick card but on a much thinner, almost papery, stock.
Lastly, they must have been produced quite swiftly as there are several errors - the most glaring of which is that on cards 4, 8, 17, 18, 19, 21 and 22, is printed "Warmington-on-Sea" rather than "Walmington-on-Sea". In addition, but probably less noticeable unless you are a military buff, on cards 3, 8, 11, 21 and 22 the "Land Defence Volunteers" are mentioned, but it ought to be the "Local Defence Volunteers". Though if we are really wearing our military helmet, we would know that the LDV became the Home Guard in July 1940, being renamed as so by none other than Winston Churchill.
Well, not quite lastly, for I also need to give huge thanks to The Card Scene - who supplied this card for us.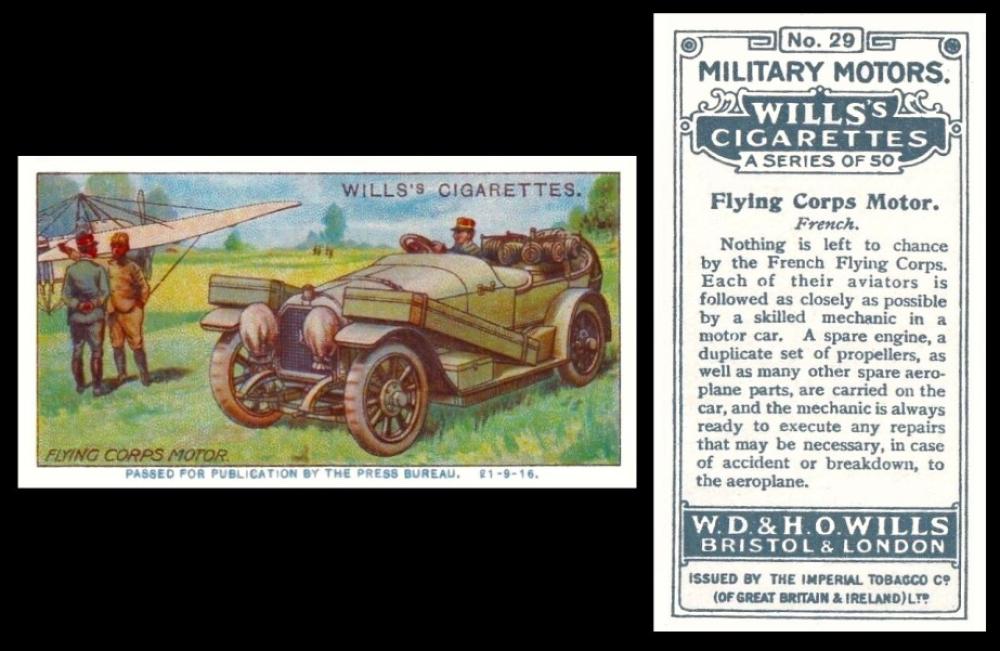 W.D. & H.O. Wills [tobacco ; UK] "Military Motors" passed by censor (1916) 29/50 - W675-121.A : W62-87.A : W/80.A (RB.14/80.A)
Now here we have a card with today`s date on it, for today was the very day that this set was passed for publication by the Press Bureau. 
This was actually The War Office Press Bureau, and it was founded in August 1914, after the passing of the Defence of the Realm Act, which basically allowed the government to take all steps necessary to ban or repress anything that would stop them winning the war. The general public used to refer to it as "finding out what we like doing and stopping us doing it". 
The Press Bureau was also set up by the British government, specifically under the control of Lord Kitchener, though it had other staff too. Its job was to censor news and reports before they could be shown to the Press. Extracted was anything which could help the enemy; names, dates, details of military units, and locations, even going as far as blurring backgrounds so no landmarks or prominent hills could be recognised.
However it also had another purpose, and that was to not allow any bad news, or great losses, to upset the general public, and make them lose heart in what we were doing, or doubt whether to support the war in the future. To this end steps were taken to ban war talk in many public places, though that did not really succeed, and to close down any newspapers that were thought to be unsupportive of the British effort, or even had pacifist leanings. It also took control, by force, of many government offices, including parts of the Post Office, to allow it free rein to examine any message it saw fit, whether that be official or not. 
This set was obviously examined as to whether the information could be useful, and whether there were any clues in the picture, hand-drawn as it was, which could give away information.
The curious thing is where the non-censored version of the set comes in. It must have been issued first, because what would have been the point to removing the overprint? And are there any differences between the censored and the not? If not, then was this just a straight reprint of the one colour, blue? But why? 
Anyway this set appears in our original Wills reference booklet part III, (RB.14, issued in 1949) as 
80. 50 MILITARY MOTORS. Fronts lithographed in colour; backs in grey with descriptive text. Home issues, 1916
A. With "Passed for Publication by the Press Bureau 21.9.16" in blue on fronts
B. Without the above.
This information is slightly shortened for our World Tobacco Issues Indexes, to :
MILITARY MOTORS. Sm. Nd. (50). Front (a) with (b) without "Passed for Publication by the Press Bureau 21-9-16".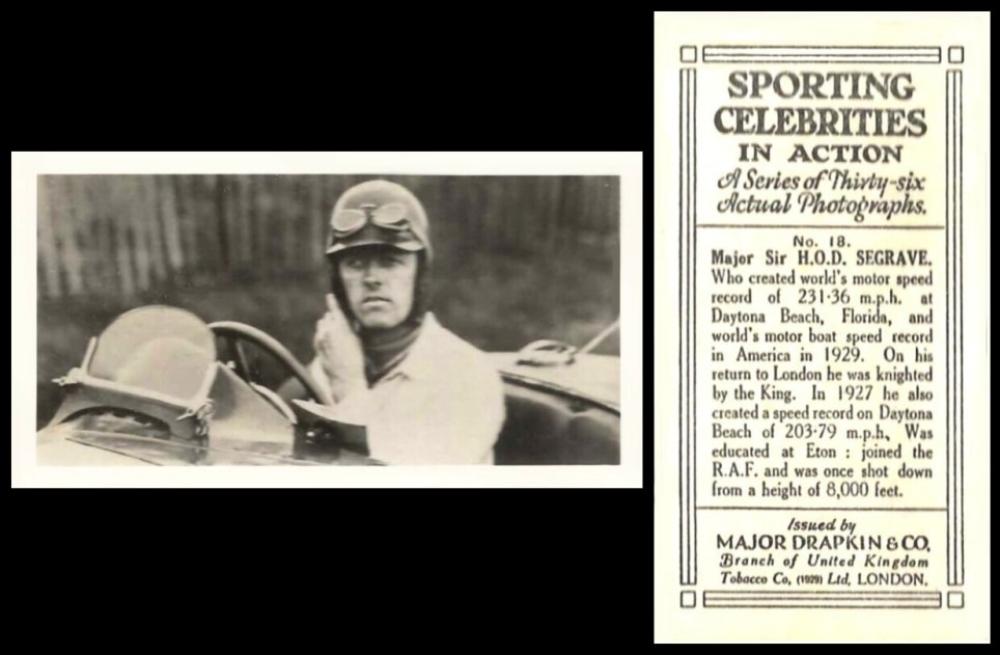 Major Drapkin [tobacco : UK] "Sporting Celebrities in Action" (1930) 18/36 - D800-850 :  D64-35
Sir Henry O`Neil DeHane Segrave was born today in 1896 in Baltimore, Maryland.
Our card tells us that he "Was educated at Eton ; joined the R.A.F. and was once shot down from a height of 8, 000 feet." 
But above that are his main claims to fame, his land and water speed records, of which he would set four, three of the former and one of the latter, being also the first person to hold both at the same time, and the first to exceed the speed of 200 m.p.h. In 1921 he won the first ever long-distance car race to be held in this country, at Brooklands. Two years later he became the first countryman to win a Grand Prix, the French, in a British car, a Sunbeam.
But on the 13th of June 1930, he died; on Lake Windermere, shortly after he had broken the water speed record in Miss England II. However he did live, just long enough, to be told he had got it - at 98.76 mph.
This set is listed in both our World Tobacco Issues Indexes as "SPORTING CELEBRITIES IN ACTION. Sm. 65 x 35. Black and white photos. Nd. (36). Export." 
No mention is made of this above, but for some reason it now seems to be listed in dealer`s catalogues as a part set of 35/36.  The mystery is cleared up by my London Cigarette Card Company catalogue of 1955, where it states that there are "35 different (No.18 withdrawn)." In fact it is listed there as a complete set of 36, retailing at 50/-, and as the "35 different" for 6d each or 20/- the lot. 
It appears that card No.18, which is our card, just in case you did not notice, was withdrawn in respect, because of his untimely death. 
This week's Cards of the Day...
have been talking about something that we all need to think about, plan for, and check that we are getting our due. For starting on Monday it has been pension week.
A dedicated Pension Week began a decade ago, and there is a website dedicated to helping you answer all your queries; you can find it at Pension Awareness / Pension Week 
Saturday, 9th September 2023
Ogden's Ltd [tobacco : UK] "Famous Footballers" (1908) 9/50 : O100-422 : O/2-99 : O/78 (RB.15/78)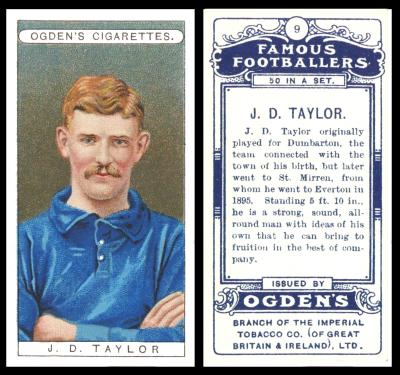 This first clue was this card.
And there were two links to our theme with it.
The first was the date of issue, 1908, which was also the date of "The Old Age Pensions Act 1908", and that gave certain residents of the United Kingdom their first ever State Pension. It was means-tested, with your recent expenditure also examined, plus you had to be aged over seventy, be earning below £21 a year, be sober and of good character, and have been living in this country for over twenty years.
If you could fulfil all those clauses you would receive five shillings a week. 
The second link to our card was the team, for Everton is reported to have the best pension scheme of all the clubs, though the truth is that they were the only club to fill out a recent government survey
Not much of a description for this set in our original reference book to Ogden`s issues (RB.15, issued in 1949), just : 
78. 50 Famous Footballers. Fronts lithographed in colour. Backs in dark blue, with descriptive text. Home issue 1908.
And in both our World Tobacco Issues Indexes it is further reduced to : "Famous Footballers. Sm. Nd. (50)
Sunday, 10th September 2023
Major Drapkin & Co. [tobacco : UK] "Celebrities of the Great War" – untitled (1916) Un/36 : D800-100 : D-64-2 : H.135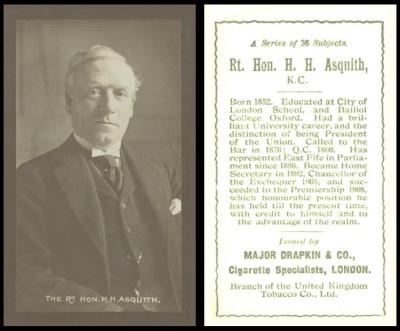 Our second clue was the subject The Honourable Herbert Henry Asquith, and it was he who became Chancellor of the Exchequer in the new Liberal government. One of his acts was unpopular, for he raised the tax on unearned income. However this paid for the pensions that were being introduced.
This Act came into effect on January the first, 1909, and that became known as Pensions Day. It was a Friday, and some people still get their pensions on that day though not all, for that would be too much work for even a computer! Today the day of your payment is based upon your National Insurance Number, 0-19 meaning Monday, 20-39 Tuesday, 40-59 Wednesday, 60-79 Thursday and 80-99 on Fridays. So if you are not yet of pensionable age this may allow you to have fun finding out when you will be paid.
Now there is a twist to the tale of this set, because it celebrates Great War Celebrities, all of whom were on the Allied side. But it is to the other side, and specifically to Germany, that we almost certainly owe many of the ideas of our own pension scheme. This was introduced by Otto Von Bismarck in 1889, and it was a universal plan for all, a tax paid by all workers, even household servants, and it gave them a lump sum on their leaving their employment at the age of seventy.
However, as we will see at the close of the week, there were earlier schemes, and similar. 
The first appearance of this set is in our World Tobacco Issues Index in 1956, where it is described as :
CELEBRITIES OF THE GREAT WAR (A). Sm. 69 x 41. Black and white photos. Unnd. (36). See H.135. 
This has been shortened and altered in our updated version, to "CELEBRITIES OF THE GREAT WAR (A). Sm. 69 x 41. B & W photos. Unnd. (36). See RB.113/407 "
The black and white of these photos seems to have aged in mysterious ways, some being rendered so dark as not to see anything at all and some being lightened and slightly tinged to reddish brown. 
H.135, by the way, contains a list of all the subjects, because they are unnumbered. However it is only in the original London Cigarette Card Handbook, not our updated one. It also reveals that there is a plain backed anonymous version of the set
Monday, 11th September 2023
American Tobacco Co. [Group Issues] – Helmar brand [tobacco : UK] "Costumes and Scenery for all Countries of the World" (1912) Un/50 : A565-072 : A54-35.a : ABC/T.52 : USA/T.52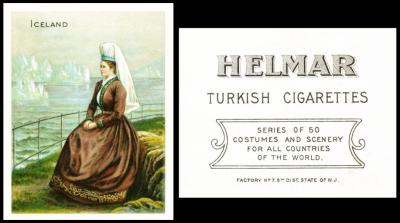 Our third clue showed this Icelandic lady in national costume. And again we had two links.
The first is that Iceland consistently comes out top in league tables of best pensions 
The second is that this lady reminds me rather of a widow, dark clothing, looking out to sea for a husband lost long ago. Now, in this country, widows did not get pensions, not until 1925. Before that date, if you lost your husband, you also lost your pension. 
If the widow lived in Germany, though, she would be looked after. For out there funds for widows were one of the first arrangements where money was given to someone who could no longer afford to look after themselves,. These appeared from the mid 1640s. And remember, yesterday, we found out that Germany was also the first place to introduce a pension for all. 
The first appearance of this set is in our World Tobacco Issues Index in 1956, where it is described as 
COSTUMES AND SCENERY FOR ALL COUNTRIES OF THE WORLD. Md. 67 x 52. Unnd. (50). Brand issues, inscribed (a) "Helmar" (b) "Turkish Trophies". See ABC/T.52. Ref. USA/T.52
This is altered somewhat for our updated version, to : 
"COSTUMES AND SCENERY FOR ALL COUNTRIES OF THE WORLD. Md. 67 x 52. Unnd. (50). Brand issues, inscribed (a) "Helmar" (b) "Turkish Trophies", each inscribed "District" 3 or 5. Ref. USA/T.52"
Tuesday, 12th September 2023
Edwards, Ringer & Bigg [tobacco : UK] "Past & Present" (June 1929) 24/25 - E265-680 : E14-37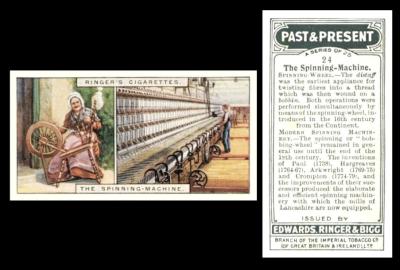 So today`s card shows a Spinster, which is actually not a derogatory term for an unmarried woman, but a reference to the fact that these ladies were talented enough to earn money of their own, and therefore self-reliant, so did not need to marry. 
In 1925 a new system was introduced based on contributions rather than need, and this was paid to everyone when they reached the age of sixty-five. However because married couples are seldom the same age, and the man usually older, this had a flaw, that being that if the wife was below that age she was not classed as a pensioner and so they were not eligible for the married couple rate that two people of pensionable age got.
This situation went on right until 1940. And the solution then was to allow women to receive their pension at the age of 60, which came into effect in 1941.
For this we must thank a lady called Florence White, who started to campaign for the reduction in female pensionable age in 1935. She wanted it to be 55, but that was not agreed to. She based her statements on the lives of spinsters, who found themselves forced to work for longer in a job that really needed the youthfulness of nimble fingers and good eyesight, both of which frequently failed as they aged, and had not been helped by the fact that they had often spun by poor light in darkness. This was also not helped by the fact that because they were unmarried they often were obligated to look after elderly parents, or if they were married they had to fit their spinning work around caring for their children, and this only left the nights to work. 
Our issuer does not have a dedicated reference book so its only entry is in the World Tobacco Issues Indexes. They describe it, simply, as "PAST & PRESENT. Sm. Nd. (25)" 
However they then do say "See W/287", which sends us off on the Wills trail. And the set actually appears in two of the Wills reference books, parts IV and V. Part IV gives us a full description too, which is : 
287. 25 PAST & PRESENT. Fronts printed by letterpress in colour. Backs in grey, with descriptive text. Export issues, between
A) New Zeland Issue, Wills` name at base of back
B) General Overseas Issue. Anonymous backs. 
Similar series issued by Edwards, Ringer & Bigg. 
Now in case you also are wondering "between" what? well, Wills part V sorts it out, by saying :
"PAST & PRESENT - see page 153. Owing to a printing omission, the date of issue did not appear in the second line of text. The series was issued in June 1929"
This date does not appear in the list that was inserted when the five Wills books were combined beneath a hard cover. And it seems to be recorded as 1928 in several dealers catalogues. I am also not sure when the Wills and Anonymous versions were issued, but will look it up later on. 
Wednesday, 13th September 2023
Winslow Press [trade/commercial : UK] "Famous Faces" (1986) 3/40
Here we have Clement Attlee, who changed the welfare state forever. The act that did this was called The Pensions (Increase) Act (1946), and it was passed in 1947. This was a clever title because everyone only saw the word "increase". The idea behind it was that from then onwards everyone who paid tax would also pay part of it into a national insurance scheme, and everyone, even if they did not pay tax, would be given some proportion of it. He also lowered the pension age to sixty five.
The basic state pension therefore became £1.30 for a single person and £2.10 for a married couple. 
The people featured come from the worlds of :This unusual set was issued complete in a box, plus an information booklet with details of those portrayed. However the backs were blank. Some people are also not so keen on the mock corner mounts being printed across the image. However do note that the set does contain a footballer, Stanley Matthews, which often leads to this being sold off cheaply as a set of 39/40.
music - Louis Armstrong - Thomas Beecham - Maria Callas - Joan Sutherland 
politics - Clement Attlee - Neville Chamberlain - Winston Churchill - Charles de Gaulle - David Lloyd George - Harold Macmillan - Bernard Montgomery -Emmeline Pankhurst -
sport - Roger Bannister - Maureen Connolly - Len Hutton - Amy Johnson - Joe Louis - Stanley Matthews - Sylvia Peters
stage and screen - Arthur Askey - Clara Bow - Charlie Chaplin - Noel Coward - Bing Crosby - Marlene Dietrich - Richard Dimbleby - Gracie Fields - Margot Fonteyn - Greta Garbo - John Gielgud - Will Hay - Bob Hope - Vera Lynn - Groucho Marx - Marilyn Monroe - Ronald Reagan - Edward G. Robinson - Shirley Temple - Rudolph Valentino
The cards measure 210 x 150 m/m. 
Thursday, 14th September 2023
League of Nations [trade/commercial] "League of Nations Cards" (1989)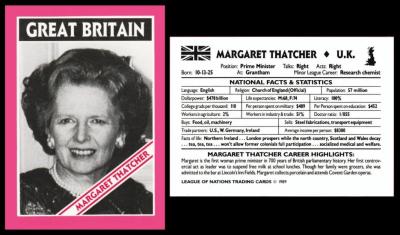 So here we have Margaret Thatcher, the first ever female Prime Minister of our country. She is here because she made several changes to the pension system during her Prime Ministership in the 1980s. However despite her being a woman, who traditionally had less pension rights than men, she did very little to change this situation.
One of her first reforms was the 1980 Social Security Act. This broke the connection between any increases in the state pension and the average earnings. It was supposed to cut spending, but it actually lowered the pension in real terms and we are still suffering from that today, despite the overhaul and restoration that occurred in 2011, then the pension was once more locked to the earning rates. It could have been worse, because the 1980 plans went further, intending to reduce the state pension, something that had not been done before. Luckily this idea was not brought into being.
The most far reaching of her reforms came with the 1986 Financial Services Act, which brought in personal pensions and also prevented employers forcing their staff to join the works pension scheme.
The idea of the personal pension plan was a good one in one way, for it simplified the system, which at that time revolved around buying annuities that either provided income for life, or just for a set term.
On the other hand, being given the choice of not joining their works pension scheme did lead to a lot of people choosing to go it alone without really thinking, or taking into account how complex this could be. The result was that many of them ended up with less money, (because in a works pension the company also put money in to the pot) as well as a lot more confusion that fell on the head of the pensioner themselves, many of whom had no financial knowledge and were forced to rely on outside advice.
This card was issued by the League of Nations, and it is quite hard to find out anything about them because if you put "Nations" and "League" you get inundated with football cards. However these seem to show the leader of each country on the front and facts on the back. I do not know if it was kind of a trumps game, highest against lowest, but it does lend itself to being used in that way as all the facts seem to be the same categories
If anyone knows more we would love to hear it. Along with how they were distributed, and how many there are in the "set". 
Friday, 15th September 2023
Westminster Tobacco [tobacco : UK] "A Second Series of British Royal and Ancient Buildings" (1926) 44/48 - W430-150 : W42-16 : RB.21/200-159Y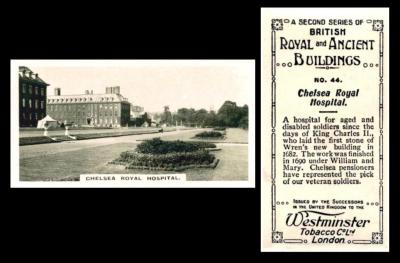 To close the week let us look back at the very origins of the pension. 
Here we have the Royal Hospital Chelsea, which was started by King Charles II as a home for veteran soldiers, who he felt had been cast out after giving their youth to the service of their country. Before his intervention those noble ex-servicemen had simply ended up begging and sleeping on the streets. His Royal Hospital was completed in February 1692, and, by the end of the following month, almost five hundred people were living there, safely, and warmly.
Another link to our story is that starting in 1692, and going right up to the 1950s, this building also served as an administration base for all Army pensions. 
Now if you were in the Navy, you would not have gone here. Instead you would have gone to Greenwich Hospital, which was built in 1695. This was directly funded by the sailors themselves, in a kind of early PAYE scheme in which a sixpence every month was deducted to pay for those at the hospital, as those who followed them to sea would fund their land-based retirement.
But wait.
Neither of these were the earliest, by many centuries. For that we must beckon forth Augustus Caesar, who not only gave his veterans grants of land, or appointments on his staff or in public offices, but introduced a monetary scheme whereby when a soldier left his army they would be given a lump sum to make sure they were able to cope. And it was quite a lot, for scholars reckon it at between three and five thousand denari. thirteen to fifteen years salary. You did have to have done the time though, sixteen years as a legionnaire plus four to five in the military reserve. 
Lets start our card chat with the fact that though this set is listed as Westminster Tobacco it is actually one of the sets which says "Issued by the Successors in the United Kingdom to the Westminster Tobacco Co. Ltd".  Curiously the only address given is London, and that may be because the cigarettes were made in Liverpool by Ogdens and issued, in England, by British American Tobacco.
The first series was issued in 1925. RB21-200-159.1 tells us there are two formats, unnumbered with no descriptive text, and numbered with a descriptive text.
They were already pretty scarce by 1950, when the London Cigarette Card Company catalogue listed them as odds only, the unnumbered version being retailed at 1/6d. each and the numbered version at a shilling each. 
And if you want to know why our original and our modern World Tobacco Issues Indexes use Roman Numerals on this one set when all the other Westminster sets are either numbers or capital letters, so would I.... for there is no explanation given!
 
The first series of these cards were issued in 1925. They appear in our British American Tobacco booklet, listed as RB21-200-159.1, where it says they are in two formats, one being unnumbered with no descriptive text, and the other being numbered with a descriptive text. They were already pretty scarce by 1950, when the London Cigarette Card Company catalogue listed them as odds only, the unnumbered version being retailed at 1/6d. each and the numbered version at a shilling each. 
In both the World Tobacco Indexes the text says : 
BRITISH ROYAL AND ANCIENT BUILDINGS. Sm. Black and White photos. Nd. (48) See RB.21/200-159-X. 
However that leads you to the first series, whereas ours is the second, and it appears under RB.21/200-159-Y. 
And if you want to know why our original and our modern World Tobacco Issues Indexes use Roman Numerals on this one set when all the other Westminster sets are either numbers or capital letters, so would I.... for there is no explanation given!
And so there you go. Hope you enjoyed it. 
Now there is a bit of a treat for you elsewhere this week as now I have finished this to the best of both my ability and my time I have some reference book updates to upload.
You can find those at https://csgb.co.uk/research/news  - and if anything does not work, please let us know. 
Now off you go to bed! As I will do, once I have obeyed buster and taken him in the garden. Mind you I think he is only hoping that his journey past the compost bin will coincide with the exit of a rat too full of food to run. But I have caught a rat before and held it out of reach of a dog`s fiery breath, and I am certain I can do the same again....