Growing much more traditionally Autumnal now, dear readers, soon you will be spending a lot more time under artificial light, and running about to avoid the cold and rain. Winter jumpers, wellingtons, coats. Not so much all those many joys associated with snow though, more`s the pity. 
This week, another hectic one, saw quite a lot of progress in the indexing, we are half way through June 2022 now, and also a bit of tidying on the branch meeting dates page, which begs us to ask you to please tell us as soon as you have your 2024 dates ready. It would also be very helpful if you tell us of any missing information on that page we link to, plus whether you charge admission, and how much. 
Well this week we have a lot of fun for you, and much to discover, and we went off on several tangents. But within you will find an ice giant named after a god of the sea - a Japanese maker of motorbikes, cars, garden equipment, boat engines, and robots - a slice of Old Chicago, seen at a blur - a Chaplin centenary - the Somme, used for warfare, many centuries earlier than you thought - the centenary of something that most of us use, but only at Christmas - and the official opening of a railed vehicle that would get us all lit up. 
Let`s start with.....
Richmond Cavendish [tobacco : UK] "Chinese Actors & Actresses" (1923) Un/28 - R36-16 : RB.21/200-361 : X.21/200-361B
Let us start the week here, with a spot of Oriental mysticism. Rather a tangent, but not if you think about it, for here we have a card issued with Neptune Cigarettes, showing a goddess appearing to be either floating on the waves or on a cloud. And the weightless theme continues to our diary date, which celebrates Neptune, the celestial body, and the eighth planet, which was discovered today in 1846.
The most curious thing about the discovery is that it was not discovered by looking in the sky - and it may never have been, as it is not visible to the naked eye without a telescope. What happened, by a great stroke of luck, was that three separate men, a German, a Frenchman, and an Englishman, had all had the same thought, concerning the rather wobbly orbit of Uranus. And that led to the discovery that why it was not following a straight orbit was because there was something else affecting it. And that was when they realised another planet must be there. 
You can read more about this, with links to each of the men, at https://earthsky.org/human-world/today-in-science-discovery-of-neptune/
These cards may look really ancient, but there is a twist coming. Strange then that they were actually amongst the last sets ever issued by Richmond Cavendish, after the First World War. Mind you, although they are listed under Richmond Cavendish, be aware that they were actually issued through British American Tobacco. I do not know the link between these two. Do any of you? 
Our original World Tobacco Issues Index. RB.23, first published in 1956, catalogues them as :
CHINESE ACTORS & ACTRESSES (A). Sm. 63 x 37. Unnd. (28). See X.21/200-361.B
This "X" prefix sends us to the original handbook, which was first printed as a separate volume, RB.22, but in the same year, and then combined with it in 1975 when that World Tobacco Issues Index was reprinted. That tells us something I was not expecting, because I was hoping to get away without any of the big issuers to speed things up, but never mind, it will be but a quick trip to the Wills book, only long enough to notice that their version was issued in February 1907, and to try and get a scan of the text for speed!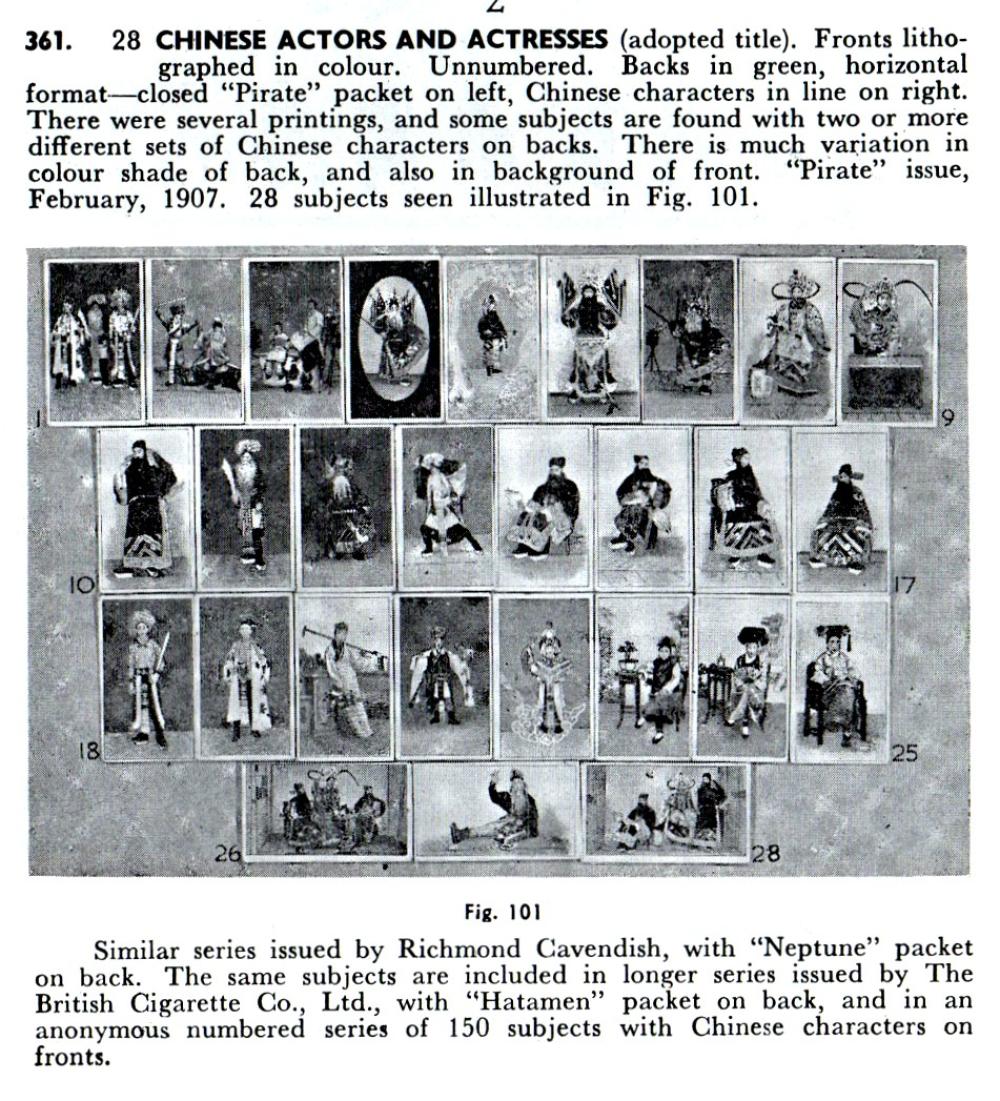 So now if we return to that "X" number in the handbook, that says - 
CHINESE ACTORS & ACTRESSES. The "B" (Richmond Cavendish) printing consists of 28 subjects as illustrated at Fig.101 on page 177 of Wills V (not 25, as stated under RB.21/200-361). 
This is slightly altered in our updated version, RB.124, published in the year 2000, to read : 
CHINESE ACTORS & ACTRESSES (A). Sm. 63 x 37. Back in blue, with horizontal "Neptune" packer. Unnd. (28). See RB.21/200-361.B
So lets look at RB.21, the British American Tobacco reference book, issued in 1952. And at this time of night that had better be scanned and pasted in!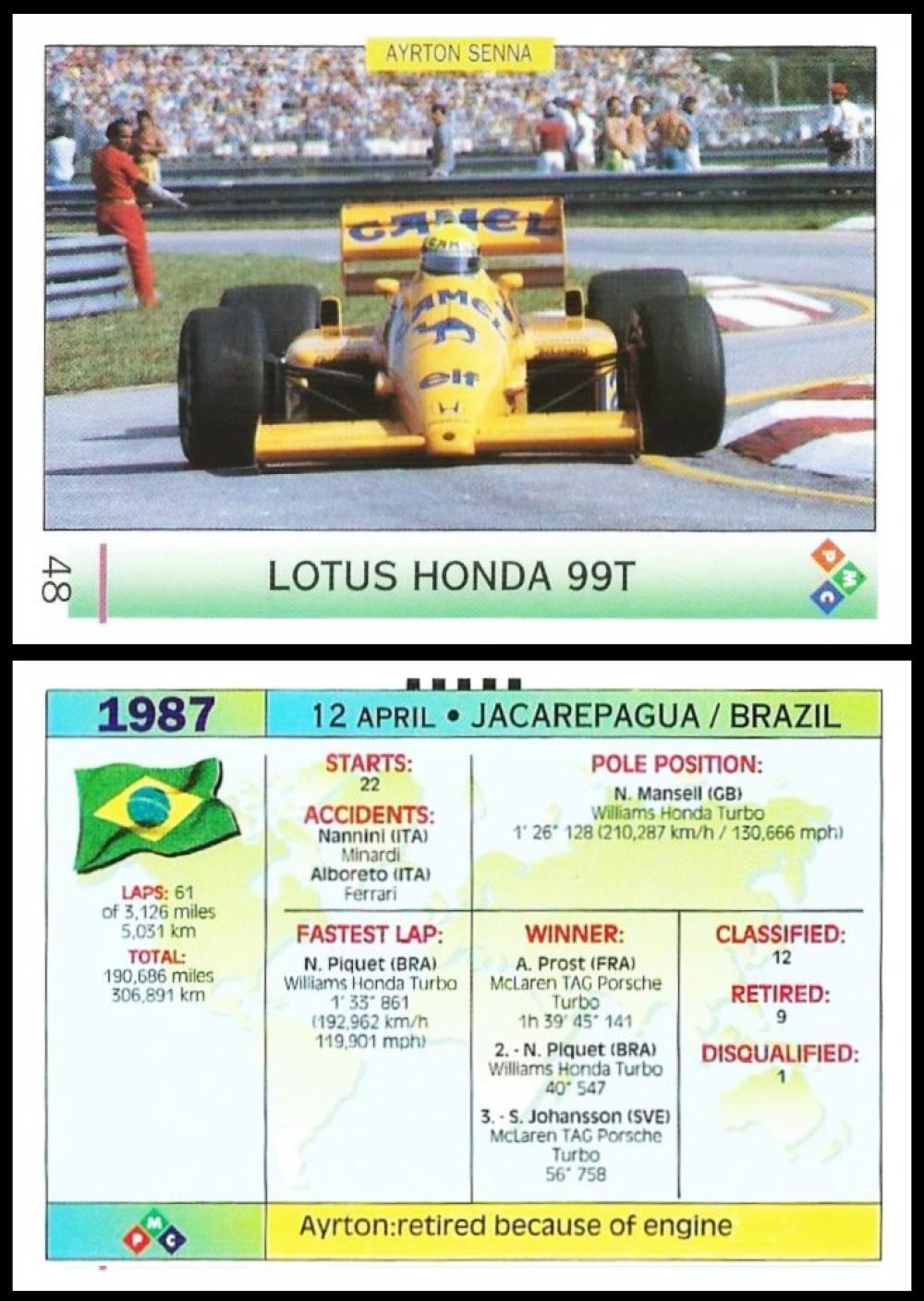 Piemmeci Publishing s.r.l. / PMC [trade/commercial : O/S : Italy] "The Magic Senna" (1994) 48/162
This card shows but one facet of a company that was founded today in 1948. And that was the Honda Motor Company.
Mr. Honda was born in 1906, the son of a blacksmith, who had diversified into mechanical horses, and started repairing bicycles. It was only natural that his boyhood curiosity should have led him to join in with simple tasks, but maybe not that he would start to wonder what would happen if you added a power unit to a bicycle. The rest, as they say, is history.
The first actual Honda product, after he had joined forces with Takeo Fujisawa was a motorbike too. And then they moved steadily into cars, industrial equipment, and robotics. Their entry into Formula One was in 1964, and they have been both an engine manufacturer/supplier and a team owner on and off since then. Their first win was the 1965 Mexican Grand Prix.
This set is very sought after, as you might imagine, though sometimes it does appear on the open market, at a price. Often it is in the official album, which most foresightedly was a binder with plastic wallet style leaves into which the cards gently slid, so that you could read both sides still. 
All the cards are devoted to one of the most popular Honda drivers, Ayrton Senna, who joined the McLaren-Honda Racing team in 1988, and left to join Williams in 1994; later that same year he was tragically killed during the San Marino Grand Prix, aged just thirty-four. And whilst this set, issued the same year, celebrates all his many achievements behind the wheel, it leads us to wonder how many more he would have had...
F. & J. Smith [tobacco : UK] "A Tour Round The World" descriptive -  "Goodwill Virginia" brand (1906) 42/50 - S84-16.2.D
Here is a view of Chicago that perhaps will be spotted by the runners as they or take part in the Chicago Marathon on October the eighth. As to why it is here today, well that is because in 1977 on this day the first ever of those Chicago Marathons took place. 
Now in both our World Tobacco Issues Indexes you will have to hunt for these a bit, because they are listed after "Shadowgraphs", taking the T of Tour as the first letter and ignoring the A in front. In both our original World Tobacco Issues Index. RB.23, first published in 1956, and our updated version, RB.124, published in the year 2000, you will find  a very lengthy description which also includes the postcard backed and the handwritten advert versions above ours. Anyway our part reads :
2. With series title (50). See H.75 and Ha.76. Multi-backed in brown, 10 wordings. 
A. Cut Navy Tobacco
B. Glasgow Mixture Cigarettes 
C. Glasgow Mixture Tobacco
D. Goodwill Virginia  
E. Harvest Moon Cigarettes
F. Regimental Cigarettes
G. Studio Cigarettes
H. Sun Cured Cigarettes
I. Sun Cured Tobacco
J. Wild Geranium Cigarettes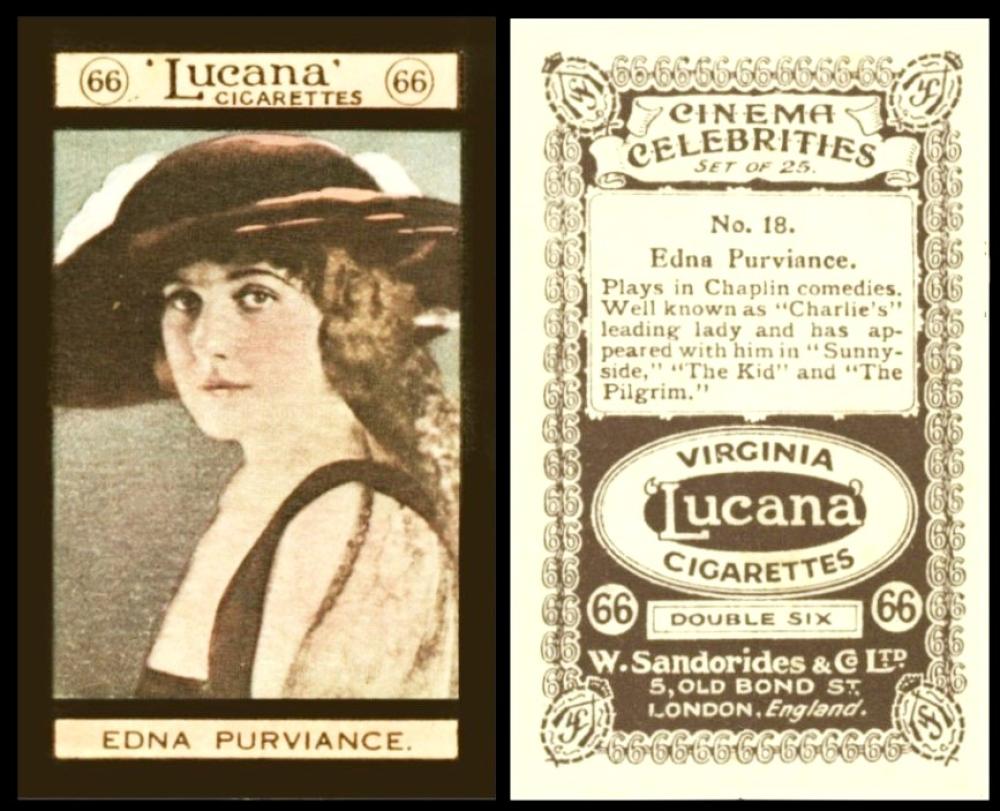 Sandorides [tobacco : UK] "Cinema Celebrities" (1924) 18/25 - SO67-150 : S24.2.(a).A : Ha.530 : H.530
Ah, Edna Purviance! One of the most frequent of the leading ladies used by Charles Chaplin, at least thirty times over an eight year period - and from early on too, as you will find them together on the Red Letter series of postcards, issued in 1915. And today, a century ago, in 1923, they also appeared in the premiere of "A Woman of Paris", but Mr. Chaplin was not the star, and though he appears as the head station porter, his name does not appear on any of the credits. There is much dispute as to why this was. Some say that he wanted to make his protege fly as a star on her own, whilst others insist that he wanted to become better known as a director and film maker. 
They had met in 1915. She was working in an office and he was already in the movies. He wanted to bring a new face to the screen, and someone he knew saw her in a cafe. She met with Mr. Chaplin, but she was nervous, she knew nothing of acting, she did not want to be too flippant, and he was a handsome man. He was not sure she was suitable, but somehow the more he thought about her the more he liked her, in every way, and she was cast.
They were lovers, on and off, until 1917, when she picked up a newspaper and read he had got married to Mildred Harris. Strangely they stayed in touch, and he kept paying her a salary, until 1938, when she married a pilot. Then the money stopped. However in 1945 he died, and the payments started up again. They seem to have continued until she died, in 1956. 
In our original World Tobacco Issues Index. RB.23, first published in 1956, we are told that there are several versions, and that it is also found named "Cinema Stars".  The listing reads : 
CINEMA CELEBRITIES or CINEMA STARS. Nd. (25). See Ha.530
(a) Home issues, titled "Cinema Celebrities". Backs with firm`s name. 
A. Small, 65 x 40.
B. Extra-large. 109 x 67.
(b) Export issues, titled "Cinema Stars"
A. Small, 65 x 40.
B. Small, 65 x 40. Back inscribed "Issued with Lucana Cigarettes". Brand issue
C. Small, 65 x 40. Back inscribed "Issued with Big Gun Cigarettes". Brand issue
​D. ​​E​xtra-large, ​1​09 x ​6​7. Back inscribed "Issued with Big Gun Cigarettes"​. Brand issue
​The same information remains in our updated version, RB.124, published in the year 2000.
John Player [tobacco : UK] "British Regalia" (March 1937) 1/25 - P644-154 : P72-73 : P36 [RB.17/36]
Now this is a curious tale, for when you think of The Somme and warfare you undoubtedly think of the First World War battle. But today in 1066 it saw William the Conqueror set sail down that river and start to head for England, the very start of the Norman Conquests.
He landed at Pevensey on September the 28th, and the Battle of Hastings was on the 14th of October. And he was crowned King of England on Christmas Day
This set was first listed in our John Player reference book. RB.17, published in 1950, as 
36. 25 BRITISH REGALIA. Large cards. From replicas in the collection of M. Berman, Esq. Fronts in colour. Backs in grey, with descriptive text. Home issue, March 1937.
Now Mr. Berman is famous as one half of the theatrical costumiers Berman & Nathan, and they did have a very substantial collection of quality replicas. But how Mr. Berman became involved with John Player I do not know. 
By the time of our original World Tobacco Issues Index. RB.23, published in 1956, the description is smaller, just : "BRITISH REGALIA. Lg. Nd. (25)" - and so it remains in our updated version, RB.124, published in the year 2000
Strictly Ink [trade/commercial ; UK] "Doctor Who - The Definitive Collection - Series 1 - Radio Times Covers" (2000) 1/17
Another centenary, and also connected with the media, for today in 1923 saw the first ever edition of the Radio Times hit the news stands. 
This card was released by Strictly Ink, and it is one of several allied sets. There is a base set of 120 cards, plus autograph cards, special cards on the Doctor`s companions and shipmates. preview cards, large box toppers which fitted on top of your cards to protect them, and these cards, which are known as "Radio Times Covers", because that is what they show. However they are often referred to as "The Chase Set". 
They start with black and white, and move into colour, and the first twelve cards are black and white, including ours, from February 22nd-28th 1964, where the Doctor was William Hartnell, and the story concerned Marco Polo. 
These cards take the story up to December 15th - 21st, 1973, who was John Pertwee. Then there is a gap, with card R13 being for Summer 1983. And though R14 is November 19th - 25th, 1983, there is then another decade missed out before R15 marks November 20th - 26th 1993. After that just two cards remain, R16 for May 25th - 31st 1996, and R17 for November 13th - 19th 1999, which shows a Dalek in the mist, based on a photograph taken for a set of postage stamps. However the back of the card says "No new series, but a celebration of the show`s past, hosted by Tom Baker" 
Then in 2001 another set was issued, which has thirteen cards.
Beano Ltd. [trade : gum : UK] "This Age of Speed" No.2 Buses & Trams (1954) 41/50 - BEA-140 : BEX-6
And so to close, let us return to 1885, perhaps even in a TARDIS. If you did, you may be in time to see the Blackpool Tramway being officially opened. 
This much loved form of transportation now runs from Blackpool out to Fleetwood, but it was not always so. In 1885 it only ran for two miles. It had first been tested in June of that year, but the public were not allowed until later, getting their first, brief chance on the third of August. However though this was a tram, it was not electrified; a failure to part of the power unit meant that it had to be drawn by horses. And though it was officially opened today in 1885 by Alderman Harwood, Mayor of Manchester, who managed to drive an electric tram right to the North Pier, the trams were horse drawn again from then on until December. 
Beano produced bubble gum, as you can tell from the "O" in their name, which is a face blowing a bubble. And before we speed on, "This Age of Speed" No.1 is a set on aeroplanes. 
Our set first appears in the British Trade Index part II, RB.27, published in 1969, where it is listed as : "THIS AGE OF SPEED - No.2 BUSES AND TRAMS. Sm. 68 x 36. Nd. (50). This is almost identical in the updated Trade Index, RB.125, published in 2006, except that the date has been inserted between the title and the size.
This week's Cards of the Day...
sent us out on an expedition to discover Derbyshire, just in time for Derbyshire County Day, which falls on Friday the 22nd of September. The reason for this was a contest, which was run by BBC Radio Derby, when it was realised that Derbyshire did not have a County Day. And you can read more at https://britishcountyflags.com/2013/09/23/derbyshire-day/
Saturday, 16th September 2023
Cadet Sweets [trade : confectionery : UK] "Footballers" (1958-59) 32/50 - CAD-600 : CAF-10.2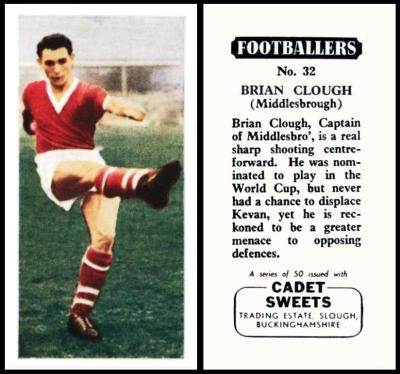 This was chosen because our featured footballer, Brian Howard Clough, OBE, is one of only four managers to have topped the English Football Association League with more than one club, and those were Nottingham Forest and Derby County. And Derby`s County is Derbyshire. Not only that, but this 1971/72 win was Derby County`s first First Division title since they were founded in 1884.  
Now though there are two "Footballers" sets listed in our original British Trade Index part II, I originally wrote that neither were ours, because they were issued in 1957 and 1958. But then the set did not appear in part III. 
The answer to this quandary was in the updated British Trade Index, where the two sets are listed as "Footballers 1956-57" and "Footballers 1958-59".  So I have gone back up and reclaimed the original book all over again. 
That says : 
FOOTBALLERS . Sm. Nd. 
2. 1958 issue.. (50). Size 61 x 31. Panel with series title (a) 19 (b) 28 m/m long.
Now moving to the updated version, the description is : 
FOOTBALLERS. 1958-59. Nd. (50) 61 x 31. Panel with series title a) 19 mm, b) 28 mm long. Set found with inverted fronts, and text differences, see HC-30. Note that cards from an additional set have been seen, in the same format and same players, but with text revised to refer to 1960. 
Now this is very intriguing, because a third set of these cards are not listed anywhere, and as the ones found relate to 1960 it is not simply that they have been saved to go in the next section of the updated British Trade Index, which covers cards issued after 1970. Also there is no idea of how many cards in that printing have been discovered, but obviously at least two. So if you have any which come from the 1960 revision printing, please do let us know. 
By the way HC-30 tells us of the text changes, plus the cards which have so far been found with the picture inverted, shown as (inv), though I always think impossible to spot, way easier to say the text was inverted. Or maybe that is my strange brain. Anyway the changes are : 
5. a) Allchurch - Swansea and Wales - b) Newcastle and Wales
7. a) text ends "side" (inv)  - b) text ends "players"
8. a) text ends "shot"  - b) text ends "side"
21. a) W. Wright - b) Billy Wright
25. a) text ends "honours" (inv) - b) text ends "game"
29. a) text ends "his country" (inv) - b) text ends "his country but not his club" - c) text ends "his country and his club"
34. a) Finney - Preston and Wales (inv)  - b) Preston and England
36. a) text ends "honours" (inv) - b) text ends "scores" - c) text ends "man"
37. a) text ends "Caps" (inv) - b) text ends "Daniels"
40. a) Bowen - Arsenal and Wales  - b) Northampton and Wales
41. a) Charles - Swansea and Wales  - b) Arsenal and Wales
45. a) text ends "season"  - b) text ends "portrait"
49. a) text ends "showing" (inv) - b) text ends "club man"
There is something strange about Cadet Sweets, who were based in Slough - and that is that they also issued cards under the name of "CS Ltd" - those sets were "Footballers and Club Colours" (set of 50 cards), "Record Holders of the World" (first series of 25 cards, 1956), and "Ships Through The Ages" (first and second series, each of 25 cards). You will also find cards that say "Cadet Sweet Cigarettes - Paramount for Sweets"; three sets, "Fifty Years of Flying" (1953), "Motor Cars" (1954), and "Railways of the World", but they are listed under the issuer name of Paramount Laboratories Ltd. London W.C.2 and Slough. However this was the same firm, and it also used the names "Paramount Sweets", and "Paramount Laboratories Ltd." In fact "Railways of the World", issued in 1956, was branded in three different ways, for Cadet, Paramount Laboratories, and Paramount Sweets. And in our updated British Trade Index if you look at "Paramount Sweets" there is a link saying "see Cadet".  
Sunday, 17th September 2023
W.D. & H.O. Wills [tobacco : UK] "Australian Butterflies" - silk (1914) - W675-391 : W62-256 : W/137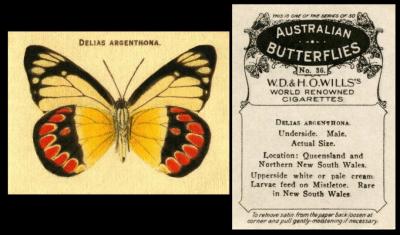 Our second clue was the material from which this was made, for though this beautiful butterfly was actually printed on Satin, it still counts in cartophilic terminology as a "silk". And silk has a huge connection to Derbyshire, because it started the Industrial Revolution. This came about when a man called John Lombe went over to Italy to see why the Italian silk industry was so successful, and whether we would be able to copy it. And it turned out that we could, by harnessing the water power of the Derby area to drive the mills in which our silk was made. And thus changed everything, for Richard Arkwright used a very similar system to produce cotton. 
This set is described in our Wills reference book, part IV, (RB.16, issued in 1950) as :
AUSTRALIAN BUTTERFLIES. Medium cards, size 70 x 51 m/m. Fronts printed on satin in colour. Backs on thin board, printed in black with descriptive text and instructions for removing satin, inscribed "Wills` World Renowned Cigarettes"; some variation in colour of board, which varies from pink to pinkish buff. Australian issue, between 1910-18
Our original World Tobacco Issues Index lists these under Wills section 3 [Australian Issues] and sub section 3.B [paper-backed silks]. Now the header for this section tells us they were issued between 1911 and 1917, and reminds us that "When detached from their backings, all silks are anonymous". The actual listing for our set is "AUSTRALIAN BUTTERFLIES. Md. 70 x 48. Nd. (50)." By the time of our updated World Tobacco Issues Index, whilst this text remains the same, the section has been moved to 4.B, simply to accommodate the more modern Wills issues that came via Embassy, etc, in the 1980s. 
Monday, 18th September 2023
Hignett Bros. & Co. [tobacco : UK] "Arms & Armour" (1924) - H536-200 : H44-31 : H.273
Our third clue showed this Roman Legionnaire. But did you know that despite Londinium getting all the press, the actual centre of their operations in this country was in Derbyshire, with many townships and roads, including one which traced along the highest point of the County, leading from Buxton to Derby. 
There never was a special reference booklet on Hignett issues, so the only description of this set is from the World Tobacco Issues Index, and it is rather short, being just : "ARMS & ARMOUR. Sm. Nd. (50). See H.273"
However there is a tantalising clue at the end, because this handbook reference tells us that there were other issuers, namely Stephen Mitchell (in July 1916), anonymously through British American Tobacco, and, thrillingly, John Player and W.D. & H.O. Wills, both of whom did have special reference booklets, which allow us the chance to glean a few facts of its production. 
Now the John Player book tells us that they had two versions, a blue backed home issue and a grey backed export issue which went to New Zealand, Malaya and Siam. These are described in RB.17 as ;
12. 50 ARMS & ARMOUR. Small cards. Fronts in colour, no border. Backs with descriptive text. 
A. Home issue, April, 1909. Backs in blue, with I.T.C. clause
B. Overseas issue, April 1926. Backs in grey, without I.T.C. clause.
Similar series issued by Hignett, Mitchell, Wills and Anonymous.
On the other hand, none of the W.D. & H.O. Wills issues were issued in this country. In Australia they were branded for "Capstan", "Havelock" and "Vice Regal", all of which made their debut in November 1910, whilst in the Channel Islands, and other areas where British Garrisons were located, they were issued from December 1910 with the "United Service" brand. Our original Wills reference book part III describes these sets as : 
38. ARMS & ARMOUR. Fronts lithographed in colour; backs with descriptive text. Issued 1910. 
AUSTRALIAN ISSUES :- backs in blue :-
A. With "Capstan" advertisement (a) "Capstan Navy Cut. For pipe smokers is unequalled" (b) "Capstan Navy Cut. Also obtainable in Plug Form."
B. With "Havelock" advertisement
C. With "Vice Regal" advertisement
D. No brand advertised (anonymous issue)
"UNITED SERVICE" issue :- 
E. Backs in brown.
Similar series issued by Hignett, Mitchell and Player. 
Tuesday, 19th September 2023
W. H. & J. Woods [tobacco : UK] "Types of Volunteers and Yeomanry" - untitled (1902) Un/25 - W900-400 : W80-1 : H.455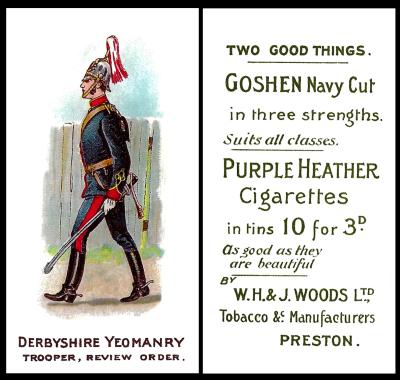 Here we have The Derbyshire Yeomanry, first raised in 1794, under the name of The Derbyshire Corps of Fencible Cavalry. At which point we had better explain that "fencible" is short for "defencible", which means "to defend", whether that be the local area, the county, or the British Isles. And that "Yeomanry" actually means "young man", but seems to have come to mean "of farm or rural stock", able to ride a horse, and strong enough to lug farm, hence military equipment. And they did start out as a mounted cavalry regiment, very quickly changing their name by swopping out the "fencible" bit for "Yeomanry". A few more name changes followed, but, curiously, given the date of our card, it was only from 1908 that they took the title of the Derbyshire Yeomanry alone, at which time they became part of the Territorial Forces; in 1902, the date of this card, they were still known as the Derbyshire Imperial Yeomanry.
Like all cavalry regiments, they would eventually move into mechanised transport. This began in the closing days of the First World War, and they started the 1920s as part of the Tank Corps, moving in as part of the Royal Armoured Corps for the Second World War. Then in 1957 they were merged with the Leicestershire Yeomanry, becoming The Leicestershire and Derbyshire (Prince Albert`s Own) Yeomanry in the late 1950s.
Now there seems to be a hidden story with this issuer,  W. H. and J. Woods, so if we have a specialist please feel free to join in and clear our clouds. 
One of those misty memories, from which the fog is lifting fast, is that the firm of W. H. and J. Woods was founded in the early 1800s in Preston, by a man called John Woods.  He had a factory in Derby Street, nicely giving a second link to this week`s theme, so was a tobacco manufacturer as well as a retailer. Then he died, and his sons William Henry and John (junior) took over. They had a keen eye for business and under their management it grew to be one of the biggest tobacco empires in the North West of England.
Now lets debunk some of those myths, starting with John Woods. And the first problem is that he would have been insufficient to have his business be called W.H. and J. Woods, unless he took a very elusive partner called W.H. However if you look again at his sons, William Henry and John (junior), these initials are perfect. And our Directory of British Issuers clearly states that W.H. and J. Woods were founded in 1900, not 1800. 
So was there an earlier firm run by J. Woods that we have yet to find? This seems very likely, because there are hints online that a company called Woods` Tobacco was either founded, or moved to a new premises in the 1830s. 
This brings the shop premises aboard, for we know that the shop, in Derby Street, was opened in the 1830s. Perhaps it was moved to be nearer the factory. In any event the shop was extraordinarily long-lived, outlasting even Derby Street, which was renamed to Church Street at some stage. It only closed in 1978. 
Then there is another spot of confusion, because in 1892 John Woods (junior) is recorded to have died. This may be true, or it may be John Woods (senior) which would fit in with the Directory of British Issuers and the founding and name changing to the two sons` initials.
Anyway these cards are not confusing at all. They are catalogued in our World Tobacco Issues Indexes as "TYPES OF VOLUNTEERS AND YEOMANRY (A). Sm. 67 x 35. Unnd (25). See H.455".  The H. reference sends us to the handbook, where, because the cards are unnumbered, the titles are listed. And because I looked there I can tell you that in 1950 the cards were being retailed by The London Cigarette Card Company at between 10/- and 30/- each, or for £35 a set.
And looking that amount up online I am told that £35 in 1950 is worth £1,534.43 today. 
The cards were issued in 1902, and their backs, though purely advertising rather than descriptive text, are so charming. They also mention two of their brands, "Goshen Navy Cut" and "Purple Heather Cigarettes, in tins, 10 for 3d." And then there is that wistfully evocative statement, "as good as they are beautiful". 
Of the other recorded Woods` brands, we know of "Goschen Navy Cut", "Perfection Flake", "Purple Heather Mixture", "Devona Flake", "Virginia Brown Flake", "Too Good Gold Flake" and "Woods Famous Preston Twist", which were all tobaccos. The cigarettes were "Denver Juniors", and, from the back of this card we know that "Purple Heather" was sold in cigarette form too.
We are not yet sure whether their "Crown", "Denver Strips" or "Wavey Stripe [or maybe Strips]" were cigarettes or tobacco.. Maybe you do? If so tell us.
Despite all these brands, just desperate to issue cards, and beautiful cards they would have been too, absolutely nothing happened, and no more cards appeared.
Now what happened then is unknown. The next thing we hear is that in 1934 they were "taken over" by Woods Tobacco Dealers (Preston) Ltd. Now some collectors will tell you that at this point they issued three sets of cards in fairly quick succession. The problem is that the first of these sets, "Romance of the Royal Mail", was issued in 1931, and then the following year they issued "Aesop`s Fables", the black and white version of the Anstie set. After that there was another gap, until 1936, when they issued a set of black and white photographic "Modern Motor Cars". On all of these sets the address is only "Preston", though they do describe themselves as being Tobacco and Cigarette Manufacturers, so the factory must have been still there. 
What happened after that remains to be discovered ! 
Wednesday, 20th September 2023
R. J. Lea Ltd [tobacco : UK] "Flowers to Grow" (1913) 12/50 - L250-135 : L26-5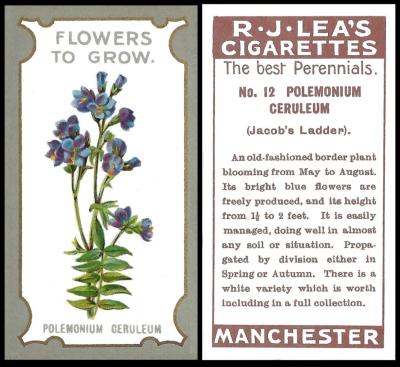 This card may have stumped you but it does have a very strong Derbyshire connection, for this is Jacobs Ladder, their county flower, also known as Polemonium Caeruleum.  Polemoniaceae is actually the family name for a group of plants often better known as phlox, whilst the Caeruleum means blue, referring to the fact that the flowers come in shades that vary from deep blue to soft lavender, sometimes tinged with white.  . 
As far as its non-biological name, Jacob's Ladder, it is usually quoted that an early plant historian looked at the plant and the parallel, step like arrangement in the sections of each leaf suddenly reminded them of the part in the Bible when Jacob dreamed of a ladder into heaven. Or perhaps it was actually named in this way by someone who tended the gardens in a local medieval church or other religious establishment. This is made even more possible by the fact that it has several medical uses, for stopping the bleeding of wounds, and healing or relieving toothache, coughs, fevers, insomnia, tuberculosis, insomnia and animal bites. It was also used as a sedative, including for minor operations.
We do not know why it was selected to be the Derbyshire county flower, but it does seem to grow better there than anywhere else in the country. And you may think it strange, then, that it is not on the Derbyshire County Flag - that honour going to a Tudor rose, in style if not in colour, for this rose, which has been the official county badge ever since the 15th century, is gold, perhaps so as not to take sides between the Yorkists and the Lancastrians, whose counties were close neighbours. 
R. & J. Lea were founded in 1865, and as this card states, they were in Manchester, specifically at 45 Market St, and Broughton Lane. It was only later that they relocated to Stockport. 
Without a special reference book devoted to the company and their cards, we have only their listings in the World Tobacco Issues Indexes. The original one reads simply : "FLOWERS TO GROW. Sm. Nd. (50)", whilst the updated version adds a bit, namely : "FLOWERS TO GROW. Sm. Subtitled "The Best Perennials" Nd. (50)"
Thursday, 21st September 2023
Ogden`s Ltd [tobacco : UK] "Derby Entrants 1926" (1926) 17/25 - O100-506 : O/2-143 : O/71 [RB.15/71] : RB.21/215-71.A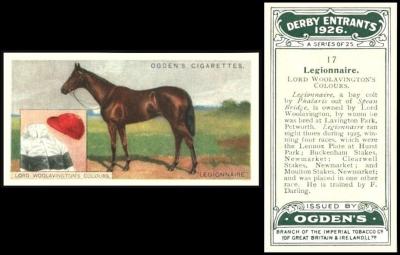 Now in case you have ever wondered of the connection between the Derby horse race, and Derby the county, allow me to explain. It was actually named after the twelfth Earl of Derby, Edward Smith-Stanley. Though it could easily have been named the Bunbury after Sir Charles Bunbury, the current chairman of the Jockey Club. Proof that both these men were gamblers is that when they both decided to inaugurate a race, they tossed a coin to see whose name it would carry. And our man won, hence The Derby. But there was a bit of consolation, as on May 4, 1780 Sir Charles Bunbury was the owner of the first ever Derby winner, Diomed.
Now the reason why the Derby is run at Epsom, not Derby, was that though the twelfth Earl had been born in Preston, his uncle by marriage had allowed him to take over his house, near the Epsom Downs. In fact the Earl was a steward at Epsom Racecourse.
Another fun fact is that this house was called The Oaks, and yes, that race, first run in 1779, was indeed named after it. In fact The Oaks came first, and it was at the after party for the first one that the coin was produced and the Derby named.
The 1926 Derby was on Wednesday 2nd June, and the winner was bred by the 1st Baron Woolavington and trained by Fred Darling at Beckhampton. However it was not our horse, it was Coronach, ridden by Joe Childs. Now as usually happens, lots of people enter their horses for races but circumstances occur in between; in 1926, though nineteen horses were there at the start, this had been whittled down from over three hundred who had expressed an interest to take part. So it looks likely that our horse was not thought a likely winner, or maybe Coronach just performed better over the intervening races and got the nod instead. 
Ogden`s issued three sets of "Derby Entrants" for the years 1926, 1928 and 1929. I have no idea why there was not a 1927 set. They differ, a bit, as can be seen in our original Ogdens Reference Book, RB.15, issued in 1949, where the trio are catalogued together as : 
125 DERBY ENTRANTS. Fronts printed by letterpress. Backs in grey with descriptive text. Home issues in years stated. 
71. 1926. Series of 25. Fronts in colour. Horses and owners colours.
72. 1928. Series of 50. Fronts in colour. Horses only.
73. 1929. Series of 50. Fronts in sepia. Horses, some with jockeys up. 
However in our World Tobacco Issues Indexes, our set is listed as : "DERBY ENTRANTS. 1926. Sm. Nd. (25) See RB.21/215-71.A"  And the others follow below it, without the RB.21 reference, just changing the number in the set, for they were both of fifty cards, and adding "Sepia" between the "Sm." and the "Nd." in the 1929 series. They do not mention the change in the pictures at all. And I forgot to copy the code from the modern book! 
I was temporarily confused by the mention of RB.21, on just that one set, especially as the cards are numbered. However it tells us that this 1926 set was issued by another maker, presumably British American Tobacco,. This is described as : 
215-71. DERBY ENTRANTS, 1926. This series was issued as follows :-
A. Ogden`s Home issue - titled "Derby Entrants, 1926"
B. Anonymous issue, with letterpress on back.
Friday, 22nd September 2023
J. S. Fry & Co. [trade : confectionery : UK] "China & Porcelain" (1907) 8/15 - FRY-120 : FRY-3
The Derby factory has made both tableware and ornamental display china since  approximately 1750. However it was not known as Crown Derby until 1775, when King George III allowed it to add his esteem, and his mark, into its trademark backstamp. And it was another royal, Queen Victoria, who awarded it the royal warrant, and allowed the company to call itself Royal Crown Derby from 1890.
This is a really lovely set, and it contains a lot more technical information than a child would need to know, all the china marks, and the story of the factory. In fact I am certain that anyone who is not a card collector, but is a fan of china and porcelain, they would really treasure this set. And I think that is where our future lies, to somehow find a way to match-make thematic non-card collectors with thematic cards. 
This card also has a hidden story, for the dress that is being modelled is in a style of decoration that was also made by Derby - it is one of the variants of the Imari King`s Pattern. And Imari designs first arrived in 1882, after the first glimpses of the traditional designs that had recently started being imported from the Orient. In fact Imari is a port,on the island of Kyushu, where the ware would have started its journey to Europe.
In our original British Trade Index, part I, RB.25, published in 1962, this set is listed as : "CHINA & PORCELAIN. Sm. 65 x 36. Nd. (15)".
This is almost identical in the updated Trade Index, RB.125, published in 2006, except that the date has been inserted between the title and the size.
Well I hope you enjoyed that as much as I enjoyed writing it. And now to bed. Tomorrow I will add those scans because time has beaten me. And over the weekend I may well finish adding all the cards of the day to the index. If so I will announce so with a new banner. 
Have a great week. Explore your neighbourhood. Be happy. And come back next weekend for another thrilling newsletter!