Saturday morning once more, but this week has been very exciting, for all kinds of reasons, and it just flew by on a cloud. As did I. 
Some of these descriptions will be tweaked later, especially the John Player one, because that book is not in its place and I cannot imagine what I have done with it right now. However this is not fixed in stone and as we go along, especially when we start working through the magazines, everything will be changing. At which time you can just watch the front page, read what we are fiddling about with that day, and follow the links. 
So what do we have to entice you with this week? Well we have lots of unusual cards, so any extra info will be gratefully appreciated. And we carry our thread right from the start, off road, into space, out to the ball game, back to prehistory, down to the fields, and up to meet royalty. Sound like fun? Well lets start with ....
J. & P. Coats [trade : cotton and thread : UK] "1874 Calendar" (1873) 1/1 
So let us start this week with a product that is strangely not so eco-friendly nor as human-friendly as you may have believed. You can read the full facts at https://goodonyou.eco/how-sustainable-is-cotton/
Nevertheless today is World Cotton Day, and there is one silver lining because organic cotton is not so bad, being more strictly monitored as far as wastage and pesticides, and without the genetic modification. 
Now cotton has a very lengthy story, and it has been traced back to ancient India, Egypt and South America. The earliest piece was discovered in Peru, and it apparently dates from 6000 BC. However there may have been earlier examples, for the ones we know of come from hot climates, with elaborate burial systems, where the heat preserves the graves and the occupants, so their clothing has more chance of remaining intact. In cold, wet places, where the bodies are inadequately buried, preservation is pretty much non existent. 
Surprisingly our updated British Trade Index tells us that J. & P. Coats were based in Paisley, Scotland; though it adds that their cards were mainly issued in the U.S.A. It also states that these cards were issued from 1875 to 1890, but here we have an 1874 calendar, which pushes that date down to at least another digit, and most probably two, given that most calendars were issued late in the year before.
Now though only Clarks has a section of separate cards in my Burdick catalogue, there is a grouping of "The Personal Accessory Group (HP4), which tells us that "these are the most prolificately issued cards of all and many of them are still so common that they cannot be valued highly, even though most attractive and interesting cards. An experienced collector, however, will point out numerous scarcer items, especially in the small items class. The number of patent medicines on the market and their claims is amazing, and the extensive thread advertising only slightly less so." He valued cards on "Thread and needles" at 5c to 15c each, average 7c. 
Now the mention of "Clarks" is rather fun, for if you look online at the Coats own website you will read that these In companies actually merged in 1896. You may read, for it seems to be everywhere, that they formed a company called J. & P.  Coats Ltd. This is not strictly true, for the initials are for the original Coats brothers James and Patrick. And I am not sure it was really a merger as we know it, just two companies from the same part of the world agreeing that working together would benefit them both. After all the two companies still traded under their original company names. They did collaborate well though, buying up other companies, and opening factories worldwide. They got so big that they were actually investigated by the American government in 1913. 
One thing that you may not realise about these cards is that, yes, they were decorative and beautiful, but some, like ours, also comment on the news, for this card we have selected actually uses the word "needle" in a whole new way and shows us Coats` thread being used as hawser cable to tow Cleopatra`s Needle across the mighty ocean. 
The obelisk, rather than the needle, was given to the British government by the Sultan of Egypt and Sudan in 1819, to mark victories at the Battles of the Nile in 1798  and Alexandria in 1801. Then there was much delay, a refusal by our government to have anything to do with paying for it to come over, and, nothing changes, an appeal for the public to chip in. It landed in 1877, after a shipwreck that caused several crew deaths, and a time where the needle floated about in the water near Spain, was salvaged, and then a row broke out over ownership all over again.
Then there was a further year before it was put in place on the Embankment, complicated by the fact that it is incomplete and would not stand up - without an iron casing at the bottom.
In the mean time France had got a needle, shipped it, and put it up in 1832.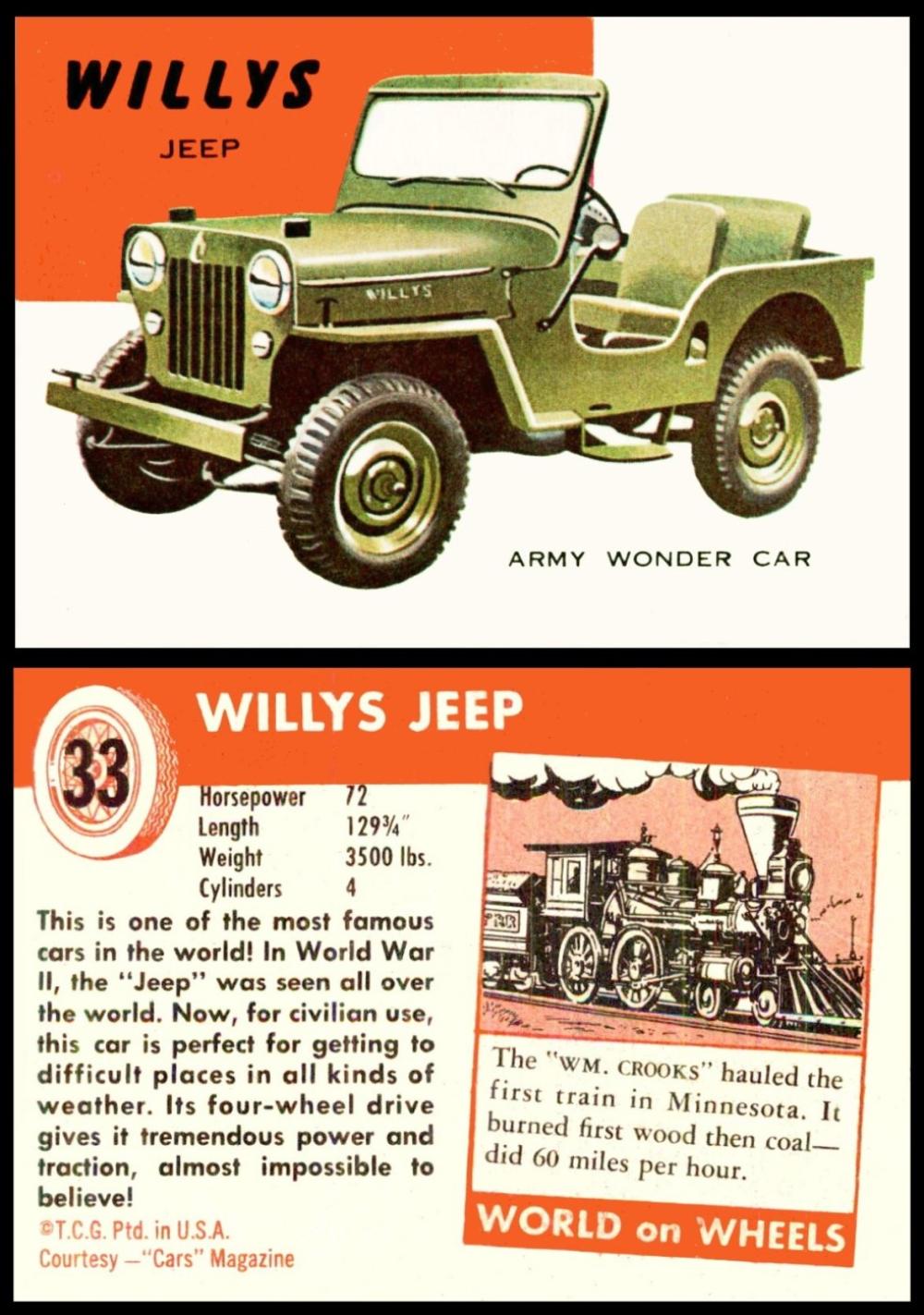 Topps Chewing Gum Inc. [trade : confectionery ; O/S :  USA] "World of Wheels" (1954) 33/180 - R.714.24
Today is a day for all people who need their freedom as well as their wheels, for it is National Off Road Day. This started not so long ago, on October 8, 2021. However you do not need a car, bikes and feet can also travel those seldom trodden paths. So why not? 
Our card shows probably the first off road vehicle, and certainly the one on which most were based, the idea, and sometimes the chassis. This is the Jeep, the version made by Willys-Overland Motors, a name deriving from the founder, John North Willys. The vehicle on our card is the original, for it has the straight fenders. Later models curved those fenders downwards to better protect the tyres from glancing bullets and scrubby undergrowth.
This is another victory to Jefferson Burdick, for I can find this set listed nowhere else. He tells us that these cards are 
World on Wheels (Autos, etc) 2 5/8 x 3 3/4. Nos 1-160 red backs 1954, 4c. Nos 161-180 blue backs 1955 10c
In fact those last cards can be found with either a blue or a red back. There are a couple of errors as well - card 7 called the Norton a German motorcycle, and this was later corrected to "English" - and card 92 can be found with the vital statistics of the wheelbase measurement and the grunt reversed
Possibly because of the amazing pictures, this is a popular set online and there are two checklists with illustrations. One of these is at the Hobby Database / WOW which has great images, and they are immediately accessible, but the list is in alphabetical rather than number order. On the other hand the Trading Card Database / WOW is in number order, but the pictures must be clicked to be enlarged.  
Brooke Bond [trade : tea : UK] "In die Buitenste Ruimte" / "Out into Space" - South African version (1966) 27/50 - BRM-14.B : SA.3
International Astronomy Day falls on October 9 - or in April, May, and September? Yes it is a bit confusing, but what happens is that the event takes place twice a year, giving equal access to stars of the Northern and Southern hemisphere as the world tilts round. 
Now there is often confusion between astronomy and astrology and this card does not help. For here we have Cancer, a "star" sign from Astrology, and also Cancer a constellation of stars from Astronomy. Easy to see how things get confused. This cluster of stars is in the Northern hemisphere, so this card is technically in the wrong place as it is only visible in March, along with Leo and Gemini. But look at the time. And remember what I said about swapping being such fun...when you have more time. 
Our original British Trade Index lists this set along with the standard UK versions, as : 
OUT INTO SPACE. Sm. Nd. (50)
A. British Issue B.3
(a) Back "Issued with Brooke Bond . . ."  No.11 with captions "Inner Planets" and "Outer Planets". 
(b) Back "Issued in Packets of Brooke Bond . . ."   No.11 without the above caption wordings. 
B. South African issue, back with title and text in English and Afrikaans "In die Buitenste Ruimte", Pretoria address. SA.3
Now before we speed on that SA.3 is the code that was awarded to this set by Brooke Bond themselves. The code for the Rhodesian issues starts with SR. Curiously both SA.1 and SA.2 codes are for the same set, "African Wild Life" - SA.1 was for the original, very strange, version where the odd numbered cards had English text and the even numbered ones had Afrikaans text - SA.2 was for a version like our card where both languages appear at once in separate sections. 
Also worth noting is that this set may have the same English title but not the same cards. There was also quite a gap between this issue and ours, which were circulating in 1956 ("with") and 1958 ("in")
The set is mentioned in our updated British Trade Index, but only as "Also issued in South Africa", so it may be a tad confusing to give that as a code when ordering cards. Better off with the original one which at least leads directly to that South African version.
Topps Chewing Gum Inc. [trade : confectionery ; O/S : USA] "Baseball" (1960) 227/572 
Today, in 1923, saw the first World Series Game at Yankee Stadium - in which the competing teams were the New York Yankees and the New York Giants.
Now if you are not a baseball fan, you may be wondering why both teams in a World Series come from the same place. The truth is that the New York Yankees were at that time the champions of the American League, whilst the New York Giants were the champions of the National League. 
Here we have Casey Stengel, as the manager of the Yankees, but he also played for the Giants in that first World Series, where he brought in a home run to win them two games, though they lost the series to the Yankees.
There is another checklist company for this set, that being Cardboard Connection / B1960 - and they also include the story of the set. 
This was not the first set of baseball cards - they date from the 1860s - nor was it the first set of Topps baseball cards - which were issued in 1951, and contained just 52 cards, being modelled on playing cards, and you could get them with either red or blue backs. However it is getting very sought after, because children of the 1950s and 60s, who are now just coming up to retirement age, and wondering how they will occupy themselves, often look back at what they had, wonder if they could get them all over again, and start to try.  
Nu-Cards [trade/commercial ; O/S : USA] "Dinosaur Series" (1961) 80/80 (B)? 
Today we celebrate Fossil Day, a chance to think of the past, wonder how fossils were made, and how they survived to this day, and also what might have happened if the dinosaurs had not given us proof that they were there, lived, and then were gone,
Nu-Cards are not listed in any of our British Trade Indexes. However as it was a dinosaur set, we headed to Dinofan.com and found it under Nu-Cards/1961 
They actually issued several sets of cards in 1961, including, topically for this month, "Horror Monsters" set of 147 cards, plus "Football Cards" though these are American Footballers, not soccer., and "Baseball Scoops"
We do have an address, from the cards, of NU-CARDS Inc. Box 217 SEAFORD, N. Y. That is on Long Island, but the company does not seem to be trading any more.
By the way, this card was selected because it is a teaser - and if you get bored over the weekend, why not try to find the identity of the pictured prehistoric? Or make one up. A selection of the best will be added, anonymously if you like - or go so wild you need to....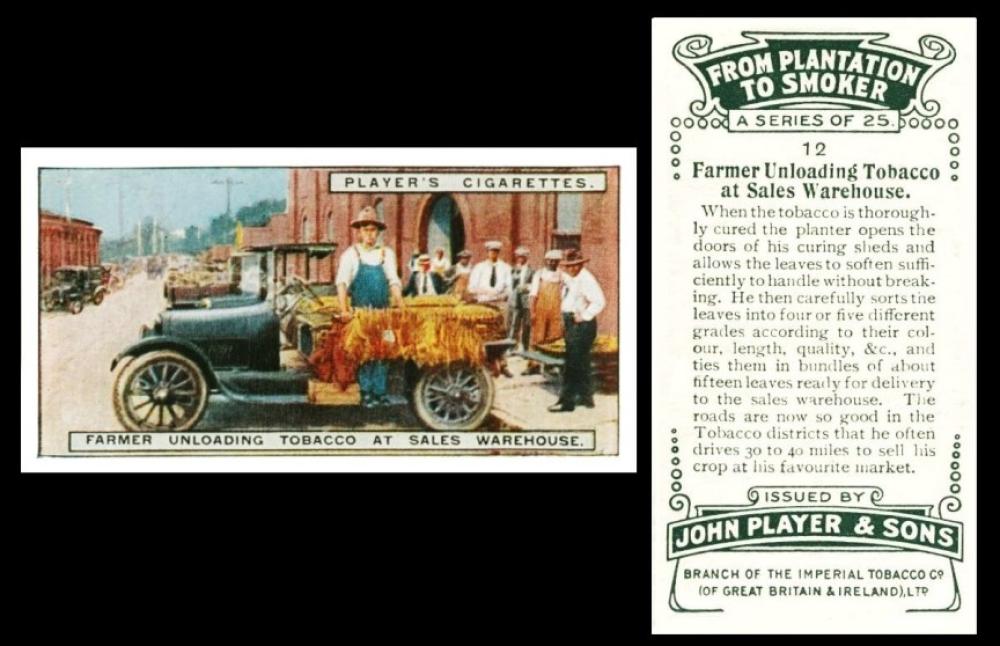 John Player [tobacco : UK] "From Plantation to Smoker" (March 1926) 12/25 - P644-212 : P72-102 : P/72
Today on National Farmers Day we have not gone for animals, for once, but instead have found something very pertinent to our collections, namely the farming of tobacco, which is described very fully on this amazing and little known, set. In fact it is one of the few which are devoted to the growing of tobacco. The only other full set I can think of is the 1928 set of "Tobacco Growing in Hampshire", issued by Brigham & Co., of 107, Broad Street Reading. 
Was that in the hope of discouraging smokers to grow their own? Or did they just not think the subject was of interest? 
Now originally I said that the short description in our World Tobacco Issues Indexes was almost certainly because at the time it was issued the original John Player booklet was still in print. However I have now got that original booklet, it had been filed away with the magazines, and it is not much lengthier, just : 
103. 25 FROM PLANTATION TO SMOKER. Small cards. Fronts in colour. Backs in grey, with descriptive text. Home issue, March 1926.
This reads, in both :  "FROM PLANTATION TO SMOKER. Sm. Nd. (25)"
Wills Coronation Series (1902) Un/60 - W675-079 : W62-56 : W/6 
Now this card finishes the week because on this day in 1269, the Abbey, showing here, was consecrated. What that means is that either a piece of land on which a religious building will soon start to be built, or the building itself once completed, is blessed and declared to be a sacred place. It is the religious aspect rather than the buying of the ground, or the building of the place. 
However such a thing can be done more than once, as happened here. Edward the Confessor decreed as to the building of Westminster Abbey, which was completed in 1060 and consecrated on the 28th of December, about a week before he became its first burial. However his remains were moved to a newly constructed shrine on the 13th of October 1269, and at that time the church, and especially the shrine was consecrated all over again. 
A very quick glean of this set, which occupies almost three pages of our original Wills reference book, part I, though to be fair most of that is the list of cards, for they are unnumbered, plus varieties and printings so far discovered. Some were missing in that volume, but by the second part all had been found - almost certainly one of the success stories that arose from having a list of all the cards in one place.
No month of issue was ever recorded, though we know from the backs, where the name of the company does not appear in full, as well as the design, that this set was issued in what is known as the "Transition Period". so perhaps they were a bit busy.  We also know that the cards were lithographed in full colour by Oppenheimer. We do not know why there were two printings, almost identical, save that one has very wide arrows, similar to the broad arrow used by the War Department, made of three separate lines, and one has narrow arrows, where the lines meet together. There is also a difference in the colour, but it is hard to spot and also the cards vary in hue. The narrow cards were rarer, even in the 1930s. 
Of course the Coronation depicted was Edward VII, the son of the deceased Queen Victoria. Most of the cards show people from at home and abroad who were going to attend, plus the Archbishops of Canterbury and York, but you also get the State Coach and horses, the regalia, the Household Cavalry, scenes inside and outside Westminster Abbey, as well as palaces and buildings several associated primarily with the late Queen (Balmoral, Windsor, and Osbourne House).
Now we have used a card from this set before, so I may be begging a scan of either reverse with the other variety of arrows. Or I may be lucky and the other be the other, if you know what I mean. 
Our World Tobacco Issues Indexes cut the huge description down a lot, and simplifies it. The text from the original version is : 
CORONATION SERIES 1902. (A) Sm. 67 x 34. Front inscribed "Coronation Ser. No. . ." Nd. (60) See W/6
A. Back with "arrowhead" design at side of descriptive text widespread, about 2 m/m across
B. Back with "arrowhead" narrower about 1 m/m across
The only differences in the updated version of this volume is the removal of the words "1902" and "widespread", plus the (A), because the set was actually titled on the fronts. However it does restore the fact that there were picture variations at nos. 1 and 36, linking back to what we were told in W/6.
This week's Cards of the Day...
This week we have suddenly been forced to realise that it is getting cooler, if not colder, and also darker in the evenings, and so we thought a bit of warming up might be in order. So why not have a chat about curry! After all, from the second to the eighth of October it was, very conveniently, the twenty fifth National Curry Week. 
Saturday, 30th September 2023
A&BC [trade : gum : UK] "Footballers 1974/75" (1973) - AAB-405 : ABF-52.1
And here we had quite a simple start, because this is Tony Currie. Now you may not realise that at one point the dish was called `Currie`, or there have been many other spellings, including its first English mention, when it was called `Currey`, that was way back in 1747 in Hannah Glasse`s cookery book. The actual word came from the Tamil language, where the dish was known as `Kari`, though strangely the French language had already given us very similar kitchen-related words, `cuyre`, which meant `to cook` and `cureer` which meant to prepare food. 
This set, which we have hopefully not had already, is described in our original set of British Trade Indexes as : 
Football Series 1974-75 (A) 81 x 56. Back in style of ABF-52.
1. English issue. Back in red and black. Nd. (132)
2. Scottish Issue. Back in green and black. Nd. (132)
Our updated version of the British Trade Index is similar but helpfully mentions the front colour too. The description there is : 
FOOTBALLERS (A) 1974-5. 81 x 56. Nd. (264). Yellow front border. Back "rub coin over space for answer"
1. English issue. Nd. (132). Red back border
2. Scottish Issue. Nd. (132). Green back border
Now in the Scottish issue card number 17 is not our man, instead it is Gordon Marshall. who played for Arbroath F.C. Another strange fact is that on the packet, or so I have been told, the title is "Footballer Picture Cards". And, most importantly, this was the last ever set of A & B.C. Footballers, because Topps took over the company shortly after.
Sunday, 1st October 2023
W.D. & H.O. Wills [tobacco : UK] "Indian Regiments Series" - Scissors brand (February 1912) 22/50 - W675-505 : W62-360 : W/239.A
Our second clue was actually a very fiendish one, for though many of you may have thought that the curry comes from India, it does not. Most of the curries that we eat are really from Bangladesh. And the two favourites are both British versions of the theme, Tikka Masala being from Glasgow and Balti from Birmingham.
The true missing link is on the reverse where it says that this fine man is serving with the 2nd Queen`s Own Sappers and Miners. And this year`s winner of the Local Restaurant of the Year at the renowned English Curry Awards was "The Indian Queen" near Banbury.
A Jemadar, or sometimes Jamadar, showing here, is actually a junior native officer, in any of the regiments serving under the British Army in India. Some places will tell you that the title disappeared in 1947, but it actually stayed on, probably just through usage, or as almost slang, until the mid 1960s. However it is still used in the Nepalese Army. 
Now this card comes at rather an interesting time for this regiment, which only received the "Queen`s Own" part of their title in 1876, when Queen Victoria was granted the title "Empress of India". They were then renamed the 2nd Queen`s Own Madras Sappers and Miners in 1903, as part of Kitchener`s attempt to unify several local forces into one Indian Army.  Then in 1911 the name was changed again, to the 2nd Queen Victoria`s Own Madras Sappers and Miners.
This set is described in our Wills reference book part IV as :
239. 50. INDIAN REGIMENTS SERIES. Size 64 x 37 m/m. Fronts lithographed in colour. Backs in red, with details of subject. Issued between 1905-1910. 
A. "SCISSORS" ISSUE. Backs with illustration of open packet. 
GENERAL OVERSEAS ISSUES ;- 
B. Back with star and circle trade mark
C. Anonymous backs. 
Their appearance in our original World Tobacco Issues Index is more concise, and also the entry for Wills` "Scissors" is only that, reading just : "INDIAN REGIMENTS SERIES. Size 63 x 36. Nd. (50) See W/239.A".
However if you flip the page you will find the "star and circle" variety under W62-417, catalogued as "INDIAN REGIMENTS SERIES. Size 63 x 36. Back in red. Nd. (50). See W/239.B". The main header tells us this was issued through British American Tobacco.
As for the anonymous version, after a bit of a hunt, that is coded as ZB4-21 and again cited as being issued through B.A.T. The text is the same as for the Wills issue above, but the code is "See W/239.C"
As for the updated version of our World Tobacco Issues Index, the text remains the same but the codes have changed - the "star and circle" changing to W675-590 and the anonymous to ZB04-440
Monday, 2nd October 2023
Nicolas Sarony [tobacco : UK] "Celebrities and their Autographs" (1923) card 48 - S111-175.2 : S26-7.2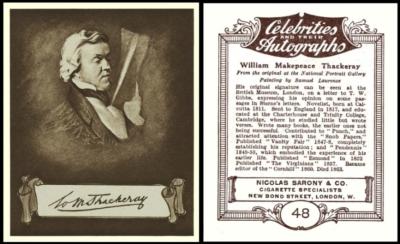 Our third clue showed Mr. Thackeray famed writer of poetry and prose, and also author of a little witty ditty called "An Ode to Curry" - which you can read if you click that link. In fact it has several titles, and is a bit of a curry itself, some call it "Kitchen Melodies" (which was the book in which it appeared), and others just "Curry - a poem". 
Now at the bottom of the page we link to, it tells you something very important, and that is that Mr. Thackeray was born in India. 
And this verse is not his only mention of curry, either, for in his book "Vanity Fair", he writes a very amusing section about Becky Sharp, goaded very inhumanely to try an overheated curry by Joseph Sedley. Perhaps she did murder him, later in the book, after all? And who could blame her. 
Now I did originally say that she also got one over on him by appearing in John Player`s "Characters from Thackeray", as card 13/25 - whilst he did not. But it turns out he is there as card 11, where it is also mentioned that he was "in the East India Company`s Civil Service" - just like William Thackeray's  own father,  who was a writer, and Civil Servant, of the East India Company. 
Thackeray fans will also be interested to know that the great author also appears as card 10 of Taddy`s "Autographs" (1912), and on two sets by John Player`s, their "Bookmarks" (1902), and "Famous Authors and Poets" (1900), 
The full listing for this set in the original World Tobacco Issues Index is as follows :
CELEBRITIES AND THEIR AUTOGRAPHS. Small 70-72 x 41-43. Large 78 x 63. Brown gravures. 
1. Nos 1/25 (25). Size (A) small (B) large
2. Nos 26-50 (25).
     (A) Small size, back with numerals (a) 2 m/m (b) 2 1/2 m/m. high
     (B). Large size, back with numerals (a) 2 1/2 m/m (b) 3 m/m. high
3. Nos.51-75 (25). Size (A) small (B) large
4. Nos.76-100 (25). Size (A) small (B) large
The only change to this listing in our updated World Tobacco Issues Index is that the entry for the first part reads : "1. Nos. 1/25 Inscribed "A Series of 25". (25). Size (A) small (B) large."
Tuesday, 3rd October 2023
J. Millhoff & Co. [tobacco : UK] "Real Photographs" third series (1932) /27 - M699-310.3 : M108-22.3 : RB.113/7 : Ha.538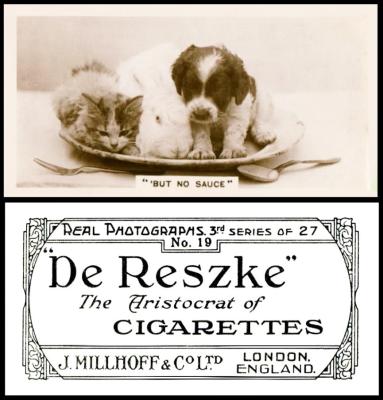 Now the reason for this card is another curry conundrum, because in actual fact the Tamil word `Kari` does not technically mean the entire dish, it means the sauce, which is seasoned with assorted spices.
Now as we have discovered, the first British mention of `currey` is said to be in 1747. But the first place serving the meal was actually in the 1730s - and it was a coffee house, the Norris Street one, near the Haymarket. Then it took ten more years for the first curry powder to be sold to members of the general public. This blend of spices was nothing like the way the original dish was seasoned, and also took no account of the fact that all the Indian versions differed, on a regional basis, using native plants and ingredients. 
And there turns out to be a surprising link between one of our previous cards and the card we have selected for tomorrow! 
Now Millhoff has a rather interesting story. They were founded in 1883, as Drapkin & Millhoff, though the cards did not carry that name, only a brand, "Eldona". This is why one of their sets is called "Beauties KEWA", for the reference books freely admit that they are using the E from Eldona.
In 1899 they broke up, becoming Millhoff and Major Drapkin. Despite this Drapkin & Millhoff combined cards were still circulating in 1900. One of those brands was "Pick-Me-Up" cigarettes, and there seems to have been some kind of promotional deal going on because the printing on these include many references to London theatres and places of interest, where they were presumably sold, perhaps in vending machines. Oddly to modern sensibilities, one of these was St. Bartholomew`s Hospital. 
After the split into two companies, Millhoff continued this cross promotion, issuing large and medium sized cards to advertise "The Messenger Boy" which was then playing at theatres. These seem to have gone on until 1905, though not that many different cards are known. 
At some time both Millhoff and Drapkin came together again, both being bought up by United Kingdom Tobacco. It is from this time that most of the Millhoff cards were issued. And in January 1926 Millhoff was bought by Godfrey Phillips, who started the "De Rezske" brand in May of the same year. 
Our set is described in our original World Tobacco Issues Indexes as :
REAL PHOTOGRAPHS. Sm. 67 x 35. Sepia photos. Nd. See Ha.538 (or RB.113/7 in the updated W.T.I.I.)
1. "A Series of 27". Front (a) matt (b) glossy
2. "2nd Series of 27".
3. "3rd Series of 27".
4. "4th Series of 27".
5. "5th Series of 27".
6. "6th Series of 27".
Ha.538 adds another layer to the story of this set by announcing that it was also issued by Cavanders in 1936 as a thirty-six card set, entitled "Animal Studies" (which we used in our newsletter on Monday the 3rd of October 2022) and by Godfrey Phillips in 1930 as a set of fifty cards, but without any title - however that is usually listed in catalogues as "Animal Studies - Australia". It is stated that both these sets were made up of cards selected from our six series, but that seems to make the Godfrey Phillips date wrong, because that is quoted as having been issued in 1930 and our sets only started in 1931. 
However in our original Godfrey Phillips reference book (RB.13) the entry for this set reads :
7. 50 ANIMAL STUDIES (adopted title). Small cards, size 67 x 35 m/m. Fronts printed by letterpress in sepia, glazed. Backs per Fig.16 in black. Subjects seen are similar to cards by Millhoff ("Real Photographs") and Cavander ("Animal Studies") Issued ?1933 in Australia. 
And the date of 1933 supports the fact that our cards were indeed first. 
Wednesday, 4th October 2023
W.D. & H. O. Wills [tobacco : UK] "Arms of the British Empire" - Specialities (1910) 7/50 - W675-337.A : W62-214.A : W/40.C
So here we have a very curious card indeed with several links to curry. Firstly, as we found out already, the Thackerays were heavily involved with the East India Company, his father, and his grandmother on his mother`s side both being civil servants in their employ. The East India Company also state in several places that they brought to this country the first ever curry powder, which was based on such a product enjoyed by their staff. And the reverse of this card shows that the company was of such importance that this card actually tells us that "no arms are registered for India". This means that very often the company arms were used to stand for the whole country - a company which purchased land from local rulers, and were allowed to have their own armies, some of which are the forerunners of British Army regiments.
This set was issued in several formats, including four standard size printed on card, which are described in our original Wills` reference book part III as : 
40. 50 ARMS OF THE BRITISH EMPIRE. Fronts lithographed in colour; backs with descriptive text. Issued 1910. 
HOME ISSUE - Backs in grey.
    A. With I.T.C. Clause.
GENERAL OVERSEAS ISSUE - Backs in black.
    B. Without I.T.C. Clause. Subjects similar to A
AUSTRALIAN ISSUE - Backs in grey.
   C. Without I.T.C. Clause. With "Wills Specialities" advertisement.
   D. Without I.T.C. Clause. With "Havelock" advertisement.

In C and D subjects have been redrawn, similar to A except for card No.1 in which "Hong Kong"replaces "Hudson Bay Company". In these two issues, the descriptive text has been added in a blue colour shade. 
The same basic designs were used for a series printed on satin, medium sized cards mounted on thin board. This series is recorded in Section IV of Wills` issues. 
Some time we will use the satin ones, and give a fuller description, but here we will just note that the medium size is 70 x 48 m/m and large (which is without Wills` name) is 82 x 55 m/m - plus that they were issued between 1910 and 1915.  And before we race on, only the home issue ever seems to have had the full date of issue recorded, which was October 1910. 
Now by the time of the update to the Wills` reference book, part IV, it had become known that there was yet another set of the standard sized cards, and these are described therein as : 
40. ARMS OF THE BRITISH EMPIRE - see page 90 
There is an anonymous series not recorded :-
B1. With Album Clause ("...price 25 c. each"). Anonymous issue in Canada, see page 41, item C42, of Mr. Burdick`s American Catalogue.  
The plot thickens further in our World Tobacco Issues Index because W62-112 declares two more sets, a first and second series each of 25 large cards. I cannot find these in the original reference books, maybe you can?
As for our set, that is listed as W62-214, under "Australian Issues". The description is quite short, only :
ARMS OF THE BRITISH EMPIRE. Sm. Nd. (50) See X21/200-126.1.B.
A. "Wills` Specialities" back
B. "Havelock" back
The updated World Tobacco Issues Index, by the way, is exactly the same wording except for the cross reference, which in that case leads to RB.21/200-126-1B. Now these codes lead to the Handbook to the World Tobacco Issues Index (X21) and the British American Tobacco Index (RB.21). In the Handbook there is a most excellent write up - which I will try to get scanned in - and it also tells us that there is a summary in "The Cartophilic World" on page 1442 with an amendment on page 1485. So I will try to get those scanned in as well, if I can. Not sure what is in the British American Tobacco book yet, but will look in a minute
Thursday, 5th October 2023
Tetley & Sons [tobacco : UK] "World`s Coinage" (1914) - T225-900 : T24-3
Following on from yesterday`s card, here we have another link to the East India Company, for look closely at this coin and you will see that their name is upon it. In fact before Indian coins came under the authority of the British Empire in 1835, they were issued by the East India Company. To start with, the coins were issued by the so called Presidencies, which ruled over the colonies that had been set up to mark the country into sections. Each one of these had different coins to start with but later on the East India Company were able to offer and supply a standard set of coins to all the different areas, quite a massive undertaking. However it also meant that they were then in total control of all those areas. 
If not for the 1857 Rebellion this situation may have continued for ever However that caused such upheaval that the East India Company territories were lost, and came under the control of the British Empire. The coinage changed too, to reflect this, and from then on had the reigning monarch`s head on, all except for Edward VIII. This lasted until August 1947, after which India became a republic and changed the coinage once more, though not for several years after that event. 
This coin is a Mohur, and it was made of gold. The name Mohur appears in many places throughout India and parts of Asia, and dates from the sixteenth century. The word is a lot earlier than the coin, and it came from Persia, where it actually meant a signet or seal, and almost certainly links to the raised mark on the coin.
In 1918 the British government dropped it from the list of coinage produced, but it still continued to be produced in many states, perhaps as an act of rebellion, right until 1947. 
This card is an oddity, for many reasons, and not only because they vary wildly in their centering, with the width of the margins being all over the place. Also, from the bright colours and style of the picture you would easily believe it was a trade issue, but it firmly says "Oracle Cigarettes". 
This turns out not to be a company, but a brand, of Tetley & Sons, no relation to the tea makers, at least I do not think so. Our Tetley was based in Boar Lane, Leeds and were founded in 1859. They are more known for their participation in the multi-issuer one off card called "The Allies", or sometimes "The Allies` Flags", and the set that almost everyone had a bite of, "War Portraits". 
Our set is described in our World Tobacco Issues Indexes as : 
WORLD`S COINAGE. Sm. 63 x 35. Inscribed "First Series of 50". Nos. 1/25 only issued. "Oracle" brand issue. See H.398.
H.398 thickens the plot, for it tells us that this set was also issued, in the same year, 1914, by John Sinclair of Newcastle-on-Tyne - and that their version was a set of 50. 
I cannot find any link between Tetley and Sinclair, no mergers, nor buy outs, so what happened? Does anyone know...?
Also it would be amazing to see the back of a Sinclair card, any card, just to see the design, and to see whether Tetley copied that and just forgot to change the number in the set - which is a possibility. 
Friday, 6th October 2023
Duke [tobacco : O/S : USA] "Coins of All Nations" (1889) Bk/50 - D900-090 : D76-10.A : N72
So here we have something which everyone associates with curry - but wait - for it has not always been so. In fact it was the Portuguese who added it, when they arrived in India with Vasco da Gama in 1498.
That was not so long after they had been introduced to the chilli spice, for it only arrived in Europe in 1494, and it started off as just a pretty garden plant with long red "flowers". We can thank some unknown monks for being either brave enough or foolish enough to see whether it could be cooked. Reportedly this act was a simple case of running out of their usual black pepper but maybe not - for we know that peppers of all varieties were used for medicinal purposes in ancient times, and that religious orders were quite well up on such knowledge.
In any event, chili came to Britain in 1548, from India, and about a hundred years later it was already known about the pungency of the scent, as well as not to touch your eyes, etc, after touching the plants. 
Our card shows the country, not the plant, but those "feathers" in the hair do look very much like chillies, and they are the right colour too! And the truth is that we do not know exactly where chillies first came from, only that it was somewhere in  Chili peppers are believed to have originated somewhere in Central or South America and it seems to have narrowed down to Bolivia. However look on a map, and Chile is right next door.....
There are three printings of this set, which are described in our World Tobacco Issues Index as : 
COINS OF ALL NATIONS. Sm. Bkld. (50) See ABC/72. Ref USA/72. 
A. White background. 43 known
B. Shaded background. 34 known
C. Shaded and stippled background. 11 known. 
I will see if I can find out which cards these were. In the mean time there is a gallery of the entire set at the Trading Card Data Base / Duke / CW 
Actually this information about the backs was repeated, or maybe first stated, by Jefferson Burdick. He catalogues this set as :
72. Coins of All Nations. 
a) white background
b) shaded background (two varieties for some). About 90 different known in both types. 
However he did not value them very highly, just ten cents a card. 
By the time of our updated World Tobacco Issues Index there seems to have been some changes. That lists the total numbers slightly differently, as : 
COINS OF ALL NATIONS. Sm. Bkld. (50) Ref USA/72. 
A. White background. (50)
B. Shaded background. 33 known [one missing]
C. Shaded and stippled background. 17 known. [six added]
Thirty-three and seventeen are not so many to list, so maybe we could do so here, if you let us know which countries you have in the shaded, or shaded and stippled versions. Maybe there are more than that? Mind you it also might be helpful for someone to also add a guide as to how to tell these apart, but I imagine that the shaded are just grey and the stippled are like lithographs, with little dark and light dots making up the shade? 
Before we close, there is something else intriguing about this card, for it gives the name of the Chilean coin as an escudo, which was also a Portuguese monetary unit from 1911 until it was replaced by the Euro. Even weirder, it looks like the escudo was a Chilean monetary unit first.
Any numismatists in the house? 
And there I must halt, with the chiming of my ships bells on my clock, which mark the hour and the half hour, and make people stare at me on the bus when I have forgotten to turn them down, for they are proper ships bells, and loud too. So apologies to all the people on the H12 today, en route to Stanmore, though I got out at Hatch End for the art exhibition. 
I have not had time this week to start the gleaning of the Cigarette Card News for October 1933, or rather I have had time but needed brain and that was singularly occupied elsewhere. I may start that over the weekend.
I think the only thing I did not get done here was the write up from the Players original reference book and the Duke card of the day from Friday out of the updated World Tobacco Issues Index, plus the Burdick. Not much. 
Thanks for tuning in, hope you had fun, and also hope you gained a germ of inspiration to look something up and continue on from the bare bones that I laid before you.
And if anyone of you would like to send us some scary scans of creepy cards for Horrible Hallowe`en, please do. The [spider`s] web address is webmaster@card-world.co.uk