ran a bit late last night but have now added the codes and gen on the missing cards. We also had some scans sent in, so watch this space whilst i make them into pairs.
Anyway the idea of these newsletter is that they are just starting points to be filled in as and when new information comes to light. 
So this week we will be taking you on a whistle stop tour of things that ought to be. We are starting with a wistful young girl who is almost forgotten by all but movie historians - move on to a grand adventure that ought to be more known and celebrated - learn of the humble start of something that grew into a name that everyone knows - try to track down some very rare cards showing a titian tressed beauty with her former name that nobody now remembers - hear a tale of a whale from a time long ago - celebrate a county that is pretty much only known of for its collegiate connections, and close with a baseball star whose name will never be forgotten.
Lets start with that young maiden for on ...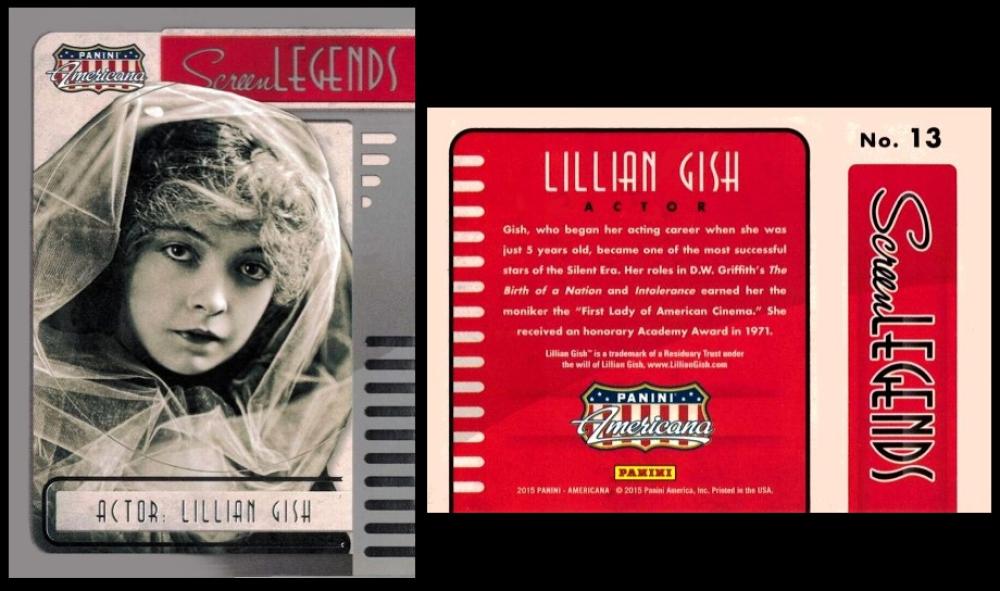 Panini [trade/commercial : cards : O/S : USA] "Americana Screen Legends (2015) 13/16 
 Lillian Diana Gish was born on October 14, 1893, in Springfield, Ohio. Her mother was left with her and her sister for long periods whilst her father went away. Because the two girls were pretty, the mother thought she could make a little bit of money by putting them on the stage. Lillian`s first appearance was at either the age of six, or five, accounts vary - and Dorothy`s was at the age of four. They trod the boards for thirteen years, and then Lillian met film director D.W. Griffith.
He liked her from the start, but it was a friendship, not a romance. That is why it probably lasted for so long. In fact she never married anyone. Sister Dorothy did get married, but they never lived together, she came home to the family unit right after the wedding. And after the divorce she never married again. 
Lillian Gish is now remembered chiefly, if at all, for being the maiden in peril, a role she portrayed to great effect in many of her films. However she had a second career in the 1940s, after having been off screen for some years, and she was even nominated for an Academy Award for `Duel in the Sun` in 1946. Her last film was "The Whales of August` in 1987. 
She died in February, 1993, aged just under her century.
The actual base set of Panini Americana has just 73 cards.  However this card is one of a sub set of just sixteen "Screen Legends" that show the star alone, and then there are also "Screen Legends Co Stars" and "Screen Legends" relic cards, with a small piece of clothing worn by the star having been attached and laminated. In fact there are 48 different sub sets to that base set, which you can have a look at courtesy of the Trading Card Database/Americana 2015 - and if you scroll past the main listings there are also four parallel sets in different colours.
W. Duke, Sons & Co. [tobacco : O/S : USA] "Bicycle and Trick Riders" (1891) Un/25 - D900-050 : D76-6 : ABC/100 : USA/100a
Now here we have a tale of adventure that deserves to be more known. For today, a century ago, three weightlifters from Bombay decided to travel around the world. By bicycle. And they did not come home until March 1928. Then they wrote a book, called "With Cyclists Around The World".  In fact there were six men, and they were inspired by a lecture tour given by a man who had walked from France to India. The reason why you do not hear of the other three was because they did not complete the trip - one left the team in Tehran and came home - whilst two decided to stay in America.
Even more curiously, these three were not the only Indians to undertake this trip in the 1920s and 1930s, lots of other men also did it, at various times. The question is why. And that may never be answered. 
You can read more about this courtesy of Scroll Magazine - and it even has pictures!
Before we ride on, many thanks to Mr. King who provided us with this front and back scan. He also points out that in his view this issue disproves the generally considered opinion that the first set devoted entirely to the bicycle was John Player`s "Cycling", issued in 1939. That makes sense to me too. Also, if you look at the entire set, it is not just pretty ladies on a single sort of bicycle, it contains a tricycle, a tandem, a unicycle, and an Ordinary - or Penny Farthing. 
 Our original World Tobacco Issues Index records this set as
"BICYCLE AND TRACK RIDERS. Lg. A.T.C. back. Unnd. (25). See ABC/100. Ref. USA/100a." 
The text remains the same in the updated version but the error over the mistyping of "track" rather than "trick" has been corrected. 
Now the ABC/100 reference was very interesting because that is Jefferson Burdick`s American Card Catalogue, and in there it tells us that there was a reason for this sudden appearance of a suffixed `a`, for this set was also issued by someone else. The full text reads : 
100. Bicycle and Trick Riders (25)
a) Duke issue b) Gail & Ax issue. 
35 cents each
Gail and Ax were based in Baltimore, but were taken over by American Tobacco Co. in 1891, and this set was issued almost immediately. The cataloguing of this version in the World Tobacco Issues Index is exactly the same as for the Duke version, save the code.
We can add a bit more information now as well, our cards advertise Honest Long Cut Tobacco, whilst Gail & Ax`s are for Navy Long Cut Tobacco. And the lithographers were Donaldson Brothers of New York, who produced other sets and ephemera for Duke - which you can explore at The Metropolitan Museum of Art/Donaldson Bros
Bassett (Barratt Division) [trade : confectionery ; UK] "Health and Safety" (1977) 48/50 - BAS-21
We all know Walt Disney, but did you know that today, in 1923, another centenary event, he founded the Disney Brothers Cartoon Studio ?
This was renamed Walt Disney Studio in 1926, and then Walt Disney Productions in 1929.
In May 1928 they had created a mouse called Mickey, who took part in a brief film called `Plane Crazy`. He had almost been called Mortimer Mouse. His co-star in the film was a lady mouse called Minnie, and she must have enjoyed it because they are still together.
All this time the Disney Studio was involved with what were known as short subjects, little pocket sized treats that were used as fillers before the main feature film. These needed to introduce new characters. The first was Pluto, showing here, though he started out as a bloodhound chasing Mickey, who had just escaped from jail. That was in 1930. Then he turned up later in the same year in another short, but called Rover, and belonging to Minnie Mouse. He only became Pluto in 1931.
Goofy came along in 1932. Then in 1934 they not only introduced a new friend for Mickey and Minnie, called Donald Duck, but decided to have a go at making a cartoon the same length as a feature film.
The result was "Snow White and the Seven Dwarves", released in 1937. 
This set uses Disney characters to bring home messages about health and safety, but I am very impressed with this one, which relates to mental health and welfare, something we think is only a recent study. In fact it is known that animals are affected by mental abuses as well, if you shout at them they become sullen and withdrawn, and may eventually become violent against their abuser. 
Now because this set was issued in 1977 it is not in our updated British Trade Index, only in the original set, part three, issued in 1986, where it is described as just "Disney - Health & Safety. Nd. (50)"
Now this is another card for which we need your help, because today in 1918, Margaret Carmen Cansino was born in Brooklyn, New York.
There are several cards of her with this name. Most of these are German - and they start in 1934 with the second series of Garbaty`s `Modern Gallery of Beauty` (or "Moderne Schoneheitsgalarie") where she is card 222. Then there are several brand printings of "Bunte Filmbilder" first and second series, in which she is card 128 in the first series (1936) and card 426 in the second (1937).
Pretty sure we will turn one of those up. 
Strangely she does not then appear on any card until she is Rita Hayworth, card 31 of the 1947 Carreras "Turf" package issue entitled "Film Stars".
She made her first film in 1935, as Rita Cansino. And she retained the name for several films, including `Charlie Chan in Egypt`.  However in 1937 she married and her husband and manager changed her name to Rita Hayworth. This was despite the fact that the Cansino name had a strong theatrical connection, her father being a well known dancer and her mother having been in the Ziegfeld Follies. Her husband, some twenty-two years older, also made her change her natural hair colour for the striking red that she is forever linked with.
In 1943 she remarried, Orson Welles. This only lasted until 1948, and divorce, though they did have a daughter. Part of the reason the marriage failed was that she had met someone new, a Prince, Aly Khan. They married in 1949 and had another daughter, but this too ended in divorce, after just two years. She then married Dick Haymes, the singer, and finally James Hill, a movie producer. 
Sadly towards the end of her life Rita Hayworth developed Alzheimer`s disease. Her youngest daughter looked after her, and also became the founder, and eventally president, of the charity Alzheimers Disease International, raising funds and awareness .
Rita Hayworth died in May 1987.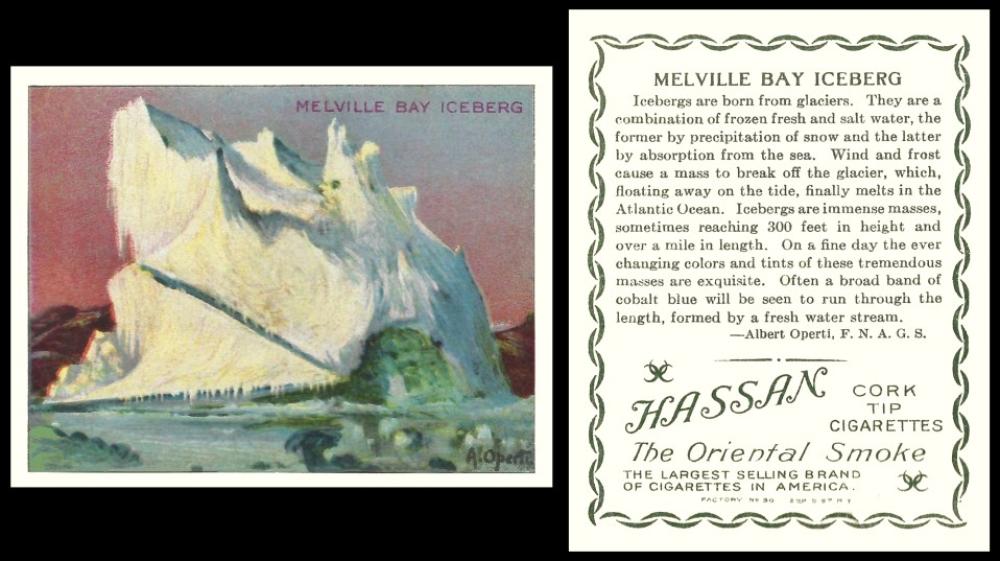 American Tobacco Company [tobacco : O/S ; USA] "Arctic Scenes" - untitled (1910) Un/25 - A565-010 : A54-5 
I know, this is not me at all, but I will gloss over the parts I disapprove of, for on this day in 1851, five hundred copies of Herman Melville`s novel `The Whale` was published in London.
Now Herman Melville was an interesting man born in 1819 in New York. His family were quite wealthy, they sold furs, but his father died in 1832 and he and his brother found themselves running the business. This does not seem to have worked out, for not many years later we find Herman Melville working on a ship, as crew.
Though the days were long and the work hard, he found inspiration there, and wrote several books later on in his life that were based around the adventures he had in his youth. One of these was `The Whale`. 
Now in case you have not guessed by now, we no longer call this book by that title, but after the name of the whaling ship that so strongly featured. And that was `Moby Dick`.
A lot of the tale was also based on actual events, even the name of the ship, which was inspired by newspaper stories of a white whale that used to attack the ships that tried to catch it. Some say that the sailors called this whale Mocha Dick, after its cream like colour, but there are also reports that the poor whale was eventually killed in 1838, near Chile, close to Mocha Island. And the story itself had a lot to do with an incident in November 1820, when a ship from Nantucket, in Massachusetts, called the Essex, was rammed by a whale in the course of a chase, and the vessel sank beneath the waves. Though crewmen did survive, what followed was pretty grim. 
By the way, the American edition of `The Whale` was published a month later, in November 1851
We took a bit of a liberty with this card, for Melville Bay is not actually named after Herman, but after Robert Dundas, 2nd Viscount Melville, the head of the Admiralty. However this is a totally new set to me, so many thanks to Mr. Jackson who donated the scans, and who made the connection with Melville. 
Our original World Tobacco Issues Index catalogues this set under the American Tobacco Group Issues, rather than the main ATC listing, as "Arctic Scenes (A) Lg. 80 x 64. Unnd (25). "Hassan" Brand issue. See ABC/T30. Ref. USA/T30".  
It`s slightly different in the updated version, reading ""Arctic Scenes (A) Lg. 80 x 64. Unnd (25). "Hassan" Brand issue. F30 and 649. Ref. USA/T30".  The F30 and 649 refers to the factory numbers; to "Factory No.30, 2nd Dist. State N.Y.", and to "Factory No.649, First Dist. N.Y." - though both these factories are more commonly associated with silks and blankets than with cards. Not sure if we have any readers who can supply any information about the factories, though there is some information at the Sports Collectors Digest / Factories - but if so do please get in touch. 
By the way the ABC/T.30 reads just "Arctic Scenes(25) Hassan. Lg.". They are valued at just five cents each.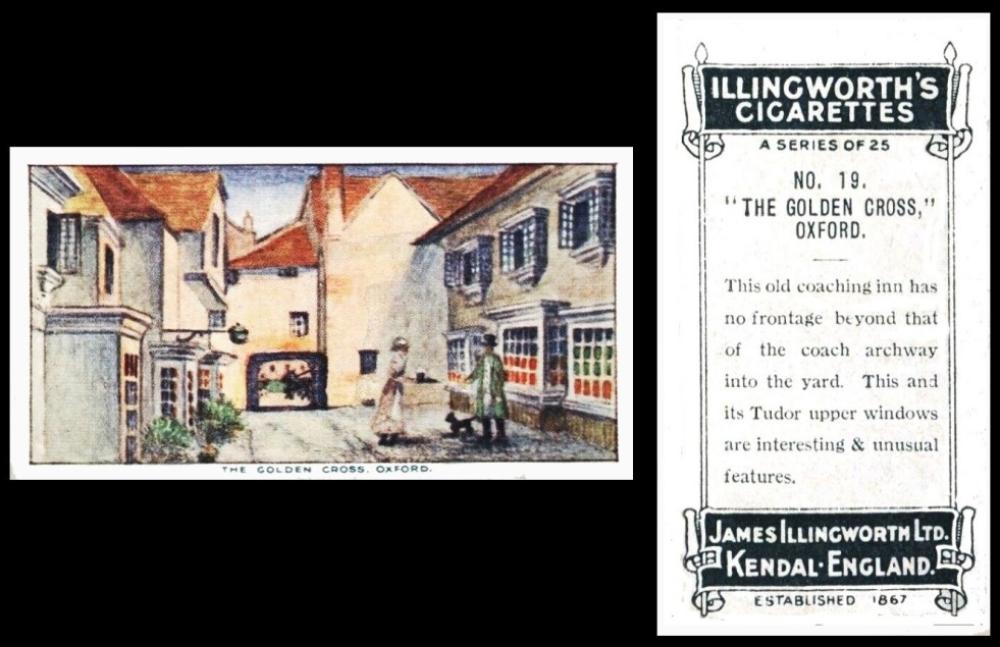 James Illingworth Ltd [tobacco : UK] "Old Hostels" untitled (1926) 19/25 - I.120-500 : I/2-14
Today we greet all our card collecting companions from Oxfordshire for it is Oxfordshire County Day. It is also the feast day of the patron saint for those parts, a lady called Saint Frideswide. She lived in the area during the eighth century, and was the daughter to a leader or maybe even a King, called Didan, whose area was present day Oxford.
She was a wise girl and swore never to marry, but her boast attracted the King of Leicester, who vowed to take her hand as his bride. He sent a group of men down to get her, and she blinded them, not by her actions, but by her thoughts. They released her, were sorry, and saw again. But they decided not to obey their master any more.
He was made of stronger stuff and came for her himself. A vision appeared to her in a dream and told her so she ran away. However her power remained and as the King reached Oxford he found his sight slowly failing until it was no more. It is also said that because he did not say sorry he never saw again. 
Frideswide did not help him, though by then she had gained a reputation for healing, especially of blindness. She stayed underground for three years and then went into a monastery where she died, on October 19th, 727. s then said to have performed miracles and healed the sick, enabling the blind to see. After three years she returned to Oxford, again by boat, and lived in a monastery founded by her father, until her death on October 19th, 727. 
This set is very similar to "Old Inns" by Richard Lloyd. And this inn is in that set as well, but the picture is very different - it is an upright one with a stagecoach and a serving maid. Not sure if anyone has both sets and would like to make us a comparison? 
Our set is listed in both the World Tobacco Issues Indexes as : "OLD HOSTELS (A). Sm. 69 x 38. Nd. (25)". The heading for James Illingworth tells us that they were founded in 1867, started making cigarettes in 1895, and became a branch of Gallaher Ltd. in the late 1930s, after which their card output changed to large photographic cards, and the name was used on sets also issued by Gallaher and Pattrieouex, namely "Shots From The Films" (1936/37), "Flying" and "Our Countryside" (1938), "Coastwise" (1938/39), and "Beautiful Scotland" (1939).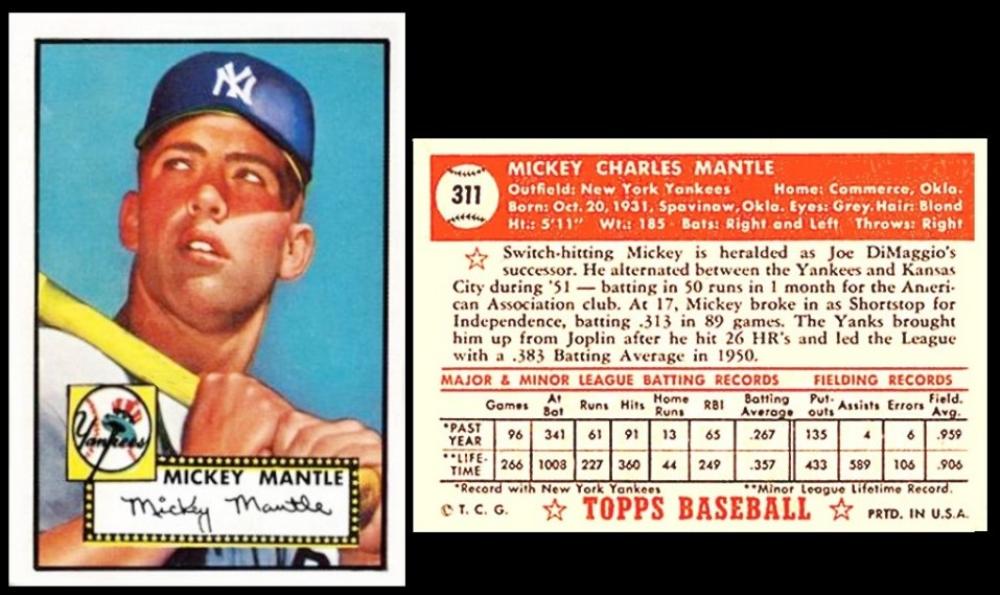 Topps [trade : gum : O/S : USA] "Baseball 1952" (1952) 311/ 407
And now with just ten minutes before midnight we must swing that bat and do a very quick home run round up about Mickey Mantle who was born today in 1931. 
Mickey Charles Mantle was born in Spavinaw, Oklahoma and played baseball for the New York Yankees between 1951 and 1968. He was ambidextrous, and equally as powerful with the bat in each hand. He won seven World Series with the Yankees, and hit five hundred and thirty six home runs, despite the fact that he suffered with weak legs as a child, and in 1946, when he was just fifteen, he was badly injured playing American football, so much so that he ended up with an infection in the bone tissue of his ankle and shin that required five operations. Then in 1951 he fell over whilst playing in the World Series and hurt his knee; which became a weak spot and which he would frequently re-injure after. Still he rates as one of the all time best. And he was elected to the Baseball Hall of Fame in 1974.
This card has another version, so look closely at your card and then hunt the other. The main difference between the two is that there is a black border all the way around the yellow square in which is the circle of the New York Yankees logo on one of the cards (which we will call `a`) and on the other, (which we will call `b` - at least until corrected) the black line around the square is only partial. Then there is the direction of the stitching on the baseball, `a` points left and `b` right. Finally the "e" on his autographed surname can be found either curling upwards on `a` or remaining straight on `b`. 
This week's Cards of the Day...
This week, after all that curry, we are eating again, and bringing you World Porridge Day, which is the 10th of October. However it is part of National Porridge Week, which lasts until the 15th of October 2023 so there is plenty of time to pop some oats in your trolley, and if you think that is all a bit much hassle, well have a look for an instant version that you can make in the microwave. 
One thing I did not know is that World Porridge Day was set up by the wonderful Scottish charity Mary`s Meals, and quite a time ago as well, in 2009. 
So let us look and see what else we can discover.....
Saturday, 7th October 2023
Topps [trade : gum : O/S : U.S.A.] "Football" first series (1960)
Here we have a bit of a tangent, but here we have bears, and the first thing I think of when I think of porridge is Goldilocks and the three bears.
One day in 1831 a lady called Eleanor Mure wrote a story called "The Story of Three Bears". These bears were wild, and only friends, and the bears were not made into a family with mummy, daddy, and baby, further humanising them until the 1870s. The name "Goldilocks" was also only first used for the heroine in 1904, though she had been there all along, meeting all kinds of sticky ends that were not exactly child friendly. 
The confusion comes in with the poet, Robert Southey, who wrote a very similar tale in 1837, but because he had his printed he is often thought to be the first author. His is also the first edition to be mass produced, as Ms. Mure wrote, and mostly illustrated, one copy, and only one, for her nephew. Mr. Southey also says that the tale was told orally by his family, and had been for years. 
And after the slight, but expected, trip into the land of the Fairies, that suggested to me this card, which shows the line up for the Chicago Bears American football team. 
The story of the American football card begins with a Goodwin set, issued in 1888, which contained a single card showing a footballer, namely Henry Beecher of Yale.   It took until 1894 for a whole football set, that being issued by Mayo.
More about these in the newsletter on Saturday. 
It seems pretty certain that Topps issued this set because they bought Bowman in 1956, who were well known for sports cards, and had issued their first football set in 1948. Topps first baseball set was possibly also modelled on Bowman`s cards, and was issued in 1952.
However what Topps did with that first set changed the game, for they added player statistics on the reverse. 
Sunday, 8th October 2023
Ardath Tobacco Co. Ltd [tobacco : UK] "Sports Champions" (1935) /50 - A745-510.B : A72-39.B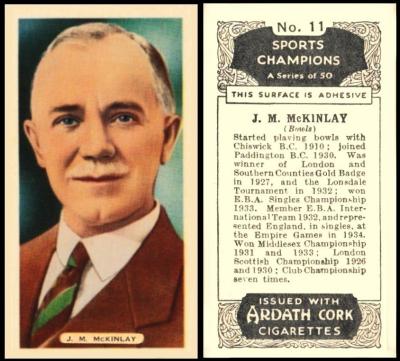 This second clue was fiendish, but this is J.M. McKinlay, and he played bowls. I know these are a different kind of bowl to that which you eat your porridge in, but these are clue cards, and some are designed to test you!
Our man`s full name was James Meikle McKinlay, and he was born in Scotland in 1875. His biggest claim to fame was playing, for England, in the 1934 British Empire Games. And he also appears on card 17 of Gallaher Ltd`s 1934 set of "Champions", presumably because of that win. 
He died in 1961.  
Now our original Ardath reference book, RB.6, issued in 1943, does not number the sets within, it only lists them in alphabetical order. However the description is long and detailed, and reveals there are two versions - namely :
March 1935. 50. SPORTS CHAMPIONS (titled series). Size 1 7/16" x 2 11/16". Numbered 1-50. Fronts printed by offset in 4 colours, titled, white margins, varnished. Backs printed in dark grey, titled "A Series of 50 Sports Champions" with descriptions, adhesive. Issued with State Express `333` Cigarettes. Pocket album issued, price 1d.

June 1935. 50. SPORTS CHAMPIONS (titled series). Size 1 7/16" x 2 11/16". Numbered 1-50. Fronts printed by offset in 4 colours, titled, white margins, varnished. Backs printed in dark grey, titled "Sports Champions. A Series of 50 " with descriptions, adhesive. Issued in New Zealand with Ardath Cork Tipped Cigarettes. Subjects the same as above set. (This series has no album offer.)
This is much reduced for our World Tobacco Issues Indexes, to simply : 
SPORTS CHAMPIONS. Sm. Nd, (50) Special album issued. 
A. Home issue. Brand issue, "Issued with State Express" at base, 
B. Export issue, "Issued with Ardath Cork Cigarettes" at base. 
Now at first I thought that the word "Tipped" was omitted from these later books, but if you look at our card, the "Tipped" is not actually there, it was just added to the description in the original volume. 
In the future we will definitely use a home issue, but until then it ought to be recorded that the album offer on those is printed not down the side, nor at the bottom - instead it is located in its own box between the top box with the set title and the text, starting with the name of the subject depicted. And it actually reads, in two lines :  "STATE EXPRESS POCKET ALBUMS / ON SALE AT TOBACCONISTS. 1d.". Whilst the bottom brand box reads, in four lines :  "ISSUED WITH / STATE EXPRESS 333 / LUXURY CIGARETTES / 10 FOR 6D. 
Monday, 9th October 2023
J. S. Fry & Sons [trade : confectionery : UK] "With Captain Scott At The South Pole" (1913) /25 - FRY-430 : FRY-18
Our third clue celebrated the bravery of Captain Lawrence Oates, the man who walked out into the blizzard so as to try and save the lives of his fellow men. In the end none of them survived. This is a lovely set, and I much prefer it to John Player`s "Polar Exploration" (1915).
This cairn was erected by the search party, led by the surgeon Edward Atkinson, in November 1912. That is pretty close to the decision to issue this set, though there is the sense that they were hoping maybe someone would be found alive - and they were not. As it says on this card, the bodies of Scott, Wilson, and Bowers were actually found by the search party, but were not brought back. The intention was to do so, and another cairn was built by or maybe over them as a marker; however there was no trace of the cairn when a party did return.
The body of Captain Oates was never found - nor was that of fellow explorer Edgar Evans, who had died in February, of a head injury, after a fall.
Our British Trade Index part I, (RB.25, printed in 1962), covers all known non-tobacco cards that were issued before 1945. This set falls under section 1 of the Fry listing, "issues 1908 - 1917" and is described as : "WITH CAPTAIN SCOTT AT THE SOUTH POLE. Sm. 65 x 36. Nd. (25)"
A similar description appears in our updated volume but usefully inserts the date, 1913, in place of the word "Sm." 
Tuesday, 10th October 2023
Gallaher [tobacco : UK] "Plants of Commercial Value" (1917) 19/100 - G075-430 : G12-56
Now we cannot talk about porridge without talking of oats, which were one of the first cereals cultivated by man - in ancient China and Greece. And it was the Greeks who were the first to turn them into a mash that was very like our current porridge. However the original home of the wild oat came from the Near East, just like wheat and barley; but for some reason the oats were cultivated for food much later than those. We do not know why this was, perhaps it was simply that one of them did not grow so well and they bulked it out with the oat, just as a test. Or maybe the oat does not look much, when compared to the wheat and barley, which have larger husks.
A run of bad weather could also have caused its chance to shine, for the Summer County Margarine un-numbered set of "Countryside Cards" (issued in 1975) tells us that "This hardy crop does well in poor conditions and is therefore of particular value in the wetter, hilly areas of Northern England and Scotland". It also says that 90% of the crop is used for animal food, and that it has a secondary usefulness because the straw can be used to feed them too.  
And their hardiness is well illustrated on John Player`s "Struggle for Existence", (1923), card 25, where the front shows how if you plant them too deep they will just produce roots further up the stem at the point where it ought to have been.
Anyway oats arrived in the British Isles with the Anglo-Saxons, about 600 AD, so it must have come through Europe with the Saxon side. As it says on our card, the oat, in this case the common oat, or Avena Sativa, is actually a form of grass, and importantly, it can be eaten by human and animal alike; in fact you will find it depicted as `sprouting oats for poultry` on card no.7 of Ogden`s "Poultry Rearing and Management" (1923).  This is also mentioned on the Summer County Margarine set, where it says 90% of the crop is used for animal food, and that it has a secondary usefulness because the straw can be used to feed them too.  
As an added bonus, card 16 of John Player`s "Products of the World" (1908) shows us a map of the world that demonstrates how far oats had spread. The red on the map shows the current cultivation, in America and Canada, the tip of Africa, mid Spain, the British Isles, Europe and Russia. To this day, Russia remains the chief producer of oats. The reverse of the card says that "..in Great Britain oats are cultivated to double the extent of wheat." It also adds that "The finest oats are grown in Scotland." 
Our card is unusual because it was re-issued in 1923. Our original Gallaher reference book (RB.4, issued in 1944), describes them as : 
1917. 100 PLANTS OF COMMERCIAL VALUE. (titled series). Size 2 1/2" x 1 1/2". Numbered 1-100. Fronts printed in three colours by letterpress from screen blocks, blue marginal lines, white margins and titles set in a white panel. Backs printed in brown, with descriptions and "Issued by Gallaher Ltd. London."

1923. 100 PLANTS OF COMMERCIAL VALUE. (titled series). Similar to the above and a reprint. The main difference can be seen on the backs of the cards which is whiter and more "polished". The brown printing is also in a somewhat lighter shade. Cards are also known on a blue-grey (bleute) tinted board. Both sets of "Plants of Commercial Value" printed by Tillotsons Ltd. Bolton. Plain back cards are known to exist, but it is thought these are proofs and that no unprinted backs were packed with cigarettes. 
By the time of our World Tobacco Issues Index, this set appears under section 3 of the Gallaher issues only, which covers issues 1921-29, and omits any reference to those 1917 cards, even though, as it says above, they were distinctly different. This description, and, by the way, it is identical in the updated World Tobacco Issues Index, purely says : "PLANTS OF COMMERCIAL VALUE. Sm. Nd. (100)"
Wednesday, 11th October 2023
W. A. & A. C. Churchman [tobacco : UK] "Celebrated Gateways" (April 1925) 17/50 - C504-440 : C82-38 : C/30 (RB.10/30) : H.347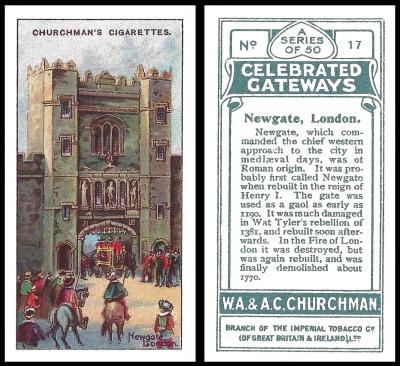 Now this is a curious connection, but in this country porridge seems to have picked up a certain link with prison. Some of us well remember the television show "Porridge", with Ronnie Barker, and if not it is mentioned on card 11 of Golden Wonder "TV All Stars".
The reason was that in earlier times porridge formed the breakfast for prisoners. This was because it was slow release food, so they did not have to stop working until lunchtime, and also it was good for them health-wise. You may be wondering why this mattered, but at that time the prisoners worked, either in the local farms, building roads, etc, and a healthy inmate would "earn his keep", which is another phrase we get from prisons. 
One of the most feared prisons was Newgate, in the City of London, which was built in the twelfth century. It is even mentioned on our card, where it says that "the gate was used as a gaol as early as 1190". Actually it seems now to be cited as 1188. The site on which it stood was part of Roman London, and it was a gate in the wall that surrounded Londinium. Our card again provides us with the information of what happened later, that "it was probably first called Newgate when rebuilt in the reign of Henry I . . . was much damaged in Wat Tyler`s rebellion of 1381, and rebuilt soon afterwards. In the Fire of London t was destroyed but was again rebuilt, and was finally demolished about 1770. However they must have meant the version showing on that card, because Newgate remained in use until 1902. 
Some intriguing facts are that a separate area for women prisoners was built in 1406 - that the money for the 1422 alterations was provided from a legacy left for that purpose by Dick Whittington - and that attached to the prison for much of its life were courtrooms, where the prisoner could plead their case on their arrest and then be tried and sent next door, or released. The courtrooms seem to have been sited to the side of the prison, because they became known as the old bailey, and so they remain to this day. The reason for this thought is that a bailey is the proper name for the exterior of a castle or wall, often one which slopes down to a moat, and as the Roman walls were built for defence, they would have done just this. Today the Old Bailey premises cover the site where Newgate used to stand and have replaced them entirely.
This card is the scarcer Churchman version of Celebrated Gateways. The John Player version was issued quite a long way earlier, in 1909, but the Churchman not until 1925. Our original Churchman reference book, RB.10, issued in 1948, describes ours as : 
30. April 1925. CELEBRATED GATEWAYS (titled series). Size 2 11/16" x  1 7/16" or 67 x 36 m/m. Numbered 1-50. Fronts lithographed in colour. Backs in dark green, with descriptions. Printed by Mardon, Son & Hall. Also issued by Players. 
Our World Tobacco Issues Indexes both list the set as "CELEBRATED GATEWAYS. Sm. Nd. (50). See H.347".  
And H.347 leads us to the Handbook, where the text is : 
H.347. CELEBRATED GATEWAYS. (titled series) Fronts in colour. Numbered series of 50. 
Pre-1919 Player
Post 1919 Churchman
Thursday, 12th October 2023
Gallaher Ltd. [tobacco : UK] "Beautiful Scotland" (1939) - /48 - G075-540 : G12-74 : H.564.1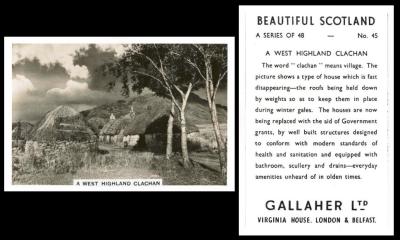 Here we have a remote village in the Highlands of Scotland.
Now this card has several links with the porridge story, and not least the fact that every year a competition, called the Golden Spurtle, takes place at Carrbridge, within those Scottish Highlands. And a Spurtle is a kind of wooden magic wand, used to stir porridge since the fifteenth century. 
Another link is that Scotland invented the oaty flapjack, though in a rather odd way. For farmers would sit down to their porridge, and almost certainly get called away on some animal emergency before they had finished. So what they used to do was pour the uneaten part of their porridge into a drawer in the kitchen and then when it was cold they would cut it into slices and take it, cold, to the fields, as a little snack. 
No early card code, simply because the sets were listed in alphabetical order in the original Gallaher reference book, not numbered. However the text makes up for that! It reads : 
1939. 48. BEAUTIFUL SCOTLAND (titled series). Size 2 1/16" x 3" (approx.) Numbered 1-48. REAL PHOTOGRAPHS. Fronts, toned black and white, glossy finish, white margins and titles inset. Backs, printed in black, with descriptions and "Gallaher Ltd., Virginia House, London & Belfast." (Similar to Pattreiouex.) Produced by Lilywhite Ltd., Brighouse, Yorks. 
In our World Tobacco Issues Indexes the listing is shortened to : "BEAUTIFUL SCOTLAND. Md. Black and white photos. Nd. (48). See H.564.1". But as H.564-1 leads us to the other issuer, lets look at their version, though the connection between the two needs explaining first - which is that the control of the Pattreiouex business passed to E. Robinson & Sons in 1934, and to Gallaher, very quickly after, in 1937. No early reference book was solely devoted to the issues of J. A. Pattreiouex so the first listing of this set appears in our original World Tobacco Issues Index under card code P18-61; and that is : 
BEAUTIFUL SCOTLAND. See H.564.1

A. Small. (28). 
B. Medium. (48). "Senior Service" brand issue. Two printings. 
Now the header of section 3, devoted to the 1930s Photographic Issues, tells us that all cards in this group were "Issued 1930-39. Small size 63-65 x 38-39, medium 76-77 x 51-52 m/m, unless stated. All black and white glossy photos, and numbered. Medium size series marked "two printings" are found in slightly different sizes, usually differing in size of caption panel and depth of framelines on back."
The listing text is repeated in our updated World Tobacco Issues Index, under a new card code of P246-665, but the header is slightly different, the piece directly after the measurements now reading "unless stated. All numbered black and white glossy photos, sometimes ageing to shades of sepia." It then continues with "Medium size series . . ." as before.
Friday, 13th October 2023
John Player [tobacco : UK] "Highland Clans" (July 1907/1914) - P644-084 : P72-37 : P/111 (RB.17/111)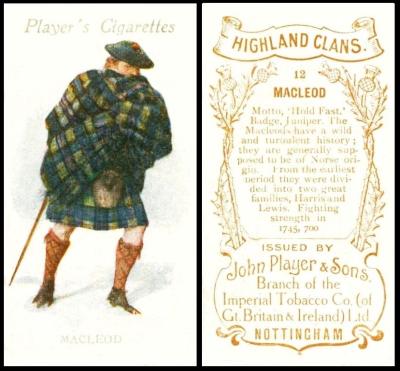 So here we have a kilted Scot, trying to get home in the snow and dreaming of a steaming bowl of porridge which surely will be set before him as soon as he gets in. Well that`s what this card says to me, anyway.
Now I have to say I love this set, but it is so difficult to reproduce by scanning, the cards always seem to be rather toned (aka grubby) and the wording is so light. But this one seems to have managed to come out not so badly, all except the name of the clan, which is Macleod.
And that actually gives us another link to our theme, because there is a company called Macleod Organics - and guess what, they sell porridge!
The entry for this set in our original John Player reference book, RB.17, published in 1950, reads : 
111. HIGHLAND CLANS. Small cards. Fronts in colour. Backs in brown, with descriptive text, Numbered series of 25. Home issue, July 1907, reprinted 1914. There are numerous minor varieties in the series, which was obviously reprinted several times.
The text in the original World Tobacco Issues Index reads only : "HIGHLAND CLANS. Sm. Nd. (25). Various printings". 
However there is a slight change in the updated version, which now reads "HIGHLAND CLANS. Sm. Caption in (a) grey (b) red. Nd. (25)". Is this is a hint to the fact that the first printing of 1907 had the grey back, and the reprint was red. 
In that case ours will be a reprint. 
Is there anyone out there can tell us more? 
Almost made it, I deserve a coffee now....
The card codes for the diary cards will be added in tomorrow morning, and any interesting facts that I come across will be noted in the Whats New banner on the front page, which right now is serving as a timely reminder that our club auction is coming swiftly towards its close so do make sure you get those emailed bids in on time.
If you have not sent yours in yet, remember that in the case of tied bids the first bid recieved at that figure wins the lot. 
And now to bed, via coffee.