November is close, so close, with all its excitement and jollity, so many festivals, and feast days, and  flashing lights, and things that make your heart beat so much the the faster. And don`t you feel that all these places to go and people to see makes the days fly past ever faster towards Christmas and then another New Year.....
No wonder January forever seems to be an anti climax. 
Now this week we have a veritable feast for you. We have a curious animal indeed - a timely thought to those who go to war but not to fight -  a very odd thing to do indeed which is absolutely no fun on your own - a chance to look at antiquities and unusual items under the cover of darkness - a day to celebrate those whose pen, or even whose word, is indeed mightier than the sword - a look back at an event of the second Boer War, and a quick chat about something that very few of us now use, unless for decoration or for impress. 
And so read on.....
R. Challis & Co. Ltd [ tobacco : UK] "Comic Animals" (19) 17/50 - C264-150 : C51-1
Today is International Animation Day and we have chosen this card for several reasons, rather than a modern cartoon. The truth is that animation refers properly to movement, to making things that are merely drawn, or painted, appear to have a life of their own. Well this card certainly does that. And in addition it depicts a native of the Alps, which is definitely international. It may not be as colourful as we have come to expect our animation to be, but it is charming, and  amusing.  Though there is one sad thing - for the artist is not identified and not known... 
Now Challis were an odd company, about which not much is known. We know that they traded out of 130 New North Road, in London, N.1, and that when they bought Miranda Ltd., both companies shared that address. However, there is uncertainty as to whether Challis were merely associated with companies called R. & E. Boyd Ltd and Strathmore Tobacco, or whether these were but pseudonyms for themselves. It certainly seems that they enjoyed buying up other companies though, not just Miranda, mentioned above, but the East London firm of Burstein, Isaacs & Co (which they bought in 1935), and they also were reputed to have acquired H. W. Drapkin. 
This set was one of just two issues under the Challis name. It is listed in our World Tobacco Issues Index as "COMIC ANIMALS. Sm. 63 x 38. Nd. (50)" 
The other Challis set was "Wild Birds at Home", fifty cards, which you can find either advertising "Baldric Cigarettes" openly, or with that brand censored beneath a black strip, but we know not why. With their name, it measures 63 x 39 m/m, and the colour is described as being green and black and white.
However, you can also find it branded for R. & E. Boyd; just one card is known, but it states on the card that it is a series of 25. The front is similar, but in black and white, but the text on the back is revised (not sure if this means just the maker`s details or the description of the bird) and it is a slightly different size, larger, at 75 x 57 m/m. 
By the time of our updated World Tobacco Issues Index, though the text of our set remains the same, there has been a discovery, of another set, and another brand associated with Challis. This is, oddly, another link to the animation theme of today, for it is described as : "FLICKITS (Greyhound Racing Flickers). Size 68 x 36. B&W. Nd. (? 44) "Fresher Cigarettes" brand issue. See H.589.1"  Now this also leads you to the original London Cigarette Card Company handbook of 1950, where it is listed under "Miscellaneous Issues". The wording is "589-1. "Flickits" (titled series). Front per fig.589.1 in black and white inscribed "Fresher Cigarettes". Sponsors unknown. Numbered series, No.30 highest seen"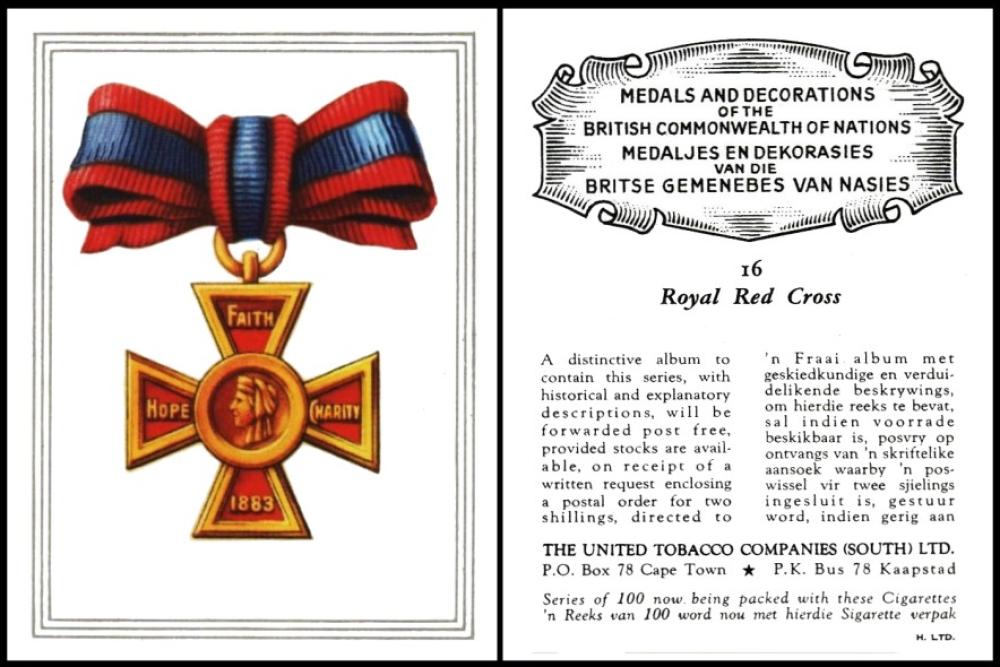 The United Tobacco Companies (South), Ltd. [tobacco : O/S : South Africa] "Medals and Decorations of the British Commonwealth of Nations (19) 16/100 - U560-810 : U14-49 : RB.21/384
Moving swiftly on, but keeping links to the Alps and to the International theme, today in 1863, eighteen countries met in Geneva to form the International Red Cross. Two hundred years on and we are still watching them in awe, working their magic in every kind of warzone, and without armour too. And sadly they are so often themselves casualties, or worse. Today, when we owe them so much, it seems the least we can do to mention them here. 
This medal was first awarded in 1883, to Florence Nightingale. Whether it was designed especially for her we do not seem to know, though it is recorded that it was for ladies who "showed special devotion" whilst nursing the  wounded of the Army or the Navy. The next change was in November 1915, when the original award to members of the Royal Red Cross was split into two classes, calling the medal the "First Class", and adding a "Second Class". In 1917 recognition was granted to ladies who did more than one outstanding deed, and they were allowed to wear a bar on the ribbon, but only if they had an original or "First Class" medal. In 1920 nursing to men of the Royal Air Force was allowed to qualify. However it was not awarded to male nurses until 1977. And since then the nurse must have been a member of the Armed Forces, not just a nurse who was serving out of duty or devotion - which seems rather odd for Florence Nightingale would not have been eligible. 
This card comes from a South African set, which shows the medals on a plain white ground. They look most effective in this way and the colours definitely pop but I am still a little fonder of those crushed velvet hues that nestle to the medals on the Richmond Cavendish "Pioneer Cigarettes" set. 
Our set is described in the World Tobacco Issues Indexes as : 
MEDALS AND DECORATIONS OF THE BRITISH COMMONWEALTH OF NATIONS. Lg. 76 x 57. Nd. (100). Special album issued. See RB.21/384
Nipping back and getting RB.21, I find this set listed there as 
MEDALS AND DECORATIONS OF THE BRITISH COMMONWEALTH OF NATIONS. Large cards, size 76 x 57 m/m. Front in colour. Back in grey-black. with descriptive text in English and Afrikaans. Numbered series of 100. U.T.C issue
Topps [trade : confectionery : UK] "ALF" (1987) 27/
A curious event now, for it is Haunted Fridge Night. This works much better if you live with lots of people, but the idea behind it is that you remove something from out of the fridge, or put something in it, and everyone thinks there is a ghost in the fridge. This does not really work if you live on your own, and also I am not sure why it is not celebrated on Hallowe`en. But I have brought it to your attention if you are in a position to take advantage.
Now fridges on cards are a bit few and far between, especially haunted ones. There are two rather gross ones in the "Garbage Pail" set, but here we have a gentler fridge by Topps, though I am not so keen on the reverse wording, for I hope that alien life will have evolved to respect all forms of life and be vegan. 
Now this little furry chap was really popular in the 1980s, with his own television show. It was a bit like "Mork and Mindy" but without Robin Williams, who brought so much fun, and laughter, and irreverence. ALF stood for Alien Life Form, and he came down from the planet Melmac when his spaceship malfunctioned. A family found him and took him in whilst he mended the ship, and that was pretty much it. But as I say it was very popular, so we had these cards, and stickers. 
In fact there were two series of cards.
The first was issued in 1987 and has yellow borders. There are forty-seven base cards, plus twenty-two cards showing the Melmac National Game of Bouillabaseball and eighteen sticker cards.
The second series, which has red borders, came along in 1988. It is a bit smaller, and only has forty four cards, and eleven stickers, though there are still twenty-two Bouillabaseball cards. 
And if you want to remind yourself about ALF, or meet him for the first time, check out 
https://alf.fandom.com/wiki/ALF_Wiki
J. A. Pattreiouex, Ltd [tobacco : UK] "Flying" (19) 2/48 : P246-700.2 : P18-68.B : Ha.564.3
I did think of having "Museums at Night" as the theme for this week, but it proved so hard to get just this one card that I abandoned it and picked something else. Or I will have done by the time this newsletter appears......
This one is a tenuous link but it is a night shot, of Croydon Aerodrome, and that building is now a mini museum to the fact that Croydon saw service during both wars and then became a passenger airport. It might well have become London`s main Airport too, but it did not, and closed in 1959. The reason for this was primarily the space, the housing was too close and the aeroplanes were growing larger as the number of civil passengers increased. Heathrow had more room to grow, and keep growing.
Anyway Croydon Airport Museum is in the Air Traffic Control Tower and the next open day is on November 5th, 2023. Keep checking back at that site if you cannot make that one
This set was issued after Gallaher had acquired Pattreiouex, which happened in 1937. Or rather that was when Gallaher bought E. Robinson & Sons, which had bought Pattreiouex in 1934. That is part of the reason why these cards only say "Senior Service" on the backs.
It appears in our World Tobacco Issues Indexes as : 
FLYING. See Ha.564.3
A. Small (28)
B. Medium (48) "Senior Service" brand issue. Two printings.
Now these "two printings" refer to a difference in size of card, and/or caption panel, and/or also the depth of the framelines on the reverse. So will investigate. 
John Player & Sons [tobacco : UK] "Straight Line Caricatures" (December 1926) 46/50 : P644-278 : P72-135 : P/183 [RB.17/183]
Today is Authors Day, and here we have George Bernard Shaw, depicted entirely in non-curving lines. Yet you can still clearly recognise him. 
He was born on 26 July 1856, in Dublin, Ireland, and he hated the George, so always referred to himself as Bernard Shaw. He was primarily to our remembrance a playwright and author; but he was also a sharp and witty critic, active in politics, a keen supporter of women`s rights. And in 1925 he won the Nobel Prize for Literature. This was not for a single book but for his work in general. He also won an Academy Award in 1938 for the screenplay of Pygmalion. This is not the version which was remade as "My Fair Lady". Until 2016 Bernard Shaw was the only person ever to win these two trophies - but in that year his record was equalled by Bob Dylan. 
He was delighted to accept the freedom of Dublin, aged ninety. However he declined an Order of Merit. He was still writing a while after that, but died, aged ninety four, from injuries that were caused by him falling from a tree whilst pruning it. 
This set appears in our original John Player reference book, RB.17, issued in 1950, as : 
183. 50. STRAIGHT LINE CARICATURES. Small cards. Drawn by Alick P. F. Ritchie. Fronts in colour. Backs in grey, with descriptive text. Home Issue, December, 1926.
This is reduced, in our World Tobacco Issues Indexes, to just "STRAIGHT LINE CARICATURES. Sm. Nd. (50)
R. & J. Hill [tobacco : UK] "Campaigners" or "Generals of the Boer War" or even "Boer War Generals - Campaigners" (1900) Un/12 - H554-089 : H46-7 : Ha.209
Our subject for today is that in 1899 the Siege of Ladysmith began. Briefly this was the second Boer War, and we had been sending troops down there for some time, hoping to defend our interests against the Boers, or native farmers. Our man, Sir George Stuart White, was the commander, aged sixty-four, with a gammy leg from a riding injury. He had never been to Africa but he had served to good effect in India and it was thought to be similar.  
As usual, negotiations failed, and war was declared on the 12th of October. Thousands of Boers flocked to Natal, but Sir George White had been advised not to have his men too near the action and instead they were all gathered round a little garrison called Ladysmith, after the wife of the Governor General. As the Boers started coming towards this Sir George White sent out all his men to surround them. This did not work too well and the men who survived were pushed back into the garrison. The Boers then surrounded it and cut the railway lines. Both John French and Douglas Haig, who would go on to fight in World War One, managed to get away on the last train. The town was then under siege for a hundred and eighteen days with dwindling food and water. There was a strange event, at Christmas, when a shell was fired into the garrison that had been defused, and held a Christmas pudding, two flags, and a little note saying "Compliments of the Season". The shell is still on show at the local museum. 
On February the 27th, 1900, British troops managed to find a way through and the garrison was freed by General Sir Redvers Buller, who, four months earlier had managed to contact our man and told him to surrender. But he refused. Amongst the first people to enter there was a war correspondent, called Winston Churchill. 
Our man would eventually rise to the ranks of Field Marshal, and if you look along his medals you will see the Victoria Cross, which he had won in the Second Anglo-Afghan Wars. After his military service ended he became the Governor of Gibraltar, and then governed the Royal Hospital in Chelsea. He died in June 1912.
Now lets start with the multitude of titles. In our original R. J. Hill reference book (RB.2), issued in 1942, it is described as : 
1900. 12. CAMPAIGNERS. (untitled series). This has been previously chronicled as  "Generals of the Boer War". The present title is taken from the firm`s advertising of the time, and the brand of cigarettes with which the cards were packed. Size 2 3/8" x 1 1/2" approx. Unnumbered. Fronts, printed by lithography in full colours, no frame lines, name of subject and Hill`s Cigarettes at base in brown. Backs, printed in brown "The Seven Wonders of the World are, " etc, wording starting from the left and reading from bottom to top of cards. Cards also exist with PLAIN backs. Subjects numbered here for convenience. 
Then there follows a list, numbered in alphabetical order. Which I will scan some time. 
By the time of our World Tobacco Issues Index we have it as : 
BOER WAR GENERALS - "CAMPAIGNERS". (A) Sm. 60 x 38. Unnd. (12) See Ha.209
But don`t run and get the handbook for Ha.209 simply directs you to "see Society Booklet No.2 page 4.". And that is above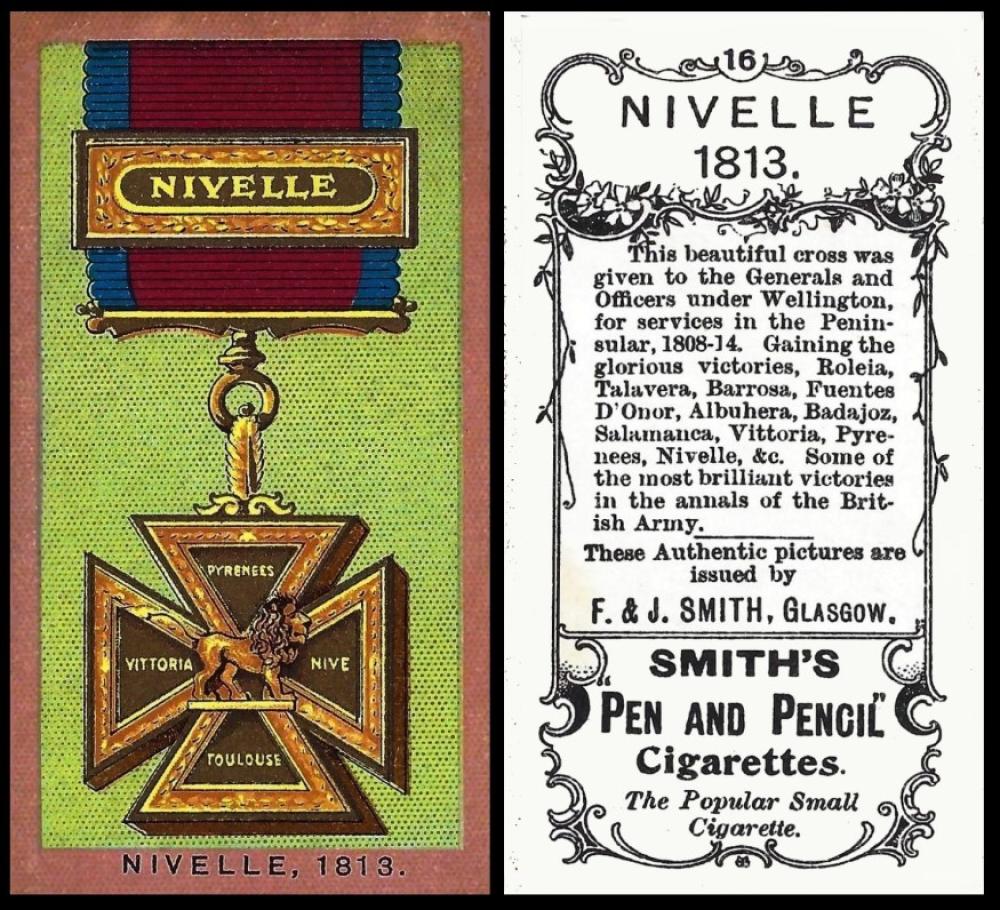 F. & J. Smith [tobacco : UK] "Medals" - "Pen and Pencil" brand (1905) 16/50 - S548-275 : S84-11.B.c. : H.71 : Ha.71 : X1/H.71
Today is Fountain Pen Day, and the first thing I thought of was that when chatting about Smith`s "Medals" earlier in the week one of their brands was "Pen and Pencil" Cigarettes.
Now to save repeating all the gen about the issuer and the set, click on https://csgb.co.uk/cardoftheday/2023-10-23 
Not much can be traced about this brand. Hopefully you know more? Smith did issue an advertisement card for it, which states "Smith`s Pen & Pencil Cigarettes are produced about 34 to 1-oz. They are prepared from a rich blend of Virginia Tobaccos
This medal was awarded for The Battle of Nivelle, which was during the Peninsular War on November 10th 1813. It was getting towards the end now, having started in 1808 and would eventually come to a close in 1814. The Nivelle was a river. This action came after another siege, of San Sebastian, but this time the British were the attackers.
At the head of our army was Field Marshal Marquis of Wellington and on the other side Napoleon Buonaparte. 
Now despite this card being titled "Nivelle 1813" that is really only the bar denoting the battle. The medal is actually the Army Gold Cross, and this was introduced in September 1810. It was gold, too. Initially it was awarded to a hundred and seven Field Officers or higher ranks for their bravery under fire during any of the battles in 1808 and 1809 - these being Benevente, Corunna  Roleia, Sahagun, Talavera and Vimiera. Originally it was planned that each time you won a medal you would receive a new one, but in 1813 this was altered and only gold clasps were awarded.
This week's Cards of the Day...
celebrated a really weird one, but also thinking, just a bit, of Hallowe`en because on October the 26th it is #Howl at the Moon Day - or, in some places, #Worldwide Howl at the Moon Night.
Now you are supposed to do this at midnight, just as that day begins to so as never to forget that though you do your best to conform on the outside, inside of you remains a wild beast.
The tarot card for The Moon shows this very well, for it has a wolf and a so-called domesticated dog howling side by side.
So, if you have a mind to, and understanding neighbours, get out there and howl. If not, why not make this the start of breaking free from the things you no longer enjoy doing, or of starting to do more of the things you love? Or just do one crazy thing that makes your pulse race and your heart beat in your chest, whilst you still can.
Wolves have been celebrated in many cultures, and still get a mention in rock music tunes, television, and films. However there is a serious side to this day. because it raises awareness, and hopefully much needed funds, for wolf conservation charities. 
So the first of our three clues to this theme were : 
Saturday, 21st October 2023
Kiddy`s Favourites Ltd. [trade : confectionery : UK] "Popular Footballers" (1948) 20/52 - KID-140.1 : KHM-5.1
The clue here was that Billy Wright played for Wolverhampton Wanderers, also known as Wolves. They started in 1877, but they were then called St. Luke's Football Club. However, two years later, they were renamed to Wolverhampton Wanderers, and in 1888 they were one of the teams which founded the Football League.
As to how the wolves got involved, some say it was a natural shortening of the team name and the discovery that the first five letters almost made the whole of Wolves, which also gave them a spirit animal/mascot. But a wolf only leapt (quite literally) on to their badge in the 1960s, and gained two other leaping wolves in the mid 1970s. They were then thought a bit too busy, and so in 1979 they were changed to the single wolf`s head we know today
But there is also another connection, because Wolverhampton is named after Lady Wulfrun - who was given this section of land, later called Wolvrenehamptonia, by Ethelred the Unready in 985. 
Kiddy`s Favourites were actually not just the brand, but the name of the company, and they were based in Glasgow, Scotland. 
The header for them in in our British Trade Index part II, RB.27, issued in 1969, tells us that the cards were "issued about 1948-52, as singles, joined pairs, or stapled in batches in booklet form. Premiums offered for complete sets. Small size, very variable, about 63-69 x 38-50 m/m"
The fact that they were issued in "joined pairs" explains the "very variable" exactly - why often some cards are slimmer than others, and also why the back description has a tendency to not be centred exactly. It`s all, as they say, in the trimming, and as these cards were designed for children, you can understand they did not, or could not, wield the scissors as an adult would. 
Our set is described, scantly, as "POPULAR FOOTBALLERS - Sm. Nd. (52)
However that gives us space to tell you that at that time it was recorded that the company issued eight sets, all but one of which started with the word "Popular". These were "Cricketers", our set of "Footballers", and "Olympics" - all of which were issued in 1948. Plus "Boxers", "Film Stars", "New Popular Film Stars" (this being the only set which started with another word), "Players" (which were more footballers) and "Speedway Riders" - all of which were issued in 1950. 
Two of these sets appear at D.353 in the back of the British Trade Index part II. These were the "Cricketers" and "Speedway Riders", and the extra information under that card code tells us that both of these were known in an anonymous printing, having green borders and black captions. It seems strange that only these two sets were printed in that way, but more information may come to light.
There is an update in British Trade Index part III, rather confusingly telling us that "Popular Speedway Riders captions are in (a) green (b) grey-black". This could just mean that the usual caption was green and the anonymous version grey-black, adding the information in from D.353, but if so then why not mention that this also applied to the "Cricketers"? 
Another update occurs with our Trade Index part 4, and this regards our set. I have scanned this listing, after trying, and failing, to work out how to use the table function (again) - and here it is :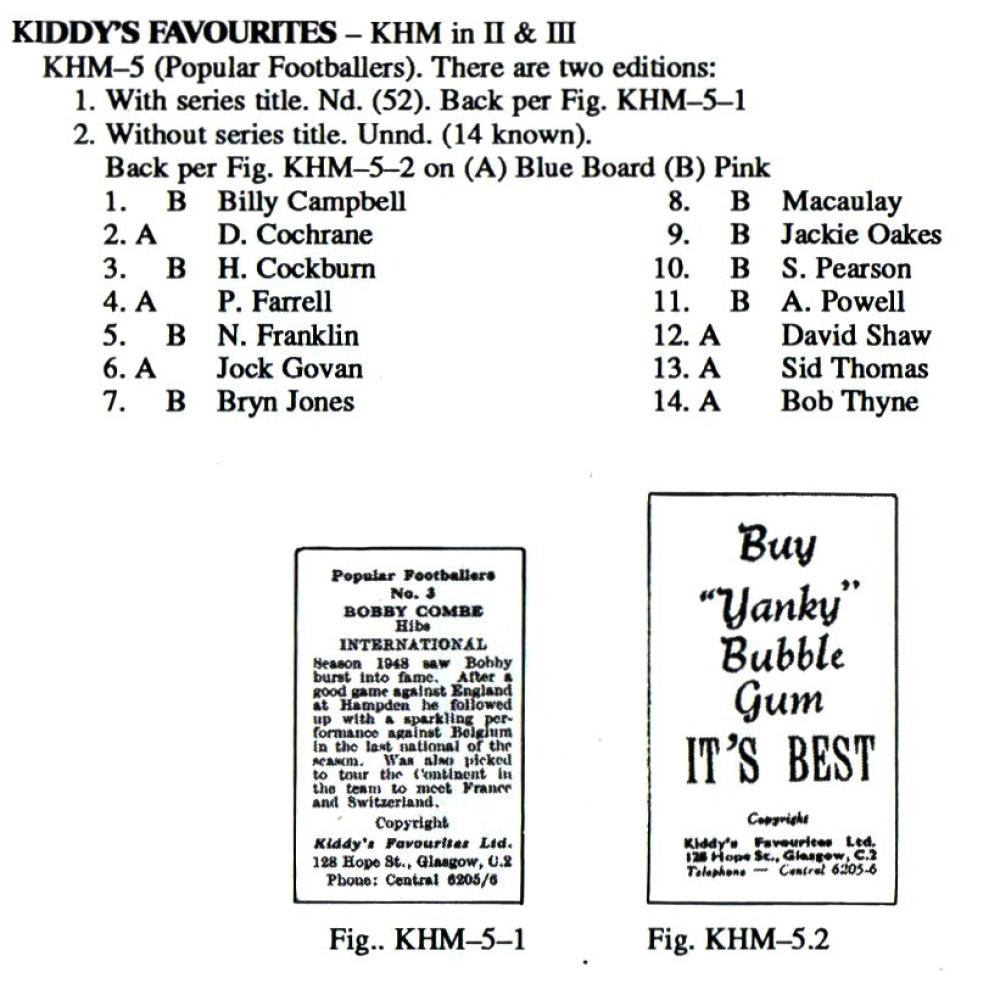 Now in our updated British Trade Index our set is described as
POPULAR FOOTBALLERS. 1948
1. 65-66 x 36-38. Nd. (52). No.52, Lowrie, is not an "International", name in different type face, with cancelled back. 
2. Size as above, no title, back "Buy `Yanky` Bubble Gum - it`s best", on a) blue, b) pink board. Unnd.  (14 known). See HK-30
HK-30 is in the handbook but it lists the fourteen known, as above, and does not include whether they are A or B, so I will stick with the scan above. 
Now by the time that this updated British Trade Index appeared, there had been much research into Kiddy`s Favourites Ltd., and the text under their title now lists twelve sets, the additions being : "Famous Railway Engines", "Football Stars" (1947), "International Footballers" (1951) and another set of "Popular Footballers" to ours, having five red hearts across the top of the front. The set of "Football Stars" were just issued as anonymous, whilst the "Famous Railway Engines" and "International Footballers" were each issued in a booklet and only those booklets bore the issuer`s name. These may have been listed somewhere in the early British Trade Indexes under anonymous, and given a "Z" number, and one day I may hit upon them.
However, before I race on, the most intriguing thing is that this set of  "International Footballers" was actually forty-eight cards extracted from our set, having been reissued, with the numbering order changed. One of the missing cards was obviously card 52, poor old Lowrie, who, as we read above, was not an international. The other missing member of the squad is as yet unknown, at least to me. So do you know who it is? And also, does anyone have the card of Lowrie with that cancelled sign so firmly stamped to his back? It would be interesting to see it, and also to place it here for all time. 
And John Levitt tells us that you can read a whole lot more about this set at The Cartophilic Info Blogspot/KF
Sunday, 22nd October 2023
Hignett Bros & Co. [tobacco : UK] "Music Hall Artistes" - untitled (1898) 10/20 - H536-060 : H44-10 : H.202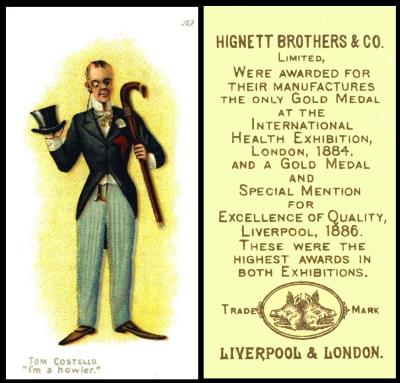 Now the clue here was the name of the song, "I`m a Howler". I have not yet tracked down the song and Thomas Costellow is just as elusive. We know he was born in April 1863 but not quite sure if the place was Birmingham or somewhere in Ireland. However we do know that he made his first stage appearance, strangely, and spookily, in Wolverhampton - in 1883. Must be a week of connection..... 
Now in our original World Tobacco Issues Index this set is listed in the first section of Hignett, those being early issues without an I.T.C. Clause; for these cards were issued before Hignett joined the Imperial Tobacco Company, which they did in 1901. However some of the cards in that section were still in circulation as late as 1903. 
The listing for our issue is : "MUSIC HALL ARTISTES (A). Sm. 68 x 36. Nd. (20) See H.202". And H.202 sends us to the handbook where it is described as :  
H.202. MUSIC HALL ARTISTES (adopted title). Numbered, (faintly) in top right corner. Series of 20.
Pre-1919
       Hignett
       Richmond Cavendish
Richmond Cavendish, like Hignett, were based in Liverpool. The World Tobacco Issues Index listing for their other version is exactly the same as for our set but we know the backs were different. Some time we will use one, there are several possibilities should we get a double in the card index, and link it to here.
We also know several of the cards, which are 
Albert Chevalier (What cher)
--
--
--
--
T.E. Dunville (One of the Best)
--
--
 Marie Kendal (One of the Girls)
Tom Costello (I'm a howler)
 Leo Stormont  - no song
--
 Little Tich (Could do with a bit)
14. Billie Barlow (Do Buy Me That)
--
--
--
--
--
Eugene Stratton (I`m John James)
Monday, 23rd October 2023
F. & J. Smith [tobacco : UK] "Medals" - "Harvest Moon Brand" (1905) 48/50 - S548-275 : S84-11.B.c. : H.71 : Ha.71 : X1/H.71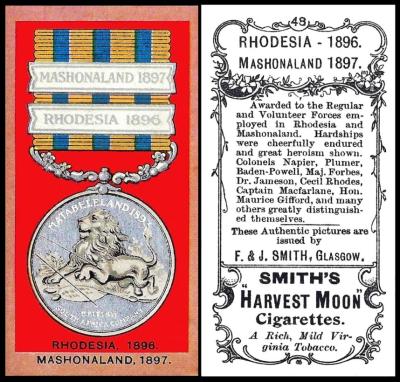 Here we have our third clue and this is the trickiest of all,  the name of the brand, Smith`s "Harvest MOON" Cigarettes.
Lions do not howl at the moon, only in fiction, for effect. And in fact they do not howl at all, they roar, and roar very loudly. 
This medal was awarded for service in South Africa, in fact you can read that at the bottom of the medal. It actually says "South Africa Company" and they fought the native Matabele in two wars made up of several separate actions. The first Matabele War was in 1893/94 and the second Matabele War in 1896/97. Both of these took place in modern-day Zimbabwe. Only the bars, which fixed to the ribbon, denoted the field of conflict, but curiously both these bars relate to the second War, which started in Rhodesia and moved into Mashonaland. 
This set was issued by F. & J. Smith in several formats, and by other issuers as just a small part of their sets. I have combined several sources to make sorting this all out as easy as I can, and come up with 
Unnumbered cards, twenty in all, with "Glory`s Reward" branded backs, but no mention of the Imperial Tobacco Company. These were issued in 1902, and seem universally regarded as version A. 
Now H.71, which is often quoted against this set, actually only refers to this un-numbered version of twenty cards. However it is a bit confusing because those cards were issued as part of a set of twenty-five cards by Mitchell in January 1916, and as part of a set of fifty by Churchman (January 1910) and Wills (in 1906). Now that actually contradicts the thought that Smiths took part of the other sets to make a smaller version, because Smith was first of all to issue it. 

Numbered cards, a set of fifty cards, in three printings, all multi-backed with various brands. At one time this was B., C., and D., and they were cited as being different thicknesses, B. as thick cards, issued in 1902 - C. as paper thin cards saying "The Imperial Tobacco Company" and dating from 1903. These are the most sought after - and D. as fifty thin cards, thicker than C but not as thick as A or B, that also say "The Imperial Tobacco Company", and were issued in February 1906. Today we seem not to mention the thicknesses and have come up with 
a) back "Issued by F. & J. Smith, Glasgow",  no I.T.C. clause. This seems to fit with the original B. However we now know that the fifty cards can be found with fourteen branded backs.
b) back "Issued by the Imperial Tobacco Co. (of...). These cards can be found with fourteen branded backs, but it looks like one card has not yet been seen. Not sure which yet.
c) back "Issued by the Imperial Tobacco Co. (of...) These cards have twelve branded brands.
And the brands, for all, are 
A. "Albion Flake Tobacco"
B. Cut Navy Tobacco
C. "Evergreen" Cigarettes
D. Glasgow Mixture Cigarettes
E. Glasgow Mixture Tobacco
F. "Glory`s Reward" Cigarettes
G. "Goodwill" Virginia Tobacco
H. "Harvest Moon" Cigarettes
I. "Morning Gallop" Cigarettes
J. "Pen & Pencil" Cigarettes
K. "Regimental" Cigarettes
L. "Shooting Lodge" Cigarettes
M. "Studio" Cigarettes
N. "Sun Cured" Mixture Tobacco
O. "Sun Cured" Mixture Cigarettes
P. "Wild Geranium" Cigarettes
The other issuers only relate to the set of 
Tuesday, 24th October 2023
Anonymous - B.A.T. [tobacco : O/S] "Indian Chiefs" (1930) - ZA08-400 : ZA8-20 : RB.21/310A
Today we look back to a time when the Native American modelled themselves on the animals that surrounded them, and had learned to co-exist with nature. They were nomadic, and they hunted to live, not for thrill or profit. One of the Indian`s closest relationships was with the wolf, and to have a wolf as your spirit animal, or to be named after one, was a very great honour. The wolf was clever, wise, loyal, and faithful to his pack, but yet remained free. 
Lean Wolf, showing here, was a member of the White Clay People. However it became anglicised, or turned into French first, as the Gros Ventres, Gros meaning large, and Ventre meaning belly. There is a rather shcking truth to this name for it does not come from them overeating, it comes from the name their their once fellow tribesmen of the Arapaho called them after their joined tribe had become one, and that was the Hitunena. Now that word has several meanings but all boil down to the same thing, that they were going hungry and begging for food, and as we know from places across the world with hunger and drought, if you have insufficient food, your stomachs, especially the stomachs of your children, swell through water retention and the lack of nutrients, and proteins, which ought to be provided in your daily meals.
Is this the way that "Lean" Wolf got his name, too? 
Our original World Tobacco Issues Index lists this set at the back of the book as ZA8-20, which is part of section 1,  "English Language Issues - with references to tobacco", and sub-sections 1C.d, which are "Issues 1919-40" / "Overseas Issues through B.A.T."
The listing for our set is just "INDIAN CHIEFS. Sm. 70 x 38. Nd. (50) See RB.21/310A".
So lets go to RB.21, which is the original British-American Tobacco Company booklet (RB.21) published in 1952. In the front index it tells us that the set was issued in 1930, in Malta, Malaya, and South Africa, whilst in the actual text it appears under "Section XIII - Group 6 - Multi-Area Series", with the description of : 
310. INDIAN CHIEFS. Small cards. Front in colour. Back in black. Numbered series of 50. 
A. Anonymous issue, with letterpress on back. Size 70 x 38 m/m. 
B. Anonymous issue, with Spanish Language back. Size 65 x 38 m/m. Titled "Jefes de Pieles Rojas". Backs on yellowish board. 
- and then it gets really interesting, but you will have to wait until tomorrow for that...
Wednesday, 25th October 2023
Allen & Ginter [tobacco : O/S : USA] "The American Indian" (1888) - A400-020 : A36-2.b : USA/36
And how that listing continues is by saying :
The pictures are adapted from Allen & Ginter`s "Celebrated American Indian Chiefs" but facing in the opposite direction and with much alteration in detail and colour.
The same basic pictures were also used for a number of American and Canadian issues.
Anonymous plain backed cards are also known. 
I did not believe that, but today`s illustration proves it beyond a doubt.
In our original World Tobacco Issues Index, the listing for the Allen & Ginter version starts with the header, which tells us the size, small being approximately 70 x 38 m/m, and large being 83 x 72 m/m. It also explains that the large cards show the same numbered card but with a design added to each side to make up the spare space of the larger card :
AMERICAN INDIAN CHIEFS. (50). Four error cards, see ABC/2
(a) Small, titled "Celebrated American Indian Chiefs". Bkld. Ref. USA/2.
(b) Large, titled "The American Indian . . . ". Unnd. Ref. USA/36,
The listing in our updated World Tobacco Issues Index is identical to the above, but in a new third section it tells us that these images were also issued as a printed booklet, which was exchanged for coupons. It also says that the number of pages does not include the covers. The listing for our set`s album is under card code A400-610, and it reads :
ALBUM OF CELEBRATED AMERICAN INDIAN CHIEFS. 205 x 153. 12 pages. Ref. USA/A2. 
A. With two error cards
B. with four error cards printed.  
So lets talk about those errors. They revolve around the misprinting of the identities of four of the Indians, which affects the cards of "British" and "Chief Gall" and "Agate Arrow Point" and "White Swan". Rather than reading me describe these at length, nip over to Vintage Cards/AG.Errors where the four cards are shown below the list of descriptions and the correct cards further down still.
You can also read a lot more about this set, and see the two most sought after images of Geronimo and Sitting Bull, at Pre-War Cards/AGI
There is something else that puzzles me, and that is how did the 1880s artwork end up with B.A.T.? Or did they just acquire a set of the original cards and reproduce them, which could explain why some of the details are not so sharp. 
Now lets close with picking out another bit of text from above, where Jefferson Burdick says "The same basic pictures were also used for a number of American and Canadian issues".  This is true, because we now know the set was issued even further away from the original date, in 1940, by Kelley Baking Company. Their version is large sized but only shows the standard sized card as half of the space, filling in the other half with a descriptive text. And you can see our card, from that series, at the Metropolitan Museum of New York/Kelley.  However if you look at the shoulder of our man, it appears that Kelley copied the British American Tobacco version, because his sleeve is entirely red, whereas the Allen & Ginter original has a pattern there. And he also faces the same way as the British American Tobacco card. Whereas Allen & Ginter, thrillingly, used an actual photo of Lean Wolf - which you can see at https://www.pinterest.co.uk/pin/429179039475340766/.
Thursday, 26th October 2023
W.D. & H.O. Wills [tobacco : UK] "Dogs - Heads" (1927/28) 1/20 - W675-408.1.B : W62-270.1.B : W/185.C
This card was selected because it called what we know as the German Shepherd an Alsatian Wolf Dog. So I wondered whether the card`s writer knew something I did not - and whether the Alsatian was descended from the wolf.
So the first thing I found out is that it was specifically bred, in Germany by Max Emil Friedrich von Stephanitz,  a German cavalry officer, and student at the Berlin Veterinary College. He wanted to breed an intelligent working dog, to a standard, because at the time there was a whole mixture of dogs used to herd livestock, and he had a dream of making one breed that would represent a German Shepherd Dog. One day he met Horand von Grafrath at a show, and liked him immensely; a deal was done and Horand therefore became the ultimate descendent of almost every dog of his type since. He even has a wikipedia page!  
The dogs soon attracted the attention of other people, and trials of them being used for law enforcement added another talent to their name. They were also used in the First World War as guard dogs and messengers. Some dogs were even brought to England by returning soldiers, but during and immediately after the war there was bad feelings against Germany, and so the name of the dog was changed from German Shepherd to Alsatian or Alsatian Wolf Dog. 
Now our card comes from the late 1920s, but still the Germanic connection had not been resumed. Though oddly the text calls them "German Police or Shepherd Dogs". But the strangest thing of all is that it was only officially renamed as a German Shepherd Dog by the Kennel Club in 1977. 
Despite there being no actual wolf in our dog, there is another intriguing snippet to share, because in 1935 an experiment was made by introducing a male German Shepherd to a female grey wolf from Siberia. There were puppies, and these started a breed called the Sarloos Wolf Dog, named after the breeder. This work is still ongoing, and further cross breeding has taken place. It is also recognised as a Kennel Club breed in Holland, its country of origin
This is an interesting set too. Our original Wills reference book catalogues it as part of a group listing, as  : 
DOGS (1927/28) - Heads. From paintings by Arthur Wardle. Large cards, size 70 x 63 m/m. Fronts printed by letterpress in colour. Backs in grey, with descriptive text. Issued in Australia, 1927-28. Similar series issued by Player (home issues, 1926 and 1928).
185. 20. "A Series of 20"
A. "Wills`s World Renowned Cigarettes" back and front. No Album Clause. Fronts "linen" surface.
B. "Wills`s World Renowned Cigarettes" back and front. With Album Clause. Fronts "linen" surface.
C. "Three Castles & Vice Regal Cigarettes" back and front. No Album Clause. Semi-glossy fronts. 
186. "2nd Series of 20"  "Wills`s World Renowned Cigarettes" back and front. With Album Clause. Fronts "linen" surface.
The John Player sets to which this refers are "Dogs Heads - from paintings by Arthur Wardle". These are a standard sized home issue set of fifty cards, a standard  Irish issue split into two series each of twenty-five cards that for some reason does not mention the artist, and two large sized issues each of twenty cards. And Arthur Wardle also did a set of "Dogs - Full Length" for John Player, which was issued as a standard sized home issue set of fifty cards, a standard sized home issue set of fifty transfers, and a large sized set of twenty-five cards. 
Now because our set and its variants were all issued in Australia, they are kept together in the World Tobacco Issues Index, where they are listed as : 
DOGS. Md. 70 x 62. Heads, from paintings by Arthur Wardle. Nd. See W/185-6
1. "A Series of 20"
     A. Front "Wills`s World Renowned Cigarettes". Back (a) with (b) without album clause. 
     B. Front  "Three Castles & Vice Regal Cigarettes".
2. "2nd Series of 20"  Front "Wills`s World Renowned Cigarettes" 
They are pretty hard to locate in the updated version of this book, but they are under section 4C, and the text is identical to that immediately above. 
Friday, 27th October 2023
Edwards, Ringer & Bigg [tobacco : UK] "Dogs Series" (March 1908) - H.64
This card is here because of all the dogs, the beagle appears to be the only one which howls. In fact many people say that the name beagle comes from the French for `open mouth` which is `bee` (wide open) `gueule` (mouth). Strangely that `gueule` can be taken as rather offensive when talking about a person`s mouth, but it is fine when used for an animal. 
And I did not realise how lengthy this description would be. All is revealed by H.64, and the handbook entry is : 
H.64. FOWLS, PIGEONS & DOGS or DOGS AND FOWLS, or DOGS SERIES. (titled, except Edwards, Ringer & Bigg). Fronts in colour, illustrated in Notes & News, Vol.1. No,4.

Pre-1919
Churchman - Titled "Dogs & Fowls". Series of 38 (April 1908)
Edwards, Ringer & Bigg - Untitled series of 23. Dogs only (March 1908)
Ogden - Titled "Fowls, Pigeons & Dogs". Series of 50 (3 variations No.12) Illustrated in "Notes & News Vol.1 No.6 (May 1904)
Smith - Titled "Fowls, Pigeons & Dogs"..Series of 50 (May 1908)

Trade - Fry (cocoa) - Titled "Fowls, Pigeons & Dogs".. Series of 50
Overseas - Gevolgelte (Holland) - Titled "Durven & Housen". Series of 48
Imperial Tobacco Co. of Canada - Titled "Dogs Series". Series of 23, serial No, 7605. Recorded in Burdick under C.7, page 40
This is a bit too lengthy to tackle tonight, so I will work on it over the weekend! At which time I will also add the Ogdens and the Churchman descriptions from those original reference booklets, as well as any others I can track down.
In the meantime does anyone know when the overseas ones were issued? Or what "Durven & Housen" means in English? 
and that is all we have time for tonight. The only thing I have not yet found is the card code for the Topps set of Alf - and I also have to add the list of Boer War Generals - Campaigners. Not bad though! 
Ooh, I almost forgot. Today is Hallowe`en. And you will find a little extra Cartophilic Celebration at :  https://csgb.co.uk/news/cartophilic-halloween-2022-10-31