Welcome to another week! And what a week it has been, with the end result being that we have a new form of newsletter on a newly redesigned website. Do let us know what you think...
So is anyone in the car park in Salisbury yet? Its just a few hours, so I bet some of you are already making sandwiches and finding flasks. Don't forget there will only be vending machines on site to supply food, but there is a Waitrose not too far away and don't forget to pick up a copy of their free weekly "Weekend" newspaper. If you like it, as I do, it is always available to read online starting weekly on Thursdays.
We hope you will stay in touch with us all through the weekend showing us what you are buying, bartering and selling by using the tag @Card_World and the hashtag #cartophily - and if you don't have twitter, that`s ok, just email webmaster@card-world.co.uk as we will be running a visitors experiences book throughout the weekend – and Twitterers are welcome to post on that too. 
By the way, if you buy anything really spectacular then why not consider uploading it to our forthcoming museum of cartophilic curiosities? More details about this will follow in due course. 
This week's Cards of the Day...
Saturday, 2nd October 2021
[trade : UK] Figurine Panini "UEFA Euro 2020" stickers – Preview version with blue back (2020) Un/568
Saturday's clue referred simply to Russia, which was the first country in Space, sent the first man into space (Yuri Gagarin) and also sent the first woman (Valentina Tereshkova). The simple truth is that it was not for Russia, we may never have blasted off into space, for what was known as The Space Race was entirely caused by President Kennedy trying to beat them and claim the honour for America - if there had been no opponent, there would have been no race, and things would probably have meandered along until the entire plan was abandoned. But having a race was infectious, and you can see that on cards, how space starts appearing at the end of cards for aviation and speed, and then for entire sets. 
Sunday, 3rd October 2021
A560-180 : USA/T400-11 [tobacco : OS] American Tobacco Co. 'Beauties - Star Girls' untitled (1900) Un/2
Sunday's clue was the set title, "Star Girl", a term which could cover all female cosmonauts and astronauts. I find these most attractive cards, with the astronomical backdrop and the gilt edged star. 
All 25 cards were all illustrated as figure 30, item number H.30, on page 15 of the 1950 London Cigarette Card Company Handbook of British Cigarette Card Issues, Volume One 1888-1919, compiled by Charles Lane Bagnall. In case you are wondering why, this set was also issued by several British cigarette and tobacco companies, though these sets are all catalogued under the title of simply "Star Girls". These were B046-800 A.Baker & Co. 1898 (odds were on sale from 25/- to 75/-), B381-600 Jas. Biggs & Sons 1900 (30/- to 90/-), H192-700 W.J. Harris or Harris & Sons 1899 (60/- to 150/-), P891-800 Pritchard & Burton 1900 (80/- to 240/-), and twice in 1899 by Salmon & Gluckstein as S041-400 (a "red" or pinkish red backed version with the company name in small lettering at 100/- to 300/-, and a "brown" or reddish-brown backed version with the company name in capital letters and of a different setting at 80/- to 240/-). All the above issuers were based in London. Then it was also issued by H766-350 Hudden & Co. Ltd of Bristol 1900 (no cards in stock), L645-800 H.C. Lloyd of Exeter 1899 (in the wonderfully named "Tipsy Loo" brand - 50/- to 140/-), and M958-170 B. Muratti & Co. Ltd of Manchester and London 1899 (40/- to 120/-). There is also an anonymous, plain backed version which is usually regarded to have been issued by a British company.
The set was then issued overseas, slightly later, in 1903 by British American Tobacco (with the "green net" back design), and this is also catalogued as "Beauties - Star Girls".
In our 2003 "British Tobacco Issues Handbook" the set is still H.30, and the block figure 30, but on page 22. Our knowledge had increased though, the set had been discovered as F756-200 issued in 1901 by Franklyn Davey, whilst the Harris cards were now thought to be vari-backed with six variations ("All Gay" Virginia Tobacco "Packets only..." and "Sold everywhere..." / "American Blend Tobacco, either vertical or horizontal format / "Super Navy Cut" "Cigarettes" or 'Mild"), and the Lloyd set is further described to be plain backed with the brand on the front, either all in capitals, or in upper and lower case. Overseas, the American Tobacco cards had been found in the "green net" back design, and three cards had been found by a new issuer, Grande Fabrica de Cigarros de Henrique Bastos & Cia of Rio de Janeiro in Brazil. These had the captions in Portuguese and are referenced as B157-700
Monday, 4th October 2021
MAR-210 : MBM-3 [trade : UK] Mars Confections Ltd "Famous Film Stars" (1939) 47/50
Monday's clue was "Mars" to celebrate Helen Patricia Sharman, CMG, OBE, HonFRSC, who was not only the first British woman in space but also the first woman on the MIR International Space Station – and she worked at the Mars Confectionery Company! And it all started because she listened to the radio!
You can read about that, and about her at https://www.rmg.co.uk/stories/topics/who-was-first-woman-space
Dick Powell had a lengthy career in all genres of motion pictures, including musicals, and he was the first actor to play Raymond Chandler`s Philip Marlowe on screen, in "Murder, My Sweet", an adaptation of 'Farewell, My Lovely. He also appeared in a film called "To the Ends of the Earth" - which suits our theme, but it was a crime story! 
Tuesday, 5th October 2021
A495-420 [tobacco : UK] Amalgamated Tobacco Corporation Ltd Mills brand "Into Space" (1959) 6/25
Jules Gabriel Verne was fascinated by exploration and his dreams were not far from the truth. In 1865, when he wrote "From The Earth to The Moon", he included many things that became realities, even a spacecraft that gets its power direct from the sun. The book was so popular that it had a sequel, called "All Around the Moon". In 1902, a short fifteen minute film, directed by Georges Melies, was made in France. This mixture of animation and live actions, was called "Le Voyage dans la Lune", and it features probably the earliest women on the moon, who somehow manage to explore it in a simple stage costume and tights, without any form of artificial breathing apparatus. Melies said the film was based on many ideas including the Jules Verne novels, and you can clearly see the "shell" shape if you watch :  https://www.youtube.com/watch?v=ZNAHcMMOHE8     Jules Verne named this shell craft the "Columbiad", and the "Columbia" was not only the command module of Apollo 11, but one of the space shuttles. However after the disaster which befell that it is unlikely the name will resurface.  
You can see several cards of Jules Verne at :  http://www.julesverne.ca/jvcigar.html  - this fascinating site also features cigar bands and matchbooks. He also appears on a woven silk which can be viewed at :  https://www.etsy.com/uk/listing/760174052/vintage-woven-cigarette-and-tobacco-silk?show_sold_out_detail=1&ref=nla_listing_details 
whilst a range of more modern Allen and Ginter variety printings can be found at :  https://www.tcdb.com/Person.cfm/pid/66523/col/1/yea/0/Jules-Verne?sTeam=&sCardNum=&sNote=&sSetName=&sBrand=
Wednesday, 6th October 2021
[Trade : UK] A & B C Gum "Space Cards" (1958) 5/88 - Sputnik descending
There is a link between Sputnik 1 and the first woman in space as they both started their flights  from Baikonur in Kazakhstan (in 1957 and 1963 respectively) .
Sputnik I appears on several cards : the earliest is 1957 Topps "Space", and it is so early that rumour has it the picture came from a leaked document. The name of the craft on the card also contains an error, it says it is Sputnik I (a roman numeral not a number). This had been corrected by the next year, when our card was issued - the first card in the set also shows it. The first British card of it is Lyons Tea "Space Exploration" (1963) Card 5. Brooke Bond "Race into Space" thought to be the first, was not issued until 1974. The confusion may have arisen because Brooke Bond Canada featured it in their 1969 set "The Space Age". 
Thursday, 7th October 2021
W675-296 [tobacco : UK] W.D. & H.O. Wills - Embassy brand "World of Speed" (1981) 12/36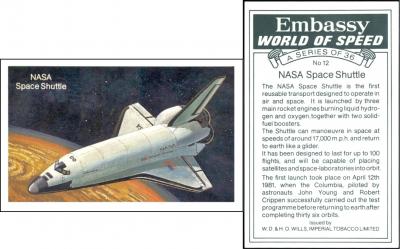 As we have a new website let us celebrate by showing you the original New Issues Report from "Cartophilic Notes & News" Volume 9, No.105, November/December 1981 (page 3006). 
Image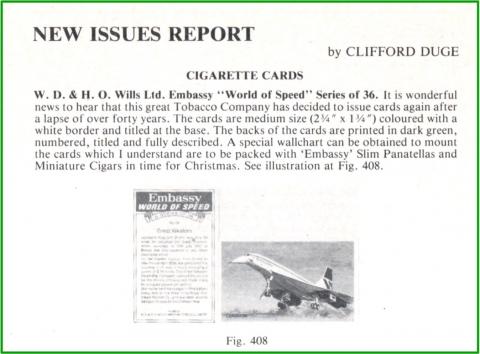 Other cards cited in this report were: Anonymous (Topps Gum) "The Empire Strikes Back" (cards numbered 67-88 : so the second series) - Brooke Bond Oxo Ltd "Small Wonders" - IPC Magazines Ltd (Shoot Periodical) "Top 20 Strikers", Prescott Pickup & Co. Ltd "The Royal Wedding" postcards, and "The Prince of Wales In Uniform" - Whitbread & Co. Ltd "Inn Sign Stickers" (a thin paper issue) - and two inserts by Benson & Hedges Ltd, one being a 4p off in red and yellow and the other offering a £1 bonus in return for collecting 15 Silk Cut coupons
The first two women into space were both Russian. The third was the first American woman, and she went via the Space Shuttle. Her name was Sally Ride - check out https://www.tcdb.com/Person.cfm/pid/42852/col/1/yea/0/Sally-Ride?sTeam=&sCardNum=&sNote=&sSetName=&sBrand= The first woman commander on  the Space Shuttle was Eileen Collins, on the STS-93 in July 1999 and the STS 114 in July 2005. Pamela Melroy was the second commander on the STS-120 in October 2007 and there is a 2012 Panini card of her at https://www.autographwarehouse.com/eileencollinstradingcardfirstfemalespaceshuttlecommander2012paniniamericana9.aspx
Friday, 8th October 2021
[Commercial : USA] N.A.S.A "Space Cards" (1996)
This is MIR, the International Space Station, which was designed to prove that all nations could co-exist in space together. It is not known how these cards were issued, one theory is that they were available at the various N.A.S.A. tour centres and information booths. is there anyone out there who can confirm this. Mir was actually assembled in space from modules, a lengthy task which took ten years, starting in 1986. Once completed it was in orbit from 1986 to 2001, with The Soviet Union/Russia being in overall control and other nations coming in to take part in missions and experiments. You can read the full story at https://www.history.nasa.gov/SP-4225/mir/mir.htm
well as they say, things can only get better! Its been fun learning how to work this site, and many thanks to my ever patient teachers! pop back Monday and everything will be in place with all the reference codes....
And one day it will again look like last week`s - which is at  
https://csgb.co.uk/publications/newsletter/2021-10-03
To bed now! You have a Convention to get to in the morning......
Image