Welcome to another Saturday crossed off towards our approach to the festive season. Now if your club is having a Christmas event, dont forget to tell us. We know that many of you are still a bit unwilling to embrace such things, and with good reason, but getting together will raise your spirits and lift your hearts, and who says you need to be within two metres of each other to have a good time. So if you get an invite please do consider it. 
This week has been rather troublesome around these parts and I have been occupied with the tentative return to my own micro business. (Is there a smaller word than micro?) Suffice to say this is now back up and running, and hoping to keep going. On which note does anyone out there list on eBid? It sounds interesting, so drop us all the gen at webmaster@card-world.co.uk  - which is also the address to reply to anything raised in this newsletter, send scans of cards and info, or any articles you would like to see featured, especially on those Christmas subjects, and also just to keep in touch with us. 
On November the 13th 1850, Scottish writer Robert Louis Stevenson was born. So lets start with a snippet from one of our earlier magazines, namely: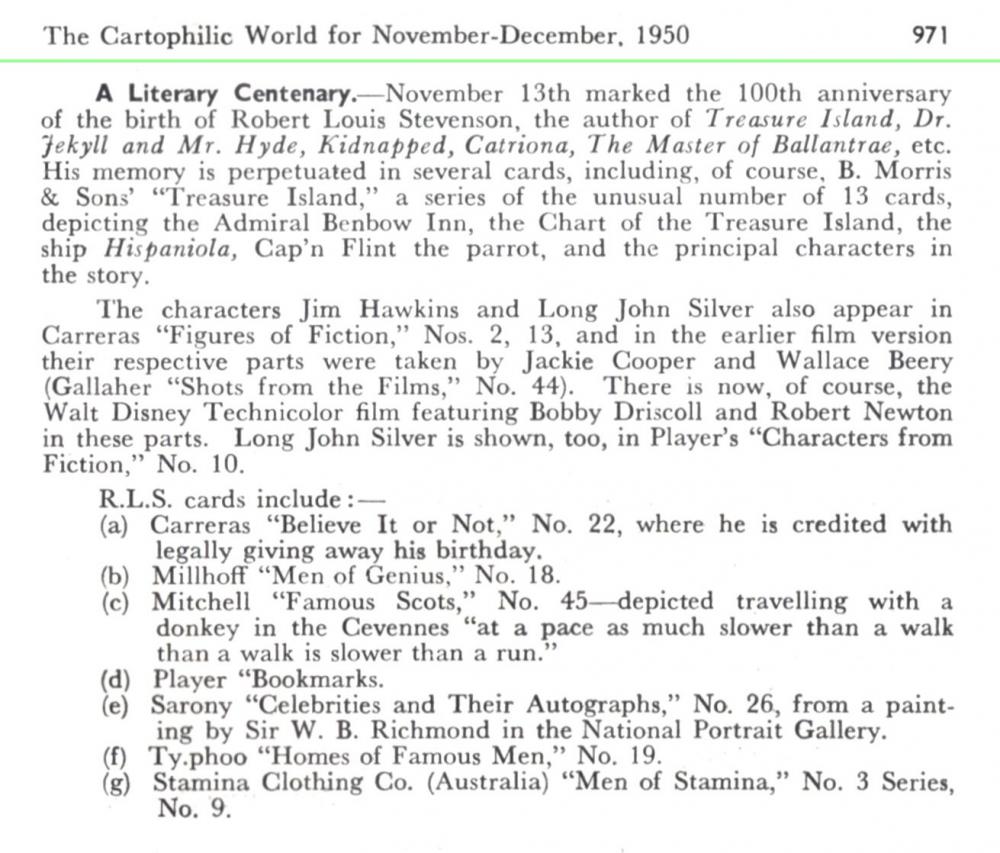 "Treasure Island" started as a magazine serialisation, and was first published as a book by Cassell & Co; strangely this was not on his birthday but on the day after, the 14th of November 1883. Now there were earlier films of "Treasure Island" than mentioned above, the first was in 1912, and in it Jim Hawkins was played by a twenty year old actor called Addison Rothermel. Five years later, in 1917, a second version was made, in which the seven year old Francis Carpenter was cast alongside another child star Virginia Lee Corbin. He seems not to have appeared on cigarette cards, our card is from the Pictures Portrait Gallery of postcards issued through "Pictures" magazine, but the image is a popular one and was also used by Rotary. The costume is from "Jack and the Beanstalk" (1917 - also with Virginia Lee Corbin). Then in 1920, the film was made again, with Shirley Mason playing Jim Hawkins;  regular readers of our newsletter will remember that Shirley Mason was Viola Dana`s sister. This version of the film is also notable because Lon Chaney played two of the pirates.  Shirley Mason can be found on a set allied to the Pictures Portrait Gallery, dressed as a balllerina, I know not from which film this came, plus on several cigarette cards - four are held as part of the Arents Collection and you can see those at https://digitalcollections.nypl.org/search/index?filters%5Broot-collection%5D=b50ab6f0-c52b-012f-5986-58d385a7bc34&keywords=shirley+mason 
I was also struck by the fact Robert Louis Stevenson gave away his birthday! And there is one of the most heart-warming websites you may ever be directed to about this very event at https://uselessinformation.org/annie-louisa-ide-cockran/  By the way the Donkey reference above comes from a book he wrote in 1879; you can read more about this at http://robert-louis-stevenson.org/works/travels-with-a-donkey-in-the-cevennes-1879/  - and it is available to read online, but there are 136 pages. The link is https://freeclassicebooks.com/Robert%20Louis%20Stevenson/Travels%20with%20a%20Donkey%20in%20the%20Cevennes.pdf Something else I like is that in 1889 he went to live in Samoa. He only lived for five more years, but there is something very exciting about that idea.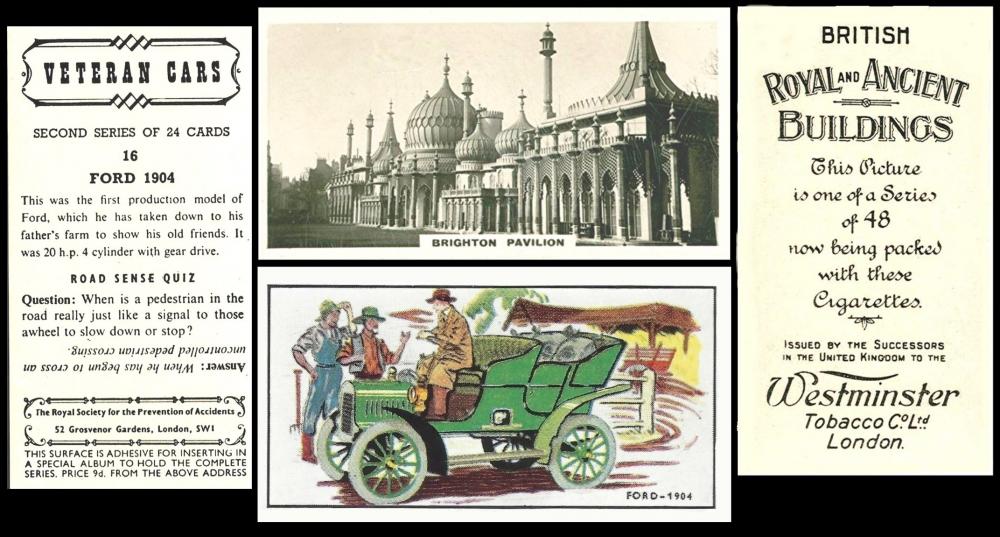 Today, in 1896, was an event that has endured. It was called The Emancipation Run, and in it, thirty-three motorists formed a parade that slowly progressed from London to Brighton, with twenty vehicles being unable to carry on and being left by the wayside. The "Emancipation" was that a new act had been passed, called the Locomotives on Highways Act, and this raised the speed limit for  vehicles weighing up to 1.5 tons to a mind blowing 14 mph, two more mph than had previously been allowed. Heavier vehicles were still held back, those of up to two tons being restricted to 8 mph and those over that weight to just 5 mph. The speed limit was eventually raised, to 20 mph, in 1903.
This year, the world's longest running motoring event, now known as the London to Brighton Run, was the 125th anniversary of that first parade. However it was not the direct descendant of the original, as this version only began in 1927, and it was only for cars built before 1905, so no set of cigarette cards would qualify, the oldest set being Lambert and Butler`s "Motors" first series, issued in 1908. See https://en.wikipedia.org/wiki/London_to_Brighton_Veteran_Car_Run.
and https://www.veterancarrun.com/the-run - where there is even a section of vehicles and parts for sale, plus you can sign up for a regular newsletter. But the burning question is have any of you ever taken part? If so, let us know. 
Today in 1968, saw the end of the last Transatlantic voyage for the largest passenger liner in the world, Cunard's RMS Queen Elizabeth, who docked for the final time in Southampton. Something you may not immediately realise is that she was not named for our present Queen, but for the Queen Mother, wife of George VI and the mother of our present Queen.
This vessel was planned as a luxury liner from the moment her sister ship, the RMS Queen Mary, slid into the water. Nothing was spared in her fixtures and fittings, and she was planned for launch in September 1938. This ceremony did take place, with her namesake performing the ceremony of breaking a bottle of champagne over her bow, though according to those who were there it moved somewhat before the champagne was hurriedly struck to the metal.
In 1938, she featured in Ogden`s "Ocean Greyhounds", a set of fifty cards which show various ocean liners, and includes a card of her being built as well as many sumptuous interiors. This may well have been planned as advance publicity, for the first tickets were due to go on sale for the maiden voyage taking place in April 1940. Unfortunately this trip never happened, for by the time of that trip she had been hastily converted for another usage, and her first passengers were soldiers, as she served in the Second World War as a troopship from February 1940 right until October 1946, after which she returned to the ocean, for the first time in her original costume, as a passenger liner.
Her end was no less dramatic which you can read about and view at https://www.thevintagenews.com/2015/11/24/the-wreck-of-rms-queen-elizabeth-hong-kong-harbor/
Every 16th of November is National Button Day, and though you probably have never heard of it, it was founded in 1938 by the American "National Button Society" who are still going strong, with a website at https://nationalbuttonsociety.org/
Now you might not think that there is any connection between buttons and cartophily, but think again. Let us start with Stephen Mitchell's "Army Ribbons & Buttons", issued in 1916; this sought after set of twenty five cards was "passed by the Press Bureau on the 15th of November 1916. The front shows the Regimental ribbon and the button in great detail, whilst the reverse tells the story of each unit including lists of their notable battles. Then we have Carreras "Do You Know" (1939) where card 11/50 tells why men button their coats to the left and ladies to the right, whilst card 46/50 tells the story of why there are buttons on uniforms in the first place, and reveals that buttons were used as badges of rank by the Chinese. Our other "card" is a silk, issued by Happy Home in approximately 1914, I dont have the backing paper though. And hat`s just a start. See how many you can find in your collection! 
On 17 November 1976, we grew another branch. For it was on that day that Hants and Dorset Branch first drew breath. We have only just started to research their story but we do know that in 1984 they issued a set of cards of members of their Branch. In 1985, according to the March/April 1985 edition of "Cartophilic Notes and News" (Vol.13, No.130, p.3654) their Secretary was Mr. Roy Wheeler of Wimborne Dorset. They met once a month, on Sunday afternoons at 2.30 pm, at Corfe Mullen Village Hall in Wareham Road. This was located behind the Co-Op, and in 1988 were still meeting there, though they did not meet in August, and the times were 2 and 4.30pm; however the Secretary had become Mr Chris Pozzetti. In 1997, they were one of three co-hosting branches involved with the Cartophilic Convention; the other two being Hants and Surrey, and Winchester and Solent, and all are mentioned on this most attractive Convention Commemorative card showing three ocean liners, a familiar sight in the area, from a wonderful drawing by Paul Merchant. The Branch then moved to St. Pauls Church Hall, where the monthly meetings often included local and national dealers, plus members were encouraged to bring spare cards for swapping or sale. The April 2020 meeting clashed with Easter Sunday so it was moved it to the following week - however world events intervened and that meeting was never held. 
Now lets go on a treasure hunt and see what else we can find, and find out, by the anniversary, so come on, join in - glean your memories and search through your collections! 
And there were other local branches before this in this area, whose stories we will also tell on that anniversary day!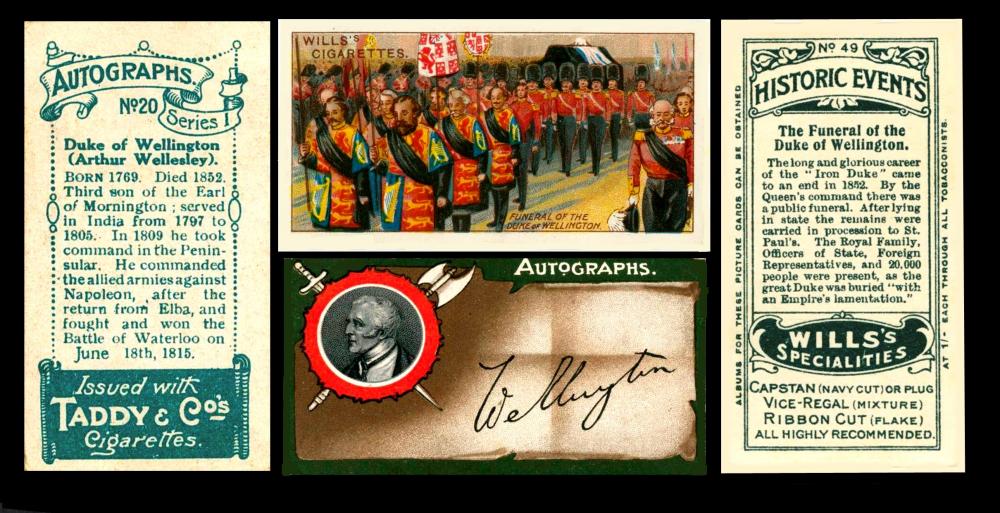 Today in 1852 was the state funeral for Field Marshal the Duke of Wellington K.G. Today he is but a distant figure, but in his living memory he had defeated Napoleon at Waterloo, and was a national hero. He had been born on the first of May 1769, in Dublin, Ireland, and had served as Prime Minister of England twice. You can read more at https://www.gov.uk/government/history/past-prime-ministers/arthur-wellesley-1st-duke-of-wellington
According to https://www.tcdb.com/Person.cfm/pid/85832/col/1/yea/0/Arthur-Wellesley?sTeam=&sCardNum=&sNote=&sSetName=&sBrand=   there are twenty-one cards of him. The most unusual is Typhoo "Homes of Famous Men" (1934) 23/24 which shows Apsley House, at Hyde Park Corner, which is now his museum, but at the time of his living there had the wonderful postal address of No.1, London. Though this was his London address, it was not his favourite home, as he much preferred Walmer Castle, in Kent, which he occupied through his office of being the Lords Warden of the Cinque Ports, staying there in the autumn of most years, and being visited by friends and dignitaries. And, fittingly, where he loved was where he died on 14th September, just after 3 p.m., this being and his body remained there until being transported, by train, to the funeral, in St. Paul`s Cathedral, from where it was walked through the streets on a carriage.
The funeral procession towards St Paul`s Cathedral actually appears on a card, W.D. & H.O. Wills "Historic Events" 49/50
Image
Today in 1905, Tommy Dorsey was born. American trombonist, composer and bandleader. They started recording in 1928, mostly for the smaller labels, and moved to Decca in 1934. Their band, the Dorsey Brothers Orchestra, was made up of many people, including Glenn Miller and Francis Albert Sinatra (who would later drop his middle name and shorten Francis to Frank), but it was an increasingly fraught atmosphere and eventually ended when Tommy left the stage during a performance and became part of the Joe Haymes Band which he then renamed to Tommy Dorsey and His Orchestra, setting up in direct competition with his brother. They were brought together during the Second World War and something mellowed, leading to a reunion just in time for "The Fabulous Dorseys", a motion picture in 1947, and to the bands getting back together in 1950. Tommy died in 1956, after which his trombone was placed on stage as a silent tribute. Jimmy died less than a year later. 
I would have thought they appeared on cards, but can only find this Picturegoer "W" Series W.101, which is really a commercial issue, sold through the magazine. But they do have another association with cartophily as he and his brother advertised Camels Cigarettes in 1953, one advertisement for which may be seen at https://www.etsy.com/uk/listing/667996746/1953-camel-tommy-jimmy-dorsey-big-band
This week's Cards of the Day...
Well, if you hadnt guessed it by now this week we are joining in with "Movember" and featuring cartophilic moustaches. Their UK website is https://uk.movember.com/ and its not too late to join in with the hirsute happenings and "make a difference" as it lasts all month. And if any of our readers, families, workmates, or pals are already taking part do drop us a line so we can cheer you all on. 
It was surprisingly easy to find cards with moustaches, they were much more a fixture in the days of the cigarette card than you might imagine, and many sportsmen sported them. Today, (and very sadly from my point of view) the trend is for our heroes to be clean shaven. Guess I was just born too late....
Saturday, 6th November 2021
O100-428 [tobacco : UK] Ogden `s Limited "Football Club Colours" (May 1906) 5/50 (or is it?)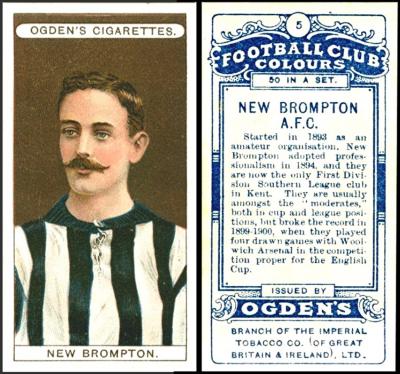 In our original Ogden reference book this was catalogued as O/86 and it is one of the first full-colour football sets. There is lots to talk about here, but the most important is that whilst the first 50 cards all say "50 in a set", there is an extra card which says "51 in a set" and shows the Captain of the South African Team which were in England for the season starting in Autumn 1906. If you go to Alan Jenkins` https://cartophilic-info-exch.blogspot.com/2013/07/ogdens-cigarettes-football-club-colours.html it tells you more about the 50/51 discrepancy. On which note, here is a puzzle for you as these cards are un-identified as far as the subject, but they are starting to be tied to actual footballers and it looks like our man has a name, Stephen Smith; he also managed the team from 1906 to 1908. However some are proving elusive – have a look at https://cartophilic-info-exch.blogspot.com/2014/11/ogdens-cigarettes-football-club-colours_29.html   and if you can help him out in his quest please do. The contact details are on the website. And do please mention the Cartophilic Society whenever writing to anyone about cards! 
Another oddity is that there are two cards for Northampton; in one the footballer wears a cap, in the other he does not. Also, the backs are stated to vary in colour, from lightish blue to almost black, one suggestion is this may have been caused when some of the cards were lithographed by an inattentive inker, but it is known that the cards were printed by Mardon, Son and Hall, so such an error would be hard to fathom. And amongst all the well known teams are some that are more obscure, but this is because eleven of the "football clubs" are actually Rugby Union; if you are thinking this is why you don`t recognise New Brompton AFC, well you would be wrong, as it was an Association Football Club, and it appears on other cards including Gallaher "Association Football Club Colours" 87/100 which shows T. Strang, 1909-1910. According to the reverse of our card, it was "started in 1893 as an amateur association … adopted professionalism in 1894, and they are now the only First Division Southern League club in Kent. It is also still in operation, but under a "new" name, Gillingham Football Club, though "new" is perhaps not the right word as the change occurred just before the 1912/1913 season. By the way, their former name is kept alive by a new team "New Brompton 1893" who play in the Medway Area Sunday Football League One.
The 1950 London Cigarette Card Company catalogue sold the Ogden version as numbers 1-50 for between 1/9d and 5/- a card, or £12 a set, and card No.51 was sold separately for 10/- each. Their Handbook tells us that similar series were issued by Churchman (C504- 270 as a titled and numbered set with backs in brown) and by Franklyn Davey (F756-440) untitled and unnumbered). However the only set with the extra card 51 is our Ogdens, probably because the Churchman and the Franklyn Davey sets were not issued until January 1909, after the South Africans had departed. However for some reason, despite being younger, these were more valuable/less plentiful in 1950, for the LCCC catalogue has Churchman listed at £30 a set and Franklyn Davey at £37 a set.
The Churchman set is reported to be illustrated in Notes & News Vol.1 No.6, and Vol.3 page 90. At that date this N&N has to be the Cameric magazine and not ours. I nearly had 166 of those Cameric magazines on Saturday morning but would you believe that phantom sniper who beat me on those Bulletins only popped up and nabbed these as well. But it was a fun fight and I did briefly lead with seconds to go, until their final salvo saw me off into the sunset, to lick my wounds and hone my skills until the next encounter, with but a passing thought of well fought, whoever you are....
Sunday, 7th November 2021
. W675-092 [tobacco : UK] W.D. & H.O. Wills "Allied Army Leaders" (March 1917) 16/50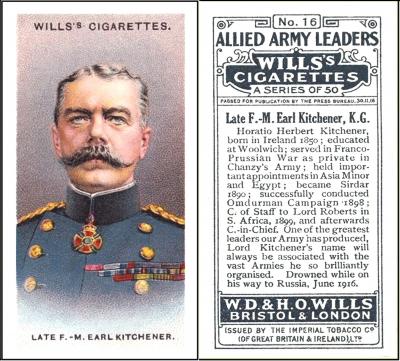 These first appeared in our Wills reference book part III (RB14, issued in 1949). They were given the code W/35 and already it was known that there were two printings, but you need to be pretty eagle eyed to spot the difference which is in the I.T.C. Clause. One set, presumably the first as it given the A classification, has it ending "& Ireland), Ltd." whilst B ends "& Ireland) Ltd."
If you still haven't spotted it, there is a comma after the bracket.
I am fairly certain this error was first spotted by Colonel Bagnall, as it appears in his LCCC Catalogue for 1950. From the pricing it appears that the one without the comma was scarcer, as this was 1/6d. to 4/6d. a card, compared to the comma version which was only 7d. to 1/3d. a card. Interestingly it says "With comma (or stop)", so the tail cannot have been very receptive to the ink during the production... The sets were listed only at the top, not tied to a printing. This probably meant that whichever set was in stock would be supplied unless a preference was made. These sets were 70/-.
Another barely noticeable error is in the style of the date the set was "passed by the Press Bureau" for it can be found as either 30.11.16 or 30-11-16; it was quickly realised that cards with and without commas could be found with either date style.
There is also a reference to slight alterations in the text and to changes in the rank of the subject, which I have not done a study of, but wonder if anyone out there has? And whether you would like to share your findings on our site ?
Horatio Herbert Kitchener died in June 1916, whilst these cards were being prepared, so his name appears on the front as "LATE F.-M EARL KITCHENER" The "F.-M" is Field Marshal. On the back it adds "K.G." for Knight of the Garter. His death, quoted as being "Drowned while on his way to Russia, June 1916", is now the subject of much speculation, most now not believing it was not an accident that his ship was lost at sea. You can see the wreck and read more,  via https://www.dailymail.co.uk/news/article-3654119/The-underwater-grave-Lord-Kitchener-736-men-died-warship-hit-100-years-ago.html  - whilst other interesting sites include https://www.liquisearch.com/herbert_kitchener_1st_earl_kitchener/death/conspiracy_theories - and - https://anilbalan.com/2013/10/06/the-curious-case-of-lord-kitchener/
Monday, 8th November 2021
BRM-51 [trade : UK] Brooke Bond "Inventors & Inventions" (1975) 31/50
The difference here is in the reference code, because as this set is post 1970, it does not appear in our newest British Trade Index, so the reference code we use actually comes from our vintage volume, RB31, the British Trade Index Part III, which was published in 1986. I think this is a great image for Movember, and can almost hear him saying "I`m going to leave that moustache right where it is and join in ..."
The inventor celebrated here is King Camp Gillette, born on January 5th, 1855. Contrary to popular knowledge he was not actually the inventor of the safety razor, he merely invented a better version than the ones currently being used which used a thin, disposable blade. He died on July 9, 1932. You can read more about him at https://www.britannica.com/biography/King-Camp-Gillette 
And yes, his name still lives on with "Gillette" razors - in fact their new brand is entitled The King C. Gillette brand
In fact there is another brand of razors that cartophilists should know. This is F.C. Cartledge, who issied a set of "Prizefighters" in 1938. You can see many of the cards in this set, collated from various auctions and sales, at https://www.collectors.com/trading-cards/1938-fc-cartledge/23637  Now as to why Cartledge issued a set of boxing cards, well their razor was called "The Knockout" and the packaging featured a boxing ring image In fact I dont know how long it will remain online, but you can see a lovely assortment at https://www.etsy.com/uk/listing/269201184/rare-1940s-fccartledge-knockout-razor?show_sold_out_detail=1&ref=nla_listing_details
Tuesday, 9th November 2021
T045-400 [tobacco : UK] James Taddy & Co. "Royalty Series" (1903) 8/25
This may be a terribly tatty Taddy but it just happens to be the only Taddy Card I own. It came to me in a mixed lot and I never had the heart to part with it.
Taddy isued three groups of Royalty cards.
The first we will deal with is this set of twenty-five cards, which were actually entitled "Royalty Series" - this is stated to have been issued with "Backs in Myrtle Green, with advertisement for "Myrtle Grove" Tobacco. Now I thought that was a bit odd, because I was sure my back was blue, and indeed it is, but not only is it not green, it is entirely different, having the advert for variously sized tins of "Premier Navy Cut [Tobacco], Mild Medium and Full Strengths". In addition there is no illustration of this back within our original Taddy reference book (RB12, issued in 1948). There is an illustration of a "Premier Navy Cut" back which accompanies "Natives of the World", but it it much more modern in style, or it could be the back that is quoted for "Boer Leaders" which states "Taddy`s Premier Navy Cut" but does not describe further so might be the same as the one which is shown. Are there any Taddy experts who can clarify this?
There were also two smaller groups, the first being a small five card set(?) which was untitled and un-numbered, and early researchers gave that the name of English Royalty, the cards show Queen Victoria and the two generations below her, these being King Edward VII and King George V, plus their Queens – whilst the second is usually considered as part of a mixed lot known as "Royalty, Actresses, Soldiers" which are again un-numbered and untitled. The Royalty cards in that lot were the Emperors and Empresses of Austria and Germany, the King and Queen of Italy, the Czar and Czarina of Russia, and our own Prince and Princess of Wales. This seems to cover European Royalty, so I tend to lean towards the original theory, that this was a set all its own of ten cards, perhaps with that name, and that the Actresses and Soldiers were also supposed to be alone as separate sets.
I seriously think we need a Taddy specialist to get in touch! 
Wednesday, 10th November 2021
P644-328.1 [tobacco : UK] John Player "Film Stars" first series (1934) 47/50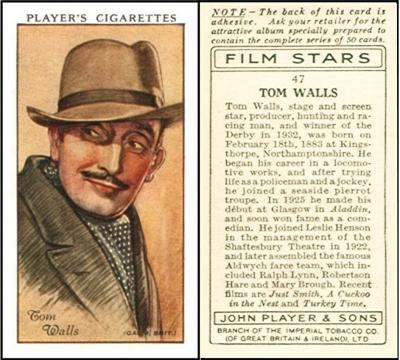 In our original John Player Reference Book (RB17, issued in 1950) this group of cards appears as "Film Stars or Screen Celebrities". The first set, ours, was titled "Film Stars" and in the album clause it says "Series of 50 cards". It had adhesive backs, ready to be stuck in the special album, and it was not issued overseas. The second 50 subjects said "Second Series" and were also issued in Ireland, omitting the cost of the album; whilst the "Third Series" was also issued in the Channel Islands and in Ireland, where the cards were re-printed and specially entitled "Screen Celebrities".
Again this was simply picked for being a man with a movember moustache, but I did like his smile, and think the Tatler got it right. (see https://www.thefreelibrary.com/Tom+Walls%3a+Actor%2c+producer%2c+policeman%2c+Derby-winning+owner-trainer.-a0102650066 )
He turned out to be Thomas Kirkby "Tom" Walls, not just "a stage and screen star, producer, hunting and racing man", but to have been "winner of the Derby in 1932" with a horse called April the Fifth who appears on John Player "Derby and Grand National Winners" 25/50. He also worked in a locomotive works, was a jockey, formed part of a seaside Pierrot troupe, was manager of the Shaftesbury Theatre from 1922 and was the assembler of the Aldwych Farces in the 1920s, may of which were remade as films in the following decade. And sixteen cards of him are listed at https://www.tcdb.com/Person.cfm/pid/202204/col/1/yea/0/Tom-Walls?sTeam=&sCardNum=&sNote=&sSetName=&sBrand= 
Thursday, 11th November 2021
G075-160 [tobacco : UK] Gallaher "Great War Victoria Cross Heroes" (1915) 32/200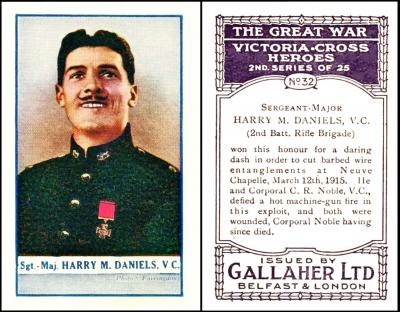 To read this in its entirety, click through to https://csgb.co.uk/news/lest-we-forget-life-discovered-2021-11-11
Friday, 12th November 2021
TYP-660 [trade : UK] Typhoo Tea Ltd "Whilst we Sleep" Series (1928) 24 /25
This is a most attractive set, and you can see all of the cards at https://buttes-chaumont.blogspot.com/2013/12/whilst-we-sleep-with-typhoo-tea.html
If you have pinterest you can also see them at https://www.pinterest.co.uk/gene1897/whilst-we-sleep-typhoo-tea-cards/ but I can only look so far before they block me for not having an account. 
Many of these workers would find themselves and their jobs well and truly caught up in The Second World War in less than ten years, this air mail pilot and his trusty aeroplane both almost certainly being swept off into the RAF, though perhaps he might have found himself part of the Army Postal Services, which was pretty much run by the Royal Engineers (Postal Section).
I think the way the cards are drawn definitely foretells the change in the air with its shadows, and its dark backgrounds, and its use of torchlight illumination. We will never know who these men were modelled on, because nobody thought those sort of facts worth recording, and the same is true for most cards of non-celebrities, which is a very great shame.  
Typhoo Tea is still going, dare I say it, "strong" (or is that just the way I make it?) and it has a website, not just to sell its wares, though this is of course the primary purpose of most websites. It also includes the story of how the business came to exist, at https://typhoo.co.uk/about-us/great-british-tea-since-1903/  - during which it even mentions that from 1906 John Sumner included "circulars .... and picture cards ... inside the packets. These are still collectable to this day!"
And now, before I fall asleep and dont suddenly awake with a jerk and think aargh newsletter, adieu! Hope you enjoyed it, and lets hope next week is easier! Until then, pleasant dreams, happy finds, and good companions to you all
for new readers, and anyone who wishes to re-read it, our last week`s newsletter is still visible at https://csgb.co.uk/publications/newsletter/2021-11-06