Welcome to our last newsletter that is entirely inside the month of November. Time, as they say, marches on. I hope you have enjoyed these newsletters, that they have not been too full of military and transport, and that you have learned a few facts with which to impress new friends at your Christmas parties. 
Don`t forget to send us scans of your Christmas cards - we have had a few in already which we can`t wait to show you. The most important thing is that there is a good mixture of ages and subjects, tobacco and trade, so whatever you have, we would love to see it. And I will also be doing quite a bit of scanning to share with you the tales of Christmasses past from our magazine archives. 
But lets enjoy our final week before we start the festivities.....
Today, in 1947 Princess Elizabeth Alexandra Mary (Queen Elizabeth II) married her cousin Lt Philip Mountbatten at Westminster Abbey. I have found no cards of the wedding, but these cards are relatively uncommon (and also inexpensive) and they are youthful pictures taken not that much longer after on the occasion of the Coronation. These are from A435-150 "Coronation Series" issued by Phillip Allman, who seem only to be widely known for their "girlie" pin up cards. However, this is a very informative set, starting with the Kings and Queens of England from Elizabeth I to the late King George VI and his Queen, to become the Queen Mother, and including the Coronation Chair inside Westminster Abbey, various artefacts that would be used in the proceedings, Royal buildings, The State Coach, and some really lovely cards of HRH Prince Charles and HRH Princess Anne.. It was also available in two versions, one with matt fronts and one with a linen grained finish.
Today is Stir up Sunday – the Sunday before Advent, and traditionally when start making their Christmas puddings. So why not add this to your tradition? I usually look first at Waitrose online, and yes they have a page full of hints which you can find at https://www.waitrose.com/ecom/content/seasonal/christmas/stir-up-sunday - including links to recipes. However, in the spirit of fairness I will say that whoever you shop with probably has a link to a Christmas pudding recipe on their website. They may not all be vegan, or vegetarian, but for us there are specialist sites, a good one is https://www.vegansociety.com/resources/recipes/special-occasions/christmas-pudding 
We tend to forget that Christmas pudding has altered over the years, and it was once made with meat and with plums, hence our cards. The pair is Lambert & Butler "British Trees and Their Uses", whilst the early plain backed trade card, courtesy of F. Potter, is by Atmore & Sons, who are not only still going strong but are currently working on going online, with images, photos and ephemera. Keep an eye on their progress at http://atmoreandsons.com/.  And you can read of the story of the early puddings (and enjoy yours all the more afterwards) by visiting https://www.whychristmas.com/customs/pudding.shtml
Also look out for recipe cards in your local store, whichever one you use. They are not really cartophilic because they are not issued with a product, nor are they commercial because they are not sold to make a profit. But they do remind me, and hopefully lots of you, of a former friend, John Townsend, and his whimsical "M.I.C.E." swapping club. And it is certainly pleasant to think of old pals at the closing of the year. 
Today in 1995, the original "Toy Story" film was released. This was the first film made entirely from images produced by a computer, with no live action elements. It was also the first film by Pixar. ,The story was not really new, toys coming to life whilst their youthful owners are asleep, and suddenly feeling human emotions, but there was a certain charm about it. The second film was in 3D, and some novelty 3D items were released including cards; I can`t watch 3D because it makes me almost immediately seasick. Not sure why. Luckily normality was resumed for Toy Story 3. Then Toy Story 4 was released in 2019. There are also several short comedy animations using the same characters.
Naturally the film appears on trading cards. Those for films 1 and 2 were produced by Skybox/Walt Disney in 1995 and 1996, but Film 3 "Hide and Seek", which has a binder style album, was by Topps. It looks like Skybox again did Toy Story 4, including unusual cards like "pop-outs" and jigsaws, whilst Sainsburys "Heroes" feature several characters. There were Panini stickers for all the films. The most sought after item seems to be a widescreen style format on which every card is foiled. That originally came as a complete set in a special treasure chest style box and was a limited edition of 20,000.
Then there is kind of the ultimate development, because Topps now apparently issue Toy Story as virtual trading cards online, including the 25th Anniversary sets. Perhaps this idea was suggested by Buzz Lightyear. Or maybe it is just a forerunner of everything, even us, being digitised eventually.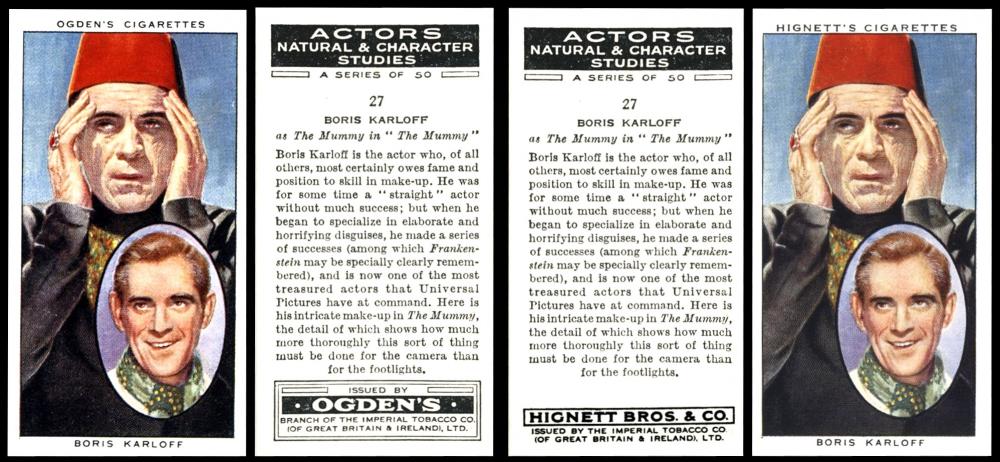 23 November 1887 was the birth date of William Henry Pratt, in Camberwell., Surrey. After going to University he decided to emigrate to Canada, where he joined a touring theatre company, and started using a stage name of "Boris Karloff". It is often said that he arrived in Hollywood and picked up work in a silent film; this is not strictly true, as it seems to have been in a Pearl White partwork serial that is now chiefly remembered for the fact that the Oriental villain was played by Warner Oland, who would become Charlie Chan (though he was actually Swedish by birth). Strangely, Boris Karloff and Warner Oland both appeared in Charlie Chan at the Opera in 1936, Warner Oland playing the title role and Boris Karloff playing a character called Gravelle who got second billing. And they both played another Oriental villian, by the name of Fu Manchu, at different times.
Boris Karloff`s first feature film appearance was as an unbilled character, a spy, in a Douglas Fairbanks United Artists film called "His Majesty, the American" which was released in 1919. It was not until 1931, aged 44, that he played not Frankenstein, but Frankenstein`s Monster. The make up was a lengthy process and made his skin sore as in those days it was not realised that you had to leave areas of the skin free of make up so that the rest could breathe, and the costume was awkward to wear as it included bracing to keep him upright, but worst of all was learning to keep his balance with this bracing whilst wearing the high platform boots which had been created to give him height. This was not taken into account when filming, and he did actually carry Colin Clive up the windmill steps whilst wearing the brace and boots. Doing this permanently damaged his back, resulting in several surgeries right into the 1940s, and he spent his last few years in a wheelchair. He died on February 2, 1969, aged 81. And if you want to read more, may we direct you to https://en.wikipedia.org/wiki/Boris_Karloff
There are quite a few cards of him, a good starting point is https://www.tcdb.com/Person.cfm/pid/123233/col/1/yea/0/Boris-Karloff?sTeam=&sCardNum=&sNote=&sSetName=&sBrand=  The first item listed 1933 Carreras Personality Series-Film Stars #41 Boris Karloff is rather hard to find as if you follow your first thought and look for Carreras Personality series you end up at https://prewarcards.com/2016/10/11/1933-34-turf-cigarettes-personality-series-set-and-checklist/. However the key is to look at non-sports, then you get to http://www.moviecard.com/carreras/car-persfilmturf9.html – where, would you believe, the card shown to illustrate the entire set is our man! Now this says that this set is akin to two other sets issued in Australia, all three of which are in different colours, the "Standard" and the "Smile Away" sets being brown and the "Personality" in green. It also mentions the numbers differ; this is true, our man is number 41 in the "Personality", 50 in the "Standard" and number 59 in the "Smile Away"
Did you realise that 24 November is Evolution Day. As to why, we must travel backwards to 1859, when On the Origin of Species, a book by Charles Robert Darwin, was published on November 24, 1859. Charles Darwin was fifty when it came out. He had been born in 1809 in Shrewsbury, son of a doctor who hoped that he would continue the medical line. Unfortunately these hopes were dashed when the student was unable to see blood without being ill. It seems strange to say that in any event he far preferred the study of fossils and natural history than human life, for his life would be devoted to proving the origins of man and of humanity. He left college and got a job, as a naturalist on an expedition, tasked with surveying the South American coastline. He mainly took it to see species of another world, and spent much of his time collecting samples of plant and animal life. He managed to visit Chile, Brazil and Argentina, and many of the islands where despite their distance, the natural world was very alike. He brought much material with him and set to exploring it on his return to England. The first thing he did was set up a correspondence base of other scientists and collectors and share information. This led to the discovery that animals and plants change over generations, leaving behind traits they no longer need and gaining ones more suitable to the world or climate they find themselves living in. He called this natural selection.
When the book was issued it caused controversy. Many people rebelled against the theory that man was descended from the apes, even though this wording does not appear in the book. There were scathing cartoons and much condescending humour. Charles Darwin died in 1882 aged 73, and was buried in Westminster Abbey. However the bitter disputes continued; in 1925 an American schoolteacher was found guilty of teaching the theory of evolution to his pupils and was fined; see https://www.history.com/topics/roaring-twenties/scopes-trial  And in 1930, teaching the theory of evolution was still banned in several states of the USA. 
First of all Happy Thanksgiving to all our American readers for this day. And if you want to send us a quick email portrait of yourself and what you collect, please do – the email is webmaster@card-world.co.uk - but we will not reveal full names, just forenames and areas. With this in mind you can also send us scans of your favourite cards.
American collectors owe a debt of gratitude to many collectors, but not least to Jefferson Burdick, three of whose catalogues appear above. And we are going to celebrate his life on that day, so pop back to see our tributes.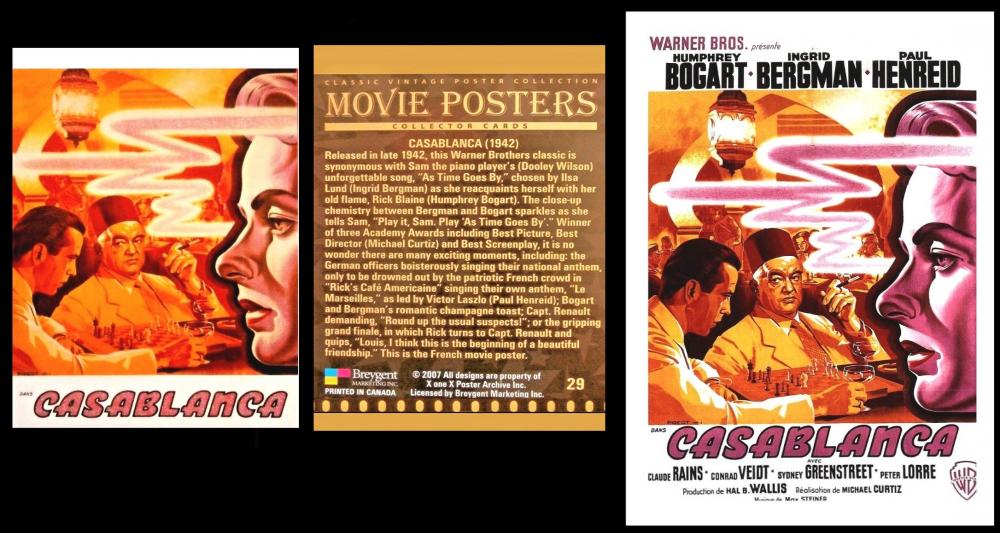 26 November 1942 saw the Premiere of Casablanca, love story set in exotic Morocco. It was a great success, winning three Academy Awards, including the most coveted "Best Picture" though none for the stars. . The classic movie starring Ingrid Bergman and Humphrey Bogart won 3 Oscars – Best Picture, Director and Adapted Screenplay. According to the Trading Card database, at https://www.tcdb.com/Person.cfm/pid/42323/col/1/yea/0/Humphrey-Bogart?sTeam=&sCardNum=&sNote=&sSetName=&sBrand= the first card of Humphrey Bogart was issued by Bridgewater whose small blank backed black and white cards, sometimes hand coloured, were issued in packets of biscuits. I cant find an earlier card, though his first screen appearance was in the 1920s. The same site but the page for Ingrid Bergman can be found at https://www.tcdb.com/Person.cfm/pid/42307/col/1/yea/0/Ingrid-Bergman?sTeam=&sCardNum=&sNote=&sSetName=&sBrand= And this cites the packet issue by Carreras Turf, "Film Stars" as her first card, a set, issued in 1947, which Humphrey Bogart also appeared in.Sadly this was issued rather late to mention Casablanca.
Our card is by Breygent, from "Classic Movie Posters" issued in 2007, and it is number 29. On the back of the card it says that this is from the French poster, so we thought we would show you one of those too.
Rumours persist that the original casting was Ann Sheridan and Ronald Reagan, but this was just a rumour, though it might have picked up a shot of speed and credence because the pair had been teamed before with good results, in "Naughty But Nice" (1939) and "Kings Row" (1942).
Our story is a love story with a twist, a tough guy who cares for nobody finally being faced to admit he does. There are lots of subplots concerning the War and a very sad ending. It will almost certainly be on television over Christmas, so why not sit down with the last of the chocolates and enjoy a return to life in black and white? Keep the tissues handy though! 
This week's Cards of the Day...
And now to our Cards of the Day. Well if you hadn`t guessed it yet, the theme of this week`s Card of the Day ties in with Road Safety Week, which started on the 15 November. However road safety should not be just something you think of for one week of the year when prompted, but always. The website for this event, with lots of hints and tips, is https://www.brake.org.uk/road-safety-week - and the parent site, https://www.brake.org.uk/ is open all year round. Your fellow road users beg you to visit, frequently. 
Saturday, 13th November 2021
G075-125 [tobacco : UK] Gallaher Ltd "Association Football Club Colours" (1910) 45/100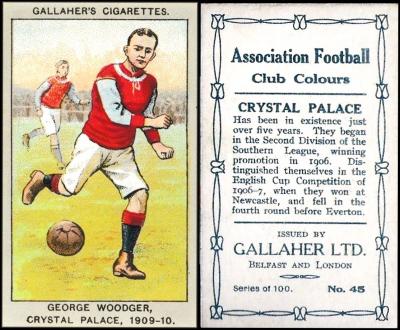 Our first card, of Saturday 13th comes from a very attractive set, and has a certain cachet in showing the players in action poses rather than just as head and shoulders shots. You can see the whole set, back and front, at https://cartophilic-info-exch.blogspot.com/2016/01/gallaher-ltd-association-football-club.html He also appears on F & J Smith "Footballers" (1914) 35/50, but for his later club, Oldham Athletic, which he joined in September 1910 – you can see that at https://cardhawkuk.com/product/smiths-footballers-1914-lbb-card-35-g-woodger-oldham-ath/
However, this card was not included because of the subject, George Woodger, 1909-1910, who you can read more about at https://en.wikipedia.org/wiki/George_Woodger but for his team, Crystal Palace. And the reason for that was that a day trip to the pleasure gardens at the Crystal Palace resulted in the first fatal accident to involve a pedestrian and a motor car, on the 17th of August 1896, the story of which is recounted at https://en.wikipedia.org/wiki/Death_of_Bridget_Driscoll
Sunday, 14th November 2021
O100-412.5 [tobacco : UK] Ogden Boy Scouts 5th Series (1914) card 223/225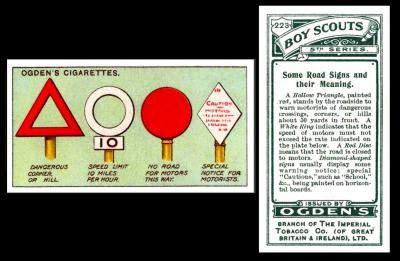 This card shows road signs, and though these were on the top of a long pole you will straight away see similarities between those and ours as far as even in the shape, but we have amended them over the years so that the triangle is not just a hollow structure but the inside carries the image that could prove the hazard. Red, as always, means a risk of immediate danger, white is more advisory.
Rather a tale to tell here. Ogden`s first series, issued in January1911, was entitled "Series of 50", and was available with the back in blue or green. where the back of cards 39 and 40 were mixed up, making it possible to collect two correct cards and two swapped over. There is an anonymous version, with a blue back, which was actually issued by Imperial Tobacco of Canada, which looks like it was discovered by Jefferson Burdick, who coded it C47 in his catalogue. This last version originally had an album clause up the sides, but this was later blocked out in blue. There is also a very curious fact, that being that some of these cards have been found with a non-official label stuck on which reads "Help the Boy Scout Fund .. Grand Entertainment 2nd May`14". This originated in South Africa. No idea if this appears on a whole set or whether it was just isolated cards used to serve a purpose. But I am sure one of our readers can help.
The Ogden "2nd Series of 50" was issued in February 1912, again available with the back in blue or green. It was also issued overseas by Player, with grey backs, though Player does not seem to have issued the first nor any of the others, so I am wondering how they numbered it!
The Ogden "3rd Series of 50" was issued in October 1912, and available with the back in blue or green.
Now the first three sets were also issued by Churchman – I was getting way too confused to add them in above so I have extracted them. The Churchman "1st Series" was issued in January 1916, and newly numbered 1-50, because these cards had formed Ogden`s third series of 1912. The Churchman "2nd Series" was issued in August 1916, and were exactly the same cards as the Ogden`s 1912 second series, so no need to change the numbering. Churchman`s "3rd Series" appeared in October 1916, and these were the cards which had appeared as Ogden`s first series of 1911, re-numbered to 101-150. (now you know why I extracted this lot) The entire set was printed in two different back versions, brown and blue. And we can tell these are from exactly the same printing as the Ogden because they also have the error cards 39 and 40.
By the time of Ogden`s "4th Series of 50", issued in November 1913, there was no competition, Ogden were the only issuer, and the back was only available in one colourway, that being green. That same one colour, green, remained for the "5th Series", which was issued in September 1914, but another curiosity is that this fifth Series only contained 25 cards, not 50. My own thought is the date; perhaps the timing of the war rushed through what was already ready to go, and printed the artwork done so far, either to get the information out there, or for fear that it would have to wait and the set would never get completed. Maybe other sets were already being cancelled. We may never know.
Monday, 15th November 2021
P521-452 [tobacco: UK] Godfrey Phillips "In The Public Eye" 38/54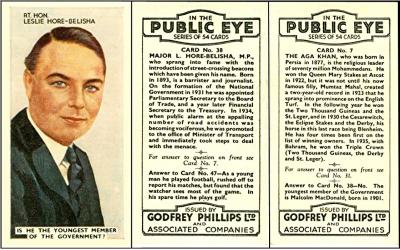 Our third card, Monday 15th - P521-452 [tobacco: UK] Godfrey Phillips "In The Public Eye" /54 . The cards from this set are not always in great condition, because they were glazed, which suffers badly with rough handling, even a tiny bend can make a crack right across the card, and also they were adhesive backed. Each front includes a question, and it is answered on another card, a ploy to ensure you collected them all. This revised photo shows the front and back of this card, plus the answer to the question posed, on that other card. 
There is one card in the set which suffered badly from errors, this shows the cricketer Nichols, who looked at his card only to see that the front had added an unwarranted second "L". His card was also updated in 1935, with words added "..and in 1935, 1249 runs and 157 wickets". I wonder if this was not when the error was discovered.
The subject of our card is Baron [Leslie] Hore Belisha who attempted to modernise the entire British transport network during his tenure as Minister for Transport.
And he has a lasting memorial in the "Belisha" Beacon which marks the spot where the pavement ends and the pedestrian crossing begins and ends.
He also has a cartophilic memorial, which is why on Tuesday we had ...
Tuesday, 16th November 2021
675-243A (W/321) [tobacco : UK] W.D. & H.O. Wills "Safety First" (December 1934) 8/50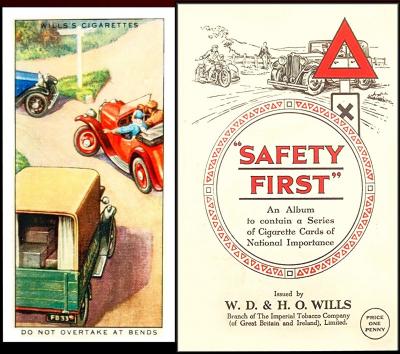 … because in the album for this set, there was a foreword, and that was written by the Minister of Transport, Leslie Hore-Belisha.
Parliaments may make Statutes and Ministers may make Regulations, but individuals make roads safer by carefulness and courtesy. The Highway Code is the traveller's code of honour. It reminds him that all persons have an equal right to use the highway and that good manners and consideration for others are as important on the road as in the drawing room. Sound knowledge of proper behaviour on the road, as set out in the Highway Code, is just as important to the pedestrian as to the motorist.
Anyone who spreads knowledge on this subject is helping in a national cause; and I am out to encourage all who keep the public interested in this matter whether they are public bodies or, as in this instance, a private firm. I wish every success to the "Safety First" series of cigarette cards which show pictorially and vividly how often accidents occur from disregard of the Highway Code; and I welcome the more as the cards will be disseminated among the children, who are unhappily all too frequently numbered among the victims of road accidents.
Signed: Leslie Hore-Belisha"
243B is the Irish issue, in which three texts differ on cards 13,14, and 16. I will add scans of those, if you can oblige. 243C is a version issued in New Zealand, without adhesive backs, where the text says "Issued by W.D. & H.O. Wills (N.Z.) Ltd., in support of New Zealand`s Road Safety Campaign". 243D is an anonymous set which is only marked "C.T. Ltd" but which was issued in South Africa through British American Tobacco, with non-adhesive backs. Then there is another curio, its just forty cards and it is entitled "Safety First" but it is not this set.
Our set replaced the first series of "Radio Celebrities" which had been going since August, and it actually ran right to April 1935, when it was replaced by "The Reign of King George V" that set being issued to specifically in order to celebrate the Silver Jubilee. It has adhesive backs and was designed to be fixed in an album issued by Wills for the cost of one penny. and it is a fascinating set, not just cars, but advice for bicycles, pedestrians, and car owners – card 35 is "Never run an engine in a garage with the door closed". If you have not seen the set before, motor along to: https://www.oldclassiccar.co.uk/safety-first.htm
Mine is in the album, hence there is no back shown, only the album front; if anyone out there has a number 8 they would like to scan, please send it along and it will be added into the block. However I like the album, because it has the foreword, and also the small chapbook style illustrations.
Wednesday, 17th November 2021
ROY-280 [trade : UK] R.O.S.P.A. /The Royal Society for the Prevention of Accidents "Veteran Cars" second series (1955-1957)16/24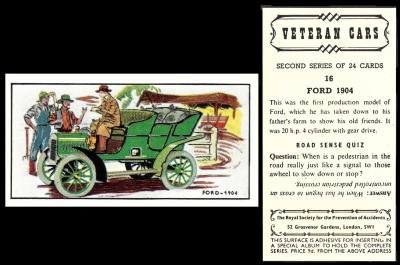 ROY-280 [trade : UK] R.O.S.P.A. /The Royal Society for the Prevention of Accidents "Veteran Cars" second series (1955-1957)16/24
These have self adhesive backs and were designed to go in a "Pictorial Card Album of Veteran Cars – with Road Sense Quiz Questions and Answers". Unlike the Phillips "In The Public Eye" the solution was on the bottom of the same card, upside down. Now I included this card because lots of you were interested in it when I featured it in our tribute to the London to Brighton Run.
R.O.S.P.A. is actually the acronym for The Royal Society for the Prevention of Accidents, see https://www.rospa.com and they also have another link to cartophily as their London "Safety First" Council arose from a public meeting in Caxton Hall which took place in 1916 , mainly to address the fact that dimming the street lighting to prevent enemy raiders during WW1 was having an alarming effect on road traffic accidents. The strange thing about this is that it seems to have been forgotten for the Second World War, and in the first few months of the blackout system the number of road deaths almost doubled overnight, over half of those being pedestrian versus motor car.
Oddly in our original British Trade Index part II, issued in 1969, these cards were listed not as R.O.S.P.A. but as the full name so they follow "Roxy" which was a magazine issued by Fleetway Publications. This says it "includes cards inscribed "ROSPA 52 Grosvenor Gardens, S.W.1". Cards issued 1953-60. Special albums issued. See Brooke Bond Set BRM- and Horniman Set HOF-12" . I have no idea why it cites BRM-8, which is British Wildlife or HOF-12 which is Horniman`s Pets – do you? It also tells of the other sets, Modern Cars (24) Modern British Motor Cycles (22), New Traffic Signs (25) and these two sets of Veteran Cars first and second series, each of 24 cards, which were given the codes of RQO-4.1 and 4.2. The amount of diligence which go into our books can be seen by the fact that it was recorded that the first series measures 67 x 36 and the second 66 x 35
By 1997 another set had appeared and was duly listed in the British Trade Index IV, this was "Famous Crossings", it measured 167 x 54, four cards were known, and it was inscribed "C.31". This was given the code of RQO-6 but it is very hard to find in the book, because it is on page 283, between The Royal Primrose Soap and The Royal Tunbridge Wells, and only the words ROYAL SOCIETY appear in bold text. Another strange thing about this is that in between Rossi`s Ices and Rotary Photo Co. on page 277 appears R.O.S.P.A. in bold text, but it only directs the reader to "see RQO in II" without mentioning the newly discovered set on page 283.
Anyway, by the time of our most recent British Trade Index, issued in 2006, R.O.S.P.A. has gone and the only reference appears on page 379, listed under Royal Society for the Prevention of Accidents. The top text has also changed a bit, to include the address in Grosvenor Gardens, and to say that they were "Issued 1953-60. Includes cards inscibed "ROSPA". Special Albums issued. The Society also gave out bookmarks, size 130-190 in length. The following are known `A` for Adult, `C` for Children, including those named as "Famous Crossings", `H` for Health, and `HC` for the remainder. All are numbered".
The only change to the main body of work is that it had been noticed that "Famous Crossings" carried numbers C.27 – C.31 inclusive.
Thursday, 18th November 2021
L073-380 [tobacco : UK] Lambert & Butler "Hints & Tips for Motorists" (March 1929) 2/25
L073-380 [tobacco : UK] Lambert & Butler "Hints & Tips for Motorists" (March 1929). 2/25 This is another great motoring set that is seldom known of today. Some of the cards are diagrams and others are actual drawings, and it includes tools and repairs, including what to do in am emergency, very useful advice even today, though modern cars are ever less mechanical and ever more digital. I am rather fond of card 5 "Reversing through a gateway" and rather envious of the driver who is managing it in a car with wings, because my Citroen 2CV had many incidents failing to get through ours. You can see the entire set of cards in large format at https://flashbak.com/25-lambert-butler-hints-and-tips-for-motorists-cigarette-cards-from-1932-34062/
Friday, 19th November 2021
73-400 [tobacco : UK] Lambert & Butler "Horsemanship" (June 1938) 50/50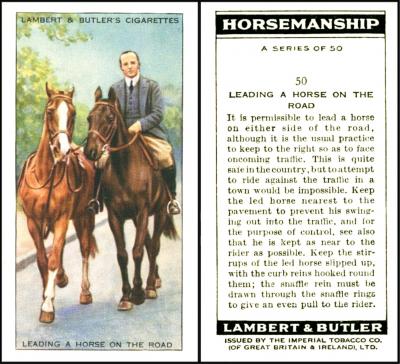 Though the early motor cars were often referred to horseless carriages, and many did indeed resemble horse-drawn carriages with the shafts simply removed, it did not take very long for the motorist to forget what it was like to ride or drive a horse on the road. And though the passing of time has made it far less likely to encounter a horse whilst you are driving, some of us do drive near enough to stables to pass them from time to time.
May I ask that if you do, you please drive slowly, and quietly, for they are easily frightened.
Recent changes to the Highway code did put them in the vulnerable road user category, along with bicycles, but did not take into account that the rider of a horse is in far more danger than a cyclist, for the bicycle has no fear, or mind of its own, it cannot bolt, or buck, or rear.
This is, I believe, the only set that deals with teaching the general public how to ride a horse. Sadly it was issued so close to the War, and after the War, life really changed, leaving horses behind, swept up and cast aside by mechanization. However, our success in sport again led to a rise in riding, and though it may never again be as popular as it was in the days when it was ride or walk to get wherever you desired, there are still a considerable number of people of all ages enjoying their weekly ride. 
Well time is drawing nigh and I must be done by midnight. Enjoy your weekend, and if you go to a card fair don`t forget to send us a report! 
Happy collecting, until next time and always, from us all at your Card-World
Almost forgot, if you forgot to read last week`s newsletter, it is still at
 https://csgb.co.uk/publications/newsletter/2021-11-13