Welcome to another thrill packed newsletter! We are slowly getting somewhere with the way we want them to look as well, so there will not be long before we start to alter those which came before. With this in mind you will see a new addition to the front page over the weekend, in which we will tell you what is being updated and where.
We hope that you had a peaceful week, and that you took time to count your blessings. And lets start our journey into next week.
Today in 1978 a nineteen year old American called Eric Heiden glided into the record books, skating a thousand metres in 1.14,99. As a numerically challenged person I have no idea of how long this was, its surely not a minute and fourteen seconds so it must be an hour and almost fifteen minutes.
He is immortalised on Brooke Bond "Olympic Challenge" issued in 1992, where it tells us he was the "First Competitor, in any Olympic Sport, Summer or Winter, to win five individual Gold medals at a single Games". These were all in speed skating, and unusually mixed disciplines, in sprint and in long track events, and he also set Olympic and World Records, in the five hundred metres sprint, the thousand metres, the fifteen hundred metres, the three thousand metres, five thousand metres, and ten thousand metres. In 1980 he retired from skating, but he did not give up sport, because he became a cyclist, on track and road, even taking part in the Tour de France.
He became a surgeon in the 1990s, but also served as the doctor for the US Olympic speed skating team from 2002 to 2014. ]
The Trading Card Database shows a number of cards of him, most are American, and that is rather good to see he is still remembered in his homeland, but quite a few of them are different versions of the same card. Anyway it is still well worth a look
Today its National Jewel Day. I have to admit I am seriously not a jewellery person; I used to wear a ring on my right hand purely so I could tell the difference between left and right, but these days I don't really need to know that sort of thing. And I have an old beat up bit of cord with a metal yin yang symbol dangling off it, I wear that quite a bit, but its hardly "jewellery" asrich folk know it. The point to this unusual meandering into to my off the grid way of life is that I thought it would be interesting to look into something I know absolutely nothing about, and you know what, it was!  
It seems to have started in prehistoric times with stones, shells and even bones, and I imagine much as we do today, we see something that catches our eye and we find a way to use it, whether that be glue it to a book, or to pierce a hole in it and wear it. I'm rather intrigued by the bones, bit gothic there, and it also makes me think, strangely, of The Flintstones, where Pebbles, the daughter of Barney and Betty Rubble, uses a bone to hold up her hair into a pony tail. 
Following the trail, you can see how discoveries of metal, and better crafting processes, plus finding new supplies of precious stones from different parts of the globe (as seen on the reverses of Kinney`s "Famous Gems of the World") all come to change jewellery into something more valuable in monetary terms but much less exciting in the romance stakes than keeping a shell your partner finds on the seashore and wearing it around your neck until the end of time, slowly finding odd bits chipping off until you and they and it all crumble into dust together. 
All this ostentation and finery went on for centuries, with various countries vying as to who had the best gems and the deepest treasure chests, though like Gallaher "English and Scotch Views" card 13 shows us, just like our own Crown Jewels, it is seldom out there in the atmosphere being admired; most of it spends its life locked up behind bars, its glimmer hidden by the darkness. In fact part of one of the gems featured in the Kinney set is part of our Crown Jewels, the Koh-in-oor Diamond which is currently in the Queen Mother's Crown, but has been used as a brooch for Queen Victoria, and crowns of Queen Alexandra, Queen Mary, and The Queen Mother. The only place it will never be is on the person of a King or Prince, for it is said to be desperately unlucky for any man to wear it.
The most interesting time, to me, for jewellery, was in the return to plainness and to symbolism by the Arts and Crafts movement, whose hand made goods also sought to give employment and support to local workers. It did not last long, mainly because the jewellery could be quite expensive. It was replaced by Art Deco, surely the most ostentatious of all styles, and at about this time Carreras issued a set of cards called "Happy Families", a dual purpose card set and card game, anyway one of the families were the Lucky family, jewellers. Miss Lucky is every inch the 1920s flapper, look at that elongated cigarette holder, and Mrs Lucky is off to play golf – this is a card that appears in few golfing collections, so well done if you have it in yours. 
If you look closely at your cards you will find jewellery is often there on cards of actresses and beauties, our Morris "Actresses" has a string of pearls as a necklace and what looks like a flower brooch made of some white material that could be bone or ivory. 
Since the 1960s, helped by the rise of the teenager, and of cheaper materials like plastic, there has been a larger movement towards what is known as costume jewellery, often bright and always inexpensive when compared to fine work; and at the many craft and artisan markets that are slowly coming back to life, you will find many small businesses and hobby traders who are making beautiful and ethically crafted jewellery much in the spirit of those Arts and Crafters. Why not pop along to your nearest, and see whether something sparkles for you?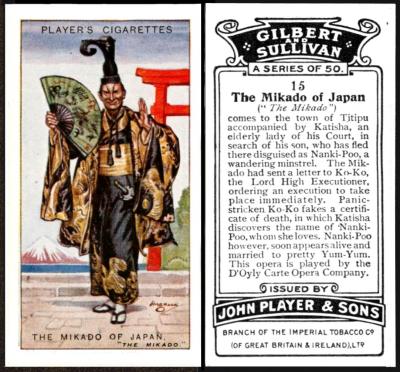 Today in 1885, the comic opera "The Mikado" was first staged at the Savoy Theatre in London. One of the many Gilbert & Sullivan's operas, it has two acts and was amazingly popular, running for almost seven hundred performances at that location alone, and being performed across Europe and America. 
Lambert and Butler`s "Japanese Series" card number 4 actually shows one of the real Mikados of Japan, it corresponds with the rank of Emperor, though Japan has hardly ever extended beyond its own islands let alone controlled an empire. In addition the Mikado was also more of a figurehead than a Chief of State or King. 
Many of the characters in the light opera can be found in John Player "Gilbert and Sullivan", of which there was a first and second series each of fifty standard sized cards issued in 1925 and 1927 and two series each of twenty five large sized cards. These include Ko-Ko, Nanki-Poo, Pooh-Bah and Yum-Yum, plus the Mikado of Japan, of course.
You will also find Rutland Barrington playing Pooh-Bah on John Player "Past and Present" (1916) card 16. 
Beware the Ides of March for they fall today. Well I didn't know what they actually were either, but it turns out it is just the middle day of the month, and more importantly of any month, they don't just happen in March; that makes them either the fifteenth or the thirteenth, depending on the days in that month. They were also the final demand date for you to pay your taxes if you lived anywhere under Roman rule.
However the main reason they have been connected with "beware", and with the month of March is that on that date Julius Caesar was assassinated in 44 BC, at a senate meeting; it seems to have been a conspiracy of many, not just Brutus, who did the deed. Topps "Scoop" (1954) card 118 says that "He is said to have known of the conspiracy, but did not defend himself". 
The term "Beware the Ides of March" was actually first penned by William Shakespeare, in his play Julius Caesar, though it is very odd that despite the name, the real star of the play definitely comes over as Brutus, and it even ends with a tribute to him, in which he is called "the noblest Roman of them all". However Julius Caesar comes over much better on cards, and the trading card database  has thirty six cards of him, starting with the 1888 Allen & Ginter card from Great Generals.
A very unusual card of him is John Player "Dandies", which says that he "is said to have invaded Britain in the hope of finding pearls", and that he was "the greatest dandy of his time. Famous for his debts and intrigues, his extravagance in buying gems and beautiful slaves was such that he was ashamed to have the prices entered in his diary of expenses." I have to say this casts him in a much more interesting light, to me anyway..    
Today is National Panda Day. It is slightly confusing as to whether this is only the black and white version, or the red, though the red has its own day on every third Saturday of September.
And there is also a brown panda, only discovered in the 1980s.
It is said that less than two thousand wild pandas are on the Earth. They do not live very long, and they are increasingly moved on or taken away. They suffer from the loss of their habitat, and their beloved bamboo, but they do, incredibly, have the key to their own survival, if they only knew it, because the seeds they chew and leave behind them will eventually make more bamboo and reforest the de-forested areas. 
Few pandas seem to appear on cards. However there is a blue and white one on Carreras Turf package issue set "Zoo Animals" as card 33 where it is called, more correctly than I have, the Giant Panda. And Brooke Bond`s 1994 set "Going Wild" has one in the proper colours, also called Giant Panda, as card 19. This card tells us another reason why they are so scarce, for they only have one cub every two to three years. It does hold out some hope, that they are protected in thirteen scattered reserves in China, and that bamboo corridors were planned to be planted to connect these together.
You will also find the red panda, or cat-bear, in Gallaher`s "Wild Animals" 17/48. To me this seems a totally different species! It is said to be "an excellent climber, spending most of its life in the trees", and "about the size of a fox, with a bushy tail almost as long as its body"
Today we say hello to all our Irish readers, and wish them a Happy St Patrick`s Day.
Strangely the date marks his death in 461 not his birth in 385.
What we do know comes from his own auto-biography, the Declaration; he tells us he was not born in Ireland, but over the water in Britain, to a Roman/British family with a strong religious heritage in the Christian Church. He was then kidnapped and taken to Ireland pretty much as a slave and given work as a shepherd, a solitary occupation where life and death are never far apart, and during this time he either called on his religious ancestry, or it called on him, and he began having visions. One of these told him to run away to the coast and get on the ship that would be sent for him. And when he reached the coast, the ship was there.
So began his journey to becoming a religious man himself, even becoming a Bishop, and to his returning to Ireland to convert the people there.
He also had many adventures, including driving the snakes from Ireland. Churchman "Legends of Britain" 49/50 covers this, as well as telling of his kidnap, though they say it was "by pirates", something that conjures up a different image to me. They seem not to hold much sway with his dreaming of the ship, they just say he escaped. However they go overboard with the snakes, that  "Legend says at that time the country was oppressed by great serpents and a host of loathsome poisonous reptiles." That`s rather over the top, don`t you think? 
To close his story, we have John Player "Irish Place Names", card 12/25, which features Downpatrick, his resting place. 
Now today is also the birthday of our Cotswolds Branch, in 1983. But tune in on Thursday for a little tribute to them ! 
Today is World Sleep Day, so why not take a few extra minutes and be thankful that you have somewhere warm, safe and dry to sleep, for there are many out there in the World who do not, especially right now.
Our card is a bedroom with a difference, and a water bed of a whole other kind, for this is on board a ship, the Canadian Pacific liner "Empress of Australia".
You would never know that there is a grand ocean below this delightful room. You might also not know that this ship has a very exciting story, for she was built from 1913 to 1919 in Germany for the Hamburg America Line and her name was going to be the Admiral Von Tirpitz, though there is another story that she was going to be the Kaiser`s own private ship. Unfortunately she was captured in 1919 and converted into an Allied troopship. After this she was not returned to Germany but refitted for Canadian Pacific, almost certainly a case of War reparation, where any German vessels suitable for making war were transferred into allied hands, and in 1921 she was renamed Empress of Australia.
In 1923 she was in Japan when the earthquake struck, in fact she was damaged whilst in the harbour, but she still became one of the ships used to great effect in the rescue efforts. In 1927 she carried the Prince of Wales to Canada for the Diamond Jubilee. She was also the Royal Yacht for the 1939 tour of that Dominion. And she was a troopship once more during the Second World War, and later, seeing service in many areas of the globe, and once being struck by a torpedo.
She was scrapped in 1952.
This week's Cards of the Day...
In this week's Pro-Earth lecture, our cards of the day have been chosen to draw your attention to the 25th Anniversary of the International Day of Action for Rivers. This Silver Jubilee is actually on March 14, 2022, because I didn't realise I was on the wrong week until I was on card two, but never mind, there is now lots of time to think about your local river and follow it on a map right from one end to the other. It might not sound fun at first but there will almost certainly be something along the way that you will want to find out more about. And that will be the start of a brand new adventure.
I will say that I had a few emails from readers who actually preferred being a bit more in advance of the theme of the week, saying it would give them more of a chance to get involved with it, either on Social Media or in person, and to pass it on to other collectors. So lets give it a go! 
 
Saturday, 5th March 2022
O100-464 : O/2-122 : O/15 [tobacco : UK] Ogdens Ltd "A.F.C. Nicknames" (1933) 40/50
Here is Sheffield Wednesday – and I have to wonder how many of you knew straight off why it was chosen? This was because it is said that theirs was the only football ground in the United Kingdom that is entirely encircled by a river, The Don. I can't quite see that on any map, but it is frequently encircled and broached by flooding, as it has been this year already. Maybe that is what they meant 
Described in our original Ogdens booklet (RB.15 issued in 1949), as "Humorous sketches on Club colours. Fronts printed by letterpress in colour. Backs in grey, with descriptive text. Home issue 1933. Similar series issued by Hignett". The latest reference code on the Hignett version, by the way, is H536-380. Until I read this I had not realised that the colours on the card had any significance. I wonder if you knew?
In 1950 the catalogue price of the Ogden version at the London Cigarette Card Company, was 9d. a card and 25/- a set, whilst the Hignett cards were cheaper for odds, at 6d. a card, but more expensive for sets, 30/- each.
 
Sunday, 6th March 2022
P644-080 : P72-35 : P/95 [tobacco : UK] John Player "Fishes of the World" (February 1903) Un/50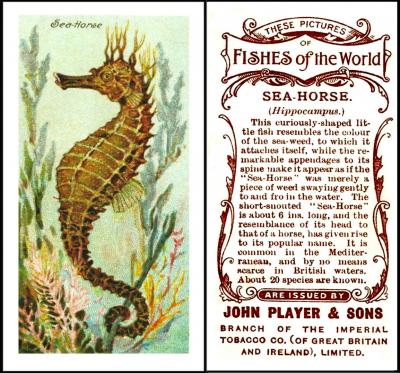 Here we have the Sea Horse – chosen for bio-diversity, the theme of this year's event, and because, thrillingly, the River Thames has been seeing a revival in the number and variety of sea creatures. This is especially exciting as the waterway was written off and declared as unable to support any significant form of biological life in 1957. Therefore it is wonderful to read reports of seahorses, sharks, and seals not just passing through but actually spending considerable time in the river; the two species of sea-horse that have been recorded there in recent years being the spiny sea-horse, and the short-snouted sea-horse, which is the exact species we have on this card, almost 120 years after it was issued.
This set was also issued by W.A. & A.C. Churchman and by Imperial Tobacco Company of Canada in slightly different forms. All have more or less this back design, with the exception of the issuer's name, which is different but in the same place, and the fact that the Churchman set is only a two line ITC Clause rather than the John Player's three, it splits after "Co."; however the Canadian version is additionally altered, having "ISSUED BY", rather than "ARE ISSUED BY" in the box between the description and the issuer's name, and that issuer's name is in two lines not one ("IMPERIAL TOBACCO COMPANY / OF CANADA, LIMITED"). This is also followed by a serial number 6638, and by "Printed in England".  
The Churchman cards have blue backs, and were printed by Mardon, Son and Hall, (and it is almost certain that the Canadian cards were as well). The really curious thing about this version is that the set was actually issued twice, as a set of 50 cards in September 1911 (C504.250 : C82-18 : C/58), and as a series of 30 cards in May 1924 (C504.250 : C82-18 : C/59), these being selected from the original set, and sadly leaving out the Sea-Horse.
I always find it fascinating to look in my vintage 1950 London Cigarette Card Company catalogue (and I hope you feel the same…). In this instance the Churchman version was retailed in an odd way, whilst you could buy a set of 50 for £30, the odds were split; so you the "30 cards as re-issued 1924" were priced up at 2/- to 4/6d each, and the "20 cards not re-issued" were priced at for 10/- to 25/- each. This seems to support the theory that it was a straight re-printing and there was no way to tell the two sets apart other than the fish which were included. That is possibly why neither of our World Tobacco Indexes make a distinction between the two sets as far as an extra digit. Another curious thing is that although the reprint was produced in 1924 it does not appear in the section two catalogue which covers 1920-1940, not even a cross-reference tag line; it is only in the 1888-1919 one. 
The Canadian cards are listed by Burdick as C.12 (I205-520 : I/6-22 : USA/C12) they have the serial number 6638, and he records them as having been issued in 1924. However, it is now thought that they were issued in 1904. I'm not sure if they are a very dark blue back or a black one. They were listed in the 1967 Burdick Catalogue as being worth 0.5 cents a card. And in case you were wondering, these were not in my 1950 London Cigarette Card Company catalogue because they were an overseas issue. 
Monday, 7th March 2022
P644-140A : P72-66A : P/18A [tobacco : UK] John Player "Aviary and Cage Birds" (August 1933) 26/50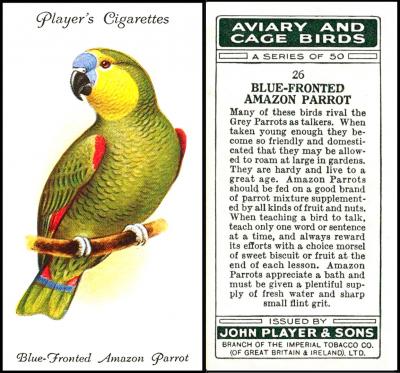 The Blue Fronted Amazon Parrot, this attractive feathered friend was first recorded in 1758 by the prolific Swedish botanist Carl Linnaeus. It is found in many countries of South America, usually in forests, but as these decrease, the birds, who live in very large groups, are forced to move on. 
They are often sold as pets, and can learn to talk, but they must be given lots of freedom and attention and treated as one of the family rather than being left alone in their cage all day. They can live for a century, but forty is more normal in captivity, and this is something else that must be considered.
They were our card of the day because of the Amazon River in South America, after which the birds are named, and which is the largest river in the world if you count by the amount of water that flows from its delta, though this is mainly because it has several mouths. As to whether it is the longest river in the world, there is constant debate and many expeditions by scientific bodies. Suffice to say it is either the Amazon, or the Nile in Egypt. 
This set was issued in three forms, standard sized cards, standard sized transfers, and large sized cards. It is a most attractive set, and the white backgrounds with a hint of tinting, really make the colours of the birds stand out
Tuesday, 8th March 2022
C633-210A : C102-17A [tobacco : UK] Cohen Weenen & Co. Ltd., "Interesting Buildings and Views" (1902) Un/20
Here we have Windsor Castle, the out of town residence of the Royal Family. In 1902 most people would have been aware of this building through the recent death of Queen Victoria and the crowning of her son Edward VII, events fully reported in even local papers. However this may have been the first time that a smoker saw the building, let alone saw it in colour. 
These cards are slightly smaller than what are known as standard sized cards. One very interesting note is that if you look at the original London Cigarette Card Handbook of 1950, the figure 96 on page 49 is a card of Windsor Castle just like ours.
Our original World Tobacco Issues Index, issued just six years later, is already able to add the fact that there were two versions of this card, one, like ours, measuring 63 x 38 m/m, with what they call a "plain front" - and another, of a more standard size, measuring 66 x 38 m/m, but has "gilt framelines". Both versions were issued in 1902, but the cards with gilt are very much scarcer. 
Cohen Weenen were founded in 1864, and at the time issued these cards they were still an independent, but they became a branch of Godfrey Phillips in 1929. They were still in business at the time of our World Tobacco Issues Index in 1956. 
Wednesday, 9th March 2022
G075-620 : G12-87 [tobacco : UK] Gallaher Ltd "Garden Flowers" (February 1938) 22/48
Here we have the Swan River Daisy, and look at the new picture we have uploaded here, for that tells the secret of this card - its kind of a spot the difference that even I can do, for like many particularly abstract modern artworks, it is plain to see that one of these cards is hanging upside down. 
The set was printed by E.S. & A. Robinson Ltd of Bristol in full colour by the offset litho process, and the backs were printed in red, which scanners are not too fond of. Anyone with a better scan do send it along as it is fairly easy to replace. 
In 1950 the London Cigarette Card Company was offering single cards from this set at 1d each, and complete sets at 3/-, at least in the main catalogue, as these were one of the sets which were on special offer in their "Abridged Catalogue". 
Thursday, 10th March 2022
P644-054 : P72-23 : P43 [tobacco : UK] John Player "Celebrated Bridges" (November 1903) Un/50.
. 
"Bridge Across the Mississippi". I don't know the bridge, there is a site showing bridges over the Mississippi but it freaked me out, don't know why, the photo of number three was way too much information and I quit there.
Wonder if it does this to anyone else?
A mixture of bridges from across the globe appear in this attractive set, though it was only issued within the British Isles. You can also find this set bearing the names of Edwards Ringer and Bigg (E265-540 : E14-31 – issued 1925) and Faulkner (F150-750 : F14-32 – issued in April 1925) both of these sets have descriptive text backs about the bridge depicted, and they are numbered, our card becoming 49/50. Our Faulkner Reference Book (RB.1), originally published in 1942, tells us that the cards were printed by Mardon, Son and Hall, so it is pretty safe to presume that they printed the others too. 
In  the London Cigarette Card Company 1950 catalogue the Player cards were from 2/6 to 6/- each or £15 a set – with Edwards Ringer & Bigg and Faulkner both at 1/6d a card, 100/- a set. Obviously these were more in supply at that time simply because the Player cards were twenty years older. 
Friday, 11th March 2022
SA2-113 [trade : Australia : cereal] Sanitarium Health Food Company "This Fascinating World" (1957) 35/50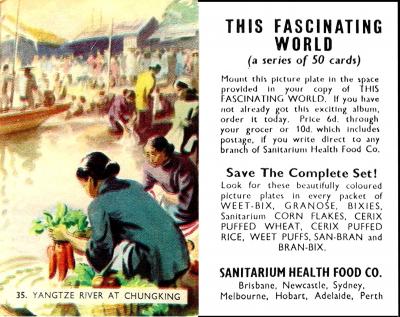 This is the Yangtze River at Chungking
The set is only recorded in our Australian and New Zealand Index, RB.30, issued in 1983, so the reference code comes from there.
Sanitarium cards were issued in New Zealand and Australia, but these Australian issues only started in 1942/3, and our card is from their fourteenth set. Like this set, Sanitarium issues usually measure 73 x 48 m/m. The sets had special albums, which you could either pick up at your grocer for sixpence, or send direct to any branch of Sanitarium for, though this was a bit more difficult as the addresses of these branches did not appear on the cards, only the areas (Brisbane, Newcastle, Sydney, Melbourne, Hobart, Adelaide, and Perth.)
From the late 1960s most sets were mainly issued in packets of Weet-Bix, which is indeed very similar to our very own Weetabix. The last set in book one is SA2-181 - the 1982 "Weet-Bix stickers (A) Circular, 73 m/m diameter, brand issue, one known "I'm Truckin` on Weet-Bix Power". The second volume of our Australian and New Zealand Index, RB.33, issued in 1993, continues the issues until that year, leaving us, at least in the Australian section, with SA2-206 "Australia`s Most Amazing Birds". 
That`s all for tonight, and look it is being uploaded on time ! That`s pretty amazing for me, who rambles on with tweakings and insecurities long after midnight.
By the way if you missed last week`s edition it is still online at
 https://csgb.co.uk/publications/newsletter/2022-03-05
Stay safe until next week from us all, and we will see you same time, same spot on the dial. Tune in then for our next edition.