Bit earlier than usual but I need to get an early night.
As do you, if you want to sniff out all those rarities and bargains tomorrow at our Annual Convention.
Don't forget to bring your wants lists, and, if you can,  any surplus unwanted modern cards to donate to our swap table.
And hopefully I will see you there, though mummy did tell me before I put her to bed that she wants me to take her shopping at 10am.  Hopefully she will have forgotten this by the time she wakes up, but some things she remembers, all too well. 
This week's Cards of the Day...
This week we have been celebrating International Dance Day, which is on April 29.
It is also referred to as World Dance Day and it does indeed cover all manner of dancing from around the globe, which is what we hope to have brought you.
Actually it was created by the Dance Committee of the International Theatre Institute, and it started in 1982.
The date is set to this day every year, and it is the anniversary of Jean-Georges Noverre`s birthday in 1727, regarded as the creator of modern ballet, and also a famous choreographer, though he was intended to be a soldier, until the magic of dance captured his heart instead, aged seventeen.
You may be thinking that dance has no relevance in your life, but it is all good exercise, and does not need to be load bearing. You can move about at any age, and who cares if you think you look ungainly as long as you are having fun – you don't have to hit the nightclub on your first try.
If you really are not a dancer then why not have a look online and try to find all the dance styles we mention, and watch them even for five minutes?
Or hunt out any unusual dance cards from your collections and share them with us?
 
Saturday, 23rd April 2022
C504-410.1 : C82-32.1 : C/7 [tobacco : UK] W.A. & A.C. Churchman "Association Footballers" A series (September 1938) 14/50
This was followed a year later by the second series. The colour is called "violet tinted brown". 
The clue here was the football team of the featured Saturday Soccer Star, Robert Joseph Finan, called simply R. Finan on the card, and that was Blackpool Football Club, where he had been playing since 1933. It says he was brought out as a young player by Yoker Athletic, but I don't know them. 
Blackpool has long been the out of town location of the World Famous Tower Ballroom, which was until recently the site of Strictly Come Dancing, and it is a ballroom in its own right.  
Mind you our footballer also seems to have a dance like spring in his step…
Did you know that card 21 of this set can be found with the footballer, B. Jones, actually Bryn Jones, playing for Wolverhampton or for Arsenal. Now you will not be able to tell this from the front of the card, for that is identical in both cases, and he still remains in the Wolverhampton strip. However the reverse of the card is very different, starting with the wording below his name that changes to "Formerly Wolverhampton Wanderers, now Arsenal). The text is also very different. You can read more about Bryn Jones at the Arsenal website where you will discover that his move only took place in August 1938, just a month before the cards were released.
How is that for a quick reprint...!
Sunday, 24th April 2022
O100-412.3(A) : O/2-94.3(A) : O/43(a) [tobacco : UK] Ogdens Ltd "Boy Scouts" third series, blue back (1912) card 115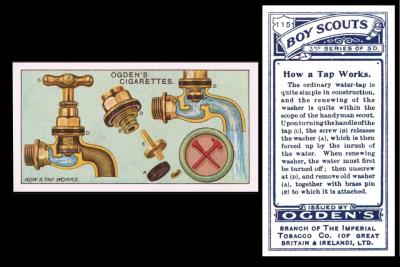 This shows how to mend a tap, but we used it obliquely to refer to tap dancing, a dance in which the performer makes a tapping noise with their feet, sometimes, but not always, enhanced by metal plates nailed to the bottom of the heel and the toe. 
There are many claims for who was the first to dance it and where, but we will probably never know this as most forms of dancing involve tapping the feet in time to the music, making an ever louder noise; in fact that is how most of us join in and take our first dance steps.
Popular tap dancers include Gene Kelly, and Fred Astaire, but the earliest dancer to make their name famous, and now regarded by many as the inventor of the modern tap dance, was William Henry Lane, or Master Juba, who was touring in the 1840s, mixing clog dancing, the Irish jig and African rhythmic dancing, and even giving it his name, Juba Dancing.
Sadly he died before he was thirty years old but his fame does live on online at lots of websites, including one thrillingly called https://masterjuba.com/
Monday, 25th April 2022
LYO-200 : LYO-16 [trade : UK] J. Lyons "Famous People" (1962) 12/48
Lyons had a lot of products, including tea and cereal but this set was actually issued with Lyons Maid ice cream, and it had a special album.
There are two printings but they are not easy to tell apart, the difference is that the panel on the front is either 29 m/m or 33 m/m. 
The dancer is Margot Fonteyn, who would become Dame Margot Fonteyn, She had been born Margaret Evelyn Hookham in Reigate, Surrey.
Margot Fonteyn was her stage name, and, curiously, when she married Roberto Emilio Arias, the former Panamanian ambassador to Great Britain, she took Fonteyn Arias as her married surname.
This set was also issued in Ireland by John O. Barker of Black Rock, Dublin, with bubble gum. These were issued in 1970 and are larger cards. I have not been able to find any of these to see them so if anyone out there has this card in that version do let us know.
The reference codes on these Irish cards is BAP-140 and BAO-2 from, respectively, our original four part British Trade Index and our more recent two volume one.
And an album was issued for this set as well. 
 
Tuesday, 26th April 2022
M970-640B : M164-45B [tobacco : UK] Murray "Dancing Girls" (1929) 22/26
This set was issued in three formats, what is usually regarded as A being a set of twenty five cards addressed as either (a) "Belfast - Ireland" or (b) "London & Belfast", and our version, B, being a set of 26 cards.
Strangely it does not tell you there are 25 cards on the cards of the first version, so maybe there is another card we don't yet know about?
Our dancing girl is described as "Miss Renie Joliffe, the well known acrobatic dancer" who "performs a feat which looks easy until you try." They are right.
Her amazing acrobatics can also be seen at Getty Images.
However, there does not seem to be any form of biography.
I know that in the 1930s she was at the Cosmo Club, in London, appearing as a contortionist, just one of several different acts on the bill, and was captured on a newsreel. 
There is no denying she was very talented so sadly she just never seems to have made the big time; or maybe the opportunities for her kind of act were just not there. 
If anyone does know more of her story, please do pass it along. 
 
Wednesday, 27th April 2022
W675-492 : W62-352 : W/180 [tobacco UK] W.D. & H.O. Wills 'Scissors' brand "Dancing Girls" untitled (1915) 7/27
This set is another curiosity, as it was originally issued as a set of 28 cards.
Our original Wills booklet part four tells us that card number 3 of the set was not issued, and that in fact the whole set was reprinted as a series of 27 cards, moving card 28 Wales into the empty number 3.
However, in booklet part five the truth is revealed.
What happened was that the set was issued in July 1915, and card 3 showed Bulgaria, but that card was withdrawn when Bulgaria joined the First World War in October 1915.
The quickest and easiest solution was to just reprint Wales, which was number 28, and make it number 3 – though it did rather ruin the alphabetical order of the set.
Our card, England, is very patriotic with that flag covered dress, but it is also unusual because it shows ballet whereas most of the other cards show a National dance.
This set was also issued by Westminster, in a medium size, and it is just the twenty seven cards. The reference code on that is W430-030. However the backs of those cards are very important, as they provide us with our title, the back saying: "Series / "Dancing Girls" / This Coloured Picture / is one of a Series / of 27 / now being packed / with these  / Cigarettes. / Westminster / Tobacco Co. Ltd. / London 
Thursday, 28th April 2022
E265-920 : E14-44 RB.21/210-133B [tobacco: UK] Edwards, Ringer & Bigg "Sports and Games in Many Lands" (1935) 14/25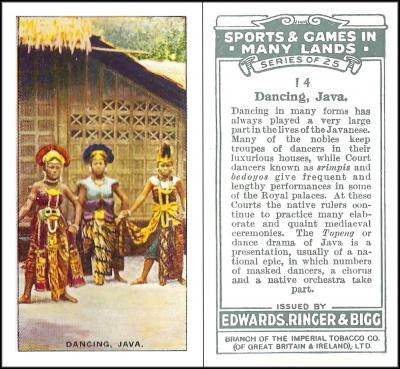 This set was also issued as anonymous cards by British American Tobacco, but the date is unknown; and by W.A. & A.C. Churchman in August 1929 (C504-660).
And yes, it does contain the currently super hot card of Babe Ruth, just like the Churchman set. It is number 25.  Now go and try to find one though, as the Churchman printing was always the most easily obtained, perhaps due to the fact that Churchman cigarettes were more readily available. 
In 1950 the London Cigarette Card Company catalogue listed the Churchman cards at 3d. each or 10/- a set, whereas the Edwards, Ringer & Bigg retailed for 1/- a card and 30/- a set.
The British American Tobacco set did not appear in that catalogue because it was only for British cards.
This subject, Java Dancing, might seem an odd one for a set called "Sports and Games in Many Lands, but it is much more tolerable than many of the so called sports depicted, not all of which are yet completely banned. 
 
Friday, 29th April 2022
F756-580 : F52-25.2 [tobacco : UK] Franklyn, Davey & Co "Modern Dance Steps" second series (1931) 35/50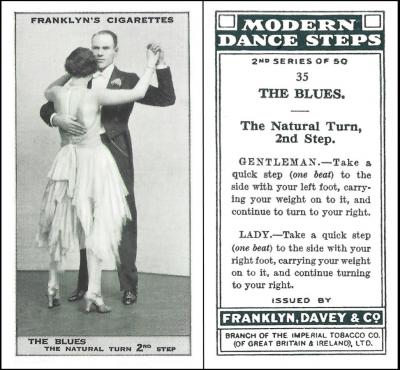 Franklyn, Davey & Co were based in Bristol.
They were established in 1790 and joined Imperial Tobacco co. in 1901.
They were still trading at the time of our original World Tobacco Issues Index, 1956.
Their earliest sets were issued from 1896, but after joining the I.T.C. they were often duplicates of those issued by Wills and Ogden. However, this set was only issued by them; it is split into two series, the first, circulated in 1929, and our second series, two years later.
They are strange sets, for who would have thought that a series showing how a couple dance could be collectable, and yet there is a romantic wonderfulness to seeing them, frozen in time, clasped together, all poised to take the next step but never being able to do so.
Were they happy to spend eternity like this in the gentle hold of each others arms? Was she thinking that after all this time following him around the halls they had at last managed to get a dance together? Did he even look at her? Did her feet hurt? His arm ache?
Alas.
We shall never know....
And there I must close. A shorter newsletter than usual but watch out, there may be some pop-up specials coming live from the convention. 
And don`t forget to show and tell us all of your highlights throughout the day on twitter, using  #CartophilicConvention2022 and tagging in @Card_World