welcome to another week, and can you believe a whole year has gone by since we re-jigged this site. That ought to spur me on to getting on with that index, and to preventing the same old cards coming round on the conveyor belt....
Well I have to say this is yet another short newsletter, for I now have neither computer nor tablet. My vintage voltage has decided that enough is enough, and I am currently looking out for a tablet online, missed one this afternoon for £15, needed a bit of tinkering, but sounded fun, though I dont really want a basic black, even though what are known as "skins" are available in a variety of rather interesting designs. 
So lets close with many thanks to my phone, which I will repay by not groaning at the bill, and to the local library, which for now will, and must, suffice.
Today in 1881 saw the birth of a little Scottish boy who would grow up to become Sir Alexander Fleming, discoverer of the wonderful healer, penicillin.
Cigarette cards seem harder to find than trade cards, and probably the easiest card to acquire is Brooke Bond`s "Famous People" (1969) 33/50 which has a white background against which is his portrait, a culture dish and a microscope. The back tells us he was the son of a Scottish farmer, and that makes his life even more amazing, for in those days the son of a farmer did not normally have such choices for their future. It also tells us that he shared his knighthood with the Australian Howard Florey, who did so much to enable the usage and storage of penicillin.
However there is another Brooke Bond, in "QEI - QEII" (1983) 39/50, which is a photo of him at work in his laboratory. 
Today in 1840, Master Smut was probably smiling, for the United Kingdom passed a regulation that child labour, of anyone aged under sixteen, should no longer be used by chimney sweeps. The truth was that it would have been quite difficult to fit a sixteen year old up a chimney, which were very narrow in parts, most of the children were what we call today pre-teenage, some not even in double figures, and despite the fact that in 1788 another act had stated that the minimum age was eight, it also allowed a loophole as it said the minimum age for "an apprentice" not a sweep`s boy.
In 1834 another act, strangely, levied a minimum age of ten for an apprentice, but also gave a minimum age for a chimney cleaner, of fourteen. That was updated to sixteen by the act passed today in 1840. However it was seldom obeyed, and that raised the hackles of one Charles Kingsley, who wrote a book about a small child, maltreated and eventually turned into a "water baby", by drowning It is a strange book, for all its good intentions, and today a lot of people would find it rather offensive in its language and treatment of other races. This was serialised in a magazine and became a book in 1863, and the next year another act appeared. That was pretty useless, but people were taking notice and in 1875 The Chimney Sweepers Act did finally contain enough force to stop the cruelty, though it did not extend into Scotland.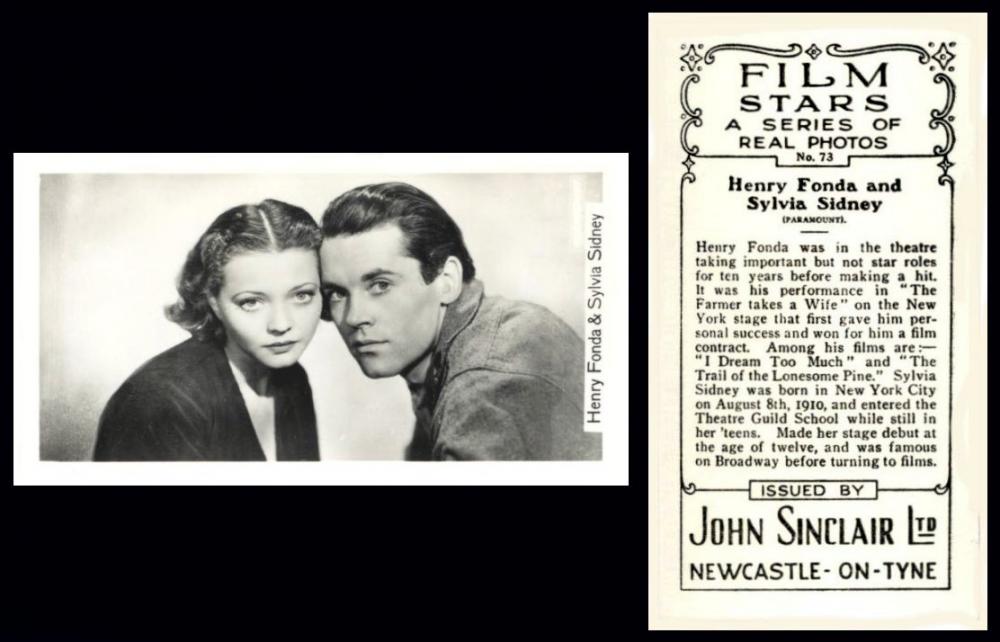 Today in 1910 Sophia Kosow was born in New York. Five years later her parents divorced and she took the surname of her stepfather, Sigmund Sidney. Our card tells us that under that name she "entered the Theatre Guild School while still in her teens, made her stage debut at the age of twelve, and was famous on Broadway before turning to films"
Her first film was in the background of the D.W. Griffith "Sorrows of Satan" (1926). That was almost at the turn, when silent pictures became talking ones. She had a good voice, but became typecast as the girlfriend, or the gangster`s "moll".
The Second World War halted films, and after it ended she returned to the theatre, before turning to television, appearing in many popular series, which she much enjoyed. Towards the very end of her life she went back to the movies, and her final part was in "Mars Attacks", in 1996, a film based on the rather lurid trading cards of the same name. She died on July 1, 1999.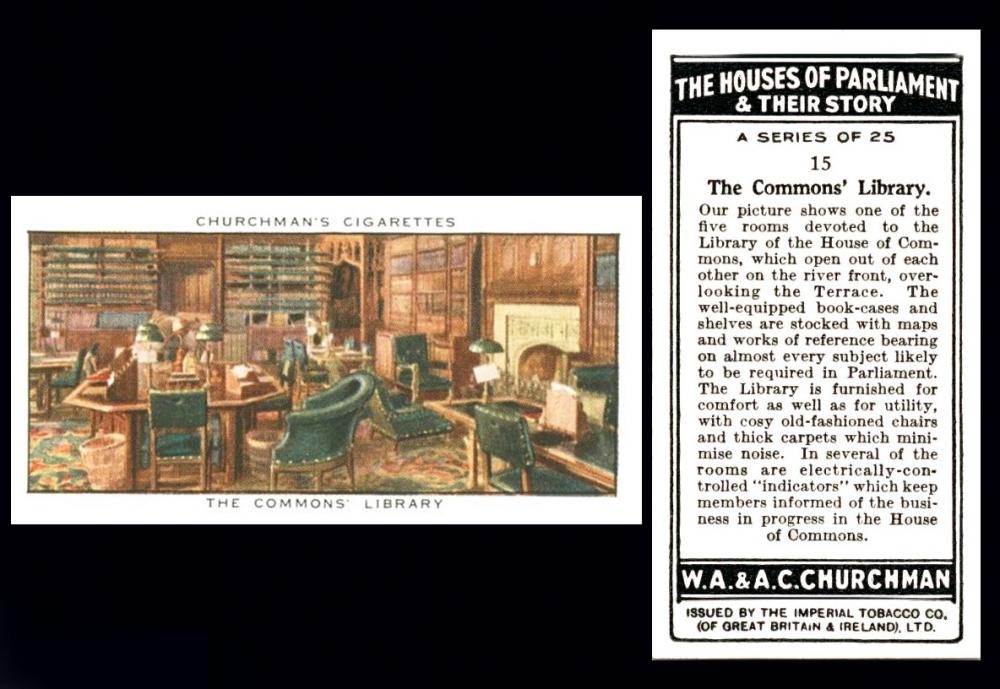 Today is National Book Lovers Day.
It might seem odd that as we are coerced into spending all day online, the humble printed word in black and white still endures. The reason for this may be that whilst everything is revealed online, in more ways than one, a book makes you sit and think about the writer behind the words and dig for hidden meanings. It allows time for exploration, and if you pause to think you can just pick up where you left off, no rewinding required. And it also allows for change, because, quite unlike the moving image, every word not only means different things to different people, but conjures up an image all their own. 
I wonder how many of you know that the library on this card even existed, for it is in the House of Commons? And that at the time of the card it extended over five rooms. There is also a separate library for the House of Lords
World Lion Day is observed on the 10th of August every year, rather apt, as the star sign of the moment is Leo, the lion. 
You may wonder why we need a day for lions, but though they are seen as strong and fearless, they are hunted by man, and their habitat dwindles every year through colonisation and through climate change.
Strangely, although they are called the Kings of the Jungle, they live, like this card suggests, in grasslands and mountainous areas. 
This is an unusual version of the familiar cut out card and I have not been able to track down any other sets with this British American Tobacco logo, which even more oddly, is sideways on, when it would have fitted fine the right way up.
I presume that the C which surrounds it is for Company?
But happy to be corrected - also delighted to hear of you have any other sets which feature this logo reverse. 
Today in 1093 the Foundation Stone for the new Durham cathedral was laid by Bishop William of St. Calais. 
Our card, and very attractive it is too, tells us that the Cathedral was erected to house the remains of St. Cuthbert, the Bishop of Lindisfarne, but that it was "begun by Bishop Carileph in 1093".
However a quick spot of research tells us that Bishop Carileph, or St Carilephus, was the name given to Bishop William of St. Calais, and that his name was in honour of William the Conqueror, who was actually present at his consecration.  
Today, on Vinyl Record Day, we have an unusual card, and another cut-out.
For it turns out that before vinyl discs, records were made of shellac. This was good, but not great, and the serious listeners requested better.
The solution was to produce a twelve inch disc and have it pressed out of "Victrolac", a new vinyl-based compound that was developed by Victor Records. This was tested and seemed to have much less background noise.
And the record they made, the first twelve inch vinyl record ever issued, was Beethoven's Fifth Symphony, performed by the Philadelphia Orchestra, under the conductorship of Leopold Stokowski.
This week's Cards of the Day...
. . . celebrated "Cycle to Work Day" which was on August the 4th, and would you believe 2022 is its tenth birthday, almost a new generation of cyclists to work has come round full circle. Their website is fascinating, and encouraging.
In America they call this event "National Bike to Work Day," it takes place in May, and has been going since 1956, when it was started by The League of American Bicyclists.
Saturday, 30th July 2022
W675-235.2 : W62-192.2 : W/135 [tobacco : UK] W.D. & H.O. Wills "Association Footballers" no framelines (November 1939) 22/50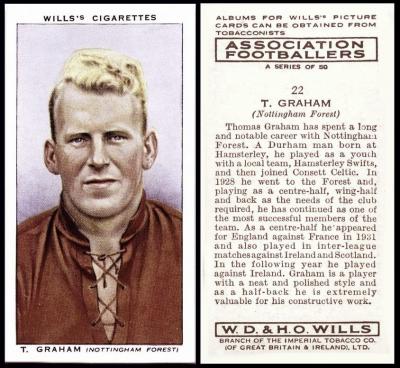 Here we have  T Graham who played for Nottingham Forest - and Nottingham has also been the home of one of the most remembered British bicycles, the Raleigh, since 1887.
Strangely there was no Mr. Raleigh, nor did it celebrate the exploring of Sir Walter; its founder was Sir Frank Bowden, who was advised when he was almost forty that his poor health might be restored with more exercise and decided that biking might be fun.
Or so the story goes, for the truth is that he merely enlarged another company, the one which sold him the bike. It is further recorded that he became President of the British Cycle and Motor-Cycle Manufacturers Trade Union, and was also created a baronet, passing the title to his oldest son.
And what of the owners of the original shop, Messrs. Woodhead, (who held a patent for gear cases and must have been reasonably well off as he is recorded as having "one servant" in the 1901 census) and Angois, (a Frenchman, who was naturalised in 1900)? Well they seem to have been given directorships in Raleigh, but there is little word about what happened to them after that. Anyone knowing, or researching, do tell us!
Sunday, 31st July 2022
T305-050 : T32-1 [tobacco : UK] Thomson & Porteous "Arms of British Towns" (1905) 47/50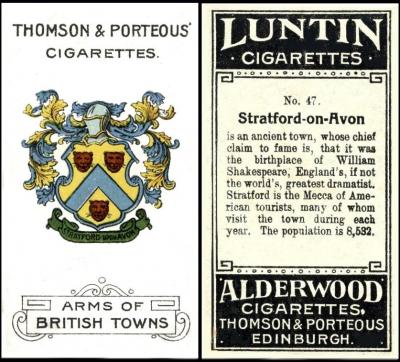 Our second card was for one of the best known bicycles of today, Pashley, but I wonder how many of you know that they were founded, in 1926, by a Mr. Pashley, who knew all about bikes from his wartime service as a despatch rider.
We may have misled you slightly with our card, as at that time the company was based in Birmingham. They made all kinds of bicycles then, including tandems for pleasure, and shop delivery bikes for work. 
They only moved to Stratford-on-Avon in the 1960s, when Mr. Pashley retired and gave the handlebars to his son.
In fact Pashley is one of the few makers which are wholly or even primarily based in England, for many who claim of this fact really only assemble parts that are produced elsewhere around the globe.
Monday, 1st August 2022
D800-320a : D64-22a [tobacco : UK] Major Drapkin "Around Britain" (1929) 31/50
This card celebrated another bicycle maker in the Birmingham area, B.S.A. which made bikes and motorbikes, but actually started out in 1861 by making weapons, indeed B.S.A. stands for Birmingham Small Arms Company, which was an alliance of several gunsmiths who grouped together to share knowledge and production, and to standardise the production of certain parts in order to fulfil demands by the War Office. 
They moved into bicycles in 1880, which were also in demand and used similarly shaped and standardised parts, there not being much difference between a gun barrel and a tube frame on the outside. 
Bicycle production always had to take second place to their war work though, and there was a succession of wars from that time right through to the First World War, something that can be told from the fact that their first large scale production, under the name of BSA Cycles, dates from 1919.
In 1957 B.S.A. sold out to Raleigh.
P.S. if you didnt find the bicycle on this card, its above the gap between HALL and BIRMINGHAM
Tuesday, 2nd August 2022
RAL-040 : RAP-1 [trade : UK ; bicycles] Raleigh "The All Steel Bicycle" medium size (1957) 37/48
Here we have what is starting to get quite a sought after set. This may be to do with the fact that when they were issued you could only get them at cycle dealers, and, in a very cunning ploy, not all of the cards were sent to all of the dealers, so getting a set involved an awful lot of pedal power.
It is not just bicycles that are shown as well, because there are cards of bicycle parts, and also, something else that made complete sets scarce, two tribute cards which showed the Raleigh "works riders" of the time, Reg Harris (the winner of two Olympic medals in 1948, for Tandem and Sprint) and Cyril Peacock (World and Commonwealth Games champion in 1954 and national sprint champion from 1952 - 1954) 
They measure 67 x 53mm.
I have not been able to find out why the set was issued, though in this year Raleigh bought B.S.A. However it was the only set of trade cards they ever did, so it cannot have worked sufficiently well to continue.
There are a number of postcards showing Raleigh bicycles, a few were issued by the company in the 1900s, and others appear as part of sets that deal with "Celebrated Posters" etc. Today the advertising does often feature on what deltiologists call "moderns", which are museum and other reproductions. They may not be very valuable, but if they appeal, or bring back memories of your own time in the saddle, then why not look out for them - and they also make great covers for books and journals
Wednesday, 3rd August 2022
P644-664 : P72-216 : P67B : RB.17/67B [tobacco : UK] John Player "Cycling" (May 1939) 39/50
We have featured this set before but this is a slightly different version. In fact the set has three variant printings, but the way to tell them apart is quite easy, for the reverse of the standard UK issue (A) has the Imperial Tobacco clause and mentions the album - whilst the Irish issue (C) has the Imperial Tobacco clause but does not mention an album, though they are easier to spot than that because they have giant green numbers on the back - and our version issued in the Channel Islands and Malta (B) looks exceptionally blank around the edges as it has neither the Imperial Tobacco clause nor mentions the album. 
Thursday, 4th August 2022
ZJ9-71 [trade : UK ; Tea] Brooke Bond "Chimps" untitled (1986) Un/12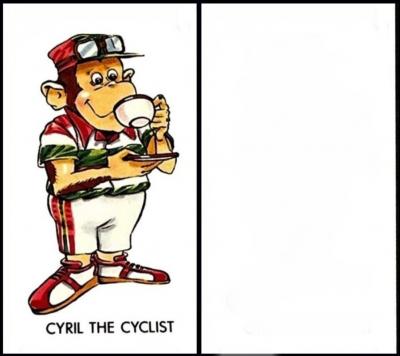 These were blank backed cards, and they are sometimes referred to as "Thirty Years of The Chimps". You can also, if you are lucky, come across thinner stickers which have "TAK TIK" on the back. Tak Tik was a company which produced self adhesive labels, and their branding appeared on the paper covering that was removed to reveal the sticky surface beneath.
Cyril the Cyclist might have been in honour of Cyril Peacock, as seen in our last section, or not, but he was very popular, appearing on many tie in products, including tea towels, though many of those items showed an actual chimpanzee, dressed up. Our cards, being drawn, are more in keeping with my more animal friendly beliefs. Cyril referenced the Tour de France, and was an attempt to tie in with sport, in fact another card of the set shows Jean Pierre Berke, a motor racing driver. And as you might imagine, Brooke Bond, a spy, but no relation to James, was also featured. . 
Friday, 5th August 2022
W675-480 ; W62-341 : W/133A : H.78 [tobacco : UK] W.D. & H.O. Wills `Scissors` brand "Army Life" (1914) 15/25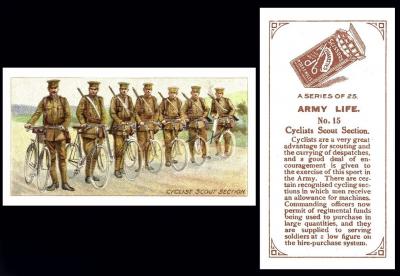 hands up if you thought it was Players ! In fact this set was re-issued in India, four years later, just before the First World War. 
well we made it to the end and its still Saturday morning. I`ll nip back tonight and finish completely and get the codes done over the weekend.
See you next week