well here we are a whole new month for you to enjoy, and closer, ever closer to Christmas. October brings us the spectacular colour changing of our trees, and also the wonder and excitement and glorious spookiness of Hallowe`en. More about which later.
This week we have several very unusual cards thanks to our contributors, so settle down for a real treat. And let us weave you a tale of escapology, fisticuffs, derring do, tests, drinking (responsibly), balladry, and opera.....
Panini [trade/commercial : trading cards : O/S : U.S.A.] "Golden Age" (2013) 25/150+
Now if you had been a movie goer one hundred years ago, you might have been idly flicking through your newspaper wondering what to see. Would you have noticed a film called "Haldane of the Secret Service"? Probably not, for few people did. However that was their loss, because it starred Harry Houdini and would prove to be his last film; he died on the 31st of October, 1926, in Detroit, Michigan.
I am not sure why he never made more movies. He  had the money, and he also founded his own production company, "The Houdini Picture Corporation" which made our film. And he was interested in film making right at the basic level, for he also owned a film laboratory and continually teased that there was a whole new way of making film that he was just about to announce, but never did. However suddenly, in 1923, he just gave it all up, saying it did not make enough money. He then started to move into spiritualism, and in trying to expose those who were not the truth. And in 1926 he died, in a freak accident, aged just 52.
So the first thing you need to note is that there are two sets of Panini "Golden Age" cards, one set was issued in 2012 and our second version in 2013.
The next important information is that though there is what is known as a base set of a hundred and fifty cards, there are extras - starting with the hundreds of miniature card variations, twenty-four of which came in every sealed box, the autographed cards, and the ones with "relics" on.
Finally, many of the cards have two versions, with different back text and front pictures - including Houdini, who you can get in a suit and hat, showing here, or naked in chains. 
Moving swiftly on, for several reasons, not just because that picture was also used by Topps in their 2009 "American Heritage" set, another confusing thing is that this set is often referred to as "Panini Golden Age Baseball Cards". However this comes from the fact that American collectors really love sport, and those cards are the most sought after at auctions etc so they are the ones you are most likely to see. However the set includes all manner of people from the worlds of stage, screen, and music, as well as political figures. And not just people - the 2012 version has the Loch Ness monster, several racehorses, the Titainic and the Spirit of St. Louis - whilst the 2013 set has the Bermuda Triangle`s famous Flight 19, Apollo 11, and Bigfoot.
Amalgamated Press - "Champion" magazine [trade : newspapers : UK] "Sportsmen" (1922) 13/30 - or 66  - AMA-305 : AMC-16.1 
Today we celebrate this man Joe Beckett, who brings us our second centenary of the week for today in 1923 he was knocked out by Georges Carpentier. 
Joe, or sometimes Joseph Beckett, was born on April 4th, 1892 in Hampshire, and he lived until he was 72.  The Burstein Isaacs & Co. set of "Famous Prizefighters" (card 46) is generally credited with providing his first biography on a card. That tells us that he was in the gallery because he was the Heavyweight Champion of Great Britain, through knocking out Bombardier Billy Wells in 1919. It gives the wrong date of birth though, saying 1894.
Another important card in his story is Gallaher`s "British Champions of 1923", (card 24/75) because this mentions our event right at the end - "In Oct.1923 at Olympia Carpentier beat him in 15 seconds."
Our card seems to have been a stock photo of him as it was also used, trimmed, in another Amalgamated Press set, the 1922 "Lot-O-Fun Sports Champions". In fact he seems to have been very popular with the boys` magazines, and most of his early cards come from that source, including this set.
Now you may be wondering why the set title on the card is different to what we say at the top. That is because it is not listed as "Sporting Champions" in our British Trade Indexes; instead it is a sub-section of a set called "Sportsmen" (A), the details of which, from the original volume, part II, are : 
SPORTSMEN (A). Sm. 68-70 x 43-45. Black photos. Nd. Dated 22-1-22 to 28-4-23 (C)
1. "Sporting Champions" - Nd. 1/29 and 42
2. "Famous Football Captains" - Nd. 30/41 and 43/57
3. "Famous Footballers" - Nd. 58 and 60/62
4. "Billy Matthews" (Boxer - No.59) and "Famous British Record-Holders" - Nd. 63-66
There is very little change in the updated version, only that before the sections are listed it tells us that the names in brackets come from the subtitles on the cards, that section 4 has been split to only include Billy Matthews there, with a separate section 5 created to house the "Famous British Record-Holders", and that cards 3, 4, and 5 were also issued with Scottish players J. Gilchrist, Alex Troup and W. Harper respectively - without telling us of whom they replaced. So that is something for you to look up and pass on to us, if possible. And many thanks in advance.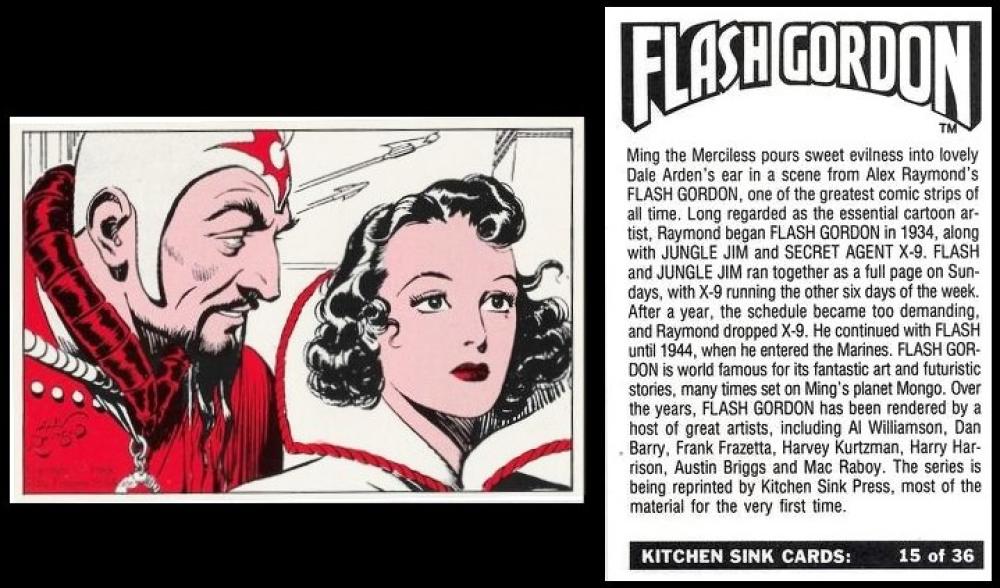 Kitchen Sink Press Inc [trade/commercial : trading cards : O/S : U.S.A.] "Flash Gordon" (1988) 15/36
Now today is not the anniversary of Flash Gordon himself, but it would have been the birthday of his creator, Alex Raymond, who was born in 1909. 
Flash Gordon first burst on to the scene in January 1934, as a rival to Buck Rogers. This was mainly due to William Randolph Hearst, who saw the revenue that Buck Rogers merchandise was bringing in to its creator, and wanted a cut of the action. To do this, his company must have a similar hero. They had a few illustrators at the company, King Features Syndicate, and asked them for ideas. One of the illustrators was Alexander Gillespie Raymond Jr., and he came up with Flash Gordon. The rest, all the movies, and serials, just followed...
These cards are by Kitchen Sink Press Inc, which began in 1969, and was started by one man, Denis Kitchen, an artist living in Milwaukee. His first venture was comics, but more adult than childrens; specialities were cult characters and groundbreaking cartoonists, many of them from the more underground areas of the genre; he also started to reprint many of the ones he remembered fondly that had either disappeared or gone out of popular favour.
Other artists joined him, and they started to send comic strips to papers and particularly to college magazines. 
In 1989 they issued a twentieth year celebration set of cards in a similar graphic style to ours. Another sought after set like ours features Ed. Wood Jr. They started getting involved with Flash Gordon in the 1990s. Then in 1993 they merged with another publisher, but the merge was not successful. Commercially yes, but artistically no. And though they did well to pick up some of the rights to the film "The Crow" in the mid 1990s they closed down in 1999. 
However more recently Denis Kitchen has briefly returned under his own name. So we watch this space. There is also a KitchenSinkWebsite which shows a lot of their output, including the Flash Gordon strips, and is very interesting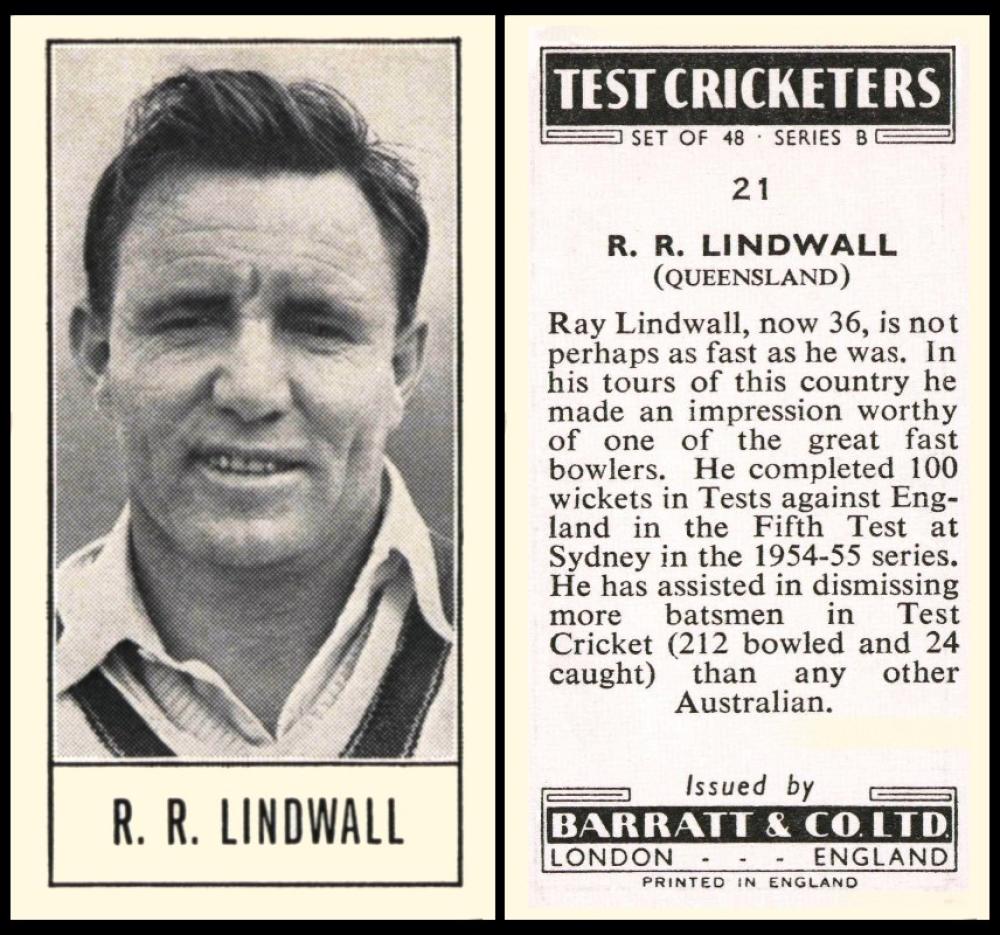 Barratt [trade : confectionery : UK] "Test Cricketers" Series B (1957) 21/48 - BAR-745 : BAR-94
Today was the birthday of this man, Raymond Russell Lindwall. He was born in 1921 in New South Wales, Australia, and played for this country in sixty-one Tests The first of these was in 1946, less than a year after his having left the Australian Army; and despite this card being a bit scathing about his being "not perhaps as fast as he was", he played his last test in 1960, three years later than this card was issued. He was mainly a fast bowler, possibly the best of all, but also played a great game of rugby. However he chose cricket instead. 
He kept playing after he retired from the test circuit, and also worked behind the scenes, mentoring younger players and even becoming a selector for his country, something which gave him immense pride. Another proud moment was on hearing he had been made a life member of the M.C.C. - and he was also made an M.B.E. in 1965.
He died at the age of 74 in Queensland.  
The Trading Card Database / Lindwall tells us that he appears on almost forty cards, the first of which, naturally, were issued in Australia (by Coles Stores) 
Our British Trade Index part II tells us there were two sets of these "Test Cricketers" issued by Barratt, the first set of 35 cards being series A and having the title suffixed with "by E.W. Swanton" (this was issued in 1956), and the second set, ours, which was catalogued as "TEST CRICKETERS. SERIES B. Black. Nd. (48)" 
Our updated British Trade Index lists our set identically to this, but inserts the date after "SERIES B", of 1957.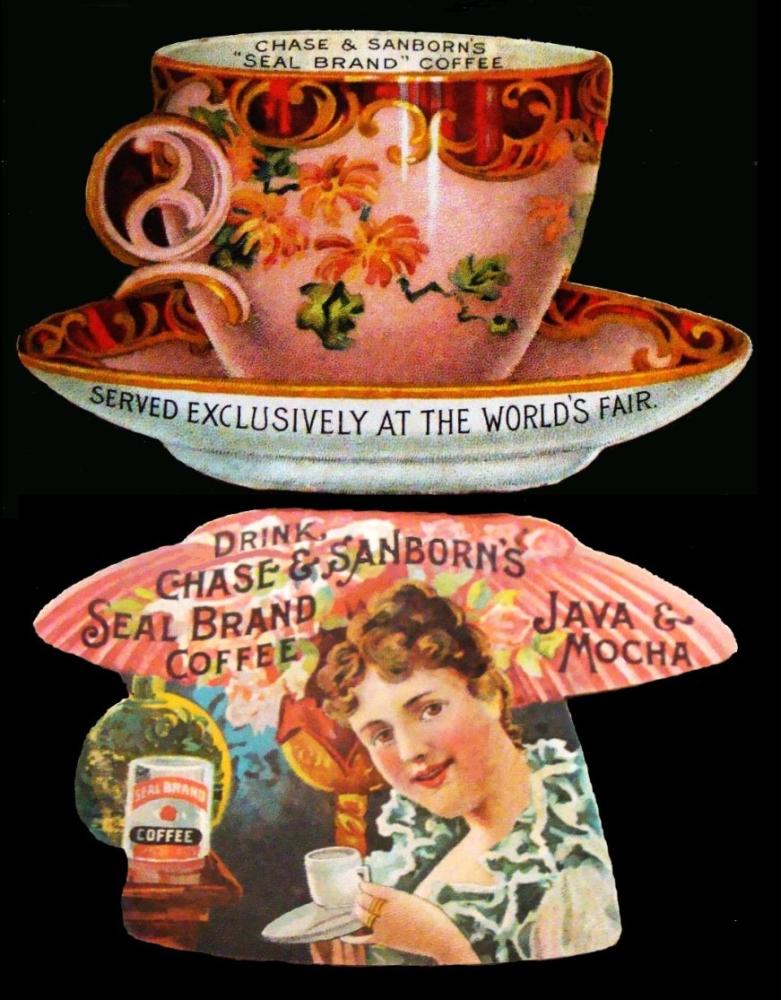 Chase & Sanborn [trade : coffee : O/S : U.S.A.] "Worlds Fair Advertisement card" 
Now here is a very important day that hopefully will not pass you by, for it is "No Disposable Cup Day". Why it is so important is that disposable cups are bad news and badly named, for many of them are unable to be recycled, and will not break down naturally because of the high volume of plastic they contain. Many coffee shops and supermarket sell reusable cups, so why not treat yourself to one today. 
Now this little paper cup has survived very well since it was created in 1893. The colours are still bright and it is relatively unchipped at the edges. The same cannot probably be said for the china cups and saucers that Caleb Chase and James Sanborn also made to give away at the fair. They were enterprising people.
Their company, named Chase and Sanborn, was based in Boston and Chicago, and were established in the 1860s as roasters and importers.
Now the card advertises "Seal Brand", which we have to sadly say was nothing to do with seals that swim in the ocean, it was named so because it was only sold sealed in tin cans to retain the flavour, and in a variety of sizes too, from half a pound, for personal use, right up to five pounds. The story has it that this was the first coffee ever to be sold in cans. They also boasted that their coffee was cut by steel blades to ensure fineness. 
Actually their coffee is still available online and probably on the shelves in America. But the company is no longer in the family, it was bought in 1929 by Standard Brands, after which it has changed hands several times, including to Nestle. Currently it is owned by an Italian company, Massimo Zanetti. 
F. & J. Smith [tobacco : UK] "Phil May Sketches" (May 1908) 29/50 - S348-325 : S84-13 : H.72 : Ha.72 : X1/H.72
Today we are marking National Poetry Day with this humorous card. Or not so humorous if you are the poet. Poetry seems to be thought of as laughable by some people, but it provides much comfort to those of us who are more sensitive, and sometimes it can be the only means that the introverted ever manage to speak of the thoughts that float about inside their hearts.
Philip William May was born near Leeds in April 1864. He did all manner of jobs, and had to, for his father died when he was only nine. These were a total mixture of indoor and outdoor occupations, he was a jockey, and briefly worked in the theatre, sometimes even acting. However he was always a talented artist, and he often sold work to the papers. They advised him to go and see all he could of life, and so he travelled to London where he slept rough, amongst the homeless. This led to complications with his health and he was advised to relocate to somewhere warm and dry.
Somehow, with no money, he ended up in Australia, working for the Sydney Bulletin as an artist. In 1892 he returned, triumphally, to London, and soon became famed. He was not always a nice person, and some of his views on life as well as some of his cartoons, have dated very badly; and indeed some of them are quite offensive. 
Now the odd thing about this set is that it was produced after he had died - that happened in August 1903, through tuberculosis, probably a direct result of his rough living.
Now you can actually find Phil May himself on a cigarette card - this is part of Wills` "Vanity Fair", card 17 from the second series dating from 1902. However our set looks like the only cards based on his work. Unless you know different.
The set follows the general practise of F. & J. Smith of being issued with several different brands on the back.
It is listed in our World Tobacco Issues Index as : 
PHIL MAY SKETCHES (A). Sm. Nd. (50). See H.72, Ha.72 and X1/H.72

Multi-backed in blue-grey, 13 wordings, with I,T.C. Clause
A. "Ancestral" Mixture - Mild, Medium & Full
B. "Gereed" Egyptian Blend
C. Glasgow Mixture Cigarettes
D. Glasgow Mixture Tobacco
E. "Goodwill" Virginia Tobacco
F. "Harvest Moon" Cigarettes
G. "Kashan" Turkish Cigarettes
H. "Luxury" Mixture Tobacco
I. "Mess Room" Tobacco
J. "Orchestra" Medium Cigarettes
K. "Orchestra" Mild Cigarettes
L. "Studio" Cigarettes
M. "Wild Geranium" Cigarettes. 
Now as far as I am aware the brands "Gereed" and "Mess Room" appear on no other cards. Unless you know different? Gereed is Dutch for a state of completion or readiness, whilst Mess Room was obviously named to appeal to soldiers.
The handbook actually tells us several things, firstly that the set was also issued in February 1912, by W.A. & A.C. Churchman, with both "Churchman`s Gold Flake Cigarettes" and "Churchman Cigarettes", secondly that there was another printing by Smith in September 1924, which had a brown back, and thirdly, that you can find it as a trade issue, by Fry`s Cocoa. There were not so many backs available for the brown backed Smith set as the blue, only four, these being "Albion (Empire Grown) Smoking Mixture", "Glasgow Smoking Mixture", "High Class Virginia Cigarettes", and "Seal Virginia Cigarettes"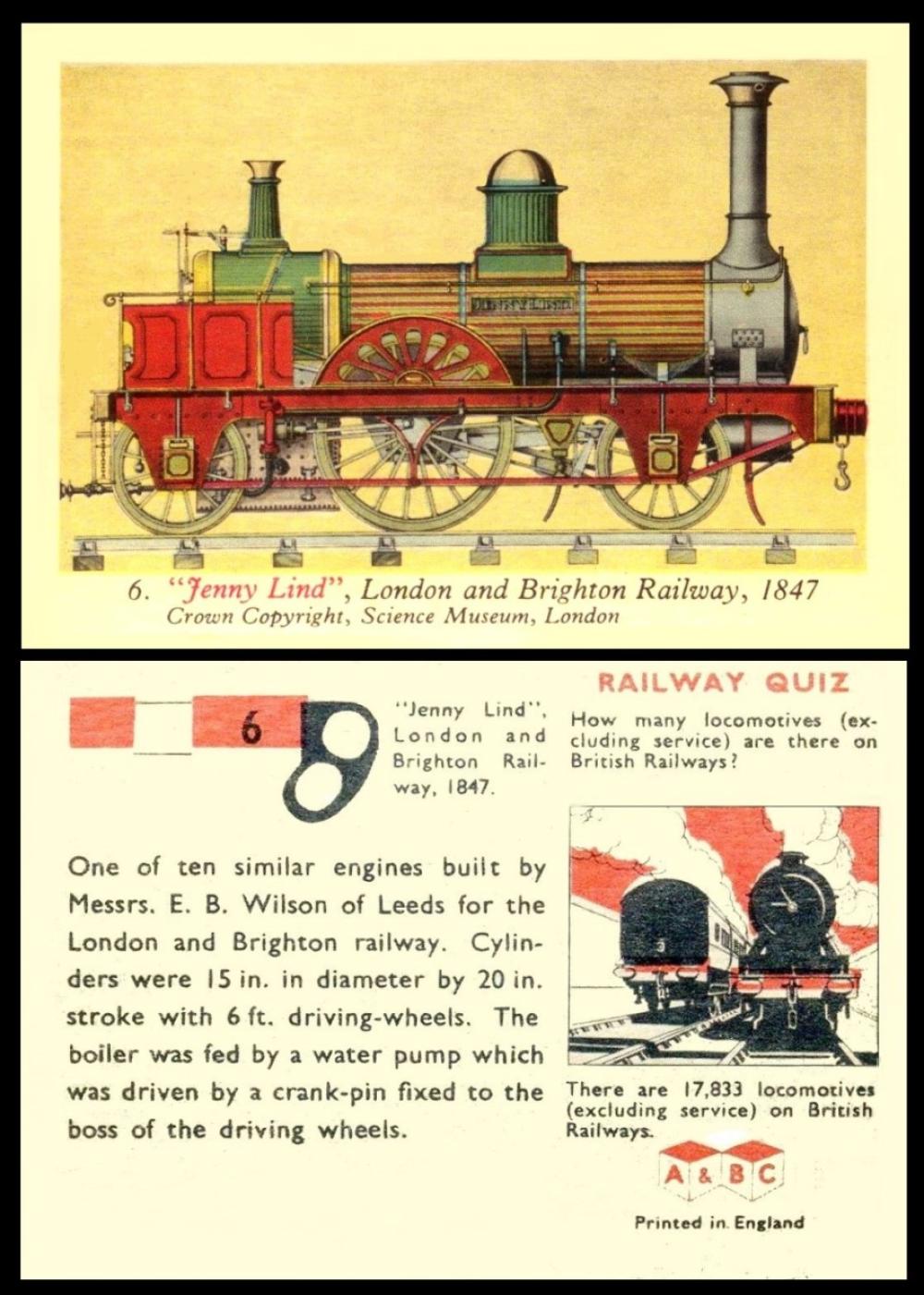 A & B.C. [trade : confectionery : UK] "Railway Quiz" (1960) 6/48 - AAB-630 : ABF-24.1
Today marks the birthday of the opera sensation Jenny Lind, but we have gone for a tribute of a whole other kind for this is a train named after her! 
Now this train was built in 1847 for the London, Brighton and South Coast Railway, generally known as The Brighton Line.  That would eventually, after several changes and mergers, become part of Southern Railway.
There were nine other trains in the same class as Jenny Lind, so it is pretty wonderful that hers was chosen to be immortalised on this card.
The maker, just like Phil May above, came from Leeds. E.B. Wilson and Company knew how to make trains, but also knew how to attract the best staff from other makers, and were not averse to sending their workers to do a little research on the side at other companies. This is what is generally regarded to have happened with this train - using very similar plans to those of the Brighton Railway. It seems strange therefore that this train, and her nine companions ended up on that same line.  Eventually there were seventy such trains, which were often known as "Jennies".
Now Joanna Lind (for Jenny was a nickname) was alive, and quite young, when she received the honour of being immortalised by train. But she may not have appreciated it at the time because she had been touring for almost the whole decade. Along the way she had met Hans Christian Anderson, who had fallen for her in a big way, which was not to her liking - and she had also had become close friends, and maybe, hopefully, even more, to Felix Mendelssohn, but sadly he died in 1847, the same year as the train was unveiled. Maybe because of that, she decided to leave Europe and tour America. The spur to this was a grand offer to tour with P.T. Barnum. It was a gruelling tour though, almost a hundred concerts. And she gave most of the money to charity.  
Then in 1852, she married  fellow musician, Otto Moritz David Goldschmidt, a composer and conductor. They moved to England and had three children, and she even became a teacher at the Royal College of Music. She died in 1887. 
Her first appearance on a cigarette card came two years later in 1889. This was issued in America by Kinney Bros as part of the set called "Leaders" (N222). We had to wait to see her here until the 1911 first series of Wills` "Musical Celebrities", where she is card 19.
Our set is a complex issue, for in our British Trade Index part II it is not listed as the set title, but under "Railway Grouping". The full entry is : 
RAILWAY GROUPING (A). Lg. Nd. 
1. Inscribed "Railway Quiz" at top R of back. Back in black and red. 88 x 64. (48)
2. Back with illustration of railway stock in colour, inscribed "A. & B.C. - Printed in England". 95 x 67. (72). Believed based on part of USA/R.714-17.
By the time of the updated British Trade Index this set is listed all on its own, as "RAILWAY QUIZ. 1960. 88 x 64. Nd. (48). Black and red back." However above it is the set now called "Railway Engines", dating from 1959, and clearing up at least part of the original mystery by revealing that you can find backs with either "A. & B.C. - Printed in England" or "T.C.G. - Printed in England", which is Topps Chewing Gum, whose set is listed under USA/R.714-17
This week's Cards of the Day...
have been leading us into October. This month sees the physical world get darker for longer and the natural world change colour, the brights of the flowers and green of the trees slowly turning brown to show us that time is against us this year, but note they are still alive, as are we. And we will all, hopefully, return in Spring.
Some of this gloominess can explain the rise in ghost stories and the delight we have in Hallowe`en. The skeletal nature of the trees, and the way that the leaf-less branches scrape on the glass of our windows, and the moaning of the winds. 
Strangely the Saxons knew October in a different way, for they called it wine month. You may not imagine that they knew much about wine, but vines were widely cultured then, especially for use in churches and monastic buildings. Indeed vineyards were included in the Domesday Book. And in October the grapes were bursting and they were usually removed, placed into vats, and pressed by various methods, both mechanical and by the use of the feet. 
Saturday, 23rd September 2023
Anglo Confectionery Ltd. [trade ; confectionery / gum : UK] "National Team Colours" (1969) 13/56 - ANG-260 : ANF-14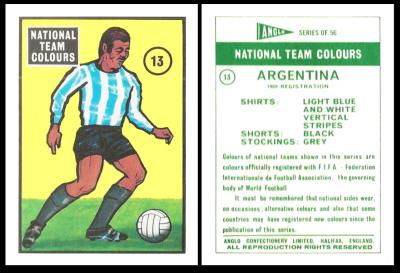 This first card was chosen for several reasons, starting with the fact that it was in October 1919 that Argentina beat Uruguay 6-1 to win the Copa Premier Honor Argentino.
It was also in this month, but in 1924, that the first goal was ever scored from a simple corner kick, oddly once more against Uruguay. Strangely, in the same year, Billy Smith did the same, for Huddersfield Town against Arsenal.
October is also the birth month of local players Diego Armando Maradona, and Edson Arantes do Nascimento, better known as Pele
I am not sure whether anyone can identify the footballer shown on this card? It would be great fun if you could. 
Also does anyone know the first card featuring the Argentina team. So far the winner is the 1925 "Empleados Nacionale Series" by Piccardo & Cia. Lets see if we can beat that!
It takes until the original British Trade Index part III, RB.31, published in 1986, for this set to make an appearance, where it is described as : "National Team Colours. 76 x 55. Football Colours, Nd. (56)".
This is almost identical in the updated Trade Index, RB.125, published in 2006, except that the date has been inserted between the title and the size.
Sunday, 24th September 2023
Ardath [tobacco : UK] "Proverbs" (September 1936) 26/50 - A745-460.B : A72-34.B
Our second clue was that what was missing, namely the beer, and this should have suggested Oktoberfest. For some reason despite the name, it starts in mid September and ends on the first Sunday in October. However the first ever one was held in October, starting on the 12th. That was in 1810, and it was a way for the people to celebrate the royal wedding of the Bavarian crown prince, later Louis I. 
Now this set is a bit confusing, but bear with me. In our original Ardath reference book, RB.6, published in 1943, there are two sets under this name, issued in the same year, and the same month. The descriptions are as follows : 
Sept 1936. 25. Proverbs (titled series). Humorous sketches. Size 1 7/16" x 2 11/16". Numbered 1-25. Fronts printed in four colours from half tone blocks, white margins, grained backs, printed in grey, with descriptions, adhesive. Issued with Ardath Cork Tipped and State Express Cigarettes. 

Sept 1936. 50. Proverbs (titled series). Humorous sketches. Size 1 7/16" x 2 11/16". Numbered 1-50. Fronts printed in four colours from half tone blocks, titled, with margins, grained backs, printed in grey, with descriptions, adhesive. Issued abroad and in New Zealand with State Express and Ardath Cigarettes, Nos 1-25 are the same as the above set. 
The difference seems to rest just on the numbering, and on the tiny word "titled", which I presume is the bar with the wording in it which appears within the picture? It also seems rather strange that we had a smaller set here than they did when it was sent overseas. Don`t you think? 
However in the original World Tobacco Issues Index (RB.23 - published in 1956) most of this is swept away, and replaced by simply :
PROVERBS. Sm. 
A. Nos 1-25. Home issue.
B. Nos 1-50. Export issue.
This is slightly altered in our updated version (RB.123 - published in the year 2000) to a one line listing of : "PROVERBS. Sm. (A) Nos. 1-25 Home and export issue (B) Nos. 26/50. (25) Export issue."
On reading that I am suddenly led to wonder if that second part may have been intended to be issued as a second series in the UK too, but never was. In fact if you look at the online auctions, you often see people selling the 26-50 cards as a second series.
However I have not yet found a card for sale anywhere with a different back to ours, and I have the impression, rightly or wrongly, that the home issue 1-25 ought to say "Cork Tipped" as part of the branding box. So if you have one of these, do let us know! 
Monday, 25th September 2023
Brooke Bond & Co. Ltd [trade : tea/coffee : UK] "Explorons L`Ocean/"Exploring the Oceans" issued in North America (1971) 31/48 - BRM-39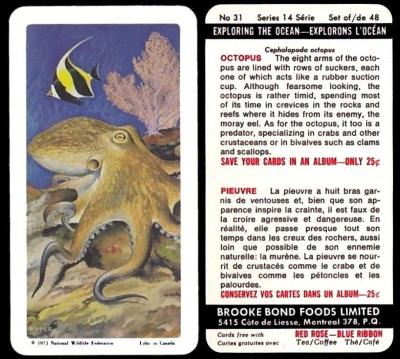 Now though this set is not mentioned in our British Trade Index part II, RB.27, whilst others are, the header for those is interesting, and reads : "ISSUES WITH ROUNDED CORNERS. Issued in North America by Brooke Bond Canada Ltd., and Brooke Bond Tea Co. Inc. Small size 68 x 37 m/m." 
Of course the reason why it is not listed there is simply that this volume was published in 1969, and our set was not issued until 1971. 
This was sorted out in part III, published in 1986, where it is listed, with the English title only, as "Series 14. Exploring the Oceans. Nd. (48). Issued 1971." 
Now I have had a bit of correspondence with Malcolm Thomson over this set.  He says that the series was probably inspired by exhibits at the Expo '67 held in Montreal, particularly the large tank where visitors could see diving demonstrations and inventions inspired by Jacques Cousteau who fronted a ten-year TV series between 1966 and 1976 popularising underwater exploration. That Expo actually marked the Confederation of Canada`s Centenary, but that was coincidence, and a lucky one too, for the event had been planned to take part in Moscow. I do wonder what would have happened if it had been the Moscow Expo - this set may never have been printed for one thing. Jacques Cousteau, of course, was French, but there is a certain affinity between France and Canada which would have made him very popular there. He also provided much of the material for his exhibit from his own collection and archive. 
Now this was the first Brooke Bond set ever to feature Oceanography and was a part of the company's marketing policy to highlight and educate about ecological conservation issues. You can read this in the scan below, which comes from the introduction to the album. 
Now this set was only issued in Canada (where there was both this album and a wall chart) but its success almost certainly inspired our 1974 set "The Sea-Our Other World". 
Finally there is a really interesting reference in an article in the L.C.C.C. magazine, issue no.924, where Mr. Wells writes :
"the cards -with their unique rounded corners and high gloss finish were indeed unique. The phrase 'high gloss finish raises some questions. Brooke Bond themselves spoke of the development of a fine playing card' finish applied to sets; another source suggests the experimental coatings known as 'Lustrecoat' and 'Mirror-coat' were applied to cards in the 1960s"
Both Mr. Thompson, and now I, wonder if any collectors have evidence of the existence of these differences in card finish in the oceanography set? And if they do, is there a simple way to tell? Do let us know, please...
And by the way this is the front, so you can take part even if your cards are stuck to an album or wallchart.
Tuesday, 26th September 2023
W.D. & H.O. Wills [tobacco : UK] "Lucky Charms" (October 1923) - W675-195 : W62-156 : W/256.A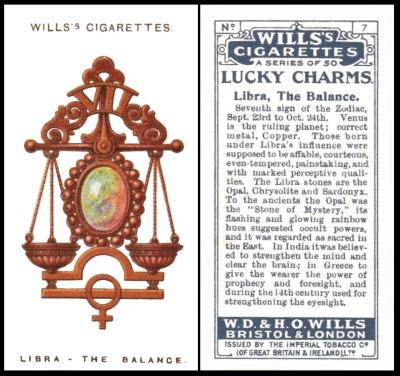 Libra is the star sign that occupies most of October, though it begins in September. The sign before, Virgo, is only in October for seven days, ending on September the 22nd. And Libra is replaced by Scorpio on October 23rd
Libra is an air sign, and its character is very interesting for it is the scales, or the balances, and that is the only sign which is not an animal or a human being. There is also another connection that you may not know and that is that to the Romans a Libra was a unit of weight, equivalent to 12 ounces. This is yet another reason for the scales. 
The card also shows its birthstone, right in the centre, the rainbow-hued opal. 
There is not much of a description on this set, even in our original Wills reference book, part IV, where it is simply described as :
256. LUCKY CHARMS. Fronts printed by letterpress in colour. Backs in grey, with descriptive text. Issued 1923. A. Home issue, with Wills` name and I.T.C. Clause at base of backs B. General Overseas issue, anonymous backs.
That is kind of useful, because I am fairly sure I have used this set before, so watch the front page of this website for a request to replace this, or that other, with that G.O.i
In the World Tobacco Issues Indexes it is shortened still, to just "LUCKY CHARMS. Sm. Nd. (50) See W/256.A". You will also find that anonymous issue, if you hunt, so to save you doing that it is under Anonymous Issues (1) - with letterpress on back. Or just follow the card codes, ZB6-46 in the original book, and ZB07-490 in the updated version.
Wednesday, 27th September 2023
Lambert & Butler [tobacco : UK] "Birds & Eggs" (1906/1917) 43/50 - L073-220 : L8-23 : L/25 [RB.9/25] : H.60
Now here is a fine feathered bird, who represents the annual Nottingham Goose Fair, which started in the sixteenth century - though at that time it was held in September, its moving to October only happened in the eighteenth century, and only then because of our change to the Gregorian calendar 
However there has been a yearly fair like this, without it being directly named as a goose fair, in Nottingham, since the time of the Saxons. Mind you it has been cancelled several times, for both the World Wars, and for disease, not just to guard against covid, but also because of an actual outbreak of bubonic plague in 1646. Today it is a funfair, with sideshows and amusements, which is good for the goose and good for the gander; and also for it being mentioned here, because if it had been a livestock sale I would have passed it firmly by. 
For once there is not that large of a description in our original Lambert & Butler reference book, RB.9, published in 1948 but it adds to the intrigue. It reads : 
25. 50. BIRDS & EGGS. Fronts lithographed, photo-screen plus hand drawn colours. Backs in green, with descriptions. 1906 and 1917
Now in a case like that, where two dates are mentioned, it means that the original set, in that case issued in 1906, was reprinted again using the original artwork and without any changes. So that makes it impossible to tell the two apart. Very often such reprinting was caused by a desire to get back to normal issuing after the First World War, without having the time or the resources to design a whole new set from scratch, but 1917 does seem rather early for such to be true in this case.   
The reprinting is sadly not mentioned in either of our World Tobacco Issues Indexes; the set is just listed as : "BIRDS & EGGS. Sm. Nd. (50). See H.60"
That H.60 reference leads us to the handbook, where it is revealed that the set has other issuers and is available in different formats. The header says it all, namely
H.60. BIRDS & EGGS (titled in Churchman and Lambert and Butler issue only). Fronts in colour. Series of 50. 

Pre-1919 :

Churchman - May 1906 - Titled. Numbered.
Edwards, Ringer & Bigg - June 1906 - Untitled and unnumbered.
Gallaher - 1905 - Untitled and unnumbered. Harvey & Davy cards with Gallaher label stuck on back.
Harvey & Davy -  1905 - Untitled and unnumbered. 
Lambert & Butler - 1906 / 1917 - Titled. Numbered. 
Thursday, 28th September 2023
W.D. & H.O. Wills [tobacco : UK] "Cricketers" untitled (1896) Un/50 - W675-052 : W62-38 : W/7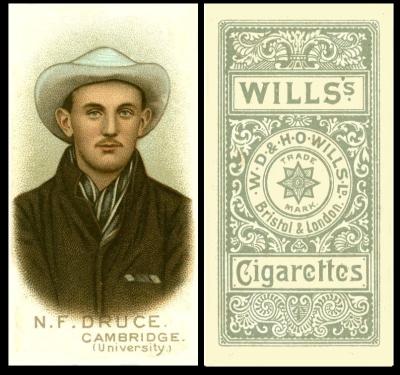 Who says cartophilists have no fun? Definitely not me, especially regarding this card. 
A rather lengthy preamble but the first ever copy of "Cigarette Card News" was issued by the then London Cigarette Card Company in October 1933. And its ninetieth birthday seems to be as good a time as any to start the gleaning of my library. 
As to why we have this card is that it was the first set of cards ever mentioned by name, except it was not. The text in question, about half way down page one, of number one, of volume one, reads :
Since we first announced the forthcoming publication of the " Cigarette Card News" we have been encouraged in the task by a large number of commendatory letters received from collectors. Many have been kind enough to declare that we are filling a long-felt want. So we are, but only if our contents pass the standards which must be applied to any specialist journal, and which it must maintain if it is to live

In our belief, the principal tests are accuracy, readability and informativeness; everything published should be of interest and service to either the specialist or general collector. Now, the heaven-sent writer on specialized subjects is not easy to find anywhere. In the case of our hobby, where the written word has up to now been singularly lacking, he (or she) is about as rare a bird as a complete set of Wills' 1895 Cricketers.
However, as some of you may already be squealing, there never was a set of Wills` 1895 Cricketers, only the set we show, which was issued in 1896.
So was this an error in typesetting, not picked up in the proof reading (for a 6 is very similar to a 5) ?  Or was it Colonel Bagnall making a really technical joke for collectors in the know to laugh at extra hard?  Sadly we will never know. But as the error or joke revolved around this set, here it is. 
This set was described in our original Wills reference book, and given the number of W/7 though it is actually the eleventh set catalogued in the book. Making life even more complex, it was the third set to be issued after the advertisement cards - first being the 1895-7 "Soldiers of the World", and second being the twenty-five card issue of "Ships"
Most of the description in the book is occupied by a list of all the cricketers shown, two of which were later corrected, in the Wills book part II - these being Hewett, H. T., M.C.C. (which originally read H.J.)  - and - Key K. J. SURREY (which originally read T.J.)
However above that list there is a very useful note about the set, which reads :
CRICKETERS
Series of fifty. Size 2-5/8 ins. x 1-3/8 ins. thick card. Unnumbered. 
Fronts in full colour, without frame lines, and without "Wills` Cigarettes". Head and shoulders studies of prominent players, titled at base of card thus :- SHREWSBURY, Notts. Cards have a tinted appearance on fronts. Some cards have initials before the name, others behind it. Cricketers will know this used to denote amateur or professional status. 
Backs printed in GREY with Star and Circle ornamental design, with "Ld." in the circle.
Issue date 1895. 
Printed by Meissner & Buch, Leipzig. 
Practically none of this information was carried forward to the World Tobacco Issues Indexes, and the Wills books were long out of print by the first one. All it says is "CRICKETERS, 1896" (A). Sm. Grey scroll backs. Unnd. (50) See W/7"
Now our man, Norman Frank Druce, got my nod because I liked the look of him, especially his hat, and the fact that he does not look like a cricketer from his clothing.
He was seldom known as Norman, and played as Frank. He was born on the first of January 1875, and played in his first test match in 1897, playing in four more by the end of 1898, and then no more. However he lived until 1954. Some say that he was not very good, which I cannot believe or he would not have been selected for even one test. And it is revealed that Wisden rated him very highly, choosing him amongst the 1898 Cricketers of the Year. But then there are mutterings that he was only selected through his performance in the University team in 1895, when he scored almost eight hundred runs in seventeen innings. That sounds jolly good to me. And he played for Surrey as well during the times when he was on the test match squad. However he was a bit of a good weather specialist, wonderful in the sun on dry going, but not so fond of the claggy soil and the dampness. 
Friday, 29th September 2023
Abdulla [tobacco : UK] "Cinema Stars" - set five (1935) 2/32 - A065-400.5 : A5-13.5 : Ha.515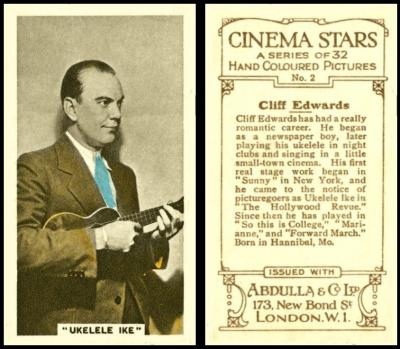 Now following on from yesterday`s theme, we have another first from the pages of the "Cigarette Card News" to mark its ninetieth year. And our card today is the first card ever to be mentioned as a "New Issue".  The actual text there,  on page 18 of number two, volume one, reads :
NOTES ON CURRENT SERIES By C. L. PORTER.

SERIES now current, and immediately past current, are well up to the average in point of interest and design. One or two, I think, are outstanding in merit, and the majority should be very popular during the next few years. The list in this article is of those now coming to hand in fair quantity; in some cases complete sets are procurable without difficulty. Others, just making their appearance are not yet easy to get in full.

Abdullah. Cinema Stars. A series of 32 (in colour). A nicely got up set of movie celebrities.
That is the entire report on that set, but there are other sets making their debut in that column, which were 
Carreras "London Views"
Lambert & Butler. "Find Your Way" and "Pirates and Highwaymen" (re-issued).
Sarony. Cinema Stars, Real photographs
Wills. Do You Know, 4th Series.
Ogden. Smugglers and Smuggling
Player's. Aviary and Cage Birds
Now I have had a look into the months of issue for these, wherever possible, so we can see how long they took to find their way into circulation and be reported. Taking the list in date order, Carreras London Views was actually issued in 1929 but they are properly called "Views of London"; however this was an overseas issue, so I will allow that they have taken some time to reach here. Lambert & Butler "Find Your Way" was issued in 1932, but the "Pirates and Highwaymen" seems to only list the original of 1926 and not the reissue. Anyone have a firm date on that? Ogden "Smugglers and Smuggling" was 1932 as well. Then John Player's. Aviary and Cage Birds, Sarony "Cinema Stars" and WIlls "Do You Know" fourth series were 1933.  So pretty current, actually. 
There are several Abdulla Cinema Stars under A5-13 in our original World Tobacco Issues Index. These are : 
CINEMA STARS. Sm. Nd. See Ha.515
1. Set 1B. Size 68 x 35. Black and white (52)
2. Set 2. Size 66 x 37. Brown gravures (30) 
3. Set 3. Size 66 x 37. Black and white gravures toned to cream, yellow or orange (30) 
4. Set 4. Size 67 x 37. Brown gravures, semi glossy (32) 
5. Set 5. Size 67 x 37. Hand-coloured on brown (32) 
6. Set 6. Size 67 x 37. Hand-coloured on brown (30) 
The listing is the same as above in the modern update, but the header tells you to "See RB.133/50 et seq.
Ha.515 lists all the cards in Series 5 and tells us that the set was also issued by Godfrey Phillips.
Our card is a bit unusual because it is the only one with a different title on both sides - the front says "Ukulele Ike" whilst the back gives his real name of Cliff Edwards. Actually that was not his full real name, as he was born Clifton Avon Edwards on June the 14th, in Hannibal, Missouri. His claim to fame was a little song called "Singin in the Rain" which topped the charts in 1929. But he also found fame later in life, supplying the voice of Jiminy Cricket in the 1940 version of "Pinocchio" for Walt Disney. 
And there we have it, another week passed. We are doing well with the index so do keep an eye on its progress - which will be resumed over the weekend. 
Thanks for tuning in, and guess what, I am going to get this all out to you at the midnight hour, complete with all the codes and card chat. That is some kind of miracle....