Ooh! Another Saturday, and another newsletter.
On which note we have just realised that we have been doing the diary for three years on this site, so what do you think? Is it getting stale? Would you like to try something a bit different? Let us know your ideas at webmaster@card-world.co.uk 
Now this week has been less hectic, and more rainy. That somehow did not result in my getting the newsletter done in really quick time though! And here I am burning of the midnight oil all over again. And burning my leg, because I do not have a cushion under the chromebook and it seems to have a bit of an overheating problem. Is that the result of too much YouTube? 
Anyway this week I share with you .... a rather repugnant reptile, a terrifically talented typist, a curious creation conclusion, a barrel bearing beauty, a justly joyous jubilee, the magnificently moody mule, and a national Naval Name-day......
British American Tobacco "Domino" brand [tobacco : UK] "Animaux et Reptiles" (1961) 25/25 - B705-552
So today, on Reptile Awareness Day, we have the repugnant reptile - because the diet of the snake does not please me. However this card is in French and I can choose not to translate it. I am not averse to snakes in any other way, and their shiny skin is most attractive. I also admire the way they can shed it when another starts to grow. 
So why do we need a Reptile Awareness Day? Well because for the most part these creatures are not as visible as the larger creatures that are featured as needing our help. They are often also not as cuddly. 
There is also a lot of confusion about what is a reptile and what is an amphibian? And that is cleared up very expertly by Shedd Aquarium. 
Now this set is not in our original World Tobacco Issues Index, for it was issued after that book had been published. They do appear in our updated version, under British American Tobacco brand issues, where the header tells us all these "Domino" cards were issued as a "French language brand issue, without name of firm, in Mauritius, 1960-63. All small size, 68 x 37." Our set is listed as "ANIMAUX ET REPTILES (Animals and Reptiles). Sm. Nd. (25)."
Smith Typewriters [trade : typewriters : O/S : USA] "Advertisement Card" (19) Un/1
Now today, a hundred years ago, a man called Albert Tangora set the world speed record for typing. His feat was performed on an Underwood Standard, and he managed to type a hundred and fifty nine words in an hour, which averaged out at 147 w.p.m.
Mr. Tangora was born in July 1903 so he was twenty when this event took place. And to this day, a hundred years on, his record has never been beaten.  Maybe it never will, for the skill of using a manual typewriter is no longer seen as important.
Now he also appears on postcards, and also there seems to be some link with Brylcreem which I have not had time to fully explore. However I have not found him on a cigarette card (yet)
Now our card may change, if I can find an Underwood one. However this is quite an interesting card because L. C. Smith, whose typewriter this is, is still going as Smith-Corona. The Smith Premier Typewriter Company started in 1886, by Lyman C. Smith, and his brothers. Eventually it was taken over by the Remington Typewriter Company.
You can see one of the actual machines used on this card at Wikipedia/SmithCorona. As it says there, Mr. Smith did not invent the typewriter, but nor did his employee. For that you need to look at Wills "Famous Inventions" card 27/50, which tells us that "As early as 1714 Henry Mill invented a machine for impressing letters on paper, but the first machine to really demonstrate the possibility of producing writing by mechanical means faster than by the pen was that patented by John Pratt in 1866"
Churchman [tobacco : UK] "Well Known Ties" - second series (1935) 21/50 - C504-690 : C82-88 : C/148 [RB.10/148]
And this is a roundabout link to the fact that a man called Ussher worked out, in the seventeenth century, using clues in the bible, that the world was created in 4004 BC.
His name was James Ussher, and he was the Archbishop of Armagh and the Primate of All Ireland. His connection with our card is that the library at Trinity College Dublin is named the Ussher Library, and there has been a library at that college ever since it was founded in 1592. James Ussher was born in 1625, and in 1656, when he died, it was revealed that he had left all his books and manuscripts to the library, thousands of them. In exchange, or perhaps as a condition, the library undertook publishing his complete works, which filled twenty-four volumes. And in 2003, the newest of the library buildings was called The Ussher Library.
There are four sets by this name, two large and two small. Our original reference book to the issues of W. A & A. C. Churchman, RB.10, issued in 1948, lists them as : 
147. 1934. 50. WELL KNOWN TIES (titled series). Size 2 11/16" x 1 7/16" or 67 x 36 m/m. Numbered 1-50. Fronts printed by letterpress, 4-colour half tone process. Backs in dark green, with descriptions. Printed by Mardon, Son & Hall

148. 1935. 50. WELL KNOWN TIES Inscribed "second series". Numbered 1-50. Fronts similar to item (147). Backs in brown, with descriptions. 

149. 1934. 12. WELL KNOWN TIES. Similar format to (147), but size 3 7/16" x 2 9/20" or 80 x 62 m/m. 

150. 1934. 12. WELL KNOWN TIES. Inscribed "2nd series of 12". Other detail as(149), but different subjects.
Our World Tobacco Issues Indexes list this second series  as just : "WELL KNOWN TIES - "2nd Series". Sm. Nd. (50)"
Cavanders [tobacco : UK] "The Colonial Series" (1925) 13/30 - C230-500 : C48-24 
Stepping up a gear, today, in 1901, a lady called Annie Elson made a big name for herself by going over Niagara Falls in a barrel. She was 63 years old, and it was her birthday present, which I think is rather wonderful. I am not sure I would like to do that, but I do believe that everyone ought to do something amazing on their birthday.
We do not know that much about her. She was married, for a while, he died not long after the wedding, and just a short time after their young son. And she was a schoolteacher. Most surprising of all, she was actually the first person to go over the falls in a barrel and not die in the attempt. Apparently she did it to make money, but that did not work for it is recorded that she died without a penny, and public donations paid for her funeral. However that was almost twenty years later than the amazing excursion over the Falls.
This set is described in our original World Tobacco Issues Index as 
THE COLONIAL SERIES. Md. Nd. (30). Captions on front (a) small, under 1 m/m high (b) larger, over 1 m/m high.
It is virtually the same in the updated version but there has been two additions, these being that the cards with the small captions are revealed to have matt fronts, and the cards with the large captions are glossy.
The really interesting thing about this card is that you probably looked at it and dismissed it as just a scene. But a closer look reveals that at the bottom the photo was supplied by "the Canadian Pacific Railway" - so technically it has a place in transport, and railway collections. Or this card does at any rate. I did have a very quick fossick, and cards 1 and 6 also credits the C.P.R. Cards 2, 3 and 4 credits "Publicity Dept., South African Railways and Harbours". And that is all the time I have tonight! More later...
Amalgamated Tobacco Corporation [tobacco : UK] "Kings of England" (1954) 25/25 - A495-125 : A46-6
This card celebrates the 1809 Golden Jubilee of George III, which was the first Royal Jubilee ever. It was actually also known as the Grand National Jubilee, though oddly it was held today in 1809 which was only technically the 49th year of his reign, but starting his fiftieth. There may also have been ulterior motives because the King was not in the best of health. With this in mind, the celebrations had started in many parts on his official birthday, the 4th of June. And though he was able to inspect his troops on the first day of the Jubilee Festivities, he took no further part in any of the events. Though he did not die until January 1820.
These celebrations were also intended to cheer up the public morale, for we had been at war with France for the last twenty of those years. This is why when as part of the celebrations many military deserters and prisoners of war were released, but none of the French ones.
This set is in our World Tobacco Issues Indexes under section 2 of the Amalgamated listing, which covers cards from 1953-54. It is catalogued as "KINGS OF ENGLAND. Sm. 67 x 36. Nd. (25)" and it is indeed only the Kings. If you are wondering whether the intention was for there was to be a second set of Queens, the answer would be no, because there were only eight.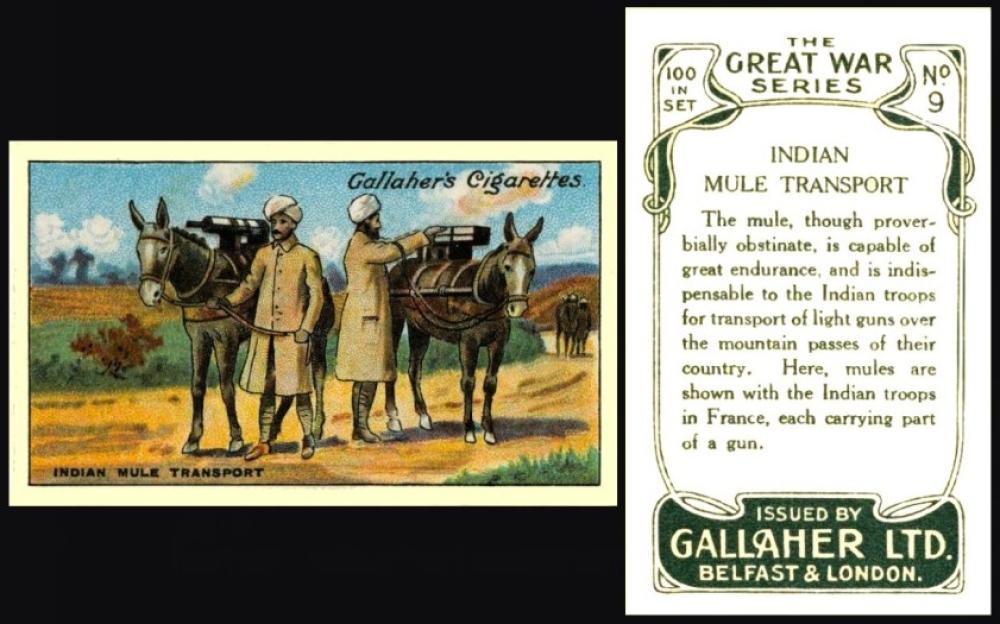 Gallaher [tobacco : UK] "The Great War Series" (19) 9/100 - GO75-155 : G12-19.1
Today, in Columbia, Tennessee, it will be National Mule Day, a chance for the people of that town to celebrate the humble and uncomplaining animal that has meant so much to their area over the years, right since 1840, when the first "Breeders Day" Celebration was held. It was further expanded in 1933, adding a parade of local livestock. And the first ever "Mule Day" was the following year. 
Now you may be wondering why mules have any connection to Tennessee, and the answer probably starts with the Tennessee gold rush of 1827. Now though this was a small event, as the land belonged to the Native Cherokee, who were unwilling to allow access, it really took off in the 1830s. The prospectors needed a way to get to the fields, and horses were a bit too temperamental, plus they did not always do well on scrubland. Mules were the obvious choice, and there were soon adverts in the local papers advertising mules for sale or rent. After the goldrush, there was a surfeit of mules, and they started to be used on the farms. In this they soon proved to be harder working than the habitual oxen, and also faster, with an added bonus of being able to harness up and ride into town. So by 1880 oxen had virtually gone out of use. 
And, before I gallop on, a mule is what you get if you mate a female horse with a male donkey. 
This set is the first series, and there was also a second, plus eight series of "Victoria Cross Heroes". Our original reference book to the issues of Gallaher Ltd, RB.4, issued in 1944, lists our set as : 
1916. 100. THE GREAT WAR SERIES (titled series). Size 2 1/2" x 1 1/2". Numbered 1-100. Fronts, lithographed in full colour, black marginal lines, white margins, subjects titled. Backs, printed in grey, with descriptions and "Issued by Gallaher Ltd., Belfast & London". 
Whilst our World Tobacco Issues Indexes describe them as
THE GREAT WAR SERIES. Sm. N. (100)
1. Nos. 1-100 (100)
2. "Second Series". Nd. 101/200 (100).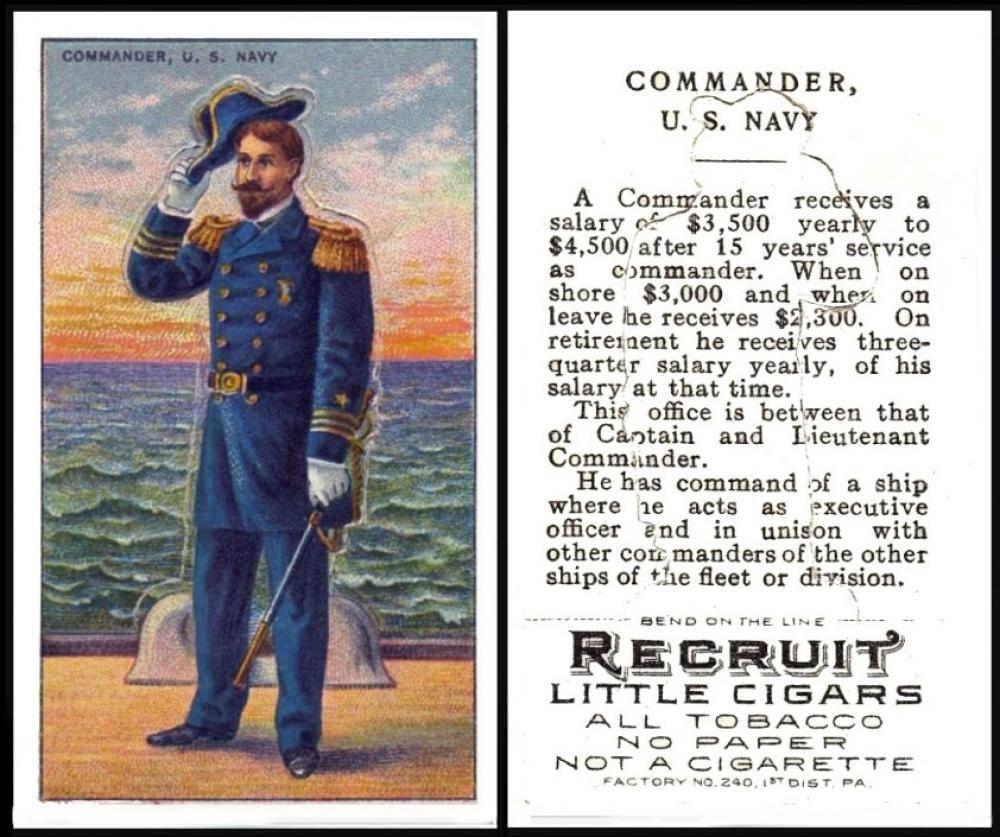 American Tobacco Company [tobacco : O/S : USA] "Military Series" - Burdick T.81 (1908) Un/ - A565-118.B : A54-58.B : ABC/T.81 : USA/T.81
Today it was once Navy Day in America. The first one took place on October 27, 1922 and it was created by the Navy League of the United States, though it was not a public, nor a national holiday.
The date was actually a way of commemorating Theodore Roosevelt's birthday, because he had been the Assistant Secretary of the Navy. However it later turned out that a report, the first ever mention of buying merchant ships to form an American Navy, was issued in In October 27, 1775.
Now Navy Day 1949 was the last. In 1950 it was replaced by Armed Forces Day. And in 1970 even the official birthday of the Navy was changed to October 13th. However today will always be Navy Day to many veteran sailors. 
There are three "Military Series" listed by Jefferson Burdick, T.79 (which was issued in 1910 and has white borders), T.80 (dating from 1911, with gilt borders), and our T.81 (which was only issued with "Recruit" brand in 1908)
Our set is unusual because look around the person and you will see a line, which allows for him to be released from the frame and, by bending the card, to stand proud. 
Our set is catalogued in our original World Tobacco Issues Index as 
MILITARY SERIES - BURDICK T.81 (A). Sm. 70 x 41. Unnd. (50) "Recruit" brand issue. See  ABC/T.81. Ref USA/T.81

A. Uncut cards
B. Design die-cut to set up
I was intrigued as to why the uncut cards were given the A suffix. Maybe there were more of those? Or maybe the uncirculated cards were cut to make a new novelty? 
The description in the updated World Tobacco Issues Index is slightly different and includes the factory numbers, namely : 
MILITARY SERIES - BURDICK T.81 (A). Sm. 70 x 41. Unnd. (50) "Recruit" brand issue. Ref USA/T.81

A. Uncut cards. F.240 and 606
B. Design die-cut to stand up. F.229, 240, 593 and 606
I thought the word "set-up" was rather odd in the original, obviously others did too for now, look, it is changed to "stand-up".  And actually now I have looked at my American Card Catalogue I can see that Jefferson Burdick also says "design die cut to set up" - so that must be where our wording came straight from. Perhaps an American reader can tell us what "set up" means over there? Jefferson Burdick values of these die cut cards at just five cents each. And he lists them in his catalogue with the uncut cards first, as A, obviously where the system originates. He values the uncut cards at ten cents each.
As far as the factory addresses, we know from the beginning of the American Tobacco Group issue listing in the original World Tobacco Issues Index that "Recruit Little Cigars" were made at F.25 and F.229, both of which were in Virginia; F.240 was in Pennsylvania; and F.593 and F.606 were in "Md" which I will have to google. 
This week's Cards of the Day...
have been celebrating Back to the Future day, which is celebrated every year on October the 21st. 
Now film fans will know that the film "Back to the Future" was released on July 3, 1985. However the first Back to The Future Day was October 21st 2015, because that is the year that the time travellers went to, and also the very day of that year that the Chicago Cubs baseball team are shown to win the World Series. Which, coincidentally, they did do in 2016. 
Now in America, and maybe here, lots of cinemas are re-showing the film. So check up in your local area if you are a big fan. If not, hire it from your local library, or watch the trailer(s) on YouTube. 
Saturday, 14th October 2023
R & J Hill [tobacco : UK] "Popular Footballers 1934-5" Series B (1934) card 43 - H554-760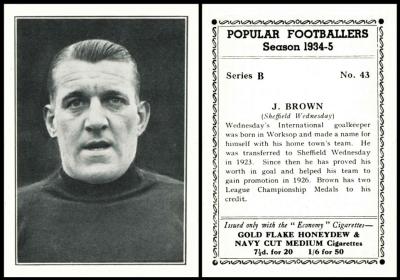 This card had two clues, the easy one was that this footballer`s surname is Brown and Dr. Emmett Lathrop Brown, played by Christopher Lloyd, is the scientist who invented the DeLorean Time Machine. The harder clue is that the film is set in Hill Valley, California, and this card was issued by Hill. 
Jack Brown was a nickname, he was born John Henry Brown in March 1899. His first team was not the signing for Worksop, for he had played in junior teams first. At the time of our card he was a goalkeeper, though he did not start out as so - he played centre forward, until the fateful day that the team needed a goalkeeper.
He can also be seen, looking rather less pugnacious, in Carreras Ltd`s 1934 set of "Footballers", the reverse of which card tells us he was born in Worksop and started with the local team before being signed by Sheffield Wednesday in 1923. And by the time of the Carreras card he was also an international player, with two League Championship Medals.
In fact he played most of his life with Sheffield Wednesday, only briefly going to Hartlepool United, in 1937, when he was transferred. However he only played in one match for them, and then made the decision to retire. He was only 38. After his retirement he did not take the usual route of training, or coaching, and he never managed a team. Instead he managed an off-licence, and a pub, then set up as a newsagent. He died in April 1962, aged 63.
So to card chat. You may be wondering why this is Series B? And the answer is within our original reference book to the issues of R. & J. Hill (RB.2), published in 1942, where this set is catalogued in two parts, as : 
1934. 30. POPULAR FOOTBALLERS. "Series A" (titled series). Size 2 11/16" x 1 7/8". Numbered 1-30. Fronts, printed in black only from half-tone blocks - black and white - black border line and white margins. Backs, printed in black only, with descriptions, and inscribed, "Season 1934-5". "Issued only with the `Economy` Cigarettes - Gold Flake Honeydew . . . ." No maker`s name appears anywhere. (See Henry Archer & Co.) Printed by W. Oliver, London"

1934. 20. POPULAR FOOTBALLERS. "Series B" (titled series). Size 2 11/16" x 1 7/8". Numbered 31-50. Fronts, printed in black only, from half-tone blocks - black and white - black border line and white margins. Backs, printed in black only with descriptions, and inscribed, "Season 1934-5". "Issued only with the `Economy` Cigarettes - Gold Flake Honeydew . . . ." No maker`s name appears anywhere. (See Henry Archer & Co.) Printed by W. Oliver, London.
Our World Tobacco Issues Indexes describe it simply as : 
POPULAR FOOTBALLERS - SEASON 1934-5. Md. 68 x 48. Black and white. Brand issue, inscribed "Gold Flake Honeydew & Navy Cut Medium. ..."
1. "Series A." Nd. 1/30 (30) 
2. "Series B". Nd. 31/50 (20)
Sunday, 15th October 2023
Stephen Mitchell [tobacco : UK] "Angling" (1928) 16/25 - M757-420 : M122-27
Now the clue here is for the leading man, Michael J. Fox, whose character was Marty McFly. So here we have a Scottish river,  on a Scottish card, and many Scottish surnames include either Mc or Mac - and then a fishing fly, being used as bait, which could conceivably be called a McFly.
Puns are such fun. 
These cards are attractive despite the subject. Each card is also topographical, because the picture is of a named region and body of water and then the bait is inset as a small picture, whether that be a fly, as in our case, or live bait. 
Now our World Tobacco Issues Indexes simply read: "ANGLING. Sm. Nd. (25). See RB.21/449.B" but the addition of that RB.21 code is very interesting, because that is, of course, the British American Tobacco Booklet. 
The text in there, filed under "Section XVI - Other English Language Issues" is :
449. ANGLING. Small cards, size 68 x 36 m/m. Front in colour. Back in grey, with descriptive text. Numbered series of 25. 
A. Anonymous issue, with letterpress on back.
B. Faulkner Home Issue
C. Mitchell Home Issue
Now we never issued a specific Mitchell reference book - though one was planned. But now we have read this we can nip along to RB.1, devoted to the issues of W. & F. Faulkner, and read the description for their version of this same set, which is  :
1929. 25. ANGLING (titled series). Size "A" (Standard). Numbered 1-25. Fronts, printed by four colour letterpress, half-tone screen blocks. Illustrations of "fly" inset. Backs printed in grey-black, with descriptions, and numbered. Printed by Mardon, Son & Hall. Also issued by Mitchell. 
Now the immediate thing that I notice there is that it says "Illustrations of "fly" inset", but a look at the entire set shows that the insets are not all artificial flies, there is live bait as well. And in fact only eight, to my reckoning, are flies. And that tells us that when this set was inspected to add to the reference book it was not a set at all, but instead just a few odds, all of which, quite coincidentally, showed flies. 
So if anyone has this anonymous issue I would be interested to hear from you, with respect to whether the back is the same framework, and what it says in the box where the other two issuers insert their name. 
Monday, 16th October 2023
Topps [trade : gum] "Back to the Future II" (1989) 3/88
Here we had a DeLorean car, which was used as the time travelling vehicle. But also this DeLorean was the actual car, as the card is also a still from the film. 
Now this was a pretty easy clue if you knew the film but the answer was not revealed until the reverse was shown so we used it. 
At this stage in the Topps story they were still issuing cards with gum, rather than just selling the cards. In America the price of a packet was fifty cents, and each contained nine movie cards, one sticker, and a stick of bubble gum. In the United Kingdom the packets are identical but Topps removed the large black box in the top right hand corner that had the 50c price in it, leaving us with an all blue background. 
This card comes from the second film, which was released in 1989. The basic story was that once the hero comes home from his trip to 2015, he discovers that he must return to the past. Most of the cast and crew returned too, which is always fun. 
Now in case you are wondering why we have a card from the second film and not the first, well there is a very sad fact, and that is that the first film was never given a set of cards. There are reportedly promo cards featuring stills of it, but I have not been able to track any of those down. Yet.
The main body of the set shows film clips from the movie, like ours, but at the end there are a few cards showing the cars (numbers 80-85). One of these cars has rather an interesting back story - that`s on card 81, it is described here as a spider car,  but it had also appeared in the film "Blade Runner" (1992), where it was called a spinner.
The rest of the cards in the set are one offs, No.86 shows the interior of the cafe, No.87 shows Marty Mc.Fly / Michael J. Fox sitting on the DeLorean, and No.88 is a bit of promotion for film number three, the front being entitled "Until Next Time" and showing the DeLorean with the two main stars and a dog, whilst the back tells you that Back to the Future 3 would be at your local movie theater in the summer of 1990.
Tuesday, 17th October 2023
Topps [trade : gum : UK] "Back to the Future II" - stickers (1989) 1/11
Now here we have one of the eleven stickers that were issued in the same packet as the cards. The background of all of them is entirely white and they are quite simply made, for rather than the die cut shape that allows you to peel out and use just the coloured part of the image, in this instance you just get the entire front as a big oblong - including the number, the film company credits, and the rather large arrow with the instructions to peel. I suppose you could cut carefully round the logo, if you had a mind to. I`ve never been too good at that though.
The picture used on this first sticker is the same logo which appears on the back of every card, above the description. And it also appears as the "picture" on number 1 of those cards. 
There are no descriptions here, for on our card, and numbers 2 - 10 inclusive, there is a sectional part of a puzzle instead, and that makes up a picture of Marty Mc Fly looking at his watch. Card eleven, though, shows the entire picture, as it would look once you assembled all your cards in the right order - and did not have a bumpy carpet or a dog to run through and scatter them just as the last went together.
There is something odd about this final picture card though because it definitely suggests that there would be more sticker sets, and there were not - the top line saying "Here is what your completed yellow border picture will look like" (seeming as if there would be other coloured borders) and the bottom saying "Collect all 10 cards of picture A" (suggesting the possibility of a picture B")
Wednesday, 18th October 2023
Panini [trade/commercial : cards : UK/Italy] "Back to the Future" (1985) /180 - PAP-12
Now for the slow reveal. For though we told you, quite rightly, that there were no cards for the first film, and that the first cards were by Topps, for the second film, there were stickers for the first film, and here is one of them. 
These were by Panini, and were issued in Australia, Canada, Great Britain, and the U.S.A. Oddly Panini were only the distributors of the American version - Minicards Ltd had ours, Scanlens Confectionery had Australia, and the O-Pee-Chee Company had Canada. This information comes from the official album, with thirty two pages, in which you peeled the front from the back and stuck the sticky side into place next to or above its description. That is why there are no descriptions on the reverses. The subjects were a mixture of stills from the movie and and photos taken behind the scenes during filming. 
The stickers were bought from newsagents and other suppliers, in a packet of ten, which had the same front cover as the album, Marty McFly looking at his watch 
The album cost 20p, and has a bit of a cult following with car collectors too, because the centre spread is all about the DeLorean. It shows the car as a blue picture with the gull wings extended upwards - and then there is a two card spread showing the back of the car, and a four card spread showing the same shot of the car except the cards are in colour. 
Anyway, now a warning, because in the year 2000 the album and cards were reprinted. The reprint was only available in America, Australia and New Zealand, and the United Kingdom, and it appears that it was sold as a complete item with the cards. I say this because though those cards are loose, there were also other items as part of the package, these being brochures and thicker larger colour plates. And most of the time all these additional items are sold with the reprint. Now if you had needed to collect those separately I do not think so many would have survived in such good condition. But if anyone disputes this please tell us the truth so we can pass it along to all. 
Luckily these stickers were issued when they were, as they just squeeze inside the scope of our British Trade Index part III, RB.31,  published in 1986. In there they are listed as : 
Back to the Future. 76 x 54. Nd. (180) Dated 1985. 
Thursday, 19th October 2023
Topps [commercial ; cards ; O/S : USA] "75th Anniversary" (2013) 90/100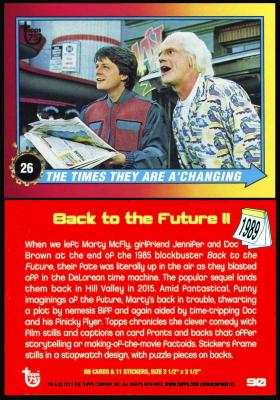 Now this may have made some of you think that we had gone back to the start, but this is an official reproduction of card 26 from the original "Back to the Future" set, with a new back, describing the set not the picture, 
And despite the number on the front, this is numbered again on the back as card number 90. 
The 75th Anniversary set is a base set of a hundred cards, showing one card from selected Topps sets on the fronts and talking about them on the reverse. It starts with their first ever set, the 1948 "Magic Photos", and because those cards are small, they manage to get ten of the cards on to the front. However they did rather miss a trick because there are baseball players in that set and none are featured on this front. And it ends with "The X Files", which uses the front from card 2 of the Season One set, issued in 1995.
Now there are also special cards available. These include autographs in several sorts, buybacks, mini cards, and four colours of printing plate cards plus a variety of finishes, foil, diamond sparkle, gloss. There are also test cards. All are explained via the link.
However it is a huge undertaking to get them all, and I truly wonder if anyone does, or whether in such a set as this they just collect the card of their favourite and let the rest pass by? 
Friday, 20th October 2023
Lime Rock [trade/commercial : cards : O/S : USA) "Dream Machines" (1991)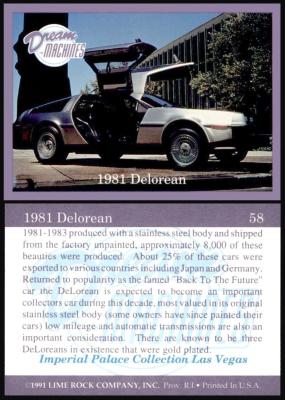 This card was a fortunate find, because I hit a wall for a final card, though I did find some very intriguing issues that I could not track down. Read on for those. However I thought it might be interesting to see the DeLorean without the film props, so I went for this. Imagine my surprise when I saw the film was mentioned on the back. 
These were actually issued as a set of 110 cards, in a cardboard box, all at once, in a limited edition of 100,000. The boxes were sealed and had details of interesting things you might find inside - an autograph card of the baseball player Jerome Walton, holographic promo cards, and the chance to win original unnumbered press sheets.
Cards 111 - 165 were issued the following year and I have not yet found out how they were issued.  
Lime Rock were in Providence, Long Island. They issued two sets of baseball cards, which are their most sought after, and also a huge number of sets which you can browse at Trading Card Database / Lime Rock
Now to those missing links. 
The one that everyone seems to think is the most exciting is the Kelloggs issue of 1985. It was only eight cards in length, had a very limited run, and we do not even know where that was - though the fact that the back is in French and English seems to suggest Canada to most people, yet some say it was intended to be for Europe so that one set could do several countries. 
Now even more curiously there is a set issued with Shreddies, and they started in Canada. These are not cards though, they are small booklets which have a story in them, and when you get to the end of each page there is a multiple choice where you pick what you would do and go to the page that answer says. 
Then there are fourteen cards which were given away at the 2015 Comic-Con at San Diego. These ostensibly advertise a book, but they look like the Topps set of cards, and they are numbered, and the numbers follow on from that Topps set.
And there you go, we got there in time. Hope you liked it, hope you learned something, and hope you follow a few of those links in blue to expand your knowledge. And do tell us if you can add anything to our stories. 
Now you may notice that we have changed a few things. The main one of these is that the theme tile now comes first on the main page, and this has but one reason, it means that this tile is pushed out of place when tomorrow`s card loads at midnight, if for whatever reason I am not sitting there waiting. 
Anyway, off to bed you go now. See you all next week, and until then, happy collecting!