Starting to retrieve things from the archives now, so this is a rather longer newsletter than we had expected and many thanks to our two guest writers who supplied those pieces.
Remember if there is an anniversary coming up that is connected to something you collect do send us a scan of a card (back and front if possible) and write us some words.
The email address, as always, is webmaster@card-world.co.uk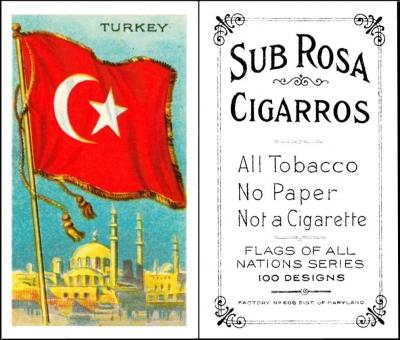 Today in the year 558, in Constantinople, the dome of the Hagia Sophia collapsed.
Originally a Christian Church for Greek worshippers, this dome had survived many other changes but even by then was a symbol that represented the area to the World, just like it is used to represent Turkey on our card today. 
Its first dome was wood and was consumed by fire during political riots. Its next was also wood, but on a much larger building, and this too fell foul of protest, this time against the Emperor Justinian I. He immediately ordered the dome to be rebuilt, but the damage was too great. Instead the whole structure was demolished and rebuilt in its entirety.
You can see this new building, which still stands, on many cards, ours is A54-43-H-a : USA/T59 American Tobacco Co "Flags of all Nations, and this is branded for "Sub Rosa Cigarros" though other brands exist, with differing set lengths – from 100 to 200 cards. 
Sunday 8 May celebrates the power of the wind, which we do not appreciate as much as we ought to. In years gone by, many things were driven by the wind, and one of these was the humble windmill which gave us our daily bread.
Sadly most of ours have now gone, but you can see their ghosts in the many "Windmill Hills" that are scattered across the road maps. We even have one near us.
Windmill weekend is always about this time and this year it is the 7th and 8th of May, and though it is primarily celebrated in Holland, the Society for the Protection of Ancient Buildings is trying to get us interested in our mills too, running open wind and water mills over this weekend at as many as they can. There are also online tours of many mills. 
When we were researching this we found a strange coincidence, that the same painting of a windmill, thought to have been on Mousehold Heath, by local artist John Crome of Norwich, appears in three sets; Cavanders "Reproductions of Celebrated Oil Paintings" (C230-360 ~ 1925) 25/ 25, Godfrey Phillips "Old Masters" (P521-460 : Ph/107 ~ 1939) 35/36, Wills "Celebrated Pictures [by British Artists]" first series (W675-106 ~ February 1916) 8/25 and Millhoff "Art Treasures" .
Other cards include Brooke Bond "The Wonderful World Of Kevin Tipps" large size (1997) 8/30, Mitchell "Village Models" second series, either standard or medium size, plus a version which is the second series but does not say it (M757-760.2 ~ April 1925), and Whitbread "Inn Signs" fifth series (1955), so board not metal, showing The Windmill at Cranbrook 45/50. 
Then there is Mornflake Oats "Our England" (1955) which shows the windmill at Chesterton. Mornflake Oats, (or Morning Foods Ltd. of North Western Mills, Crewe) seem particularly apt to talk about on this day, as oats and other cereal crops were traditionally ground by using windmills, and the family who runs the company have been "milling" oats for three and a half centuries, since 1675 which makes them the UKs oldest cereal producer – and the most up-to-date one, for they have just built the World`s first modern windmill, in the North East of Scotland.
And do look at their own website https://www.mornflake.com/
Strangely, the "Mornflake Quick Cooking Oats" brand only started during the Second World War, and their first sets of cards were issued in 1952. In our British Trade Indexes, vintage and modern, these are actually listed under Morning Foods Ltd; in the original set they started out as MON-1 to  MON-9, but this was later corrected as it was found that they were out of alphabetical order, on which they became MOPW-1 to 9; also MOPW-10 had been discovered, an insert showing a carton of the product, with either a plain back, or an album application form. This was not the end of the saga, as in British Trade Index volume IV there was a note to say the renumbering in volume III was incorrect and should be disregarded; the new code was to be MOWD-1 to 10. They are now listed as MOR, with "Our England" being MOR-210. 
J.M. Barrie was born on May 9, 1860 in Kirriemuir, Angus, Scotland as James Matthew Barrie. He was a writer of many works, but is chiefly remembered today for the tale of a child who did not exist, though everyone secretly hoped really did; for he was called Peter Pan.
The earliest card of J.M. Barrie is an Ogdens Guinea Gold 314/1148 (1901), part of the "General Interest" series. Now you may be initially intrigued that this only says "The well-known Author. Wrote "The Little Minister", "My Lady Nicotine", etc" and does not mention Peter Pan – however it was not until 1902 that Barrie`s book "The Little White Bird" was published, and not until 1906 that selected chapters were extracted and republished as "Peter Pan in Kensington Gardens". 
J.M. Barrie was married to Mary Ansell, and it is perhaps to her that we owe Peter Pan, for it was a stormy marriage, and he would avoid her by taking long walks around where he lived. On one of these he met five brothers with whom he struck up an immediate friendship, imagining, perhaps that he was still unencumbered by the chains of marriage and young enough to play.
J.M. Barrie also appears on Millhoff  "Men of Genius" (1924) card 23 which shows Barrie at the top and an onboard battle below, complete with Captain Hook, while Carreras "Figures Of Fiction" (April 1924) 19/25 shows a bare footed Peter Pan with a sword, with Captain Hook as card 7; why these two sets were issued in 1924 was because in that year the first ever film was released, a silent starring Betty Bronson as Peter Pan, and Anna May Wong as Princess Tiger Lily.
Betty Bronson appears in (W/170 ~ January 1928) "Cinema Stars" second series 6/25 where it even mentions the film, saying "Betty Bronson was only seventeen when she was chosen by Sir James Barrie to portray his immortal "Peter Pan" in the film version of the play, because more than any other aspirant she typified the spirit of eternal youth Peter represents." It also says "This was not her first screen role, for she had been playing extra roles and small parts for two years previously. Oddly this set replaced the first series (W/169) really quickly - that had only been out since January 1928. 
On Alick P. F. Ritchie`s "Straight Line Caricatures" issued by John Player (P/183 ~ December 1926) 5/50 it tells us that the famous statue of Peter Pan by George Frampton R.A. had actually been put up in Kensington Gardens in 1912; overnight, so that children would think it had appeared by magic. It was also on the spot where Peter had landed his bird-nest boat in the actual story.
The top section of the statue is shown on Wills "Modern British Sculpture" (W/263 ~ September 1928) 9/30 – on which it poignantly tells us that the sculptor died on May 21 1928 - and Pattreiouex "Sights of London" (1935) 12/48 shows the full statue, complete with little human dancing children – are they still there? If not I wonder where they danced off to.
There is also a very odd link, as Sniders and Abrahams actually issued "Peter Pan Cigarettes" in Australia between 1910 and 1915; they were advertised as "Mild and Mellow", and "Made only from the Choicest Virginian Tobaccos" and you got ten cigarettes with holders in a packet. Some Sniders and Abrahams oddities to look out for are the shaped flags, card but with metal pins, or prongs to loop over into your pocket, listed in our 1983 Australian and New Zealand Index under S88-42A and B – and a much sought after "Peter Pan Football Fixture Booklet" for 1915, listed in the same book as S88-43.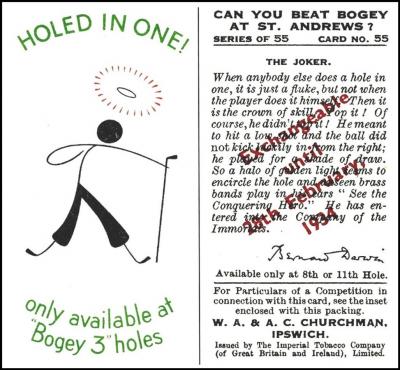 Monday May 10 is Golf Day.
We have not been able to find out why but it is cited that either the first professional tournament was held on this day, or it was the date that various types of golf club were first used. We can discount the first, as the inaugural General Open Competition is held to be the first ever tournament and that was on the 17th of October 1860, but we are not sure on the second, perhaps all the golfers out there can tell us their thoughts?
One of the earliest sets are Cope's Golfers, a set of fifty issued in 1900.
We also like Churchman Famous Golfers (October 1927) and the large size Wills "Golfing" (W/228 ~ June 1924) which shows the golf courses not the golfers.
However, by far the oddest golfing item of cartophilic interest must surely be the pairs of golf tees which were issued by Wills' Capstan in 1948.
Do any of you own those? 
Tuesday May 11 is Twilight Zone day. The original series ran from 1959-1964, but it is still very popular with fans and with card collectors.
The most prolific issuer of Twilight Zone cards is Rittenhouse - and do look at the name of that website when you click the link. Pretty amazing eh. 
Now the most eerie thing about the day is that it is May 11 every year, but I have looked everywhere and not found any site that claims to be able to tell you why. Maybe it is just a date plucked from thin air. Or maybe there is a very good reason - in the Twilight Zone
Since I know very little about the series, and it is always interesting to hear from other people, I have asked Mr John Devaney to weave you a tale about it. He is no stranger to us, having been a previous editor of our magazine, but he is also a science fiction aficionado, and creator of "The Card Scene" Magazine.
... To go right back, the success of an ambiguous time-travel play called Time Element was the most probable Sci-Fi forerunner of The Twilight Zone; it certainly prompted CBS to produce a pilot. For this, Serling created "Where is Everybody?" This was a psycho drama involving an hallucinating trainee astronaut (Earl Holliman) who suffers a mental breakdown as a result of a moonflight simulation isolation experiment. In his fractured mind, he wanders eternally through a lifeless town. Card no.5 from the Rittenhouse Series One (1999) shows the astronaut wired-up and mentally disintegrating under the strain of this isolation experiment. "Where is Everybody?" effectively conveys the deepening desolation of the "last man on Earth" theme. Unfortunately the implausible monologue plot device and straight forward ending are weak and uncharacteristic of the show, for believable dialogue, surprise endings, and climactic twists in the storyline were to become the Twilight Zone trademarks.
Despite the flaws, though, the pilot show succeeded in selling the series to the CBS network/ This original series ran for five seasons from 1959 to 1964 , on TVs CBS network, and attracted an average weekly audience of 18 million; even today, it continues to have a large cult audience and, despite lavish attempts to update the series, it is the heartfelt evocations of the original black-and-white shows which continue to haunt the imaginations of audiences old and new.
Two excellent episodes from Season One featured well known character actor Burgess Meredith. "Time Enough At Last" was another last man on Earth story revolving ariound eccentric, myopic, bookworm Henry Bemis, who shuns human companionship to be alone with his beloved books. Locking himself away in the bank vault just as a nuclear strike occurs, he later emerges to find himself alone amidst the desolation. Coming across the remains of the local library, his despair turns to elation as he gathers the surviving books. But tragically he accidentally breaks his spectacles and suddenly finds his personal Heaven has become his personal Hell. Card no. 11 from Rittenhouse Series One displays an overjoyed Bemis cradling his books outside the bombed out library.
The second Burgess Meredith episode was "The Obsolete Man". This was a nightmare morality tale concerning the termination of lives deemed obsolete, and surplus to requirements, by a future dystopia`s ruling elite. Although many Twilight Zone episodes could be seen as fanciful and light hearted modern fairy tales, others were darker explorations of alienation and identity-destroying forces, and "The Obsolete Man" is a good example of the latter. Card no.45 from Rittenhouse Series One (1999) shows the Orwellian trial scene in session. The underlying moral message of these darker stories is that without trust or belief in oneself, or the basic humanity of other people, there can be no survival. If you surrender to fear and distrust you are lost forever.. It was revised and remade for a second series in the late 1980s. A third series began in 2002 but only ran the one season before being cancelled. In 2019 a fourth series was made, which very intriguingly updated some of the original stories, but only lasted two seasons. 
There were also two feature films – a big screen version produced by Steven Spielberg in 1983 – and a small screen version "Lost Classics", eleven years later, plus a radio adaptation starting in 2002 which ran for ten years.
In 1994, the The Twilight Zone Tower of Terror theme park ride opened at Disneyworld in Florida, part of the Disney-MGM Studios, Florida`s Hollywood. You can also take the same ride in their parks in Japan and Paris, but the one at the original California Disneyland has now closed down.
Rumours persist that there is another major film in production for Leonardo diCaprio, either as producer or star, maybe both; he has frequently said it is his favourite TV series.
The creator of the Twilight Zone, Rod Serling, was born on Christmas Day, 1924, in New York. He appears on a card from the first series (1999) number 49 , with a map of the USA behind him as he delivers a typically enigmatic prologue to "The Good Life" episode. And you can also see him on a Rittenhouse promo card, numbered P1, from 2019. His brother Bob recalls him, even at an early age, to be a highly individualistic raconteur who always had a compulsion "to do something that nobody else, the ordinary kid, wouldn't do". Even then, it seems, he was striving to stretch the boundaries of the familiar and acceptable.
Rod Serling eventually joined the Army and was sent into combat in the Pacific which broadened his life (and death!) experience. He comments "I was bitter about everything…I think I turned to writing to get it off my chest!" He soon developed into a successful and highly-regarded scriptwriter, winning several Emmy Awards and a Peabody Award (the first given to an individual TV script) in 1956 for his "Requiem For A Heavyweight", a live television show first shown as part of Playhouse 90. Six years later, it was adapted as a feature film starring Anthony Quinn, Jackie Gleason, and Mickey Rooney, and featuring real-life boxers Cassius Clay, later to become Muhammad Ali, and Jack Dempsey.
Alongside Rod Serling, Buck Houghton was the liberal and perceptive provider of the show. He translated the imaginative vision of Rod Serling into a filmable reality. His discretion in allowing both directors and actors the freedom to explore their own unique expression was admirable. Although Serling wrote the majority of the scripts, critically-acclaimed writes such as Charles Beaumont and Richard Matheson contributed several significant stories to the on-going series. Charles Beaumont, in particular, was responsible for many memorable episodes which differed markedly from the Serling stories by cultivating a sense of morbid fascination with the more sinister elements of Sci-Fi and Fantasy. This is in stark contrast to the "feelgood" gloss of nostalgic sentimentality which coats many of the Serling episodes, and in ""Perchance to Dream" and "Shadow Play" we see Beaumont blurring the distinction between dream and reality. In the first of these, "Perchance to Dream", a psychiatrists insomniac patient believes that if he falls asleep he will never wake up. He explains that he previously suffered from a recurring dream about a voluptuous Cat Girl dancer at a fun fair who threatens his life. But on noticing that the psychiatrists secretary is a dead ringer for Cat Girl, he throws himself out of the window. At story`s end, we discover that the patient actually did fall asleep on the couch, then screamed and died. Card 100 of Rittenhouse Series Two (2000) shows a segment of the dream sequence. The nightmarish quality of this scene is heightened by the expressionistic use of light and shadow, surreal imagery, and out of focus visual technique.
Richard Matheson was another master storyteller but his plot-led, as opposed to character-driven scripts and his evocation of the sinister and unsettling amidst the apparently familiar gave his episodes a chilling edge. A subtle, more restrained example of this is in his episode "Nick of Time", where a "Mystic Seer" fortune telling machine exerts a premonition-possession over William Shatner, who would later gain prominence as Star Trek`s intrepid Captain Kirk, and who also appeared in another episode of The Twilight Zone, "Nightmare at 20,000 Feet", this being a classic case of monster-on-my-back paranoia, culminating in him being strapped into a straitjacket. This scene appears in Rittenhouse Series One (1999) card no.66.
There were, of course, many more classic episodes produced during the long run, far too many to detail here. However the four Rittenhouse series feature a total of 48 episodes and give, in my opinion, a good overview of the show. Released in 1999, 2000, 2002 and 2005, they comprise of a 72 card basic set featuring 12 selected episodes together with an assorted array of bonus cards and challenge game cards. Each episode has a card-by-card synopsis and epilogue alongside the beautifully reproduced images. The uniqueness in card design, with their distinctive silver and blue-grey highlighting and celestial background motif complements the other-worldly originality of the scenes depicted. Frozen in time these evocative card images convey much of the mysterious, character-driven drame of the show as it portrays small-town America, in microcosm, being transformed by whimsical, supernatural or alien agencies.
Some of my own personal favourites include "A Stop at Willoughby" where a disillusioned businessman literally gets off the fast track for a step into Paradise (this was also the favourite episode of Serling himself) – "Nothing in the Dark" with a very young Robert Redford as a benevolent Angel of Death – and "The Eye of the Beholder", involving a thought provoking variation on the Beauty and the Beast theme.
It is, however, Rod Serling`s superbly crafted vignettes of ordinary lives touched by the magical power of The Twilight Zone which were really one of a kind. For it is his essentially humanitarian touch which absorbs us into his infinite dimension of possibility, weaving an enduring spell which is alternately foreboding and enchanting in equal measure. The corresponding trade cards remind us of the astounding uniqueness of his work and also how it still resonates deeply in the minds and hearts of those who have journeyed through "that wondrous land whose boundaries are that of imagination".
To close, here are just two of the many stars who also took a trip into The Twilight Zone.
One of the most sought after cards is named for Bill Mumy, but Sci-Fi fans will know him immediately as Billy Mumy, as which name he also appeared as Will Robinson in "Lost In Space", also a CBS show. His Twilight Zone career comprised the three episodes "Its a Good Life", "In Praise of Pip" and "Long Distance Call". True fans will also know that when the first of these episodes was remade in 2002, he again appeared in it, along with his daughter. He has also appeared in "Babylon 5", "Space Cases", "Star Trek : Deep Space Nine", and the 2018 remake of "Lost In Space". And rumour persists that he was also the first choice to play Eddie Munster in "The Munsters"!
Gladys Cooper started her theatrical career in 1905 and her first motion picture was in 1913. She appeared in two Twilight Zone episodes, "Nothing in the Dark" (1962) and "Night Call" (1964). Her final appearance was on the small screen, in 1972, playing a Grand Duchess in "The Persuaders" with Roger Moore and Tony Curtis.
May 12 1803 saw the birth of Justus von Liebig, German chemist, academic, and inventor of the meat extracting process, which condensed the flavour and vitality of beef into a small solid cube that when stirred into water became a powdered suspension. However he did not name this after himself, it was only in 1850 when "an English firm" produced the cubes commercially that they named it after the inventor. The cards did not start for twenty years and continued until 1975, 102 years after the death of Justus Von Liebig. There are estimated to be 11,000 different sets of either six or twelve cards, and to complicate collecting them still further many of the sets were issued in several different languages, being the local tongue of where those cards were being issued.
This tribute was written for us by collector Patrick Marks, and has now been restored to print. 
The nineteenth century saw a huge level of development in the food industry, with inventions from making cocoa more useable by Cornelius Van Houten to the development of products using the essence of meat, namely Liebig or as it was known in Britain, LEMCO.
The developer of Liebig as a product was the outcome of the work of Justus Von Liebig, who was a German scientist, born 1803 in Darmstadt. He studied agricultural and biological chemistry and became renowned in that field and he remains one of the principal founders of organic chemistry. He was very influential in a wide range of areas in chemistry and was highly respected by many eminent scientists of the period. Wikipedia carries a detailed story of his years as a scientist and is fascinating as it shows the way he and his colleagues developed rigorous and scientifically proven theories about plant and animal nutrition. Out of his work the concept of meat extract as a foodstuff arose. Originally it was touted as being very nutritious, but eventually it was recognised that claims of its nutritional value were revised and its benefits as a supplement in the form of a drink were to see it grow into the product which can still be obtained today.
Liebig was the first product to be produced using Liebig's theory of nutrition for producing beef extract. He publicised his theory in the late 1840s, but for a number of years commercial production of the extract as a product affordable to the average consumer was not possible due to the cost of meat. In 1865 in conjunction with a Belgian engineer, George Giebert, Liebig set up production of cheap meat which was available in South America where the meat was often a by-product of the industry for hides. Fray Bentos in Uruguay was a centre of production of the beef and has since become ubiquitous as a named product which most of us will have eaten in our childhoods.
Advertising using cards started in 1872, and continued for around 100 years with little interruption apart from the two World Wars. There must have been a large department involved in all the range of advertising material though the card sets were the most long lasting of the range of advertising the firm used, and they must have had a large department of staff working with print companies to develop the card series. Early card series were similar to the continental trade cards produced by printers to sell to numerous firms, shops and outlets, although some of the early series were also produced exclusively for Liebig. The firm didn't just rely upon consumers picking up their cards when shopping, but developed a system of coupons by which purchasers of the firms product could send in for the latest series. This system worked for many decades until the firm ceased card issuing in the 1970s.
The firm had a major role in the use of cards as advertising and their cards soon became collectable by adult collectors as well as children. These collectors eventually began to catalogue the firm's output as their collectable potential became obvious in the last couple of decades of the 19 th century. The firm's cards were also issued worldwide in a wide range of languages and some series were only issued in one language for a particular market such as Britain and other English speaking countries. Although Liebig originally set up his firm's office in London , it is a curious fact that fewer Liebig series were issued in Britain than most neighbouring countries in Europe. More series were issued in the USA than in Britain although there isn't a clear statement on the cards whether they were for the British or American markets.
The cards remain very collectable and popular especially in Europe with collectors. In excess of 1000 sets were issued I believe. They are attractive series and would have been exciting for the collectors young and old as they were issued. The range of subject matters was immense. And the format of six cards to a set, set a trend followed by many other firms using cards as advertising, though none had the variety and staying power of Liebig.
On May 13, 1914, Joseph Louis Barrow was born, the seventh of eight children. His childhood was not easy, and he had little, but one day a friend took him to a boxing club, and he was instantly interested in joining. He proved to have a natural ability, and was soon asked to take part in matches.
The problem with that was that his mother did not know he was boxing, so he had to change his name, picking the shortened form of his forename and taking his middle name as his surname. As "Joe Louis" he was soon doing well and being noticed, and in 1934 he won an open Light Heavyweight contest as well as the Amateur Athletic Union championship. This is about the time that he appeared on his first ever cigarette card Pattreiouex "Sporting Events and Stars" (1935) 56/96 and posed for Mitchell "A Gallery of 1935" (1936) 28/50.
The Pattreiouex is interesting because it says he "…caused a last minute sensation by marrying his fiancee only three hours before the fight". This was Marva Trotter, his first and second wife, they were married 1935-1945 and 1946-1949. They had two children.
After his second divorce he married twice more, and was romantically linked with many stars from Lena Horne to Sonja Henie the ice skater. In the 1940s he did a lot of advertising for Chesterfield Cigarettes.
He returned to the ring after taking retirement only to meet Rocky Marciano in a gruelling fight which led him to retire for good. He died in 1981. 
May 14 1903 was the birthday of Billie Dove, an American actress who appears on several cigarette cards, eight of which can be viewed at the New York Public Library   
However this does not include our card, which is Wills "Cinema Stars" second series (W/170 ~ March 1928) 8/50. This says that she "was born in N. York… and educated there. Amateur theatricals and a love of dancing led her to [become] a Ziegfield Follies girl. Then she was offered a small screen part, which her friends persuaded her to take; this proved so successful that in a few years she was the leading lady opposite Douglas Fairbanks in his colour film "The Black Pirate".
Richard Lloyd/Cope "Cinema Stars" (Matt) 1937 10/25 tells us that she "made her film debut in "Polly of the Follies", a now lost film from 1922 starring Constance Talmadge – and yes, "The Follies" were the Ziegfield ones. 
She died in 1997
 
This week's Cards of the Day...
... have been celebrating National Train Day which will be held on the 14th of May. Actually it is a variable date as it is held on the Saturday that falls nearest to May 10th  though I did think this would be the 7th and obviously it is only the Saturday after that date and not before. Never mind, extra time for you to go on a personal journey along the tracks of the trains in your own story. 
Why this date is important is that on May 10, 1869, a special golden spike was hammered into the ground to complete the first transcontinental railway in the United States of America. We didn't think we could find a card on that but it turns out that in 1975 Topps` "Hysterical History" card 25 shows it, with a supposedly humorous story about someone hitting their thumb. Anyway the card is called "Driving The Golden Spike" so it does fulfil the brief, even though I don't like the card. However I do know that humour varies from person to person, so it may raise a smile for some of you. 
Now this is a rather sad tale as National Train Day was started in 2008 by AMTRAK, one of America`s biggest train and transport companies, only for budget cuts to bite so hard that many special events like this had to be cancelled for ever. On the plus side, though, other rail networks do still celebrate the day. And actually if you look online many of these have special steaming events. Nip over to YouTube and go train spotting - because you can find something on everything on there if you look! 
Saturday, 30th April 2022
O100-490 : O/2-135 : O/55 [tobacco : UK] Ogden`s Ltd "Captains of Association Football Clubs and Colours" (1926) 18/44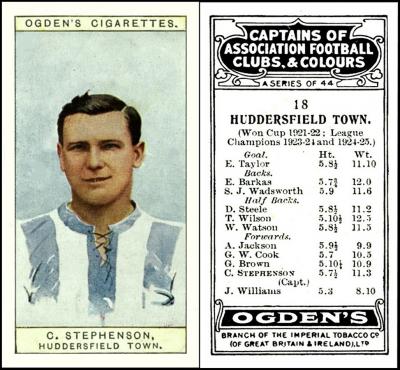 The footballer shown here is "C. Stephenson Huddersfield Town", and yes I did misread it thinking wouldn't it be fun if his name was George, only to find it was Clement. Then there was my usual thought process of trying to work out how Clement begins with a G, before realising!
Anyway Clement Stephenson was an English footballer who played for Aston Villa and Huddersfield Town, and won the F.A. Cup three times. I also found out that he served in the Royal Naval Volunteer Reserve in the Second World War, survived, and went on to manage Huddersfield town, dying in Huddersfield on 24 October 1961. His two brothers also played for Aston Villa. You can read more about him at Football and the First World War  a great website which was set up to record the War Service of so many footballers.
In actual fact Gallaher "Famous Footballers" brown back (G12-51) 15/50 adds to his story by mentioning that he also briefly played for Stourbridge, being loaned there before beginning at Aston Villa in order to complete his development. You can see that card at the New York Public Library. 
Now this card is recorded as having also been issued anonymously, as ZB6-27-1 which is linked to British American Tobacco (1923) 12/50 and you can see that in the same place, but the first thing you notice is that it is a different picture, and not only that, the caption says just "Huddersfield" not "Huddersfield Town". His green back, hundred card version of Gallaher "Famous Footballers" (G12-50) 68/100 is there too, and he also appears, named as Clem Stephenson, in Hudderfield town strip, on John Player "Footballers 1928" (P72-100.1 : P/100 ~ October 1928) 41/50 
According to the Trading Card Database, several  trade cards also exist of Clement Stephenson. The one which intrigues me is the Lacey 1924 card, which says they make "chewing wax and chewing gum".
I did a bit of research and came up with something fascinating, that in the middle of the nineteenth century an experiment was made with making a chewing gum out of paraffin wax, and this was very popular, but then faded out, though it is still, intriguingly, used - medicinally to increase salivation when required. 
Sunday, 1st May 2022
A745-230 : A72-12 [tobacco :UK export] Ardath Tobacco Co. Ltd. London "Modern School Atlas" (1936/37?) 1/96
I have featured these odd items before but more has come to light.
For a start I now know that they do actually appear in our Ardath Reference Book RB.6, issued in 1943, rather hidden in the same paragraph as the New Zealand version of "Life in the Services" and without a date, only the "December 1937" which starts the section for "Life in the Services". They are not even referred to as cards, as the full text says "96 Map Inserts. Size 1 3/8" x 2 5/8". Printed by offset in full colours on thin paper, not titled, black frame line, with white margins. Backs printed in grey, numbered, no description. Front a map section, back, "No. __ of series of Inserts for insertion in the Ardath Modern School Atlas". Issued in New Zealand. Atlas price 1/-. The blank space is completed by the card."
Our original and most recent World Tobacco Issues Index lists them identically, as "Ardath Modern School Atlas". Sm., on thick paper. Nd. (96) Export. Special Atlas issued." The "thick paper" obviously stands for the fact that these were thinner than the usual card-board used for cigarette cards, and that these might well have been one of the forerunners of the sticker – in more ways than one, as look again at where it says "Atlas price 1/-. The blank space is completed by the card", for that means the atlas was a fully printed item, much as sticker books are today, and the card/sticker replaced the white space and produced the full map.
I have not yet seen the inside of an album, but I have now seen the cover, as can you, at Mokau Museum, in New Zealand   This begs another question though, that being how did Geographia Ltd get themselves involved with producing these items? Anyone able to shed some light on that, please do get in touch with us. 
Monday, 2nd May 2022
C504-490.B.1 : C82-48.B.1 : C/55 : RB21/210/54 [tobacco : UK] W.A. & A.C. Churchman "Famous Railway Trains" first series - large size (November 1928) 12/12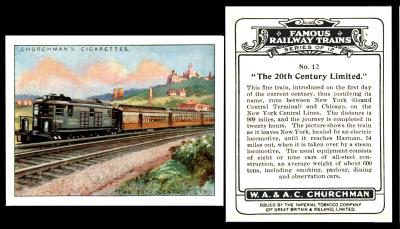 This card shows The 20th Century Limited, and the text tells us that it was "introduced on the first day of the current century, thus justifying its name, [and it] runs between New York (Grand Central Terminal) and Chicago . . . 909 miles, and the journey is completed in twenty hours."
In July 1929 a second series of twelve "Famous Railway Trains" cards was issued, (C504-490.B.2 : C82-48.B.2 : C/56) again measuring 80 x 62 m/m.
Then in October 1929 came a standard sized set of the same name, (C504-490.A : C82-48 A : C/54) numbered 1-25.
These were all printed by Mardon, Son and Hall, with the fronts in letterpress using the four colour half-tone process. Presumably they also printed the version which was issued by British American Tobacco (overseas) hence the RB21 reference; and the third, for this book tells us that there were actually three issuers:
A is an anonymous issue, with letterpress on the back (presumably the B.A.T. version, as they were really into anonymity – the code on this is ZB07-310 : ZB6-29).
B is listed as "Ogden`s Guinea Gold Cigarettes issue, small cards, series of 25, which our original Ogdens reference book RB.15 codes as O/79 and the World Tobacco Issues Indexes code as O100-670 and O/2-197. The reference book and the original index tells us the set was issued in New Zealand, though the date is obviously not known, the reference book giving "about 1930" and the index "1927/8", whilst the more recent version tells us that this was part of a trio of sets that fitted into one album, all being issued at the same time; the two other sets being Dominion Tobacco Co`s "People and Places Famous in New Zealand History" (D640-550 : RB21/200-294D). Dominion was based in Wellington, New Zealand, and Ogden "British Trees and Their Uses" (O100-660 : O/52 : RB21/209-34B – which was also issued by British American Tobacco, Edwards Ringer and Bigg, and Lambert & Butler).
And closing off was C, our set(s), the small card series of 25 and the large first and second series of twelve each. It seems odd that this size varies between being called small and standard. Anyway I have tracked down this card in the small/standard size, it is 24/25 and you can see it in the New York Public Library. The text is identical except for one instance, where a "20" replaces a "twenty"
According to my 1950 London Cigarette Card Catalogue, which only covers British cards, so only shows the Churchman set, the scarcest version was our one, as the standard sized set was listed at 6d a card and 17/6 a set, and the second series large at 9d a card and 12/6 a set. However our set is only listed as odds, at 2/6 each; no sets were currently available. 
By the way the "20th Century Limited" also appears on Ardath "Speed Land Sea and Air" (1935) 26/50
 
Tuesday, 3rd May 2022
C504-565 : C82-62.A : C/87 [tobacco : UK] W.A. & A.C. Churchman "Landmarks in Railway Progress" standard size (January 1931) 41/50
Just as our last set, this was issued as a standard sized set [of fifty cards] and two large sized sets each of twelve cards, the first series (C82-62-B.1 : C/87) being issued in January 1932 and the second (C82-62-B.2 : C/88), a bit scarcer,  in March 1932.
Possibly that is because it was issued so close on the first set's tails that nobody thought it had changed and let them slide by without starting to collect them.  
These were again printed by Mardon, Son and Hall, with the fronts in letterpress using the four colour half-tone process. 
The particular card shows an American steam locomotive being used on our railways, actually on the Midland Railway, in 1899. The text even starts "It is somewhat surprising to hear of foreign-built locomotives working in the country which produced George Stephenson, but on several occasions this has happened." 
I thought this sounded like an interesting tale and I was right, for this card is one of the few remaining items to show these trains, which were built in 1899 by Baldwin Locomotive Works and delivered in the same year; but if you look into it there were thirty of them and they were referred to as Midland Railway Class 2501.
Why they were built in America is a rather shocking tale, for it was all to do with a dispute over, primarily, train makers` working hours, but a few other grumbles too, this had reduced the capacity for building new trains, but not their need, so the Midland Railway pulled a bit of a black-legging swifty, and ordered these thirty trains from America. At the same time a few other Railway companies also jumped on and did the same thing. Now our card adds more info, and says that there were actually "forty" "standard Mogul (2-6-0) type locomotives from America … thirty were built by Baldwin`s, and the remaining ten by the Schenectady Works". 
Each of the Baldwin ones were over 16 cwt in weight and almost 52 feet long, and they were shipped in as parts, to be reassembled in England. This sounds a bit underhanded as well, because I have seen whole trains being shipped in before; to me parts are just another way of smuggling them in under the noses of the men who were striking. Anyway it says they were not popular with the drivers, which I understand straight away, and they were not only differently made, but different to drive. Anyway, as often happens, disapproval infects, and in under ten years they were being slowly removed from the tracks, starting in 1908. And by 1915, all of them had not only been removed, but been scrapped. 
It has proved harder to find anything about the Schenectady built ones, though the card does say that "All have now been broken up".
Guess this is "to be continued………"
 
Wednesday, 4th May 2022
[trade : OS: USA] Topps "Rails and Sails" (1955) 32/200
Now this is a very unusual set which is quite scarce in its homeland, let alone here.
It was issued in 1955 and had two hundred cards selected from assorted images of railway trains and carriages, and seafaring vessels, hence the title. They measure 2-1/4 by 3-3/4 inches. 
There is a bit of a theory that it was originally designed to be two sets, and that is certainly supported by their design, as the train cards have the name printed along the bottom whilst the ship ones have the name within the picture. I suppose we will never know whether this is true, though if there were a hundred rail and a hundred sail cards it would be a good argument for two sets. 
Imagine you were a child then, and you will see how the backs are really exciting – look at our card - it has the signal arm holding the number, and the large illustration filling the bottom third, and the comic book style train at top left. No wonder that they were collected to destruction and they are now scarce. And then to the front, a Union Pacific Railroad Diesel Streamliner, looking for all the world like a spaceship from Flash Gordon. Even the sloping rake of the slot like windows encourages this sci-fi comparison.
Return to the back, and read that it was first used in 1934, and was "built of duralumin for lightness of weight".
Then it says something I don't believe, "This train has since been improved upon". It may have been improved in performance but not in wonder and excitement, for the true thrill of any train, or any travel, is making you feel that you are about to have an adventure like none before. And seeing a spaceship waiting at the station would do that for us all. 
Now you might also notice that the copyright is T.C.G. Which, of course, is Topps Chewing Gum. 
Thursday, 5th May 2022
W675-167 : W62-129 : W/193.A [tobacco : UK] W.D. & H.O. Wills "Engineering Wonders" (September 1927) 43/50
This set was also issued anonymously as a general overseas issue. Presumably this was by British American Tobacco.
This card shows "an Electric Locomotive, U.S.A". and it tells us that "forty-two of the finest and most powerful electric locomotives in the world were built for the Chicago, Milwaukee and St. Paul Railway when its main line through the Rocky Mountains was electrified." 
I cant imagine a bigger job than getting electric trains to do that task, unless it was constructing the lines, but it sure makes a sad comment on our still meagre take up of electric cars and the fiasco over the woefully inadequate public charging systems.
I don't yet drive an electric car, but there is, to me, two big flaws with their acceptance.
The first is the resist factor – especially for those of us who drive classic, vintage, or just much loved cars, as we would way rather buy a reasonably priced electric conversion system so that we can still keep driving our beloved wheels, but doing so in a more Planet friendly manner.
The second is the scrap factor - for if all the current cars have to be replaced, where will they go, how will they be disposed of ethically, and what will come of the remains of those which cannot be tackled owing to overload, will they be buried in pits, leaching waste into the soil and the waterways? Or what? I have seen graveyards of aeroplanes and cars, and they are not an ethical solution. 
If you feel like doing an experiment, next time you walk anywhere in your area, see how many cars are over ten years old and would have to be removed and scrapped. And this is just in your locality. Amplify this by your city, your county, etc, and you can see the scale of what will have to be done. 
I am not sure if anyone in power reads this, but these are the things that should be sorted out, and quickly. 
 
Friday, 6th May 2022
W675-120 : W62-87 : W/24 [tobacco : UK] W.D. & H.O. Wills "Locomotive Engines and Rolling Stock" untitled (August 1903) 8/50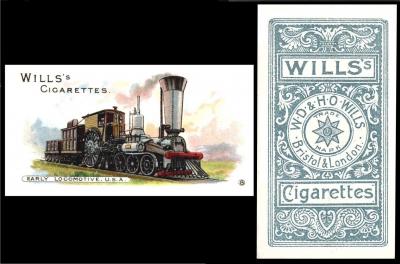 Originally recorded by Wills themselves in their own works magazines as "Locomotive Engines and Rolling Stock" our Wills reference book part II starts this description by saying "It appears necessary to rename this series as catalogue compilers do not agree and existing titles are incorrect".
Collectors had already also picked up on the fact that there were two sets, the first being a set of fifty, plus seven extra cards, brought in to update the set already circulating with more modern engines, making a six wheeled tender an eight wheeler, and changing the 4-2-2 and 4-4-0 classes to the upgraded 4-4-2 and 4-6-0 configuration.
It was once thought that this set was only issued overseas, but then reprinted with the modern cards in place, and re-released in this country as a set of fifty cards, quietly dropping the outdated ones. However there were too many of the first version cards in this country for that to have been feasible, so it is now thought that the sets were both issued in this country.
The second version also had some tinkering, because they completely redrew card 32, and re-coloured the engine on card 36, to green from brown.
The London Cigarette Card Catalogue for 1950 lists these as "A" a set of 50, "without I.T.C. clause (1902-2)" which were retailed at between 3/6 and 10/- for odds and £25 a set,  and as "B" the "seven additional cards" individually as odds for between 7/6 and 20/- . They then have "C" which says With I.TC. Clause – see B Period" I thought that meant the 1920-1940 catalogue, but it does not so I am confused. 
The thing I like about it is that it is not just British trains, nor only current ones, our card typifies this, being a vintage American locomotive.
Sadly there is no text to this set, which would have been very interesting to read.